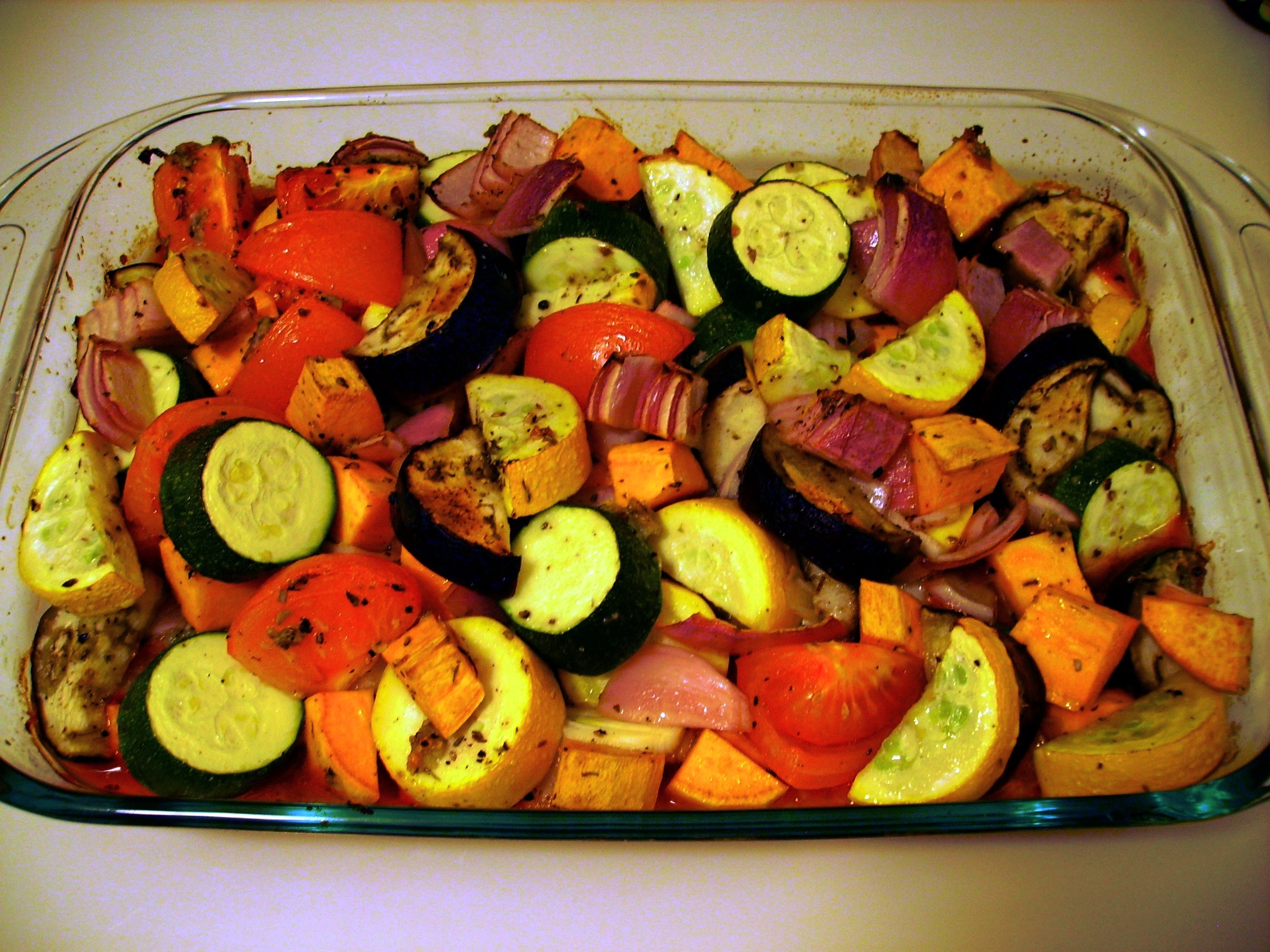 My husband and I don't have a cable plan at our house. This is really no big deal, as Hulu keeps us knee deep in shows to waste time watching. The main drawback for me is that the Food Network hasn't really caught on to the online episodes trend. Sure, they do have some episodes online, but for a very limited number of shows…and the episodes posted never seem to change.
Alas!
So what happens is that every time I get near a TV that has the Cooking Channel or the Food Network, I become attached to it and I soak up every second possible of Ina and Giada and whoever else is on. Sometimes, I get really lucky with a great, figure friendly, vegetarian dish like this Greek Caponata, which I saw one glorious December day on Everyday Italian, and have waited anxiously to make once warm-weather vegetables were readily available. Which is now!
This recipe couldn't be easier. The only part that requires any effort at all is chopping the veg, and then it's all waiting for the mix to become properly roasted.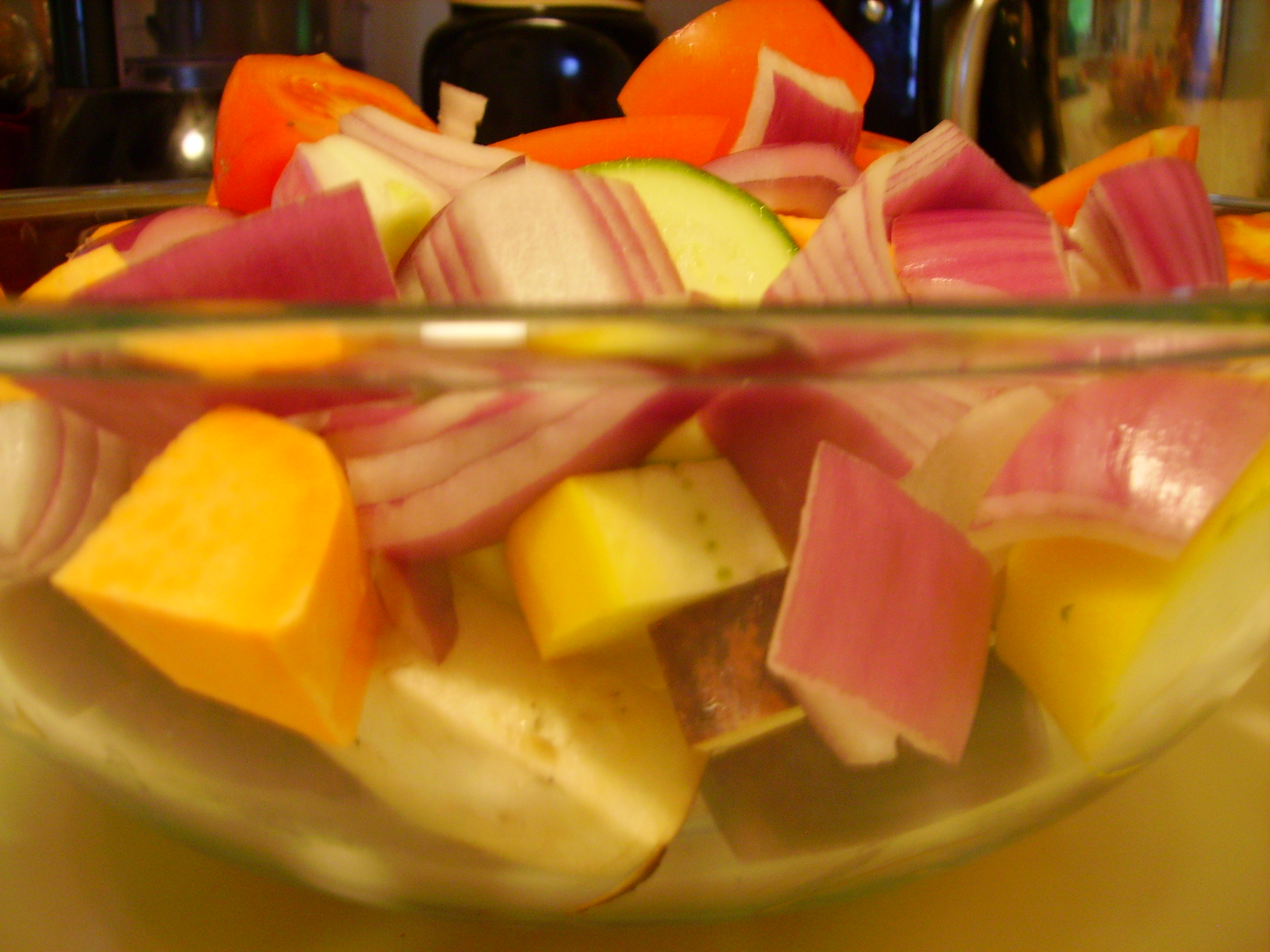 Cut up all of the vegetables and dump them into the largest bowl you have. I followed Giada's size suggestion of 1″ thick chunks, and both my husband and I found this to be somewhat too big to eat easily. Next time I will probably cut everything into more bite-size chunks and reduce the roasting time by 5–10 minutes.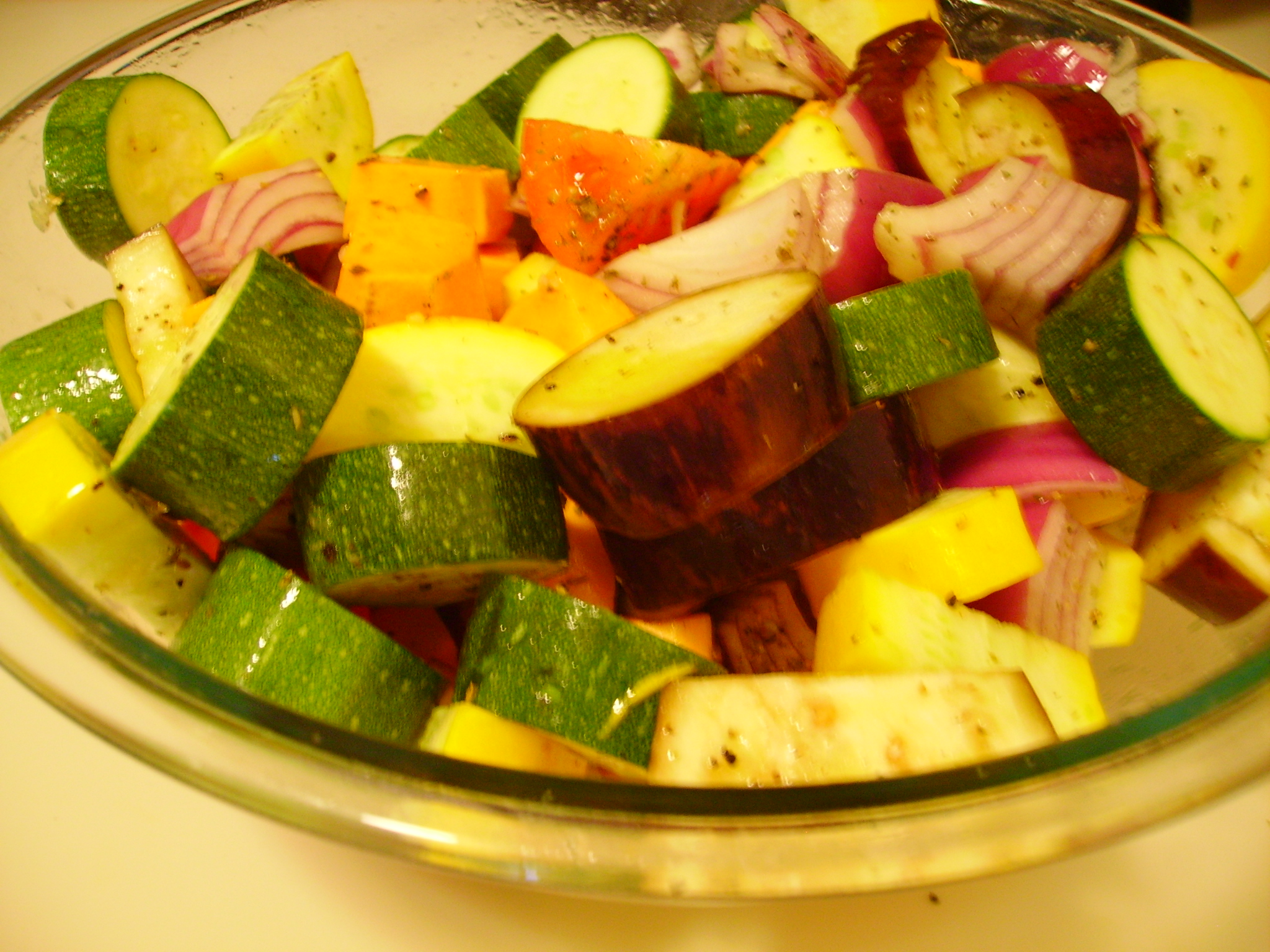 Toss the vegetables with olive oil, minced garlic, salt, and oregano.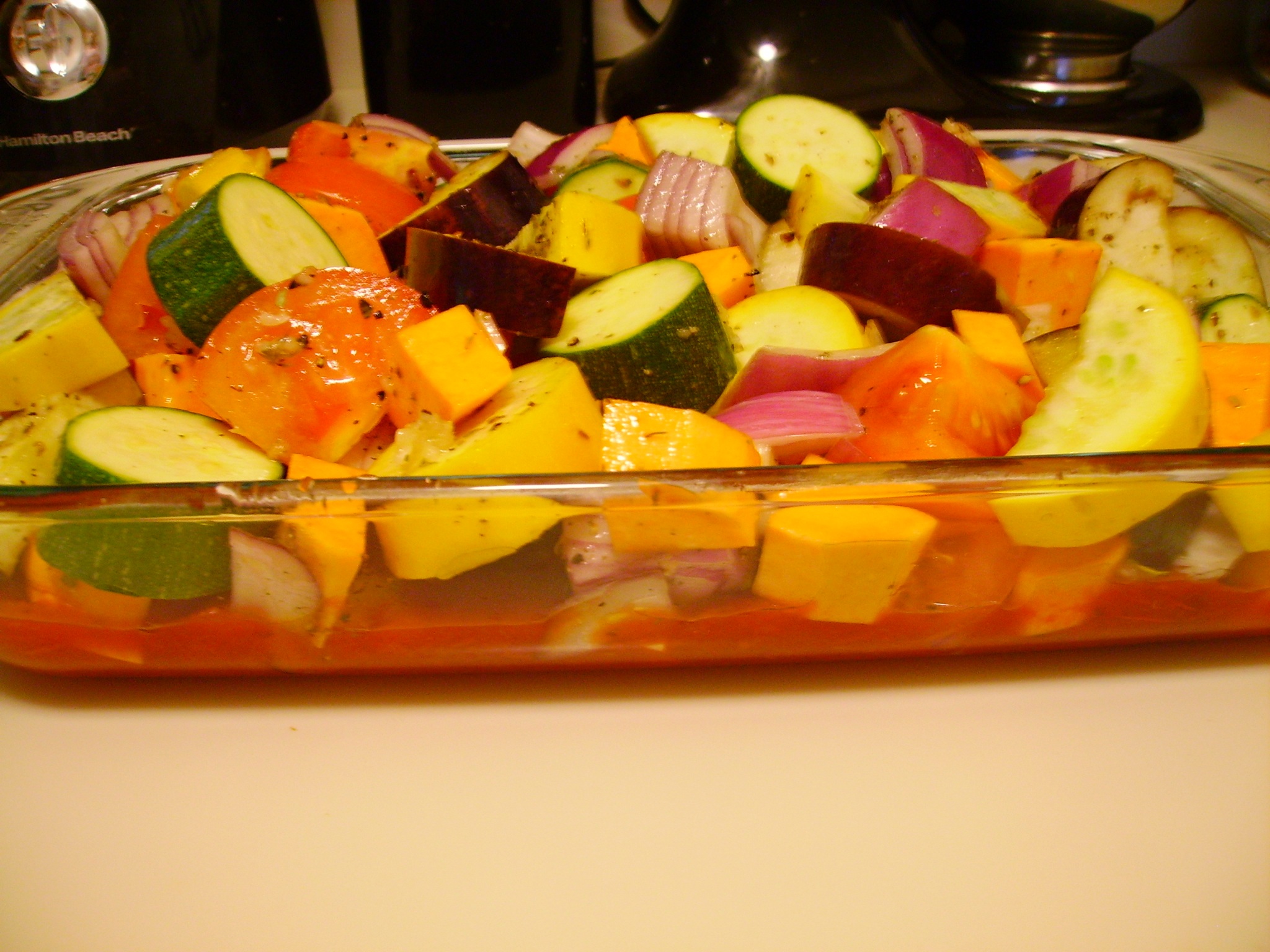 In a large, glass baking dish, spread a layer of crushed tomatoes. Top with the seasoned vegetables.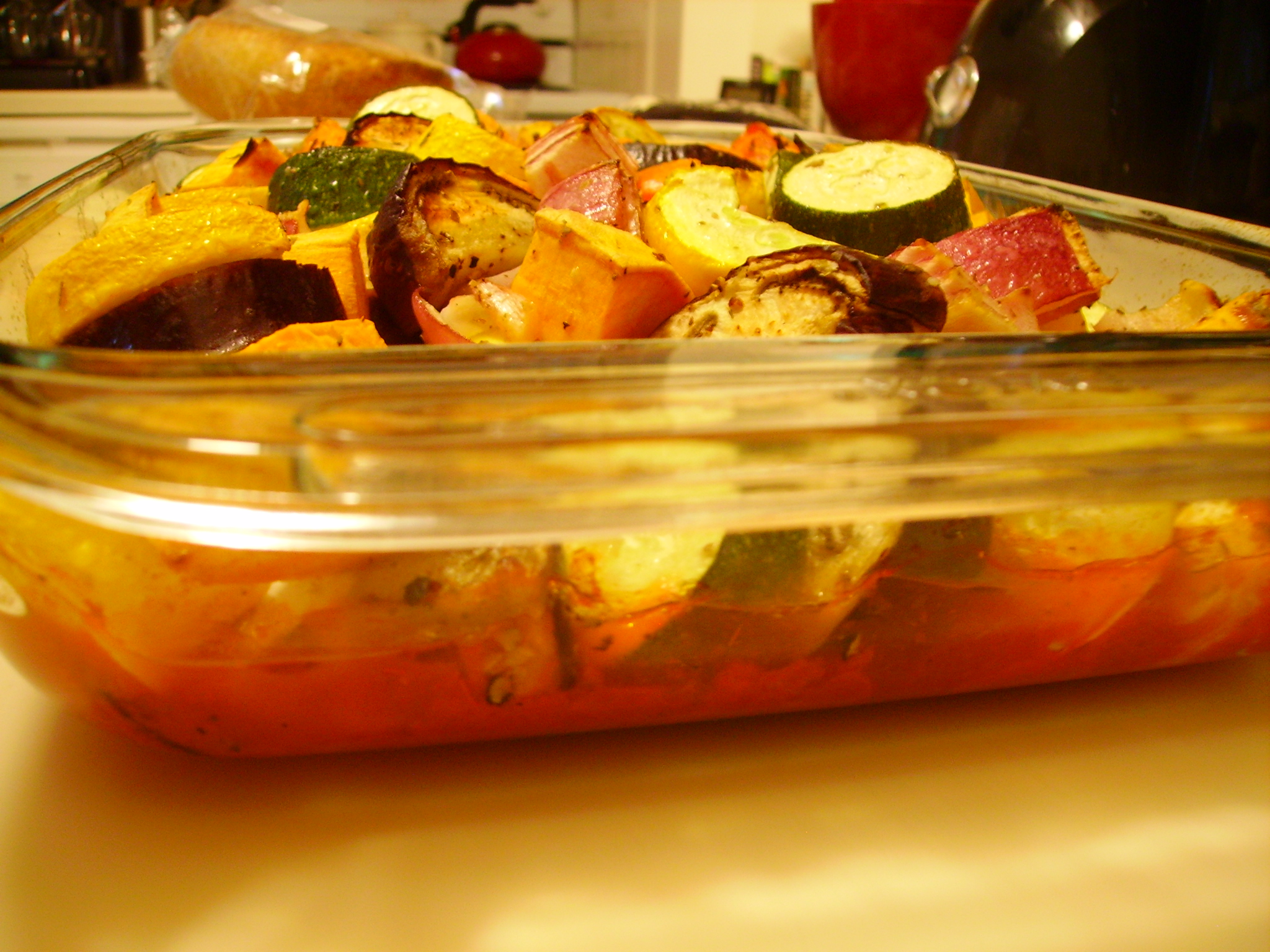 Cover the dish with foil and roast for 20 minutes. Remove the foil and continue roasting for 35 minutes (or less, if you use smaller pieces).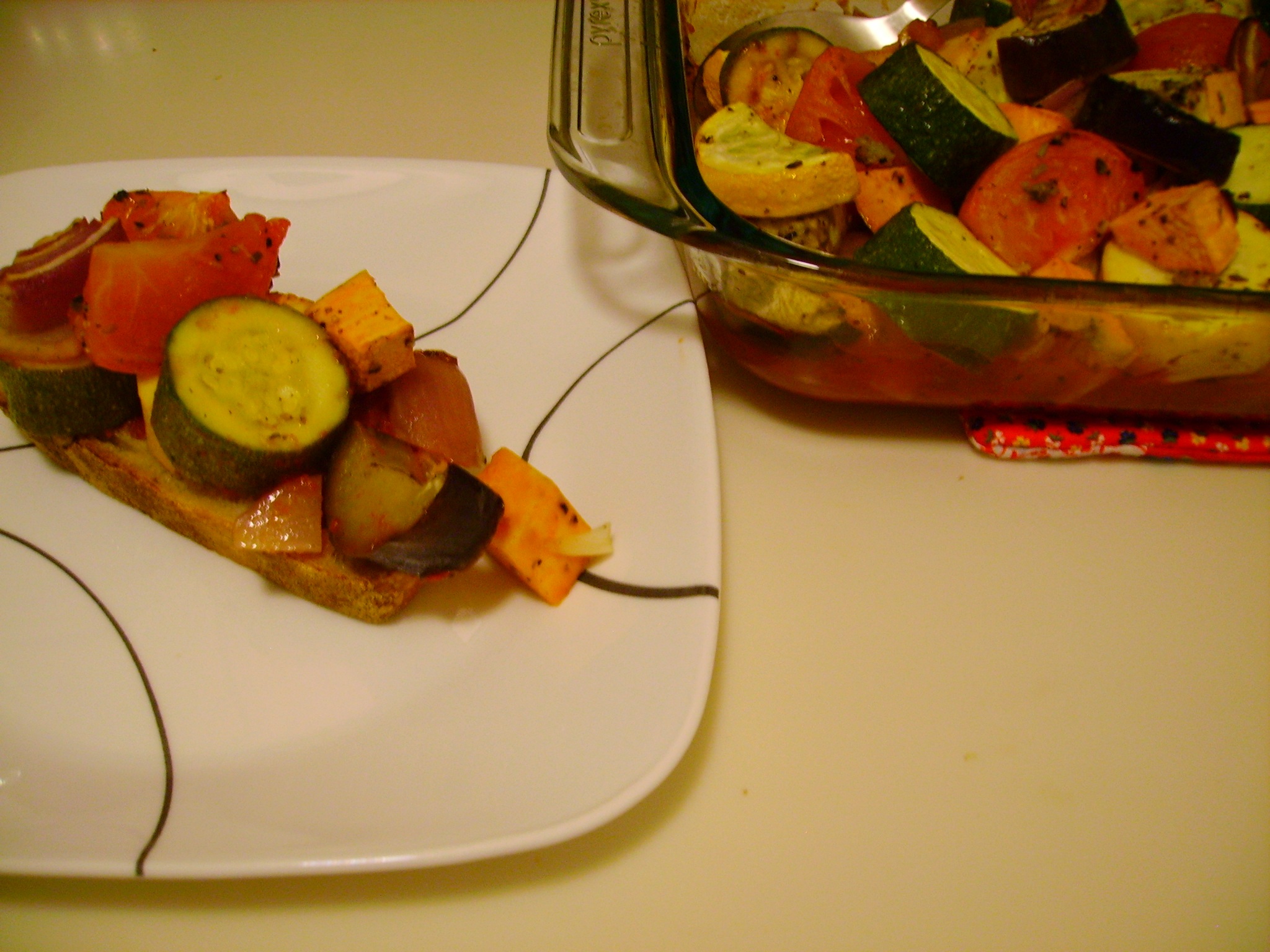 Allow to cool for about 10 minutes. Meanwhile, slice some sourdough bread and toast or grill it. Top the bread with a healthy pile of vegetables and eat as an open-face sandwich (or, if necessary, with a fork and knife).
Go back for seconds…or thirds. This is a fairly guilt-free meal!
Greek Caponata
adapted lightly from Everyday Italian
serves 6
Ingredients:
1 Japanese eggplant
2 medium zucchini
2 medium yellow squash
1 medium sweet potato, peeled
1 large red onion
2 medium tomatoes
3 cloves garlic, minced
1½ tsp. salt
1 tsp. fresh ground black pepper
1 tsp. oregano
¼ cup olive oil
1 15oz. can crushed or diced tomatoes
1 sourdough bread round
Directions:
Preheat oven to 400°.
Cut the vegetables into 1″ chunks (or, if you don't mind eating your caponata with a fork and knife, slice into larger wedges, as in the photos above). Combine all of the cut vegetables in a very large mixing bowl. Top with seasonings and olive oil and toss well.
Pour the canned tomatoes into the bottom of a 9″x13″ baking dish and distribute evenly. Spread the cut vegetables over top.
Cover the baking dish in foil and bake for 20 minutes.
Uncover the vegetables and continue baking for another 35 minutes.
Meanwhile, slice the sourdough bread and grill for a few minutes on each side.
Serve vegetables over top of toasted bread, as an open-face sandwich.
Enjoy!