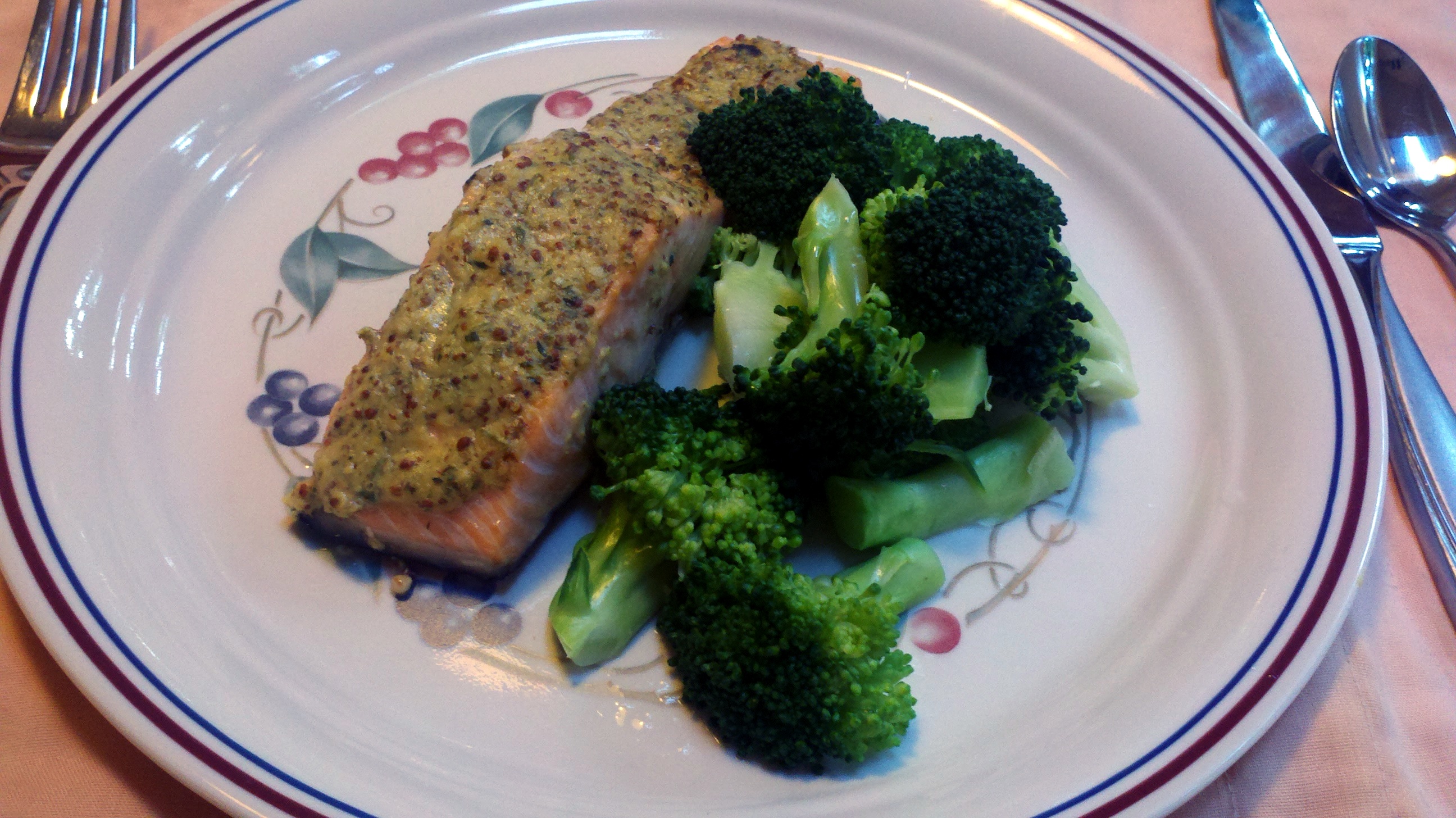 Confession: I am worn out. Teaching plus doing a large chunk of administrative work at my school have taken their toll on me, so I am taking the summer off! And my first stop after I finally disentangled myself was a much-needed visit to see my family. Visiting my family is always an awesome time. My mom and I shopped til we dropped and watched several chick flicks while downing large containers of fro-yo. I jammed with my brother, who is a significantly better guitar player than I am, and shared a midnight chat (er…snack) with my dad. Sometimes I don't realize how much I miss them until I come back home.
But there is one tricky aspect to visiting home, and that's eating. Between my mother, who is seriously lactose intolerant and allergic to wheat, my grandfather, who is diabetic and a triple-bypass survivor, and me, a picky pescetarian, it can be challenging to find good foods that meet all of our dietary needs. Salmon and salads are great meetings point for us, as they are low-carb, contain heart-healthy fats, and are as dairy-free as you want them to be. So when my mom asked me what I thought we should make for dinner with Papa, I immediately thought of one of my favorite salmon recipes: herb mustard salmon.
This salmon only takes about 15 minutes to make. It's tangy and delicious, down to the last bite!
I read once that the most important step in buying fish is to smell it. Head to the seafood counter and look for salmon that is fresh and pink (I prefer fish that hasn't been frozen) and solid (meaning that the flesh isn't separating). Ask to smell it…this will usually induce your seafood guy to tell you how fresh it is. If the salmon smells fishy, don't buy it! If it smells neutral, good to go.
I am not a big fan of skinning fish, mostly because it takes me ages and I tend to mangle it a bit. Maybe with more practice, I will become a pro, but for now I tend to leave the skin on unless I really want to sear the fish on both sides. Thus, I just started out by cutting a little over 1½ pounds of fresh salmon into long 6 oz. pieces. If the skin is a bit tough to slice with a knife, try using kitchen shears.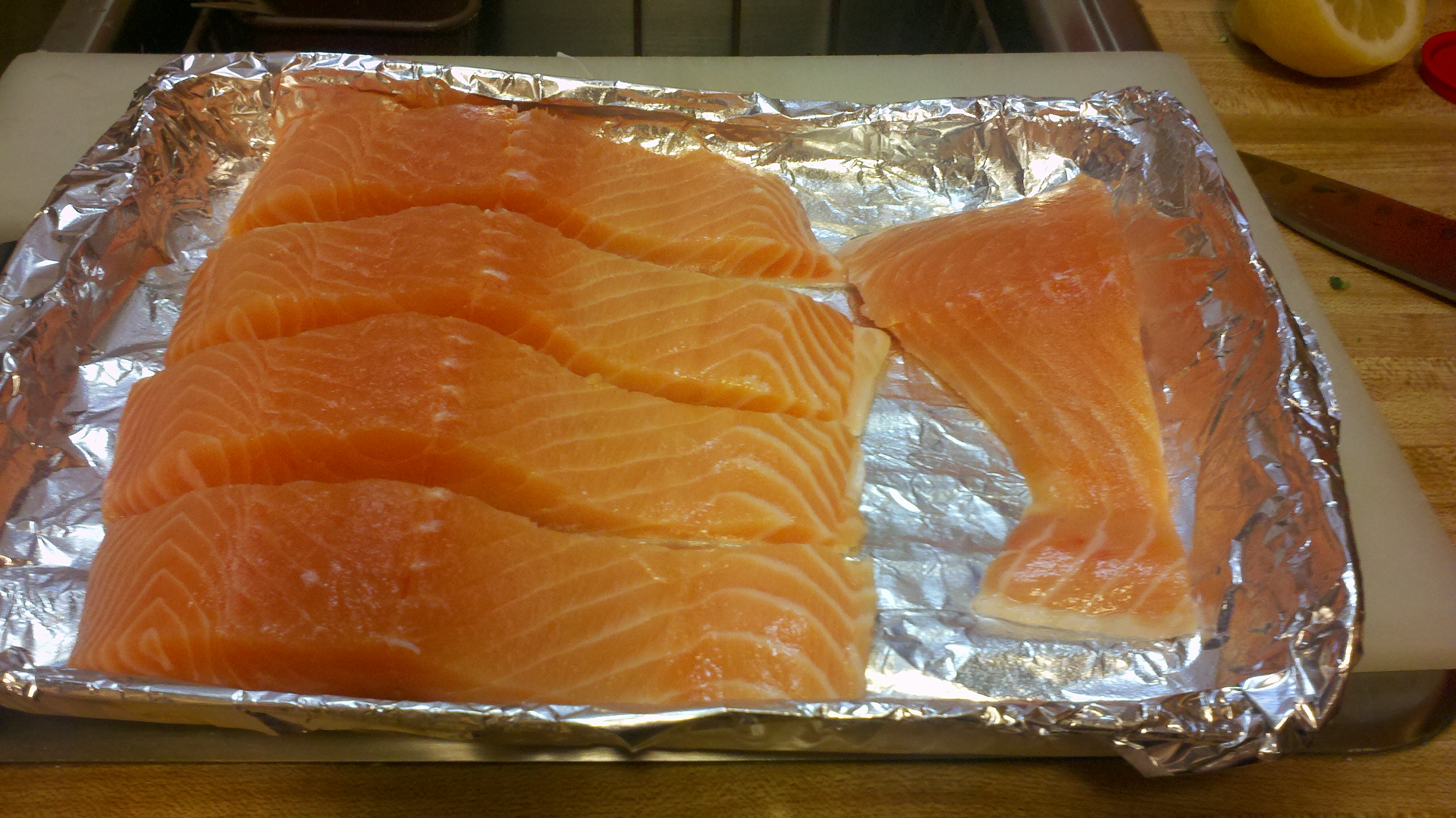 Line a baking pan with foil and lay the fish in the pan. Try not to let them touch, that way they will be able to cook evenly. Baste the fish with oil and season lightly with salt and pepper. Broil for 3 minutes.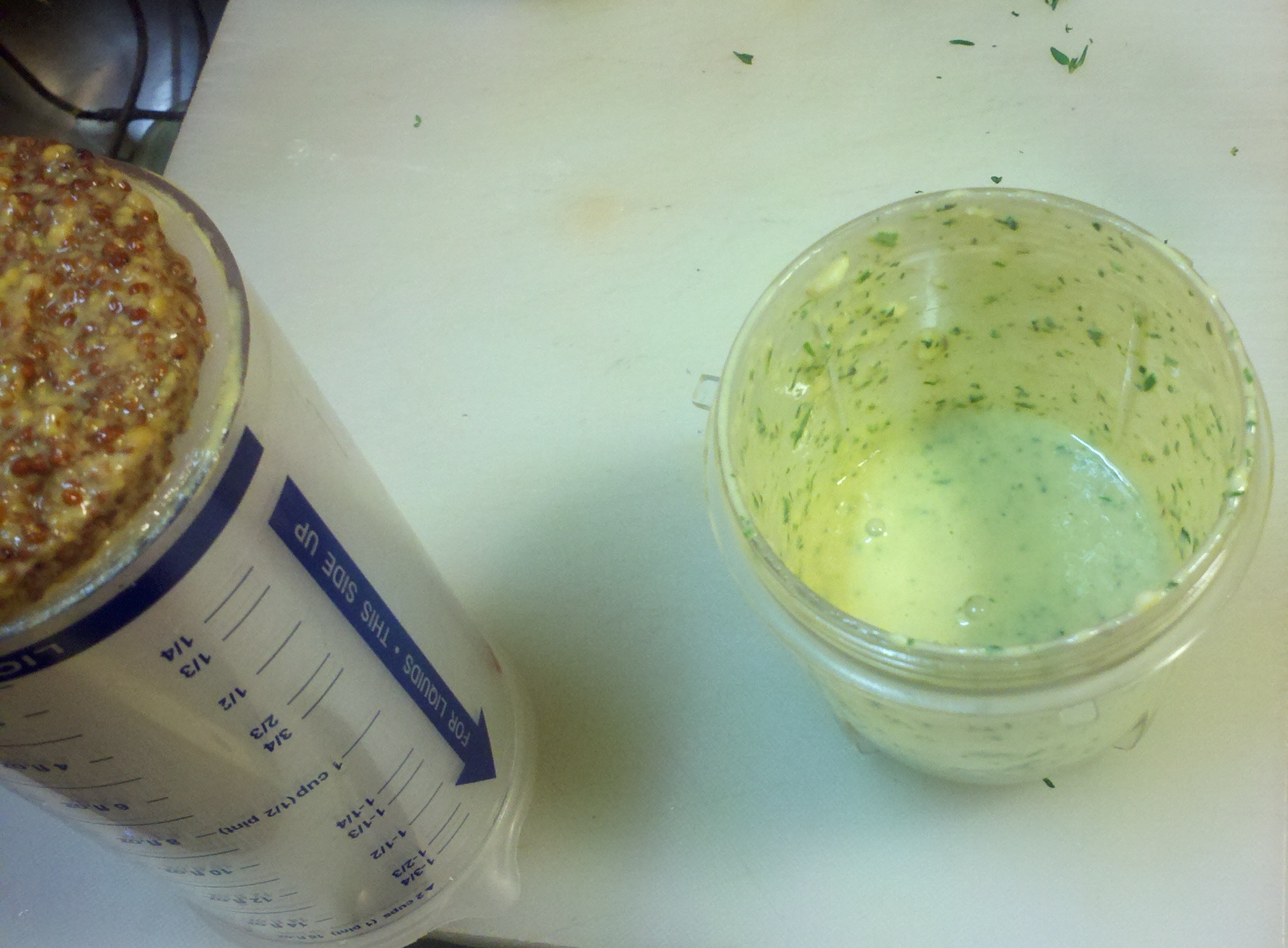 Meanwhile, combine citrus juices, roughly chopped garlic, the smooth mustard, fresh herbs, oil, and vinegar in a mini food processor (I used a Magic Bullet). Puree until smooth. Make sure the garlic gets thoroughly pureed. Once everything is smooth, stir in the whole grain mustard.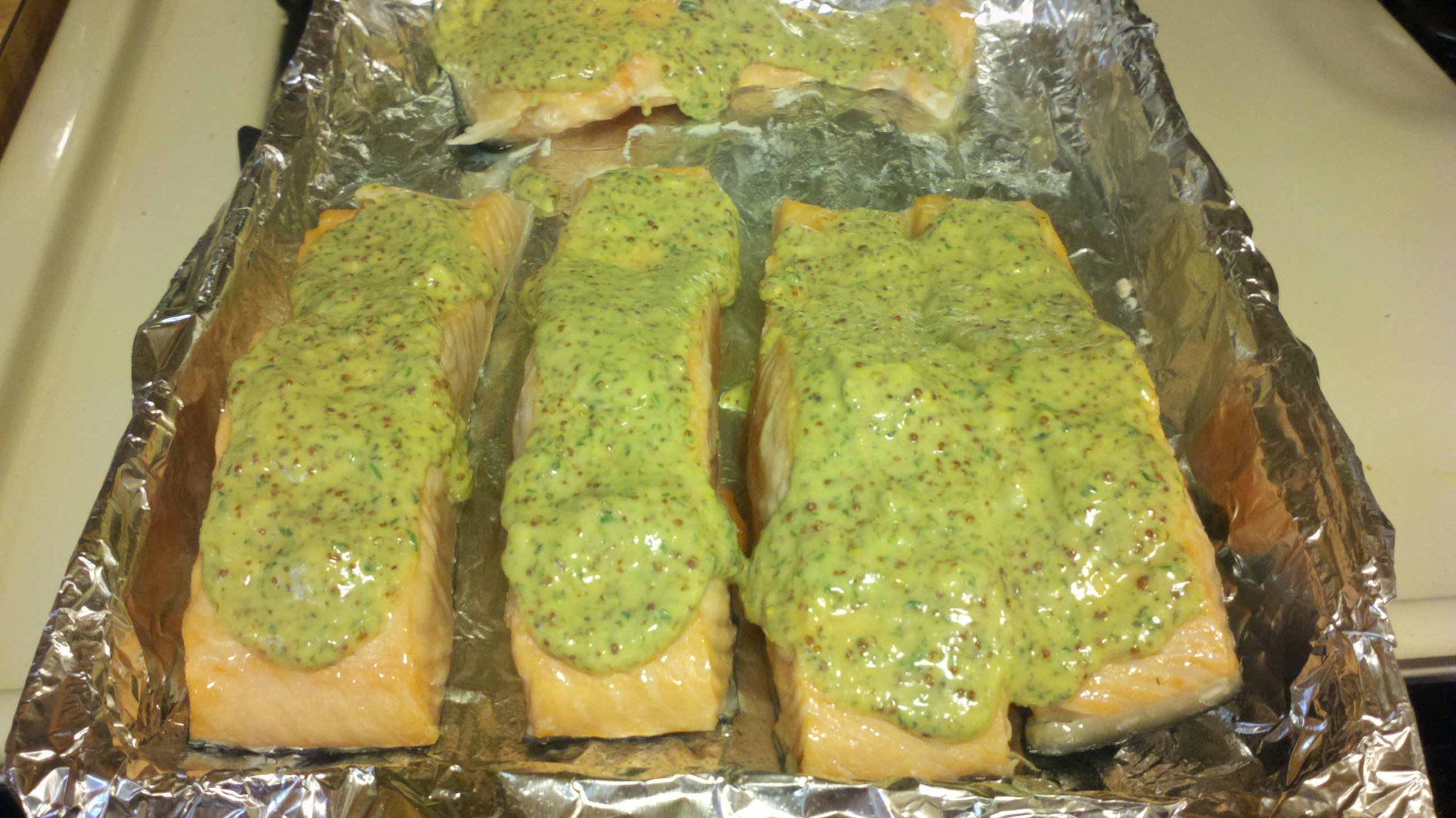 Remove the salmon from the broiler and spread evenly with the mustard sauce. Return to the broiler for 3-4 minutes, depending on desired doneness. Carefully peel apart the layers of one piece of salmon to check how done it is. The salmon should still be pink in the middle, but the flakes should pull apart easily.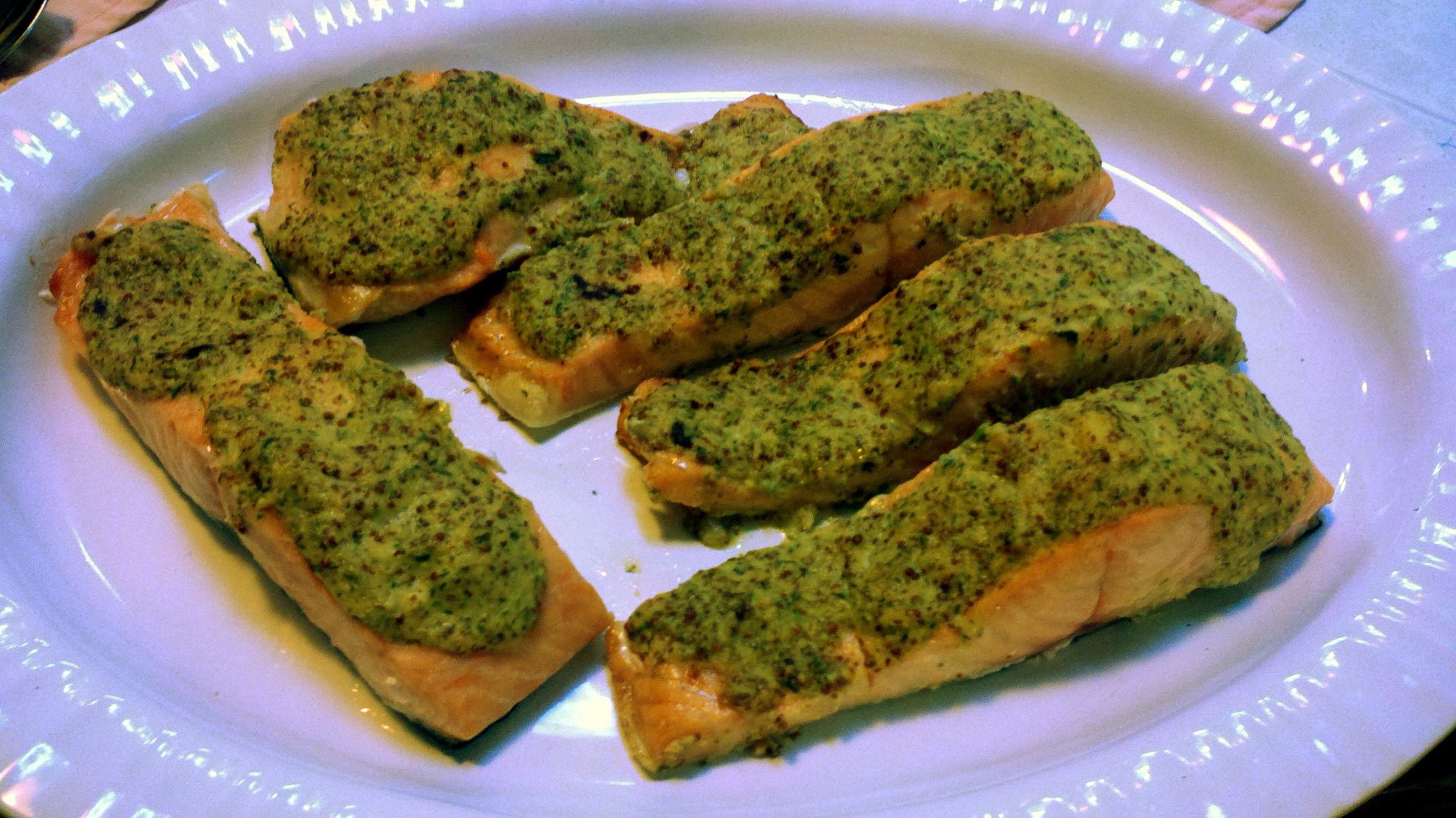 I served this salmon up with blanched broccoli drizzled with lemon juice.
Herb Mustard Salmon
heavily adapted from Everyday Italian
serves 4
Ingredients:
4 6oz. salmon fillets
1½ tbsp. olive oil, plus extra for basting
salt and black pepper
2 tsp. lemon juice
2 tsp. lime juice
2 cloves garlic, roughly chopped
1 tbsp. fresh rosemary
1 tbsp. fresh thyme
1 tsp. white wine vinegar
2 tbsp. Dijon mustard
2 tbsp. whole grain (Dijon) mustard, divided
Directions:
Preheat the broiler.
Line a metal baking sheet with foil and spray the foil with nonstick spray. Arrange the salmon fillets on the baking sheet. Baste with olive oil and sprinkle with salt and pepper. Broil for 3 minutes.
In a mini food processor combine lemon and lime juices, garlic, rosemary, thyme, wine vinegar, oil, and Dijon mustard. Process the mustard sauce until well pureed, about 30 seconds. Transfer to a small bowl and add the whole-grain mustard; stir to combine.
Remove salmon from the broiler and spoon the mustard sauce over the fillets. Continue broiling until the fillets are just cooked through and mustard is golden brown, about 4 minutes longer.
Transfer the salmon to plates and sprinkle with extra citrus juice, if desired.
Enjoy!