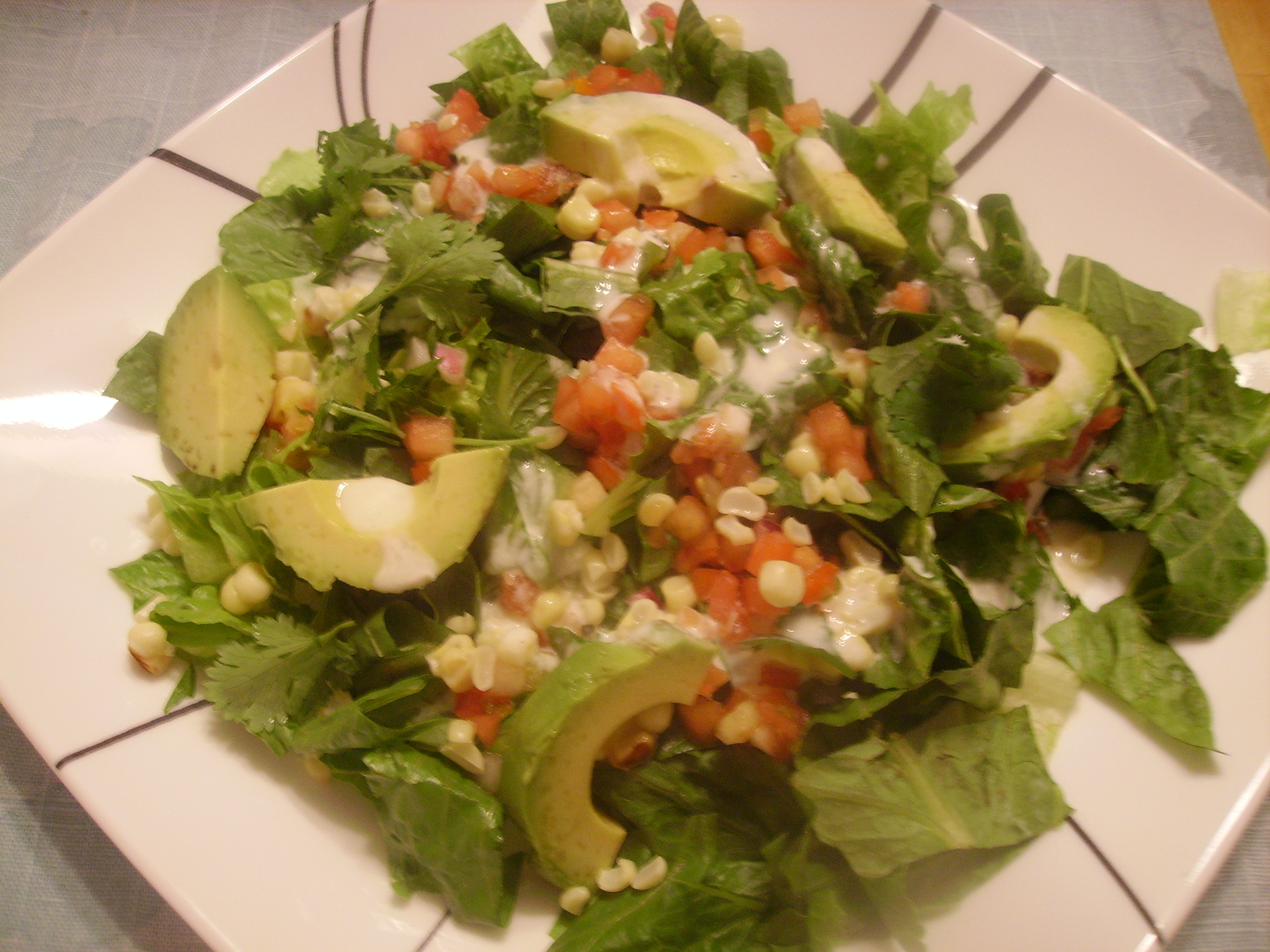 France was wonderful. And I fully intend to keep bringing you French treats throughout the summer. But I would also like to fit back into my pants…hence, the post-France diet. The plan: make a humongous amount of salad once or twice a week, store it in individual containers, and have a ready-made, healthy salad waiting for me at lunch every day! Even if you didn't eat nothing but macarons and croissants for 2 weeks, going on a high-veggie diet is always good for you (and your summer clothes)!
The first salad is a result of several whim purchases…which I realized tied together rather well once I got home. In fact, just add rice and beans and you will practically have a Chipotle salad here. I'm calling it a Fiesta salad, since the sum of the ingredients vaguely reminds me of Mexican food.
This salad is super easy to make, especially since part of the work is done for you. The amounts are very flexible–just add as much of each ingredient as you'd like. I planned this out to be a rather gigantic salad, so if you want something smaller, cut back. The first time I made this, I prepared two salads to eat right away and made three to eat for lunch during the rest of the week.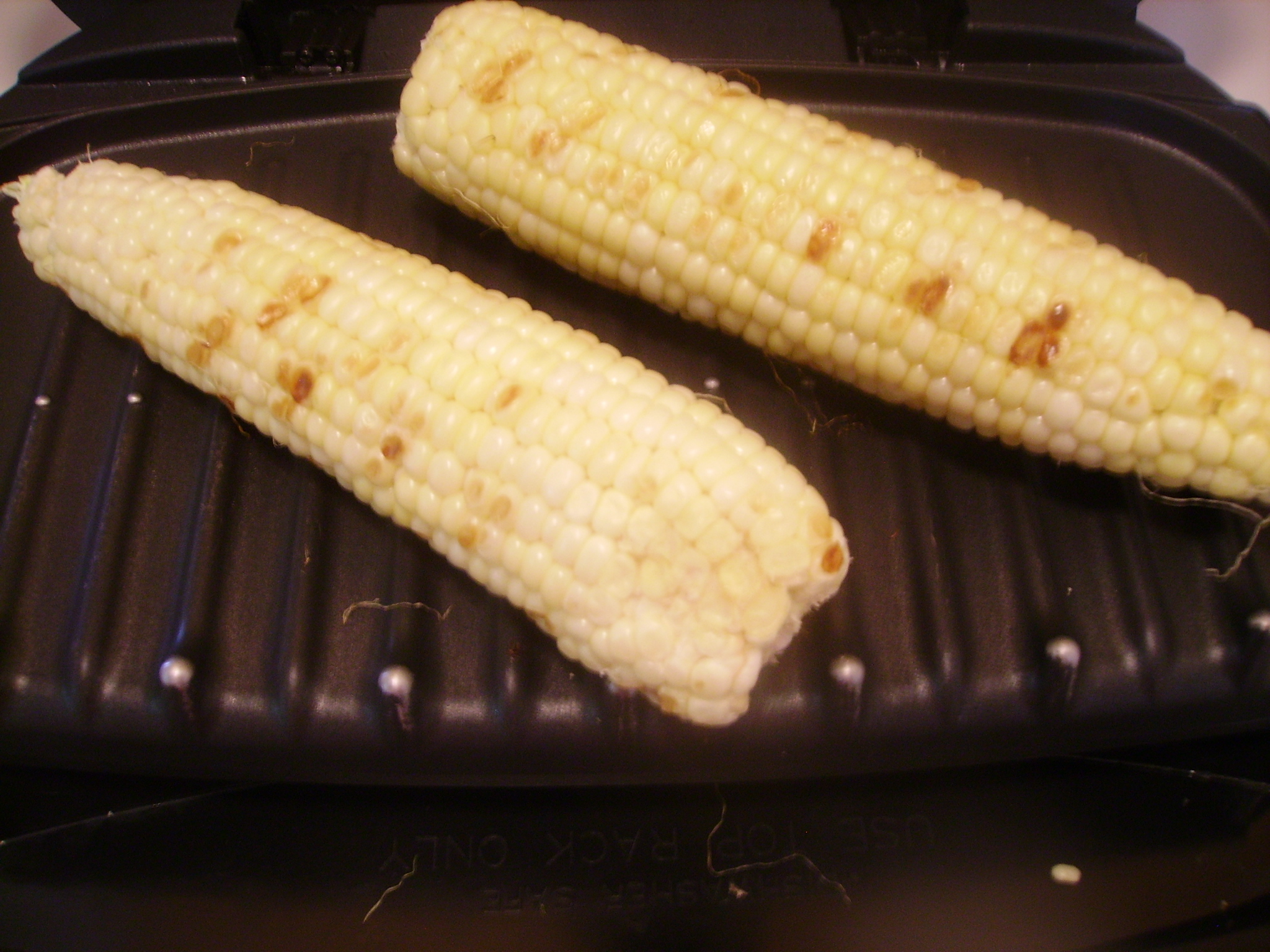 First, grill some ears of corn. Seriously, it's summer…how can you resist those giant corn bins in the grocery store? When grilling, hold out for the grill marks. Even the George Foreman can muster up some decent grill marks… When the corn is done, cut the kernels off the cob and let them cool.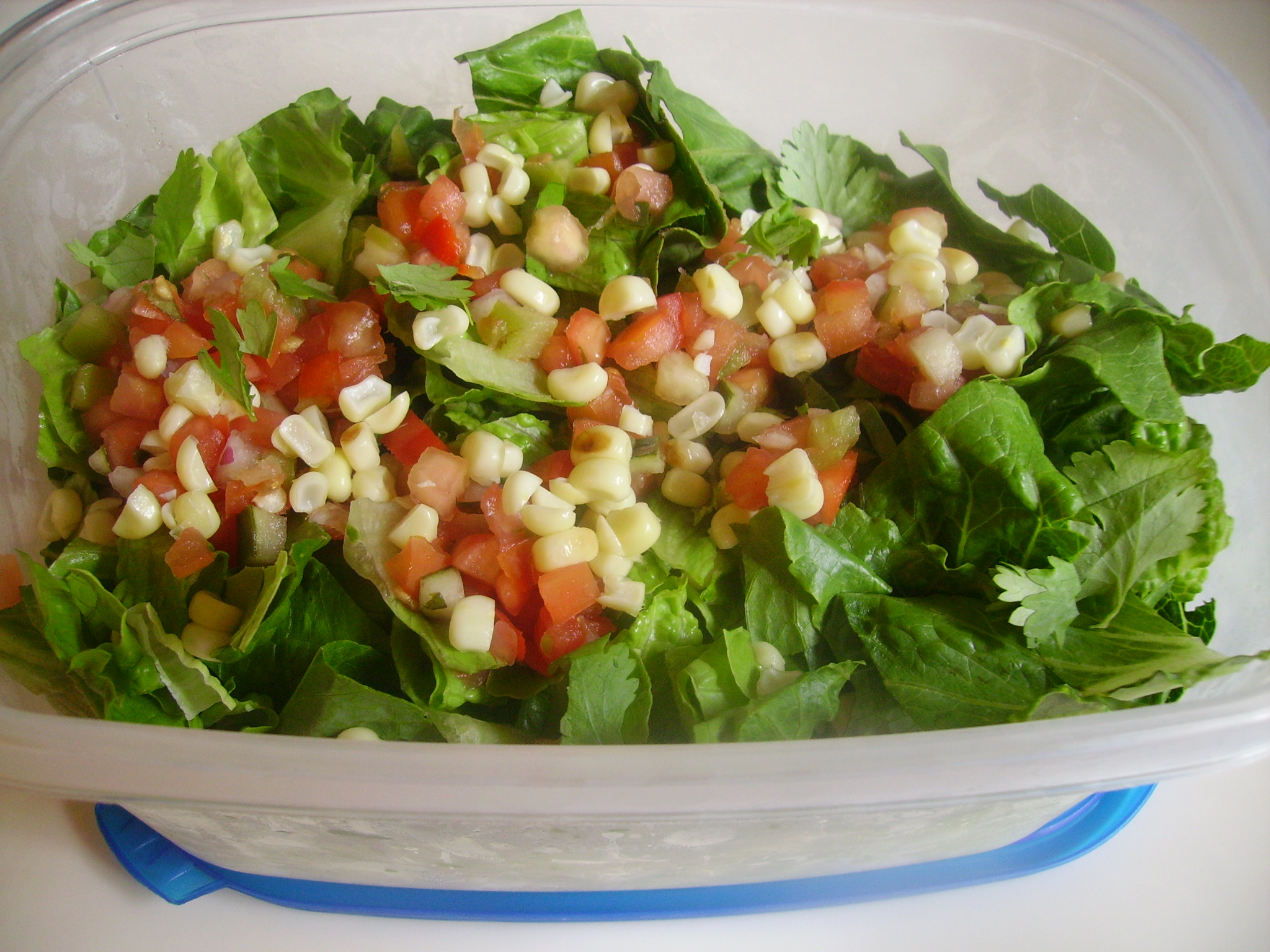 Chop up some hearts of romaine. I like to slice lengthwise down a few of the external ribs and then chop perpendicularly down the length of the lettuce.
Top the lettuce with very generous amounts of  pico and grilled corn. (Most grocery stores carry a pretty good pico de gallo–it's in the produce area and usually called "fresh salsa.") Tear up some cilantro and sprinkle it over the salad. If you are planning to store the salad for later, stop here and seal it up. The salad will keep for 3-4 days in an airtight container.
If you are making the salad to eat right away, pit an avocado (the easiest way to do this is to make a small chopping motion with your knife so that it wedges into the pit, and then twist slightly to remove it), cut off any discolored spots, and slice it thinly. Top each salad with half an avocado.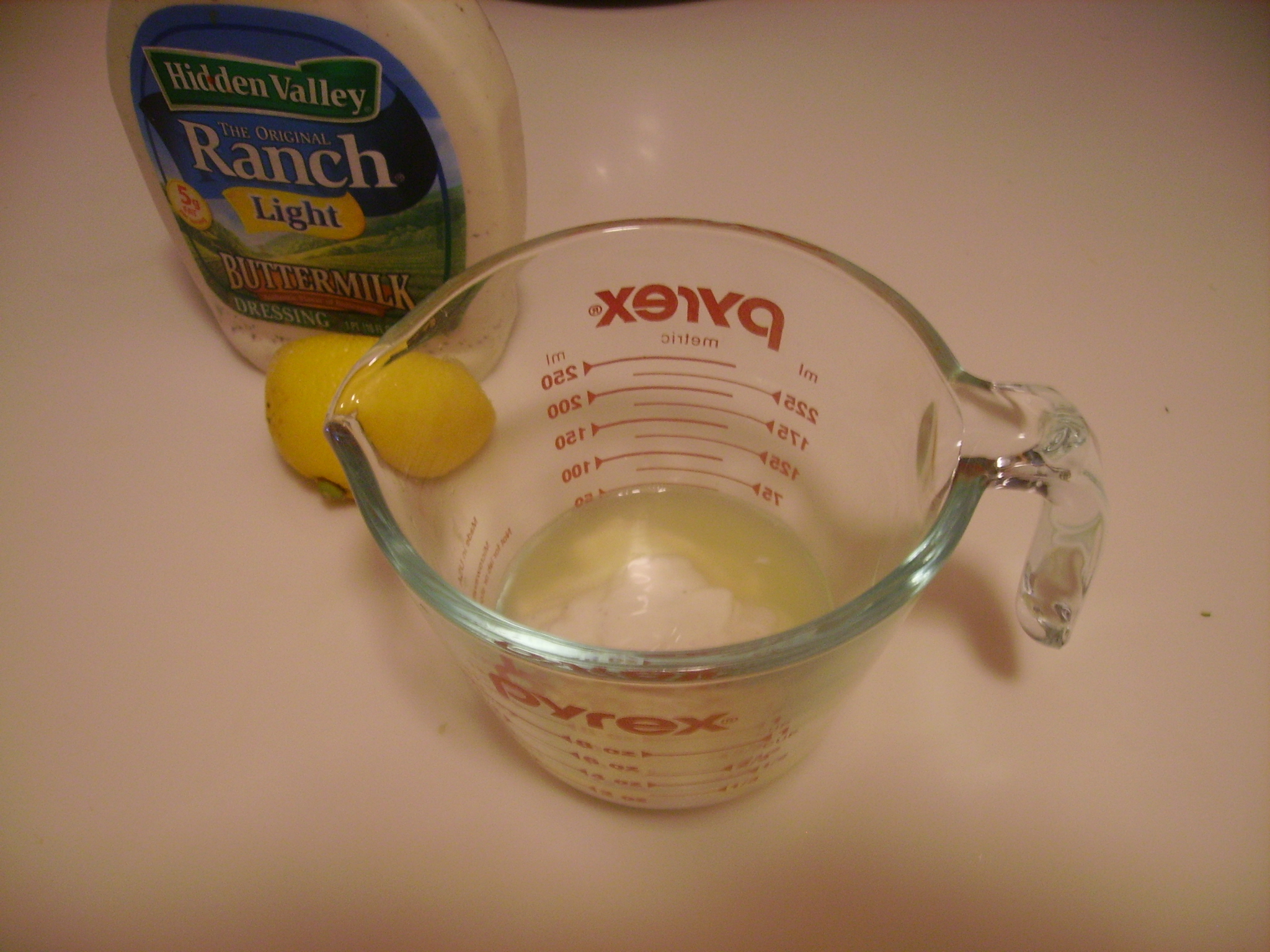 The dressing is something I learned from one of my students who was trying to cut back. It's half fresh-squeezed lemon juice, half buttermilk ranch. I grew up on ranch dressing but shunned it for several years due to how high in fat and calories it is. But this combination is simple and tasty, and it allows you to moisten your entire salad for only half the damage. Pour the thin dressing over your salad and enjoy!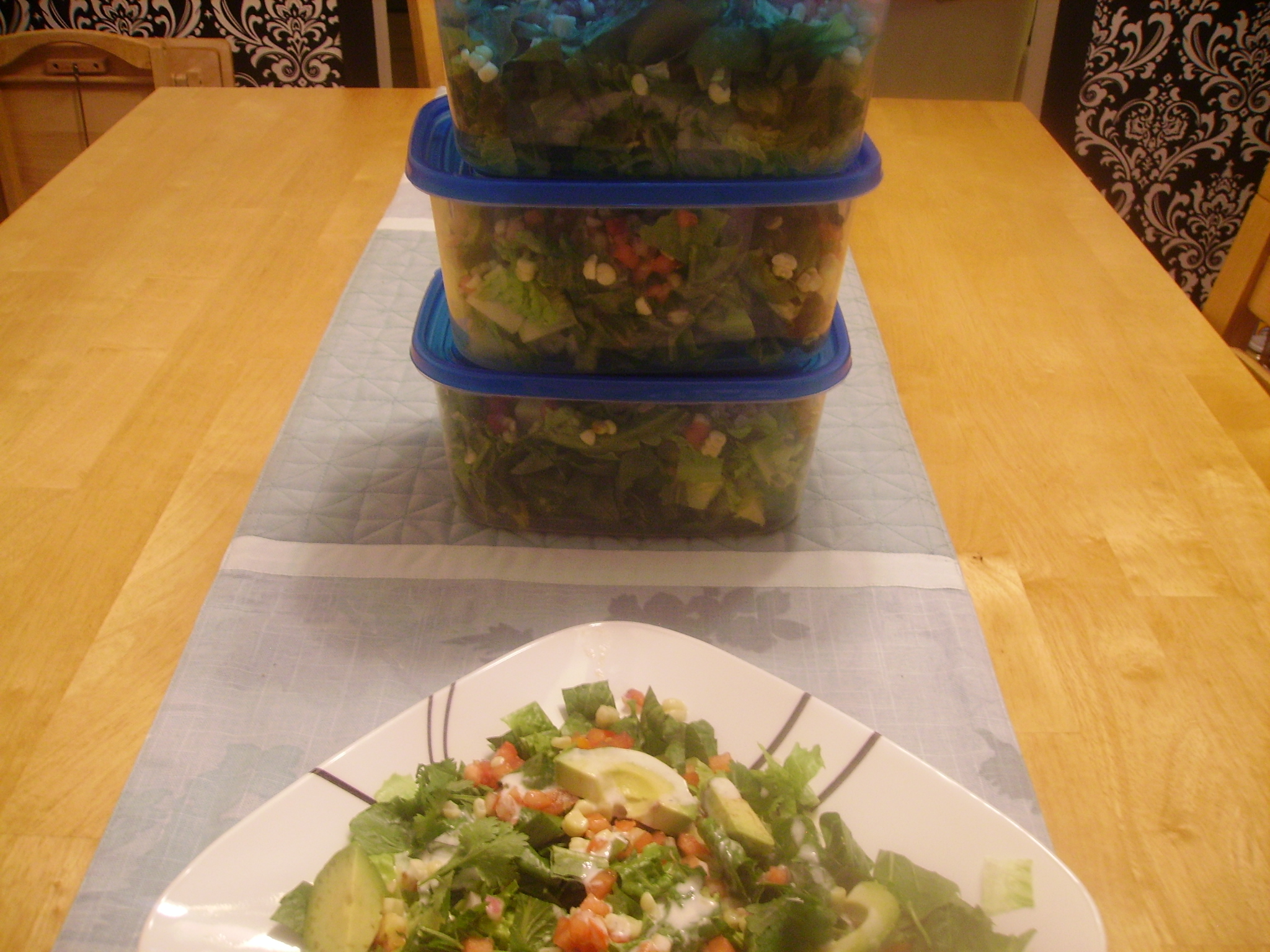 Fiesta Salad
by Melissa
serves 4
Ingredients:
1½ ears corn
4 romaine hearts
1-1½ cups pico de gallo
2 ripe avocados, pitted and sliced
1 handful fresh cilantro leaves
⅓ cup fresh lemon juice
⅓ cup buttermilk ranch dressing
Directions:
Grill the corn until the kernels are a shade darker. Ideally, the corn will have a few scorch marks, which will add flavor. Shave the corn off the cob and let cool.
Chop the romaine hearts and distribute among plates.
Top with pico de gallo, corn, sliced avocado, and cilantro.
Mix together the lemon juice and the ranch dressing. Lightly drizzle over the salads.
*Note: If preparing ahead of time, do not add the avocados until ready to eat, to prevent discoloration. Do not add dressing until ready to eat, to prevent the greens from wilting.
Enjoy!