Sometimes I try to do the majority of my prep while also cooking other components of a dish. It's at such times when I realize how slowly I do things like shuck ears of corn and dice…well, anything. And how quickly onions burn.
Still, somehow these stuffed peppers came out very well! No doubt because of the incredibly fresh, local goodness of the vegetables themselves.
This past week, my friend Sarah of Well Dined lent me her CSA share while she and her husband took a trip across the country. Never heard of a CSA? It stands for Community Supported Agriculture, and it's a program through which you can buy a share of a local farm or network of farms. You help support them as they are getting their crops going for the summer, and in return, you get a carton full of awesome fresh fruits and vegetables each week. So, thanks to Sarah, we were blessed this week with fresh ears of corn, green bell peppers, eggplant, tomatoes, heirloom grape tomatoes, red and white onions, baby potatoes, granny smith apples, peaches, pears, and a cantaloupe. And some wilted chard. Oh well, only one dud among all that goodness!
So how did I use this bounty? Dave inhaled all of the fruits within a day and a half. And about half of what was left went into these stuffed bell peppers. Yum.
Stuffed peppers are really easy to make, but these babies do require a lot of chopping.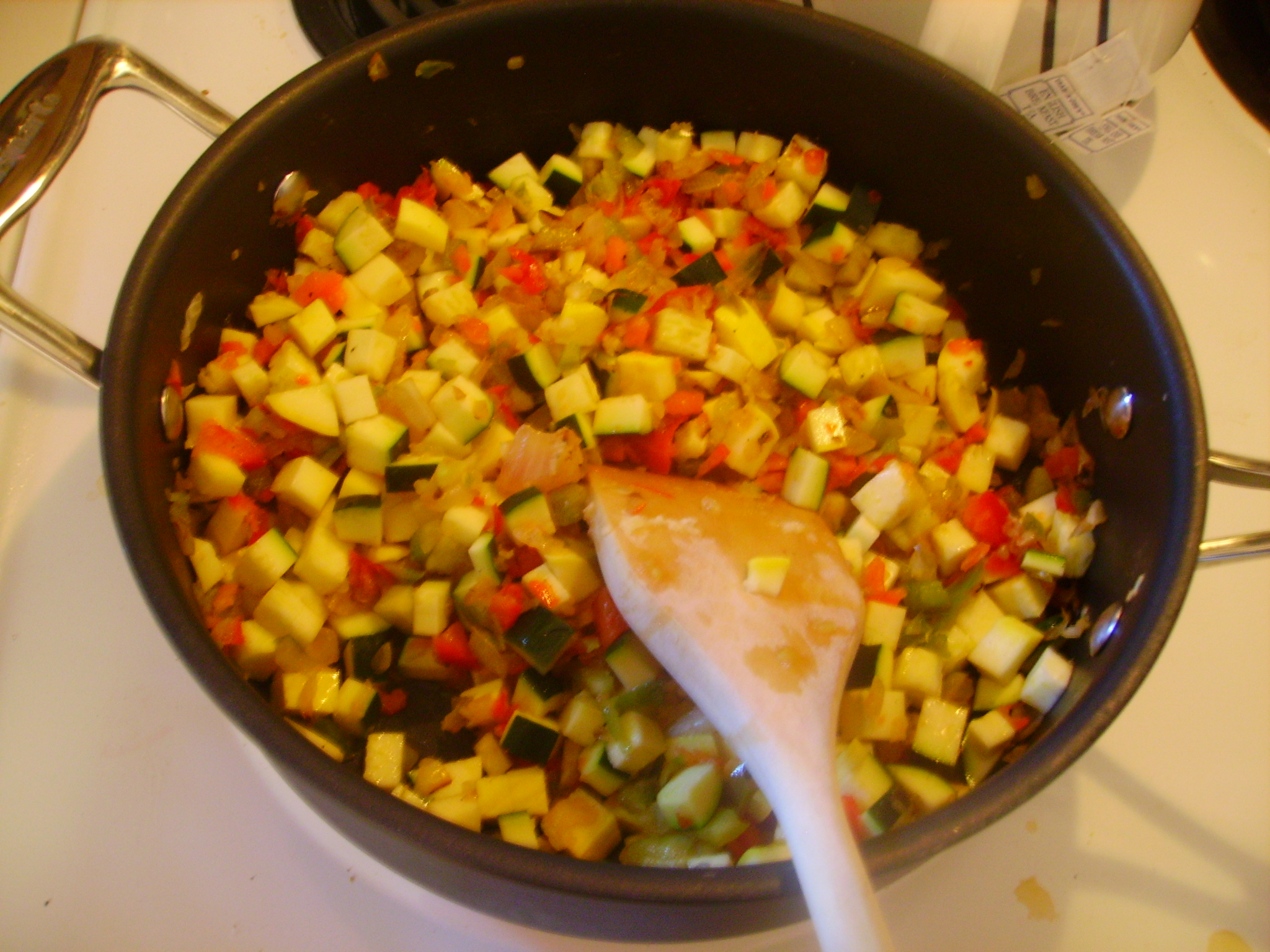 Start by dicing up a white onion and sautéing it with a few tablespoons of butter. When the onions are almost translucent, add in the garlic, chopped red bell pepper, zucchini, and yellow squash. If you, like me, accidentally overdo the onions a little bit, don't worry! The dish is very forgiving. Sauté for a few minutes, until the vegetables become tender.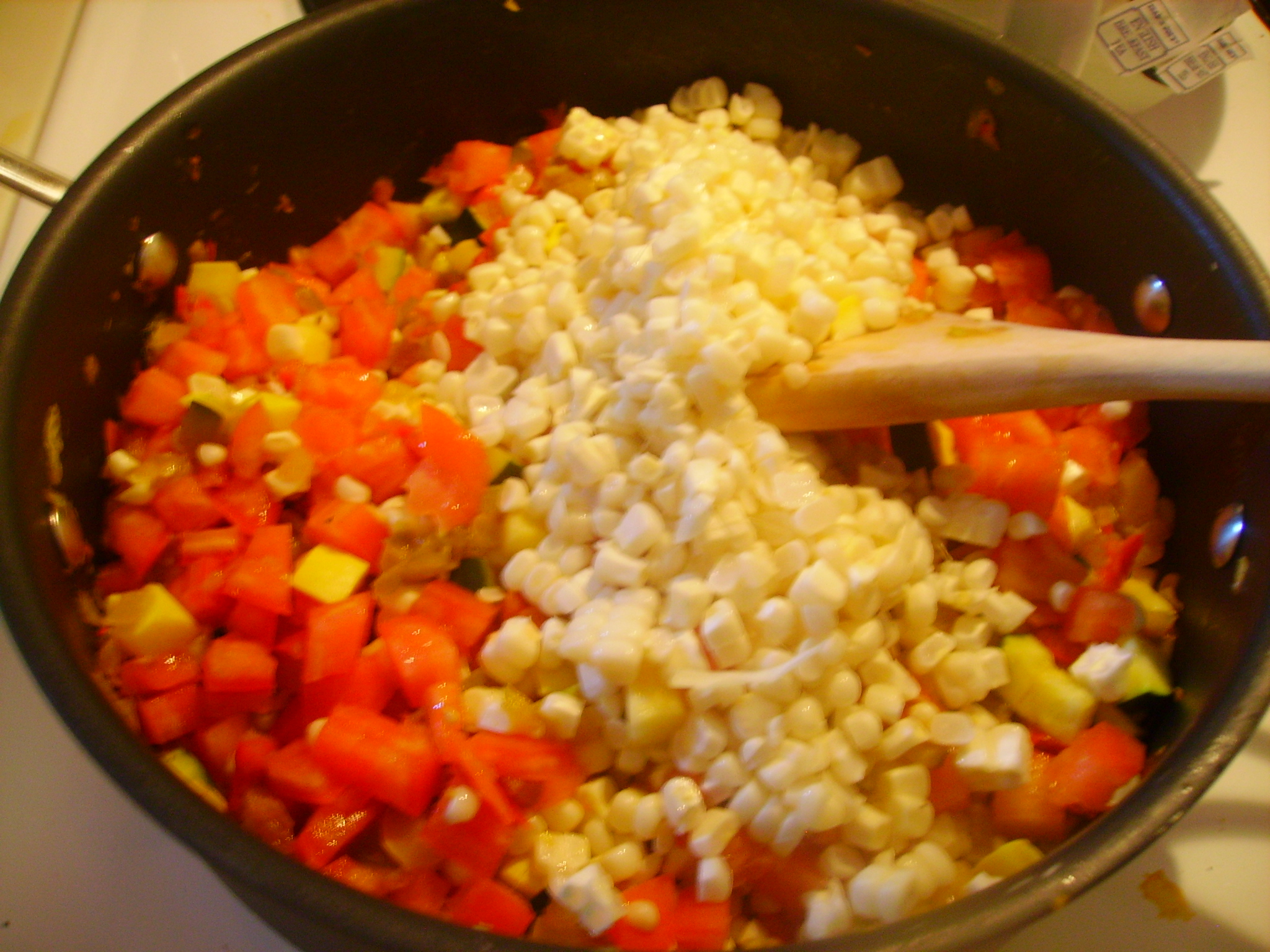 Add in the corn you chopped from the cob and the tomatoes. Cook for another few minutes, until the tomatoes release some juice and the whole mixture is very warm.
Remove from the heat and stir in the breadcrumbs, fresh herbs, and seasonings. I, in my frenzy to get these babies in the oven, spaced out on the herbs and seasonings, so we had to season tableside instead. It all worked out 🙂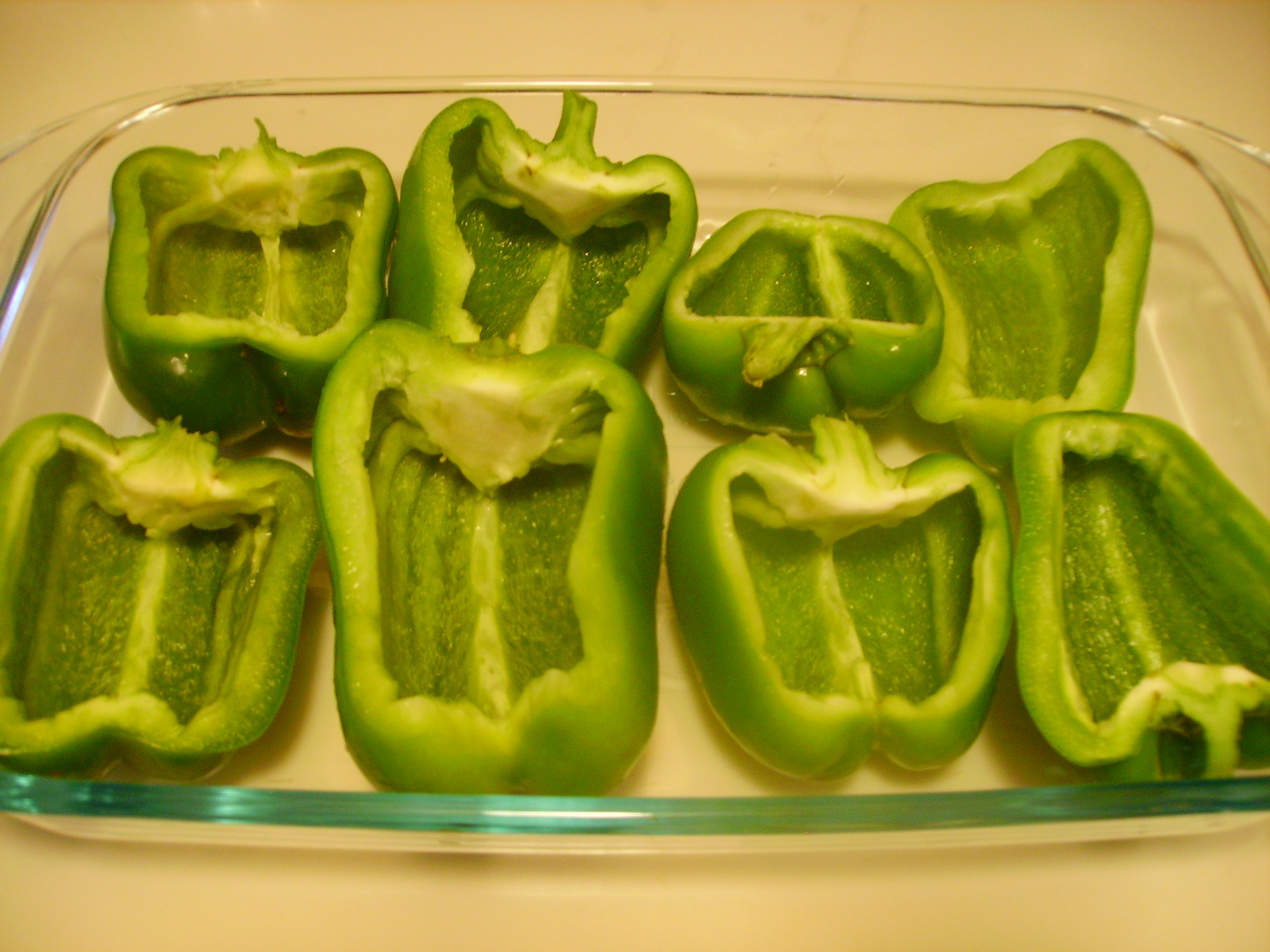 Cut 4 bell peppers, any color you like (we used green with many thanks to the CSA), in half lengthwise and remove seeds and membranes. Be sure not to cut the tops off, or else the peppers won't be able to hold any of the stuffing!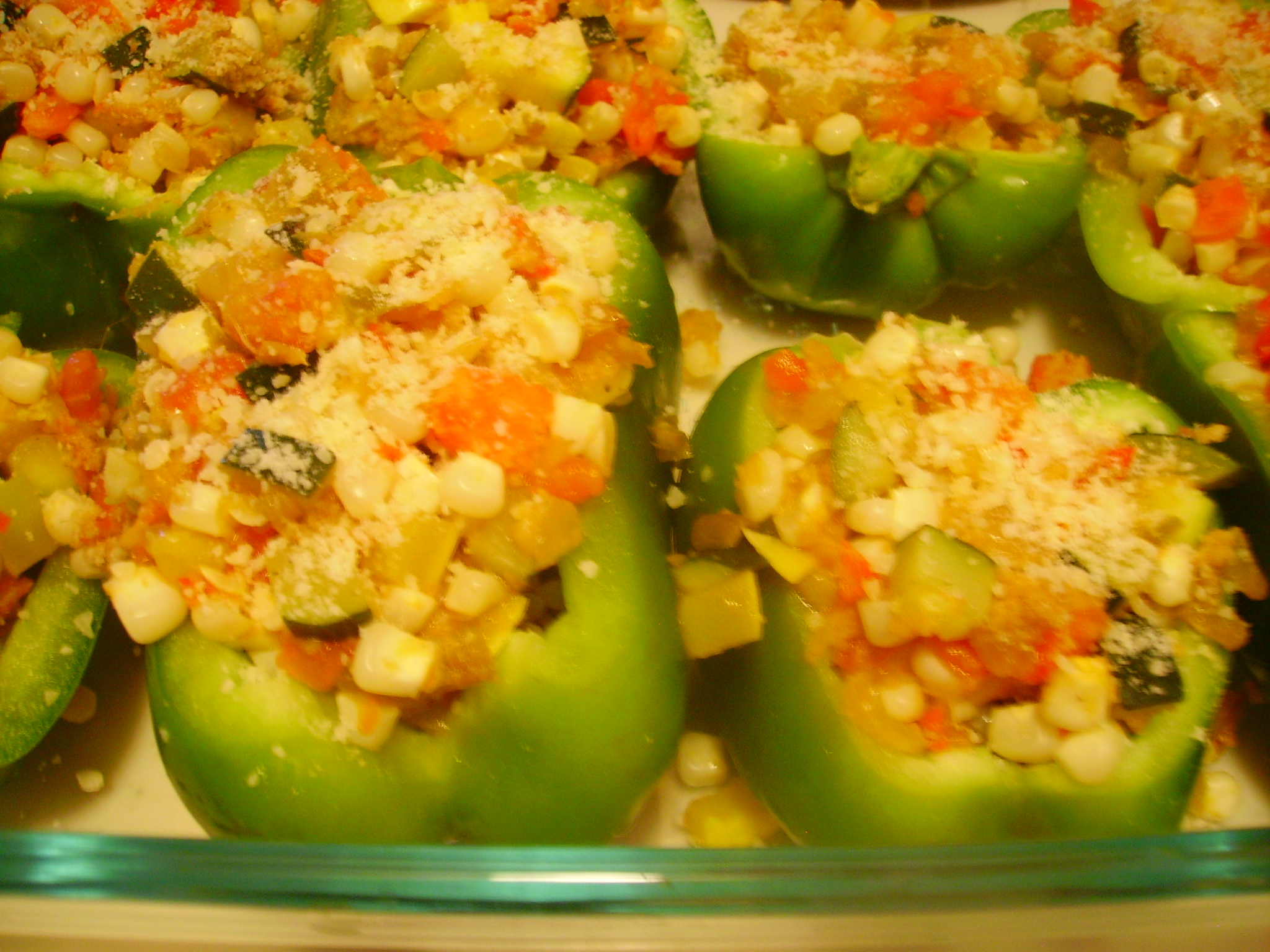 Distribute the stuffing among the peppers. I found that I actually had enough stuffing to fill 5 peppers, so next time I will keep an extra on hand. Top with a little parmesan if you like; it will create a nice crust on top of the peppers as they bake.
Bake at 375° for 30 minutes. The original recipe called for grilling the peppers, which my husband and I think might have been even more delicious, if we hadn't been too lazy to grill when it was dinner time. The smokiness from the charcoal would have added an extra layer of awesome to these peppers.
Roasted Vegetable Stuffed Bell Peppers
adapted from Smitten Kitchen
serves 4
Ingredients:
2 tablespoons butter
1 large onion, finely chopped
1 medium red bell pepper, seeded and cut into ¼″ dice
3 cloves garlic, minced
1 medium zucchini, cut into ¼″ dice
1 medium yellow squash, cut into ¼″ dice
3 fresh ears of corn or 2 cups frozen corn kernels
1 large tomato, seeded and cut into ¼″ dice
½ cup plain breadcrumbs
2 tbsp. chopped fresh herbs of choice (basil, oregano, thyme, parsley)
½ tsp. salt, plus extra
¼ tsp. black pepper, plus extra
4 medium bell peppers, any color
2 tbsp. grated parmesan
Directions:
Preheat oven to 375°.
Melt the butter in a large skillet over medium heat. Add the onion and sauté until almost translucent, about 4 minutes. Add the garlic and the diced red bell pepper, zucchini, and yellow squash. Sauté the vegetables until crisp-tender, about 4 minutes.
Cut the corn kernels from the cob. Stir the corn and tomato into the sautéed vegetables and cook until heated through, about 2 minutes.
Remove the mixture from the heat and stir in breadcrumbs, herbs, and seasonings. The breadcrumbs should absorb most of the liquid in the pan.
Cut the remaining bell peppers in half lengthwise right through the stem, leaving a bit of stem attached to each half. Cut out the cores, seeds, and ribs from the interiors of the peppers, leaving the stem intact. Sprinkle the insides of the peppers lightly with salt and pepper.
Spoon the filling equally into the pepper cavities.
Bake peppers for 30–35 minutes. Top with a light sprinkle of parmesan.
*Variation: For a Southwestern flair, add some cumin and a sprinkle of red pepper flakes, and select cilantro as the herb of choice.
Enjoy!