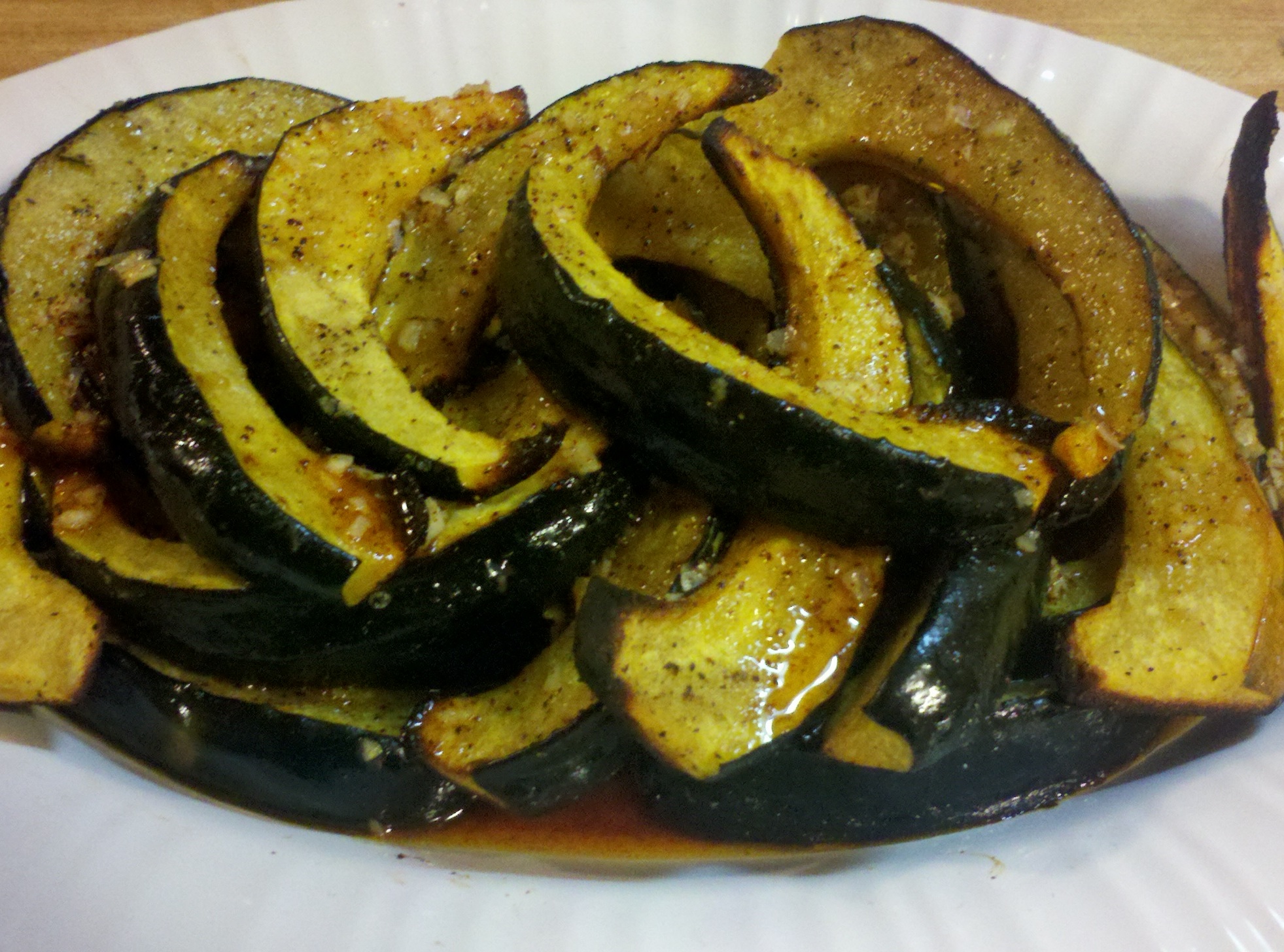 How do I love Fall squash? Let me count the ways…
Or rather, let me show you! Quick, go find the two most beautiful acorn squash in your grocery store and meet me back here! I promise you will love this combination of sweet squash and tangy, garlicky, ever so slightly spicy vinaigrette.
This recipe couldn't be easier to make, and the best part is that you will probably have time to prepare a whole meal while the squash slices are roasting! Dinner in under an hour, awesome.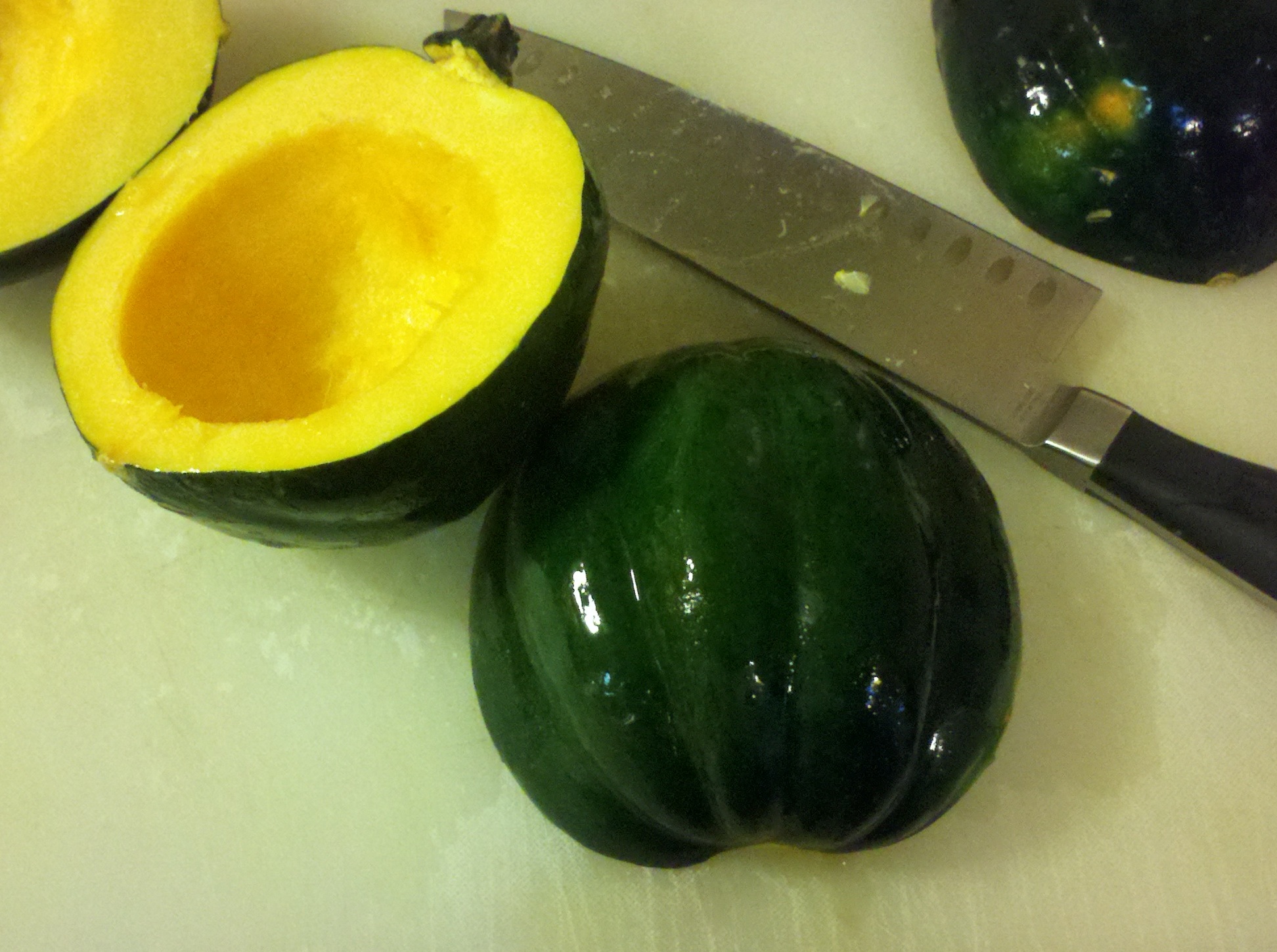 Start by cutting the squash in half lengthwise (as in, cut through the stem) with a very sharp knife. Do not cut your thumbs off…but do use a lot of pressure, because the skin of the squash is very tough before you roast it. Cut off both ends. Scoop out the seeds with a spoon or your hands. If you want, save them and roast them for a snack later!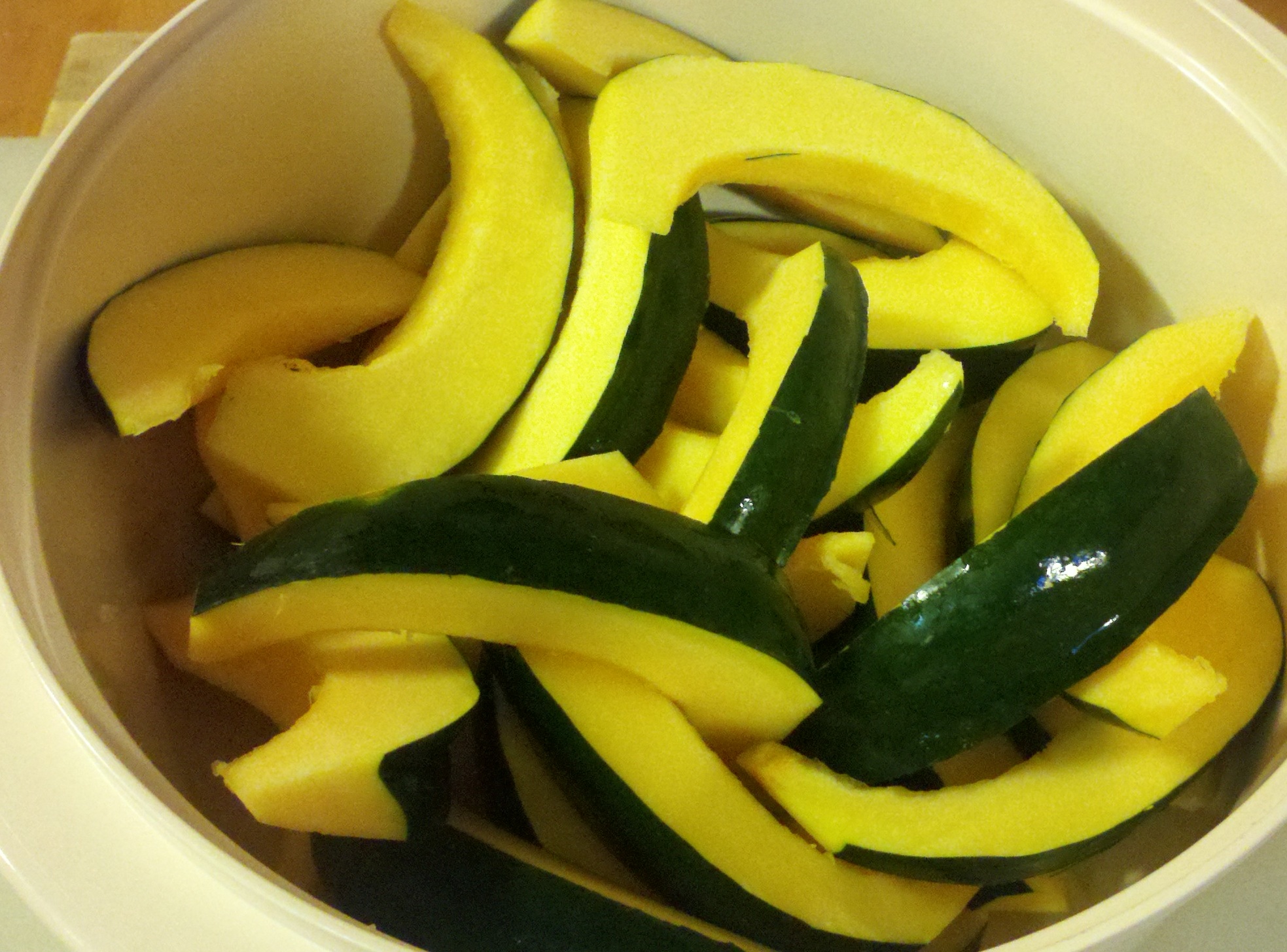 Slice the squash halves lengthwise into approximately 1″ chunks. Toss them in a large bowl with olive oil, salt, and pepper. Transfer to two foil-lined cookie sheets.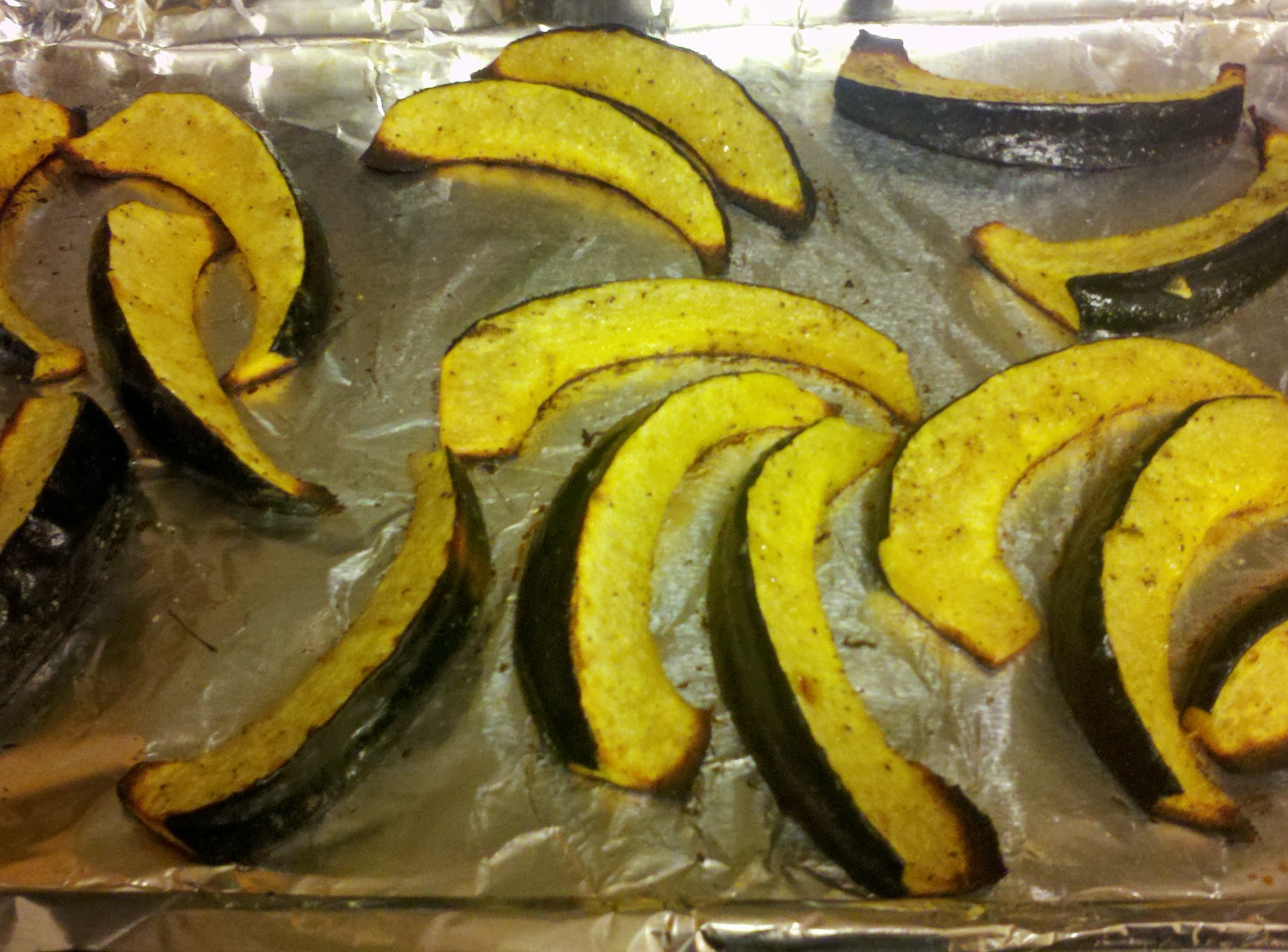 Roast at 450° for about 30 minutes. The bottoms of the squash slices will brown (or, in my case, blacken…). If you prefer less browning, turn them over about halfway through. In either case, the browned/blackened sides will still be soft and delicious.
While the squash is roasting, stir or shake together the ingredients for the vinaigrette: olive oil, lime juice, chili powder, and minced garlic. Since the lime juice can be pretty sour, I added a pinch of sugar; you can taste and decide whether you think the sweetness is necessary (or even add a little extra if you have a particularly sour lime!). I also like the kick of crushed red pepper, but you may want to sprinkle that on after serving, depending on the spicy tolerance of everyone at the table.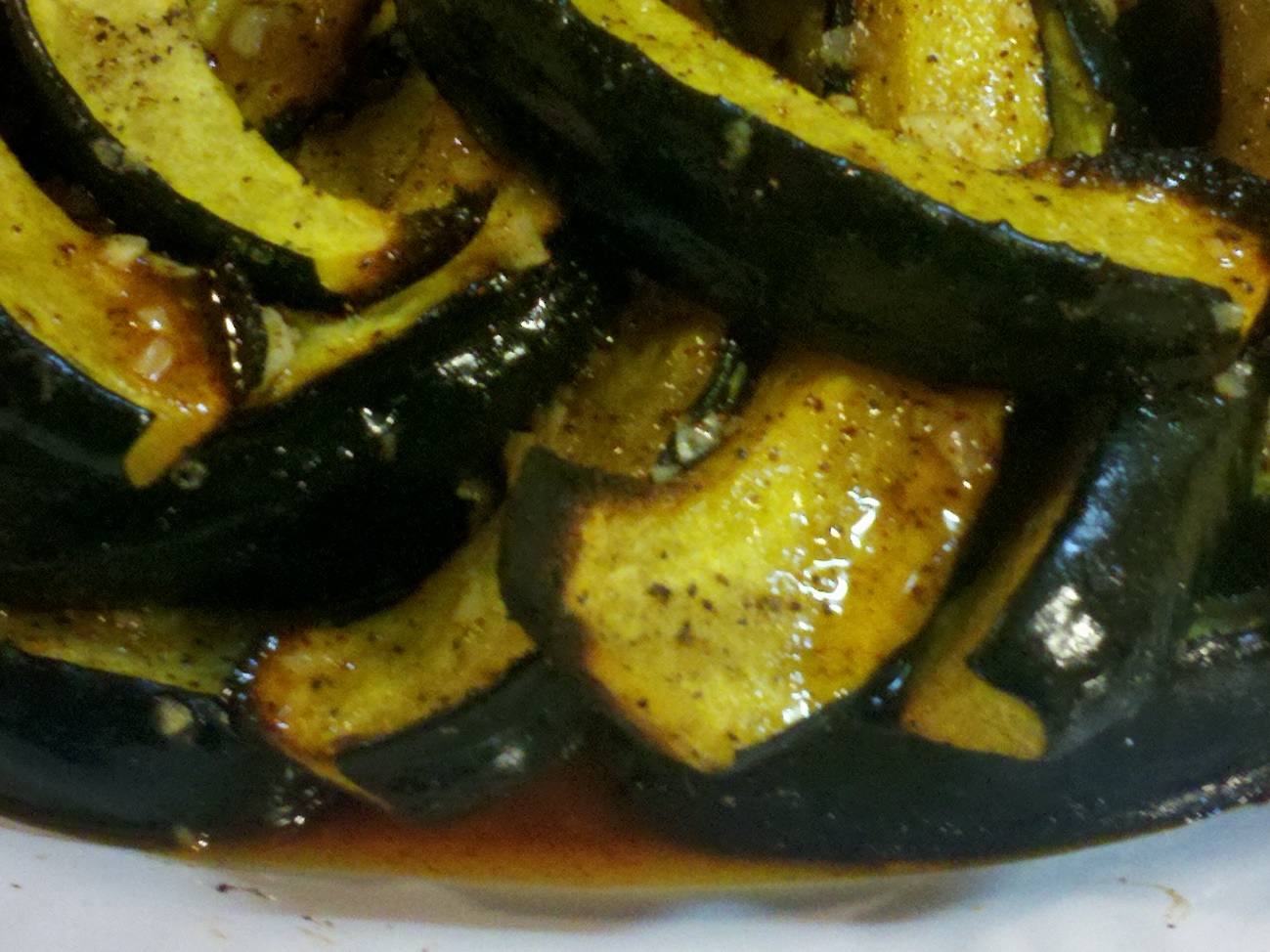 Transfer the roasted squash to a serving platter that has a slight bowl to it to catch any extra vinaigrette. Pour the dressing evenly over the squash, and top with minced fresh cilantro (not pictured…oops). When serving, make sure to scoop a little extra dressing over the acorn squash!
Roasted Acorn Squash with Garlic-Chili-Lime Vinaigrette
lightly adapted from Smitten Kitchen
serves 6
Ingredients:
2 1½lb. acorn squash
½ tsp. black pepper
1 tsp. salt
6 tbsp. olive oil, divided
2–3 large cloves garlic, minced
¼ cup fresh lime juice
¾ tsp. chili powder
1 pinch sugar
½ tsp. crushed red pepper (optional)
2 tbsp. minced fresh cilantro
Directions:
Preheat oven to 450°.
Halve squash lengthwise, then cut off and discard stem ends. Scoop out seeds and cut squash lengthwise into 1″ wedges. In a large bowl, toss squash with black pepper, salt, and 2 tbsp. olive oil. Coat evenly.
Transfer the squash to two foil-lined cookie sheets, cut sides down. Roast for 30 minutes, rotating pans halfway through. When the undersides of the squash slices are brown and the edges slightly crisp, remove from the oven.
Meanwhile, stir together the remaining ¼ cup olive oil, lime juice, chili powder, sugar, red pepper, and garlic. Set the vinaigrette aside.
Transfer squash, browned sides up, to a platter and drizzle with vinaigrette. Top with minced cilantro.
Enjoy!