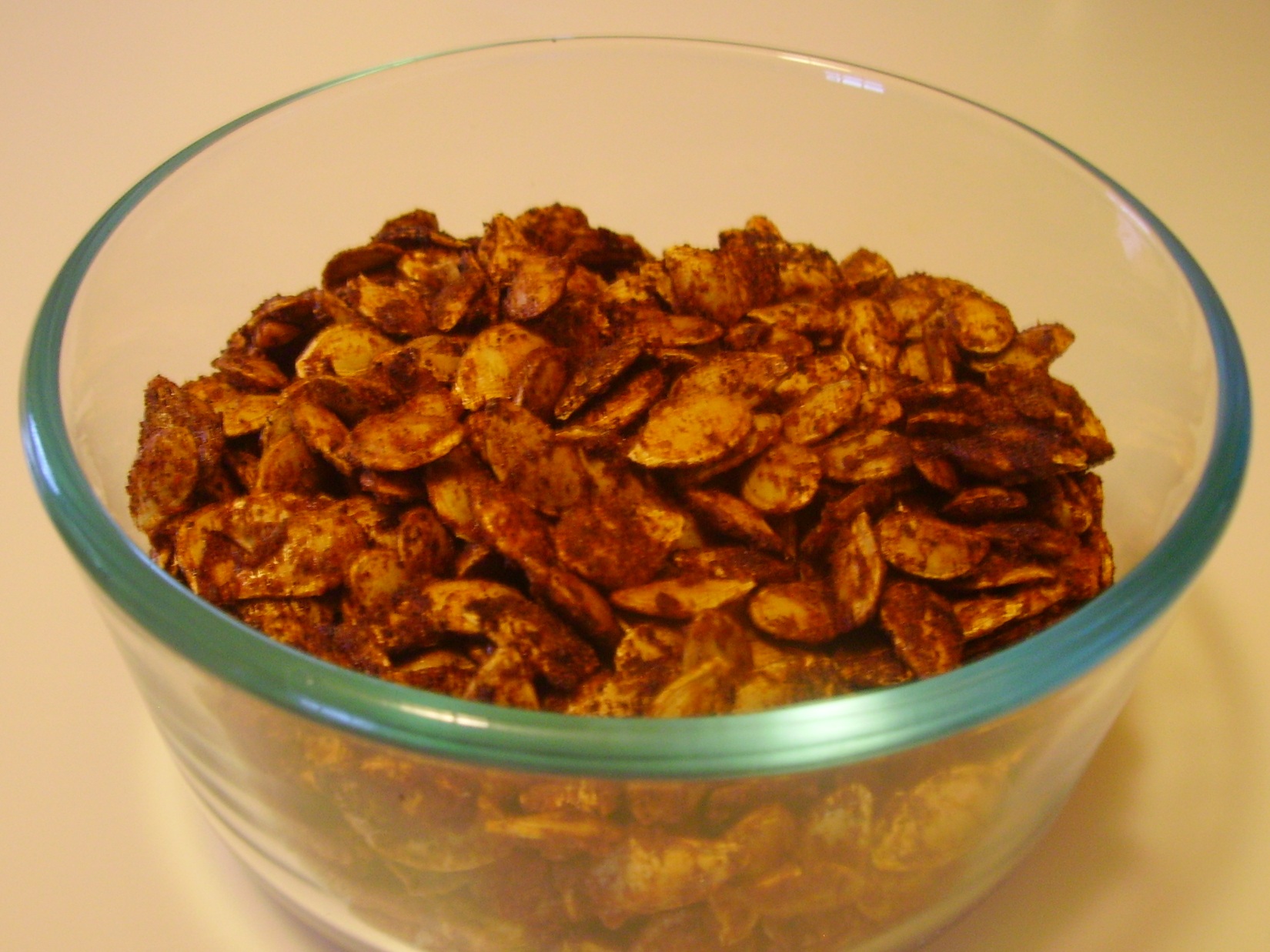 My family was never really big on appetizers. But that's probably because my mom is super punctual. When she says, "Dinner will be around 2:00," you can be pretty sure we will be eating no later than 2:30. Amazing.
I, on the other hand, notoriously underestimate how long a meal will take to prepare. I once invited some friends over for a fancy "French" dinner and they had to help me prepare the whole thing because when they showed up—on time—I had only just started making the beurre blanc and the fish was still in the fridge. Thankfully, my darling husband had cut up some cheese and crusty bread, so they didn't have to starve while they helped me cook (Kimberly and Paul, I am still thankful for your flexibility and kitchen skills!).
So if you are anything like me, you may want to plan a few appetizers to help tide your family over until the big Thanksgiving dinner is ready. Even if you hadn't had appetizers on the agenda, I have a great munchie for you that takes about 20 minutes to prepare: roasted squash seeds.
In case you haven't been making a lot of butternut squash lately, or you didn't think to hang on to those pumpkin seeds from Halloween, you can easily buy some raw pepitas or raw, unsalted sunflower seeds at the grocery store. I did use fresh butternut squash seeds, harvested from 4 large butternut squash, which yielded just over 1 cup dried seeds.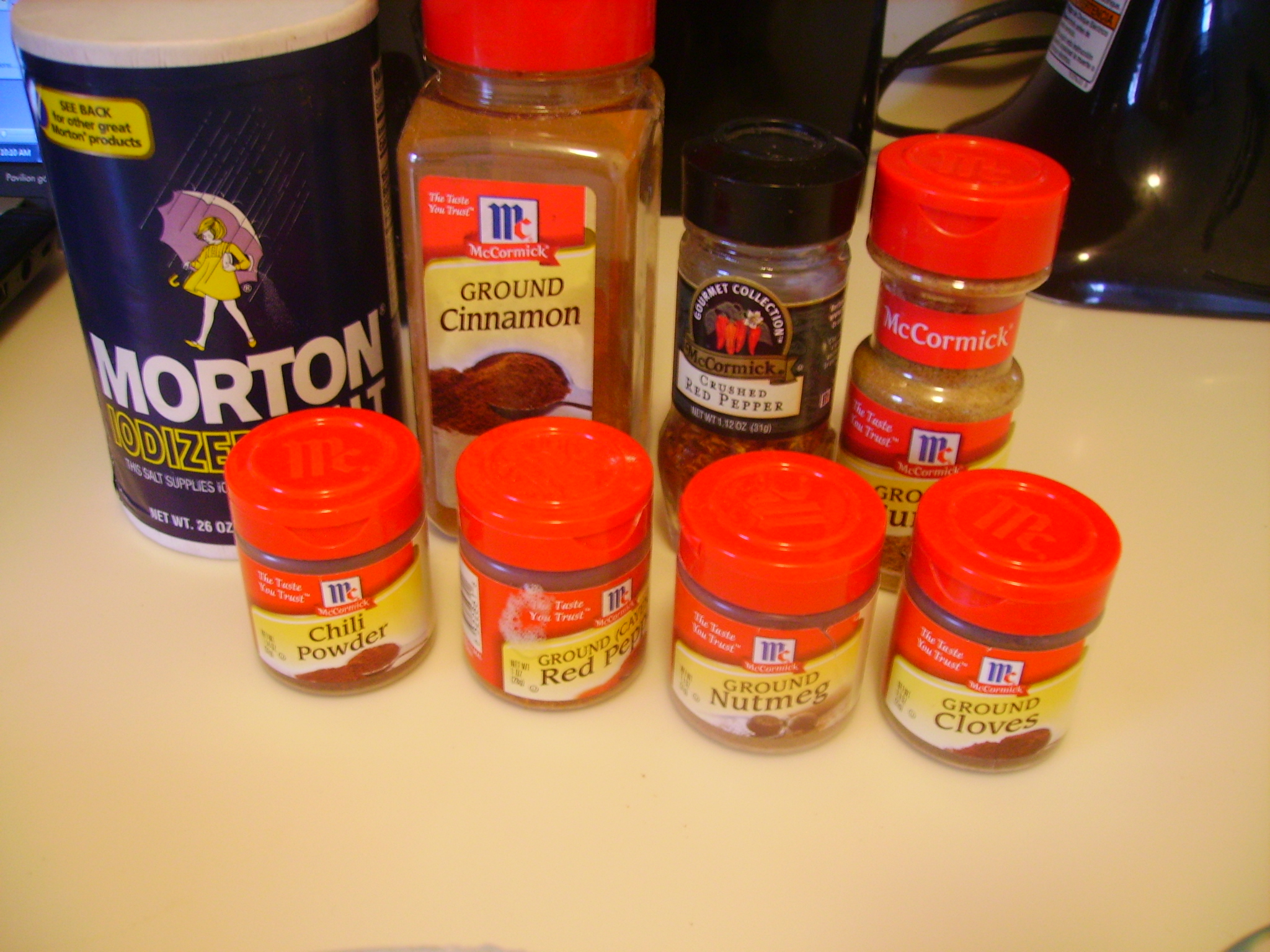 This recipe is so simple. If you start with seeds you harvested yourself,as I did, then begin by boiling the seeds in water for 10 minutes. You could skip this step if you bought your seeds already cleaned and dried in the store, but this is especially important if you harvested the seeds yourself, because it will help to remove any stray squash pulp or fibers.
I've also read that boiling the seeds prior to roasting helps eliminate the chewiness of the outer shell. Again…you could spend a thousand years shelling the seeds, but if you do that before you roast, you will probably want to die, and if you do it after you roast, you miss the awesomeness of the spicy coating. It's up to you…
After boiling, dry the seeds on a flat surface (I don't recommend a paper towel…the seeds will get little paper towel bits stuck to them). Let them dry for at least 1 hour.
Yes, I know I said the recipe only took 20 minutes to make…maybe I fibbed a little. But here's to hoping you either a) have time to run to the grocery store, or b) already dried some seeds like 2 weeks ago and were just wondering what to do with them…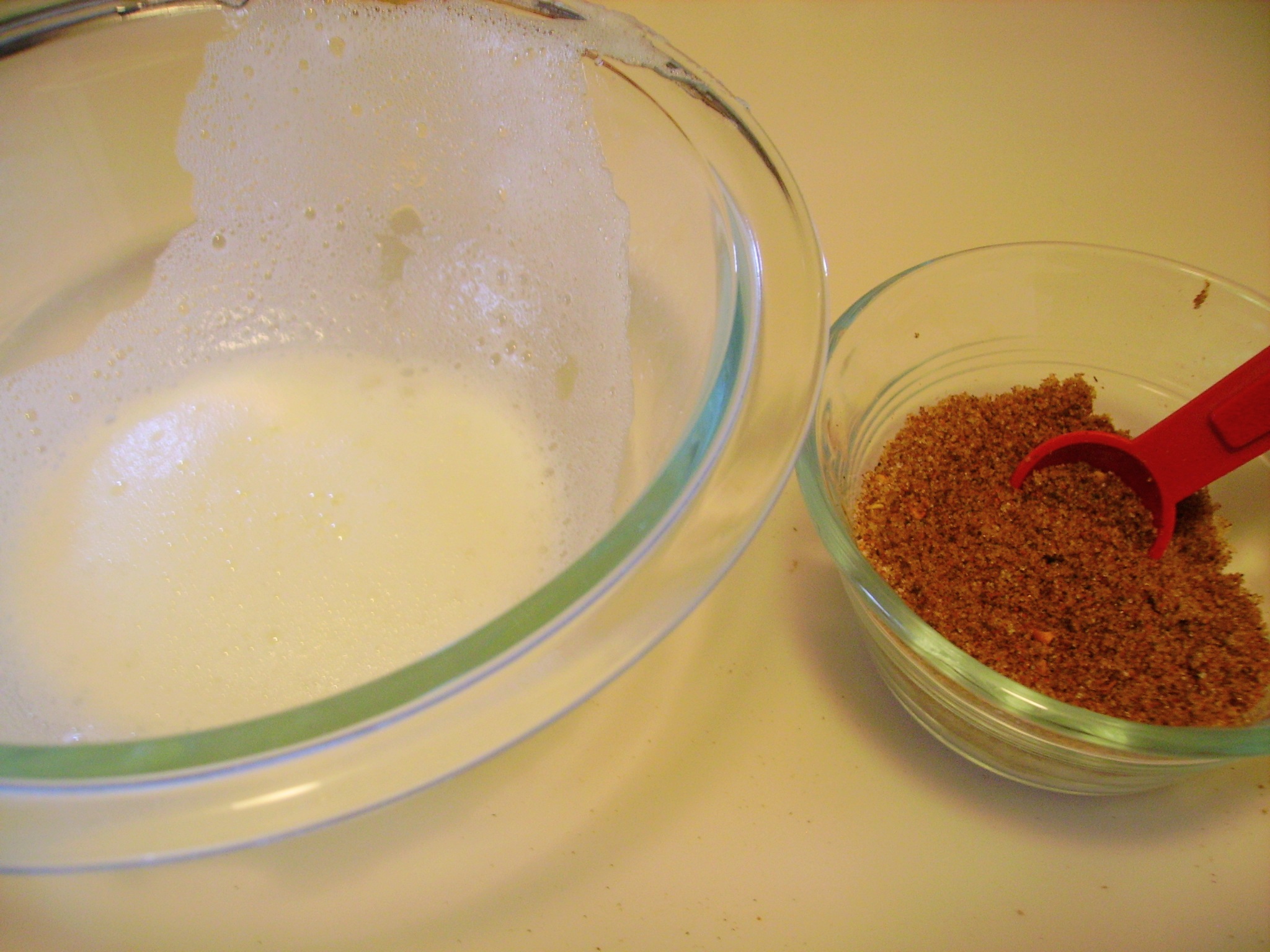 Here's where the real fun begins. Whip 1 egg white in a medium bowl. Dump about half the whipped egg white down the drain.
In a small, separate bowl, mix together the brown sugar and spices. Stir the spice mixture into the remaining foamy egg white.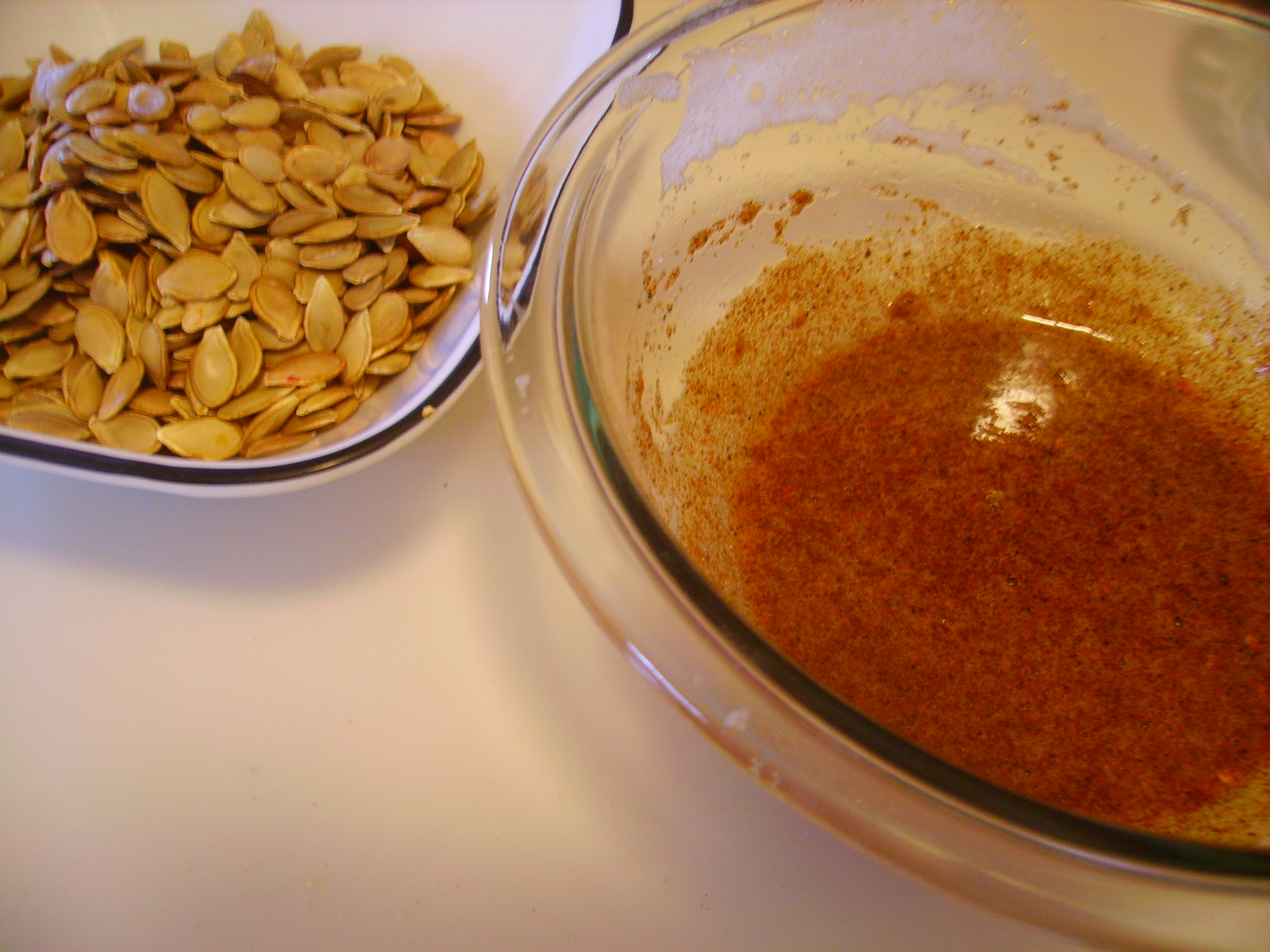 Dump the dried seeds into the spicy egg white mixture and work the spices through the seeds with your fingers until the nuts are slippery and well coated.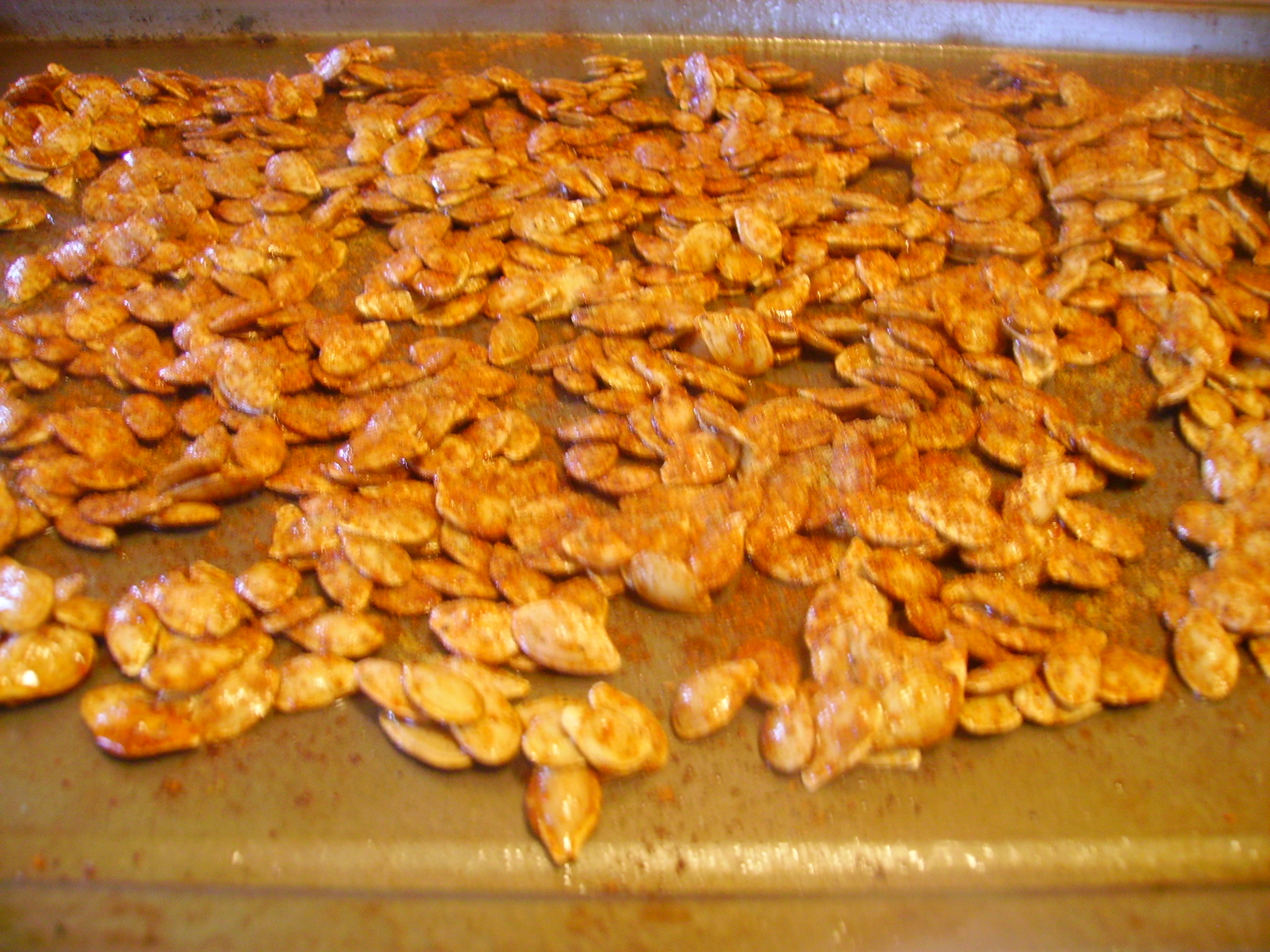 Turn the seeds onto a lightly greased cookies sheet (yes, even if your cookie sheet is non-stick, you should grease it) and spread them out into a single layer. Lightly sprinkle the seeds with some extra of all the same spices you stirred into the egg white: cumin, cinnamon, chili powder, cloves, cayenne, crushed red pepper, and nutmeg.
Bake the seeds at 350° for 7 minutes, then remove them from the oven and stir/turn so they will roast evenly on both sides. Bake for another 5 minutes. Test 1 seed; if it is crunchy and not chewy, then remove them from the oven to cool. If the seed is a bit chewy, stir again and return the cookie sheet to the oven for another 3 minutes.
Allow the seeds to cool on the cookie sheet for about 2 minutes, then scoop them off and transfer to a serving bowl. Serve cool.
Spicy Roasted Squash Seeds
adapted from Joy the Baker
serves about 6 as an appetizer
Ingredients:
1 cup squash seeds (butternut or pumpkin preferred)
½ egg white
2 tbsp. brown sugar
½ tsp. salt
½ tbsp. chili powder, plus extra
½ tsp. cumin, plus extra
¼ tsp. cinnamon, plus extra
¼ tsp. cayenne pepper, plus extra
¼ tsp. cracked red pepper, plus extra
pinch of nutmeg, plus extra
pinch of ground cloves, plus extra
Directions:
If the squash seeds are fresh, boil them for 10 minutes, drain them, then set them out to dry for at least 1 hour.
Preheat oven to 350°. Lightly coat a cookie sheet with cooking spray.
Beat the egg white until loose and foamy (it's easiest to start with a whole egg white, beat until foamy, and then get rid of half).
Mix spices together in a small bowl, then stir into the egg white. Add the seeds to the mixture and turn until all are coated as much as possible.
Spread the spiced seeds in a single layer on the prepared cookie sheet. Sprinkle a little more of each spice over the top of the seeds.
Roast for 7 minutes. Remove from the oven and turn, then roast another 5 minutes. Test one of the seeds; if it is lightly browned and crunchy but not chewy, remove from the oven. If the seeds are not yet done, turn again and roast for 3 more minutes.
Allow the seeds to cool completely before eating.
Enjoy!