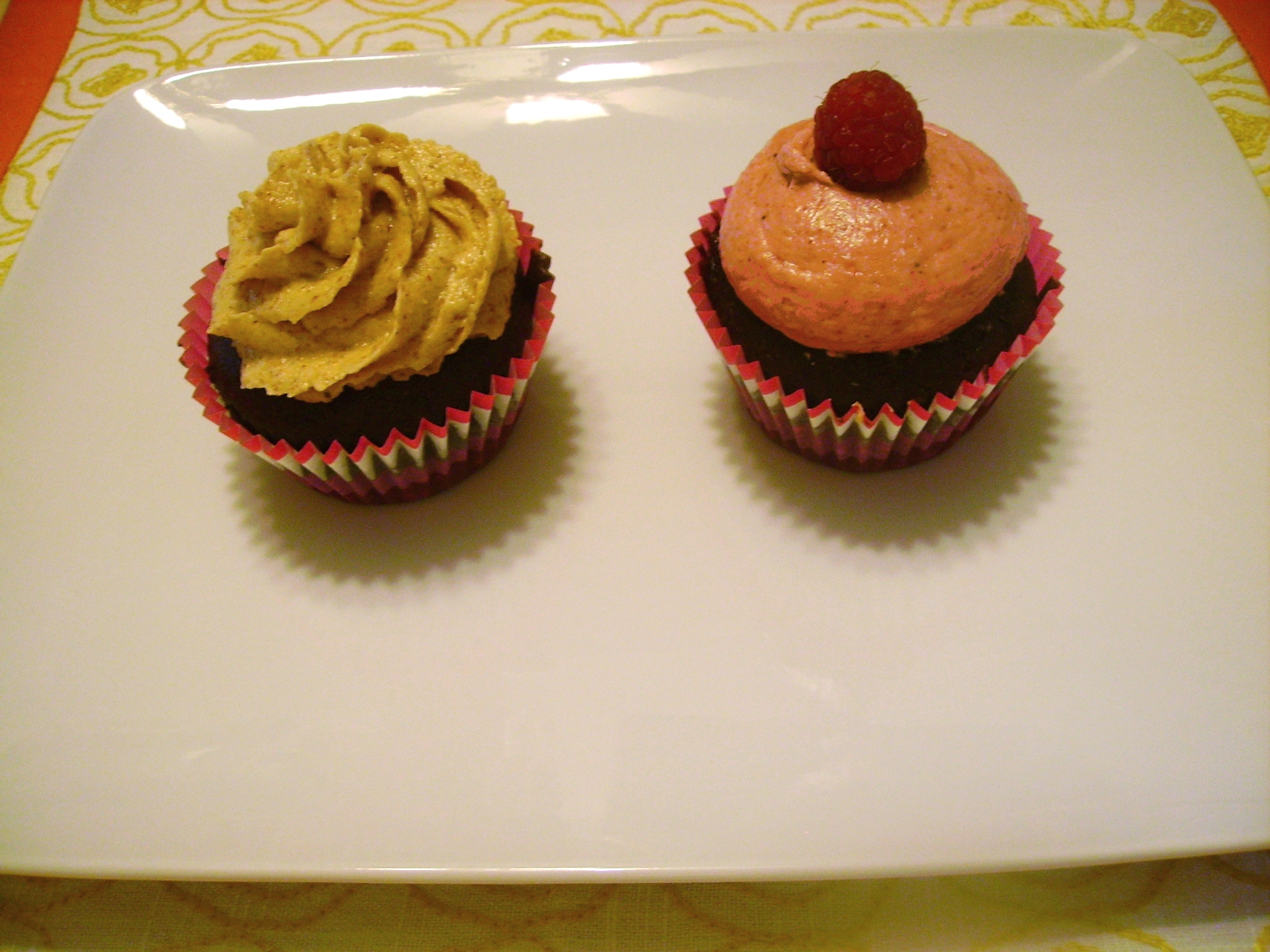 Raise your hand if you know someone who has food allergies.
About 5 years ago, my mom began to develop some serious sensitivities to lactose and wheat. To manage her symptoms, basically had to stop eating all her favorite foods. I can't even imagine not being able to grab a brownie at the end of a meal, or having to pass up cake at a celebration. My mom is completely a trooper, but ever since she started cutting food groups out of her diet I have been trying to find ways to bring back the treats she loves so much. Of course, she has found her own modifications. She makes herself a version of Cake in a Cup that she really enjoys, and she eats that most of the time when other people are having ice cream or cheesecake. But I think everyone needs more than one or two desserts they can eat. Variety is the spice of life!
Last week was her birthday, and what I really wanted to give her was an allergy-friendly cake that is every bit as delicious as cake that contains butter and wheat flour. I don't think it's a credit to any cake when someone says that it's "good for being gluten free." And if that's all you can eat? It just doesn't seem fair to be stuck with something that's not great, period.
I've been testing recipes for several years now, trying to come up with a few varieties that fit the bill. The main challenges I have faced are that a) most wheat-free recipes depend on dairy for flavor and texture, b) frosting really is better with butter, and c) it's challenging to find alternative flours that behave at all similarly to regular AP flour and don't taste…funky. I solve these issues in different ways depending on the kind of cake I want to make, and if you are curious, I would be happy to chat with you about the specifics.
For now, I will just say, try these cupcakes! While they do require some specialty ingredients, you will just need those anyway if you love someone with food allergies. This recipe is just as easy to make as anything that includes wheat or dairy, and all I can say about them is YUM! The texture is perfect and the flavor is wonderful (assuming you like almonds and/or are not allergic to nuts).
My mom loved these chocolate almond cupcakes, and so will you!
So here's the deal. You do not have to use the GF flour I happen to like, by Gluten Free Mama. But keep in mind that the best GF flours are a blend of protein flour and starch. If you like to make your own GF all-purpose flour, aim for about 70% mild-flavored protein flour, such as brown rice or sorghum flour, and 30% starch, such as tapioca or potato starch. Also, it works a little better to weigh the flour than to measure by volume, because the densities of alternative flours can vary wildly. And don't forget that your cakes will fall completely apart if you don't add a binding agent like xanthan gum!
Let's get baking!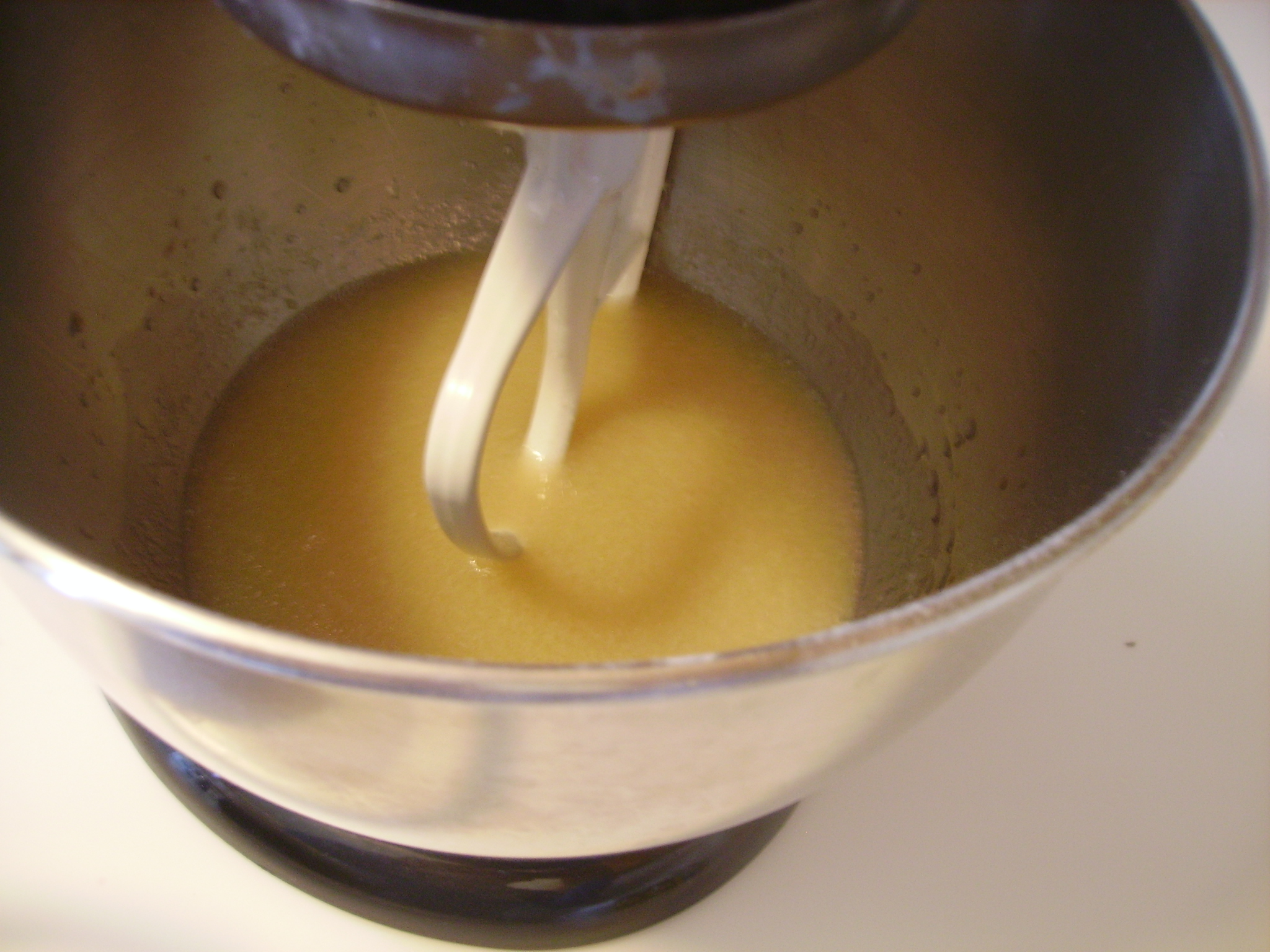 In a mixer bowl, stir together the almond milk, oil, sugar, cider vinegar, and the vanilla and almond extracts. If you hate/are allergic to almonds, you could also use rice milk and skip the almond extract. My mom is a huuuge fan of almonds, which is why I went in that direction.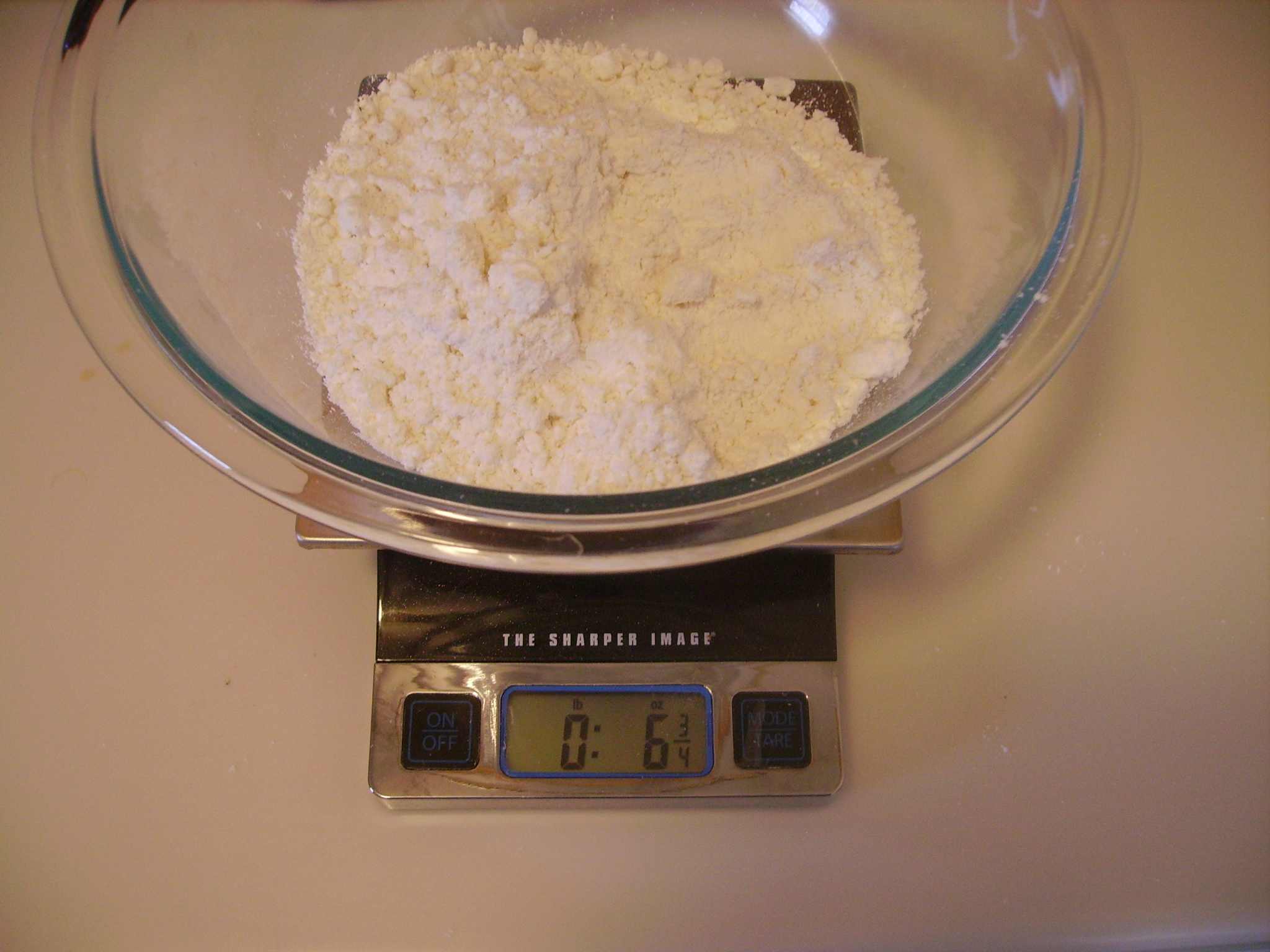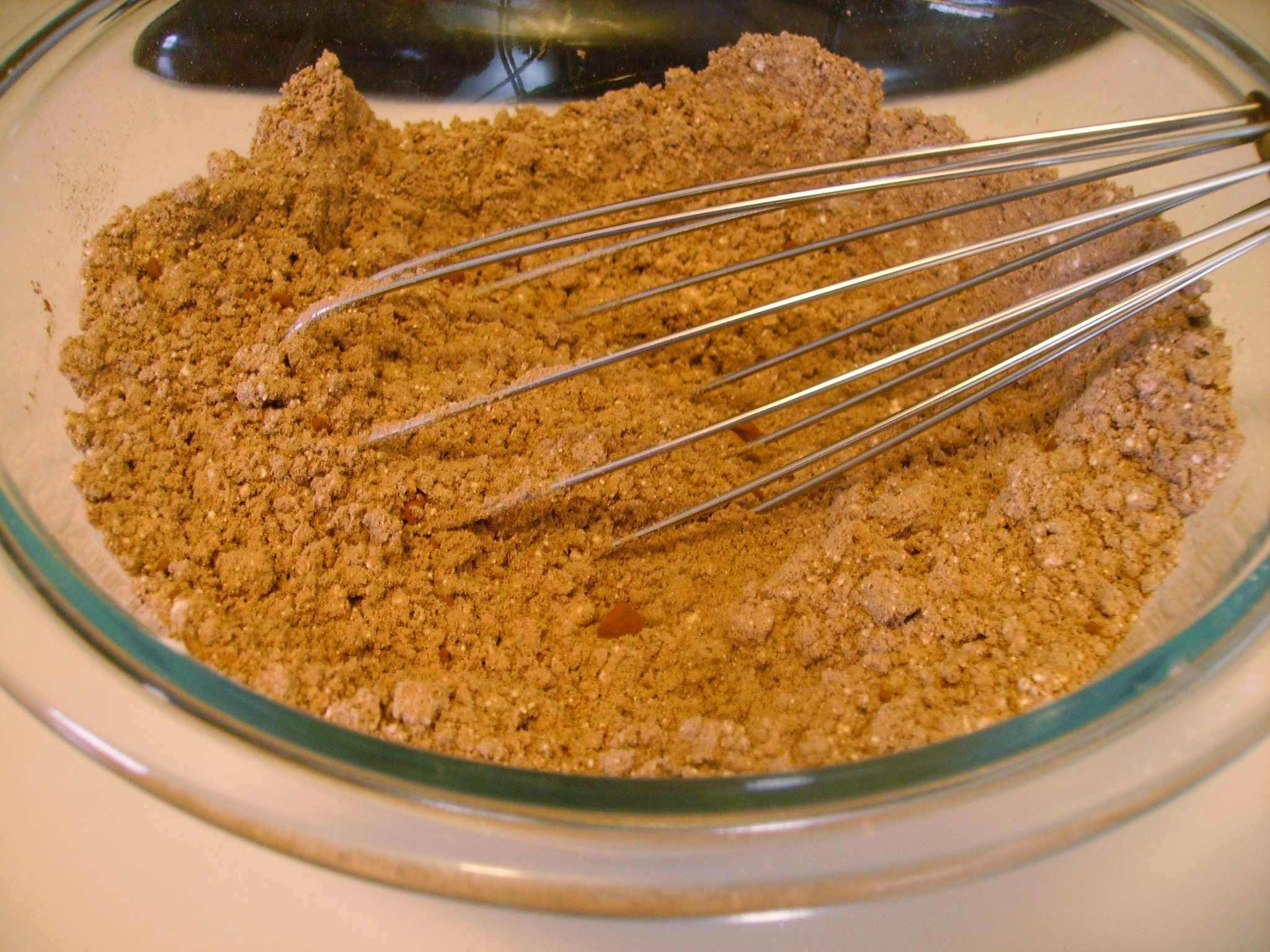 In a separate bowl, weigh out the almond flour (or…if you don't have a food scale and aren't inclined to get one, measure about 1½ cups of alternative flour using the scoop and sweep method, and hope for the best). Whisk in the xanthan gum (unless you decided to go with a blend that already includes it…which I don't recommend, as different baked goods will require different ratios), Dutch process cocoa, baking soda, and salt. The mixture will still be quite lumpy, so it will need to be sifted even after you whisk everything together.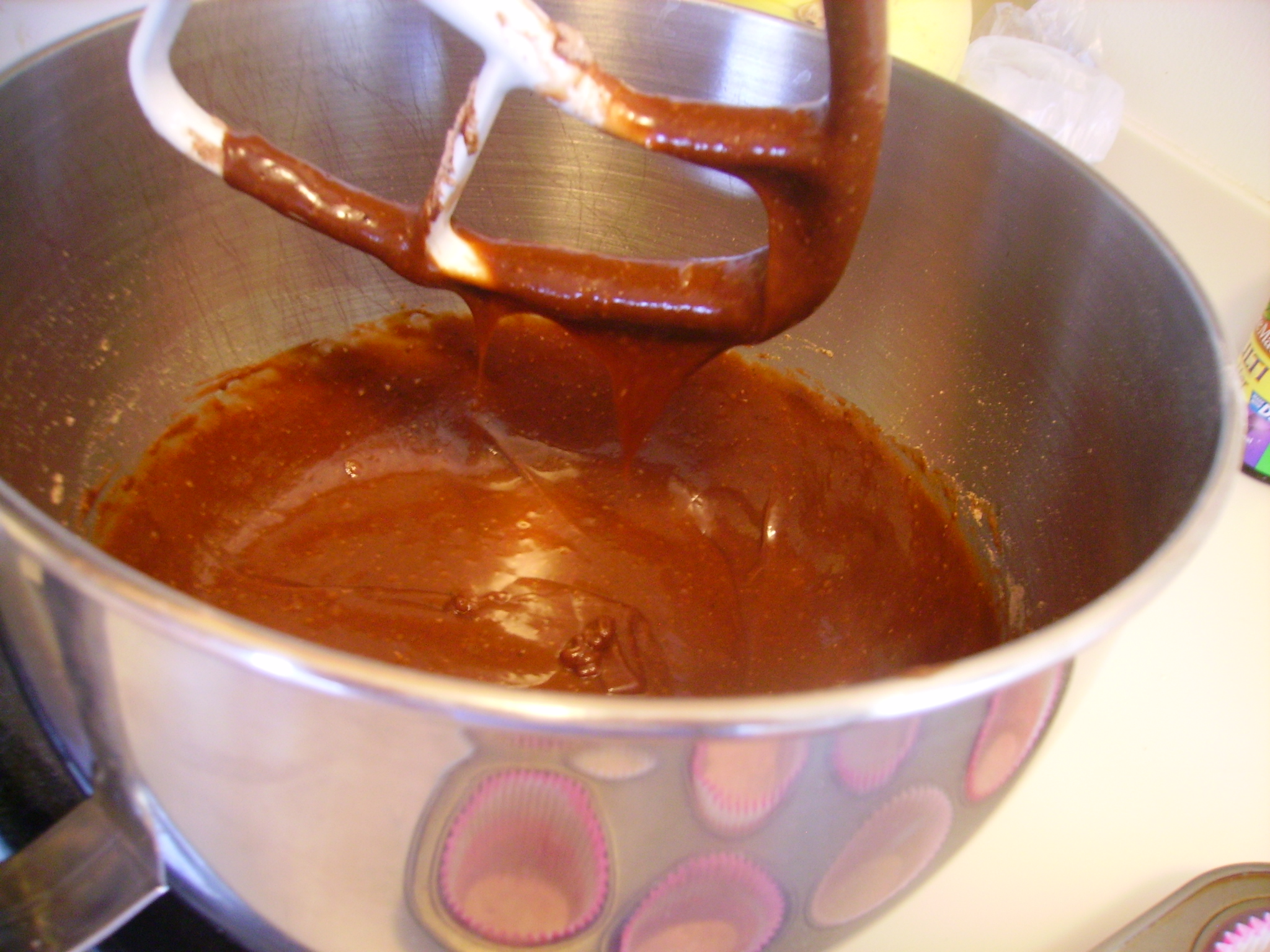 Just go ahead and sift all the dry ingredients into the liquid. (See? This cake is actually easier to make than a cake with butter or eggs…none of this add-in-batches business necessary.) Stir slowly, until the flour has worked into the liquid, then beat on high for at least 2 minutes. You don't have to worry about overworking the proteins and making the cake tough, because there is no gluten! What you do want is to make sure everything blends really, really well. When the batter is ready, it will be wet and stickier than a wheat-based flour, which means the xanthan gum is doing its job. Yay!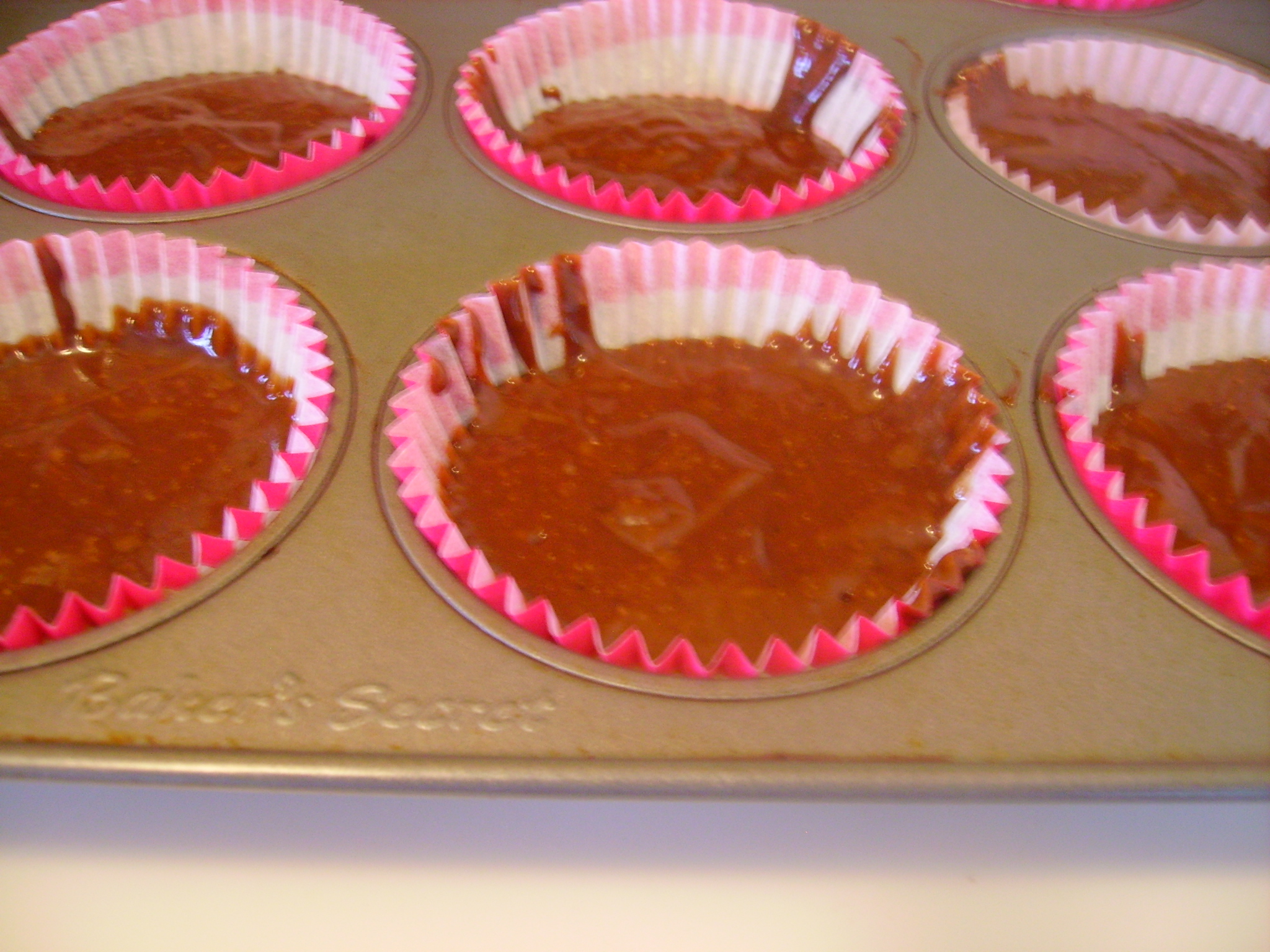 Pour or scoop the batter into paper cupcake liners. When working with gluten-free cakes, it really is easier to make great cupcakes than a great layer cake. The fact that proportionally more of the batter is connected to the hot pan in the oven means that it rises better and doesn't take on that sort of spongey chewiness that a lot of gluten-free round cakes have.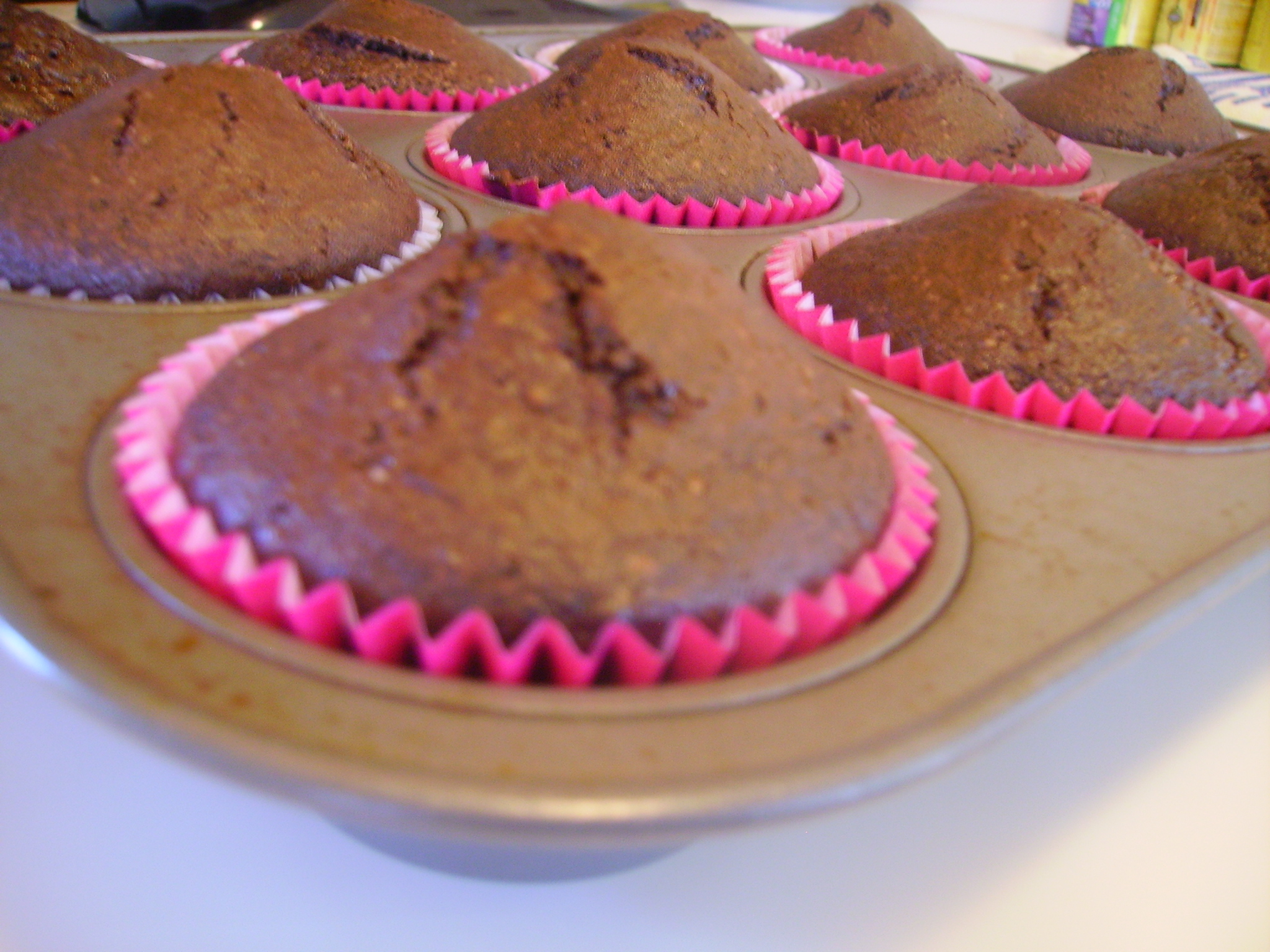 Bake the cupcakes for 22–25 minutes at 350°, or until they are well-risen and the tops spring back immediately when you press them.
Cool the cupcakes for 10 minutes in the pan, then transfer to a cooling rack to finish cooling.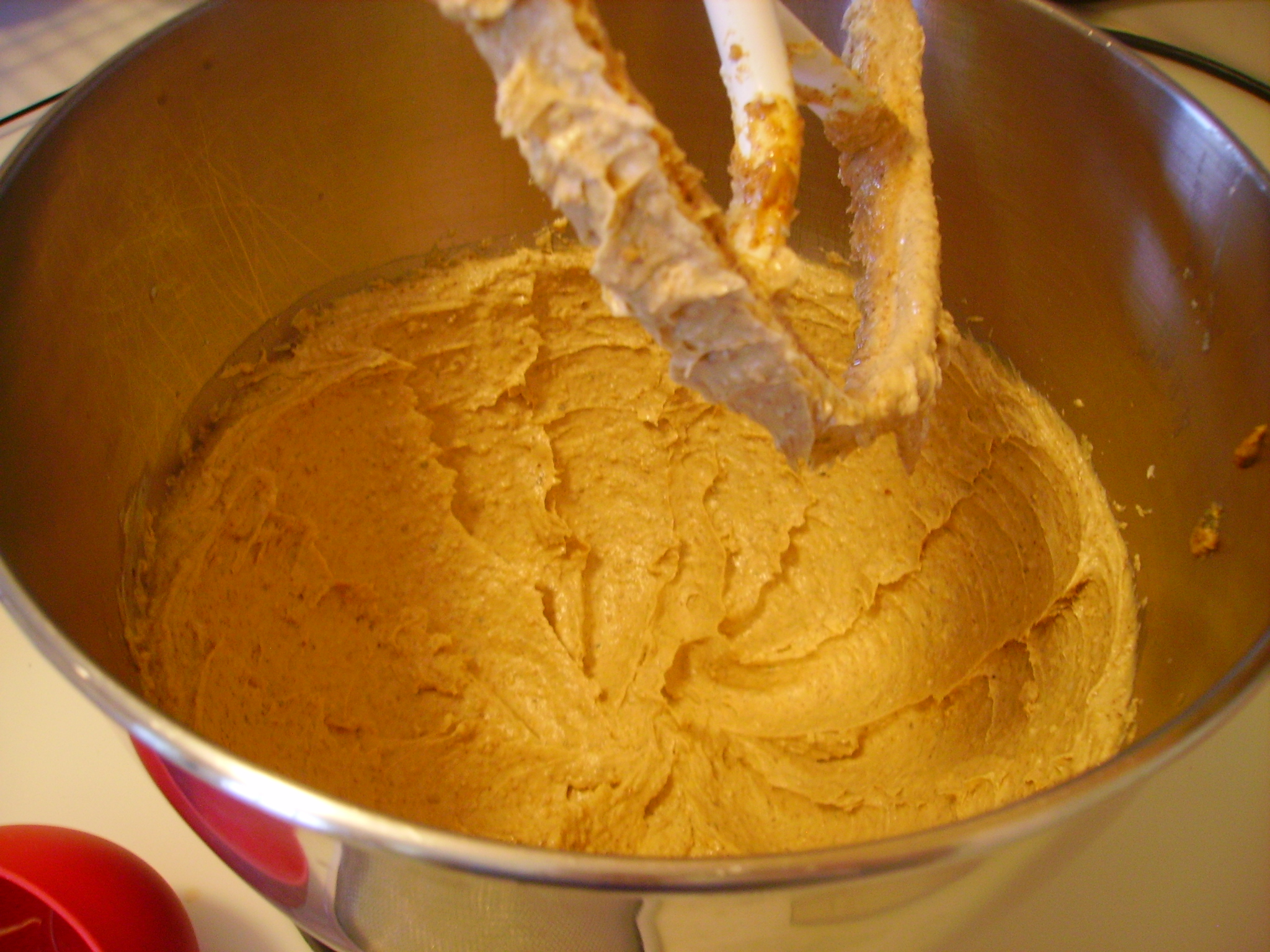 Meanwhile, make the frosting. If you are allergic to or hate almonds, then this is not the frosting for you. I chose this because, again, my mom loves almonds, and I am still a bit hard pressed to imagine a perfect frosting without butter…using almond butter adds great flavor that vegan butter just can't give on its own.
Cream the Earth Balance vegan butter, creamy almond butter, and salt. I found that freshly ground almond butter worked better than pre-jarred almond butter, because it was a bit less oily; however, it was also not quite as creamy, so there is a tradeoff. If you use pre-jarred almond butter, look for one that has no extra added sugar or salt, and skim the layer of oil off the top of the jar before adding the nut butter to the frosting.
Scrape the sides of the bowl several times. Add about 1 cup of sifted confectioner's sugar. Slowly stir to incorporate the sugar, then whip for about 1 minute. Again, scrape the bowl to make sure no unsweetened almond butter is lurking.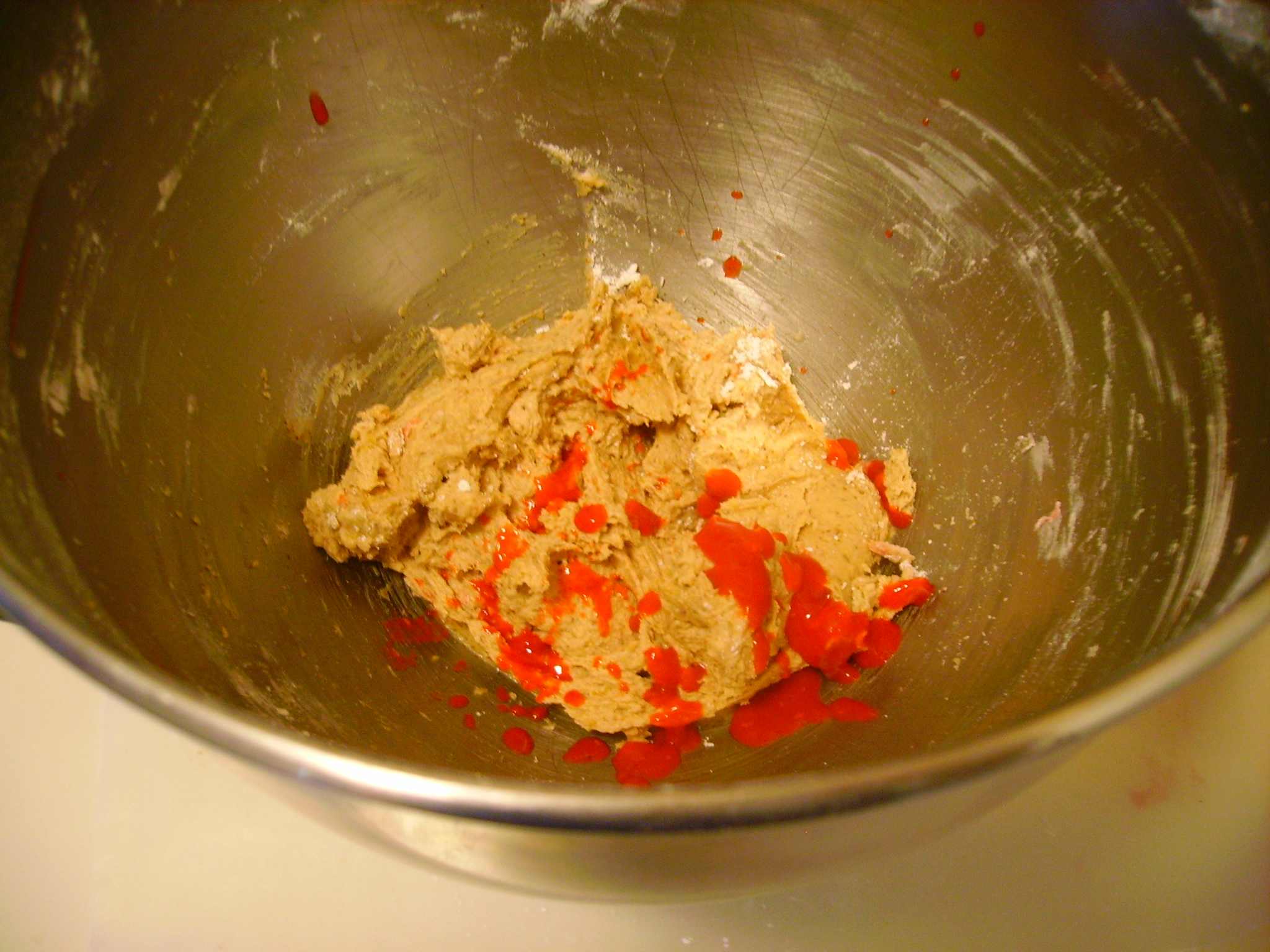 Here is where you can make a diversion. If you want a raspberry frosting, go mash up one small carton of raspberries and strain to remove the seeds. If you, like me, don't like raspberry, you can go for a purely almond version of this frosting by using almond milk instead of raspberry puree, and adding a splash of almond extract. As you may be able to tell from the picture, I went half and half, so my mom could get some raspberry, which she likes, and I could sample several cupcakes that were fruit-free 🙂
Add 1 tbsp. or so of the liquid of your choice. Raspberry juice looks a little like blood, doesn't it?
Stir in as much of the remaining sugar as possible, then add another tbsp. liquid and repeat. Be careful not to add too much sugar and weigh the icing down—you should only need just over 3 cups sifted sugar. The frosting may be slightly less sweet than a traditional buttercream made with butter.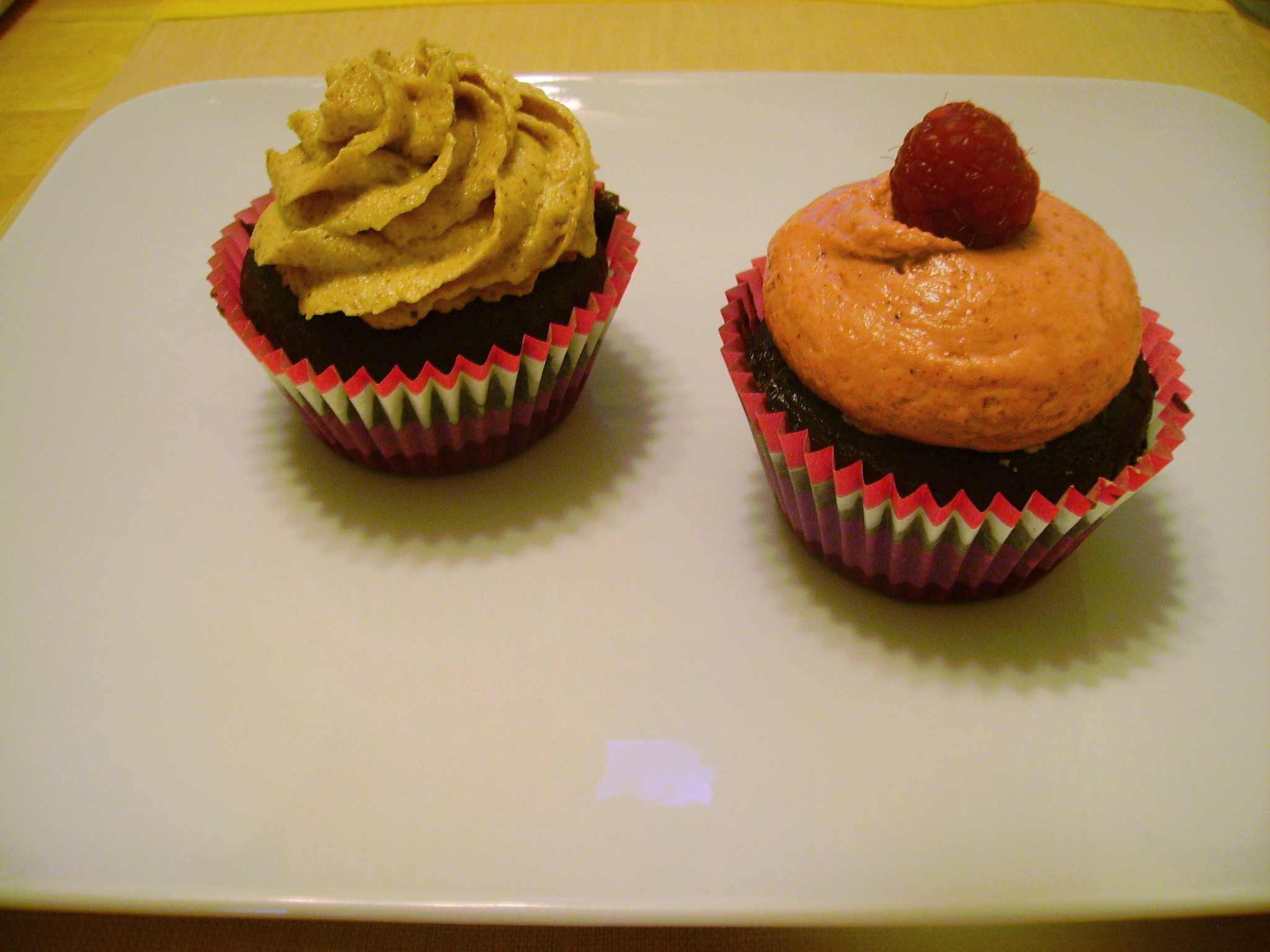 Pipe the frosting onto completely cooled cupcakes. Decorate with a raspberry or a few sliced almonds, if desired.
GF Vegan Chocolate Almond Cupcakes with Raspberry Almond Butter Frosting
heavily adapted from Oh She Glows
makes 12 (with frosting to spare)
Cupcake Ingredients:
1 cup unflavored almond milk (Almond Breeze)
⅓ cup vegetable oil
1 cup sugar
1 tbsp. apple cider vinegar
1 tbsp. vanilla extract
½ tsp. almond extract
6¾ oz. (or about 1½ cups) Gluten Free Mama All-Purpose Almond Flour Blend
¾ tsp. xanthan gum
⅓ cup Dutch-process cocoa powder
1 tsp. baking soda
¾ tsp. salt
Frosting Ingredients:
½ cup Earth Balance vegan butter, room temperature
¾ cup almond butter
¼ tsp. salt
6 oz. fresh or frozen raspberries*, pureed, plus extra for garnish
3–4 cups confectioner's sugar, sifted
Directions:
Preheat oven to 350°. Line a cupcake tray with paper liners.
In a mixer bowl, stir together almond milk, oil, sugar, cider vinegar, and flavorings.
Sift the dry ingredients together into a separate bowl. Whisk to combine. Stir the dry ingredients into the wet ingredients. Beat for at least 2 minutes, until all clumps are gone and the batter becomes thick and sticky.
Spoon the batter into prepared cupcake tray, filling each cup about ⅔ full. Drop the cupcake tray onto the counter several times from a height of about 3″, to help smooth the tops of the batter and release any latent air bubbles.
Bake for 22–25 minutes, or until the cupcake slowly springs back when pressed with a finger. Cool completely before frosting.
To make the frosting, cream Earth Balance, almond butter, and salt in a mixer bowl. Scrape the sides of the bowl at least twice.
Add 1 cup sifted confectioner's sugar and blend well. Scrape the sides of the bowl. Force about half of the raspberry puree through a fine mesh sieve to remove the seeds. Blend the smooth raspberry sauce into the frosting. Add the remaining confectioner's sugar, 1 cup at a time, alternating with additional seedless raspberry puree, if desired. When the frosting is not runny, but still a bit thick, but has reached the desired flavor/sweetness, continue whipping for another 5–10 minutes so the frosting becomes light and fluffy.
Pipe or spread frosting on cool cupcakes.
*Variation: For almond frosting, use 3–4 tbsp. almond milk in place of raspberry pulp, and add ½ tsp. almond extract.
Enjoy!