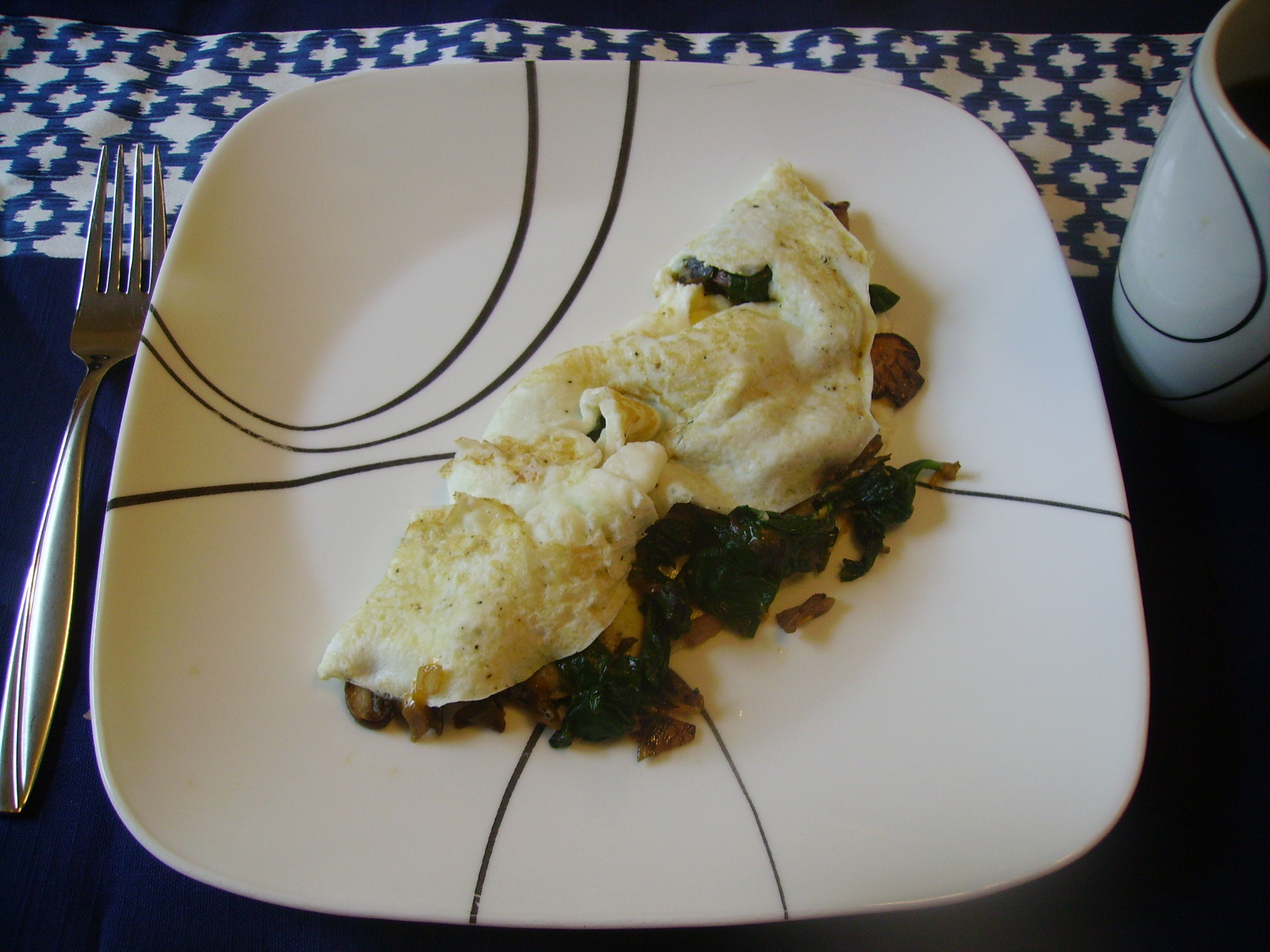 When I was little, I was the pickiest eater ever. Oh wait…sometimes that still describes me (sshh, don't tell).
My mom occasionally let us have breakfast for dinner, because after all, breakfast is the best meal of the day. Sometimes she made us these great, cheesy omelets when she wanted something quick and easy. I would stand next to the stove and watch her make the eggs, a curious little girl who just wanted to know how eggs could turn into a cheesy pancake. Now that I am grown, and sliiiightly less picky than I used to be, she loves to tell me how she had to make up euphemistic words for what went into the omelets, to make sure I would not refuse to eat them on principle.
"Oh that?….Those are, um…omelet pieces."
I never knew it, but I was eating onion flakes in my eggs and loving it.
There are no omelet pieces in this omelet, but it is delicious all the same. And healthy, too!
You can easily double or quadruple this recipe to serve more than one, but tend to I eat my breakfasts solo, since my husband is a weirdo who won't eat unless he's been awake for several hours.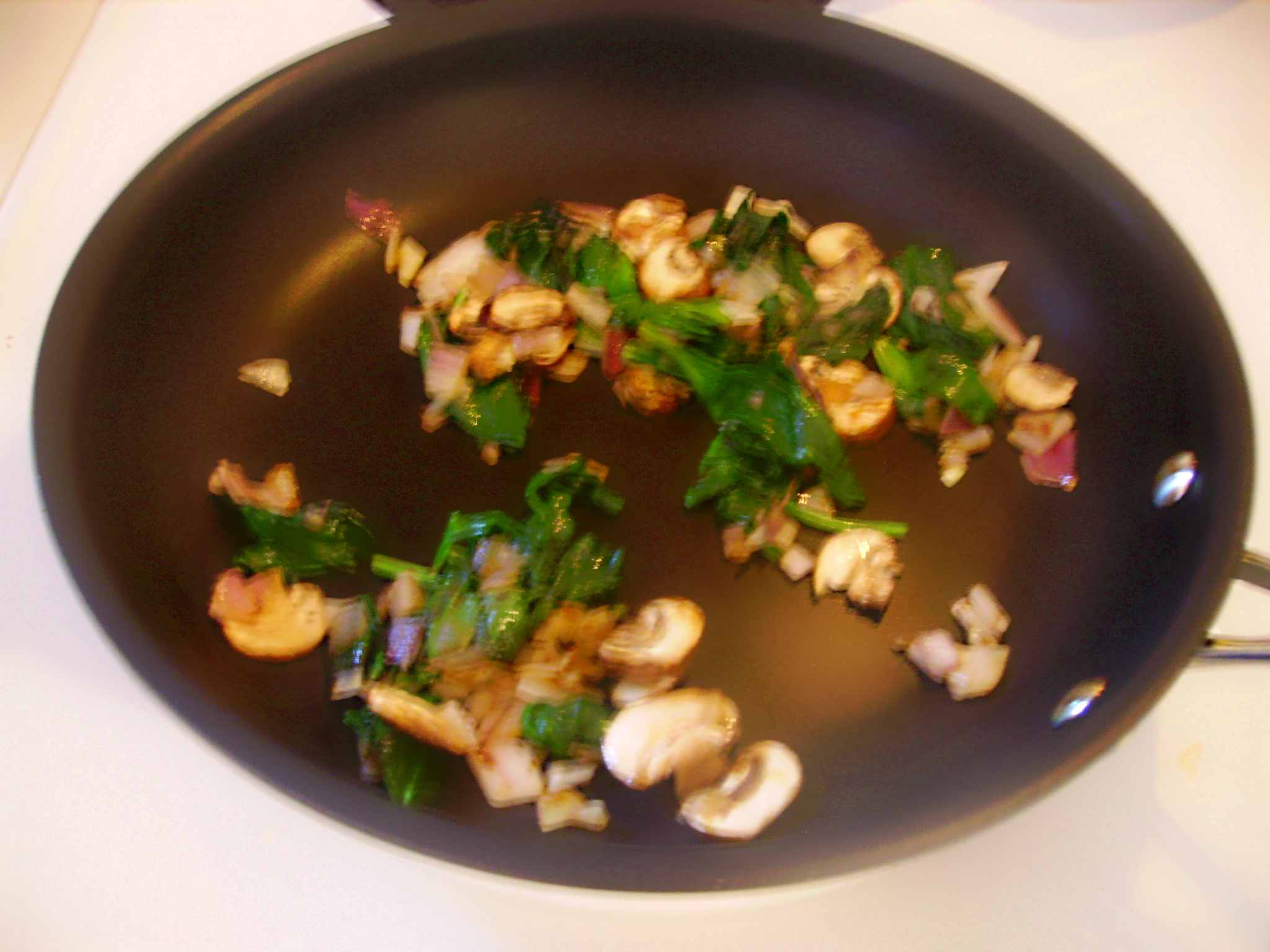 Chop up about a quarter of a red onion, as small as you'd like. Slice several mushrooms, your choice, thinly.
Heat up a tiny splash of oil in a medium sauté pan. Sauté the mushrooms and onions until the onions begin to become translucent. Toss in a large handful of spinach, any long stems removed, and continue to cook until the spinach wilts.
Transfer the veggies to a separate bowl and toss them with a little cheddar cheese.
In a medium bowl, whisk three egg whites with a splash of water and some salt and pepper, to taste. Unfortunately for me, the only bowl I had available was kind of small, so I was a little wimpy in the whisking department. Maybe next time I would use an electric beater to the eggs really do get good and frothy. The net effect of wimpy whisking is that the eggs aren't as light and fluffy, so your omelet will be a flatter and denser. Still tastes great!
Thoroughly spray your sauté pan with nonstick spray. Seriously. You don't want your beautiful egg whites to stick to the pan and turn into scrambleds.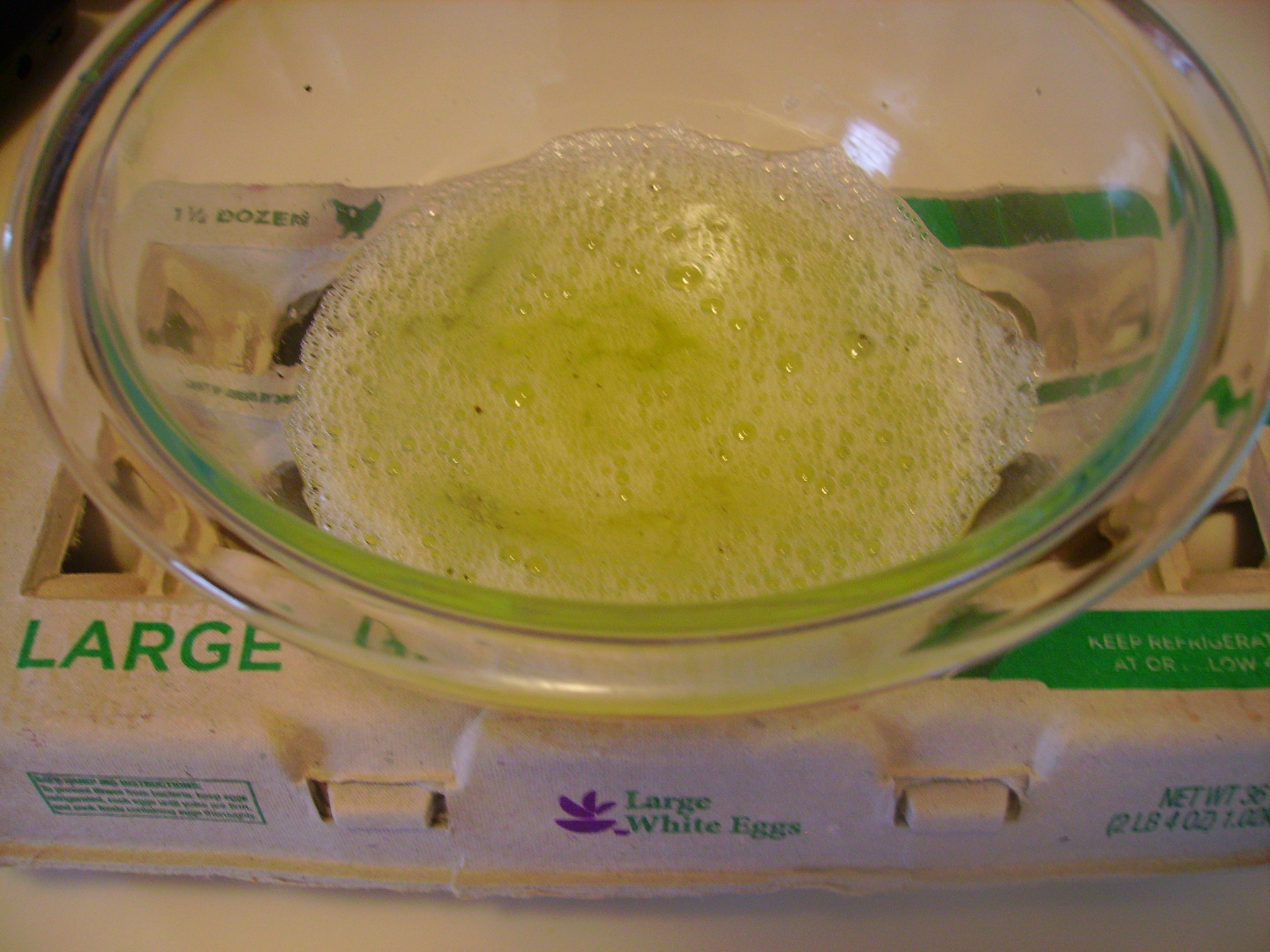 Warm the pan over medium heat. Pour the frothy(ish) egg whites into the hot pan and use your spatula to spread them into a circle. Let them cook for about 1 minute, then either lift the cooked underside up so the runny whites can flow underneath, or scoot the edges toward the center, rippling the eggs, and tilt the pan to let the runny bits flow to the edges where they will cook up. I usually use the scootching method, because it is roughly 7 times easier and 81% more successful.
88% of statistics are made up.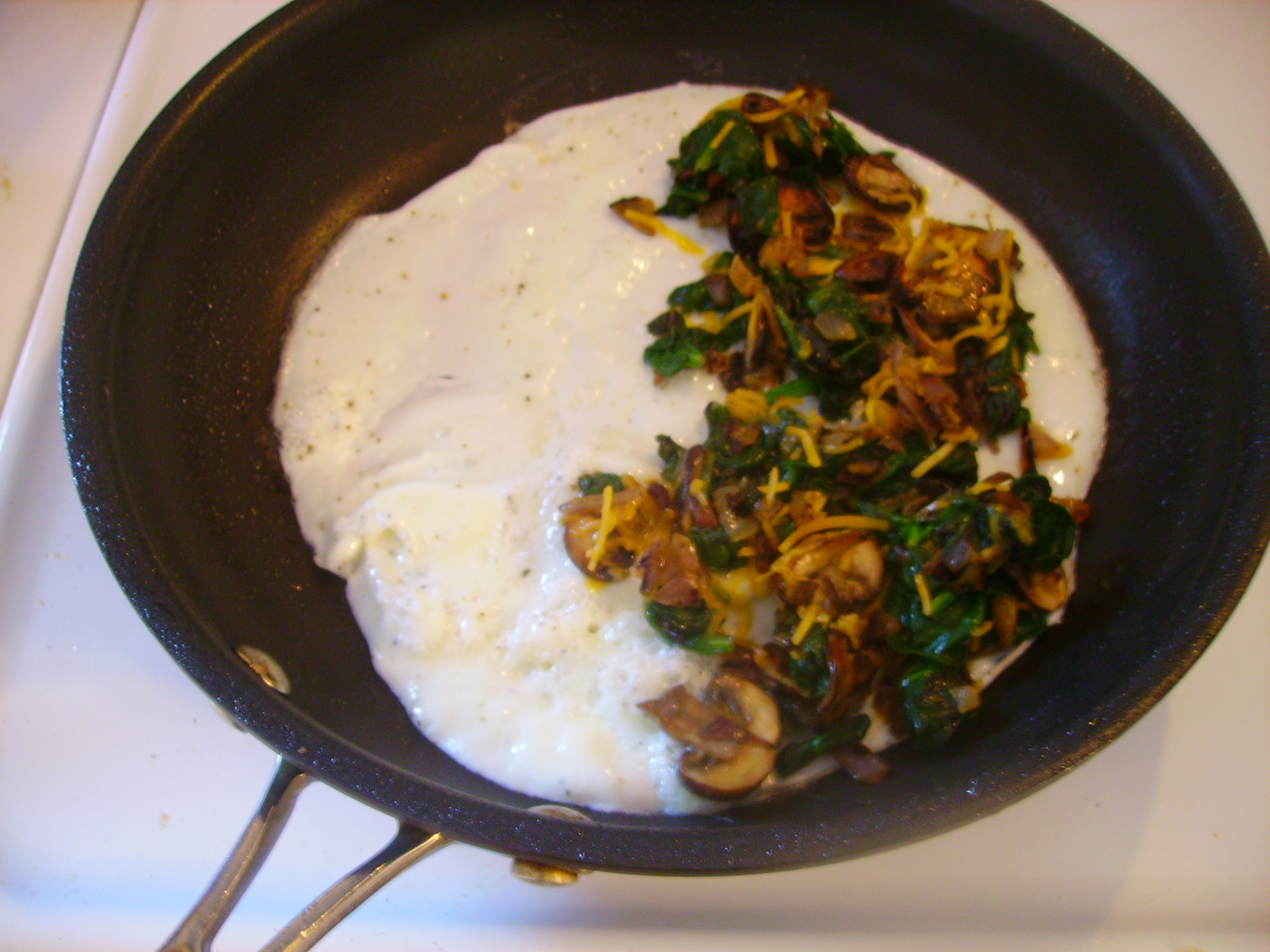 When the eggs start to bubble, top one half with the prepared veggies and fold the other half over. Carefully slide onto your plate and enjoy!
Egg White Veggie Omelet
adapted from Paula Deen (shock!)
makes 1
Ingredients:
1 tsp. olive oil
¼ red cup onion, finely chopped
2 oz. thinly sliced button mushrooms
1 handful (about ⅔ cup) fresh baby spinach, stems removed
salt and freshly ground black pepper
2 tbsp. shredded cheddar
3 egg whites
2 tsp. water
nonstick cooking spray
Directions:
In a small skillet, heat the oil over medium heat. Add the onions, mushrooms, and a pinch salt. Cook until the onion is barely soft, then add the spinach. Add pepper to taste, and another pinch salt; cook for another minute until spinach is wilted.
Remove the spinach mixture to a medium bowl and toss with cheddar. Set aside.
In a medium bowl, whisk the egg whites, water, and a pinch each of salt and pepper until frothy.
Thoroughly coat a medium nonstick skillet with cooking spray and heat the skillet over medium heat. Add the egg whites, swirling to evenly cover the bottom of the pan. Cook until set, about 1–1½ minutes. Using a rubber scraper lift the eggs up and let the runny uncooked egg flow underneath.
Spoon the spinach mixture onto half of the omelet, fold over, and slide onto a serving plate.
Enjoy!