I love to cook. But sometimes when I look into my fridge or pantry, I can't think of any logical way to combine the ingredients I have on hand. Sometimes, just the idea of a meal that takes more than 20 minutes to prepare makes me feel tired. I don't want to spend any time chopping or stirring, and if the meal makes more than two dishes dirty, I just can't make myself do it.
That's when I know it's a pasta night.
Aglio e Olio ("ah-lyo ay oh-lyo"), or garlic and oil, is a classic Italian pasta dish. It is such a light and basic topping, leaving the pasta itself the star of the meal but adding a great aroma and just moistening the long strands. Plus, it only takes about 30 seconds of slicing and the garlic oil can be ready almost as quickly as the pasta! Perfect.
Peel the garlic. You could actually go for as much garlic as you are comfortable with…my husband and I are of the philosophy that two garlics make a right, so we used 6 medium cloves. I could even go for more next time…
Slice the cloves thinly. If you are on particularly unfriendly terms with kitchen tasks and don't feel too keen on slicing, you can also grab your garlic press and mince them, but you will need to be much more careful not to burn the garlic when you cook it.
Meanwhile, cook up the pasta as directed on the box. When I cook long pasta, I skip the extra salt that a lot of people add and a splash of olive oil to help prevent the noodles from sticking together. You, of course, are free to cook your pasta however you feel comfortable 🙂
Heat up the oil in a large skillet. Use low heat—you don't want the oil to smoke at all! Toss in the garlic.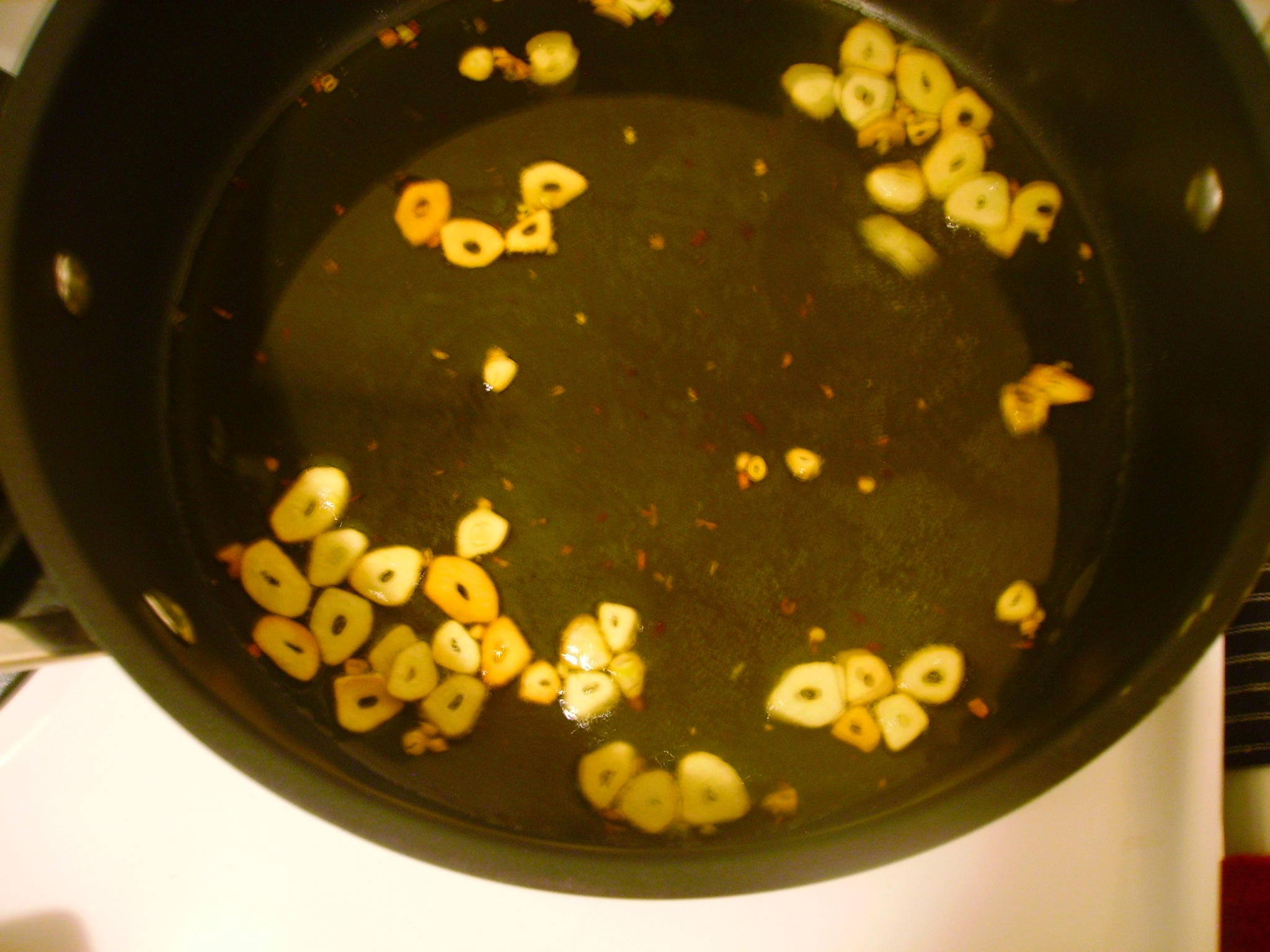 Stir the garlic around occasionally. It will eventually start to fizz a little, which is fine. Add in a few shakes of crushed red pepper. Continue to let the garlic simmer until it starts to brown.
Before you drain the pasta, scoop out about half a cup of the starchy pasta water and set it aside.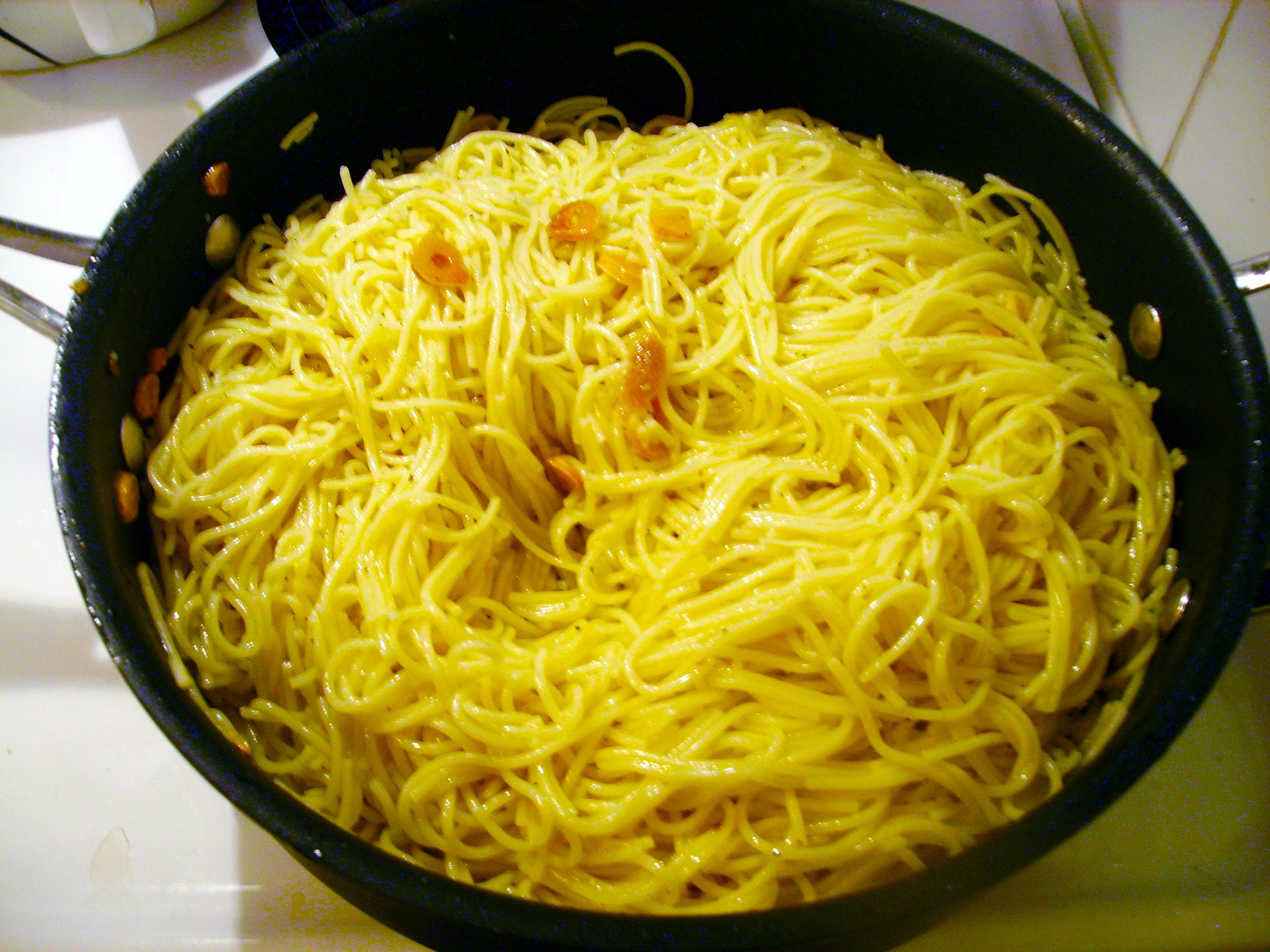 When the garlic is lightly browned and fragrant, toss the pasta into the oil sauce. If the noodles are a bit dry, add in the pasta water. Season to taste with salt and pepper. I let my pasta sit in the skillet for a few minutes to heat and absorb some of the garlicky flavor.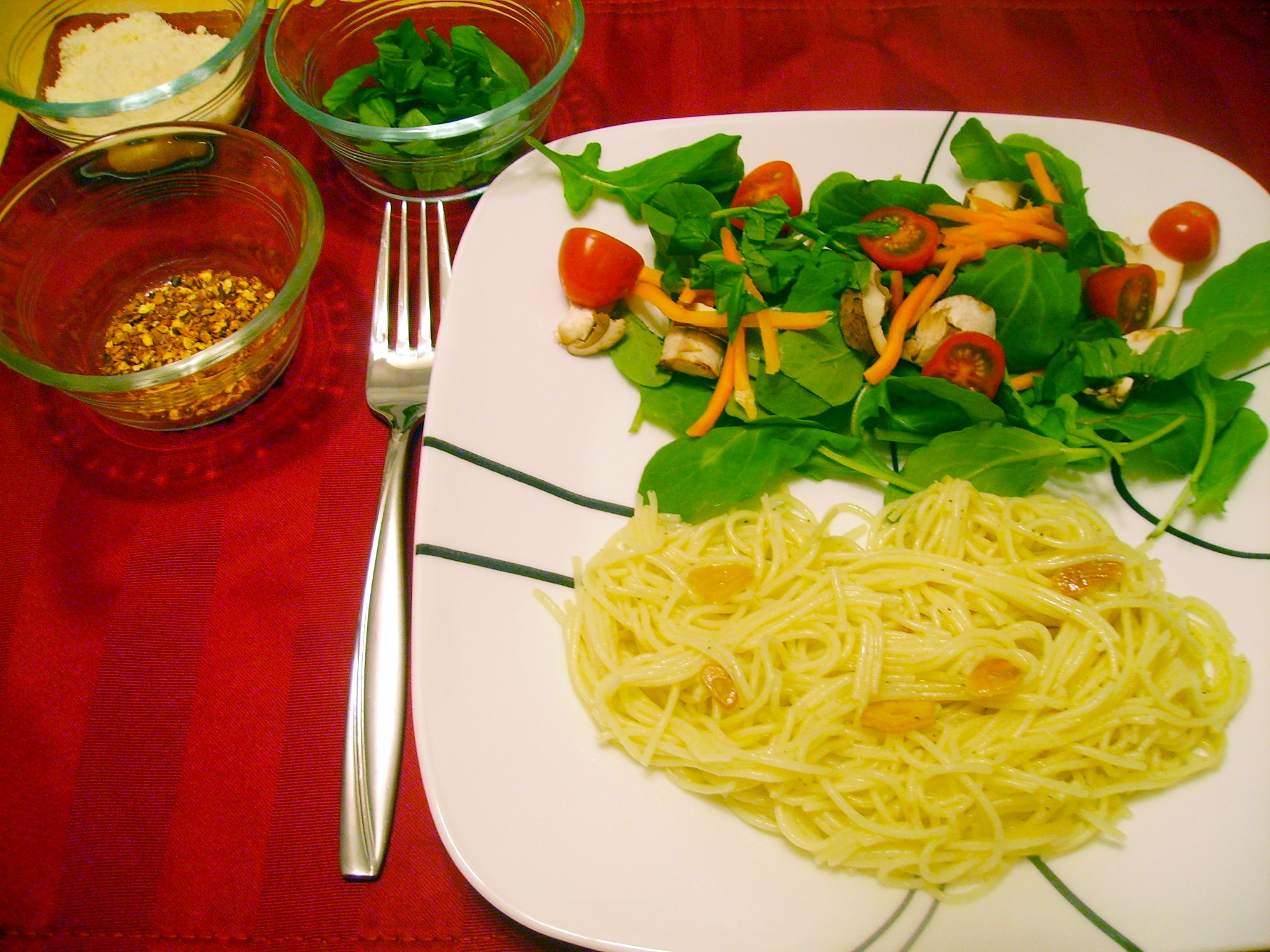 Serve the pasta with some extra crushed red pepper, slivered basil, and grated or shredded parmesan. Yum!
Aglio e Olio Pasta
lightly adapted from La Lama Mountain Ovens
serves 4–6
Ingredients:
1 lb. angel hair or spaghetti
6 large cloves garlic
½ cup olive oil
salt and black pepper
crushed red pepper
slivered fresh basil
parmesan
Directions:
Cook pasta according to package directions. Reserve some of the pasta water for later.
Meanwhile, peel and thinly slice the garlic.
Heat up the oil over low heat. Add in the sliced garlic and stir occasionally to prevent burning and promote a nice brown. When the garlic begins to sizzle, add in a hearty pinch of crushed red pepper, if desired.
When the garlic is soft and lightly browned, toss with the pasta. Really make sure the garlic is mixed throughout the pasta. Season to taste with salt and pepper.
Serve with basil, parmesan, and extra crushed red pepper for garnish.
Enjoy!