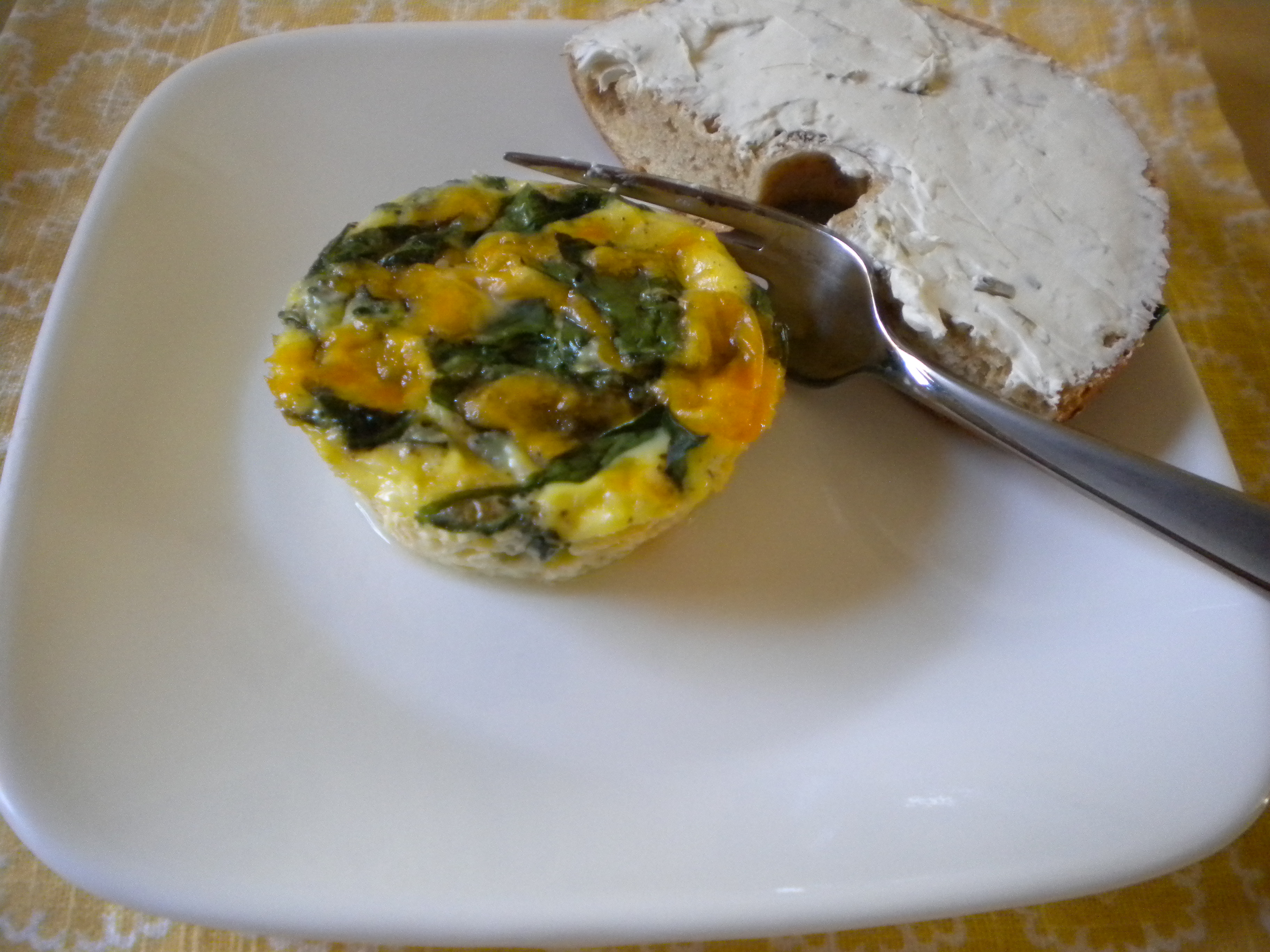 I've been a bit discombobulated lately. I've been cooking and baking and taking all these pictures—but my own dinky camera was out of commission and my laptop was out of commission, and let's just say that when my routines are disturbed sometimes I become a bit befuddled.
But! Today is Secret Recipe Club reveal day! So I'm gathering my wits to share a super simple and healthy breakfast recipe with you: crustless mini quiches. (If quiche is crustless, does actually that mean it's a frittata or an omelet? No idea.)
This month my assigned blogger was Laura Rees. While her tastes and mine diverge pretty significantly (er…I am a vegetarian who doesn't eat fruit…so I do kind of fall into a specific niche of eaters), her take on mini quiche struck me as interesting. I set out to make a vegetarian version that I could bring to brunches with friends or eat as a snack mid-afternoon, and I am so glad I tried it.
Quiche is actually fairly hearty, and you can dramatically change the result by using any fillings you like! I went with spinach, broccoli, and sharp cheddar—deeelish.
Seriously, what could be easier than quiche? Normally, the hardest part about making quiche (or any pie, really), is making the crust. Here, you skip that step entirely, save yourself a few hundred calories of butter, and come away with some cute, veggie-filled little tartlets! You chop a few things, you whisk some eggs, then you're basically done!
Start by chopping up your vegetables. I chopped up WAY too much (yeah…muffin cups are pretty small). You will probably need about half a head of broccoli/1 cup florets and two small handfuls/⅔ cup of fresh spinach leaves.
Joy of Cooking tells us to cook and thoroughly drain any vegetables we intend to put into quiche, to prevent the quiche from getting soggy at the bottom. I only half listened to Irma Rombauer, quickly blanching and draining my broccoli (though next time I may roast it! yum), but leaving the spinach fresh to avoid introducing a bitter taste to my mini quiches. Just FYI, after I baked them and scooped them out of the muffin tin, there was still a bit of moisture at the bottom of each muffin cup, so you decide whether you want to cook your veggies or leave them raw. Either way, there is no crust, so the worst that can happen is that the bottom of your eggs isn't quite as firm as the top.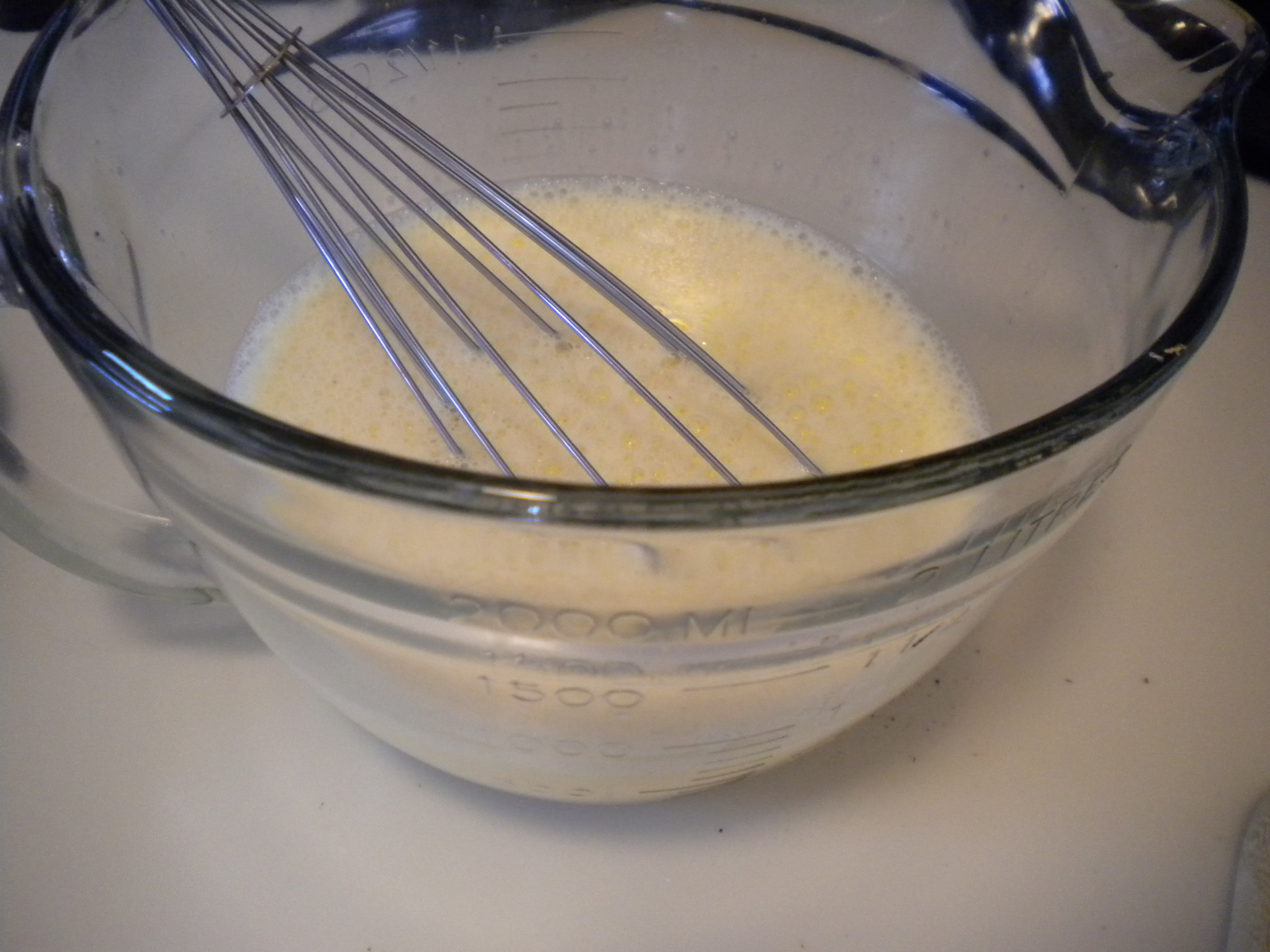 Prepare the custard for the quiche. The ratio I learned was 2 eggs:½ cup milk. I wanted to make 12 mini quiches, filling my entire muffin tin, so I used 6 eggs and 1½ cups milk. Whisk, whisk, whisk until the eggs have broken down and become completely incorporated into the liquid. Season to taste with salt and black pepper.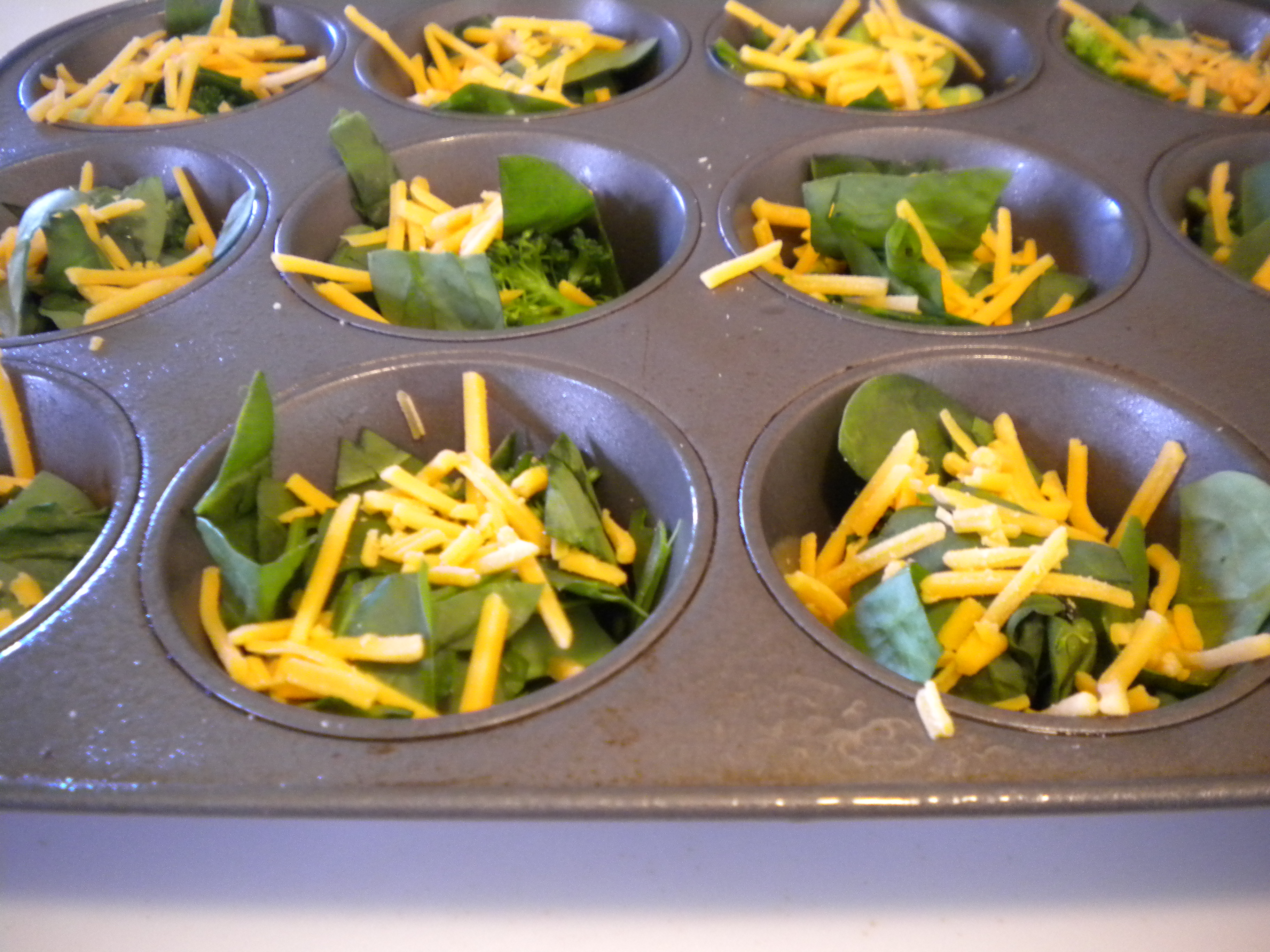 Lightly grease your muffin tin (even if it's nonstick) and heat the oven to 375°.
Layer the veggies and cheese into the greased muffin cups. The cups should appear nearly full of broccoli, spinach, and cheese.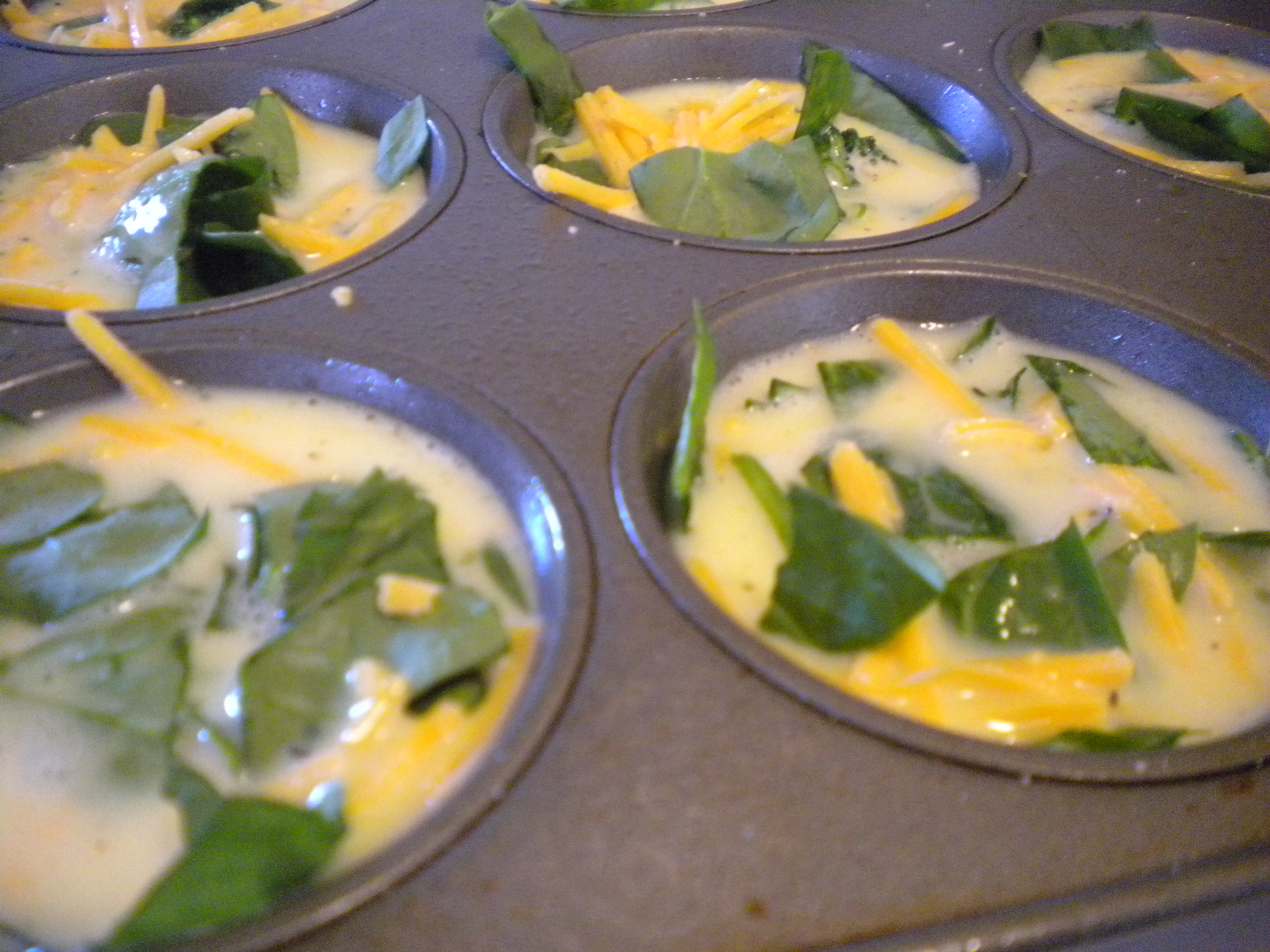 Carefully pour the egg mixture over the veggies. Don't fill the cups more than ¾ full, or you will have a really hard time carrying the muffin tin to the oven!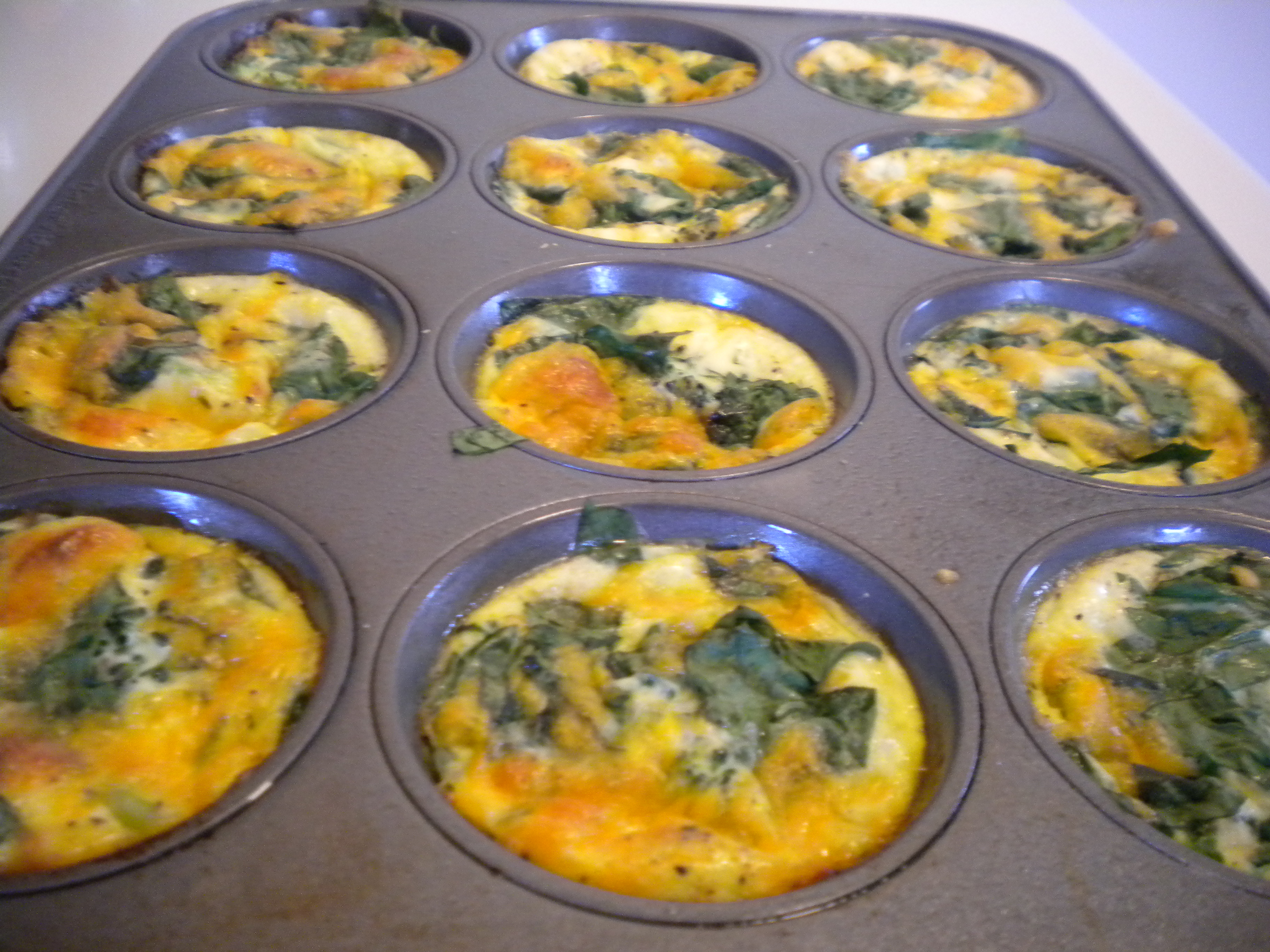 Bake for 25–30 minutes, depending on how firm or golden you prefer your quiche. Let the quiches cool for a few minutes before removing them from the muffin tin.
Crustless Mini Quiches
inspired by Laura Rees
makes 12
Ingredients:
½ head broccoli, cut into stems and florets
⅔ cup spinach leaves, roughly chopped
⅔ cup shredded sharp cheddar
6 eggs
1½ cups milk
salt and black pepper
Directions:
Preheat oven to 375°. Grease a regular muffin tin with cooking spray.
Blanche the broccoli, then drain very thoroughly. Layer the broccoli, chopped spinach, and cheese into the muffin cups. Cups should be nearly full with veggies and cheese.
Whisk together the eggs, milk, and seasonings until smooth and slightly frothy. Pour over the vegetables, filling the muffin cups about ¾ full.
Bake for 25–30 minutes, until the tops are slightly puffed and golden.
Enjoy!