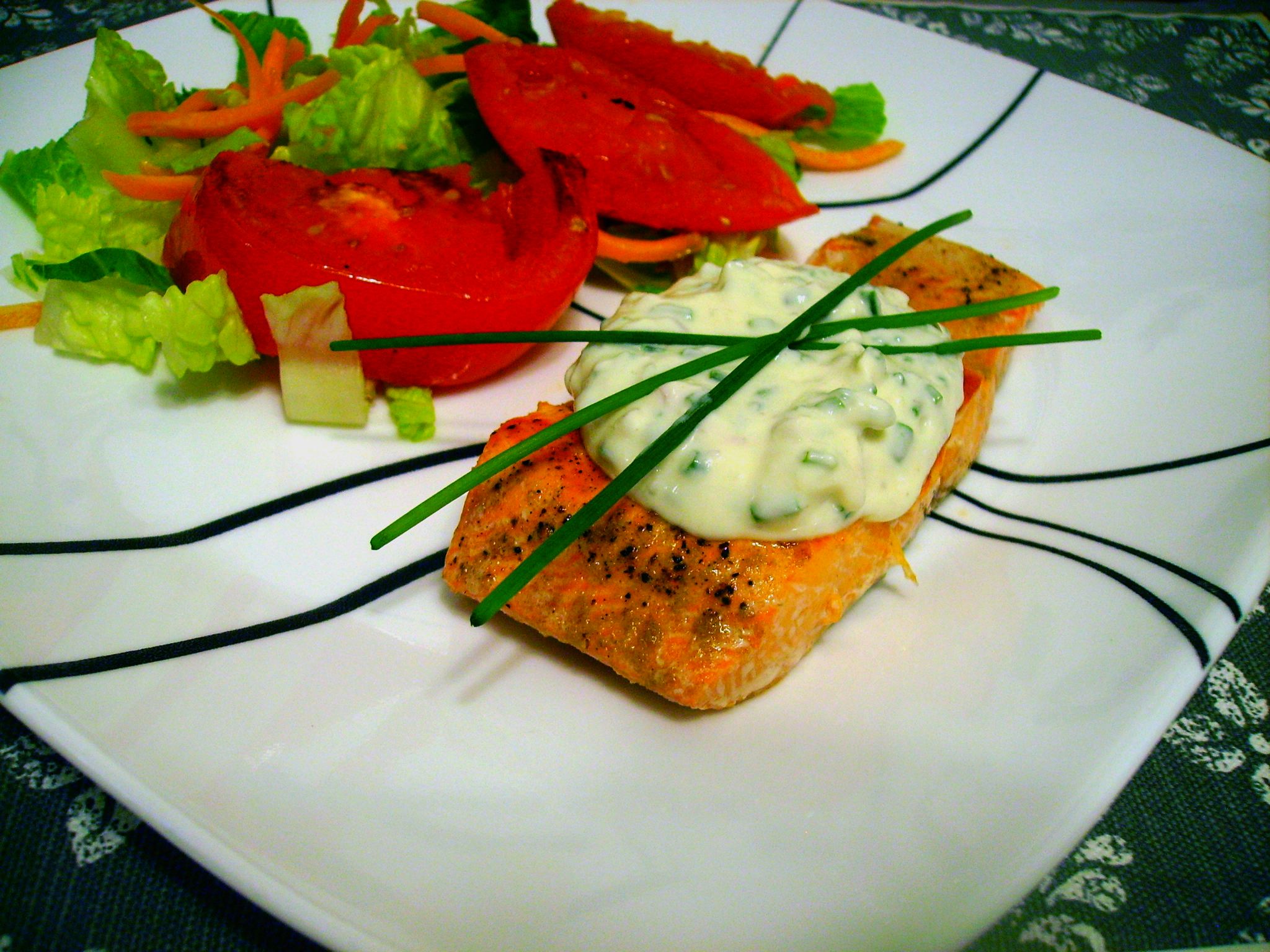 It's another Secret Recipe Club reveal, and today I bring you a dish from a very interesting blog, From Arepas to Zwetschgen. Have you ever wanted to go around the world in 80 days, because I bet this blog could help! From China to Iceland, this blog's got it covered.
However, since pregnancy has put me in the mood for simple and familiar, not to mention quick-to-prepare, I took the less adventurous route and went with a salmon dish that claimed to be full of summery goodness. I loved the idea of using Greek yogurt as the basis for the sauce, since pregnant women can never get enough protein.
In the end, I wrestled with whether or not to share this with you, because this meal was decent, but not something I thought I could rave over. While I was pleased with how easy the recipe was to make (stir sauce…grill salmon…done!), I had to make the sauce several times before I thought it would work. I was really hoping to find a way to highlight the salmon and the chives, but nothing I tried really made them sing. It was kind of fun experimenting with it, though, since I tend not to be a fly-by-the-seat-of-my-pants cook…I always have a plan and then tweak the plan before I get started. But I have to admit I am not sure how often this meal will grace our table (though I should probably add that my hungry husband ate two pieces of salmon in one sitting and said he thought the meal came out well, so don't write it off just because I am not as enthusiastic as usual!).
Here's what I learned:
any type or amount of vinegar I added to the recipe intensified the bitterness of the Greek yogurt beyond what I prefer, so if I make this again, I will omit it entirely and instead add a squeeze of lemon juice to brighten the flavors;
just as I add honey to my Greek yogurt for breakfast, honey is really important in this sauce because it tones down the bitterness of the yogurt and adds a tiny hint of sweetness, which every recipe needs to be well rounded;
cumin is absolutely the pivotal spice here, so add it to both the sauce and the salmon…not only does it make the flavors more interesting, but the earthy spice nicely compliments the very yogurty sauce and pulls the whole dish together…without cumin, I think the meal would have been sunk.
Unfortunately, chives are just too mild and unassuming to compete with the strong flavor presented by the Greek yogurt, so I felt like they faded completely by comparison. I did add shallots to accentuate their onion-y sharpness, but that only helped a little. If I try a meal like this again I will probably use regular yogurt instead of Greek, because I think the sweeter, tangier flavor will line up better with my own taste preferences, and might allow the chives a more prominent place in the flavor palate.
So. All that being said, even though I have been critical, the meal did turn out decently, and I'm going to tell you how to make it! Maybe it's right up your alley; maybe you, being less of a wuss than I, prefer your Greek yogurt completely plain and you don't find it bitter at all! Let's get cooking.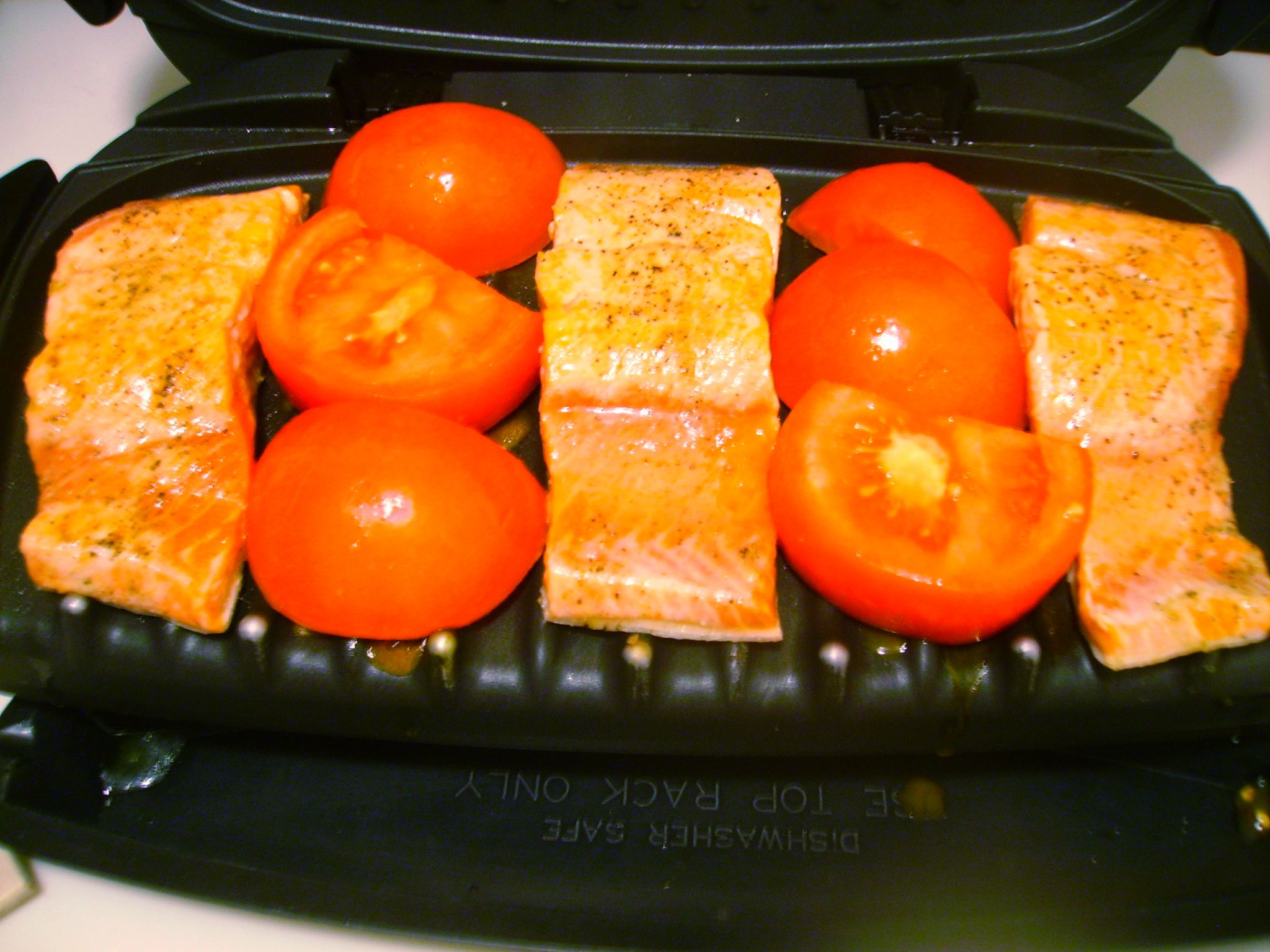 As I said earlier, this meal really couldn't be easier to make. Start by prepping the salmon. If you bought a salmon flank, cut it into four 6oz. pieces. Brush with oil, then season the top of each fillet with salt, pepper, and cumin. Brush with lemon juice.
Toss the salmon fillets onto the hot grill—I used my George Foreman, and I didn't remove the salmon skins because I knew they would stick to the grill after the salmon was cooked, and I could just slide the fillets right off onto the plates.
(So, here you see that I also decided to grill some tomatoes for our salads. I liked them, but Dave didn't, and they have nothing to do with the salmon, so you can do what you want!)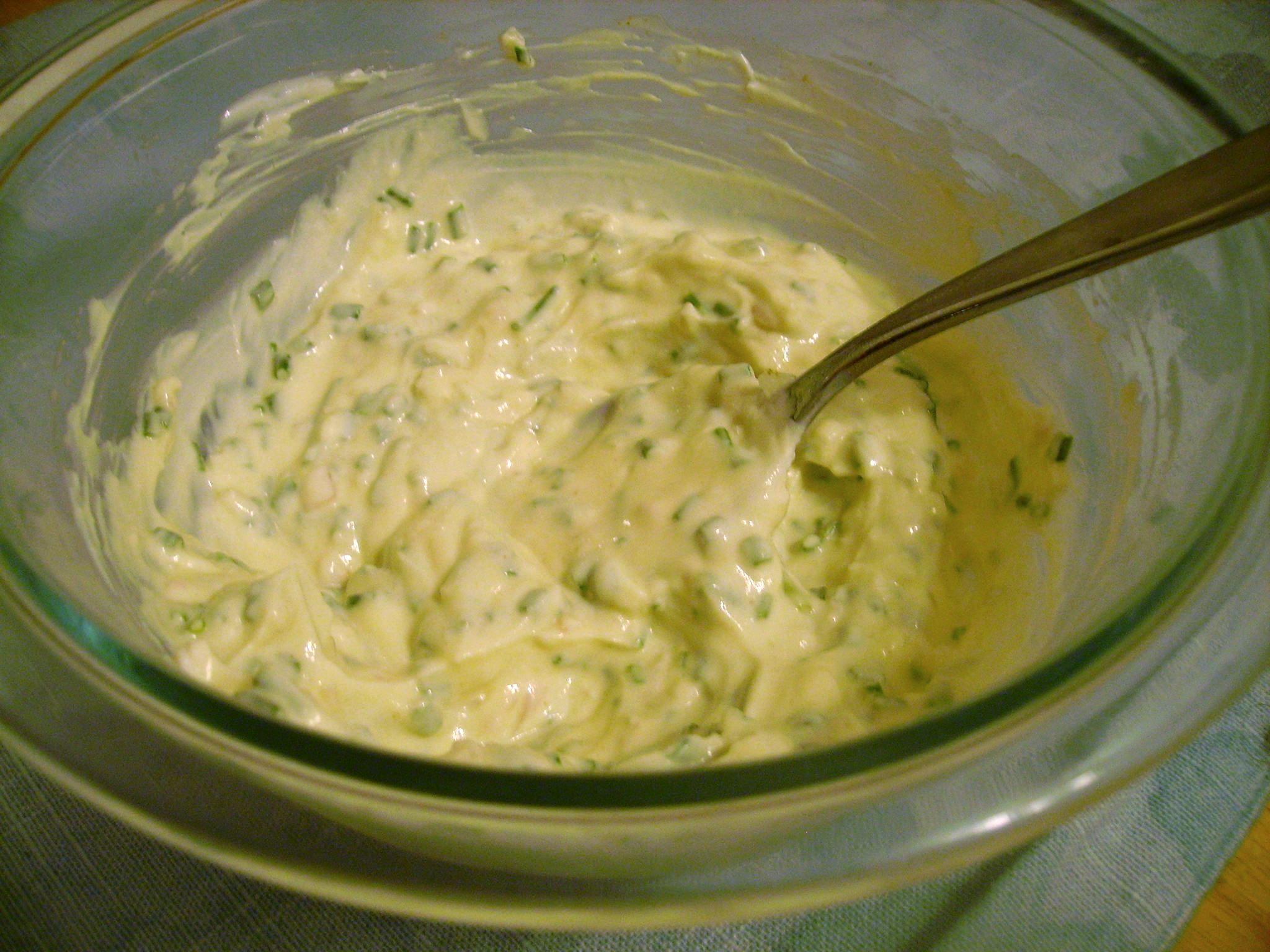 While the salmon is grilling, go ahead and stir together the ingredients for your sauce. The only pointer I will give here is to taste, taste, taste. After stirring together the yogurt, chives, and shallots, I added my ingredients one at a time and tasted after each to see how the flavors were developing. I highly recommend you do the same! This sauce is flexible, and everyone's tastes are different. Just don't forget the cumin!
The salmon should be done after about 5 minutes, but this will vary depending on how thick your fillets are. Test the thickest piece with your fork to make sure it is firm in the center and flakes easily.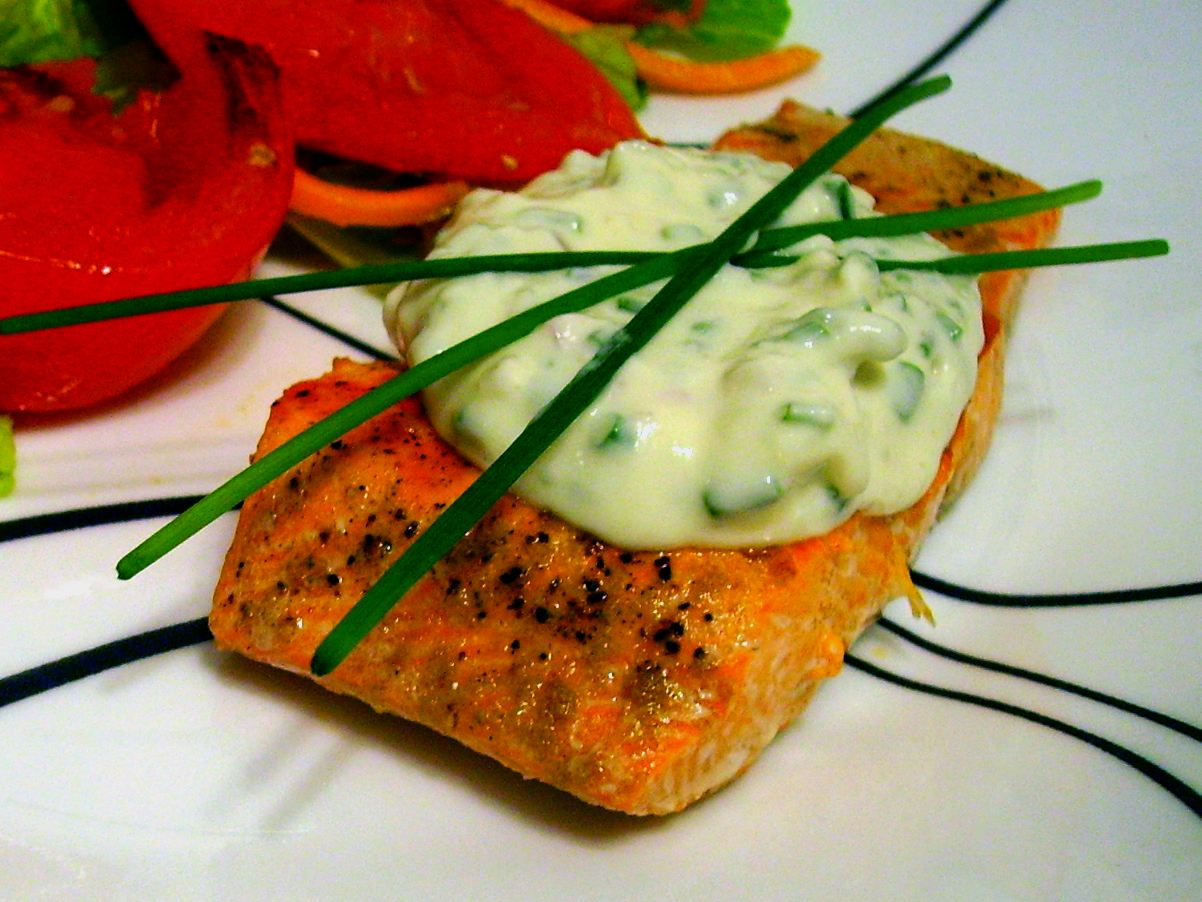 Separate the salmon from its skin. Top each fillet with a hearty dollop of the yogurt-chive sauce and serve warm with salads.
Grilled Salmon with Yogurt Chive Sauce
adapted from From Arepas to Zwetschgen
serves 4
Ingredients:
4 6oz. salmon fillets
3 tbsp. olive oil, divided
1 tbsp. lemon juice
salt and black pepper
cumin
½ cup nonfat plain Greek yogurt
2 tbsp. finely chopped chives
½ medium shallot, minced
1½ tsp. honey
1 tsp. white wine vinegar (optional, or sub out for lemon juice)
2 tsp. hot Dijon mustard
⅛ tsp. garlic powder
3 drops Texas Pete original hot sauce (or other brand)
Directions:
Prepare the salmon for grilling. Brush tops with 2 tbsp. olive oil and the lemon juice, then season to taste with salt, pepper, and cumin. Grill until the center of the fish is firm and the fish flakes easily.
Meanwhile, stir together all remaining ingredients (don't forget the remaining 1 tbsp. olive oil and a hearty dash of cumin!) to make the sauce.
When the fish is done, serve topped with the yogurt-chive sauce.
Enjoy!