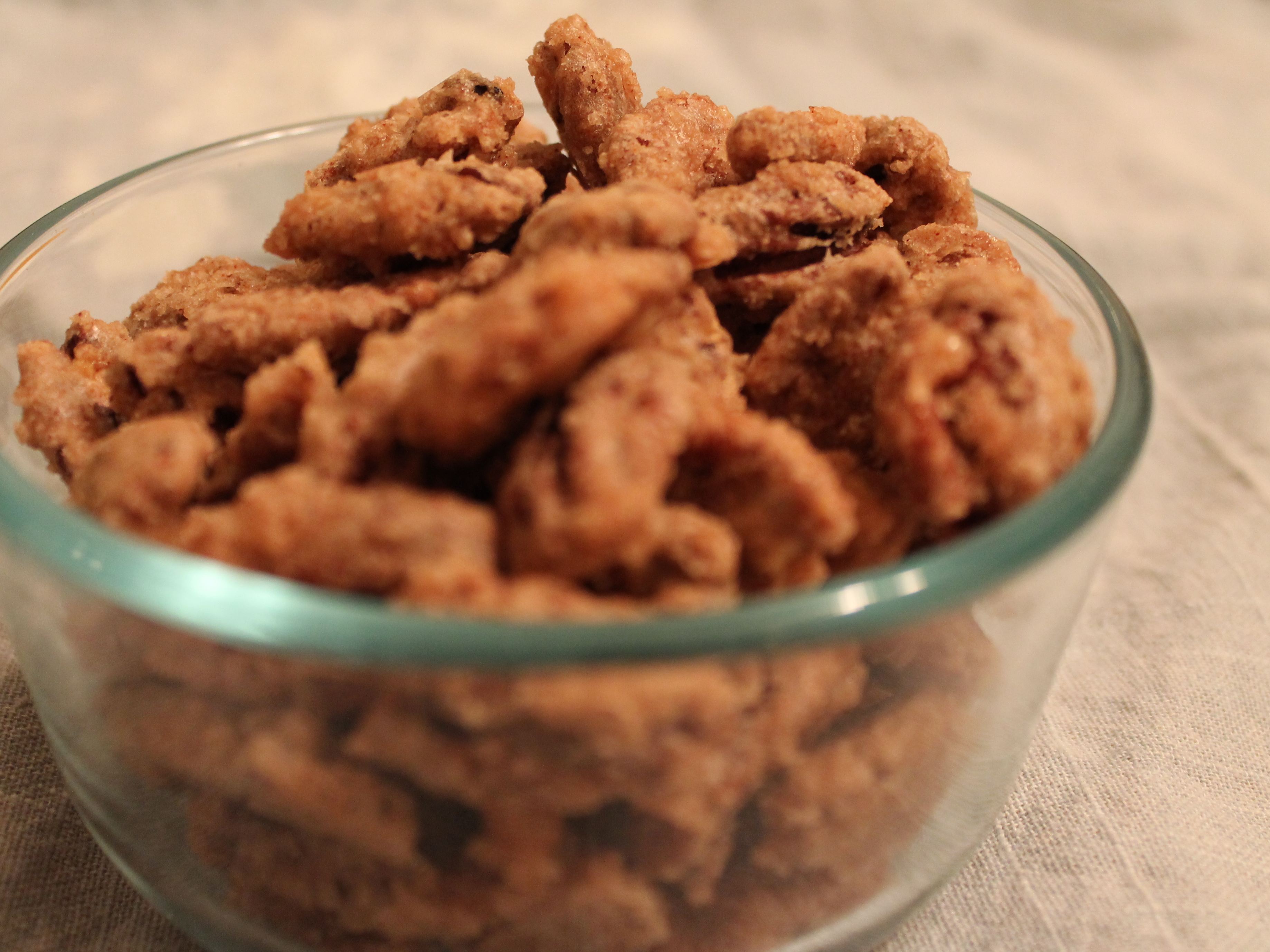 So…it's football season. Probably my least favorite thing of all time. The only redeeming quality football season boasts is that it tends to be full of delicious appetizers.
As you accept invitations and visit with friends and their big screen TVs (which you may or may not be interested in actually watching), consider whipping up a batch of candied pecans to bring with you! They are easy and impressive.
Okay, so my recipe does require a candy thermometer, though if absolutely necessary you could forgo the fancy equipment and wing it. But I promise, you will only need to do about 5 minutes of work to make these nuts, and you will definitely not regret it when you pop a hot, melty, sugary candied pecan in your mouth.
I made a small batch this time, so the recipe below serves just 2–4, but if you are bringing candied nuts to a party, you should definitely make a double or triple recipe!
Start by lightly toasting the nuts on an ungreased cookie sheet in a warm oven for 10–15 minutes. If you don't do this, the nuts will have no crunch to them at all, so don't be tempted to decrease the time or skip this step entirely. The nuts should be warm and fragrant when you remove them from the oven—and because the heat it so low, you don't even need to stir them while they are toasting!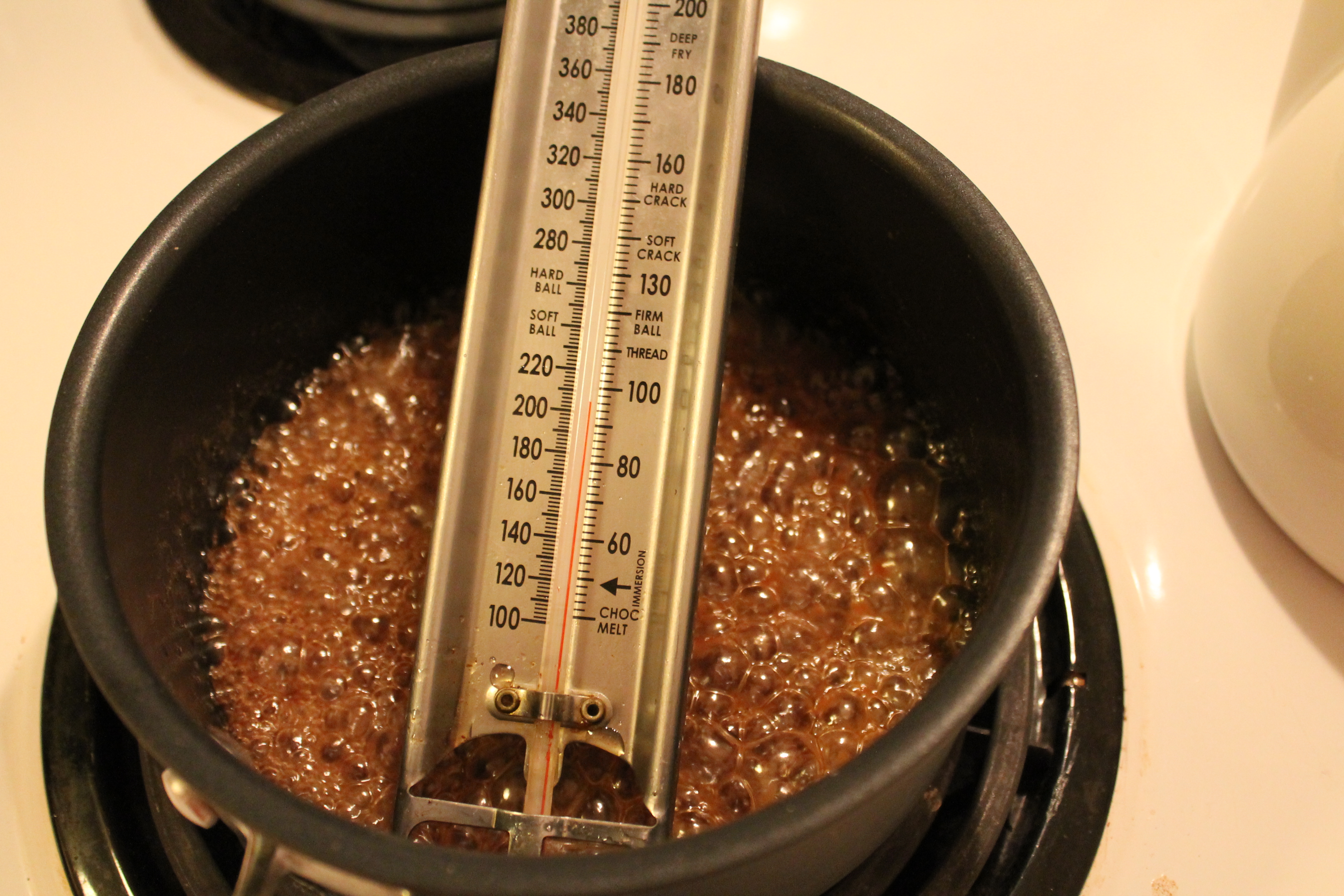 During the last 5 minutes the nuts are in the oven, make the candy. Basically, you are stopping short of making caramel, but this is the simplest candy on earth. First, butter your saucepan. I am not sure whether this is entirely necessary if you are using a non-stick pan, but I just left the extra butter in the pan to melt into the candy coating. Yum. In your prepped saucepan, bring sugar, water, vanilla, salt, and cinnamon to a boil over medium-high heat.
Boil, stirring constantly, until your candy thermometer reads 236°, otherwise known as "soft-ball stage", which should take about 5 minutes. Soft-ball basically means that if you were to take a small amount of the candy mixture and drop it into cold water, it would form a soft, pliable ball.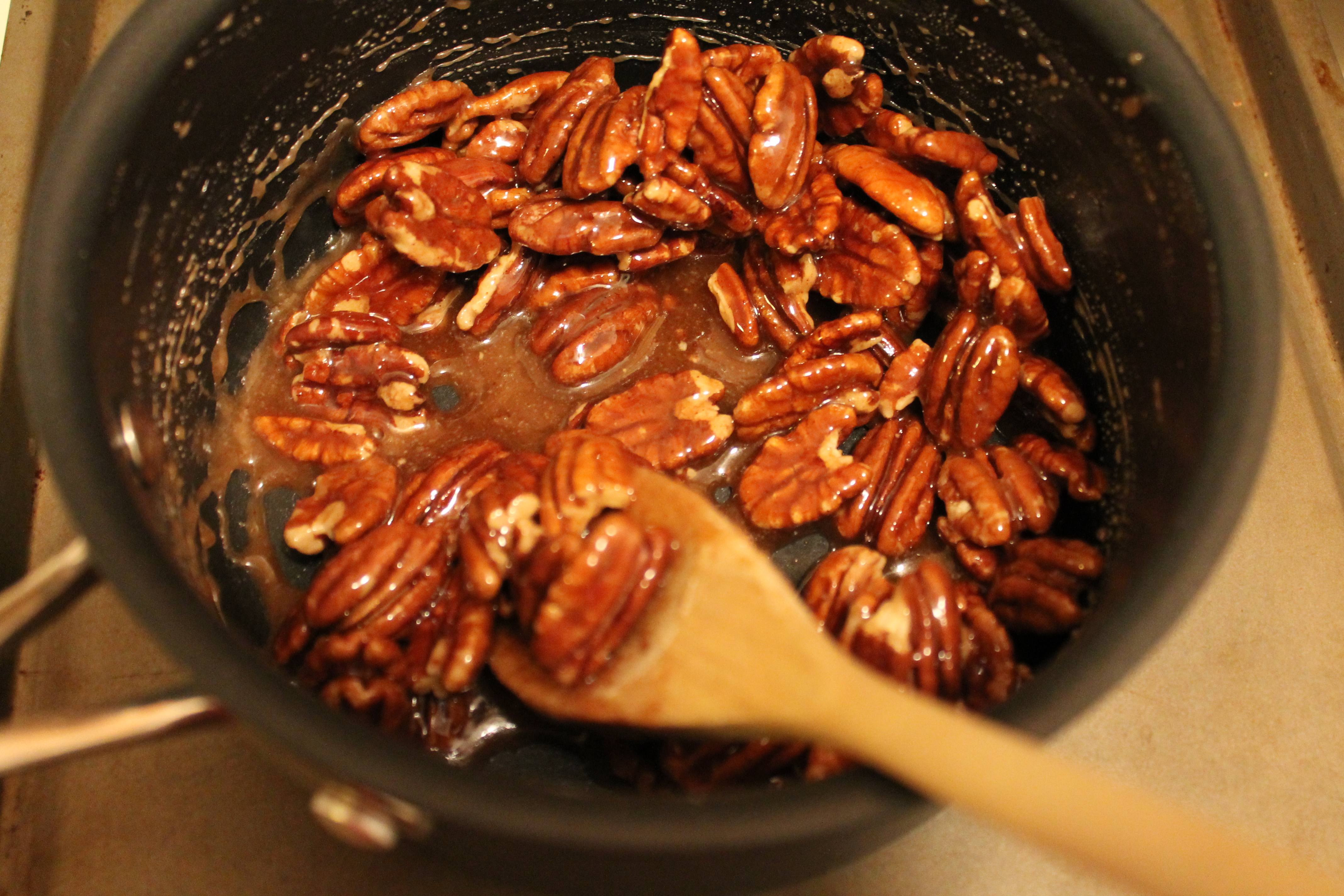 When the candy reaches the proper temperature, immediately remove from the heat and stir in the toasty pecans.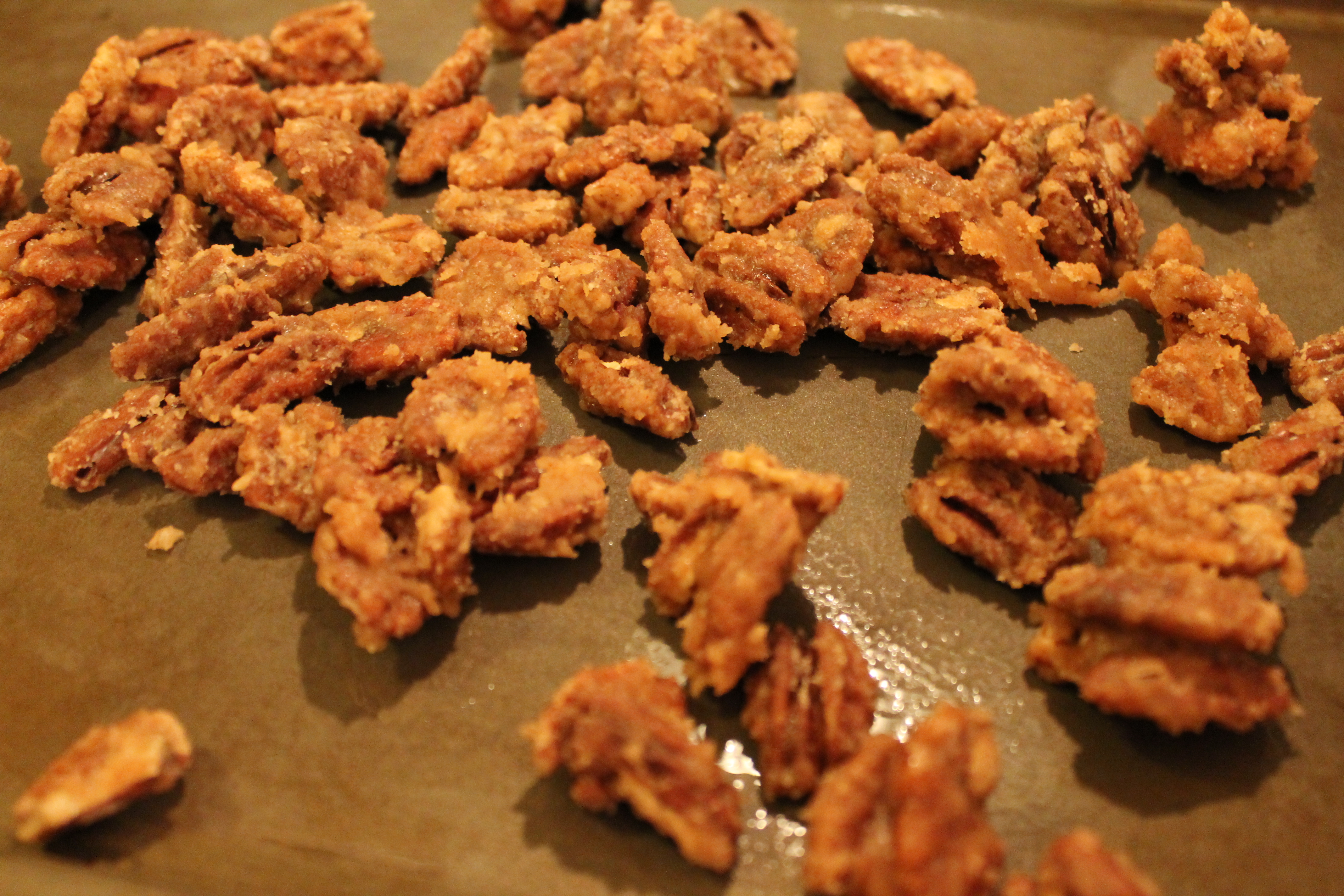 Transfer the candy-coated pecans to a buttered cookie sheet or baking dish. Stick them back into the warm oven for 40 minutes, quickly stirring the nuts every 10 minutes.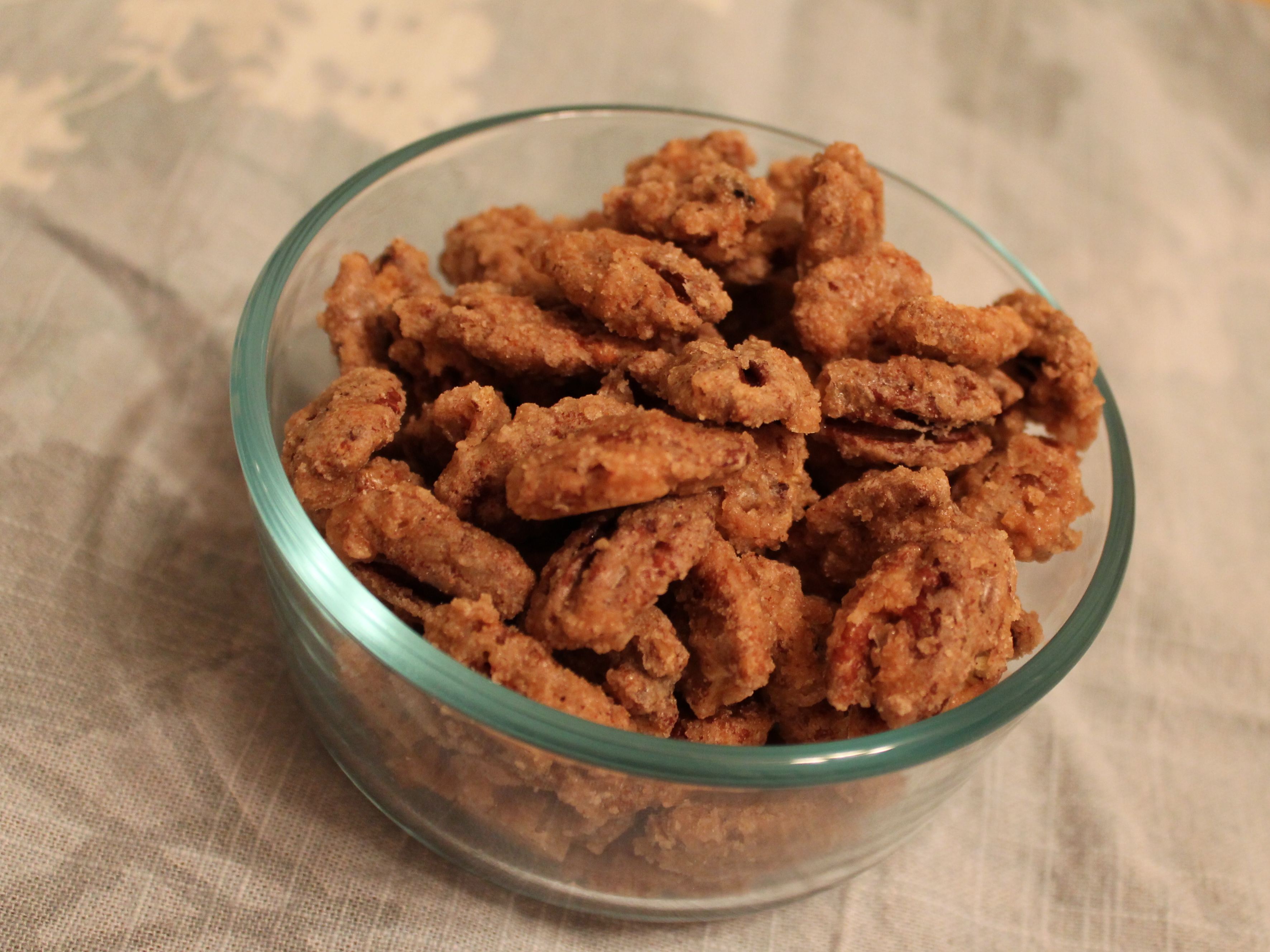 And when they are done, try not to eat more than four or five as your transfer them to a serving dish, otherwise you won't have any left to bring to your friends!
Candied Pecans
lightly adapted from Taste of Home
serves 2–4
Ingredients:
1½ cups pecan halves
1 tbsp. butter, divided
½ cup sugar
¼ cup water
½ tsp. vanilla extract
¼ tsp. salt
¼ tsp. cinnamon
Directions:
Preheat oven to 250°. Grease a rimmed cookie sheet with ½ tbsp. butter; set aside.
Toast the pecans in the oven on an ungreased cookie sheet for 10 minutes.
Grease the sides of a small, heavy-bottomed saucepan with remaining ½ tbsp. butter (leave any extra butter in the pan). Add sugar, water, salt and cinnamon to the pan. Cook and stir over low heat until sugar is dissolved. Cook and stir over medium heat until mixture comes to a boil. Cover and cook for 2 minutes to dissolve sugar crystals.
Cook, without stirring, until a candy thermometer reads 236° (soft-ball stage). Remove from the heat; add vanilla. Stir in warm pecans until evenly coated.
Spread onto prepared baking pan. Bake at 250° for 30–40 minutes, stirring every 10 minutes. Spread on a waxed paper-lined baking sheet to cool.
Enjoy!