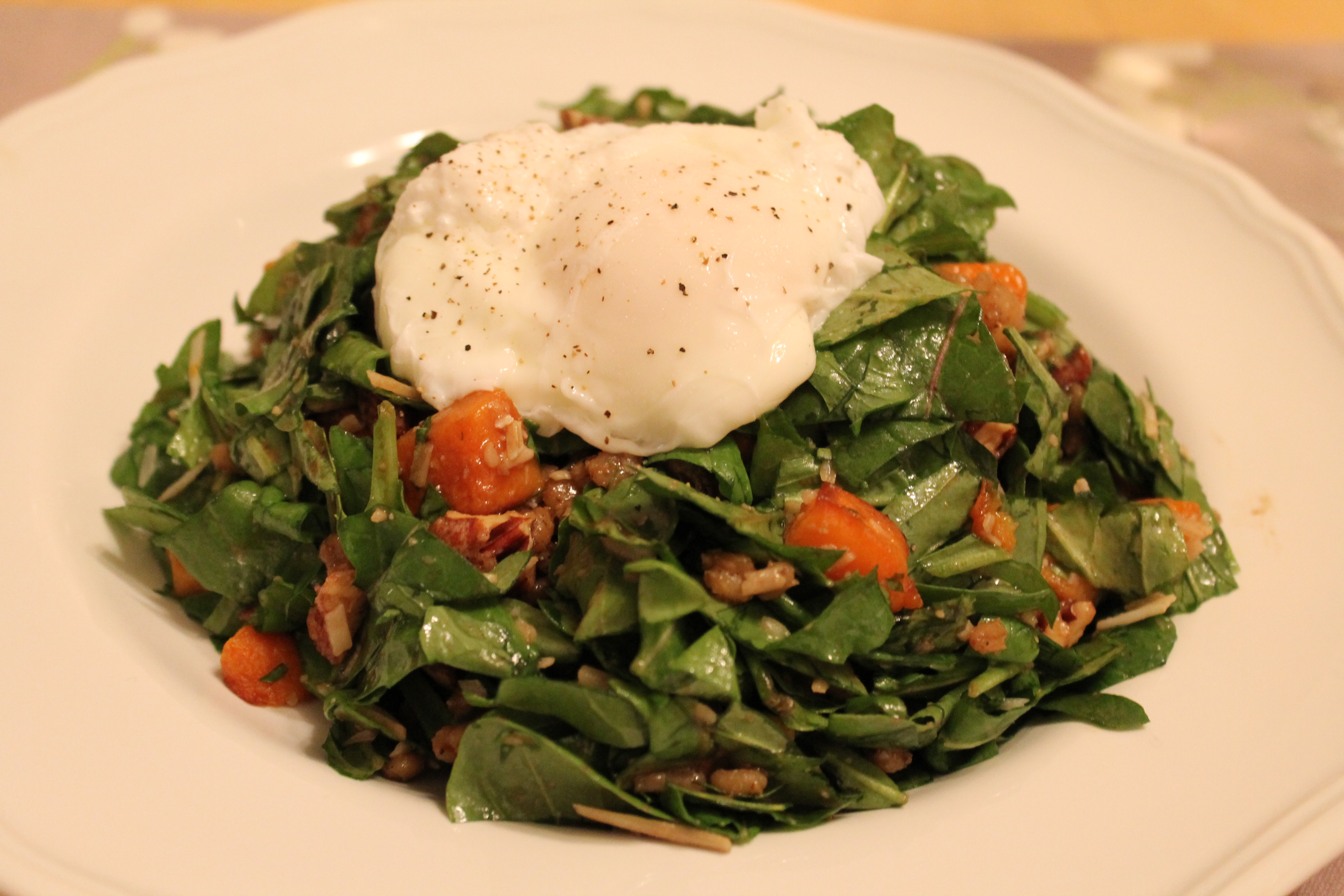 Do you ever go to a restaurant and order exactly the right thing? It sounds like a small detail (duh, who intentionally orders badly?), but if you've ever agonized over a decision about what to order and come away unhappy with your choice, then you are probably also familiar with the sheer bliss of ordering the best dish on the menu, the one thing that can truly satisfy you, for that particular meal.
A few weeks ago I went to brunch at a pub in DC, the Drafting Table. I fretted over what I should order, and ultimately decided to ignore the waitress, who recommended a different dish, and go for this salad. And literally every bite made my taste buds sing! This salad was more delicious than I could have imagined, and it turned out to be exactly what I wanted.
True, it's a bit decadent for a salad. And a bit involved to make. But I swear it will be worth the effort! A perfect blending of sweet, salty, fresh, tangy, creamy, crunchy, chewy…I am overflowing with adjectives, just like this salad is overflowing with flavor and amazingness.
There are several elements that can be made ahead of time.
First, you need to make some candied pecans. Store them in an airtight container until you are ready to prepare the salad.
Second, you need to roast about 1 lb. butternut squash, cut into bite-size cubes. Toss the cubes with about 2 tbsp. olive oil and ¼ tsp. salt, then roast on a foil-covered cookie sheet for 30 minutes at 375°. Let it cool to room temperature before mixing it into the salad. Or, store in an airtight container for up to two days before you are ready to get your salad on.
Meanwhile, you can prepare the barley! Honestly, I didn't take any pictures of this because I was just winging it…but I will tell you exactly what I did, and that it was peppery and garlicky and delicious in the salad! So. Basically, I just cooked mine like it was rice on the stovetop. I only wanted to make enough for two salads, so I got ½ cup dry pearled barley and 2 cups unsalted veggie stock. I brought that to a boil, then seasoned with salt and a looott of pepper. I added a few sage leaves and a few sprigs of thyme, as well as two cloves of garlic. Then I simmered over very low heat for about 30 minutes until all the liquid was absorbed and the barley was tender. And, I admit it, I had to add some extra water because I always let the water cook off too quickly and the centers of the barley (or rice, quinoa, whatever I am making) are a little too crunchy to be called al dente…
Anyway. Remove the garlic, thyme, and sage from the barley and let it cool to room temperature.
Now we are ready to start putting the salad together!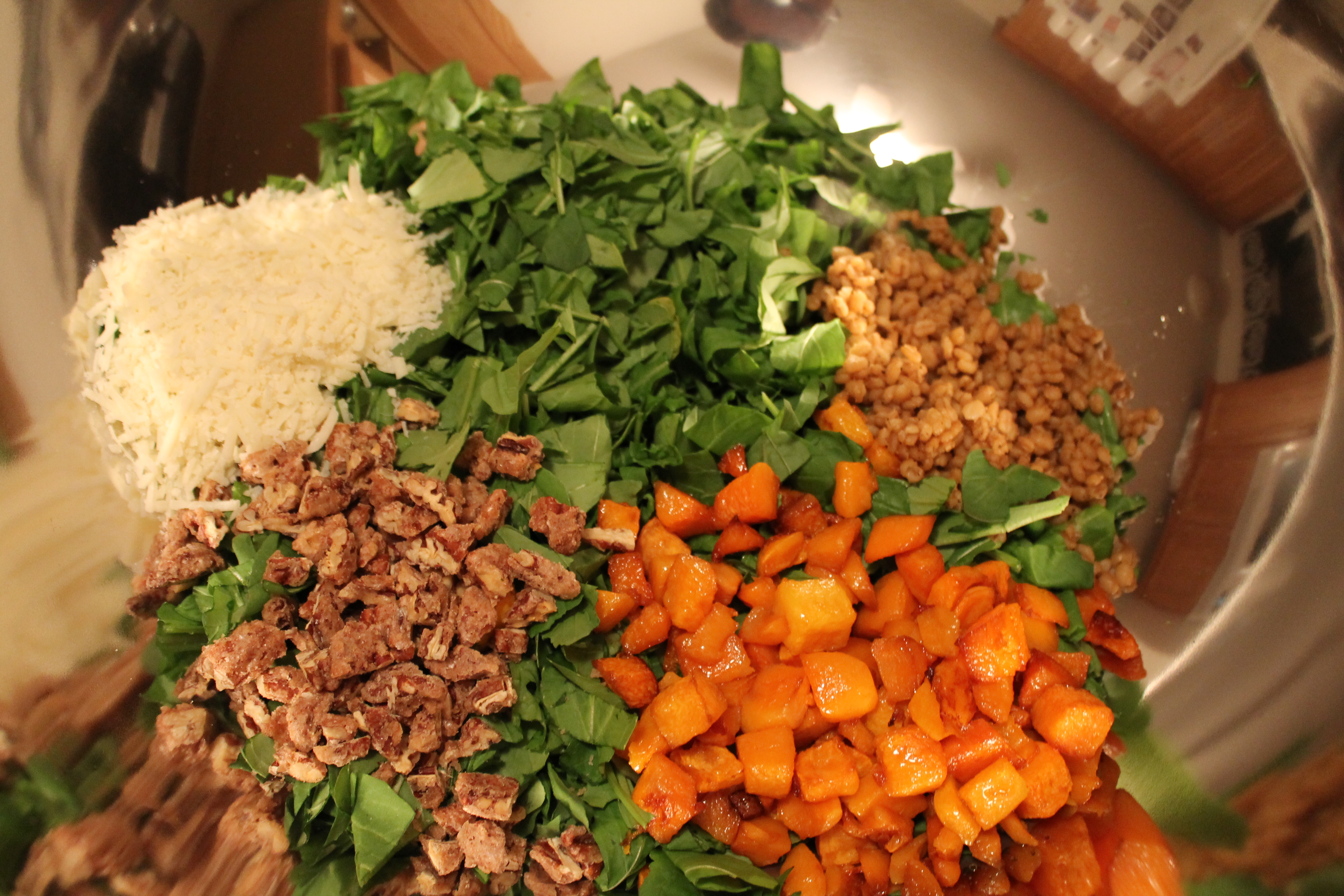 Chop up the arugula (or you could use an arugula mix) into small pieces. This way, you can easily spear a salady bite and you won't even have to do that thing where you stick the fork in your mouth sideways and twist it just to avoid wiping salad dressing all over your face because the leaves are too big! Hooray. Neater eating.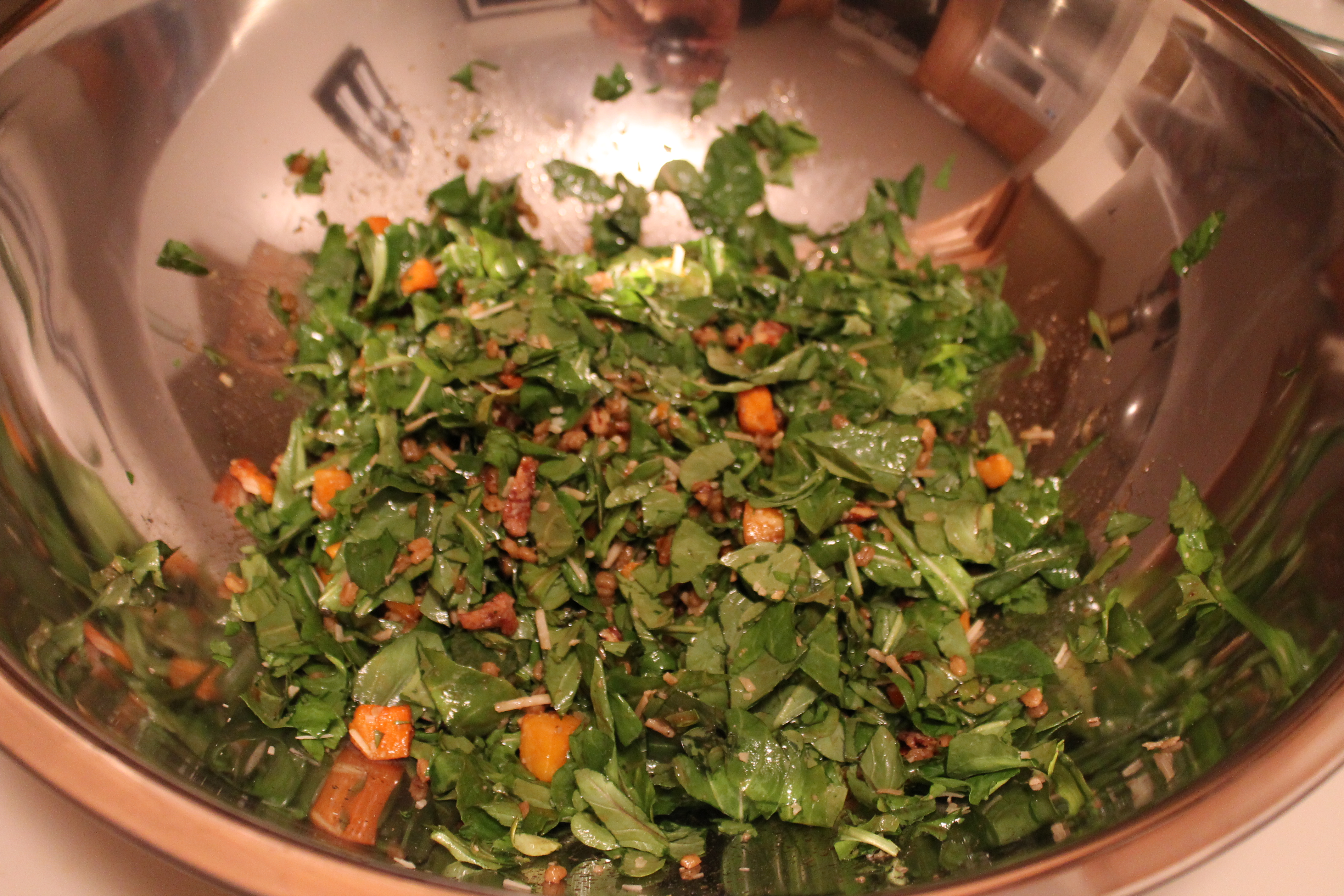 Mix in a two large handfuls of chopped candied pecans, all of the butternut squash, about half of the barley, and a large handful of shredded pecorino cheese. Toss with some deliciously tangy balsamic vinaigrette.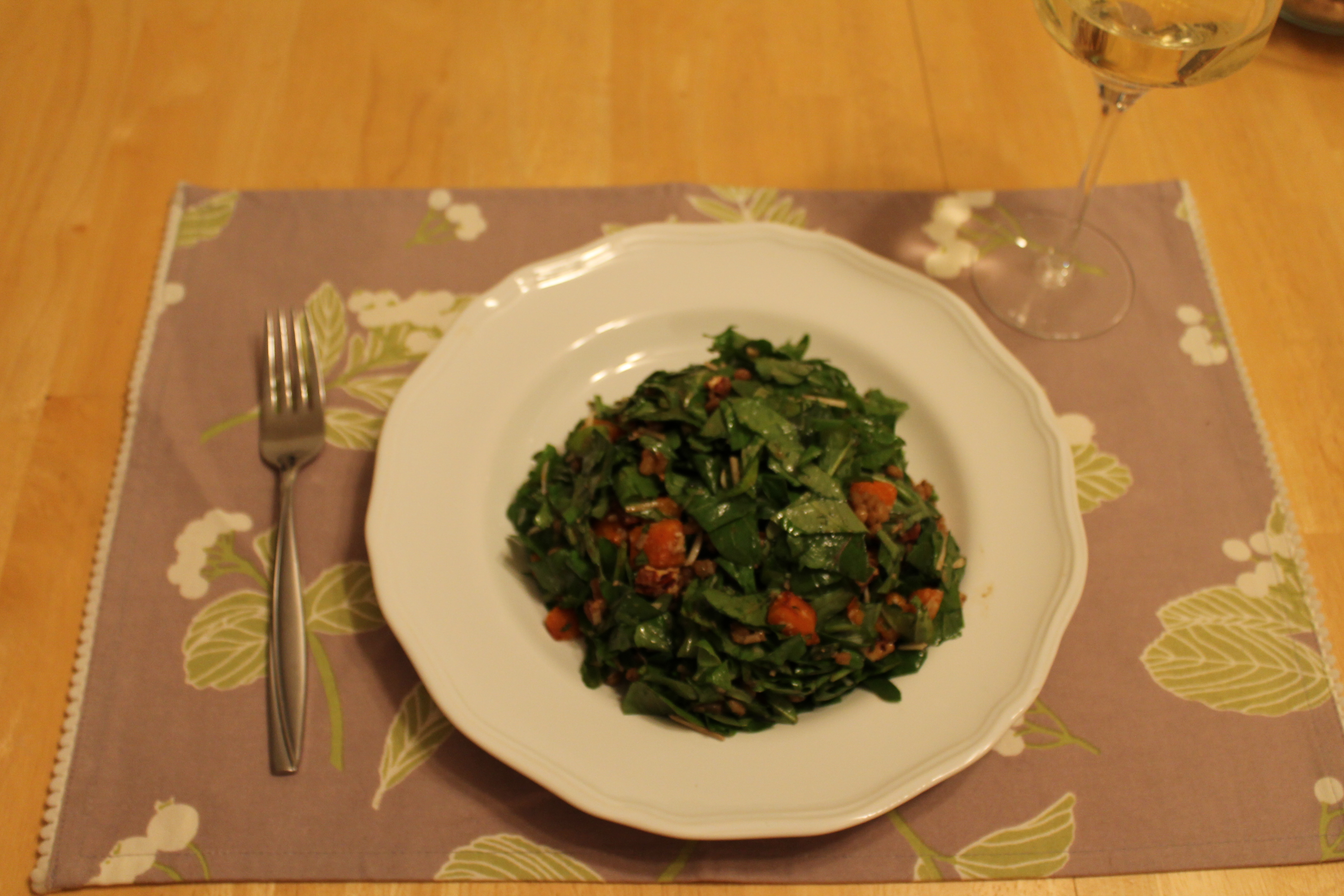 Make two mounds of salad by packing half the salad into a cereal bowl, then turning it over onto a dinner plate; repeat with a second plate. Pretty!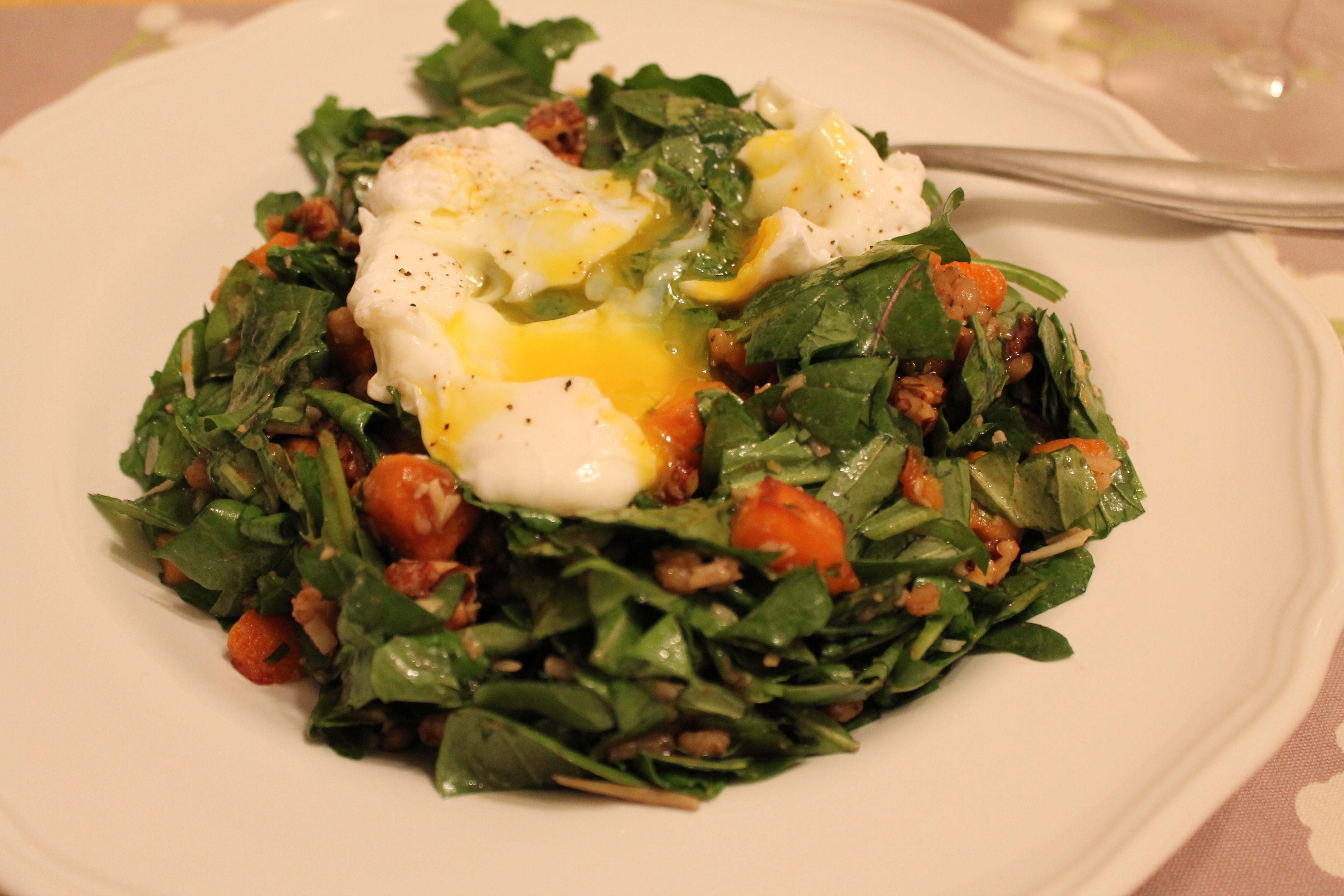 Now it's time to poach two eggs to go on top of the salads. This is very easy, but happens kind of quickly so I didn't get a picture of the cooking process. Basically, bring a small pan of water to a calm boil. Crack a cold egg into the water. I like to grab two wooden spoons and crowd the egg over to one side of the pan. Let the egg boil for two minutes, then scoop it out with a slotted spoon. Set it on top of one of the salads and lightly season with salt and pepper. Repeat with the second egg.
When you cut open the eggs, the yolk will drizzle all over the salads, adding a rich, buttery flavor. Yum.
And now you have a complicated but amazingly delicious dinner salad!
Sweet and Salty Arugula Salad
inspired by the Drafting Table
serves 2
Ingredients:
5 oz. arugula, chopped
1 lb. roasted butternut squash cubes
¾ cup chopped candied pecans
½ cup cooked pearled barley (see directions above, or try this Baked Barley)
½ cup shredded pecorino romano
5–6 tbsp. creamy balsamic vinaigrette
2 eggs
salt and black pepper
Directions:
Toss the arugula, squash, pecans, barley, and pecorino with balsamic dressing.
Scoop the salad into two bowls; pack it down. Lay a plate on top of each bowl, then flip over and take the bowls away, leaving a large mound of salad on the center of each plate.
Poach the eggs in water. Lay an egg on the top of each salad. Season lightly with salt and pepper.
Crack the eggs and let the yolk dress the salads.
Enjoy!