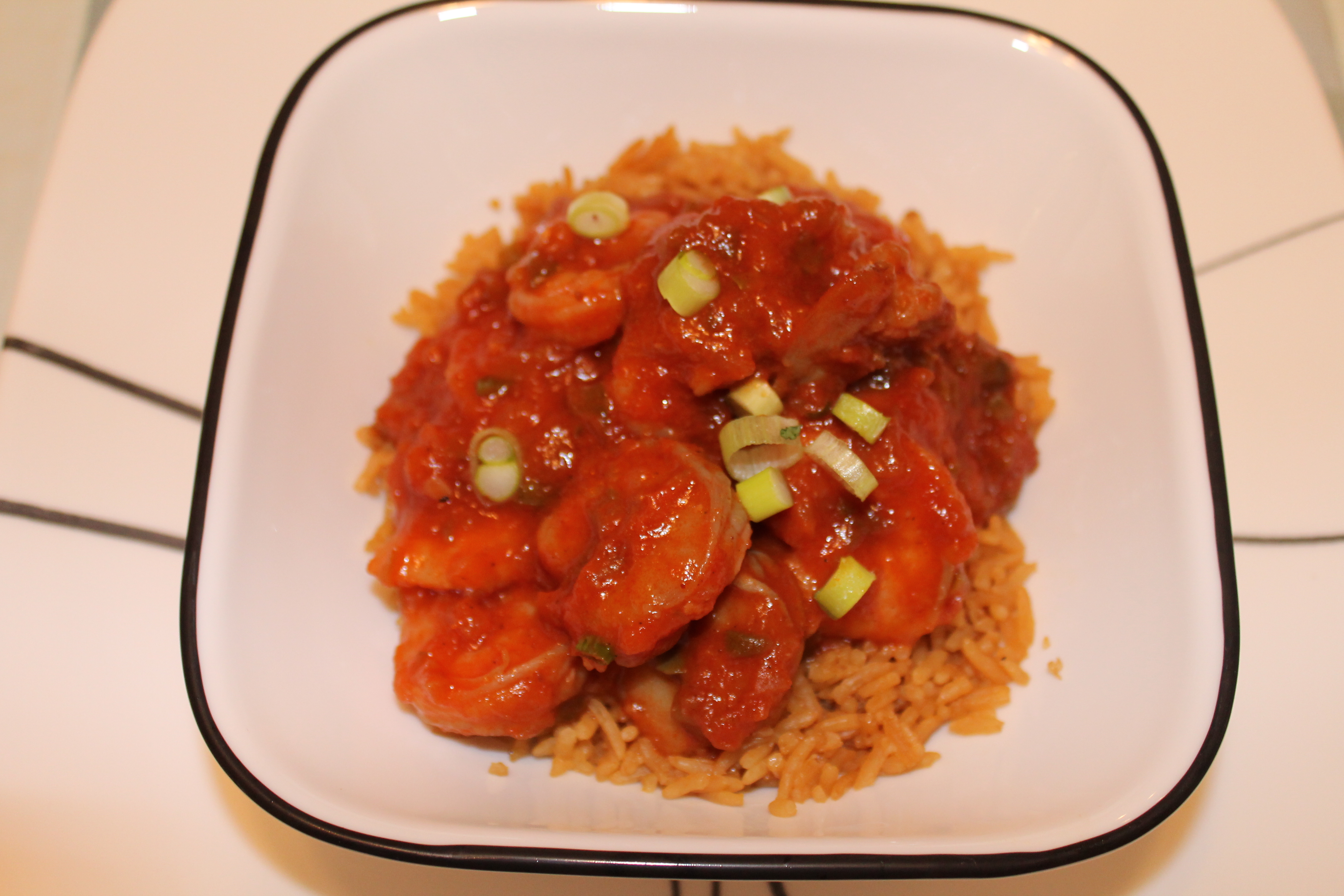 My mom's birthday was a few weeks ago, and I got to host her dinner for the first time ever!
Making meals for my mom can be a challenge because of her food allergies: no dairy or wheat allowed. In fact, when I asked her what she wanted for her birthday meal, she sadly replied that she didn't really have a favorite meal anymore, since many of the foods she has loved her whole life are now off-limits.
After a bit of thought, she requested Shrimp Creole, which I had never had before. Shrimp Creole is basically a bowl of rice topped by a spicy, flavorful tomato sauce full of veggies and, of course, shrimp!
I did a bit of research on the dish and found that creole dishes classically include onions, green peppers, and celery, and that most of the recipes around really leave the combination and amount of spices up to the cook. How challenging for someone who's never made creole food before! I almost had no idea where to begin.
In the end, I decided to use Virginia Willis's recipe from Bon Appetit, Y'all  as a base and to wing it with the spices (with a little help from suggestions I read in many other recipe reviews). And it turned out delicious! Just a bit of heat (okay, enough to make my nose run a little) without being overwhelming, and great Cajun flavors. I wrote down what I did, so now, finally, I can bring you a recipe for Shrimp Creole that comes with the complete spice profile.
You will love this dish! So easy to make—you can forget it on the stove for as long as you need—and it's a great alternative to the same old pot of chili you make every year. The Cajun flair will seal the deal!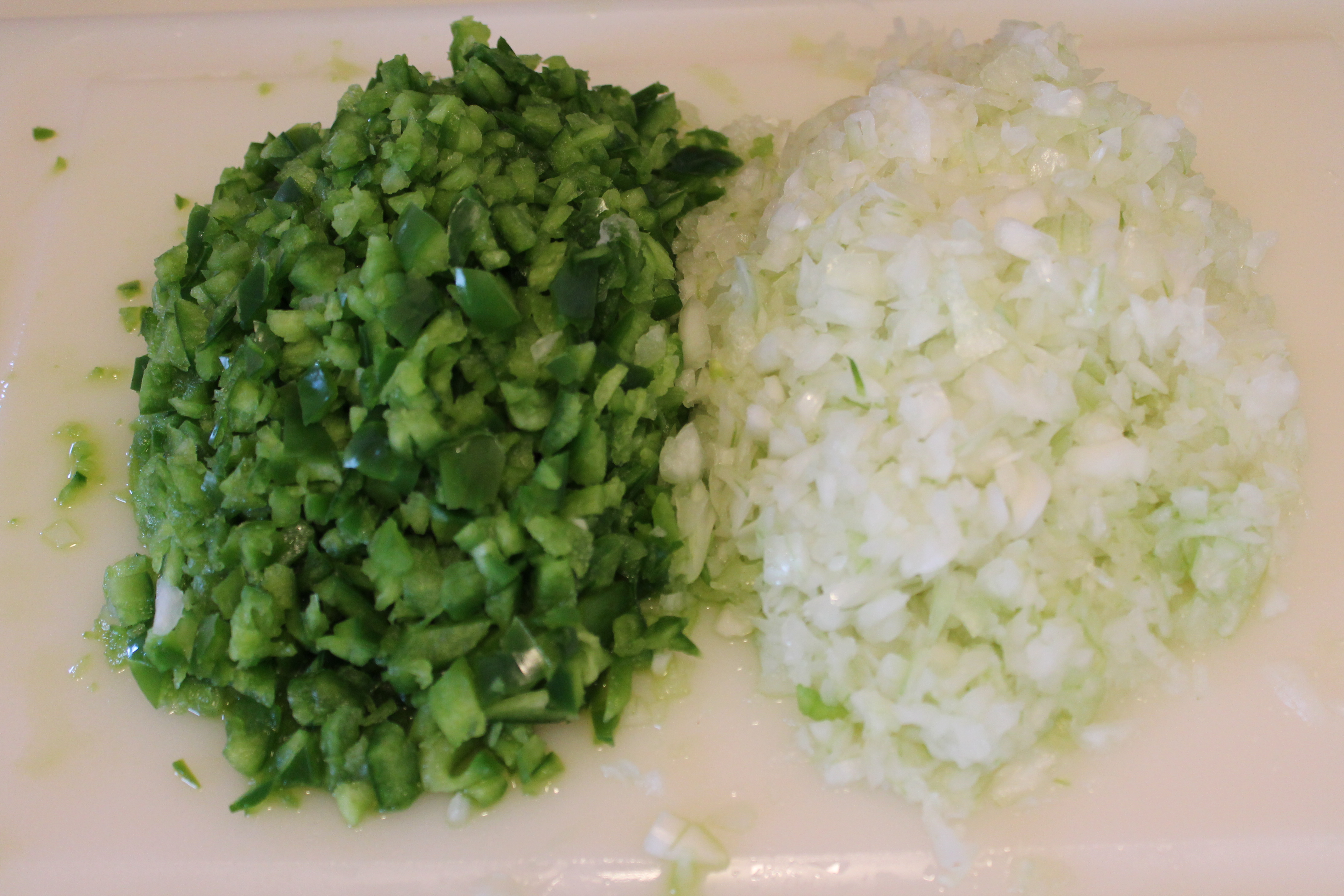 Start by chopping up the green pepper and onion (I skipped celery because my mom can't eat it, but if you wanted to use celery, then halve the amount of green pepper listed below and chop up 2 small stalks of celery to go in with the other veggies; the amount of green pepper and celery combined should equal the amount of onion). The recipe I used didn't specify how large or small to chop, so I just broke out my slap chop and ended up with a rather small dice. My mom reported later that the meal she remembered larger pieces of vegetables from her previous experiences with the dish, but she also liked the smaller vegetables.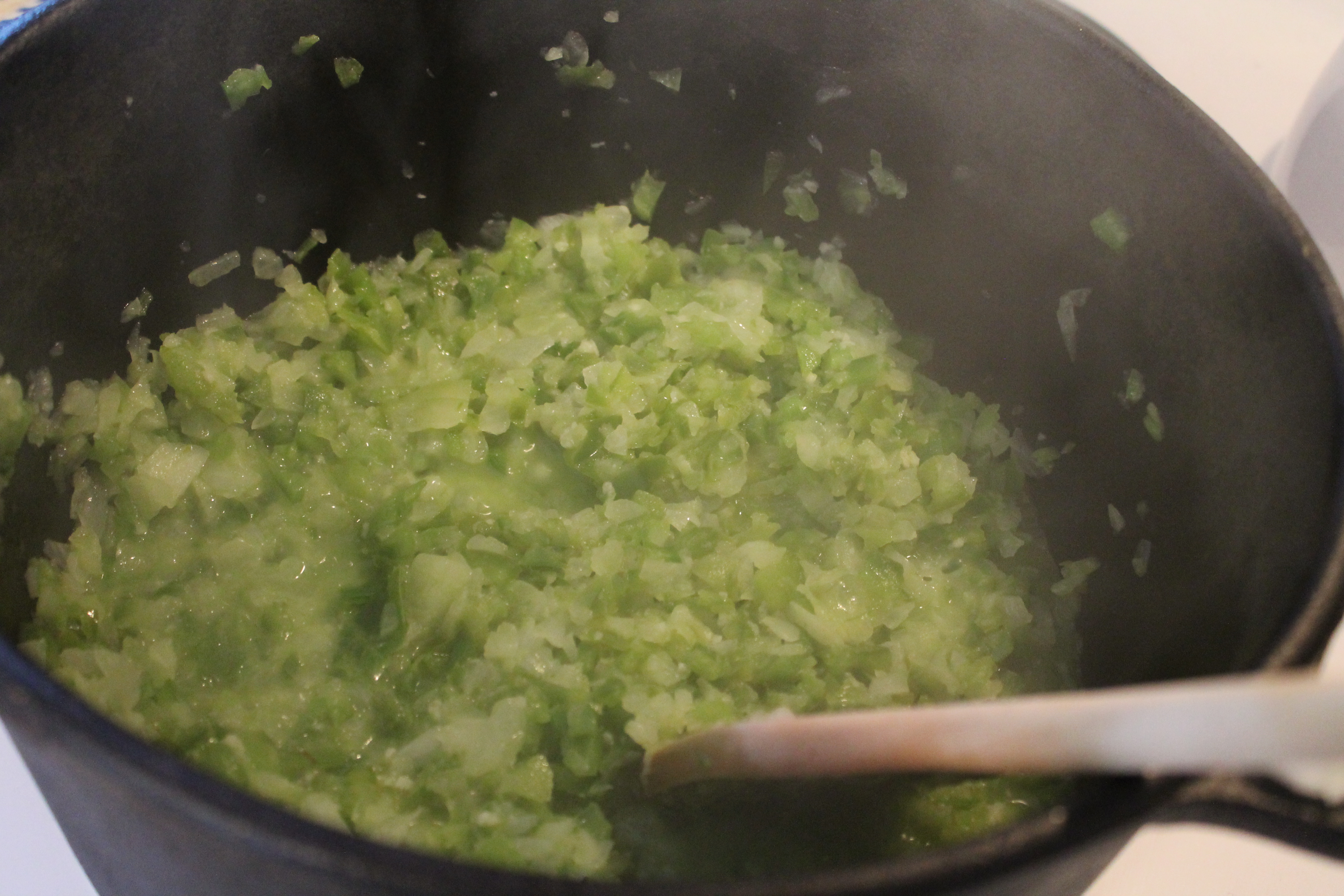 Heat some oil in a heavy-bottomed Dutch oven. Toss the green pepper and onion in, along with the garlic, and cook until the onion becomes soft and translucent.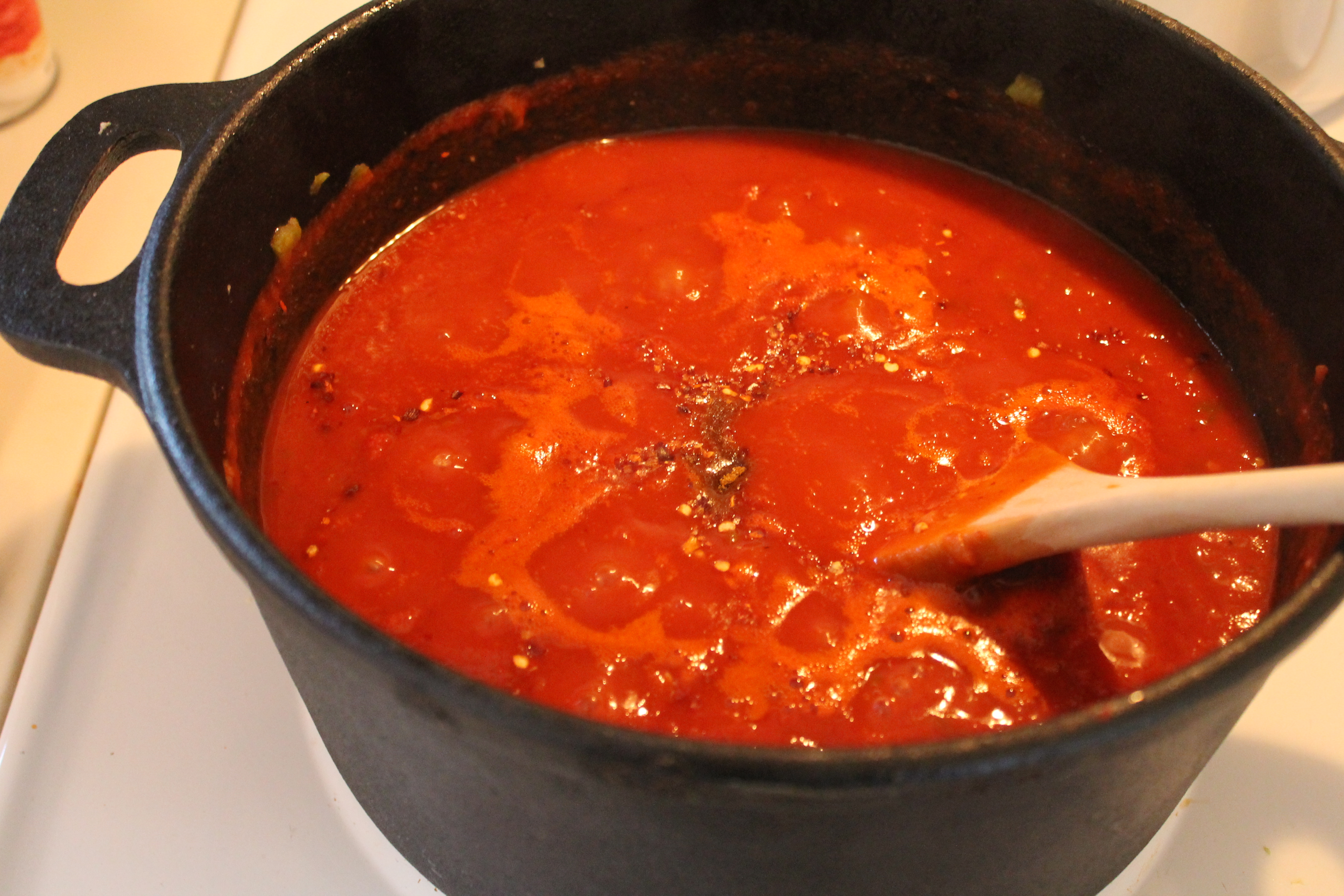 Add in the tomato paste and cook for 5 minutes, stirring constantly. Then add in the tomato sauce, sugar, water, and spices. I went for Mrs. Dash's Cajun (you could also use Old Bay, which is a nearly identical ingredient list!), crushed red pepper, chili powder, and cayenne, plus Worcestershire and hot sauce. And of course, salt and pepper.
You can let this mixture sit on the stove for almost as long as you'd like. The recipe recommends 40 minutes, stirring occasionally, but I let mine cook on low heat for almost 90 minutes while I made rice pilaf and set the table…oh, and fed the baby! The key is to add extra water if your tomato sauce gets too thick. I added an extra cup, and my sauce was thick but pourable and very flavorful!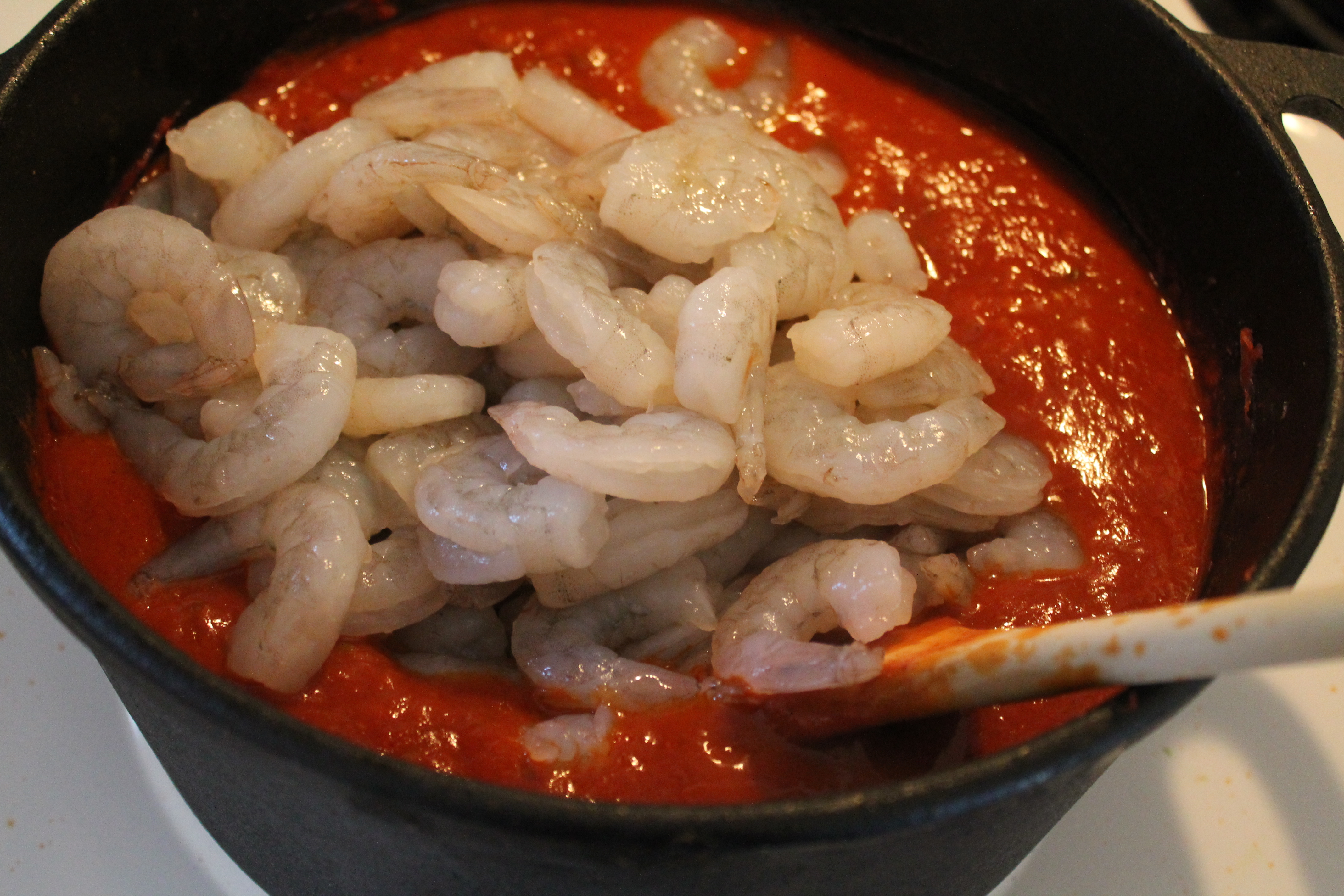 Just before your guests arrive/before you want to serve your meal, add your peeled and deveined shrimp to the pot. Believe it or not, they only need to cook for 3–5 minutes to become pink and firm! Though, of course, you should test one before you remove your pot from the heat.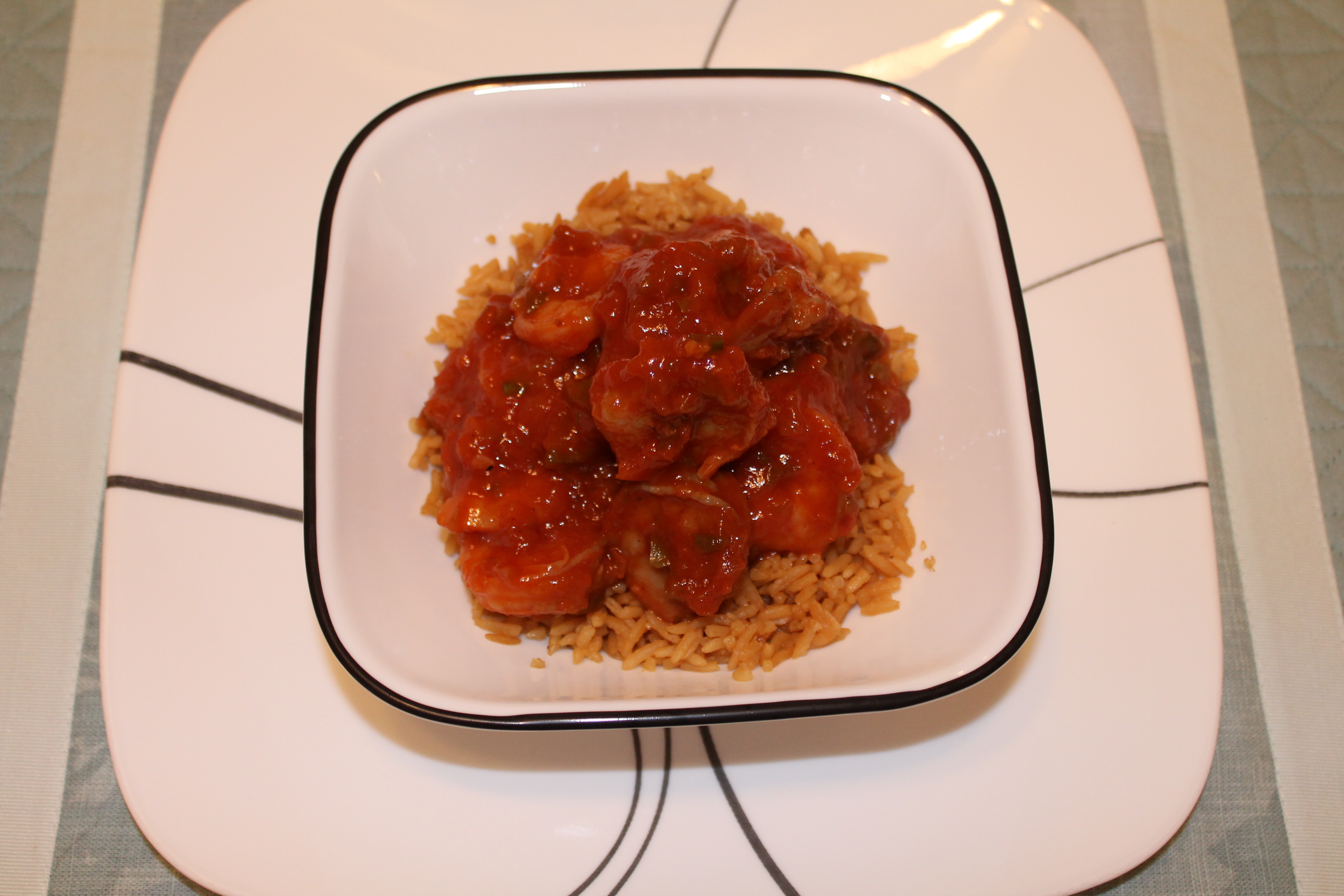 Garnish with chopped scallions and serve over rice. I went for rice pilaf (also found in Bon Appetit, Y'all), which I made with jasmine rice, but you could also just as easily make plain rice. I recommend jasmine or brown rice.
Shrimp Creole
adapted from Bon Appetit Y'all
serves 6
Ingredients:
¼ cup canola oil
2 medium green bell peppers, chopped
1 yellow onion, chopped
4 cloves garlic, minced
1 6oz. can tomato paste
1 12oz. can tomato sauce (no salt added)
1 tsp. sugar
2 cups water
¼ tsp. salt, plus extra as needed
¼ tsp. black pepper
¾ tsp. Mrs. Dash's Cajun or Old Bay Seasoning
¼ tsp. chili powder
several dashes crushed red pepper
pinch of cayenne
¼ tsp. Worcestershire
dash of hot sauce (Texas Pete)
1½ lbs. medium shrimp (31-40 ct.), peeled and deveined
4 scallions, chopped
rice of choice, cooked, enough to serve 6
Directions:
In a heavy-bottomed skillet, heat the oil over medium heat. Add the onion and green pepper and cook until soft and translucent, 3–5 minutes. Add the garlic and cook until fragrant, about 1 minute.
Add the tomato paste and cook, stirring constantly, and additional 5 minutes.
Add the tomato sauce, sugar, water, spices, Worcestershire, and hot sauce. Bring to a boil over medium-high heat, then decrease the heat to low. Simmer until the oil rises to the surface, stirring occasionally, about 40 minutes. (Use more water if the sauce gets too thick.)
Add the shrimp and cook until pink and firm, 3–5 minutes. Taste and adjust the seasonings as desired.
Garnish with green onions. Serve atop rice.
Enjoy!