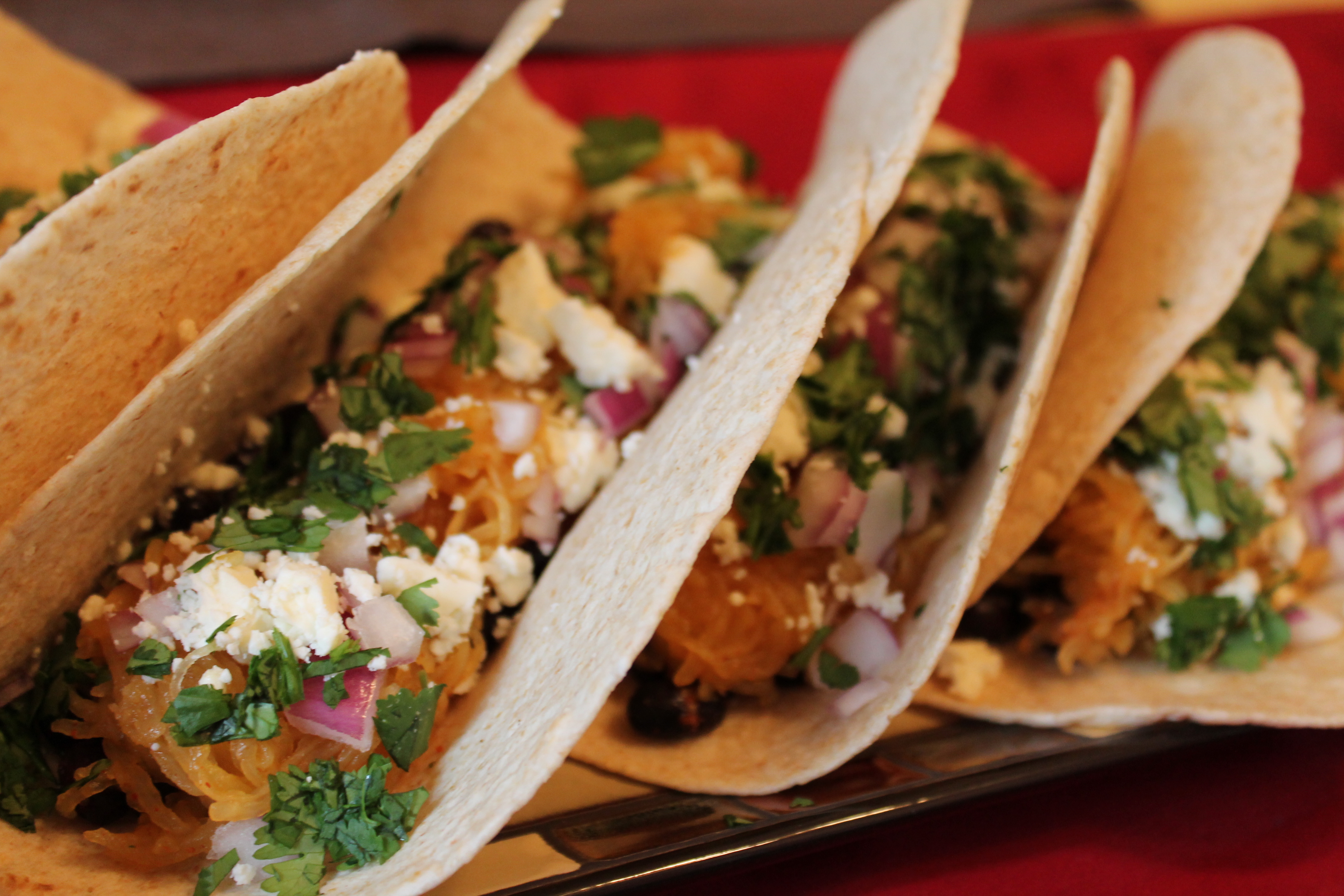 Wow. Today was really a day, if you know what I mean. It started out with very few hours of sleep, became more harried and more chagrined as I rushed off to an early morning meeting that turned out not to be today, and was compounded by my darling son spitting up on my crotch in front of an old friend. Twice.
Do you know what made today really shine? (Aside from the cutest giggles and looks of delight Jake shot my way after he plastered me awkwardly in white goo…)
It was these tacos. Yep. Great texture, bright flavors…what more could a girl ask for?
Now, I know it sounds weird to combine spaghetti squash and black beans, but this colorful, quickie meal just works! I promise these tacos will really light up your day! (Plus, if you are finding yourself tired of the sweetness of winter squash, and can hardly bear to think about how long it will be until asparagus or broccoli come your way, this is a great meal to change the pace and still incorporate seasonal ingredients!)
Start by stabbing your spaghetti squash all over. Be careful! But you don't want the squash to explode in the microwave, so be thorough. Microwave the squash for 6 minutes, then roll it over (ouch, it's hot!) and microwave another 8–9 minutes. Let the squash cool for at least 5 minutes before handling.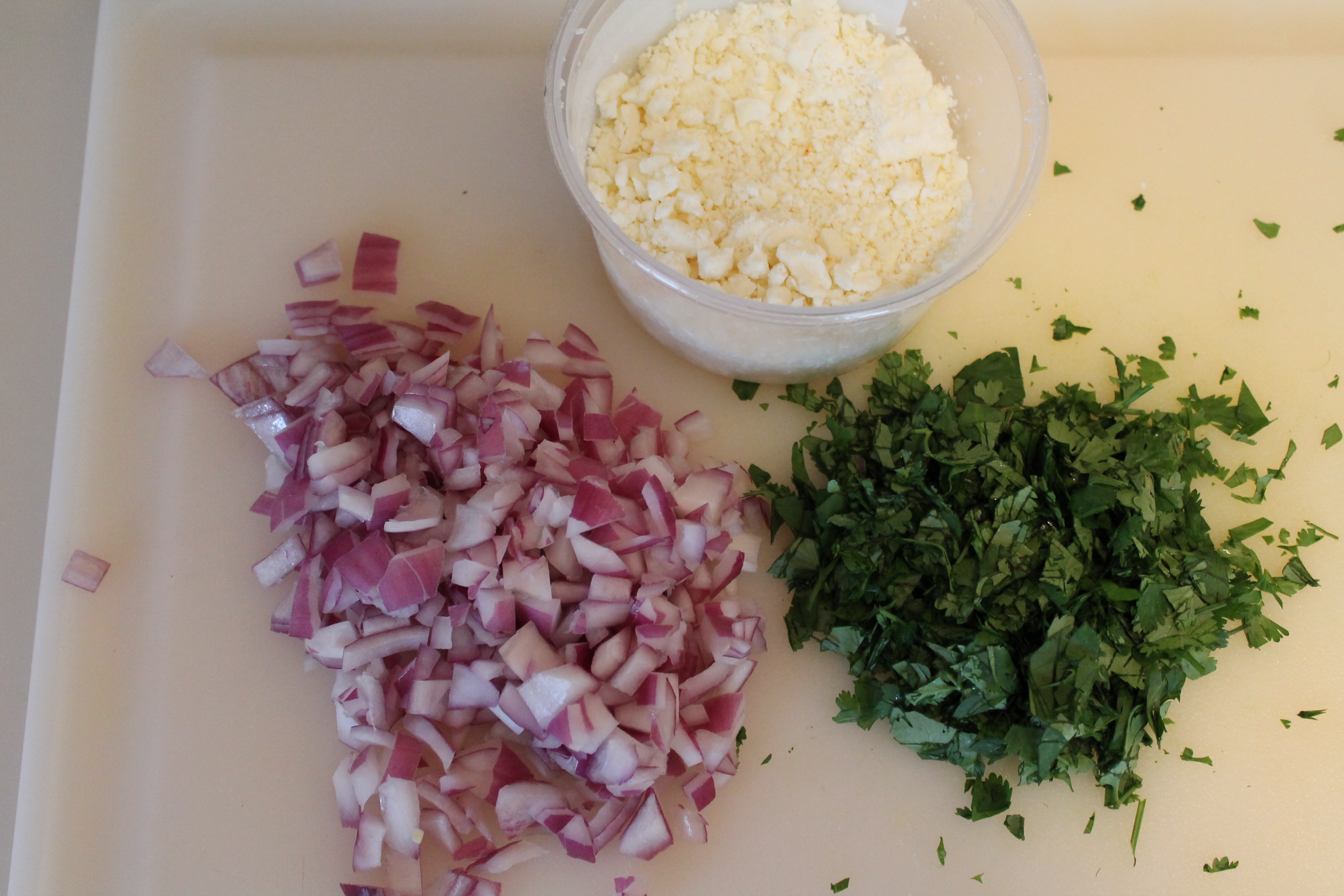 While the squash cooks, you have plenty of time to chop up your red onion and cilantro, as well as rinse your black beans.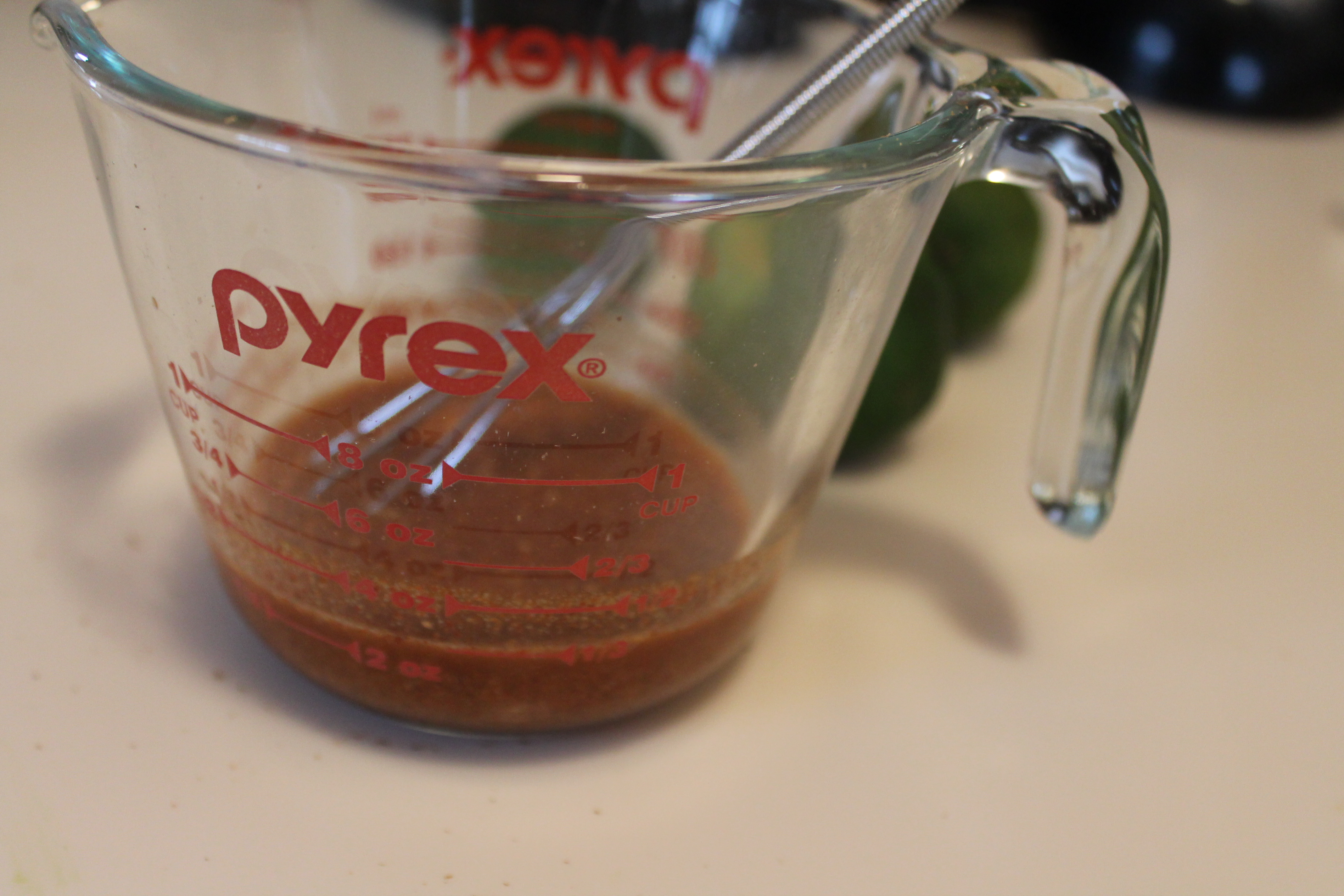 You also have plenty of time to make your delicious spicy lime sauce. Combine fresh lime juice, chili powder, coriander, cumin, and large flake sea salt. If you don't have ground coriander (which I don't), then you can grind your own! Just don't forget to sift it and toss out the husks, which are not tasty. But coriander is, so don't skimp on it!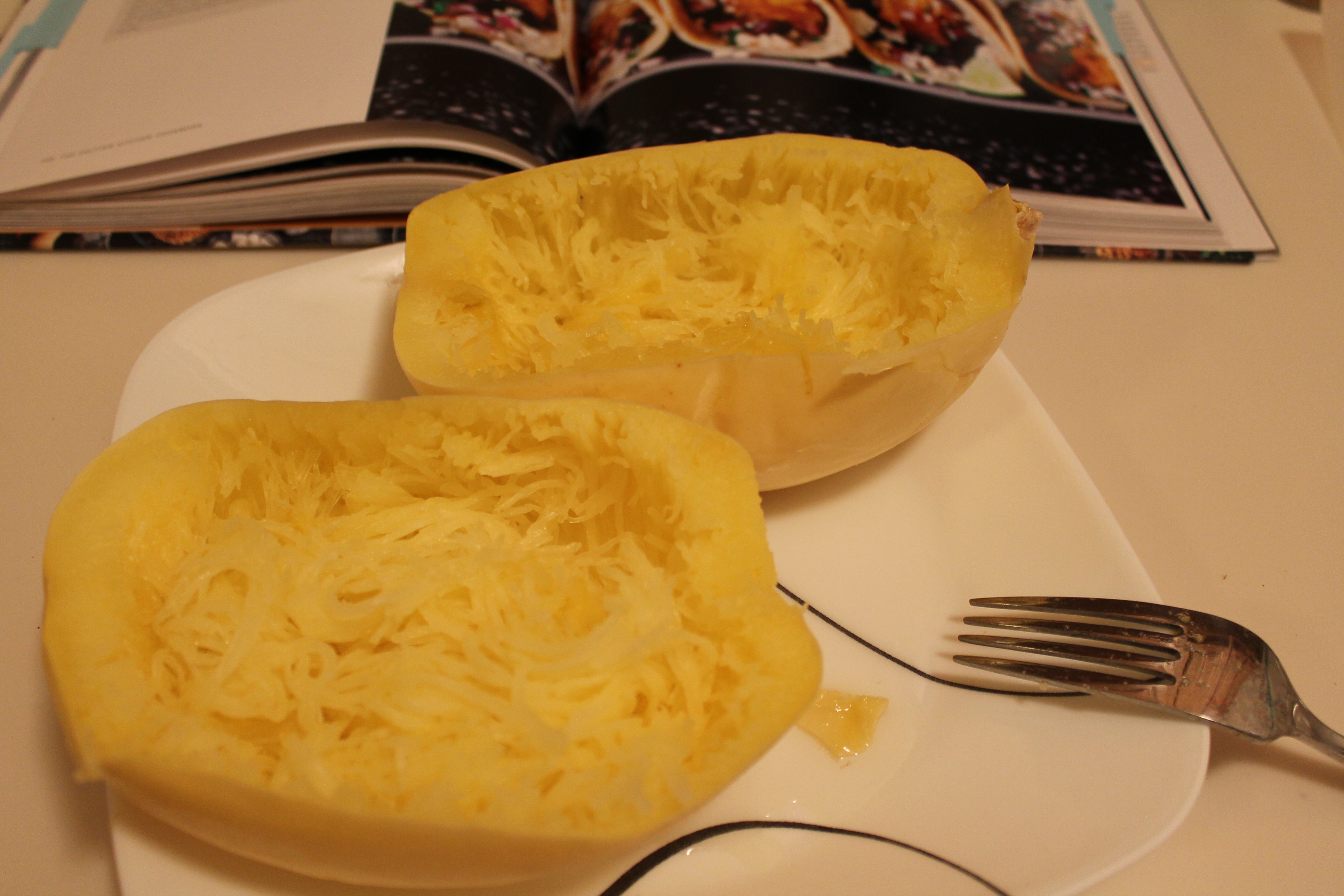 When the squash is ready, cut it in half lengthwise and scrape out the seeds and goo. Be careful not to scrape away too much of the awesome spaghetti-like strands of squash with the seeds!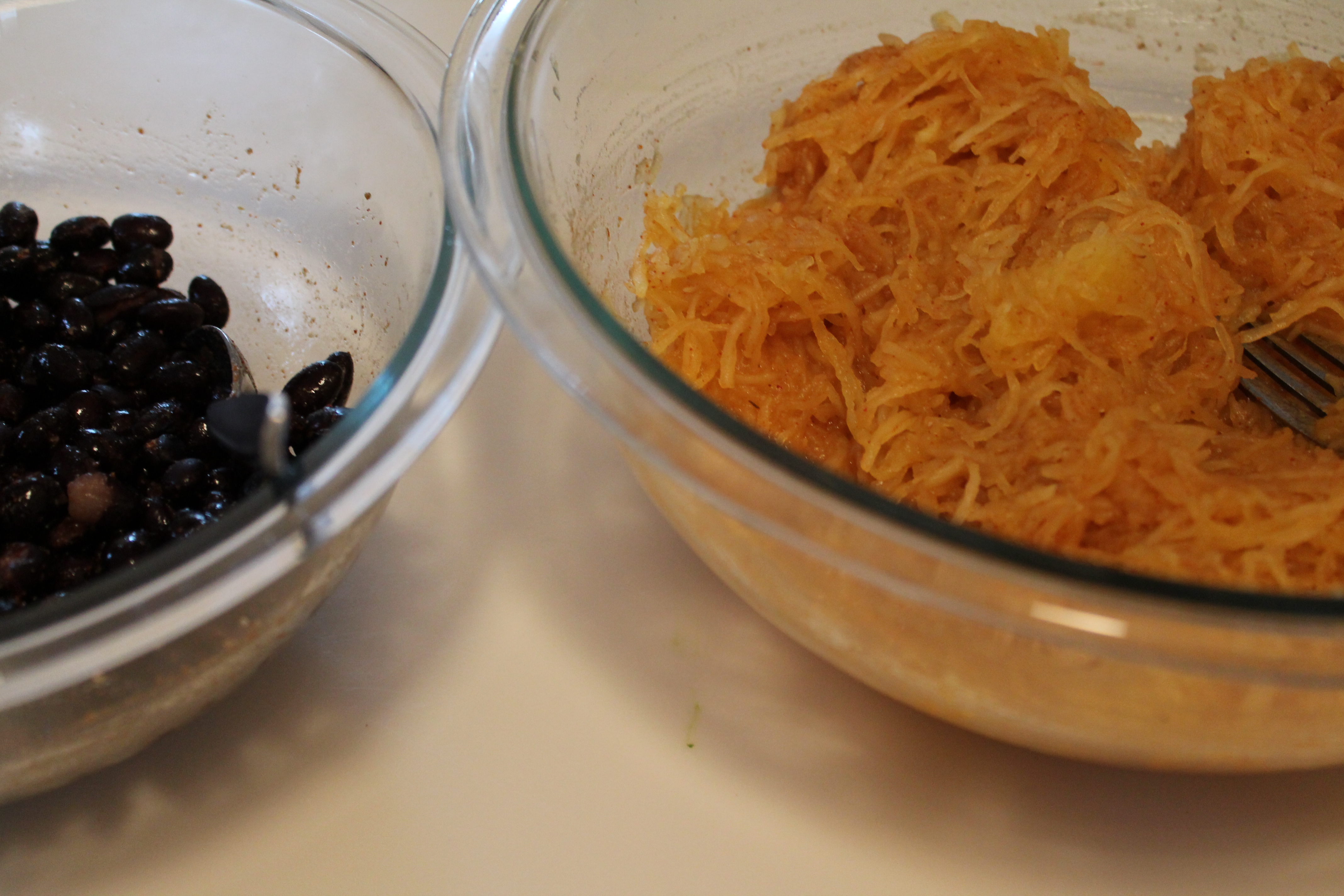 Using a fork, pull all of the squash flesh out of the soft hulls and place in a large bowl. Add about ⅔ of the lime sauce and toss with a fork until it is well distributed.
Add the remainder of the lime sauce to the black beans in a separate bowl. Microwave for about 1 minute, just to warm the beans and help them absorb some of the flavors of the sauce.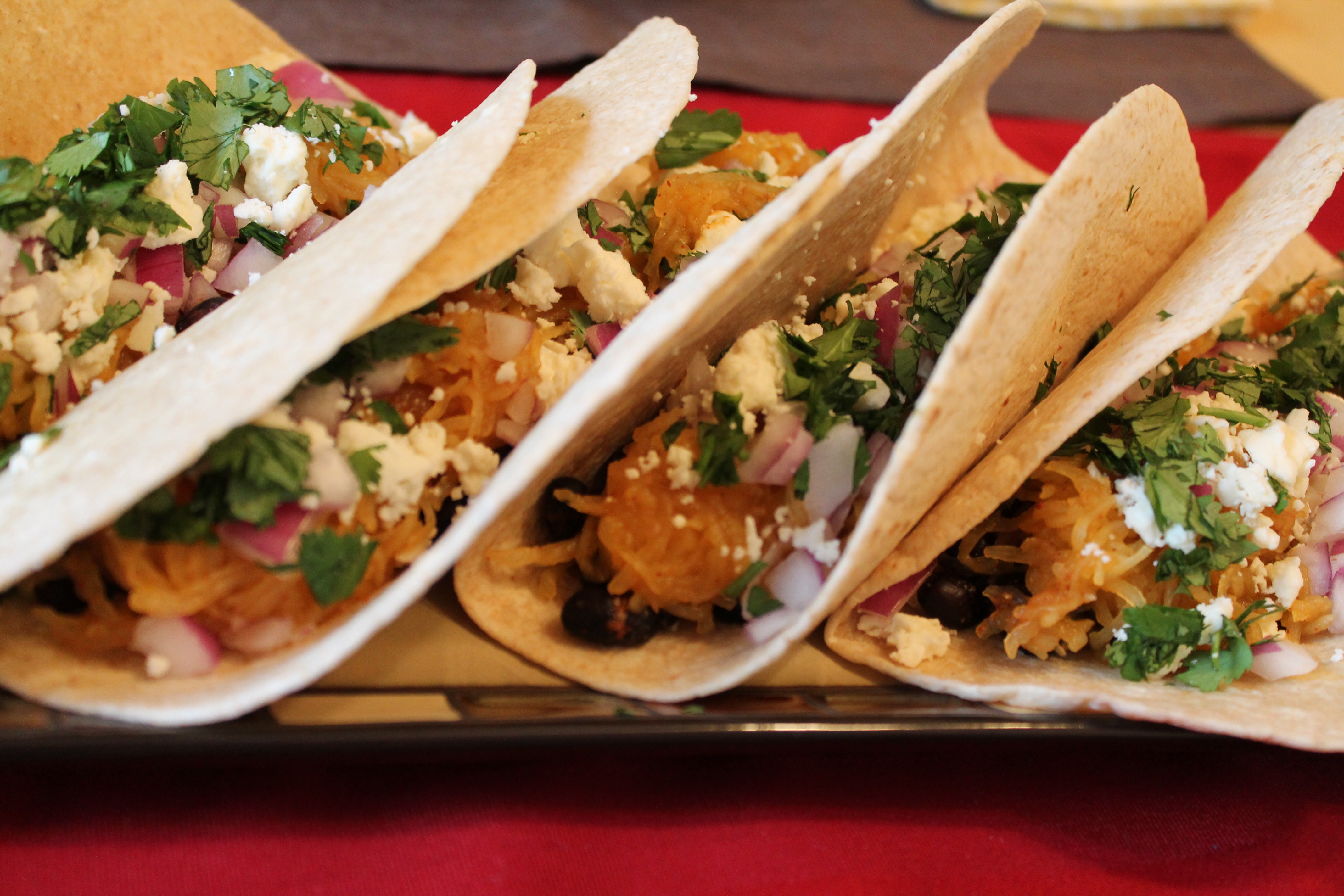 Now it's time to assemble your tacos! Warm your tortillas, either on the stovetop for a few minutes or in the microwave for a few seconds. Layer beans, squash, onions, crumbled feta, and cilantro. Drizzle with a little extra lime, if desired. Yum.
Spaghetti Squash Black Bean Tacos
serves 4
lightly adapted from The Smitten Kitchen Cookbook
Ingredients:
1 large spaghetti squash (about 3 lbs.)
¼ cup fresh lime juice
2 tsp. chili powder
1 tsp. cumin
1 tsp. ground coriander
1 tsp. coarse sea salt
8 8″ whole wheat tortillas
1 15oz. can black beans, drained and rinsed
½ cup crumbled feta
½ cup chopped red onion
¼ cup chopped fresh cilantro
Directions:
Pierce squash (about 1″ deep) all over with a small, sharp knife to prevent it from bursting. Cook in the microwave for 6–7 minutes. Turn the squash over and microwave it until it feels slightly soft when pressed, 8–10 minutes more. Cool the squash for 5 minutes.
When the squash has cooled enough to handle, scrape the flesh with a fork, loosening and separating the strands from the skin and each other. Discard the skin.
In a small bowl, whisk together lime juice, chili powder, cumin, coriander, and salt. Pour two-thirds of the lime mixture over the squash and gently toss them together. Taste the squash and adjust seasonings if necessary.
Pour the remaining lime mixture over the black beans in a separate bowl and toss to combine. Microwave the beans for 1 minute.
Assemble the tacos. Heat a dry, heavy skillet over medium-high heat. Warm and slightly blister each tortilla, about 30 seconds on each side. Transfer to a platter, then top each with black beans, squash, onions, feta, and cilantro.
Serve with lime wedges and hot sauce, if desired.
Enjoy!