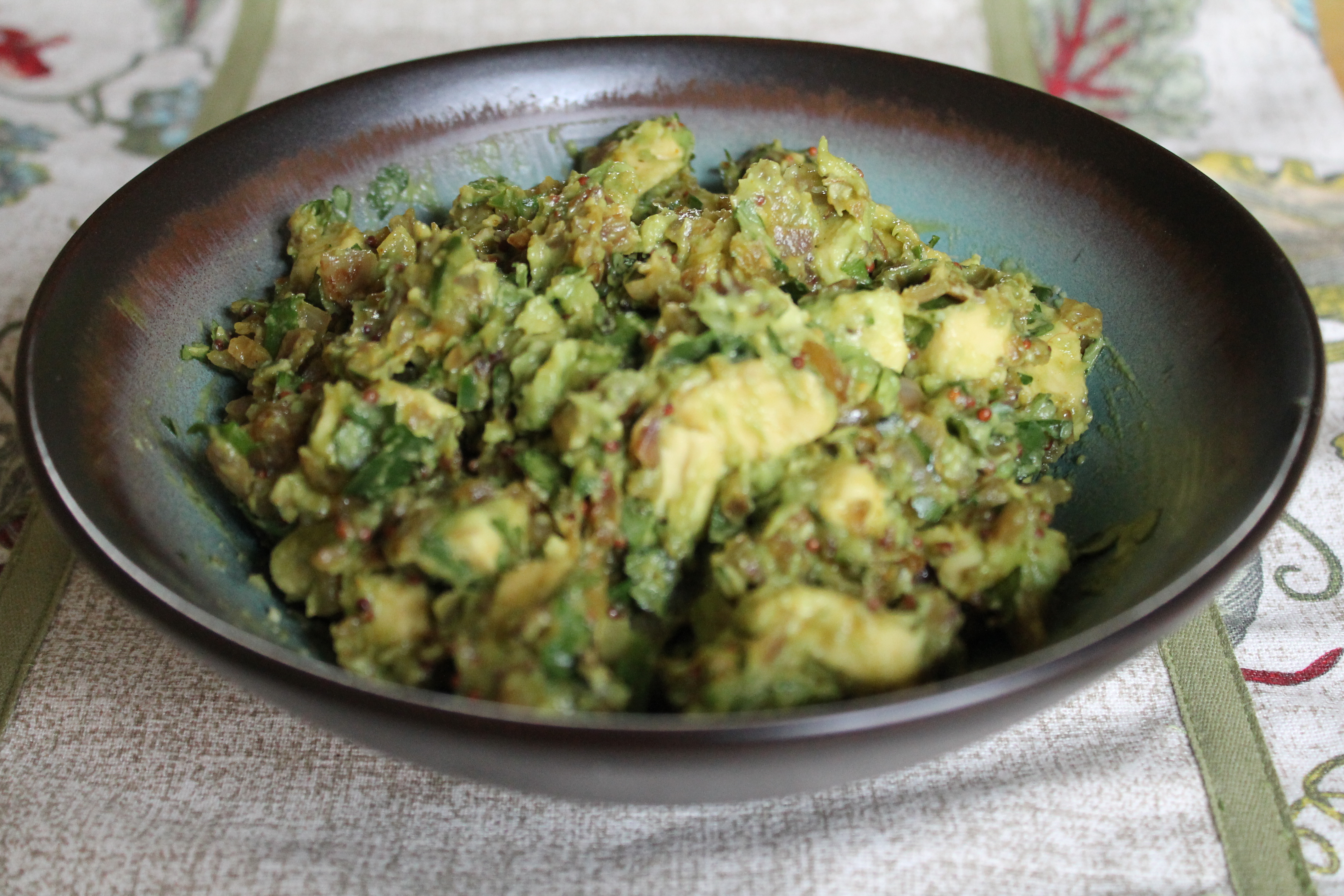 The first time I made this snack, it was out of slightly morbid curiosity. It was just so weird, and there was so much going on: avocados, chilis, curry, mustard, cilantro. I thought maybe this recipe couldn't decide what direction it wanted to go in, so it just went for everything at once.
Boy was I surprised when I took my first bite. Somehow, everything just worked together in the most beautiful way. It turns out that an Indian flavor palette works well on cool, creamy avocados! The avocado cooled down the serrano; the curry powder and mustard accented each other delightfully.
This snack is so good that one bite could never be enough. After I took the photos, I decided to have a forkful before my husband got home…two minutes later, half the bowl was gone! I am powerless to stop eating this stuff.
Just try it. You'll thank me later!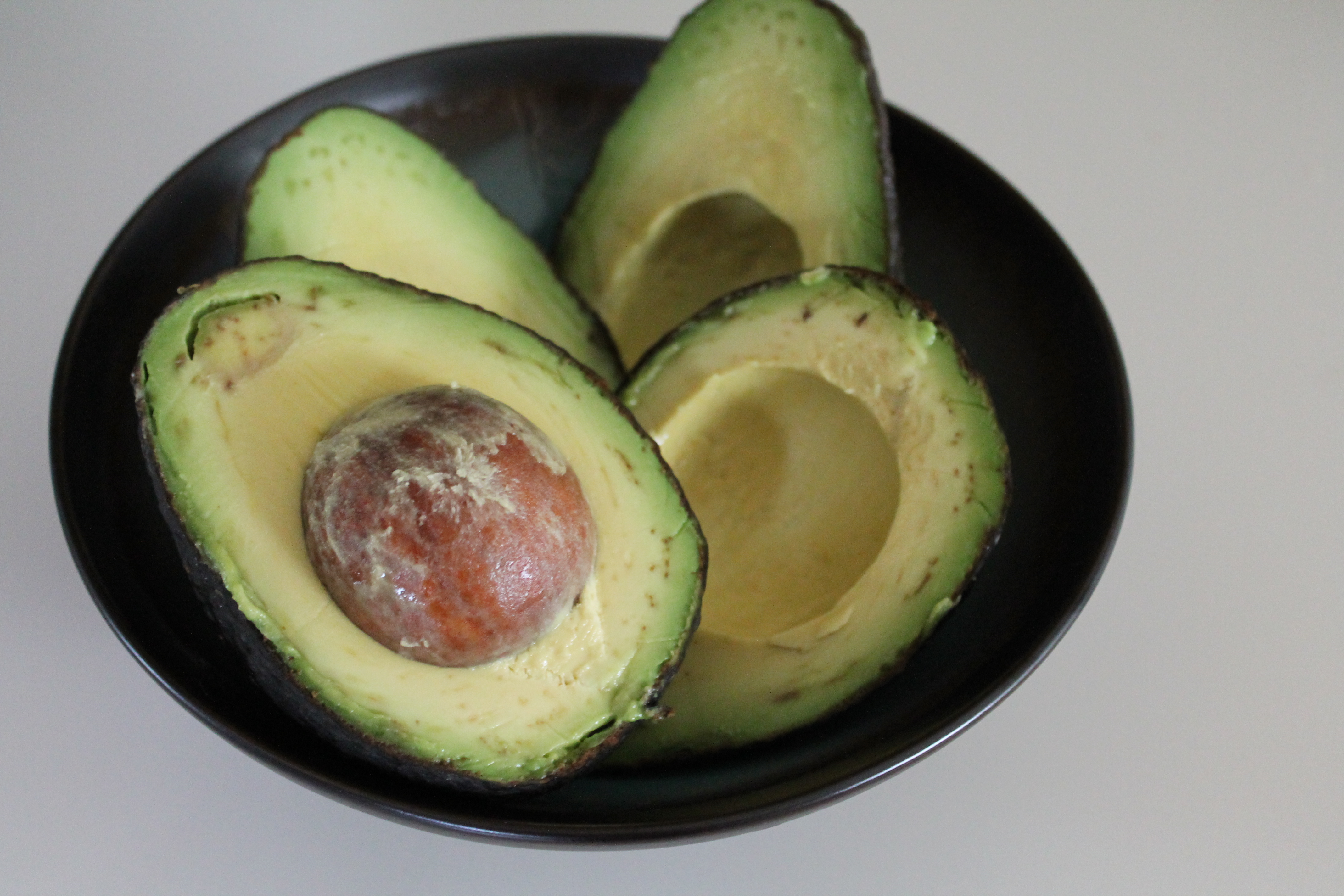 Start by cutting into your avocados. If they aren't creamy and green, then pick a different day to make this. Perfectly ripe avocados are key here!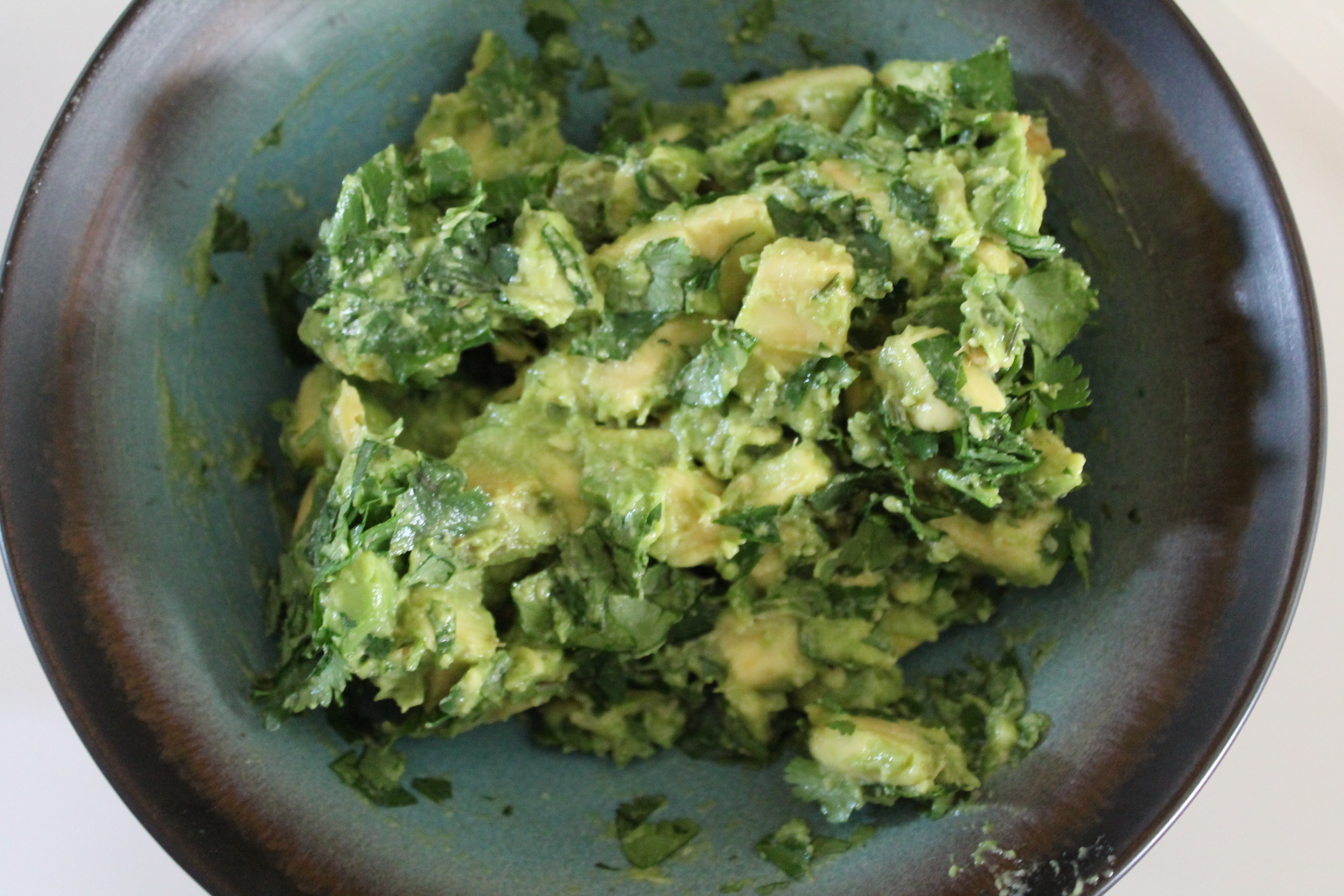 If your avocados are good, then dice them in their skins by dragging a knife through the flesh gently in a criss-cross pattern. Scoop out the pieces with a spoon and toss them into a medium bowl. Add lemon juice and salt and toss with cilantro. The chunks will become a little less well-formed and a little squishier as you work.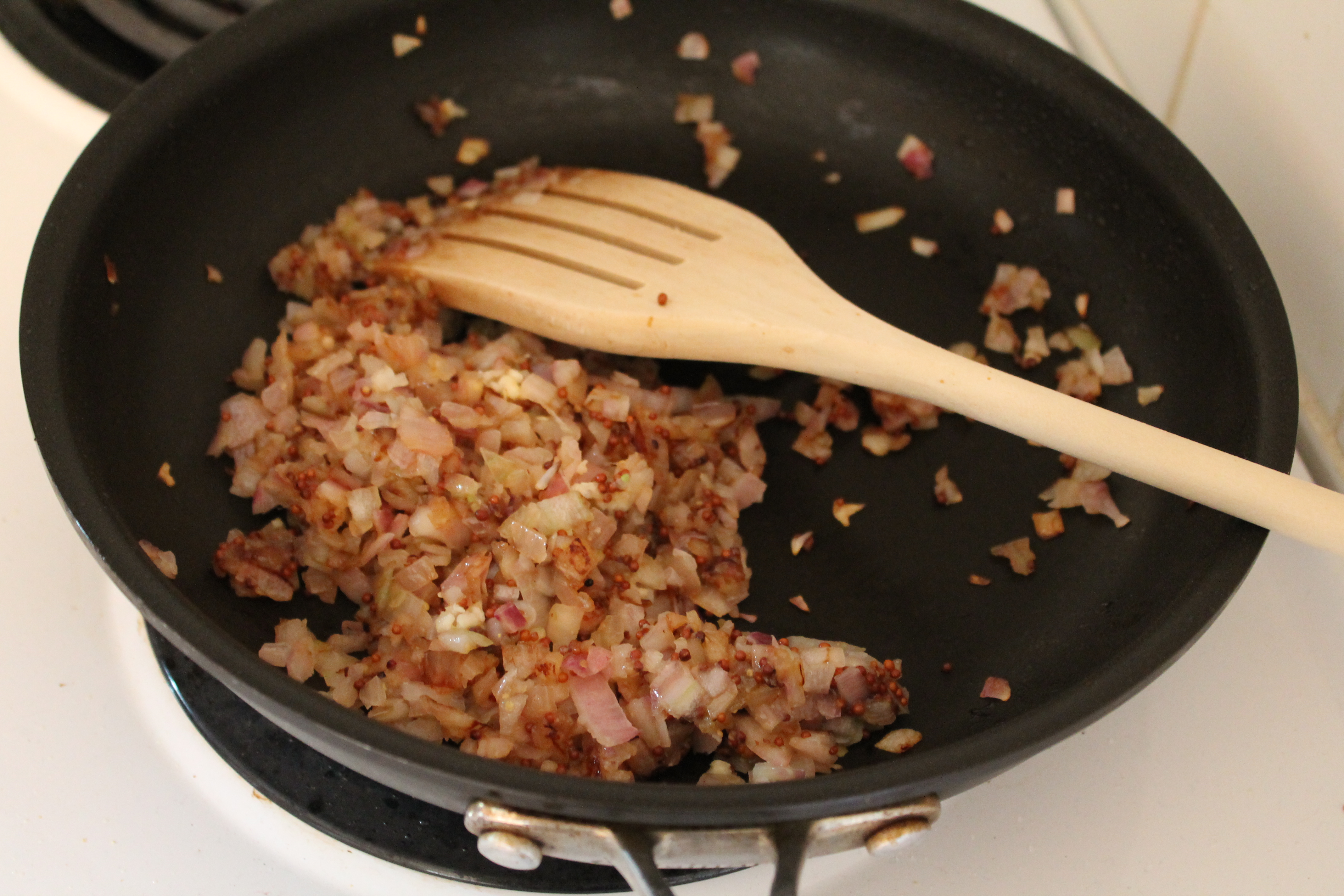 Next, mince the shallots. Grab a sauté pan and heat up the olive oil. Start by sautéing about 1 tbsp. whole grain mustard. Be very careful, because it will spatter and jump out of the pan! Toss in the minced shallots and minced garlic. Cook for 2 minutes, until the shallots are translucent and beginning to brown. I I usually like to add another tbsp. mustard at this point, because I love mustard and I want the flavor to really present itself.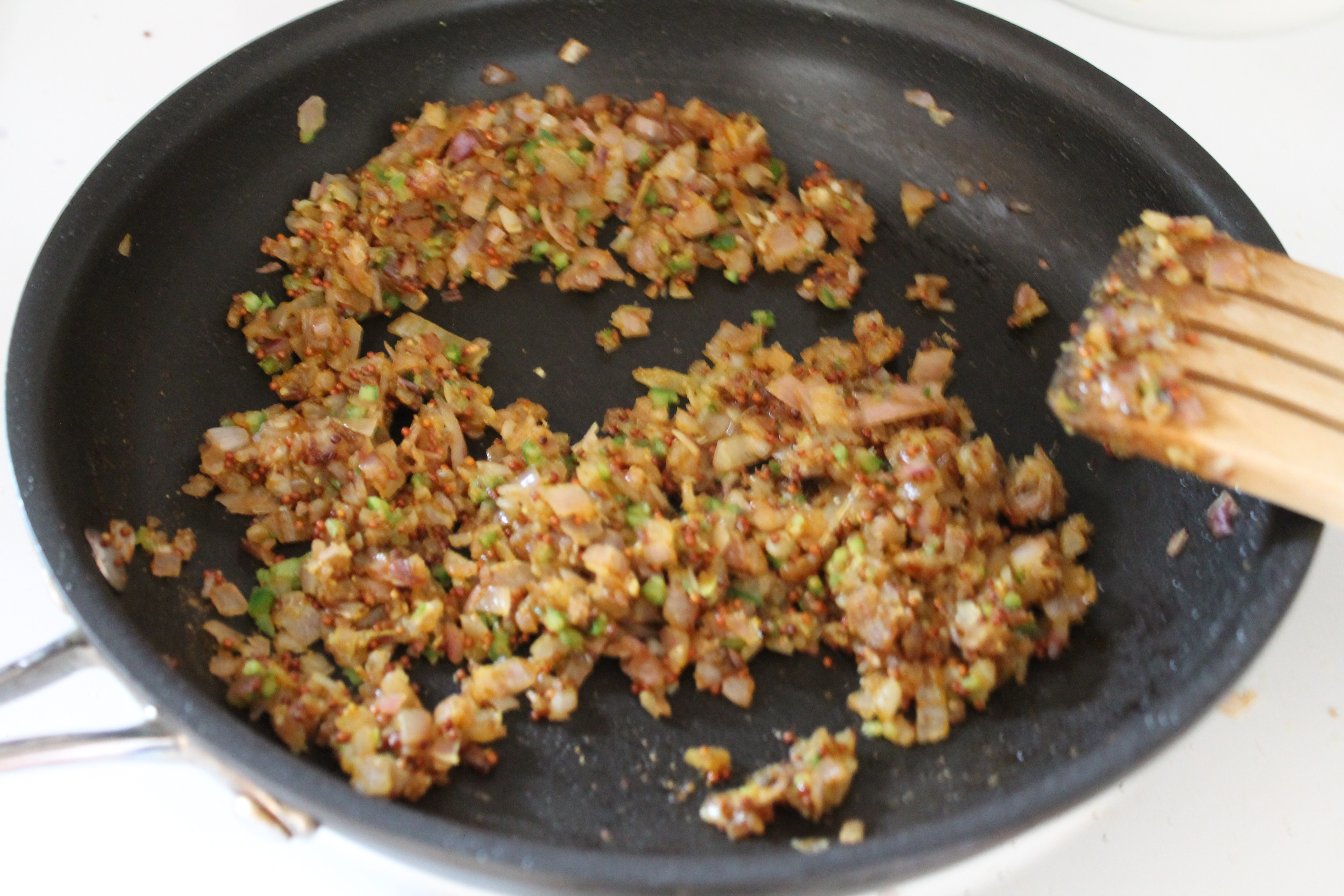 Add the curry powder and minced serrano. Cook for another minute, until the flavors and blended and the serrano is soft.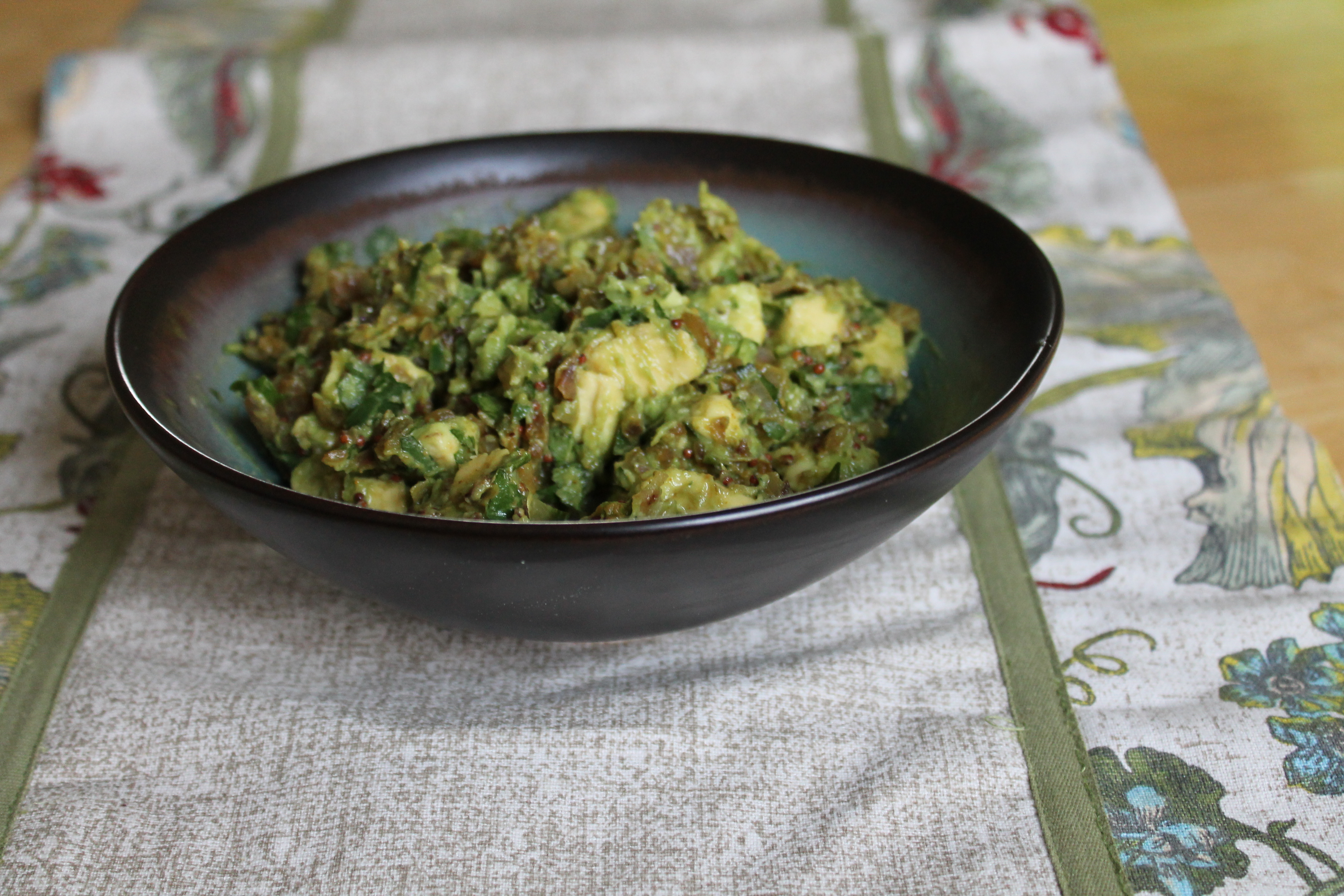 Stir the shallot mixture into the avocado mixture. You can serve this on crackers or a piece of bread, or just eat it with a fork!
Curried Avocados with Mustard
adapted from Super Natural Every Day
serves 2–4
Ingredients:
2 ripe avocados
2 tsp. lemon juice
½ tsp. salt
¼ cup minced fresh cilantro
1 tbsp. olive oil
1–2 tbsp. whole grain Dijon mustard
2 medium shallots, minced
2 medium cloves garlic, minced
1 tsp. yellow curry powder
1 small serrano chile, seeds and membranes removed, minced
Directions:
Cut each avocado in half, remove the pit, and scoop the flesh into a small bowl. Add the lemon juice, salt, and cilantro. Mash the avocados a bit with a fork, but don't overdo it—you want the mixture to be quite chunky. Set aside.
Heat the oil in a skillet over medium-high heat. When it is hot, add 1 tbsp. mustard. Keep a lid on hand because the mustard seeds will scatter as they pop. When the spattering stops, after about 1 minute, stir in the shallot and sauté for 2–3 minutes, until translucent. If desired, add in another 1 tbsp. mustard. Stir in the garlic, curry powder, and serrano. Count to ten, then remove from the heat.
Stir shallots into the avocado mixture, just enough to incorporate. Transfer to a serving bowl. Serve warm or at room temperature.
Enjoy!
One year ago: Butter Buddies
Two years ago: Vegetarian French Onion Soup