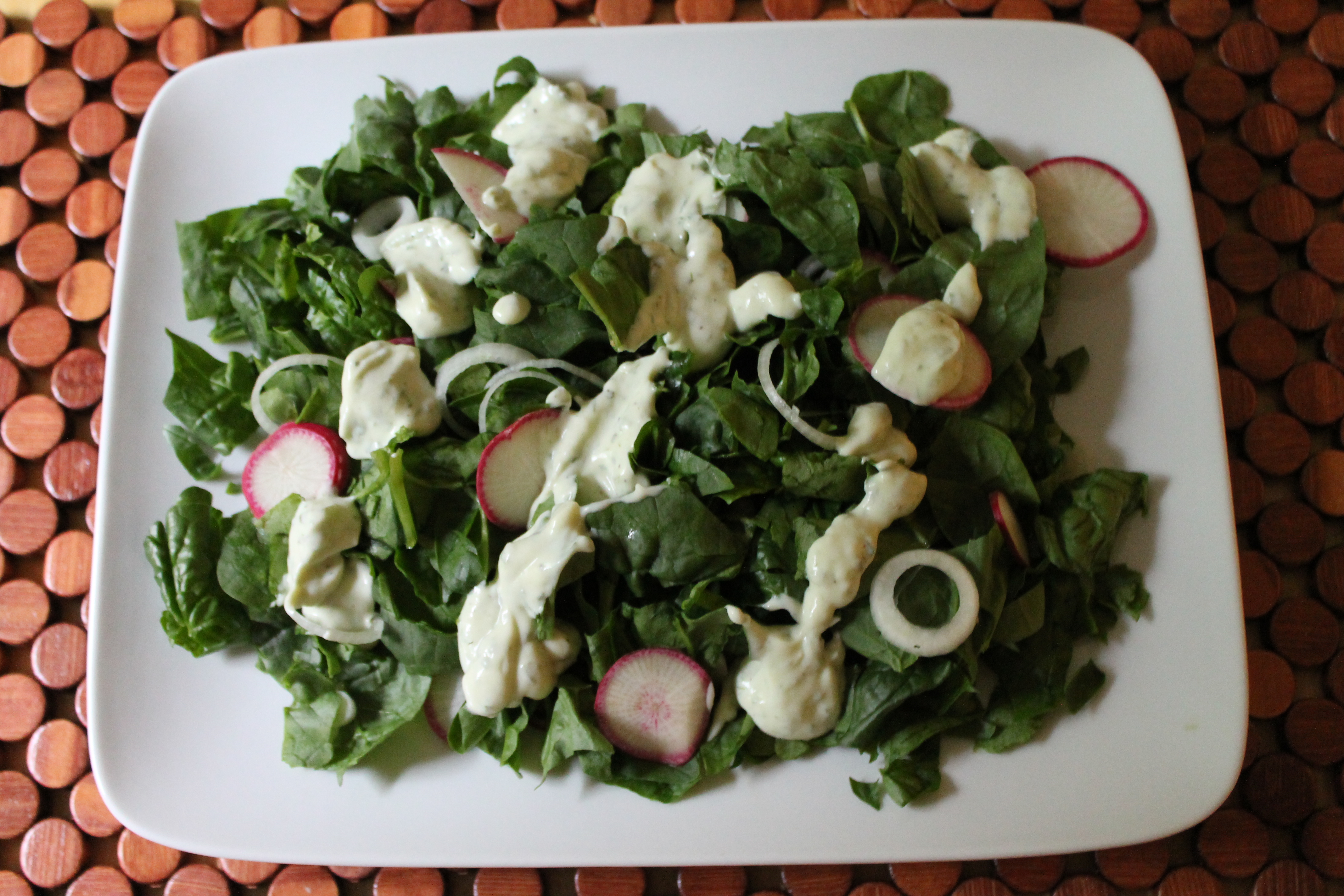 When I was a kid, I always ate my spinach.
Want to know why?
It was always smothered in ranch dressing. I think I actually may have been eating more ranch dressing than spinach, which probably doesn't even count as eating a vegetable. (As a result of this childhood experience, I am a little horrified by the Hidden Valley commercial where the kids all eat vegetables because they can dip them in ranch…)
But let me tell you a little about the spinach itself…and also about why I love vegetables so much now, as an adult.
This little epiphany begins with an admission: I did not know that spinach came in little leaves, baby or otherwise, until I went to college and discovered the salad bar. You see, the only way I had ever seen spinach served up to that point was thawed from a frozen block. I honestly had no idea what sort of plant spinach actually was!
When I was growing up, probably to save money and avoid wasting food on kids who wouldn't appreciate it, my mom served chiefly frozen and canned vegetables with the occasional iceberg salad for good measure. I didn't discover the true goodness of fresh, brightly colored veggies until I was an adult. And I was instantly hooked!
Fresh is absolutely the best. I mean seriously. Who wouldn't love the deep, leafy green of fresh spinach? I will even add a few drops of ranch as a throwback to my childhood. Delicious.
So this week in my CSA box, I was the happy recipient of a load of spinach, several spring onions, a few huge radishes, some asparagus, a little basil plant, and two pints of strawberries. I immediately plotted to make a spinach salad with radishes and spring onions tossed in, all tossed with a thick, creamy homemade ranch dressing.
In case you are curious, the rest of the CSA offerings turned into spinach-stuffed portabella mushrooms and two pizzas: shaved asparagus and fiorentina. Dave made quick work of the fresh strawberries, standing over the sink and tossing the tops down the drain.
But let's talk about the salad and the dressing. The greens were mature, so I started by rinsing and then ripping out all of the stems. Obviously this is totally unnecessary for baby spinach, but adult spinach has larger, tougher stems that wouldn't work well in a salad.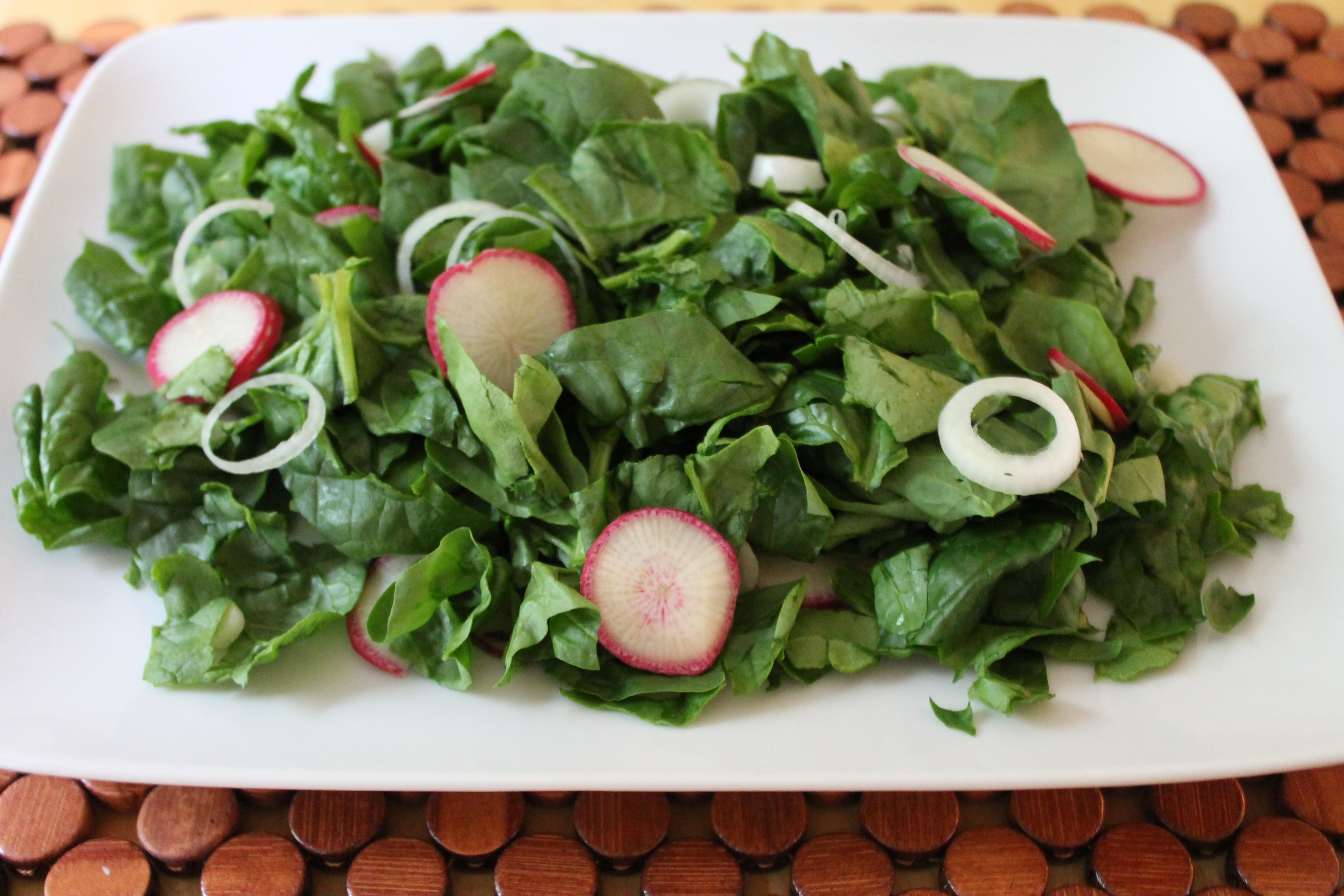 Roughly chop your mountain of spinach so it will be easier to grab a forkful at a time.
Now wash your radishes. Very thinly slice each radish and toss the slices in with your spinach. Notice how thick and pink the skin is! I popped a piece of radish in my mouth as I was making this salad and was so surprised that it was hot and spicy! Apparently, radishes and horseradishes are related (duh). But honestly, I had always thought of radish as providing flavorless crunch to a salad. Imagine my surprise and delight to discover that these fresh, seasonal delights taste so vibrant!
Cut the rooty end off of your spring onions and then slice the bulbs the way you would a larger onion. Push the rings apart and toss with the rest of the salad.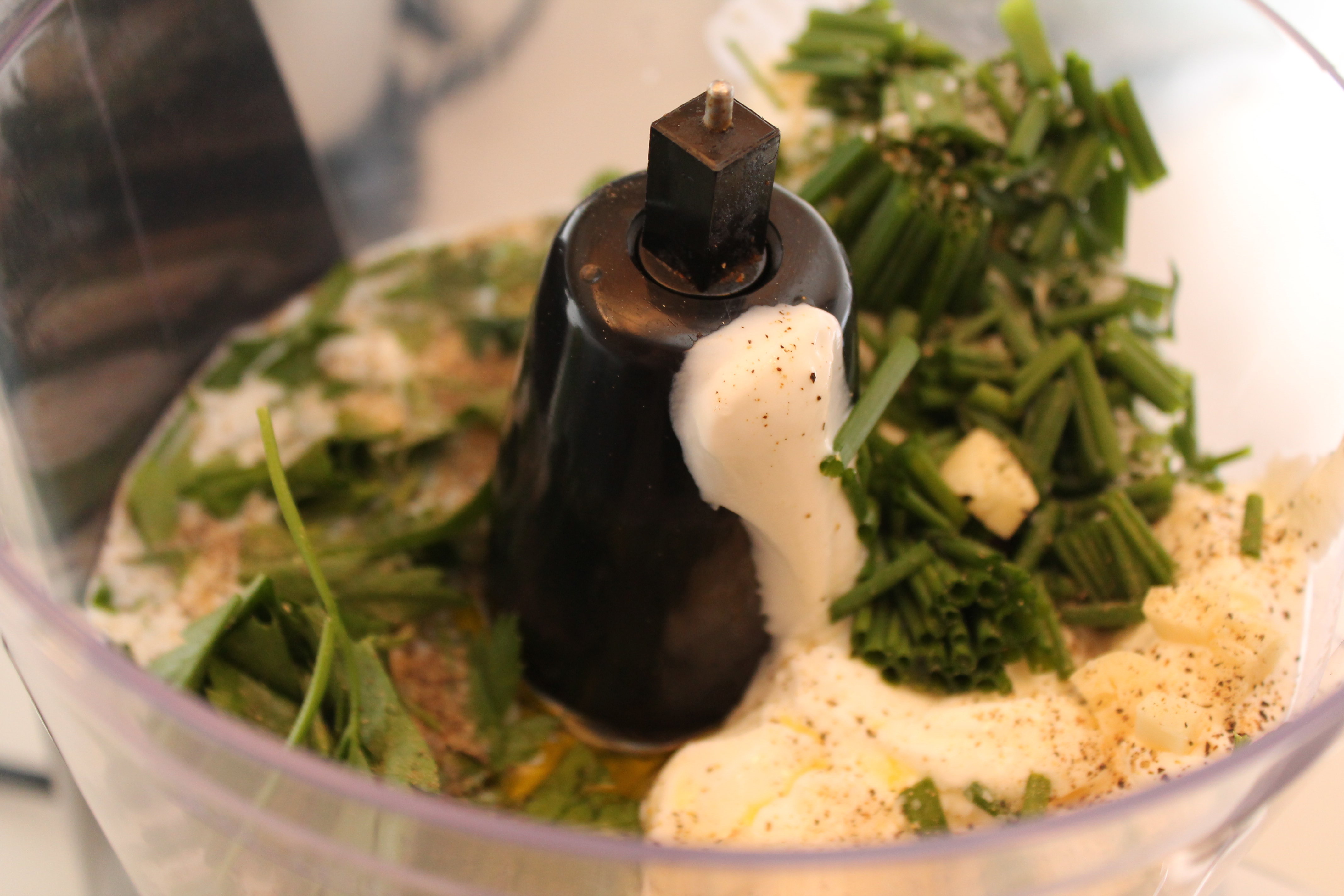 Time to make the dressing!
Measure all the ingredients into a food processor. The more buttermilk you use, the thinner your dressing will be. I went for ¾ cup, but I think next time I will use the full 1 cup so I can drizzle the dressing better.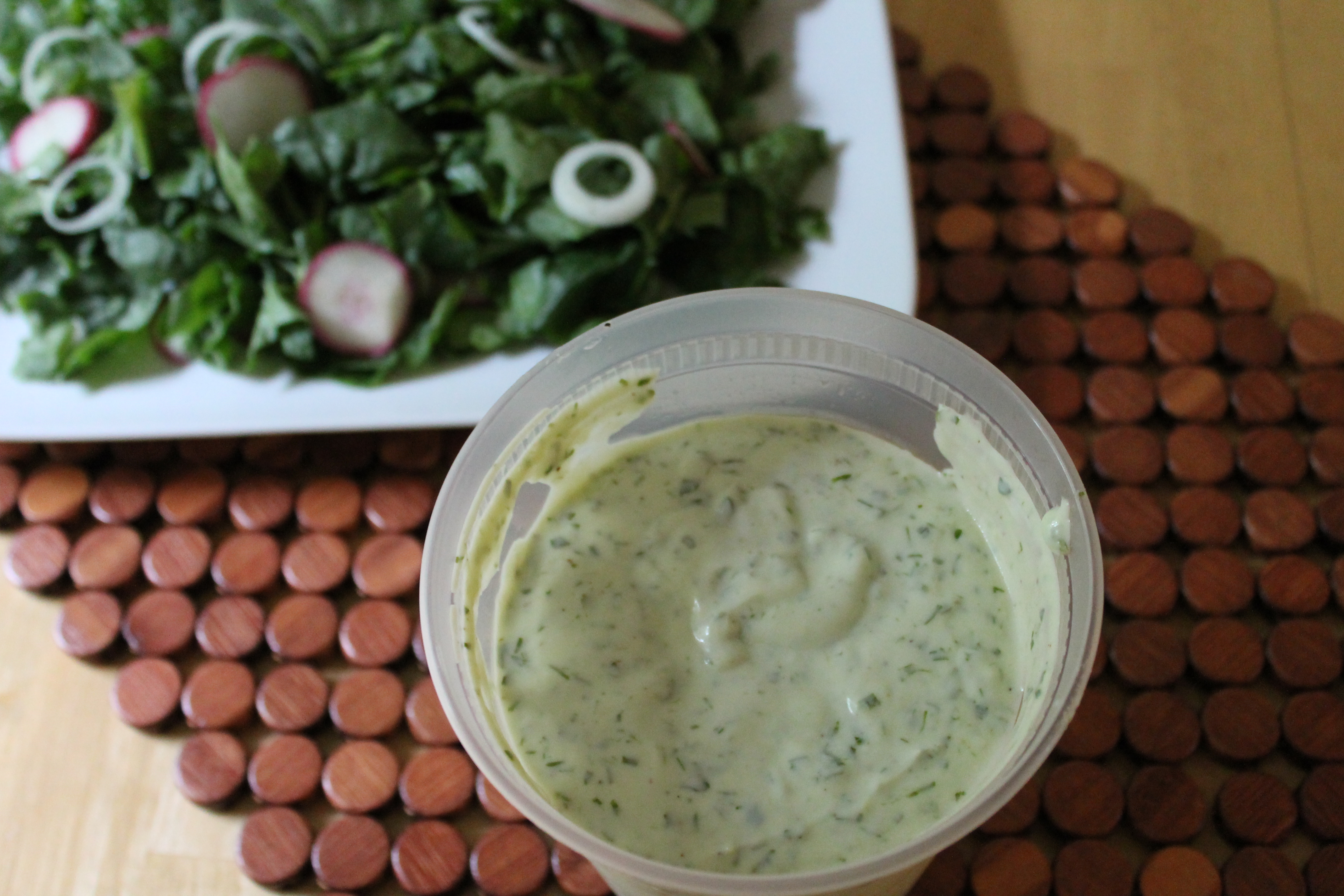 Also, I used a lot of chives, because I love them so much! But next time I am going to finely chop all of my herbs and stir them in after blending the base, because as you can see, my ranch actually turned a pale green when the chives and parsley were pureed in.
I promise, this is the tastiest ranch you will find anywhere (despite its green hue)! And you will just love it with a farm-fresh salad!
Buttermilk Ranch Dressing
very lightly adapted from Annie's Eats
makes about 2 cups
Ingredients:
¾ cup light mayonnaise
¾ cup low-fat sour cream
½–1 cup low-fat buttermilk (NOT the powdered buttermilk mix)
1 tbsp. olive oil
1 tbsp. lemon juice
1 clove garlic
½ tsp. kosher salt
fresh ground black pepper
1 large handful fresh chives, very finely chopped
1 small handful fresh flat-leaf parsley, very finely chopped
Directions:
Combine all ingredients except the fresh herbs in a food processor and whiz until well combined.
Stir in the chopped herbs.
Spoon over a fresh salad and toss to combine.
Enjoy!
One year ago: Whole Wheat Zucchini Waffles
Two years ago: Spinach Frittata