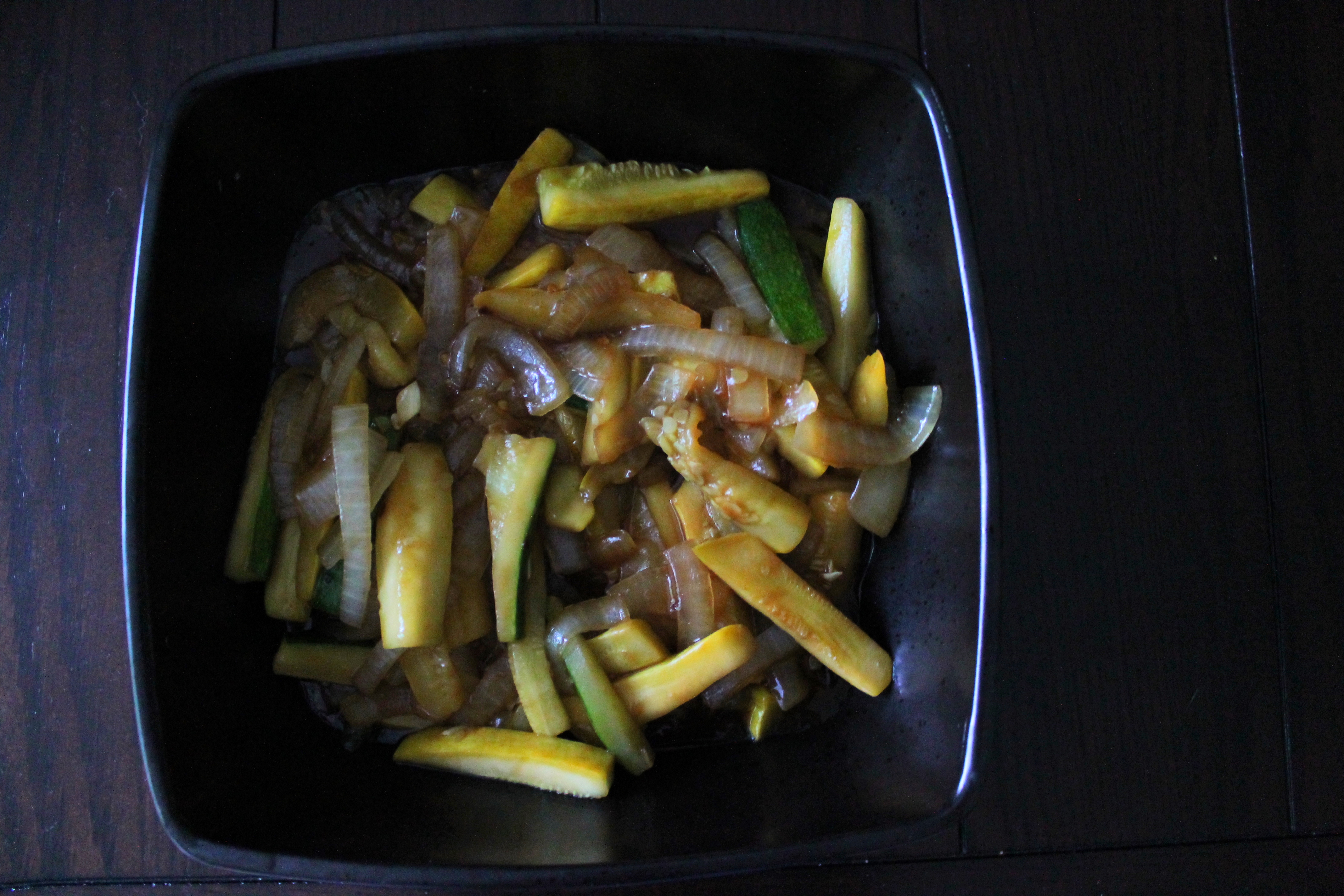 Oh my gosh! So much squash.
The first week squash started rolling in from my CSA share, there were just 3, and I was disappointed.
Be careful what you wish for.
Over the last 2 weeks, I have received like 10 lbs. of squash: cucumbers, zucchini, yellow crooknecks, pattypan…
We have to use up some of this squash, or else it might stage a takeover inside the fridge. Yikes!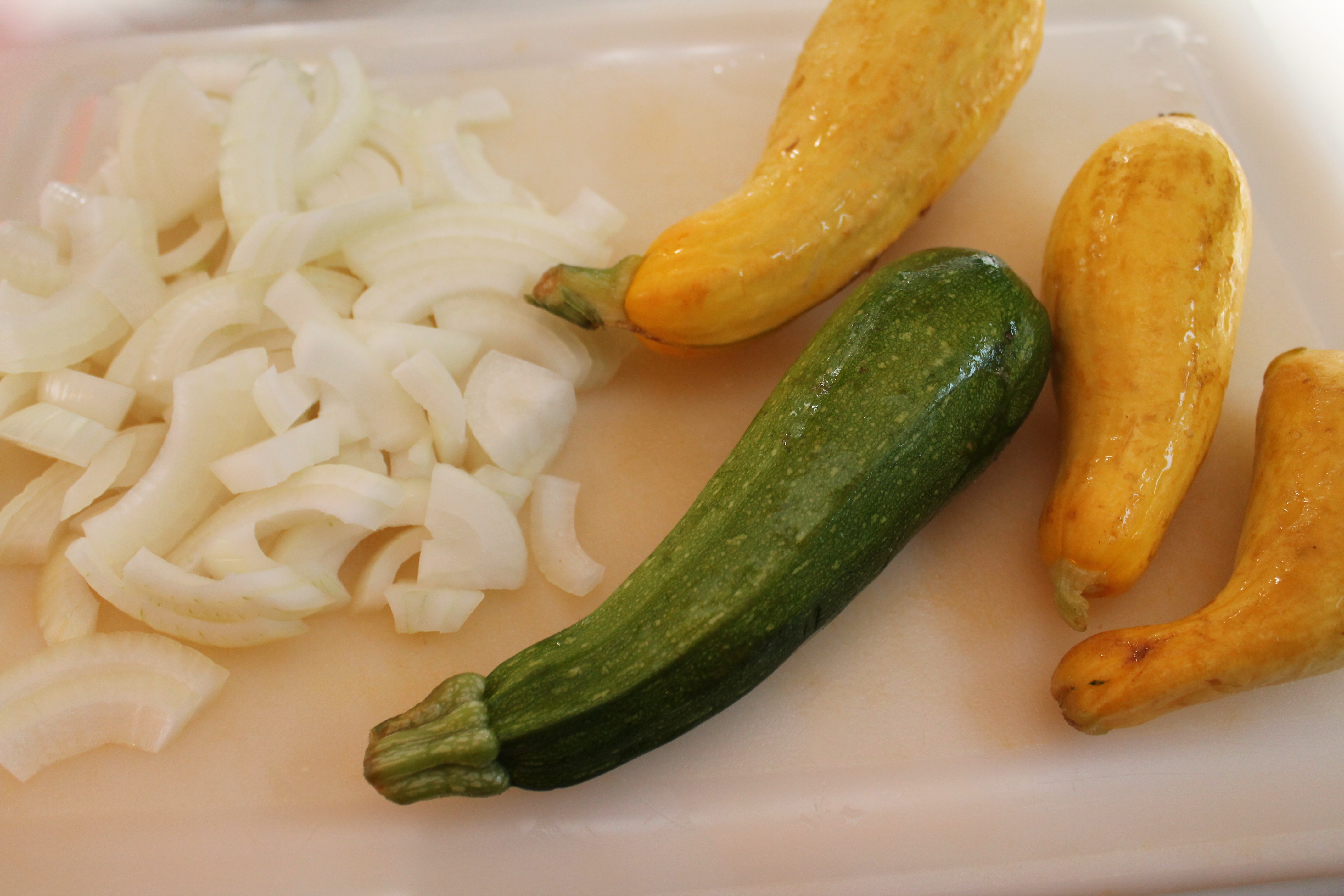 Grab three summer squashes, either zucchini or yellow crooknecks. Or both! (Okay, I used four. But really, I needed to get the squash out of the fridge! Besides, that last one barely counts. It's so tiny…)
Cut them into sticks. Cut a medium onion into quarters and then slice it.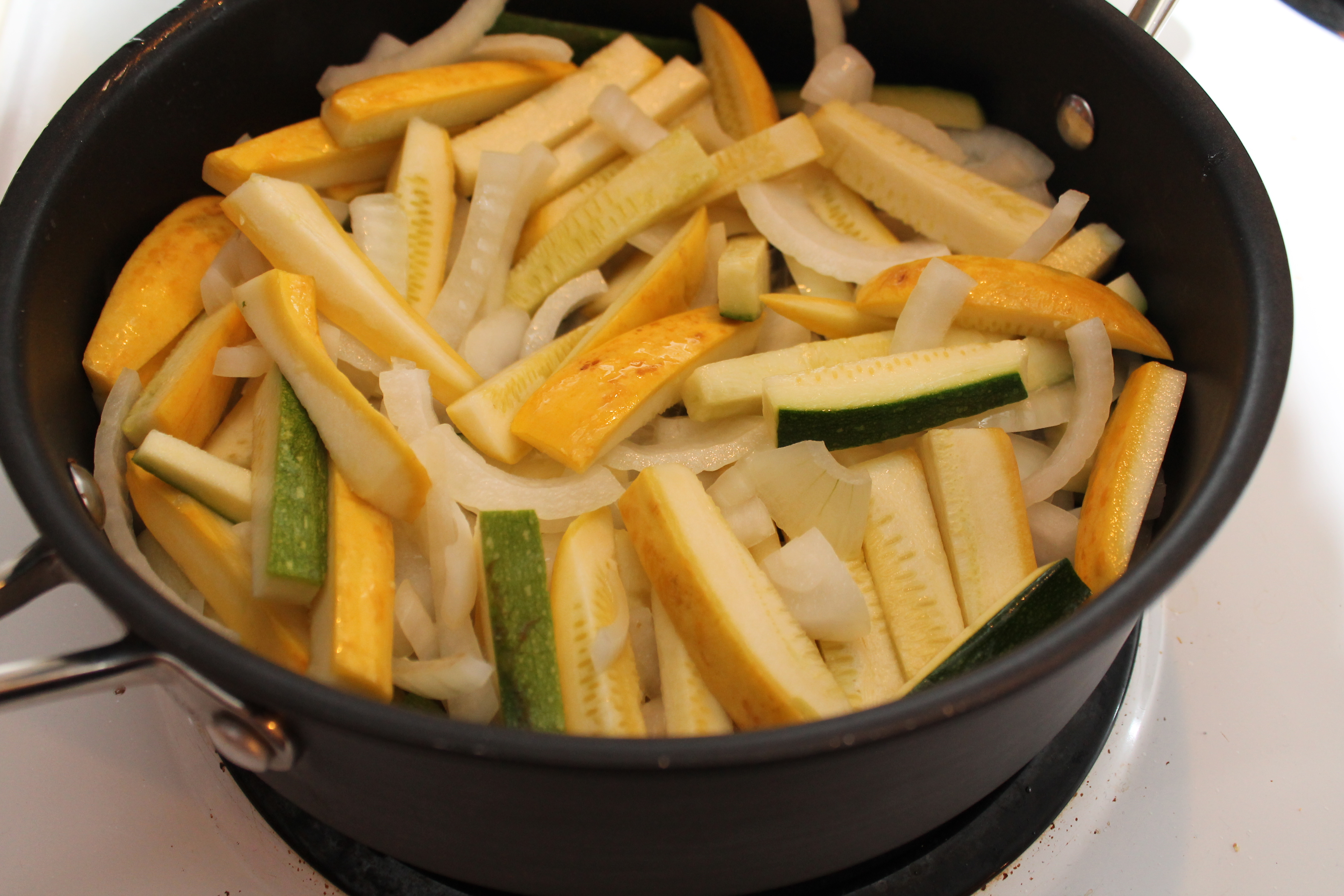 Sauté the veggies in a very large skillet or wok with a little oil until tender.
Meanwhile, make some teriyaki sauce! Sure, you could buy some, but why do that when you can easily whip up your own?
In a saucepan, combine soy sauce, minced garlic, honey, vinegar, ginger (ground works just fine here, but if you prefer to grate yours fresh, please use the microplane!), and crushed red pepper. Stir together and allow to heat through.
In a separate bowl, stir together equal parts cornstarch and water. Pour this mixture into the sauce. Stir until the sauce is thickened. Taste and adjust flavors as needed. I tend to add more ginger, honey, and red pepper to counteract the salty bite of the soy sauce. Teriyaki should be a little sweet and a little spicy, so just tinker with it until you love it!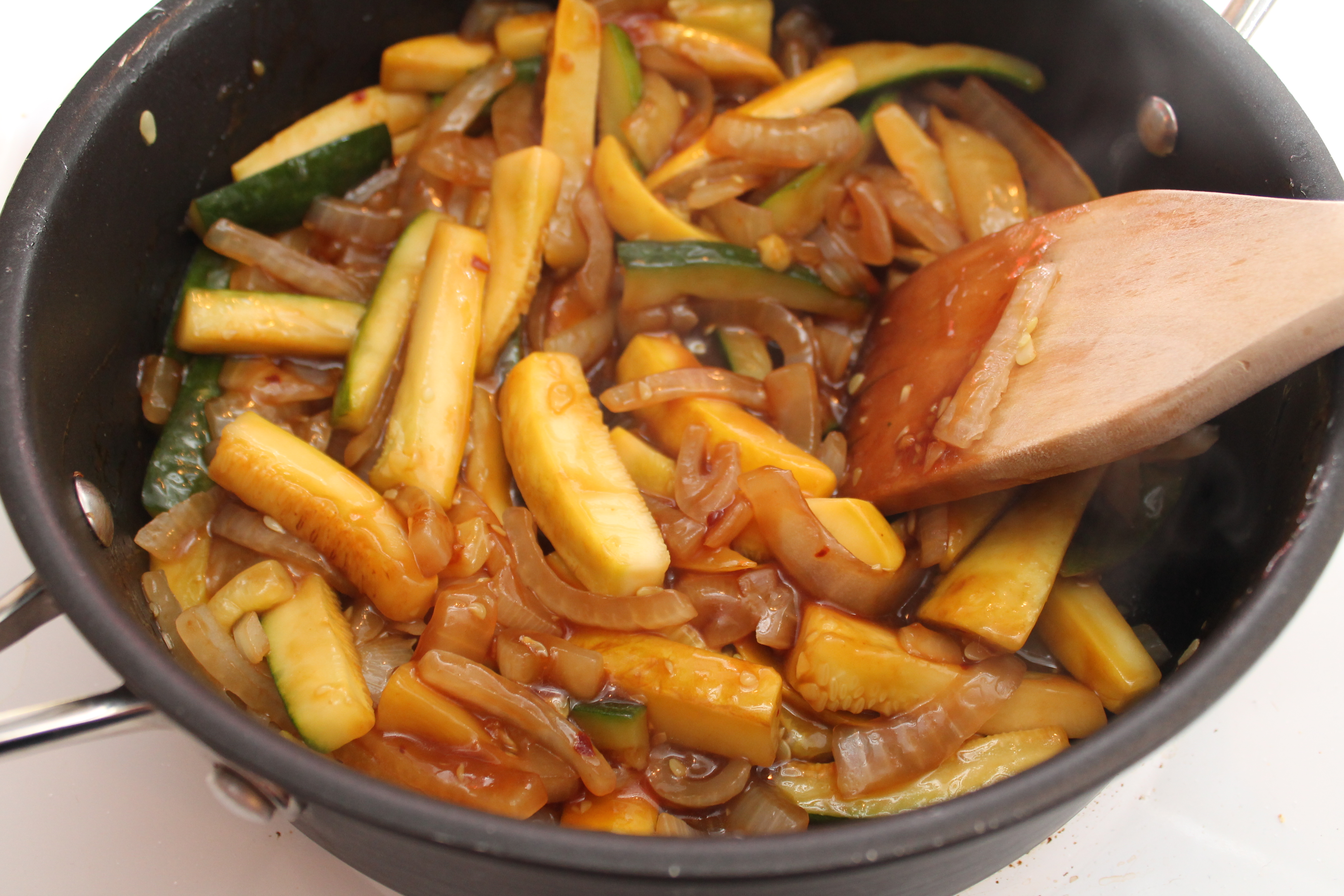 The sauce could be done in as little as 5 minutes, right around the time the veggies are soft and tender. However, you could remove the veggies from the heat and continue cooking the teriyaki a bit longer to develop the flavors more. Up to you!
Pour the teriyaki onto the veggies and stir until everything is well coated.
Teriyaki Squash and Onions
inspired by my mom
serves 4–6
Ingredients:
1–2 tbsp. sesame or canola oil
3 summer squash, cut into strips
1 medium onion, quartered and sliced
½ cup low-sodium or gluten-free soy sauce
2 medium cloves garlic, minced
1–2 tbsp. honey
1 tbsp. rice vinegar
½ tsp. ground ginger
¼ tsp. crushed red pepper
1 tbsp. cornstarch
1 tbsp. water
Directions:
Heat the oil in a skillet or wok. Add the summer squash and onions. Stir-fry, stirring regularly, until tender, about 7–8 minutes. Remove from heat and drain, if needed, of any excess liquid.
Meanwhile, combine the soy sauce, garlic, honey, ginger, and red pepper in a small saucepan. Bring to a low boil, stirring regularly.
In a separate bowl, whisk together cornstarch and water. Add the mixture to the boiling teriyaki and stir until thickened. Taste and adjust seasonings as needed.
Pour the teriyaki over the vegetables and stir to combine. Serve hot.
Enjoy!
One year ago: White Bean Salad
Two years ago: Fiesta Salad