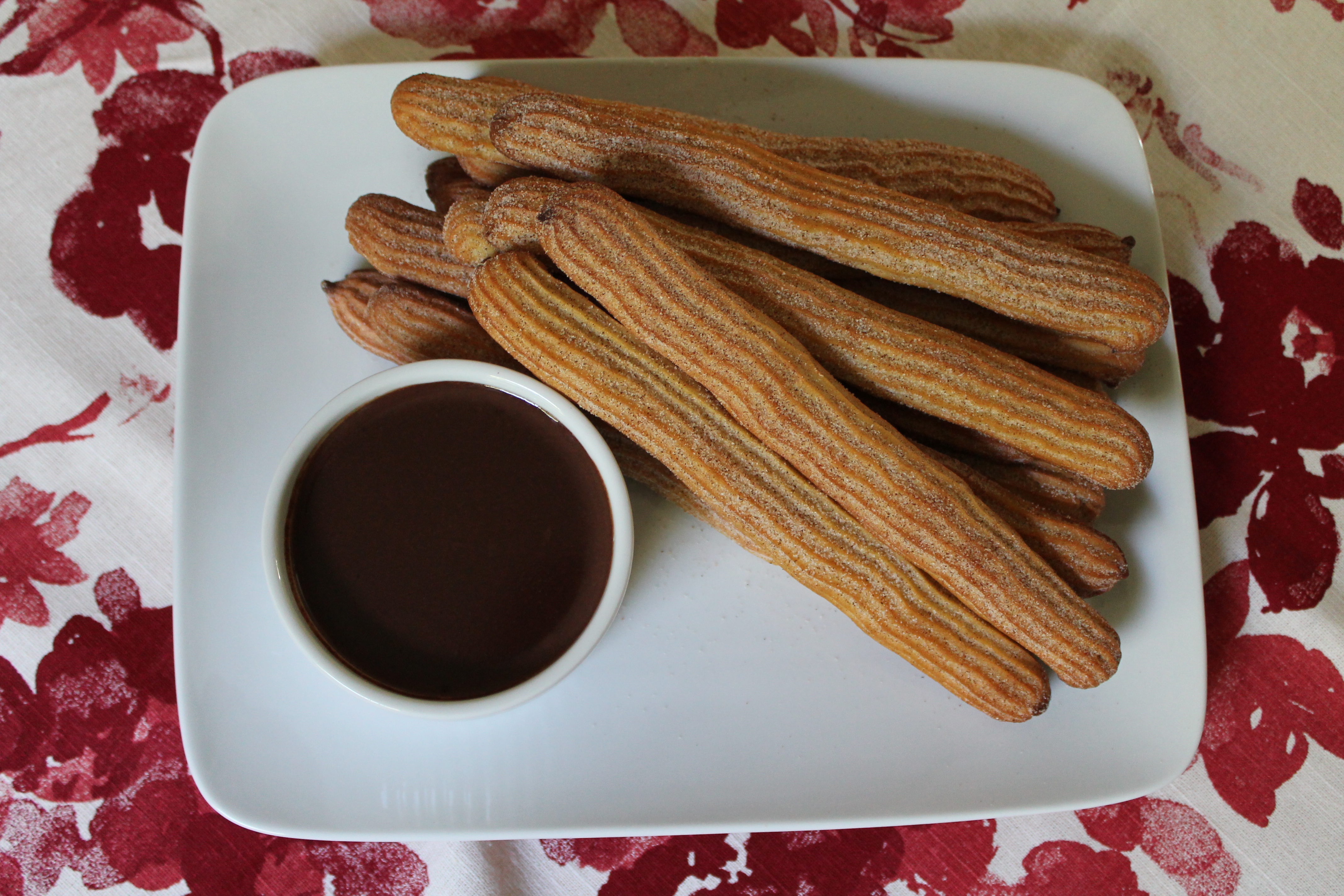 Ever since I've known him, my husband has been on a quest for the perfect churro. You see, his family spent two weeks in Spain when he was a teenager, and Dave stuffed himself with churros for breakfast every morning.
He keeps telling me that churros are one of his favorite things, but every time he orders them in a restaurant, he is completely disappointed. All he wants is the churros of his childhood, which were apparently soft and bready with an intensely chocolate dipping sauce. But here in the U.S., most restaurants serve up the same hard, crunchy churro and mild, powdered hot chocolate—not at all what Dave has in mind.

So when Secret Recipe Club time rolled around again, I was excited to see that Jennifer from Peanut Butter and Peppers had posted a recipe for baked churros! Dave was so happy he did a cheer.
So will you, when you realize how easy it is to make churros and hot chocolate right at home! These babies turned out soft on the inside, crisp on the outside, with a great cinnamon coating. I added a bittersweet chocolate dipping sauce, and we were transported to Spain.
I did make several modifications to Jennifer's recipe. I should explain that my food philosophy is to use whole, real ingredients unless you have a dietary restriction that forces you to do otherwise. (Even then, I would advocate for choosing dishes/ingredients that are naturally dairy free, vegan, gluten free, low in refined carbs, etc., rather than using chemical substitutes. Churros are not any of the above, so if you were hoping for that, look elsewhere!) I also believe that using natural ingredients, like real butter and real cream, is more than just delicious—it's healthier. In my post-baby weight loss journey, I have only seen results when cutting back on processed foods, especially refined carbs such as sugar and white flour, rather than cutting back on fats.
Of course, it would be ridiculous to suggest that churros are healthy, no matter what you put in them (though…I admit it…Dave and I sat down and ate the entire first batch I made without blinking an eye…oops!); dessert should be an occasional treat, following a hearty, well-rounded meal full of vegetables and protein and whole grains!
Anyway, in keeping with my food philosophy, where Jennifer's recipe called for sugar substitutes, light butter, and egg substitutes, I used the real deal. I also substituted some white whole wheat flour for all purpose, just to knock the glycemic index down a point or two. Of course, those changes meant that the texture of the batter changed, too, so I also tinkered with the methodology a little, adopting a few small changes straight out of my recipe for pâte à choux (cream puff dough! mmm) so the churro dough would come out the right texture for piping and baking.
These churros are so delicious! Whether you choose to make them with substitute ingredients or natural ingredients, you should make them right away!
There are basically four parts to making this dough and getting it into the oven, and you will need them all in fairly quick succession. I recommend setting up all your ingredients and getting your cookie sheets and pastry bag prepped before you start cooking. It will just make everything flow easier. This means whisking the flours together in a small bowl, whisking together the eggs and vanilla in a separate small bowl, lining two cookie sheets with parchment and spraying them lightly with cooking spray, and fitting your pastry bag with the tip of your choice (I used a medium French star, Wilton #32).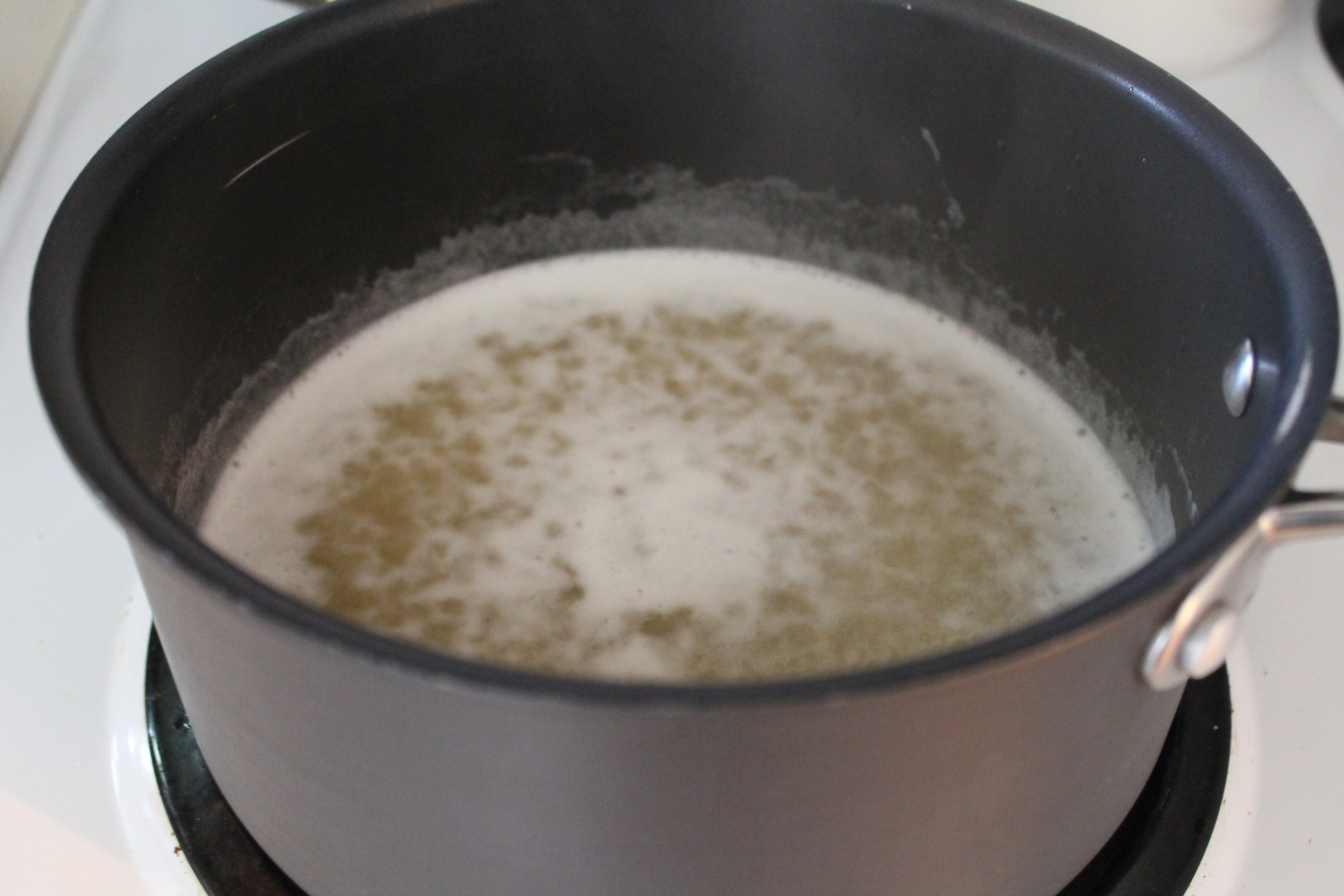 Now we are ready to cook! Bring your butter, water, brown sugar, and salt to a boil. I used unsalted butter, but if you use salted, don't forget to kick the added salt down to ¼ tsp!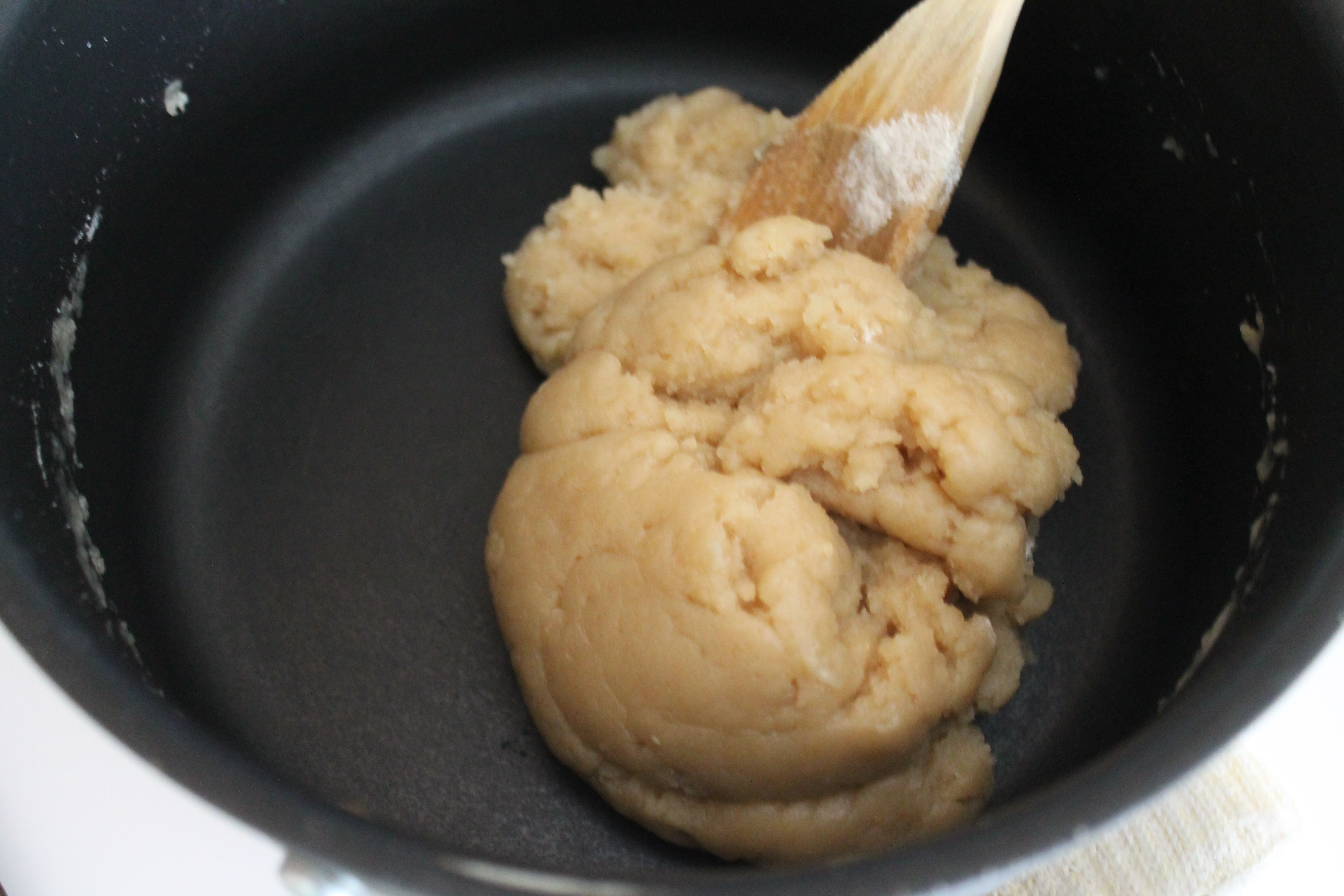 As soon as the mixture boils, remove it from the heat and stir in the flours—right in the same pan! That's very important, because you want the flour to cook a little and the water to continue to evaporate as you stir. After a few minutes, you should have a firm, dull-looking lump of dough. If your dough still looks wet or is a bit slack, return it to the heat and stir for 30 seconds or so, just until the shine disappears and the dough feels stiff.
Transfer the mixture to a mixing bowl fitted with a paddle attachment. Begin beating on medium speed to release a little more heat and steam and to cool the mixture slightly.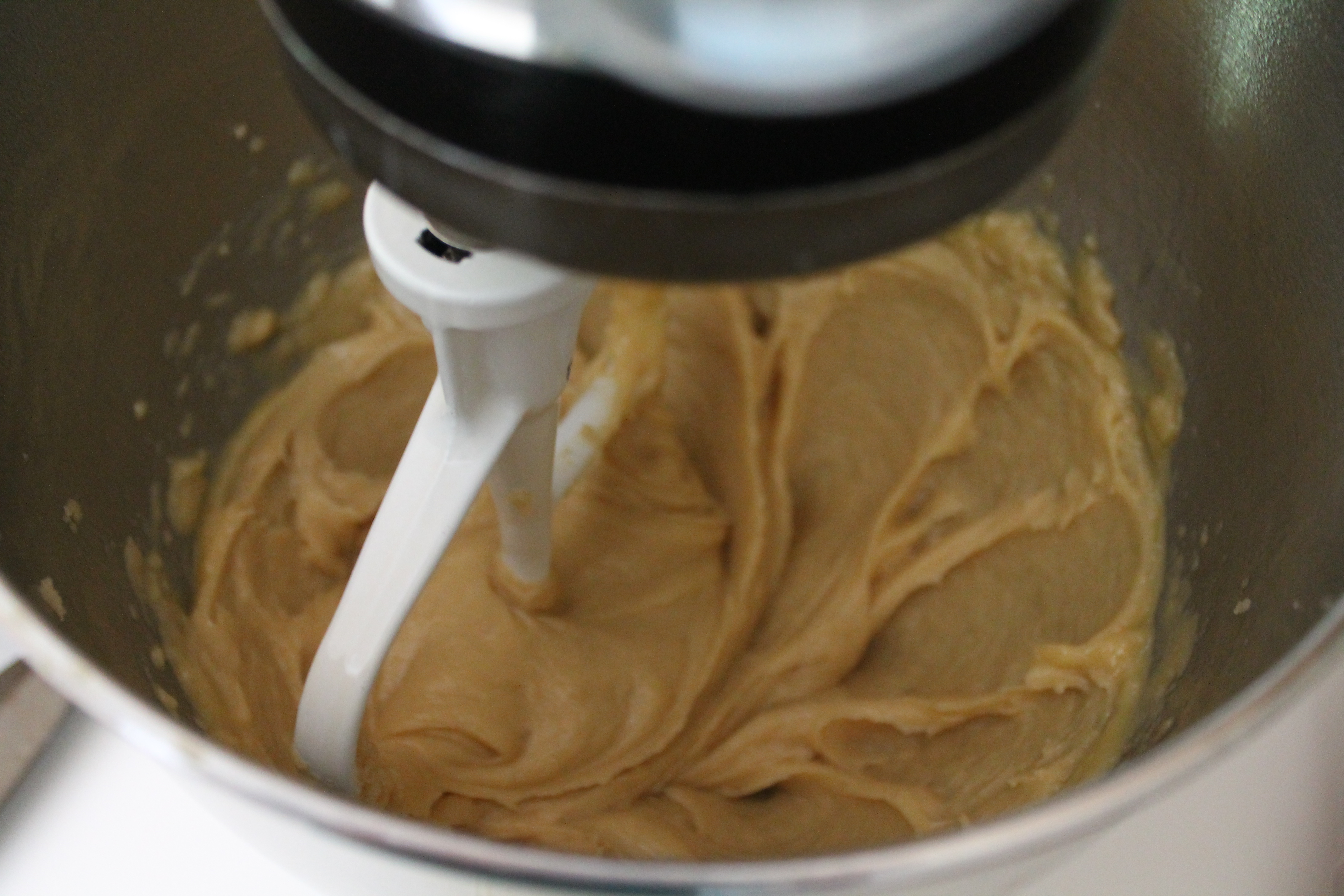 Grab the egg-vanilla mixture you prepared earlier. Add the egg mixture to the dough a little at a time (it usually takes me about five additions to work through both eggs), keeping the mixer on the whole time. After each addition is incorporated, add a little more. When all of the egg is mixed in, the dough should be shiny and stretchy but not loose or runny at all. If the dough seems runny, you won't be able to pipe it properly, and it won't bake well. Just keep beating until it firms up a bit.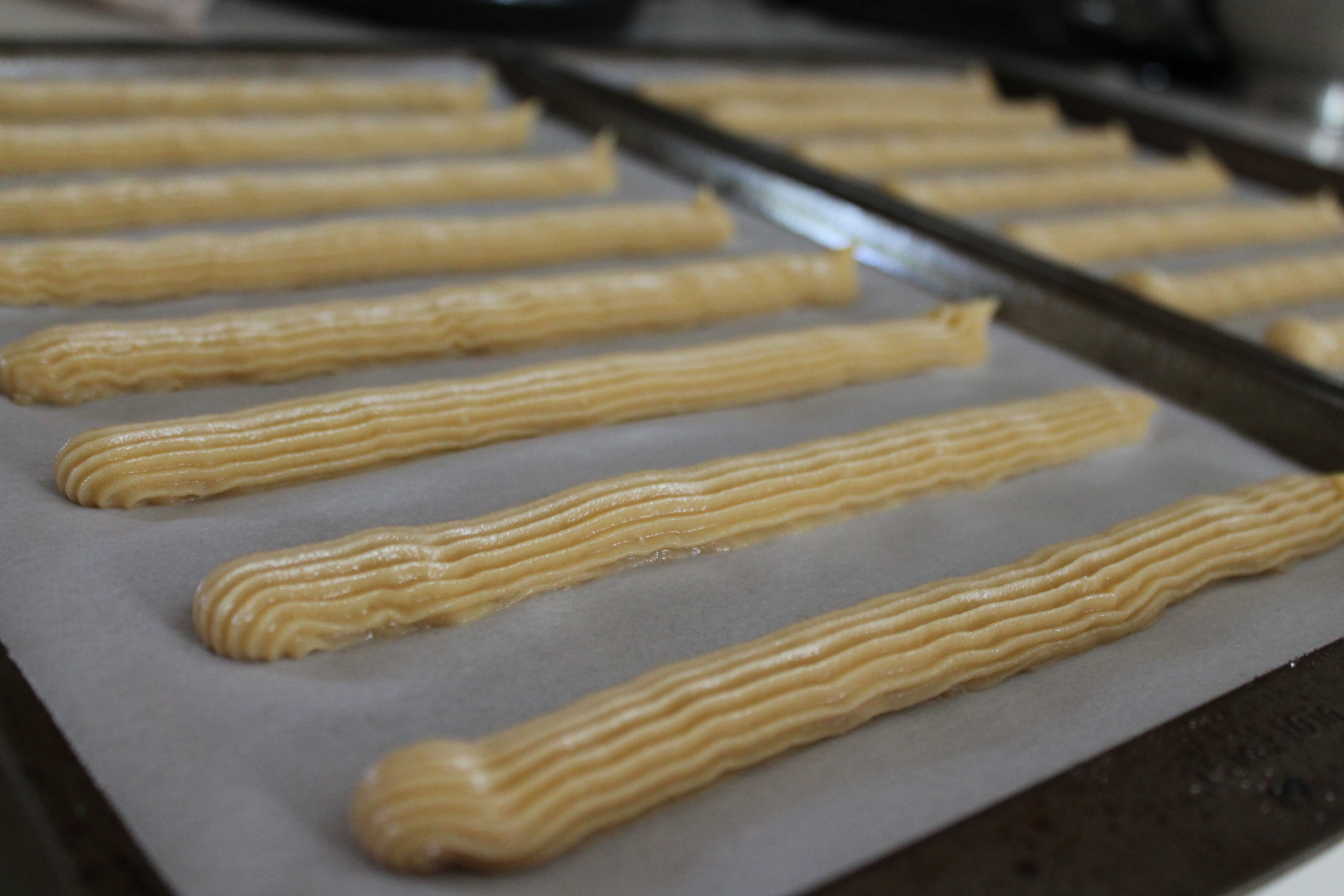 Spoon the dough into a piping bag fitted with a medium French star tip (the French star has lots more teeth than a regular star). Pipe the dough onto the prepared parchment-lined cookie sheets. Dave told me that proper churros were about 8″ long, so I piped mine down the entire length of the short side of the pan. The piped churros should be about ¾″ wide and about 2″ apart from each other.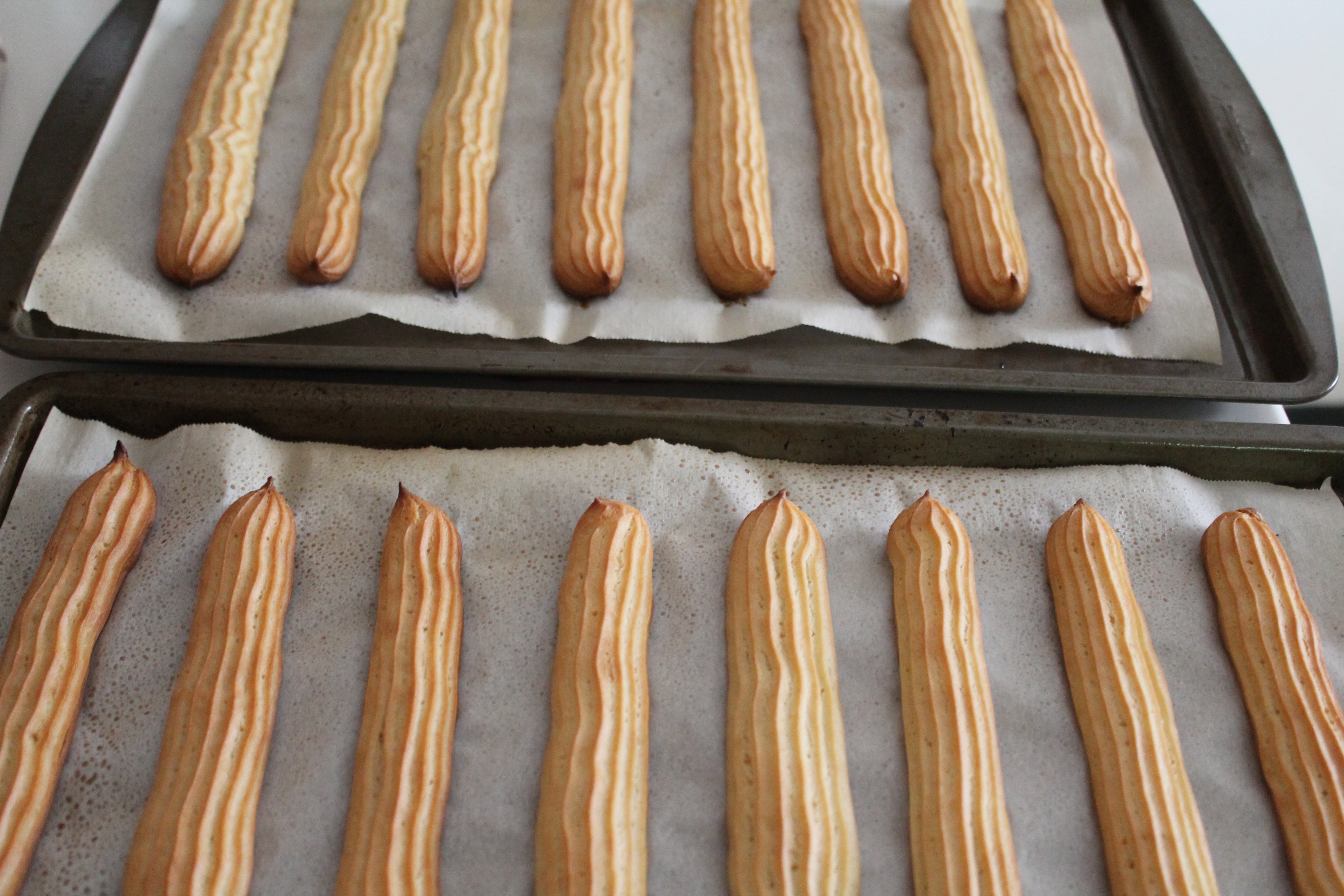 Bake for 12 minutes at 425°. Turn the pans around and continue baking for 2–4 minutes, depending on the consistency you want. Since Dave likes his churros soft on the inside, I tend to take them out of the oven on the earlier side. You should look for the churros to be set on the outside, but they should still have a little give if you touch them. If you like your churros crispier, you could also turn on the broiler for the last few minutes to give the outsides a nice, deep browning.
While the churros are doing their final few minutes in the oven, mix together the cinnamon and sugar coating inside a gallon-size Ziploc bag. As soon as the churros come out of the oven, begin tossing them in the cinnamon and sugar, one or two at a time. The sugar will not stick well once the churros cool, so try to work quickly! However, if you find that your churros are too cool to bind with the cinnamon and sugar, you can very lightly mist them with cooking spray, which will act as an adhesive, prior to coating them.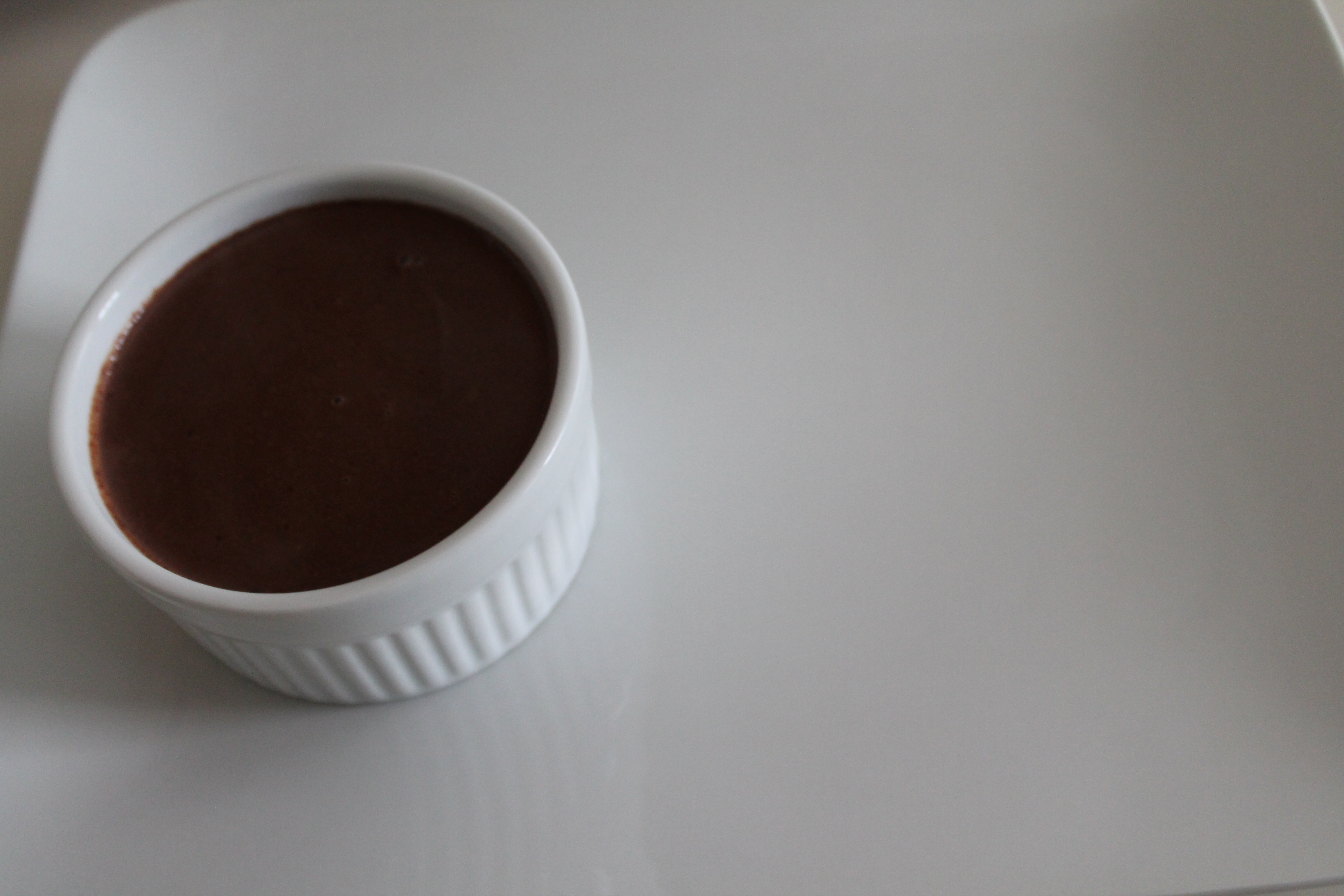 And don't forget to make your hot chocolate! This makes a thin but rich sauce that will soak into the churros slightly as you dip them. If you prefer a thicker sauce, then use only cream; I do not recommend using only milk for an even lighter sauce, however, because the liquid will be too thin to adequately mix with the chocolate, and you will end up with soupy lumps rather than a smooth, velvety drinking chocolate.
I do this in the microwave because it's so much faster, but you could also use the stovetop if you prefer. For the microwave, combine your bittersweet chocolate, cream, and milk in a microwave-safe mug. Heat for 1 minute, watching to make sure the liquid doesn't boil over. Immediately remove the mug from the microwave and stir until the melted chocolate is completely mixed in and very smooth. For the stovetop, combine all the ingredients in a small saucepan over medium heat and stir constantly until the chocolate is melted and evenly mixed with the cream and milk.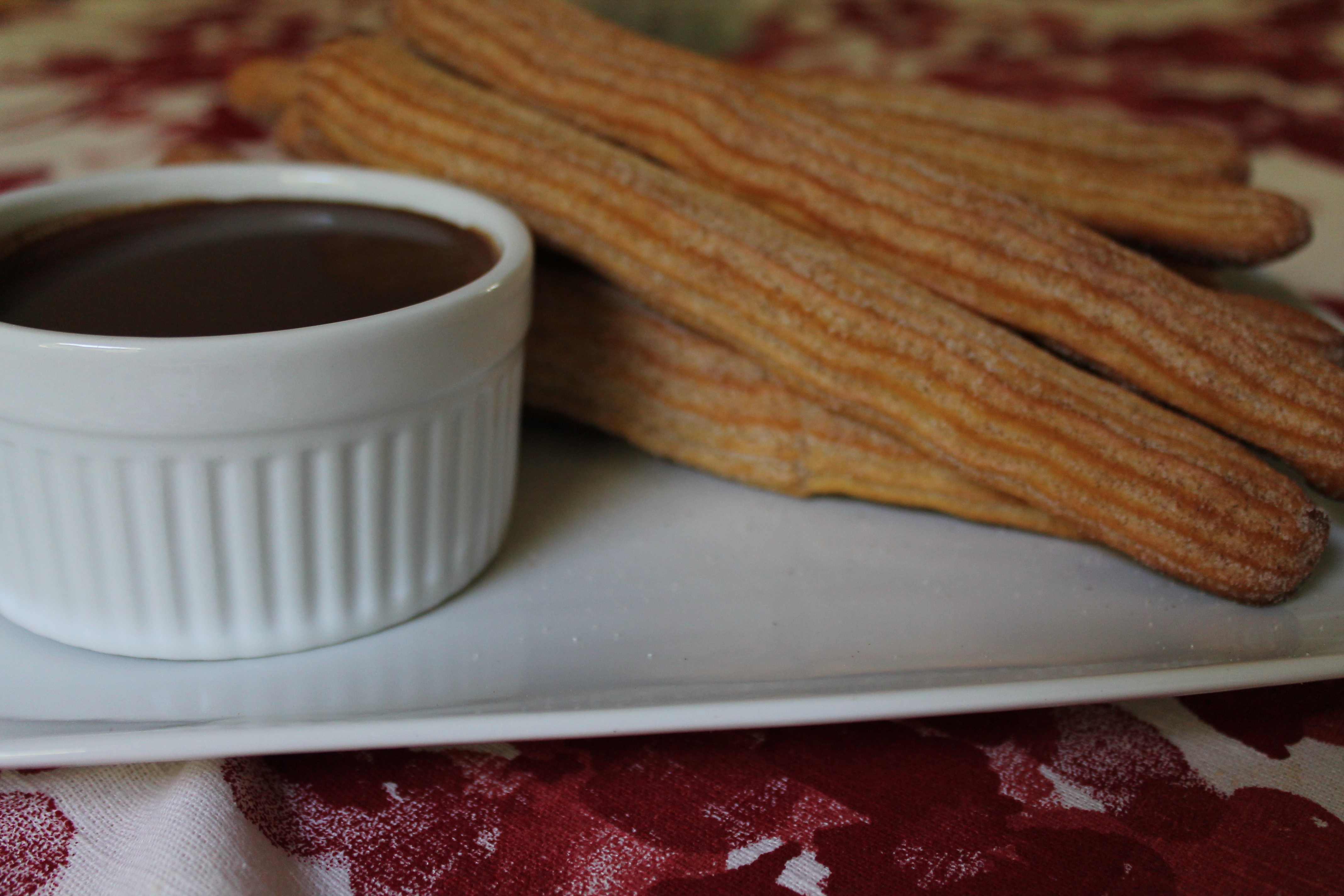 Serve the churros warm with the dark chocolate for dipping. Yum!
Baked Churros with Hot Chocolate
adapted from Peanut Butter and Peppers
makes 16–18
Churro Ingredients:
1 cup water
5 tbsp. unsalted butter
2 tbsp. brown sugar
½ tsp. salt
½ cup flour (AP)
½ cup white whole wheat flour
2 eggs
½ tsp. vanilla extract
¼ cup sugar
1 tsp. cinnamon
Hot Chocolate Ingredients:
½ cup 60% bittersweet chocolate, chopped or chips
¼ cup heavy cream
¼ cup milk
Directions:
Preheat the oven to 425°. Line two cookie sheets with parchment paper and lightly coat the parchment with cooking spray.
Combine the water, butter, brown sugar, and salt in a medium saucepan over medium heat. Bring to a boil, stirring constantly.
Remove the pan from the heat and stir in the flours. The mixture should come together and form a dull mass around the spoon. If necessary, return to the heat for 30 seconds, just until the mixture is firm and pasty and the shine dissipates. Do not allow the butter to leech out of the dough.
Transfer the dough to a mixer bowl and beat on medium speed for 1 minute. Meanwhile, whisk together the eggs and vanilla. Working in small batches, add the egg mixture to the dough. Wait until completely incorporated before adding any more egg. When all of the egg has been added, the dough should be somewhat elastic and shiny, but able to hold its shape. If the dough is runny, continue beating until it gains some structure.
Spoon the dough into a pastry bag fitted with a medium star tip. Pipe 8″ stripes of dough about 2″ apart on the prepared cookie sheets.
Bake for 14–17 minutes, turning at least once to promote even browning.
While the churros bake, combine the sugar and cinnamon in a large plastic bag.
Melt the chocolate, cream, and milk together, stirring or whisking to combine. When the mixture is rich brown and completely smooth, transfer to a small serving bowl.
As soon as the churros come out of the oven, begin shaking them in the cinnamon-sugar mixture, a few at a time, until coated. If the sugar won't bind to the churros, very lightly mist with cooking spray and shake again.
Serve warm with the hot chocolate for dipping.
Enjoy!
One year ago: Marbled Mocha Coffee Cake
Two years ago: Roasted Vegetable Stuffed Bell Peppers