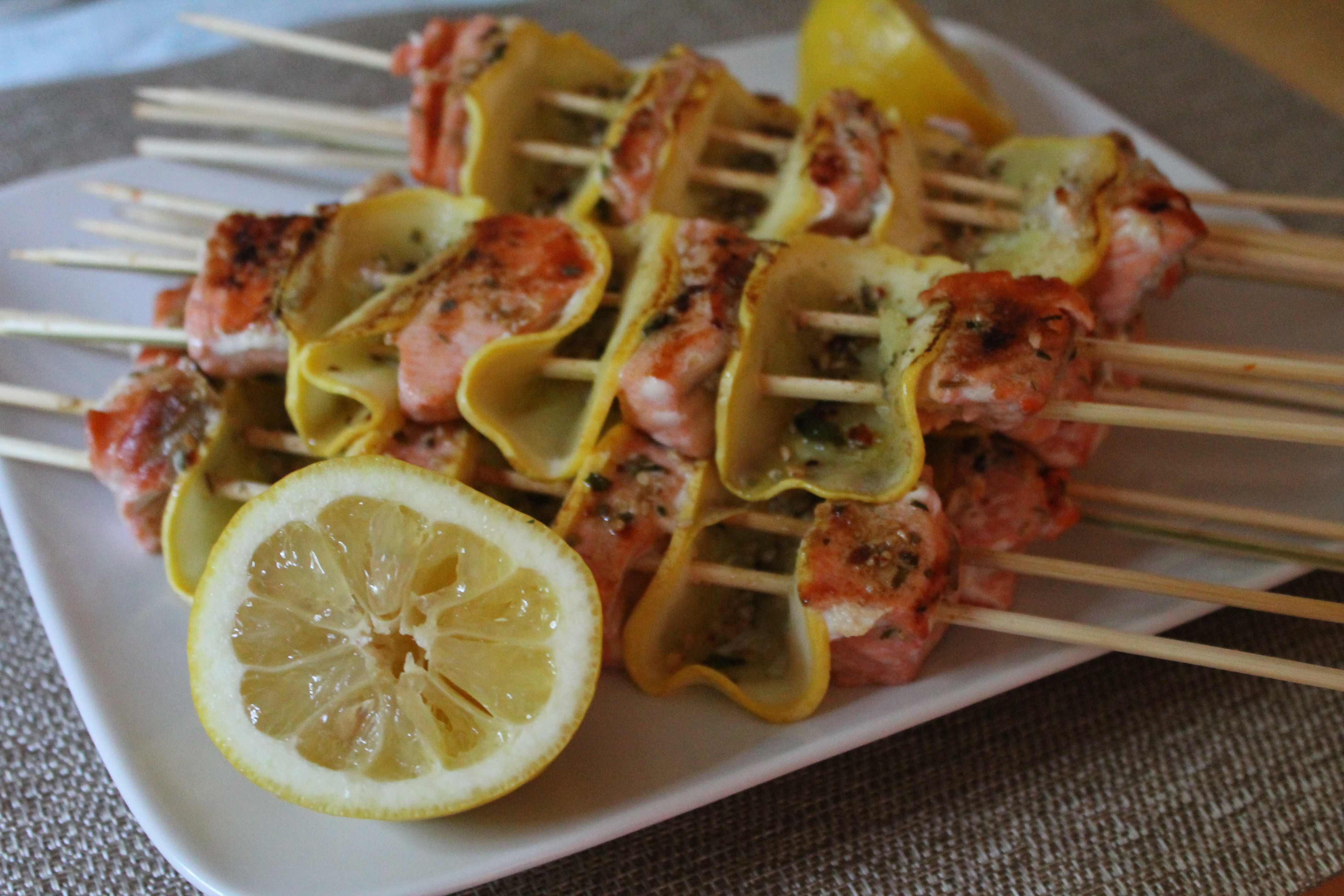 Um…do you ever get all excited about a picture of a recipe, only to read the ingredients and realize you totally misinterpreted what you saw in the picture?
Yeah.
I found a beautiful picture of salmon kebabs this week and did a little dance about how pretty the squash medallions looked with the salmon and how interesting the combination was…only to realize the original recipe had thinly sliced lemon threaded between the chunks of salmon, not yellow squash. Oops.
But since I had two beautiful yellow squashes from the CSA this week, I forged ahead anyway! And let me tell you, these kebabs were perfection!
I don't know why I haven't made kebabs before. (Oh, wait…it's because my husband refused to clean our grill after the one and only time we used it two years ago, and I am stubbornly following suit…) Kebabs are amazing. You can thread anything onto a skewer and toss it on the grill and it will pretty much blow your mind.
In fact, I didn't take photos of this, but I also made some onion-potato-squash kebabs to go with the fish! CSA new potatoes are so delicious. If you want to do that, then quickly cut the potatoes into bite-size pieces and boil them for 5–10 minutes, just to knock the grilling time down a bit. Thread chunks of onion and slices of squash with the lightly cooked potatoes. Season with sea salt and a pinch of the same seasoning you are making for the fish, then toss on the grill with everything else!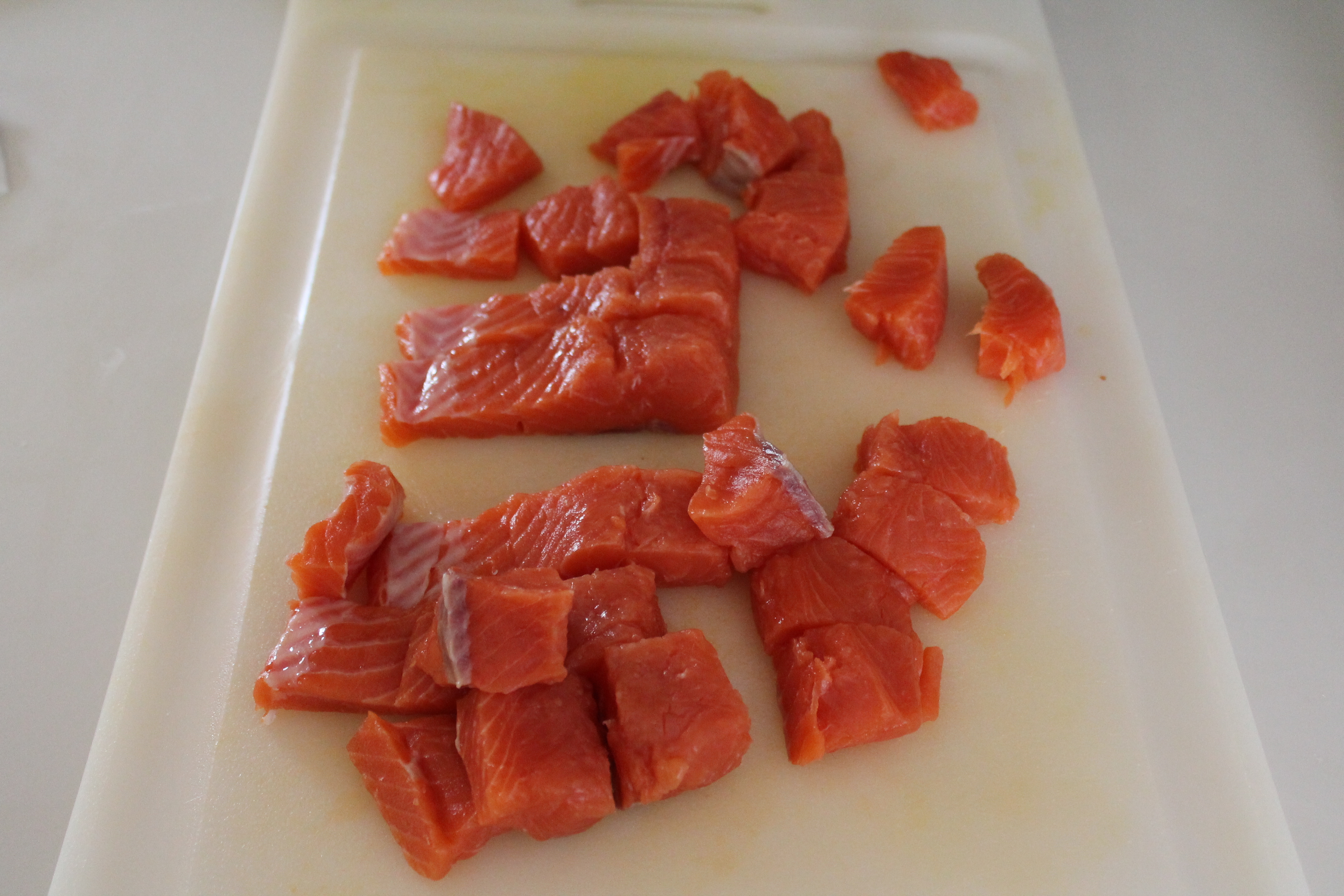 But I digress. Let's make salmon kebabs. You must have skinned salmon. I like to get my butcher to do this, because I have like zero fish-skinning skills. Cut the salmon into bite-size chunks: for a 1½ lb. piece of fish, you should end up with about 32 small pieces.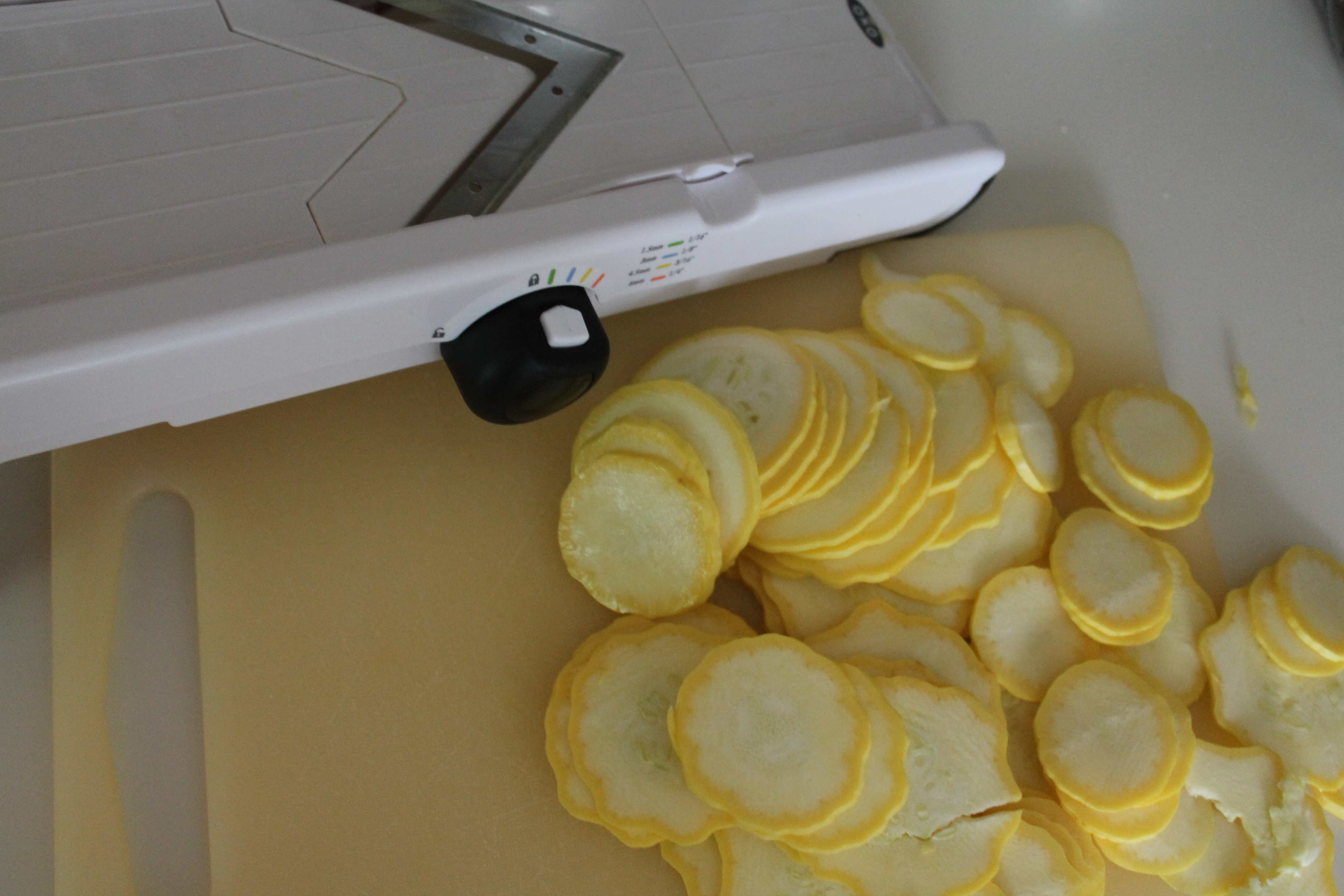 Also, thinly slice one small or medium yellow squash. The thinner the slices, the easier they will be do thread onto the skewers (that is, if you want to follow the curled style I did here; of course, then you have a lot more pieces of squash, with less concentrated flavor as compared to the salmon…so you could also cut into small chunks about the same size as the salmon pieces, if you prefer). I used my brand new mandoline! Best invention ever.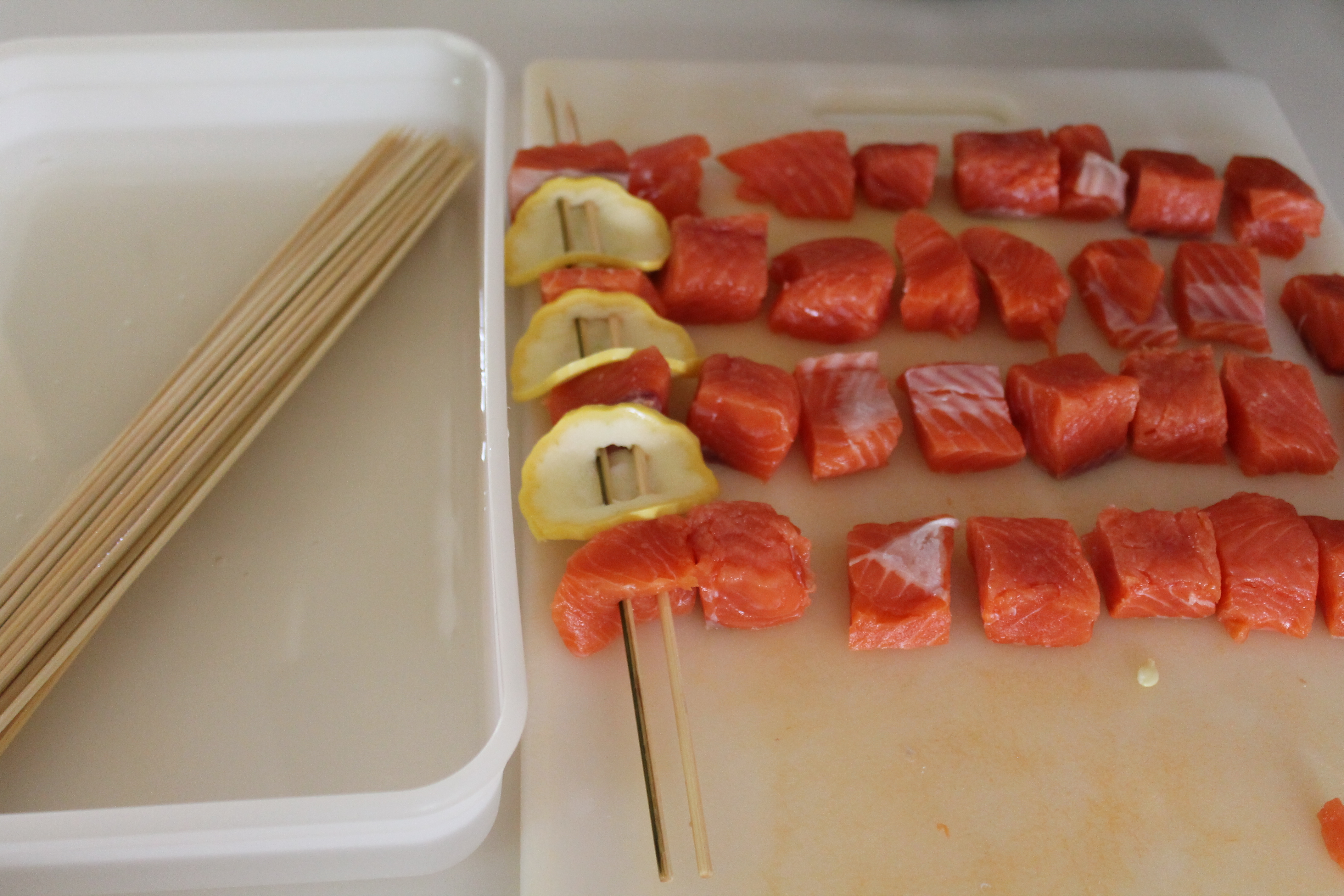 Thread the salmon and squash onto the skewers. You will need 2 skewers for each kebab, because salmon is flaky and has a tendency to come apart when cooked. This job is really easier if there are two people! Also, please note: if you are using a proper, outdoor grill, you need to soak your wooden skewers at least 1 hour and grill soon after preparing the kebabs, otherwise the skewers may catch on fire. This is less of an issue if you are stuck using your George Foreman, but I still soaked mine. And not to diss the George Foreman too much, because my kebabs were still delicious!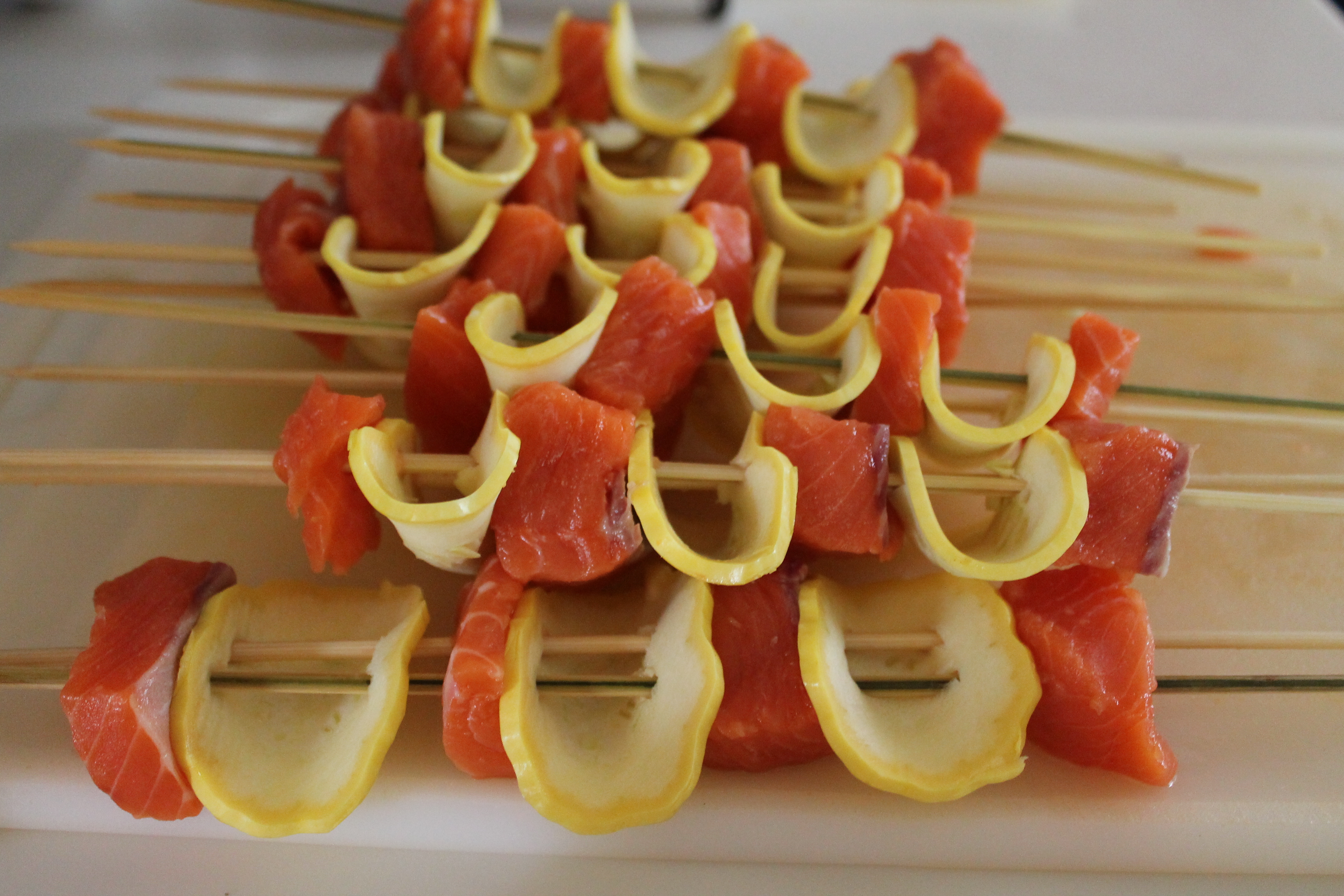 In a small bowl, combine sesame seeds, cumin, crushed red pepper, and fresh oregano. (Um, sometimes when you are cooking, you forget to take pictures of, say…cute little bowls full of the most delicious spice mixture…)
Season the kebabs with sea salt and a hearty sprinkle of the spice mixture. Drizzle with olive oil.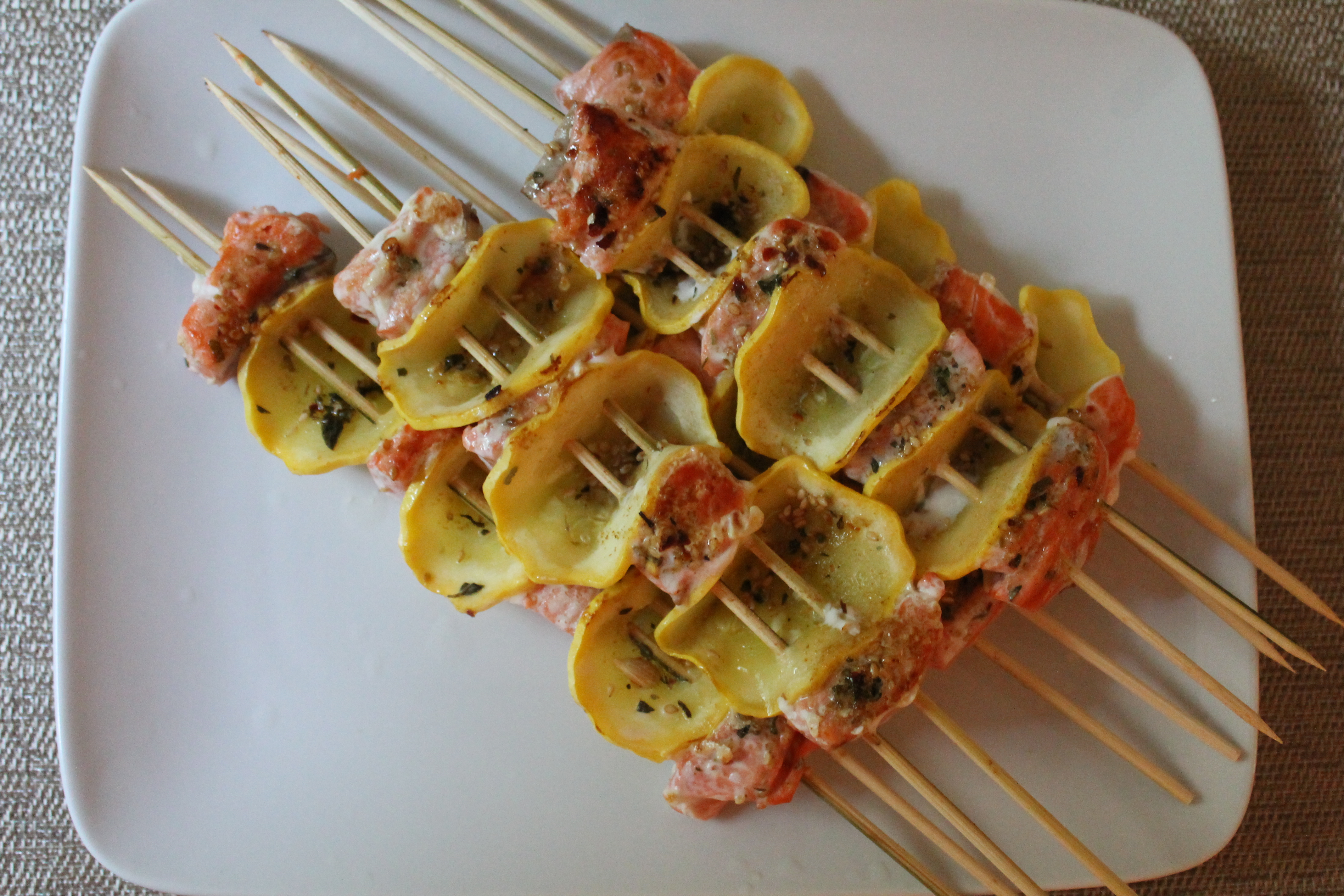 Grill for 3–6 minutes, turning as needed to cook all sides. The fish should be opaque in the center and firm to the touch.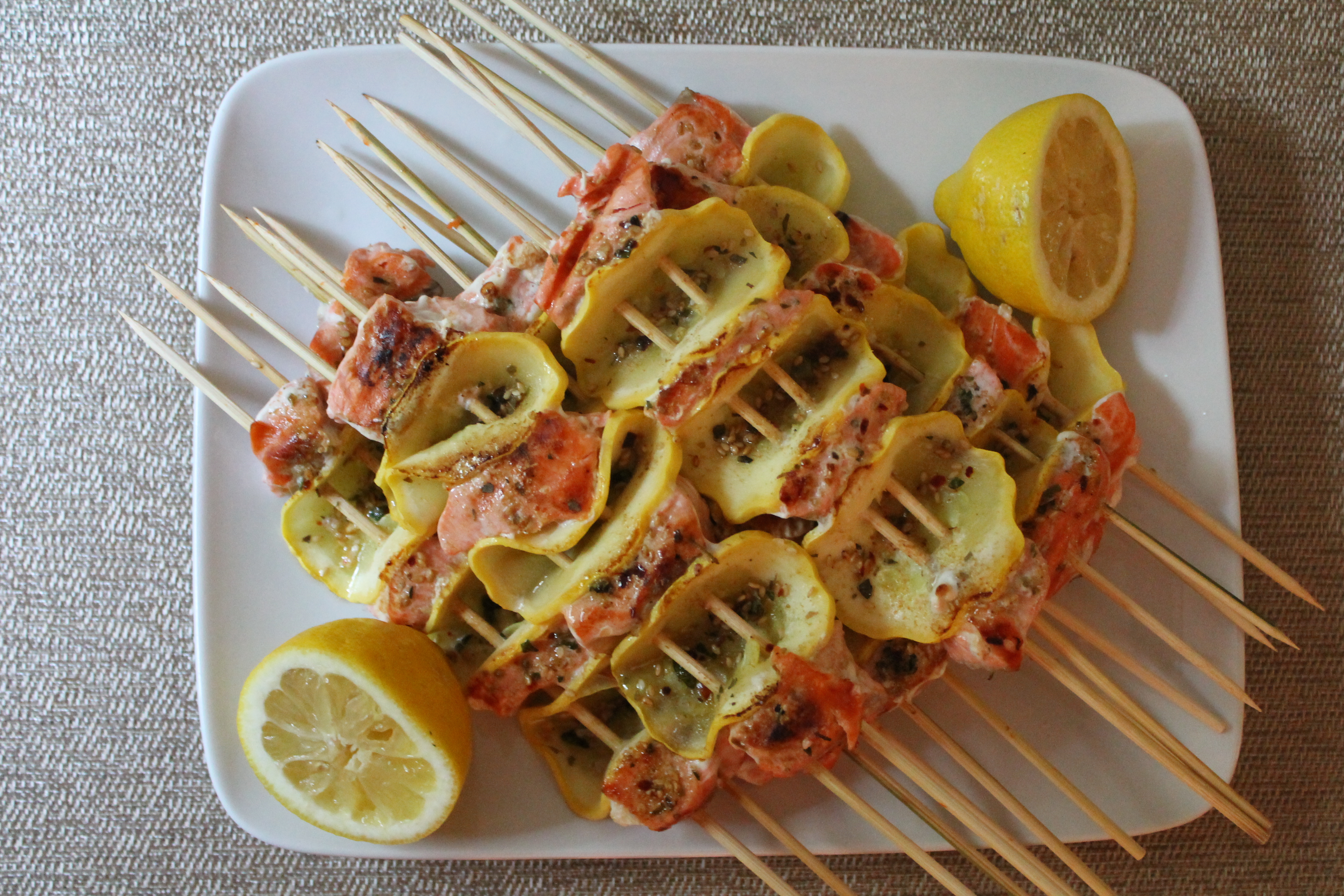 Squeeze lemon over the kebabs and serve (with potato-onion kebabs! and a salad!).
Salmon-Squash Kebabs
adapted from Skinnytaste
serves 2–4
Ingredients:
1½ lbs. salmon, skin removed
1 medium yellow squash
16 wooden skewers, soaked in water
sea salt
2 tbsp. chopped fresh oregano
2 tsp. sesame seeds
1 tsp. cumin
¼ tsp. crushed red pepper
olive oil
1 lemon
Directions:
Cut the salmon into bite-size pieces, about 32 total. Cut the squash into thin slices.
Carefully thread the salmon and squash onto the skewers, 2 skewers per kebab, alternating. Do not wedge everything too close together or the fish may not cook properly. There should be enough for 8 small kebabs. Season one side lightly with sea salt.
Combine the oregano, sesame seeds, cumin, and red pepper in a small bowl. Sprinkle over the kebabs, then drizzle them lightly with olive oil.
Grill on a charcoal or gas grill (or a George Foreman), turning as needed, until the fish is opaque all the way through. This should not take more than 10 minutes, but cook time will vary greatly based on the heat of the grill.
Remove to a serving platter and squeeze the lemon over the kebabs.
Enjoy!
One year ago: Black Bean Burgers
Two years ago: Sweet Cream Ice Cream