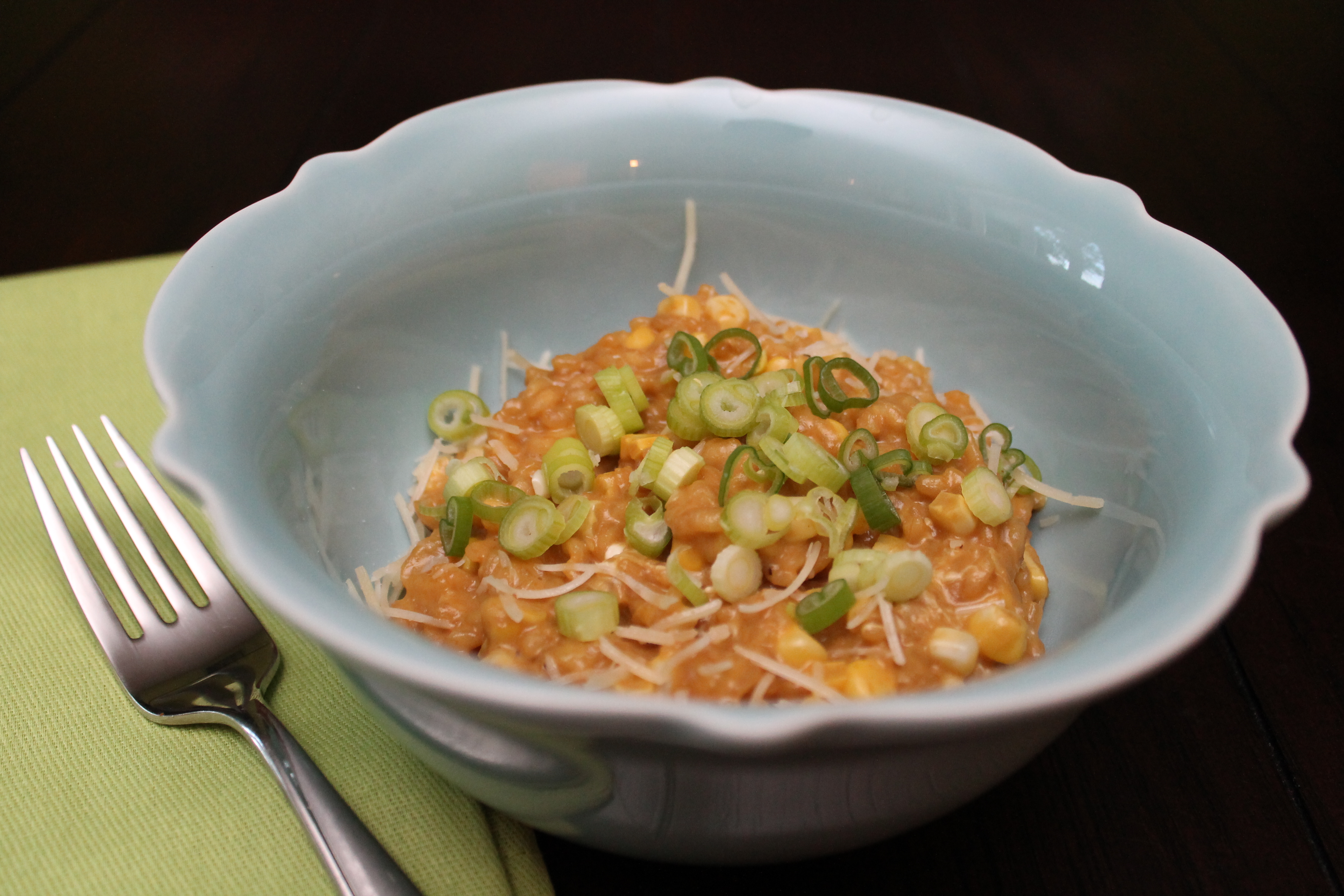 My computer recently decided that its SD card reader didn't exist. When you add that to the fact that two of the three USB ports had already abandoned ship, and that Word recently glitched and erased a whole day's work on an editing project I was doing, you probably arrive at the conclusion that I was not happy.
Not. Happy. At. All.
So, sorry for not writing about my delicious week until now…there were fresh salads and eggs with home fries and pizza (go figure) and biscotti. Oh, and this risotto!
I have always been a little wary of risotto. The first one I ever made was insanely delicious, but I had not yet really grasped the concept of cooking with low heat, so the center of the rice wasn't cooked fully by the time water was absorbed. Oops. And ever since, in an effort to correct that mistake, I end up overcooking the rice (um, and worse, adding extra water sometimes), and the risottos come out gummy instead of creamy.
If you've ever made a great risotto, you are probably thinking those are rookie mistakes, and maybe you're right. But I think I've finally gotten it right, and boy do I feel excited!
This risotto is savory and creamy and perfect. I fully credit the clear directions rather than anything I did especially well, so I think you will have an easy time of it when you make this yourself!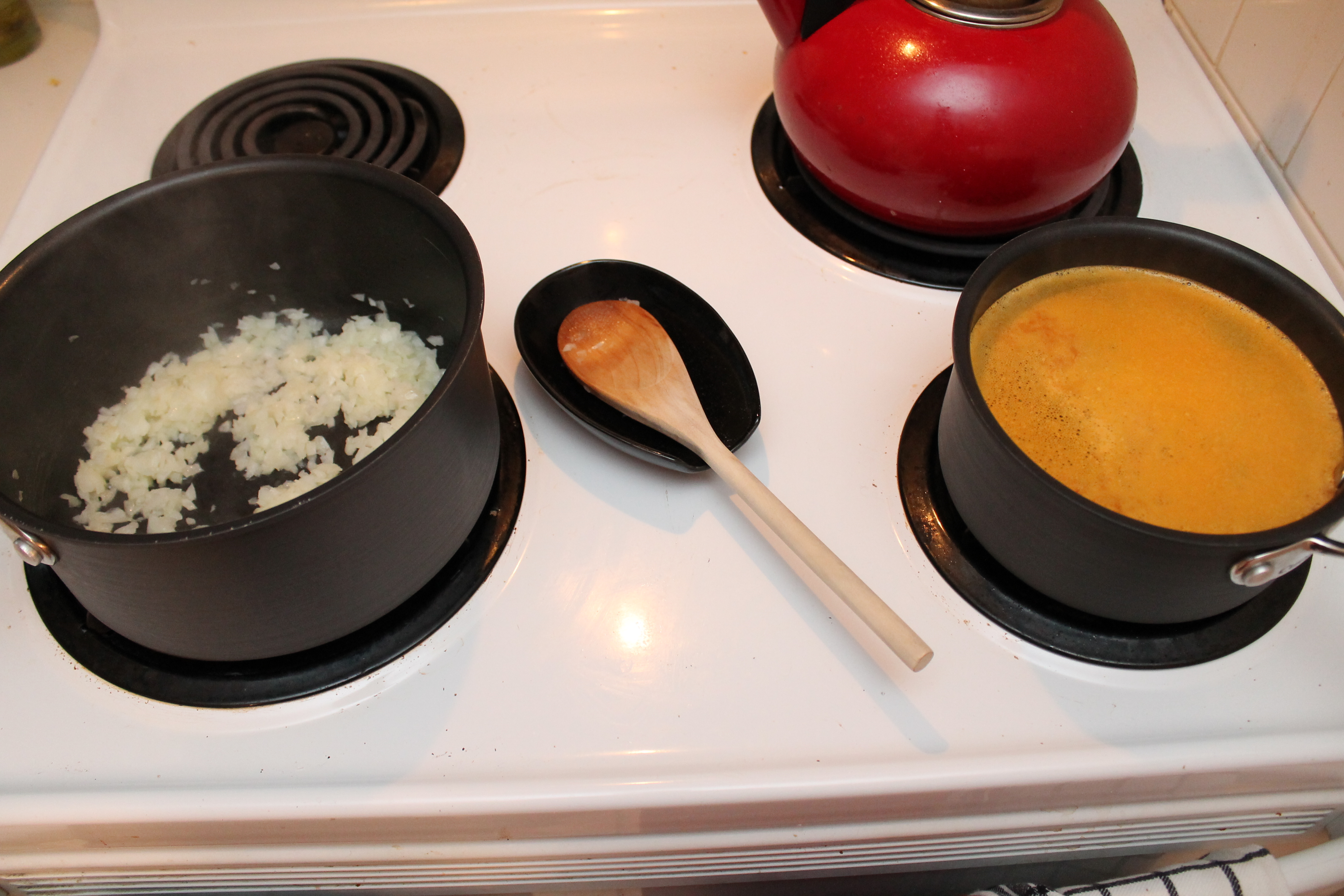 Okay, we all know a great base requires chopped onion. Just chop one. Cook in olive oil over medium heat until translucent.
Also, bring your stock to a boil. Reduce the heat and let it simmer–keeping the stock warm will help it to absorb into the rice better.
By the way, now is a good time for me to make a recommendation. I used my favorite veggie stock, which is unsalted and made by Kitchen Basics. It's really dark in color, but the flavor itself is fairly mild. I love using unsalted stocks, because I like to season a bit more lightly than the average bear. However, because of the very dark color of this particular stock, my risotto ended up brown instead of a more lovely, creamy pale color. I am pretty sure the original recipe was actually made with chicken stock, which is fairly blond… Anyway, if you want your risotto to be pretty, so you can highlight the pale or bright yellow of the corn, then I recommend cutting the stock with water. In fact, I might recommend using half stock and half water. The other ingredients in the risotto will more than make up for any subtle flavor changes from diluting the stock, and your end result will be so much prettier than mine!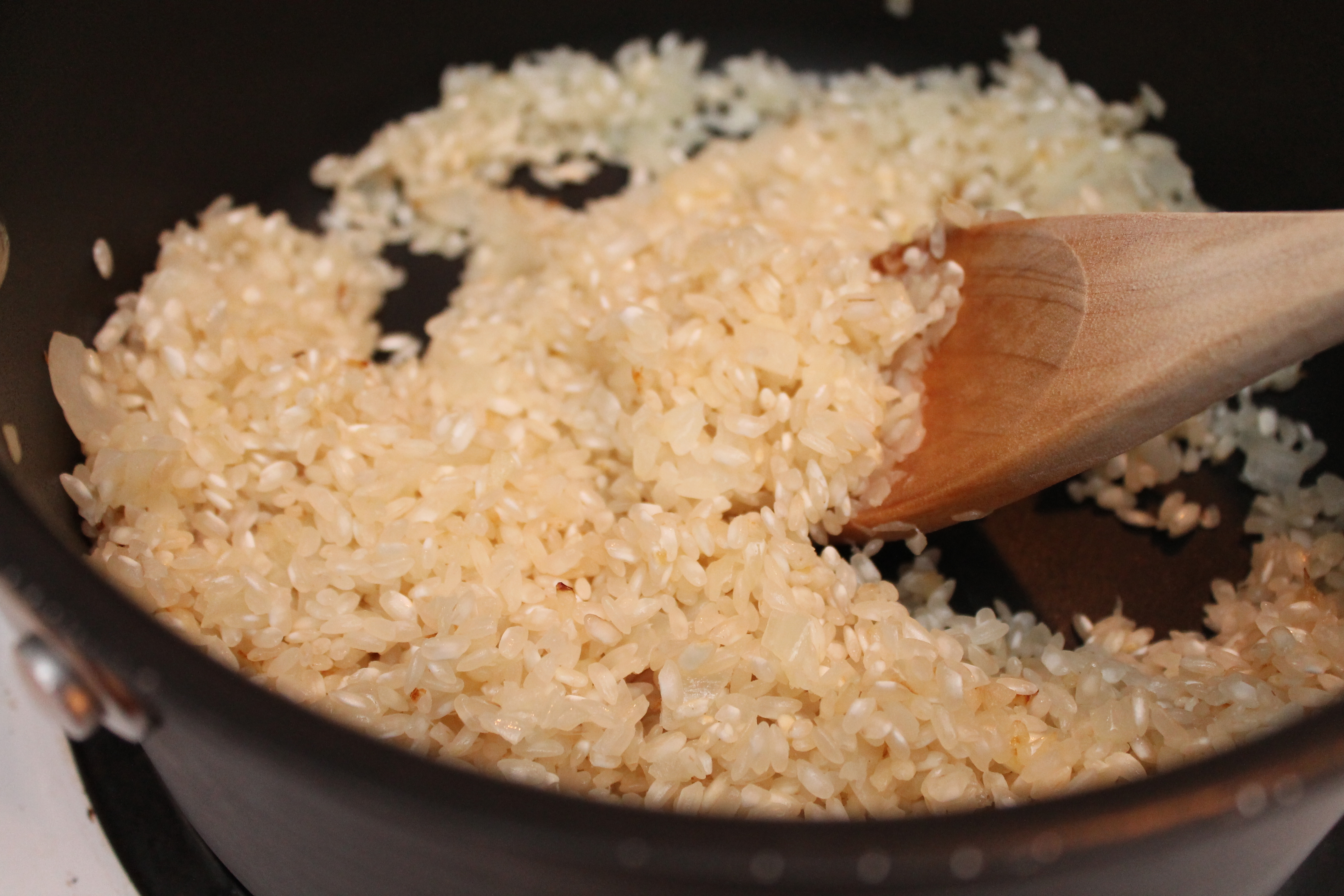 Now add the arborio rice, or risotto rice, to the cooking onions. This is an important step, because you are priming the rice so it will cook through properly. You must stir constantly for about 2–3 minutes, until the rice becomes translucent.
Add the wine and stir constantly until completely absorbed.
Reduce your heat to medium-low.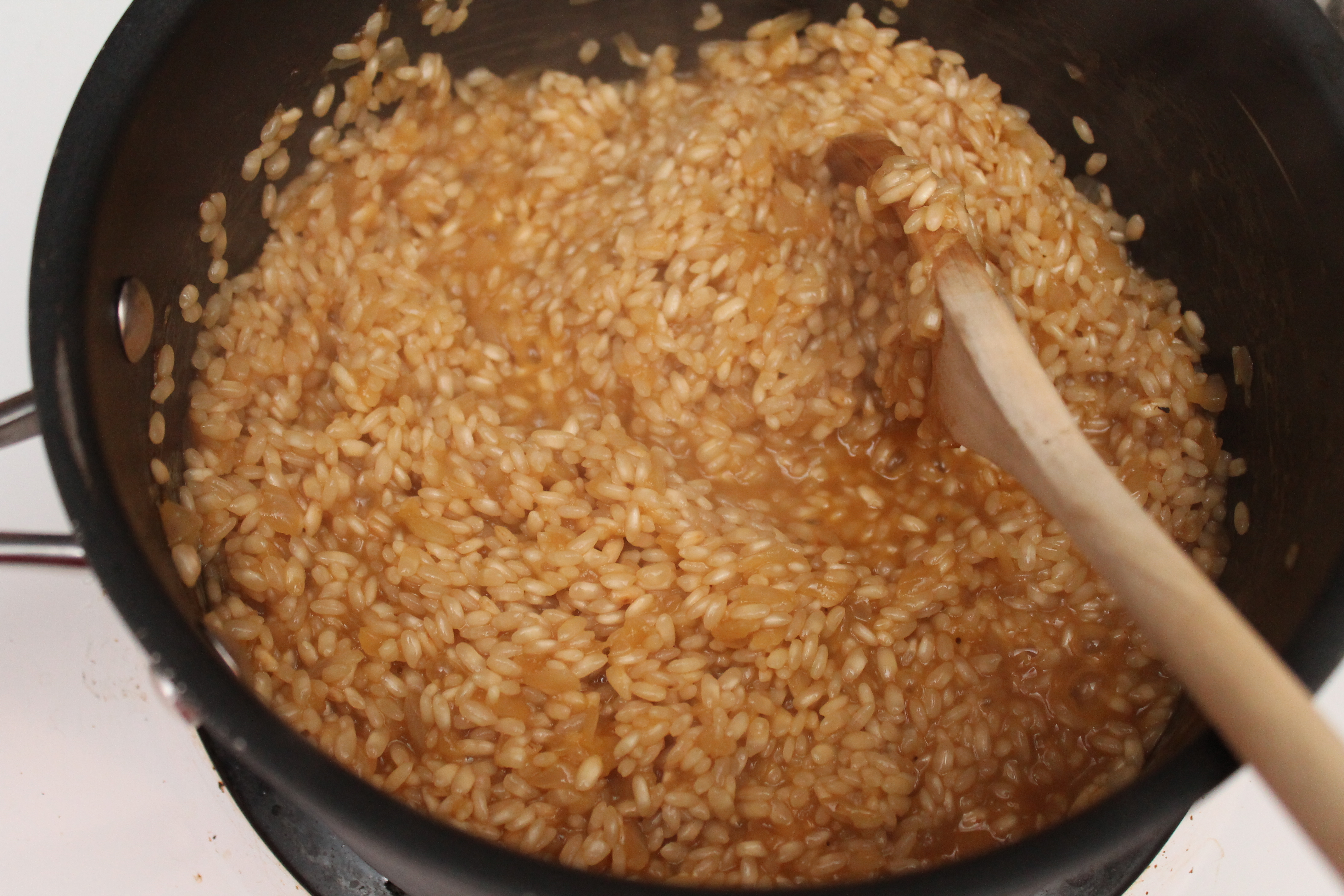 Prepare yourself here. You are going to be stirring your rice now for a long time. Don't make other plans; you and your wooden spoon are going to bond for a while. Add in your veggie stock, one ladle at a time. I think my ladle is about ⅓ cup, maybe a little bigger, but the important thing is just to add the liquid in relatively small increments.
Stir constantly until rice absorbs the first ladle-ful of stock. I found that this happened rather quickly, as the rice was thirsty! The more liquid you add, the longer it will take for the rice to absorb it. By "absorb," I do not mean "suck up every last bit of moisture in the pan." I found that, as I stirred, I could still see slightly saucy streaks at the very bottom of the pan when it was time to add more stock. Let the rice absorb the water until it doesn't look soupy or loose, but don't overdo it, because you do want creamy risotto in the end.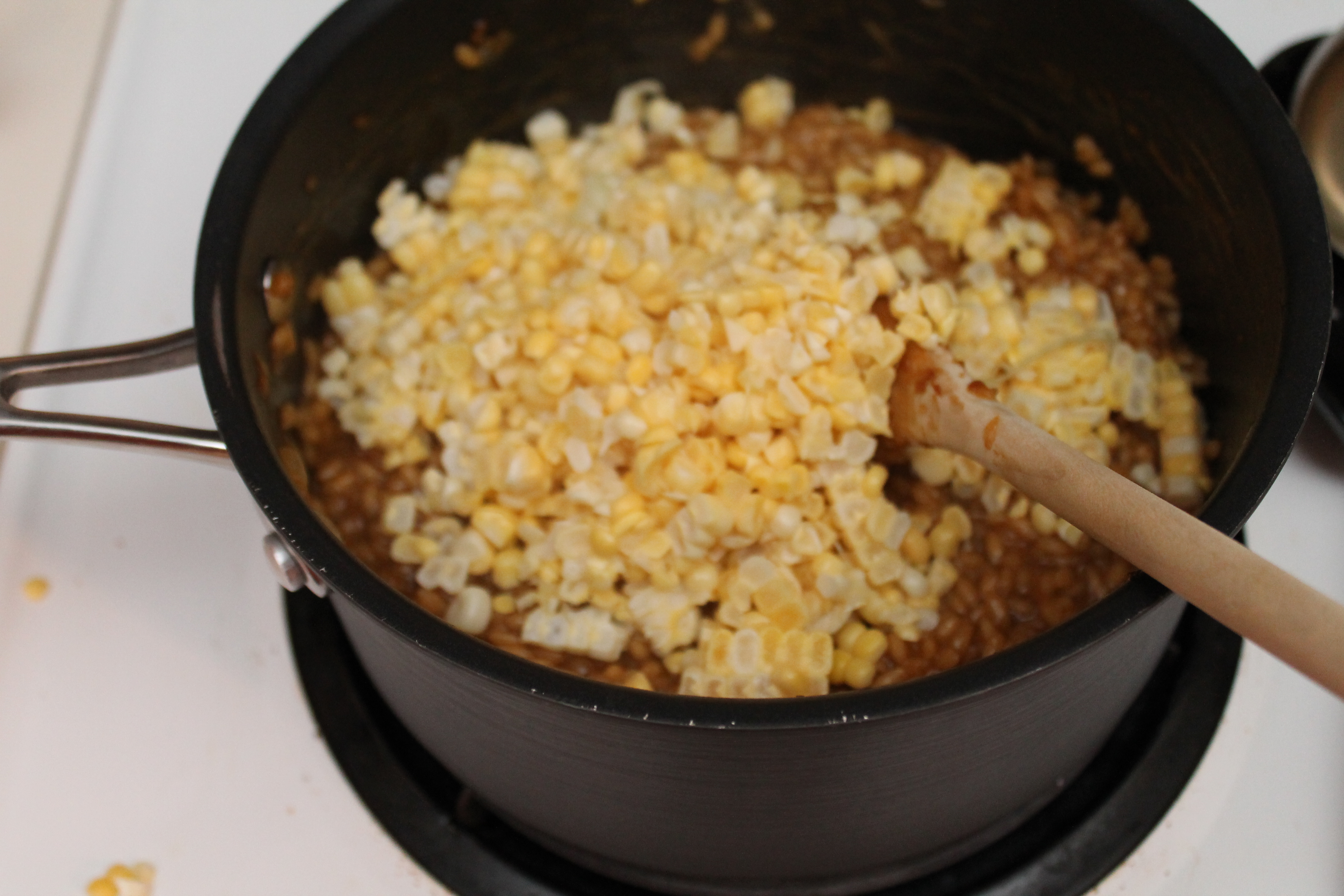 So it should take about 20 minutes for you to incorporate all the liquid into the rice. About 5 minutes before the end (maybe 2 ladles of stock left), toss in your fresh corn to warm with the rest of the risotto.
When the risotto is completely cooked, the rice should be somewhat loose, with a slightly toothsome texture, but definitely not hard in the center.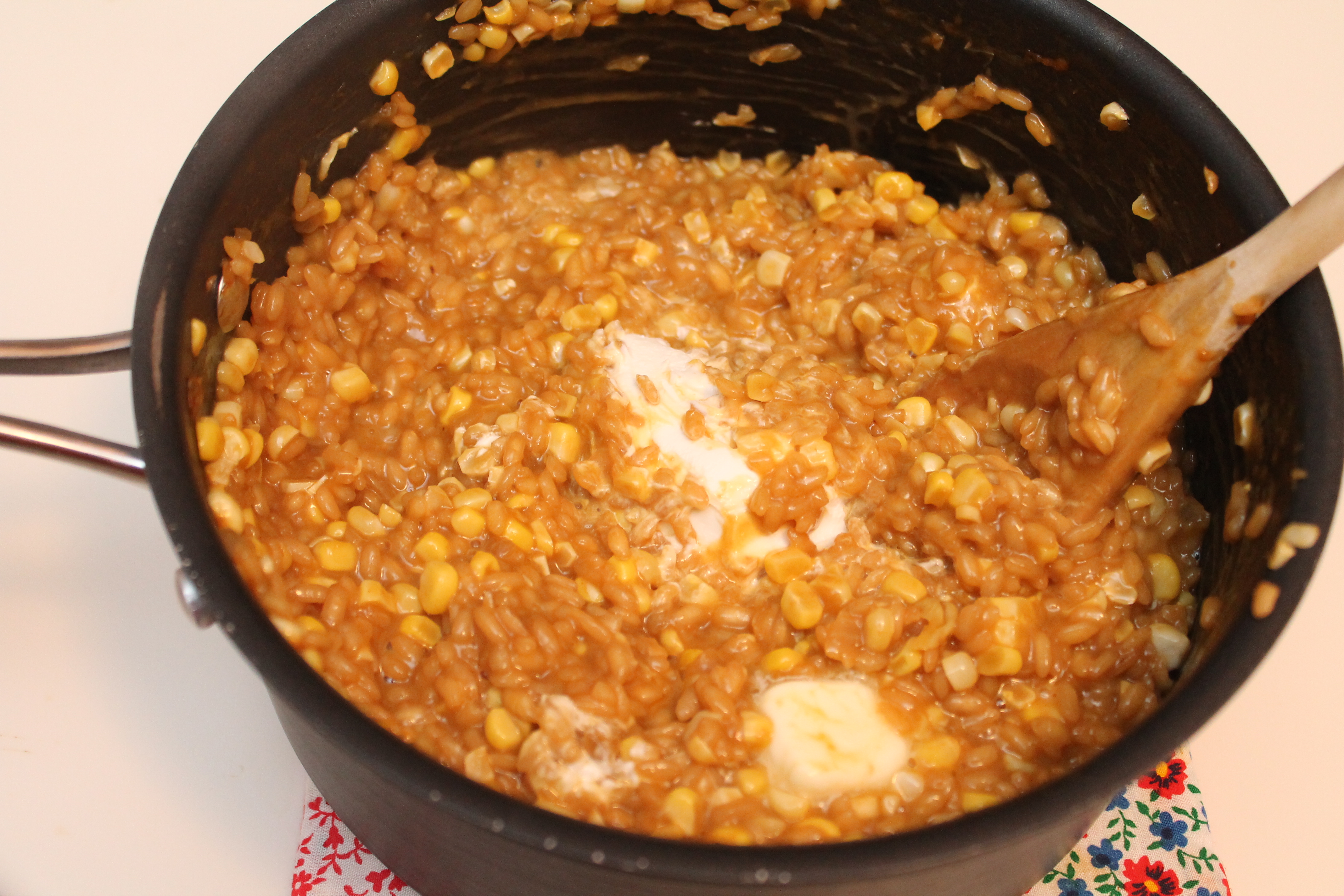 Remove the rice from the heat. Season to taste with salt and pepper. Stir in the butter and cheeses. I used goat cheese, because I am obsessed with it these days…and I had a lot in the fridge. But! I did get it from the farmer's market, so I guess technically it could be called "farmer's cheese," which is what the original recipe used. If you hate goat cheese, then I will forgive you…and just recommend you pick another soft, slightly crumbly cheese.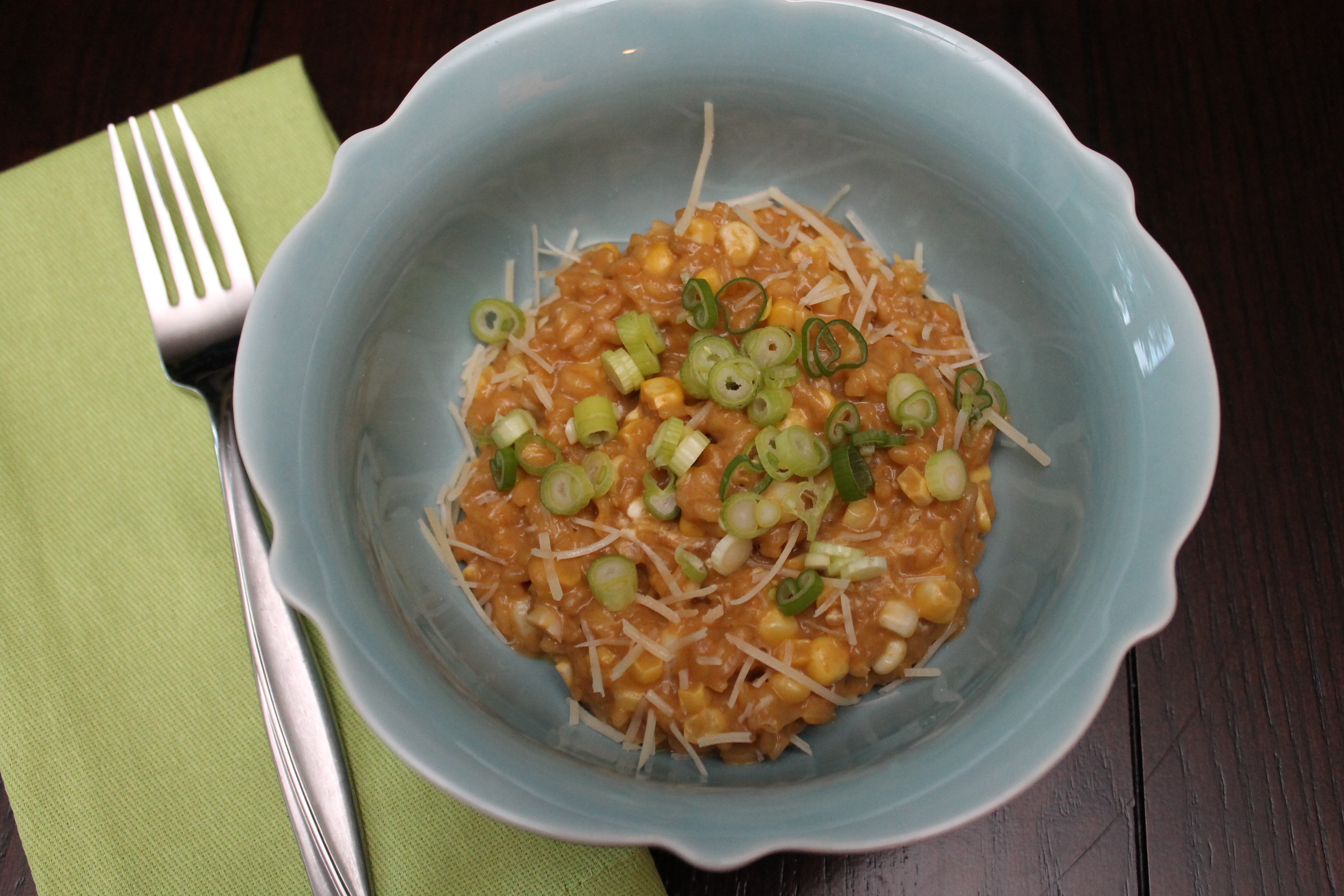 Garnish with sliced scallions and extra grated parmesan. (And, if you are fancy, micro-greens, which I love but almost never find. You could also sub a few leaves or sprigs of young herbs, if you prefer; thyme would be fantastic!)
Sweet Corn Risotto
lightly adapted from Kitchen Apparel
serves 4
Ingredients:
4 cups vegetable stock
2 tbsp. olive oil
1 small sweet onion, diced
1½ cups of arborio rice
½ cup white wine
2 ears corn, shucked and cleaned, kernels removed
salt and black pepper
½ cup goat cheese, or other soft crumbly cheese
¼ cup grated parmesan
2 tbsp. unsalted butter
sliced scallions and micro greens, for garnish
Directions:
In a small saucepan, bring the vegetable or chicken stock to a boil. Reduce the heat and keep the stock at a simmer.
In a larger saucepan, heat the olive oil over medium high heat and add the diced onion. Sauté until soft, about 2 minutes.
Add the arborio rice and cook for a few minutes, stirring, until the grains become translucent, about 3 minutes. Add the white wine and cook, stirring, until the rice completely absorbs it, about 1 minute.
Add one ladle of the simmering stock to the rice and start a kitchen timer for 20 minutes. Continue to stir the rice until the stock has absorbed, then add another ladle of stock. Continue stirring and repeat this process until all the stock is used. When about 5 minutes are left on the timer, add the corn.
It should take 20–25 minutes to stir all the stock into the risotto, but do not overcook the risotto if you finish a little early; taste and assess the consistency, removing from the heat if the rice is cooked through.
After all the stock has been absorbed and the risotto is the proper texture (soft enough to chew, slightly loose and not gummy), remove the pot from the heat and add the cheeses and butter. Season with salt and pepper to taste and continue to stir until the cheese and butter is melted.
Spoon the risotto into bowls or onto plates. Sprinkle with scallions and a little extra cheese. Serve warm with a salad and a glass of white wine.
Enjoy!
One year ago: Neiman Marcus Cookies
Two years ago: Corn and Zucchini Tacos