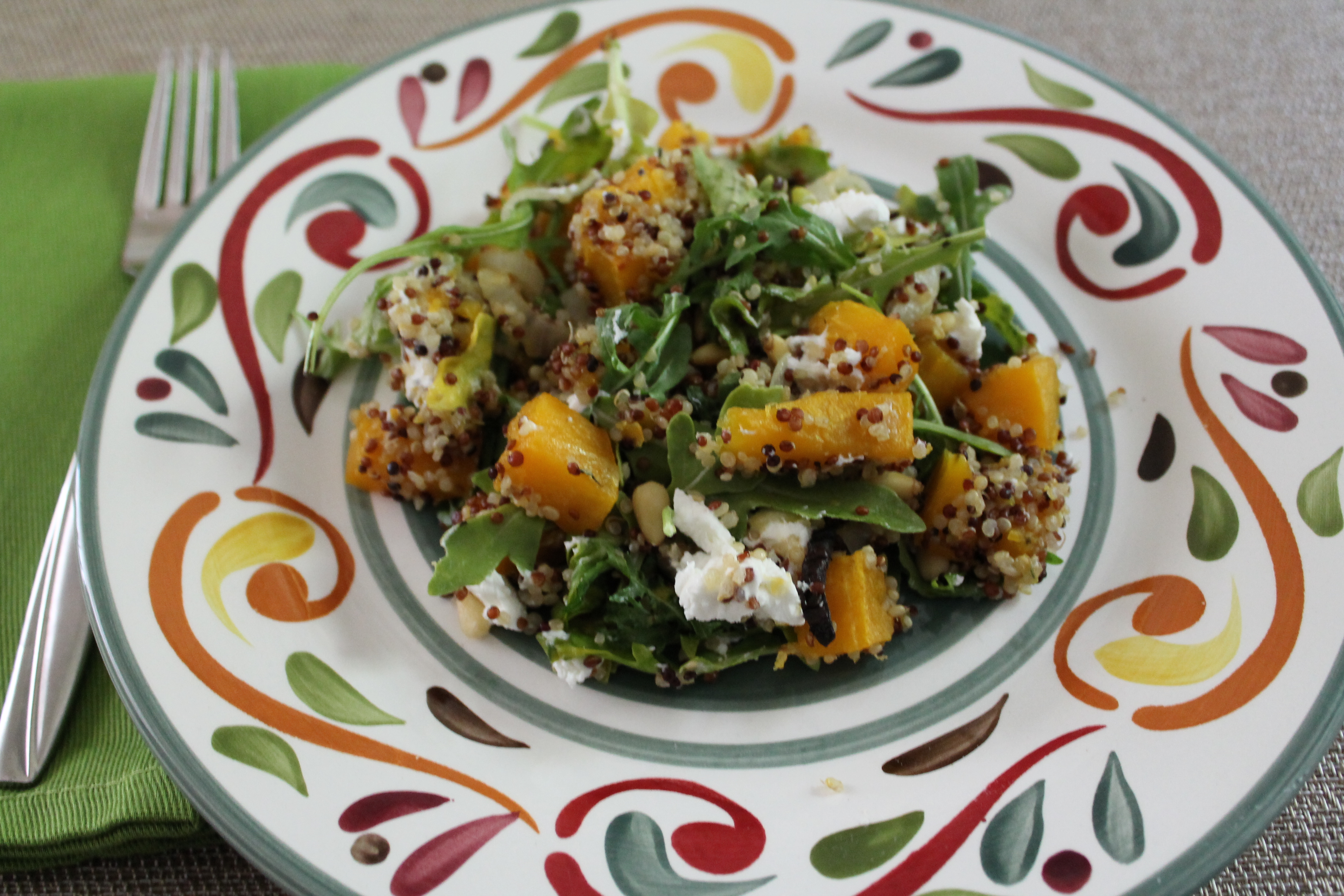 I have a lot of squash in my house.
Like. A lot.
And one of the easiest ever ways to use up fall squash is to roast it and toss it into a grain salad with some greens and cheese. I have been a little reluctant to share this with you, because I feel like this particular combination isn't terribly original. Quinoa salad. Been there, done that.
But you know what? Sometimes the familiar is just what we need. Sometimes simple food with bright colors and flavors is comforting.
Sarah of Well Dined came over and made this lunch with me. We added in things that are delicious and left out things that are not. Easy peasy.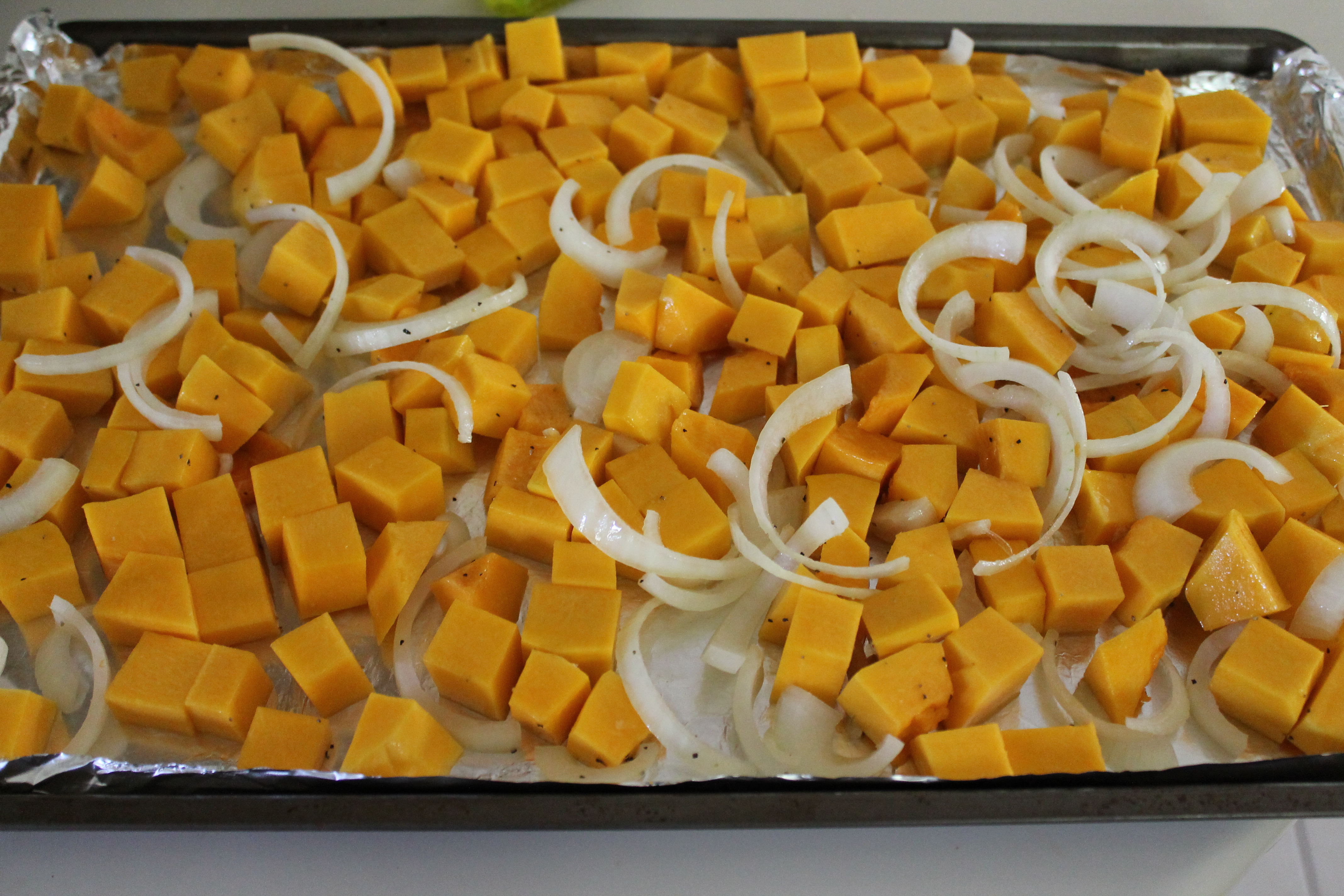 Peel your butternut. Yes this is a pain. But it'll be okay. Cut it in half and scrape out the seeds, then cut into bite-size cubes.
Also, slice your onion into thin half-moon shapes.
Toss the onion and butternut cubes together with some olive oil, salt, and pepper, and arrange them on a cookie sheet. Stuff the cookie sheet into the oven. Roast for 25–30 minutes at 375°, turning the veggies once in the middle.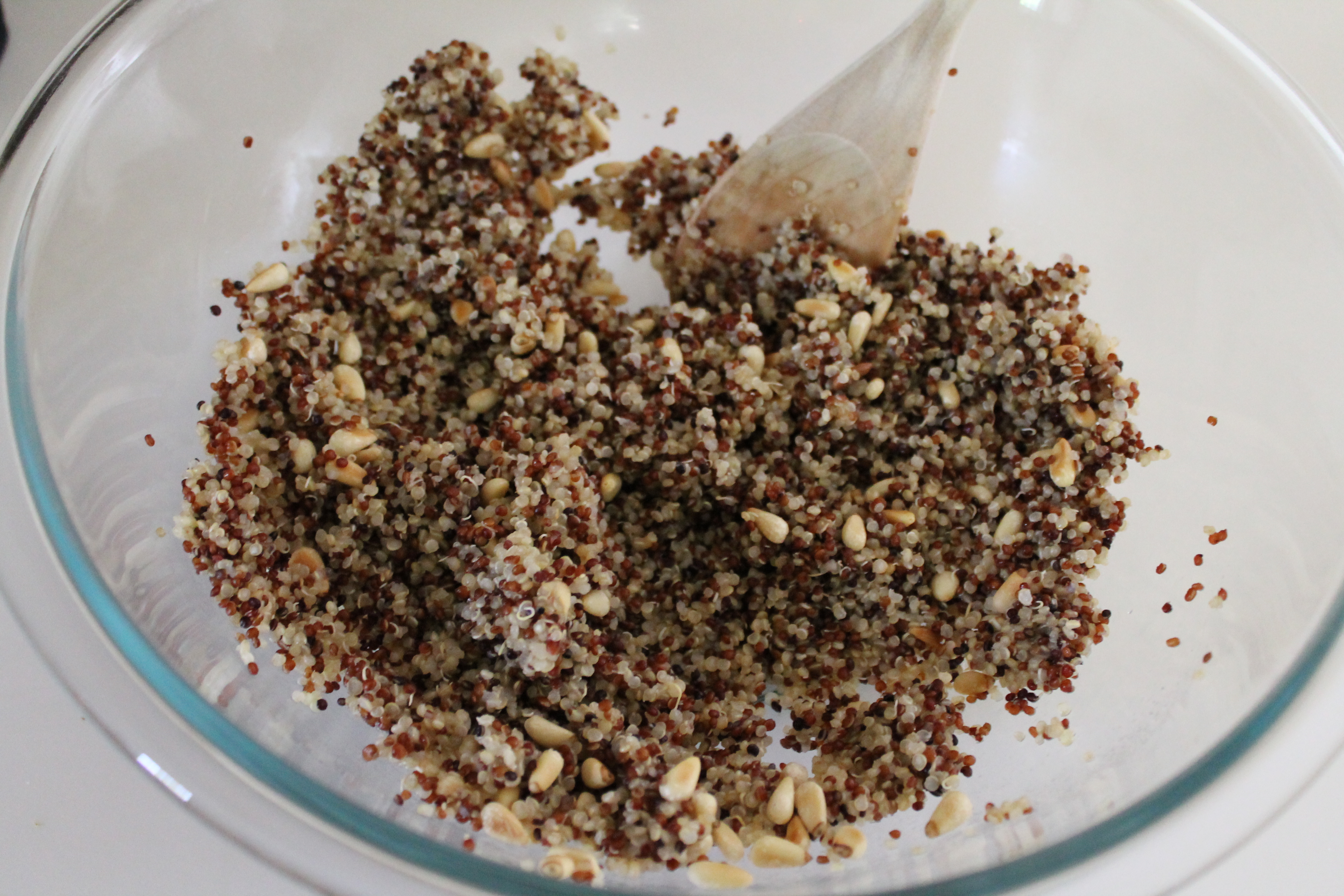 Meanwhile, cook the quinoa. We used pretty tri-color quinoa. (Don't worry, I rinsed it better than last time.)
Also, lightly toast some pine nuts on the stovetop. As soon as they are browned on one side, immediately remove them from the heat so they don't char.
Toss the pine nuts into the quinoa.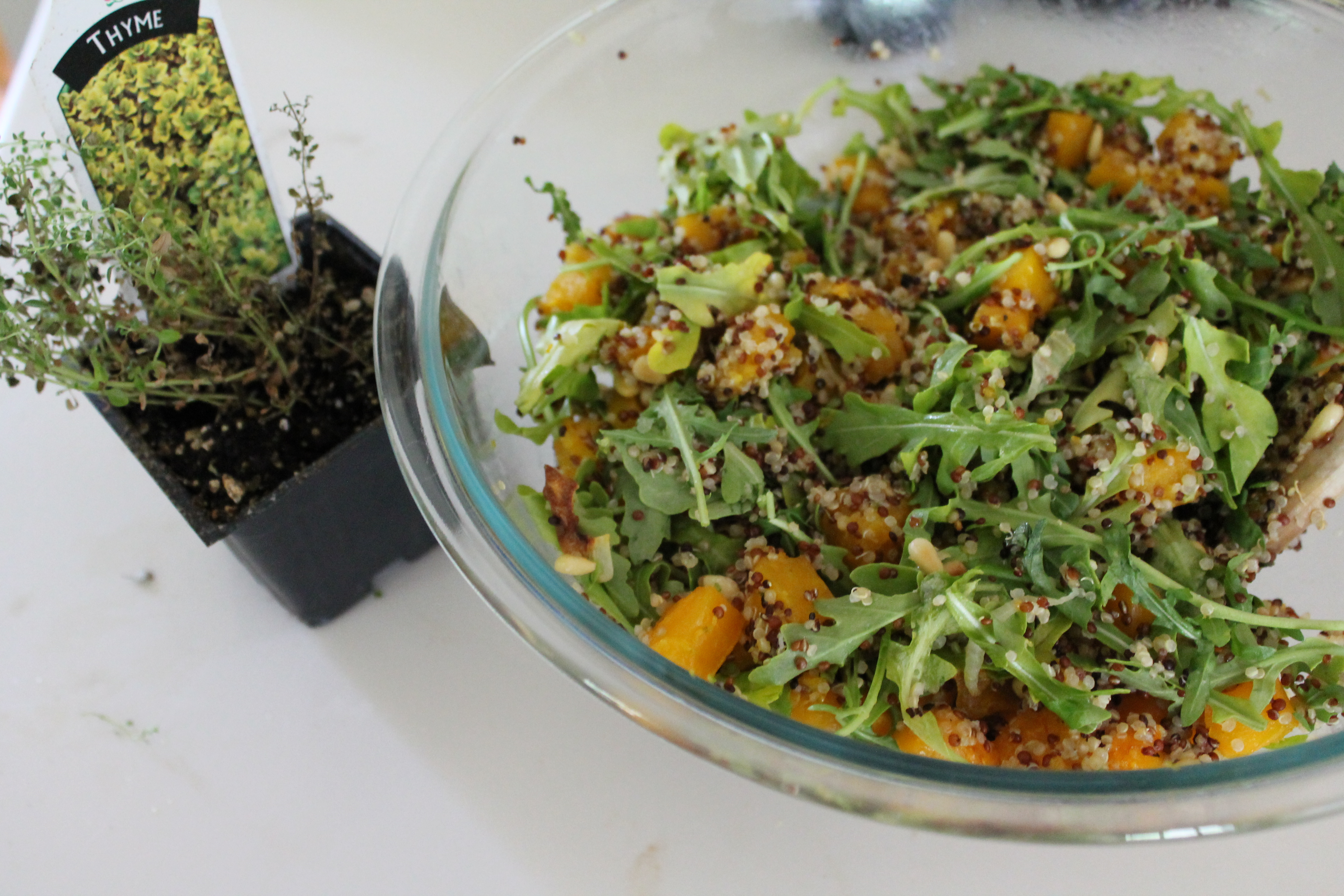 Stir arugula and roasted veggies into the quinoa with 1 tsp. fresh thyme. Yum.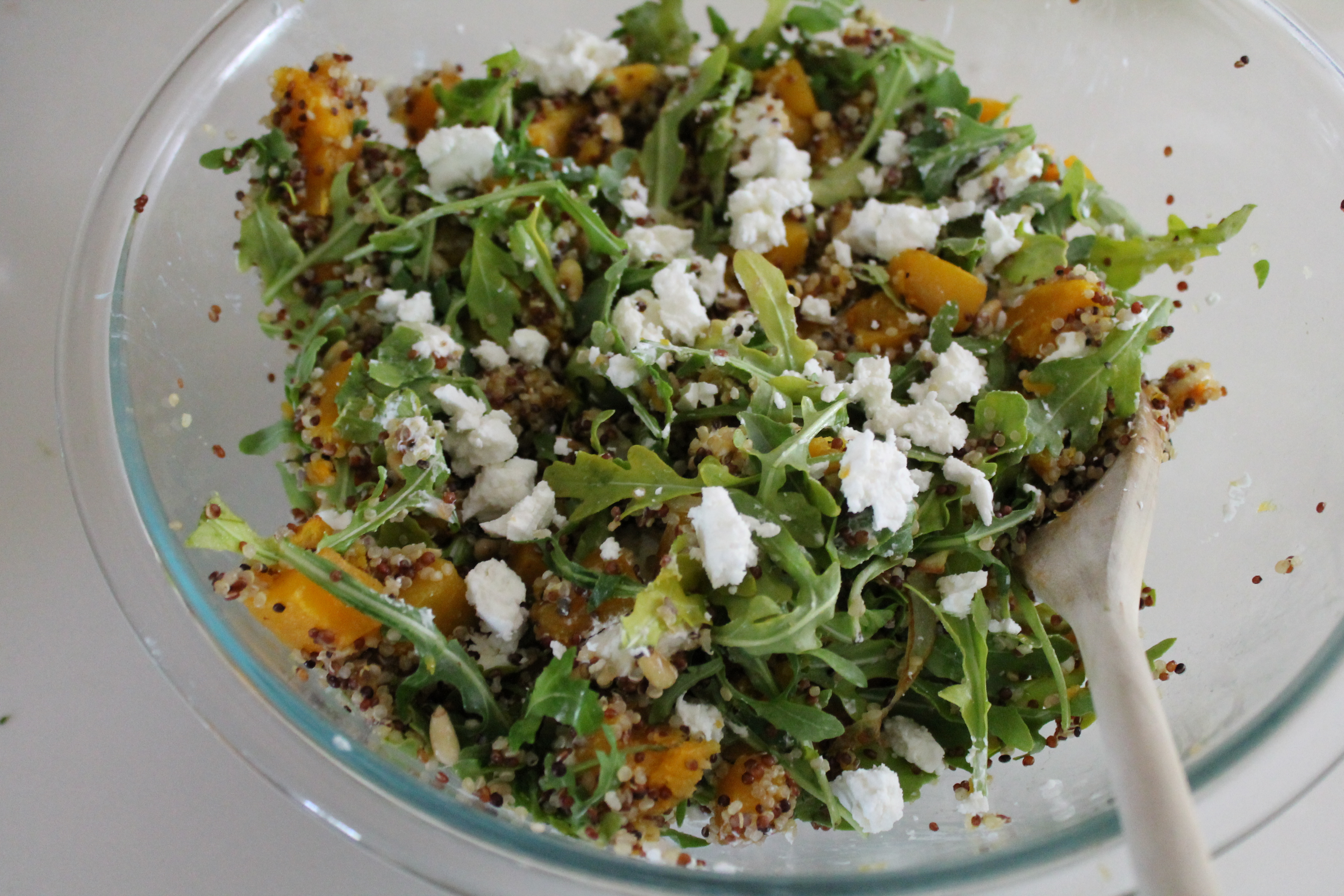 Add in large crumbles of goat cheese. Lick your fingers. It's okay. Everybody does it.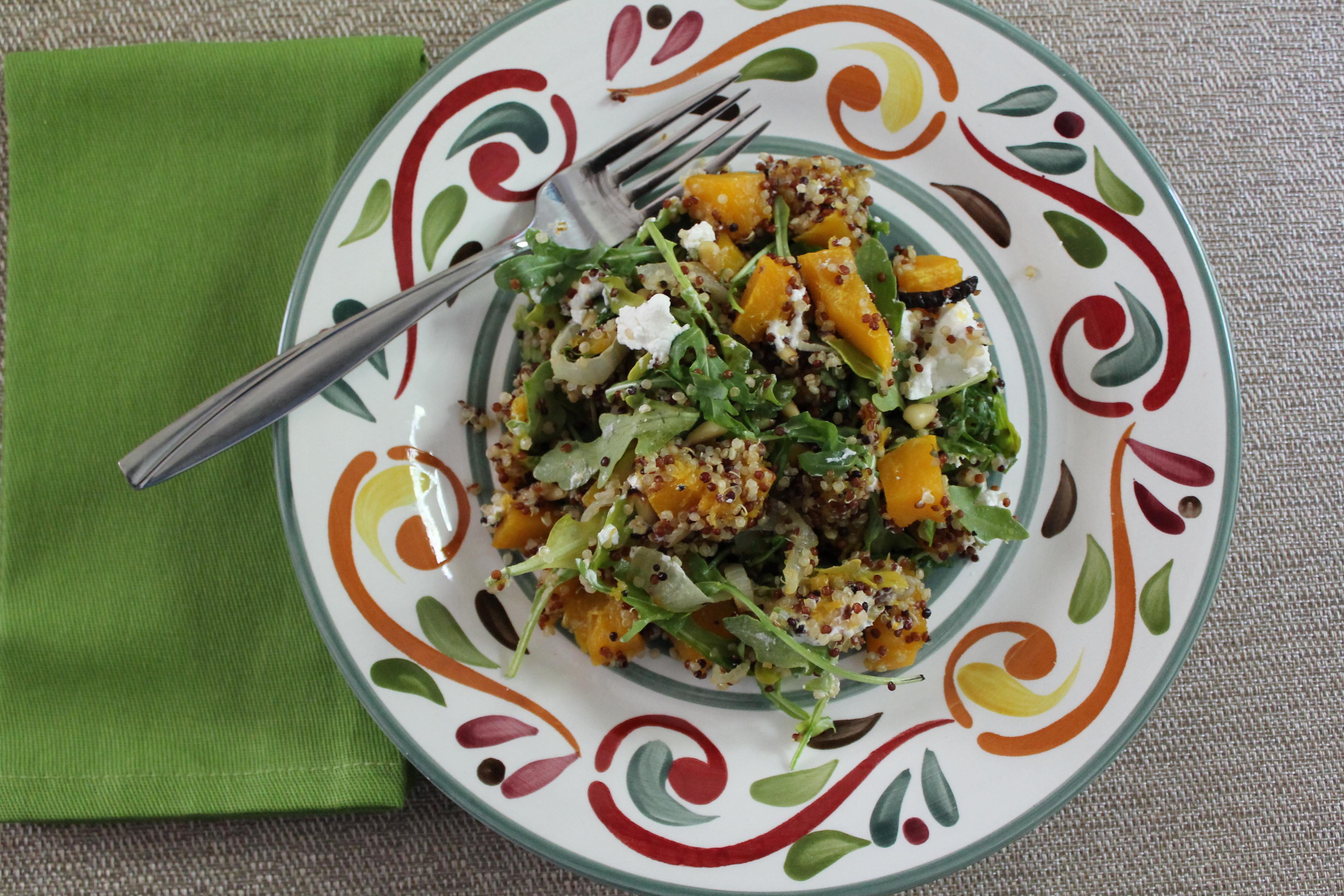 Aaaand eat lunch in large quantities.
Butternut and Arugula Quinoa
a Melissa and Sarah original
serves 4
Ingredients:
1 1lb. butternut squash, peeled, seeded, and cut into ½″ cubes
1 small sweet onion, sliced in half-moons
1 tbsp. olive oil
salt and black pepper
1 cup dry quinoa
2 cups water
⅓ cup pine nuts, toasted
1 tsp. fresh thyme
2 packed cups baby arugula
4 oz. chèvre, crumbled
Directions:
Preheat oven to 375°.
Toss the squash and onion in olive oil. Season lightly with salt and pepper. Spread the veggies in a single layer on a rimmed cookie sheet. Roast for 25–30 minutes, turning the veggies over halfway through. When the squash is tender, remove from the oven.
Meanwhile, combine the quinoa and water in a medium saucepan. Bring to a boil. Cook, stirring frequently, over medium heat, until the water is absorbed and the curlicues pop out.
Stir the pine nuts, roasted veggies, thyme, arugula, and chèvre into the quinoa. Serve warm.
Enjoy!
One year ago: Broccoli Cheddar Soup
Two years ago: Pumpkin Swirl Brownies