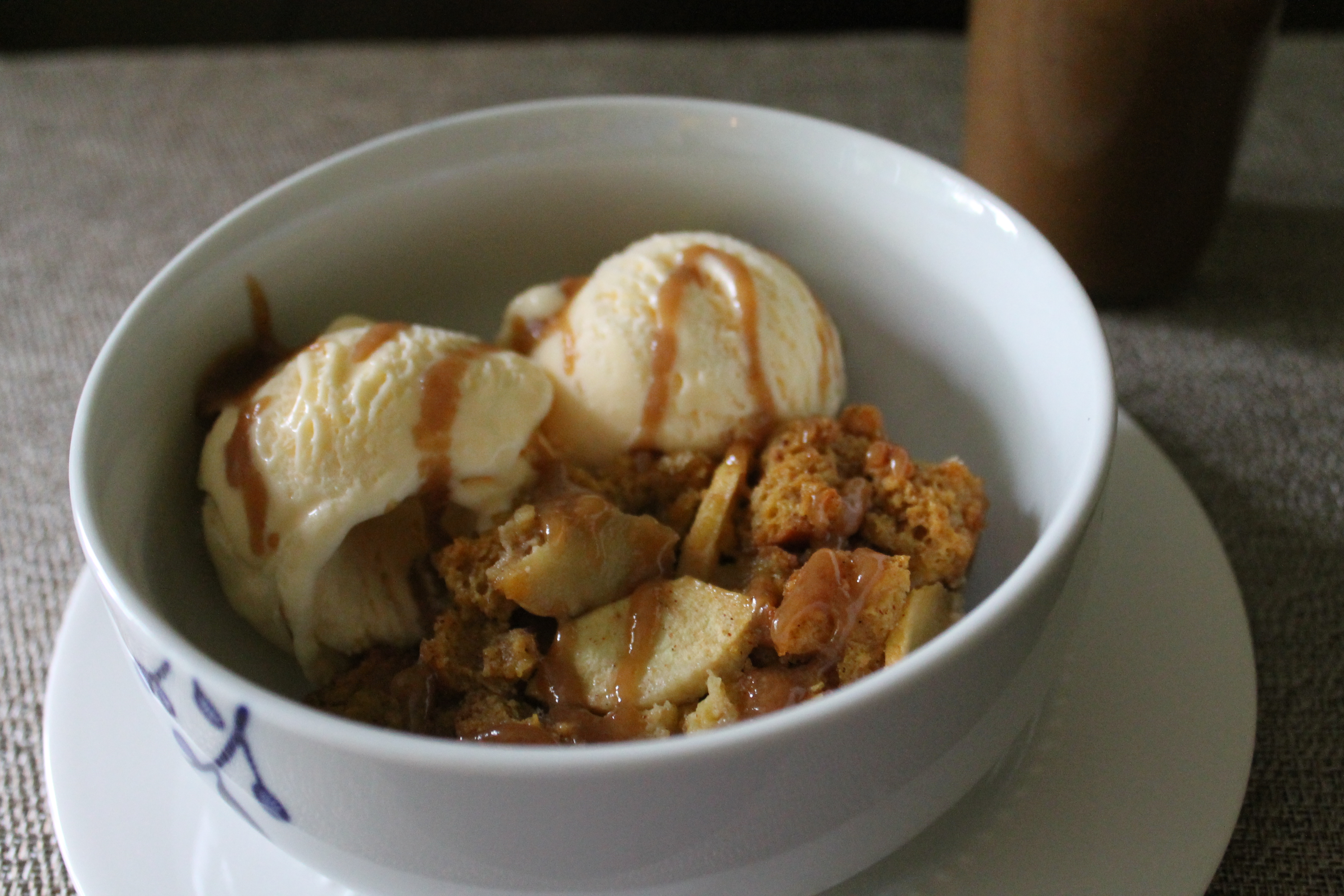 Folks…this recipe and I did not play nicely together.
Truly, it wasn't the recipe's fault! (And don't stop reading, because this bread pudding is extremely delicious, I promise, and I will eventually tell you about it!)
I think I may have lost my mojo or something. For weeks now, almost everything I lay my hands on has turned out a little…off. I have mandolined myself and microplaned myself (ouch)…I have baked and rebaked (is that a word?) countless times. Honestly. I am a disaster.
And true to form, my husband generally takes one bite of my awkward dishes and proclaims that he likes them better this way than however they were supposed to turn out. No, he is not just saying that to be nice. He actually does like things better when they are a little wacky. It's perverse. It makes it hard to evaluate whether something new was actually successful.
Take this bread pudding, for example, which I found when I was trolling through Bizzy Bakes for an SRC recipe this month.
It was so cool to me that Bizzy made a gluten- and dairy-free bread pudding. Way to push boundaries! My mom follows a wheat-free, dairy-free diet, so I especially appreciate finding recipes that would work for her. But…I also like to save my more expensive alternative flours and non-dairy milks for times when she will be around to enjoy dessert with me, so I knew right off the bat that I would be changing things up a little.
I thought I would be all cool and snazz the bread pudding up by adding pumpkin and using only egg yolks and baking in a bain marie. Ha. Ha. Ha.
By the time my Bible study group showed up, I was still panicking about how the top of my "pudding" was crispy (erm, not enough custard) and the bottom was soupy (sooooo didn't need a water bath for this). But they literally gobbled it up. I mean…one guy liked it so much, he was batting people away from the dish, trying to keep more for himself. And, of course, Dave said he liked it better than a real bread pudding.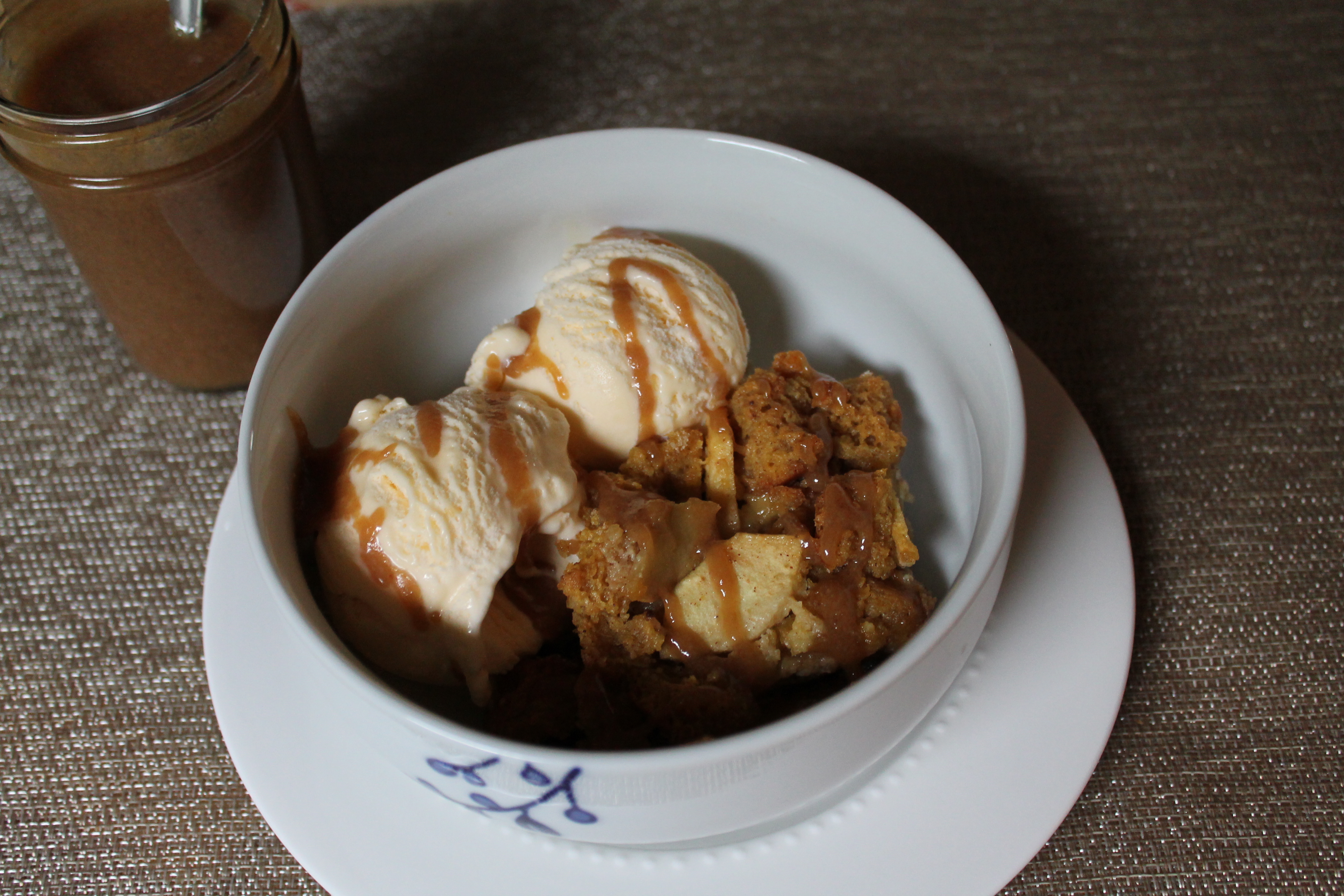 So let's talk about take two, which—unlike that first, bumbling attempt—actually resulted in a proper (and sooooo yummy) bread pudding!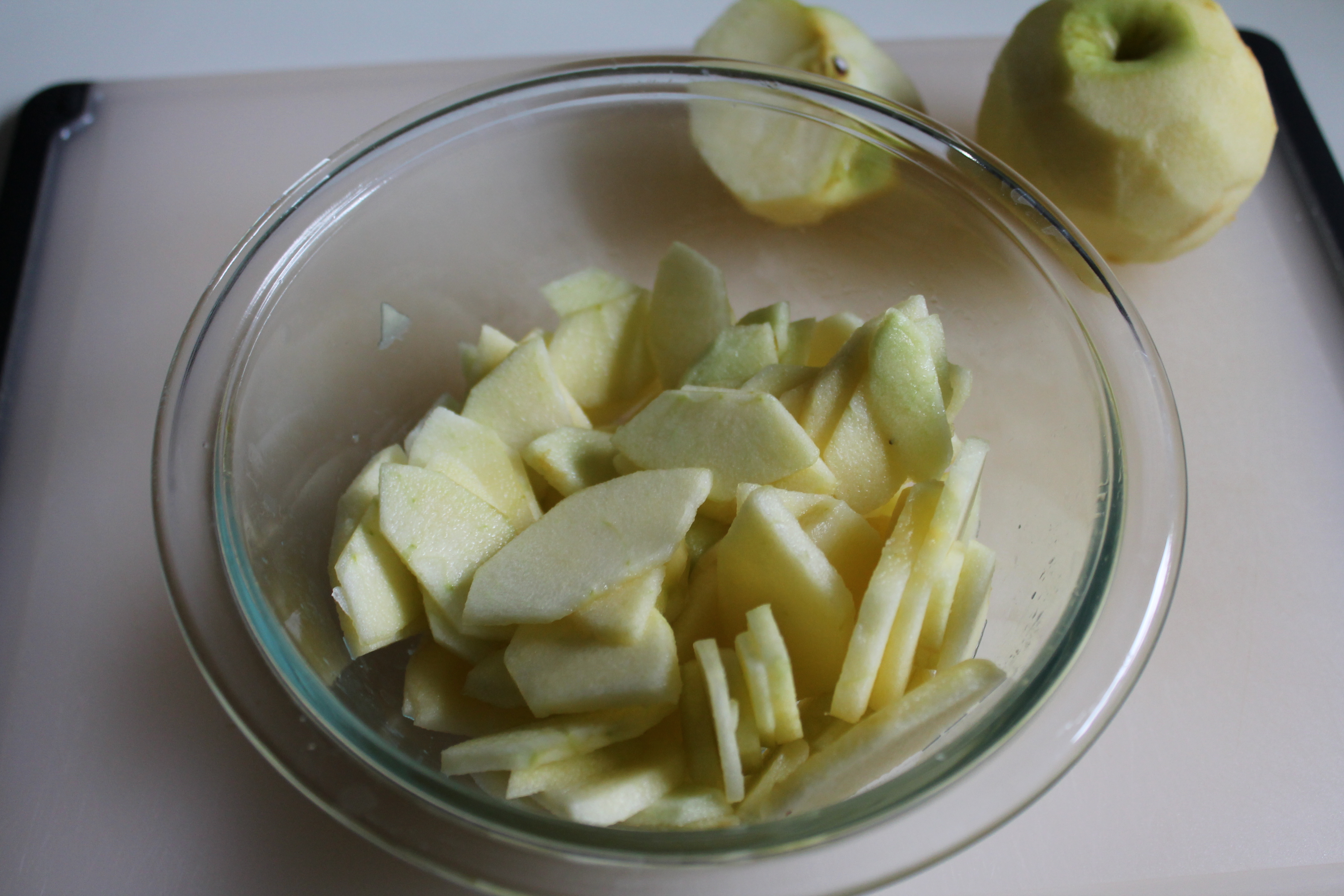 I used CSA apples! We got lots of them this week, but all you really need for this dessert is two small apples. (Please don't try to overload your pudding with extra apples…there's juuust enough custard to go around.)
Peel them and cut them into quarters. Trim away the core, then slice thinly. If you aren't ready to use them right away, then toss with a little lemon juice, cover, and stick the sliced apples in the fridge!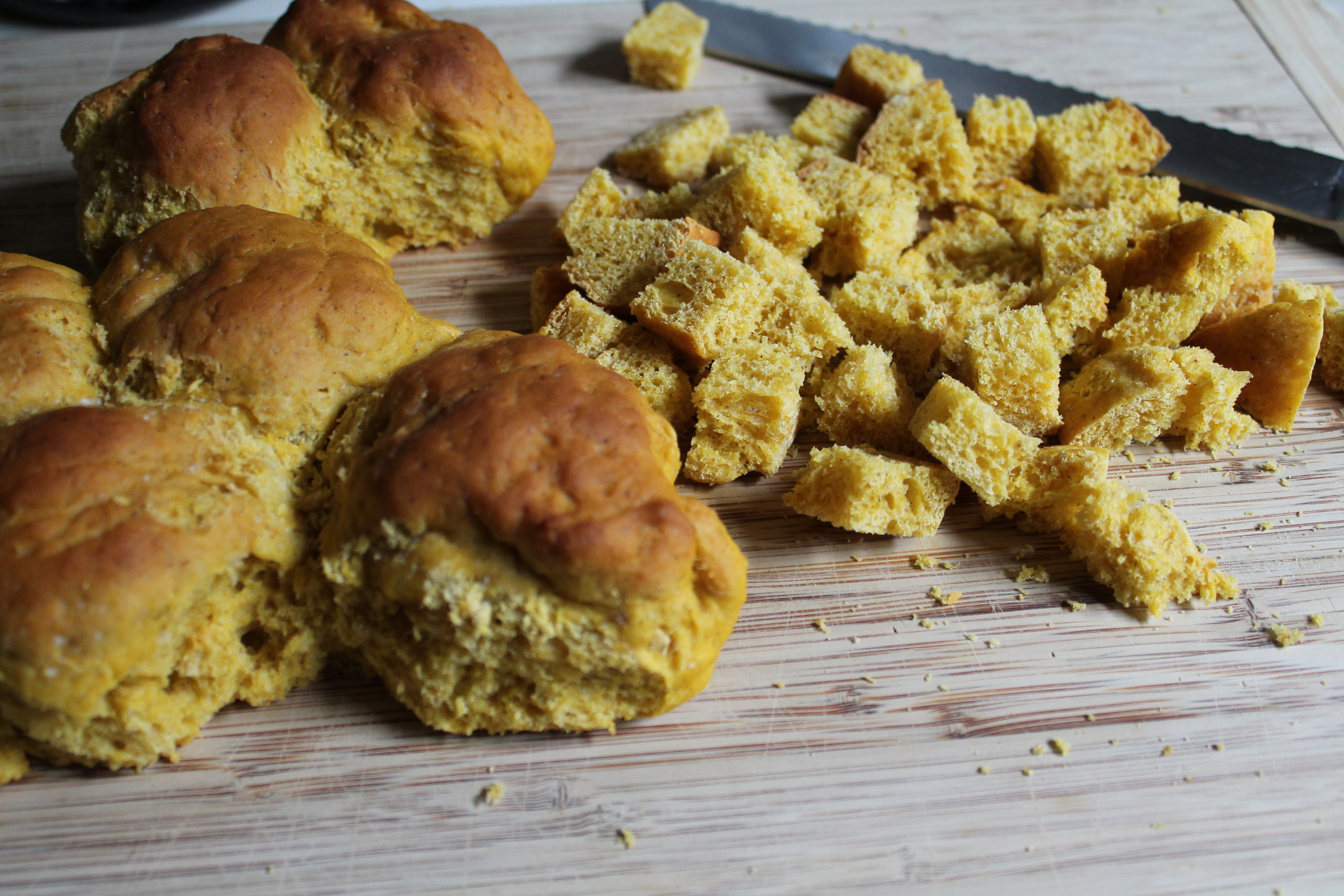 Grab several of Mrs. Smith's Pumpkin Yeast Rolls. I used about 9, I think. Cut them into cubes and lay them flat on a cookie sheet. You could use a different bread, of course, but then your bread pudding will just be appley and not pumpkiny. I recommend using a yeast bread to make bread pudding, but if you really want to make it rich, you could go for a pumpkin quickbread instead.
Toast the bread cubes in the oven. I left mine in for 3 minutes at a time, then shook the pan to turn some of the cubes. The goal is not to dry them out completely, just to give them a little bit of a crisp on the edges. The insides should still be soft enough that you could squash the cubes if you want.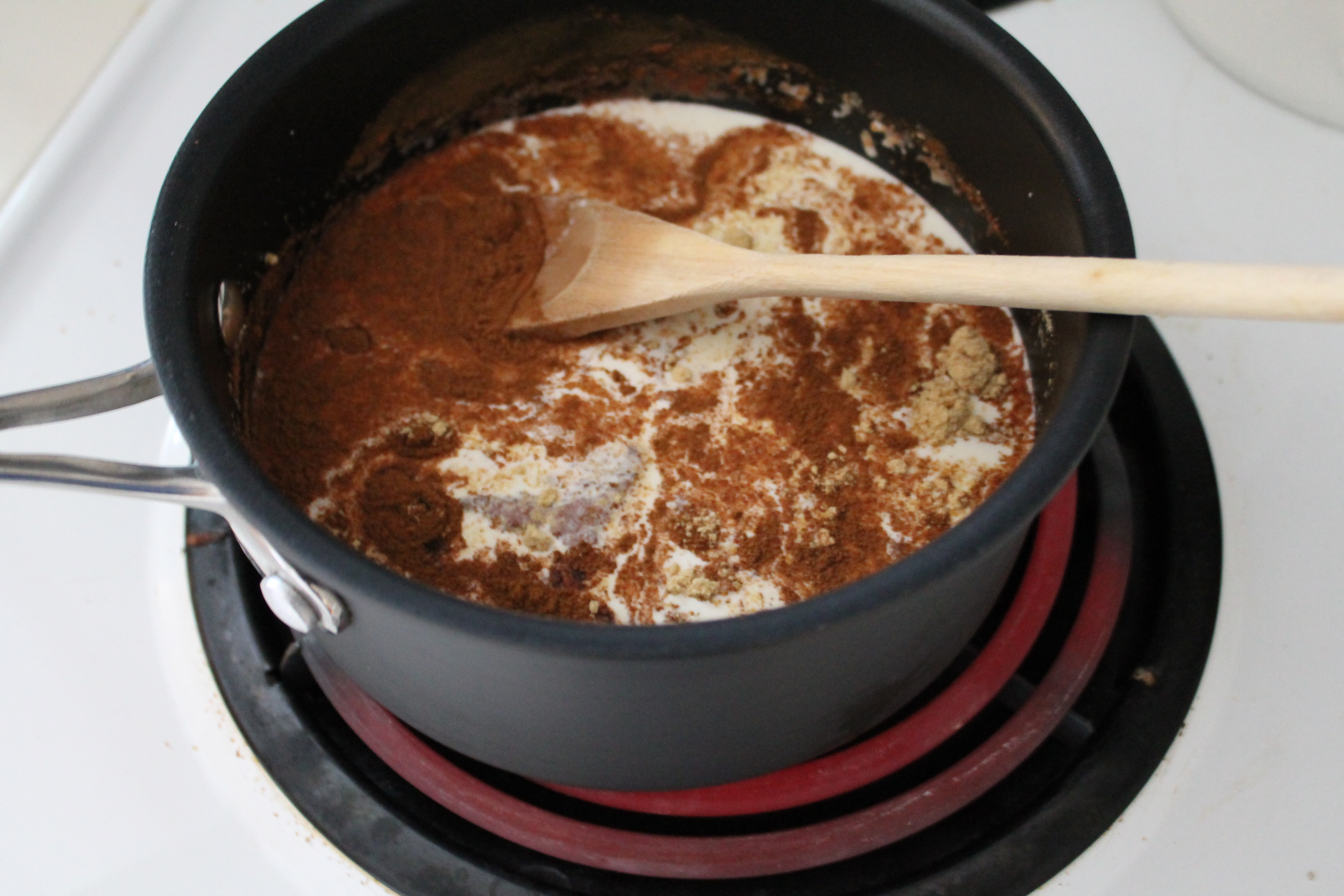 While the bread cubes are toasting, make the custard. Whisk together cream, sugar, butter, vanilla, and spices over medium heat. You could use whole milk instead of cream if you want to keep it a little lighter, but really…shouldn't dessert be decadent? If you do decide to go with milk, you may want to increase the butter to 4 tbsp. The added fat will help the custard thicken as it bakes.
Just in case you didn't have any pumpkin bread lying around…one way you could infuse your bread pudding with pumpkin would be to substitute 1 cup pumpkin for 1 cup cream! But keep in mind that this will affect the consistency of your custard.
When the cream mixture is lightly bubbling, slowly drizzle it into the eggs, whisking constantly (but not furiously, just enough to keep the eggs moving while you temper them).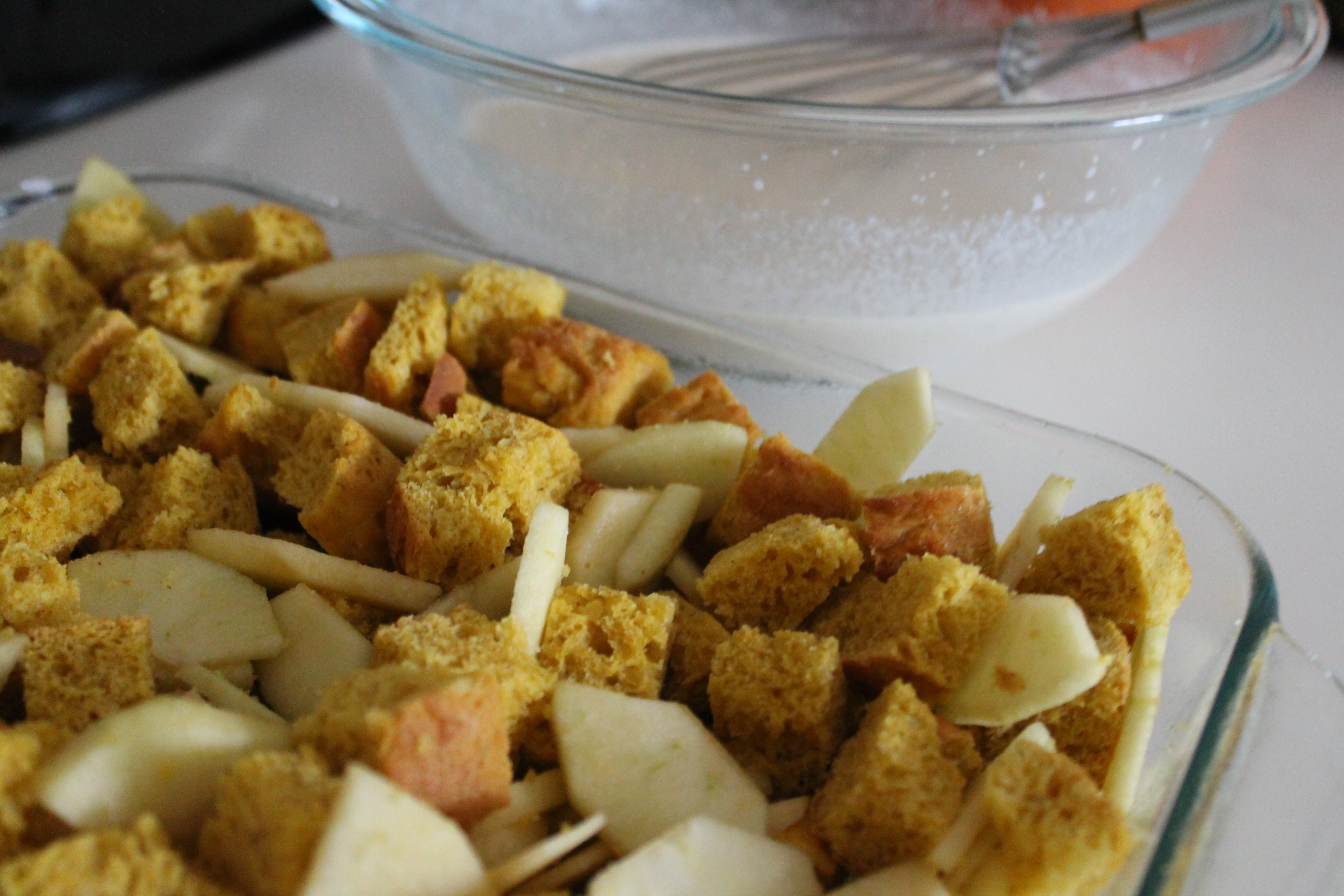 Now, toss your pumpkin bread cubes and the sliced apples together and arrange them in a 7″x11″ baking dish. Yes, a small dish. If you don't have such a dish, aim for a 9″ square pan, which is close in terms of volume. If you would prefer to make your bread pudding in an enormous dish, then you are outta luck.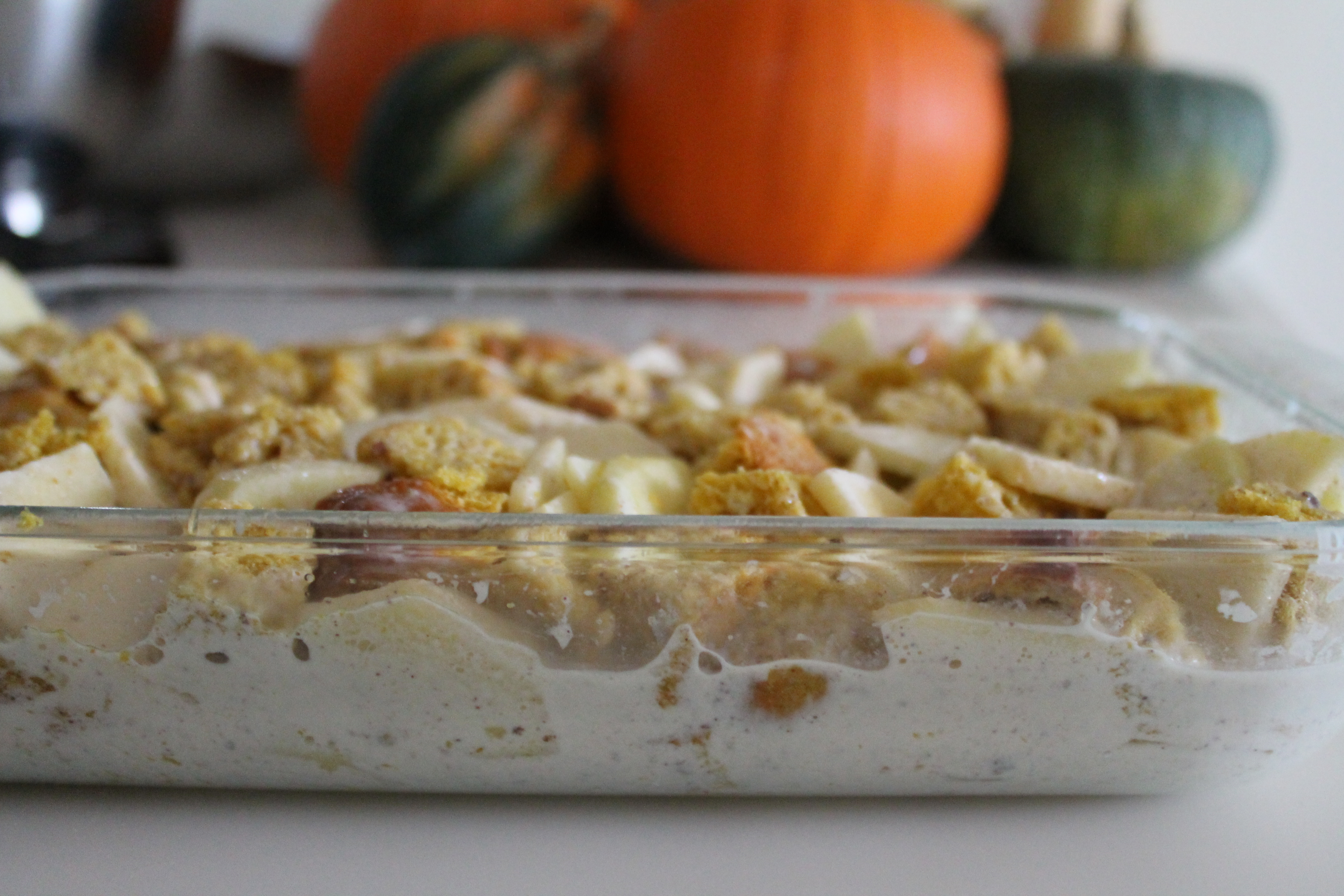 Pour the custard over the bread. Press the bread down to make sure every piece has been soaked. Let the mixture sit on the counter for 10 minutes to continue soaking.
Um…okay. Here's the last half of my kitchen-fail sob story. So you know how your hands are covered in custard batter because you just smushed them into your bread pudding? Well, of course, you lick your hand. Wait. You don't do that? It's just me? Okay well…embarassing. But you'll thank me later. Because as I licked the custard off my fingers, I realized that I hadn't put any sugar in it.
*Hangs head in shame.*
It's okay. I dumped my prettily arranged bread pudding, which was merrily becoming soggy like it was meant to, back into a large bowl and stirred in the sugar. So my lovely, crisp bread cubes crumbled into mush. And my sugar wasn't as well mixed in as it should have been.
But you know what? The bread pudding still tasted great!
Stuff it into the oven. Thank goodness. Bake at 350° for 40 minutes, until the custard is set but still slightly jiggly in the center.
Cool at least 30 minutes.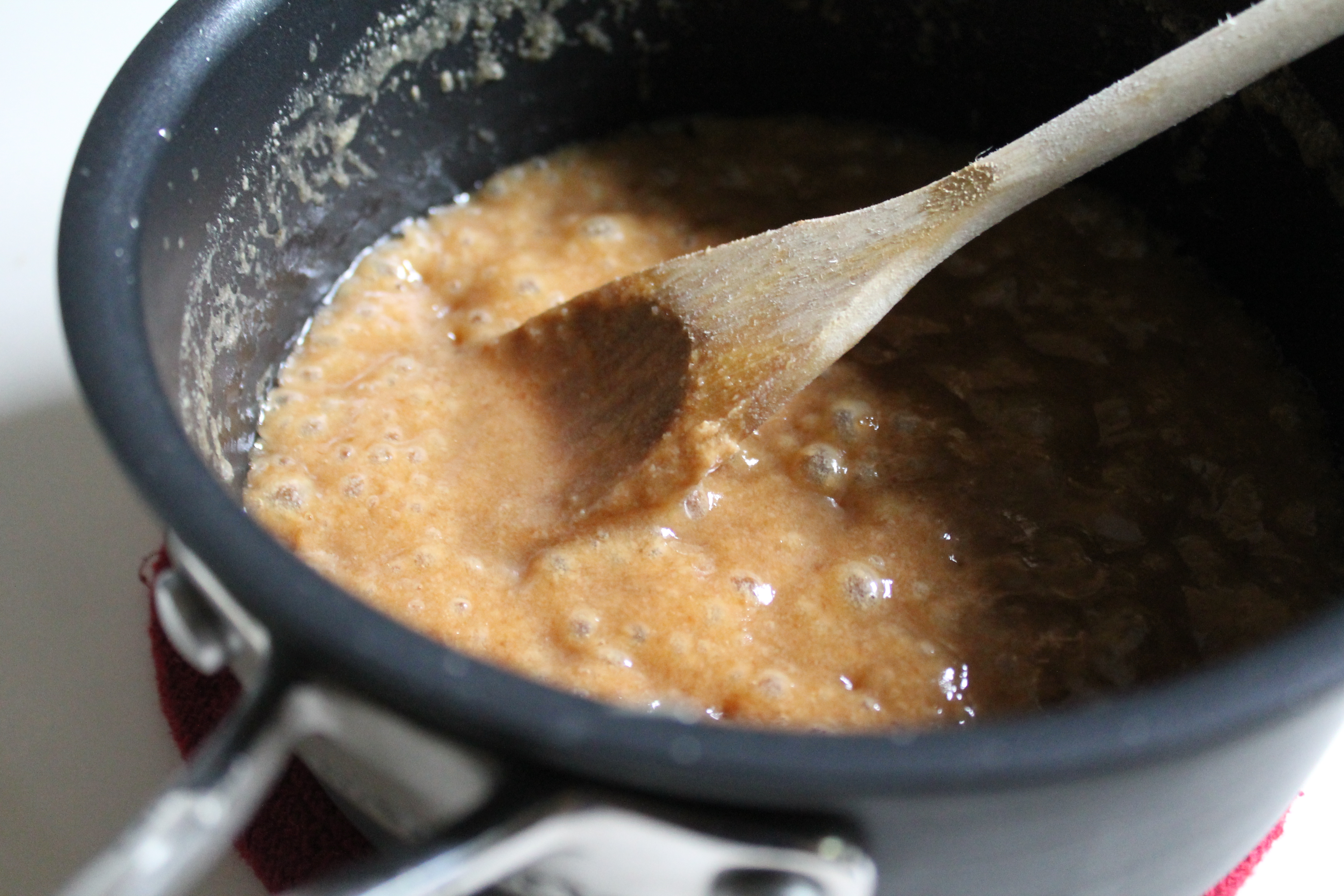 Meanwhile, whip up a quick caramel sauce! (Okay, stay with me now. It's not that hard!)
Combine brown sugar, butter, half-and-half (or cream or whole milk), and vanilla in a medium saucepan. I used some apple butter in mine! It came out perfect, with a hint of apple spice, and it went so well with the bread pudding!
Cook your caramel until it bubbles and begins to thicken. This took me about 6 minutes. Remove it from the heat and let it cool at least 10 minutes before eating. Be careful! Hot caramel is no joke. You can store it in a glass jar in the fridge; it will cool to a solid bu scoopable state.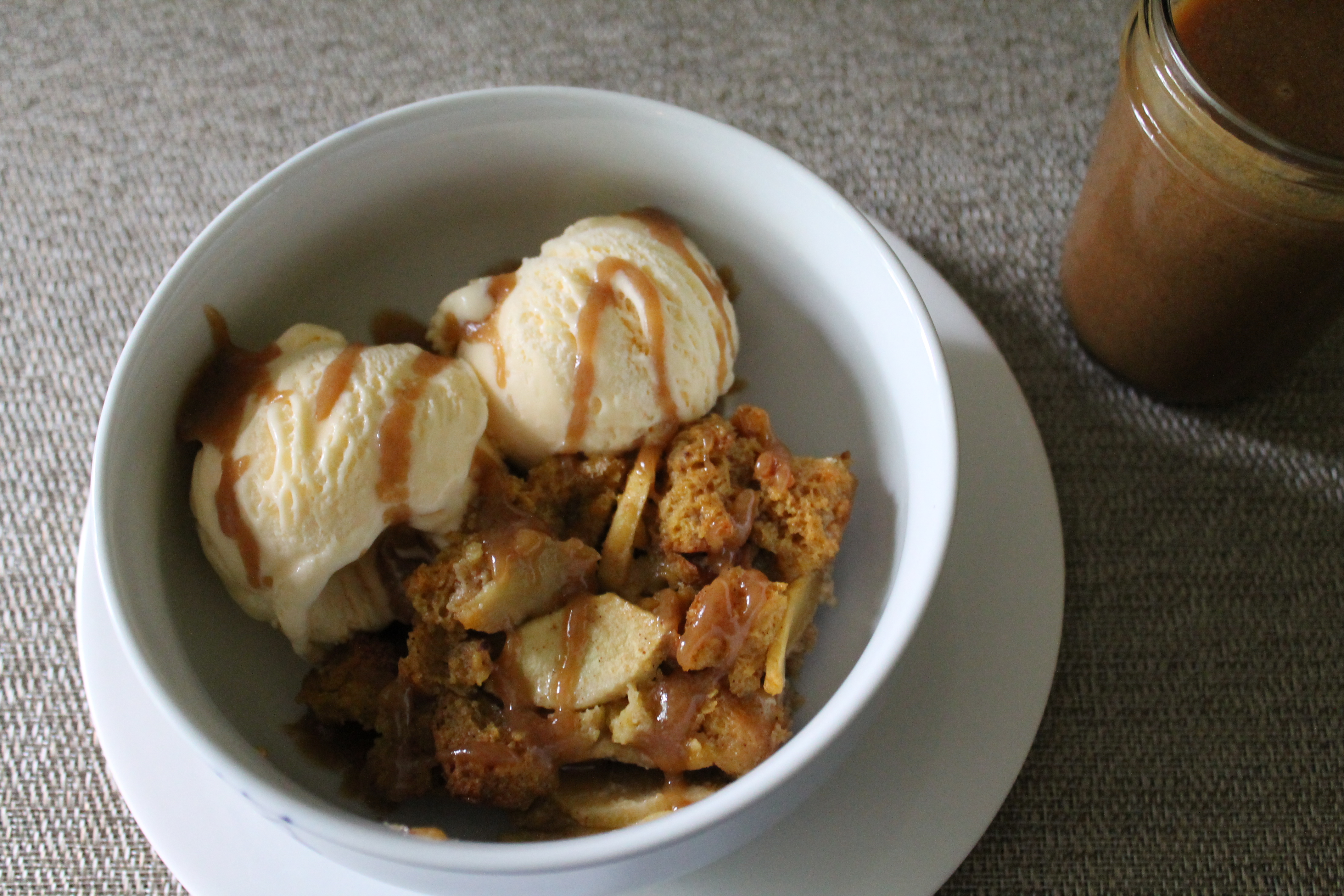 Serve your bread pudding with a hearty scoop of vanilla ice cream and a drizzle of your apple butter caramel.
Pumpkin-Apple Bread Pudding
adapted from Allrecipes via Bizzy Bakes
serves 8
Pudding Ingredients:
4 cups Mrs. Smith's Pumpkin Bread cubes
1 cup brown sugar
2 cups heavy cream
2 tbsp. butter
1 tsp. cinnamon
½ tsp. ginger
½ tsp. vanilla extract
3 eggs
2 small Granny Smith apples, peeled and sliced thin
Apple Butter Caramel Ingredients:
½ cup brown sugar
½ cup half-and-half
6 tbsp. butter
2 tbsp. apple butter*
½ tsp. vanilla extract
Directions:
Preheat oven to 350°. Lightly oil or butter a 7ʺx11ʺ baking dish.
Spread the pumpkin bread cubes in a single layer on a cookie sheet. Toast in the oven 3–5 minutes, until edges are lightly crisp but the bread isn't completely dried out.
Meanwhile, combine the brown sugar, cream, butter, spices, and vanilla in a small saucepan. Bring to a simmer.
In a separate bowl, whisk the eggs together.
When the sugar mixture is lightly simmering, slowly whisk it into the eggs. The liquid should be slightly thick and even, with no bits of cooked egg.
Toss the toasted bread cubes and the apples together and spread in an even layer in the prepared baking dish.
Pour the sweet custard mixture over the bread cubes. Press the surface down to ensure that all the pumpkin bread is moistened, then let soak for 10 minutes.
Transfer the dish to the oven and bake 40–45 minutes, until the custard is set at the edges and the center jiggles just slightly.
Cool at least 30 minutes.
Meanwhile, make the caramel sauce. Stir sugar, half-and-half, butter, apple butter, and vanilla together in a medium saucepan over high heat. When the mixture boils, continue to stir until it thickens, about 5 minutes. Remove from heat and let cool.
Serve the bread pudding with a scoop of vanilla ice cream, topped with apple butter caramel sauce.
*Note: Apple butter may be omitted, but consider adding a dash of cinnamon in its stead.
Enjoy!
One year ago: Broccoli Cheddar Soup
Two years ago: Boozy Mushroom Ragu