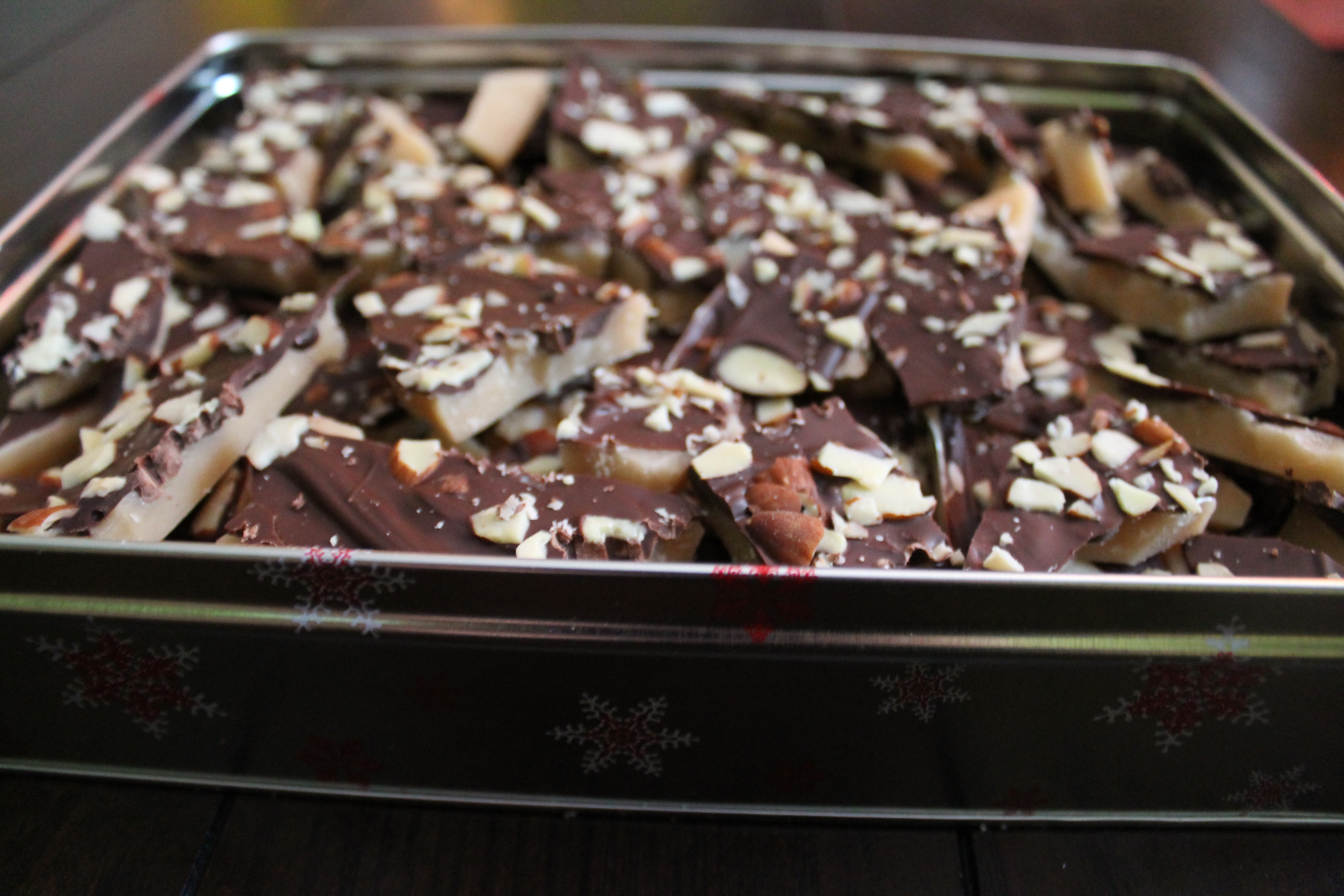 Guess what?
Toffee is possibly the easiest Christmas treat ever. And it's rather impressive, isn't it? At least, I think so.
(Warning: This candy does have enough sugar and butter to knock a week or two off the end of your life. But I think it's worth it this Christmas!)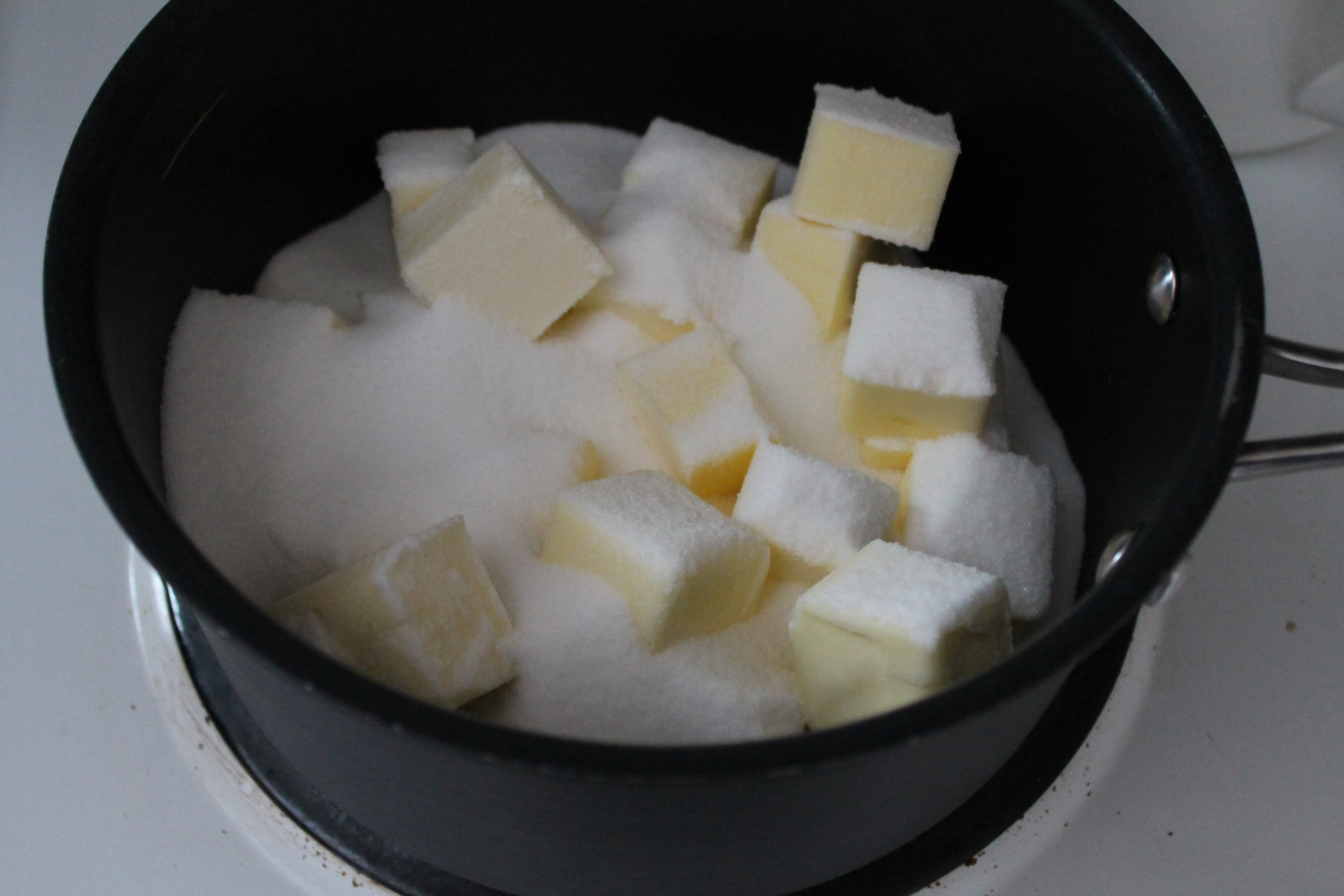 Toss and equal amount of salted butter and sugar into a large, heavy-bottomed saucepan over medium heat. (You could also use unsalted butter, but don't forget to add 1 tsp. salt to the mixture!)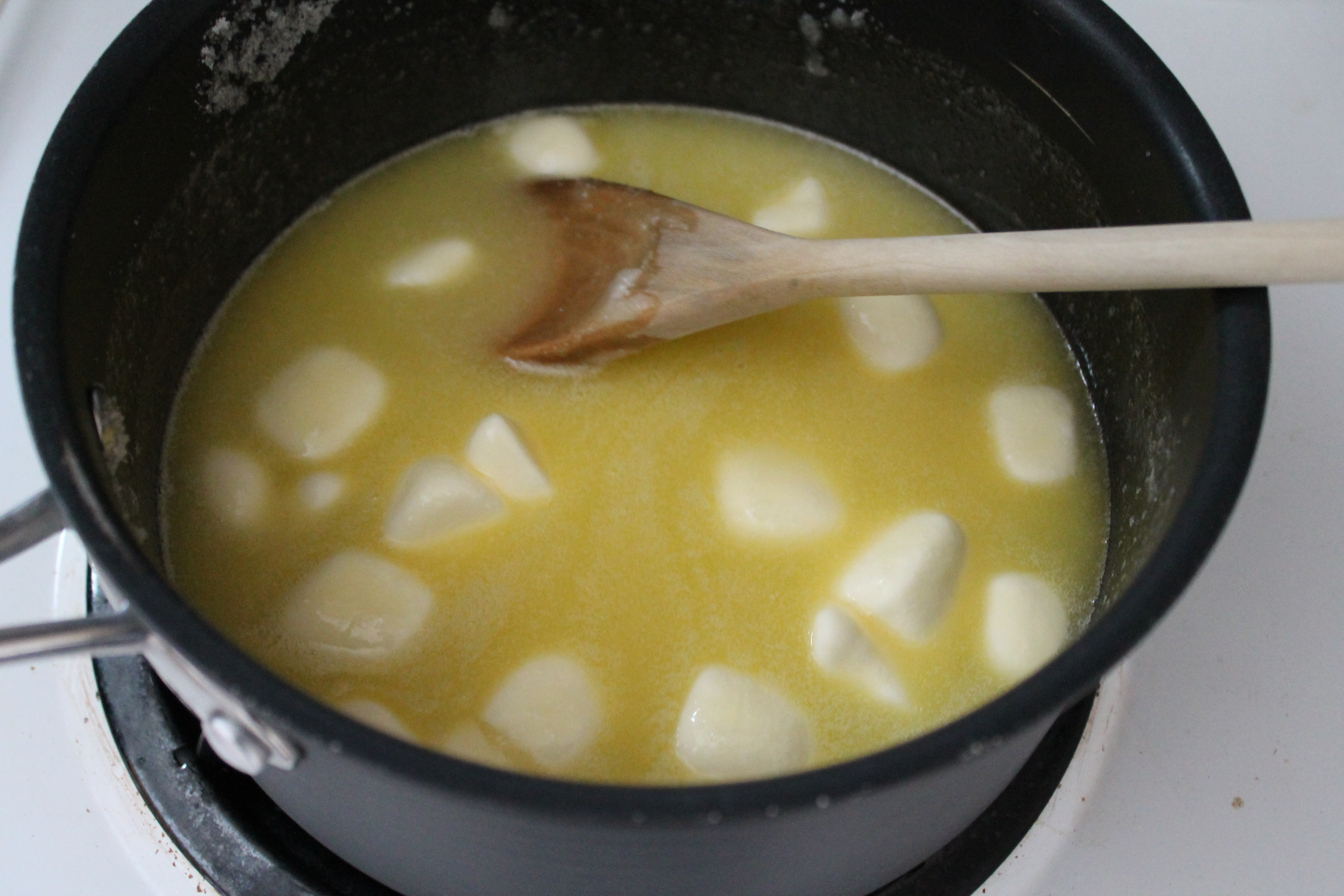 Stir until the butter melts. Don't stress if the butter is still swimming around on top of the sugar! They will come together, I promise.
Keep stirring.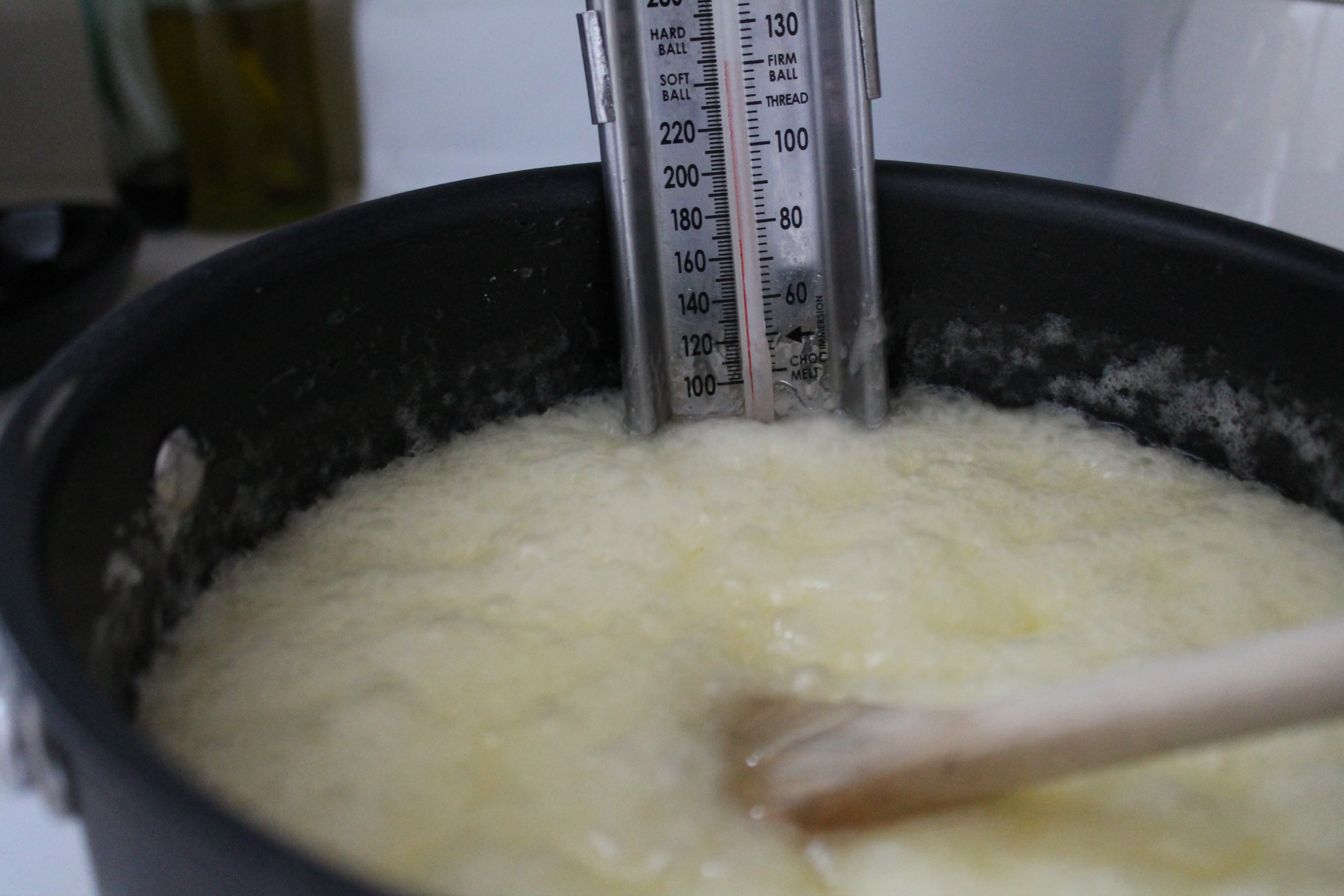 Ooh, the whole mixture is boiling! And it finally combined! Hooray!
Grab your candy thermometer and chunk it into the pan. Okay, actually, be careful…boiling sugar will never stop burning your skin if you splash it on you.
You want the candy thermometer to read 285°, or soft crack. This is so it will harden into toffee rather than lolling around as a squishy caramel, but it won't get so hard that you crack a tooth on it. No broken teeth for Christmas, please.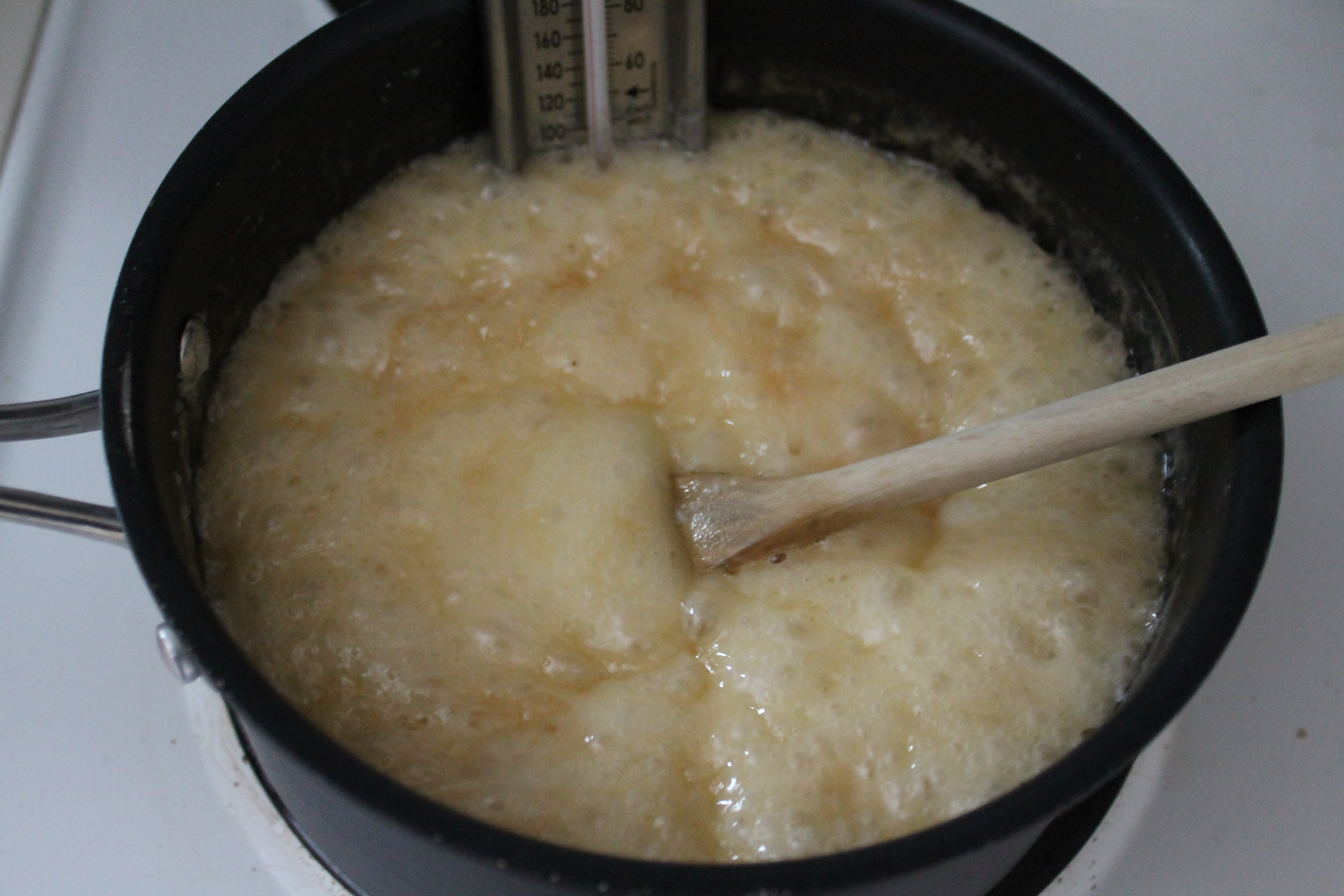 When the temperature reaches 285°, the toffee should be a nice, medium caramelly brown. (I had my temperature a little high this time, so the sugar didn't darken quite as much before it reached soft crack stage. No worries! Still delicious.)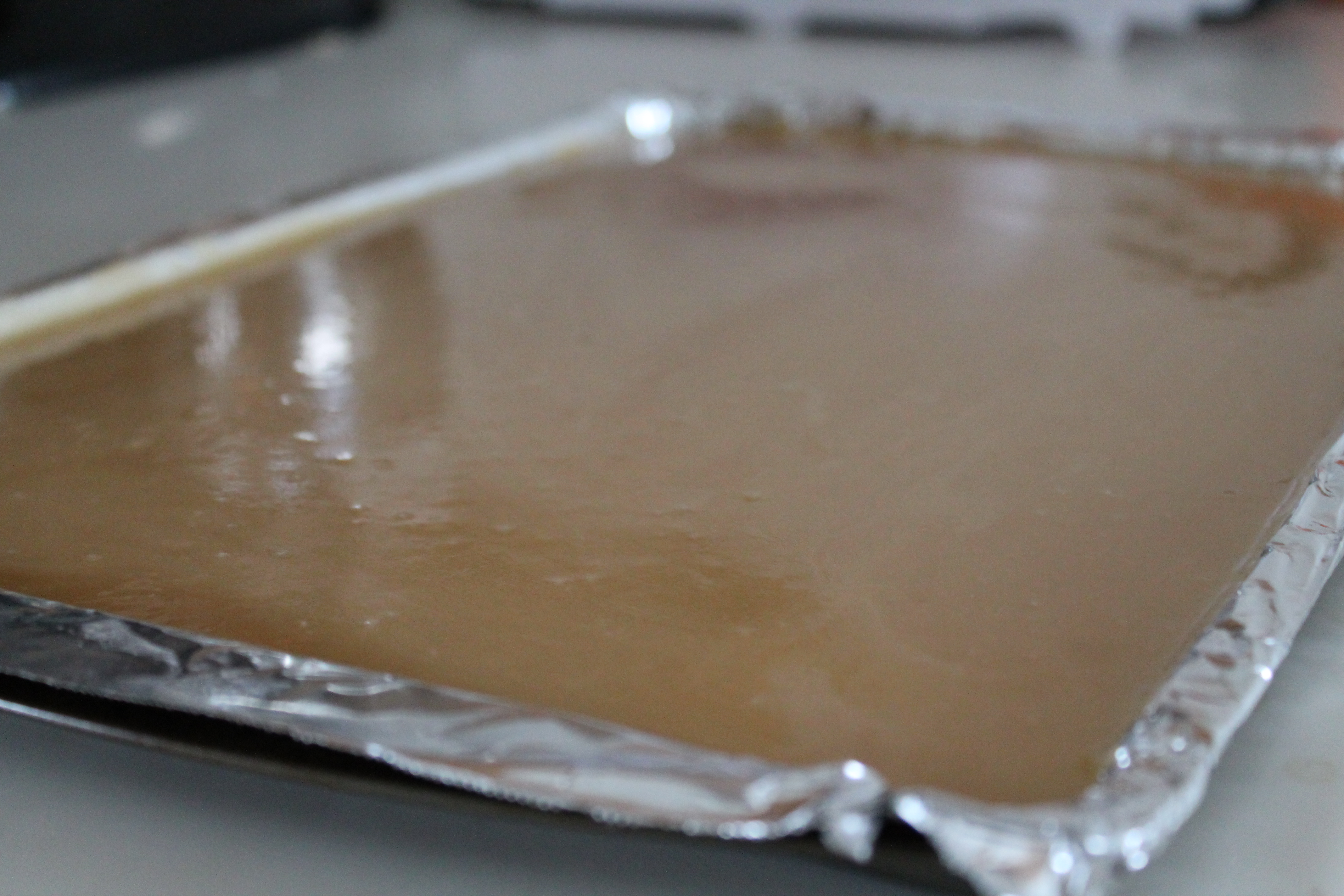 Immediately pour the still-bubbling toffee mixture into a foil-lined, rimmed cookie sheet. Using the same spoon you stirred with, spread it out until it covers the entire pan. While you work, the toffee should stop boiling and become smooth and a little thicker as it hardens.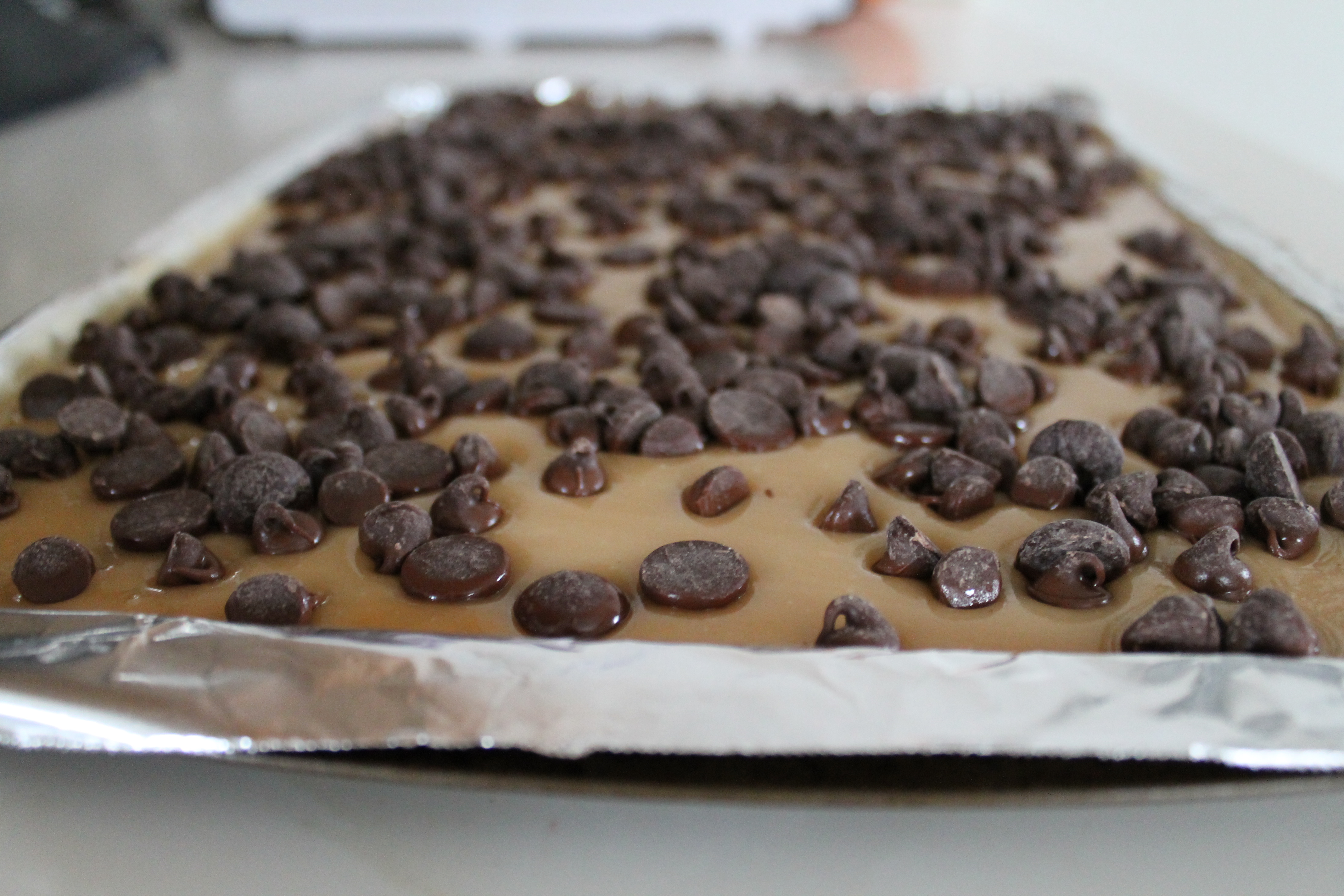 Drop an equal amount of chocolate chips (same as the sugar and butter) over the warm toffee. Let it sit for a minute or two so the heat of the toffee will melt the chocolate. Yes, the chips may make little dimples in the toffee. But that's not really a problem in the grand scheme of things, is it?
Grab a butter knife and spread the chocolate evenly over the top of the toffee.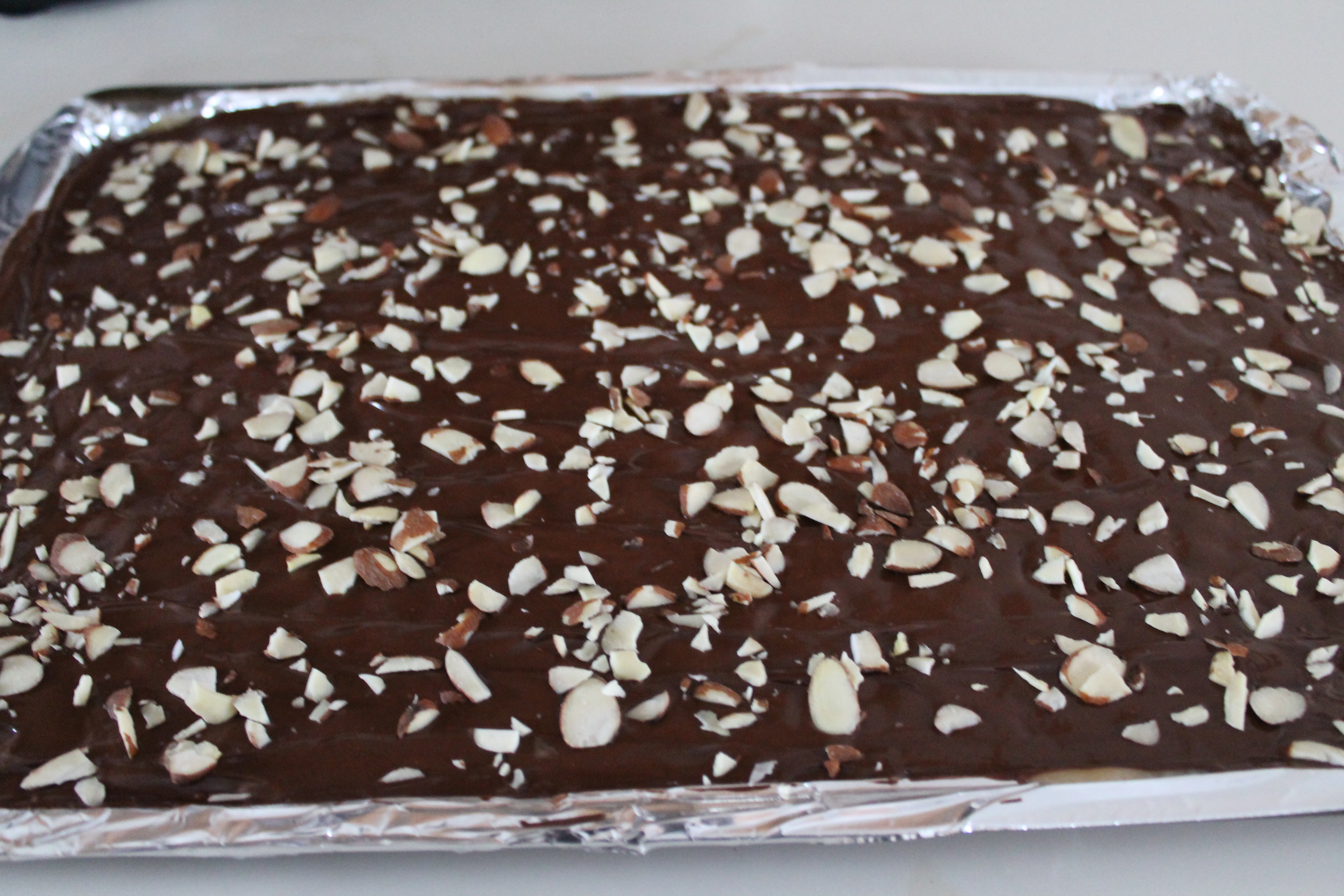 If you'd like, sprinkle some finely chopped almonds over the hot chocolate. Of course, you could substitute other finely chopped nuts, or perhaps even seeds if you are allergic to nuts, or you could leave this off all together (as my husband would prefer). I used sliced almonds and then chopped them down a bit further.
Place the whole shebang in the fridge for 1 hour to set.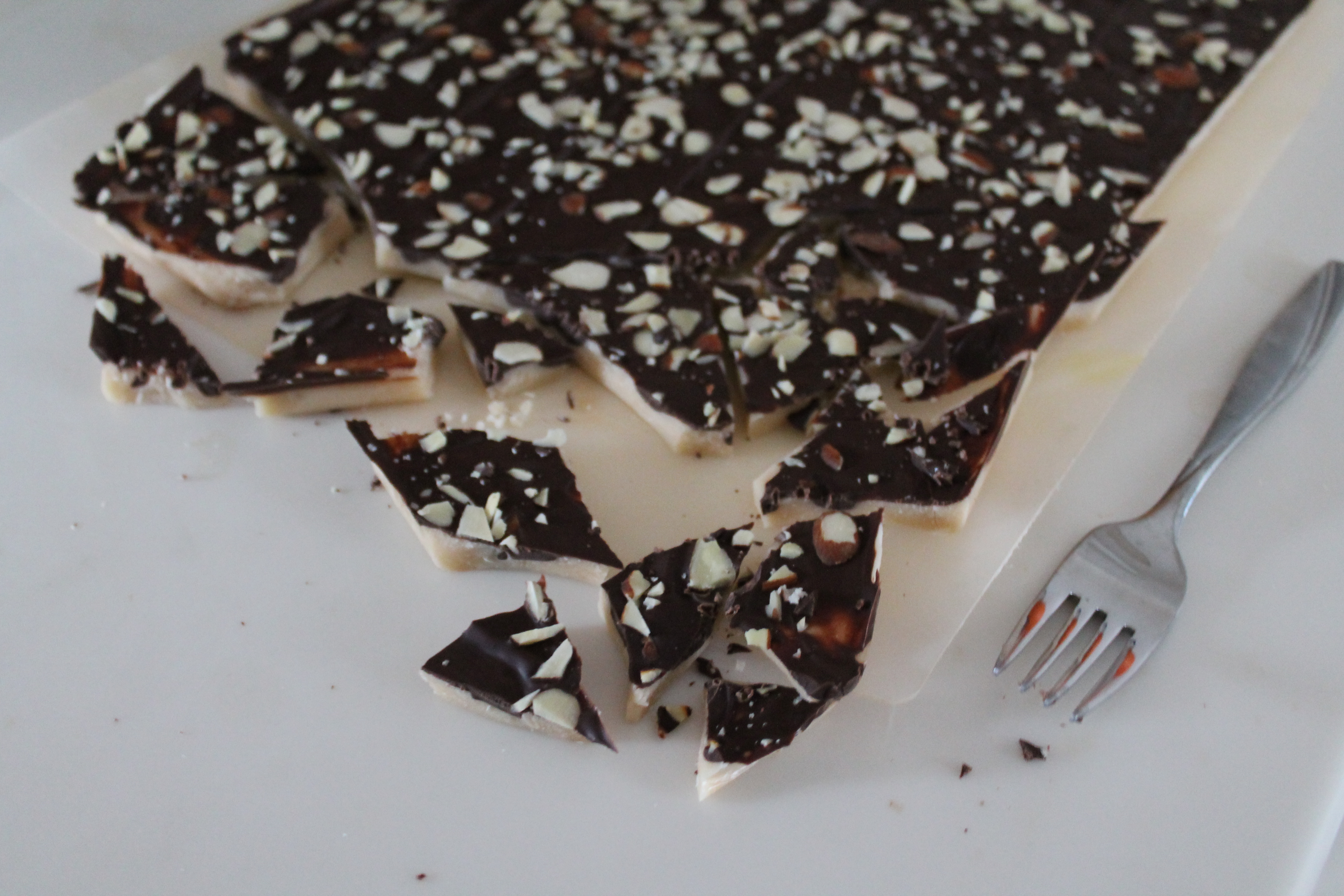 When you are ready, grab a fork and a hammer. Yes, a hammer. I mean, you could use a sharp knife and cut the toffee up, but really I think it's much more fun to chisel the toffee into manageable pieces. After all, we are actually aiming for uneven chunks rather than predictable squares.
You've chiseled things before, right?
Maybe not. But it's easy here! Just place the fork tines down against the toffee and whack the top end of the fork with the hammer. Try not to miss. The toffee should break apart into a few pieces near where you hit.
I started near the edges and worked my way across. I found that the edges, where the toffee was slightly thinner, were easier to chisel than the center, but I was able to finish the whole job in about 5 minutes. Easy peasy, and fun, too!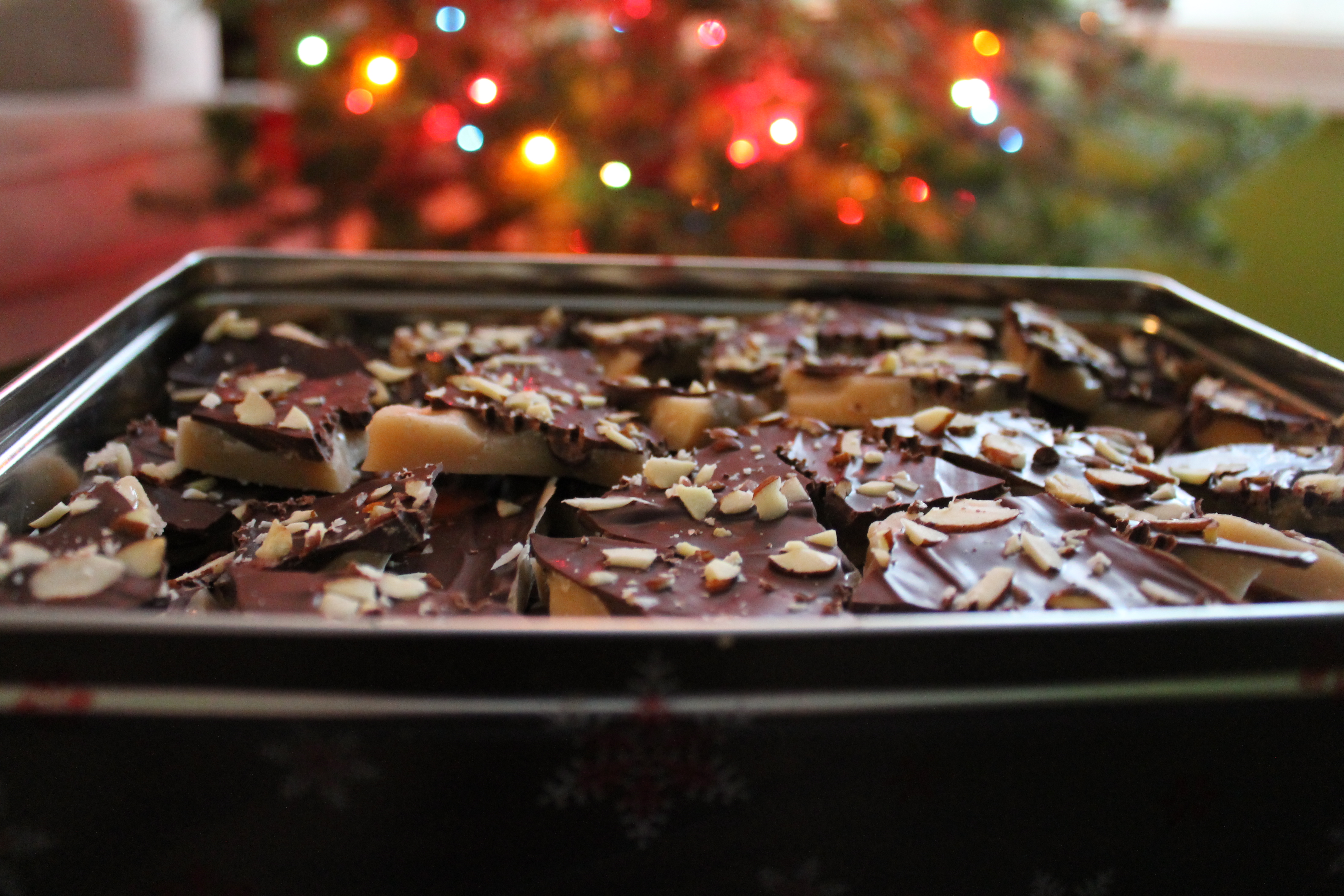 English Toffee
lightly adapted from Allrecipes.com
makes 2 lbs./serves 10–15
Ingredients:
2 cups salted butter
2 cups sugar
2 cups semisweet chocolate chips
½ cup chopped sliced almonds (optional)
Directions:
In a large, heavy saucepan, combine the butter, sugar, and salt. Cook over medium heat, stirring until the butter is melted. Allow to come to a boil, stirring occasionally. Cook until the mixture becomes a dark amber color and the temperature reaches 285°.
While the toffee is cooking, cover a rimmed cookie sheet with aluminum foil or parchment paper.
As soon as the toffee reaches the proper temperature, pour it out onto the prepared baking sheet. Sprinkle the chocolate chips evenly over the top, and let them sit for a minute or two to soften. Spread the chocolate into a thin, even layer once it is melted. Sprinkle the nuts over the chocolate, and press in slightly (using a small sheet of waxed paper will prevent your hand from turning completely chocolatey).
Place the toffee in the refrigerator to chill until set, about 1 hour. Break into pieces and store in an airtight container.
Enjoy!
One year ago: Hazelnut Kisses
Two years ago: Portabella Burgers