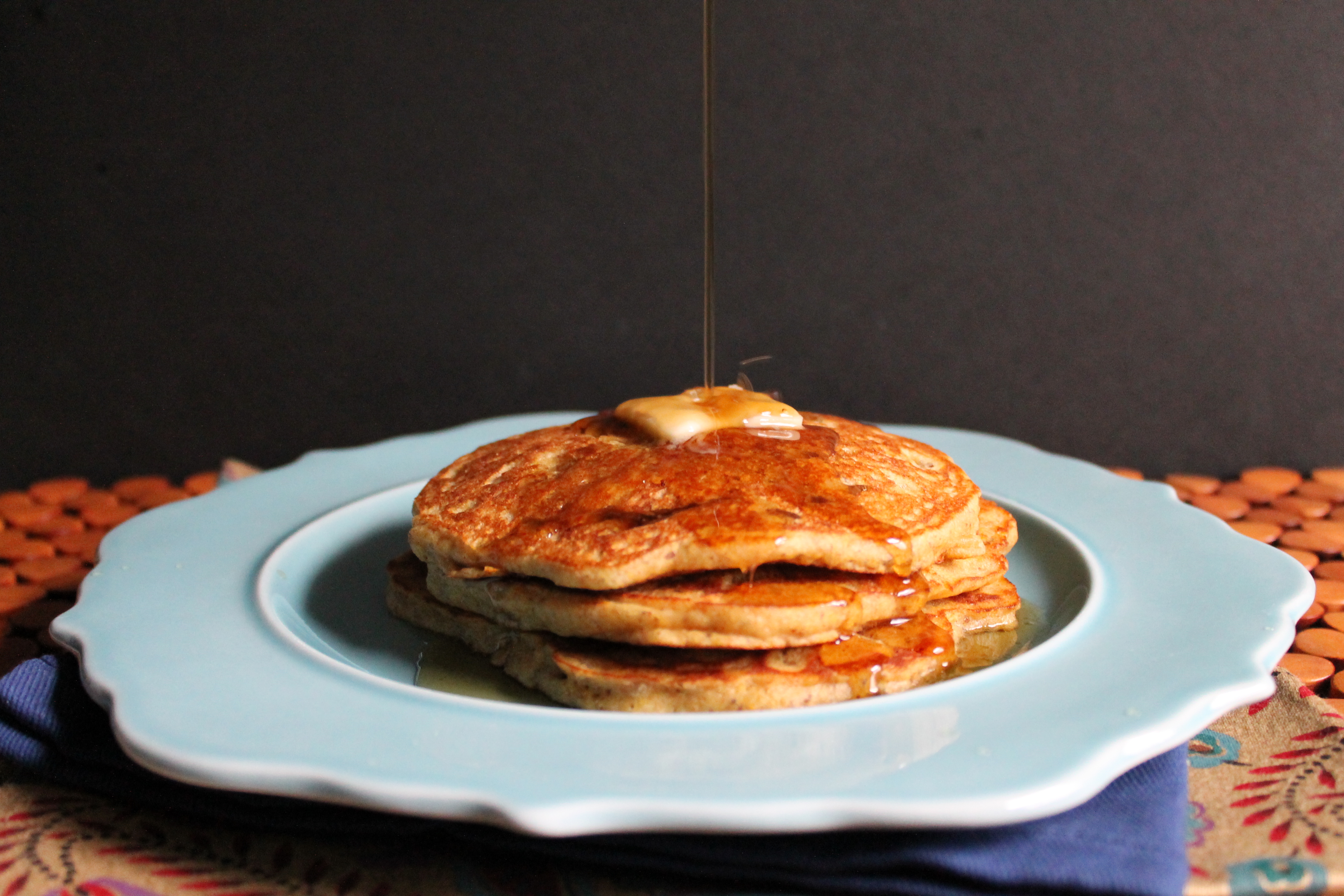 You know what's weird?
My husband loves whole grain breakfast foods, but doesn't really like whole grain bread.
Me? I would probably trend the other way, given how much I love flaky pastries and cinnamon buns.
But this month, as I was perusing Amy's Cooking Adventures for the Secret Recipe Club swap, I was captured by a recipe for multigrain pancakes. Honestly, one of the things that drew me in (aside from the undeniable delicious and nutritious benefits of eating a variety of grains) was that this recipe is sugar free! That's right, in place of sugar, these pancakes use honey. Honey is the perfect complement to the nuttiness of wheat and other whole grains.
These pancakes are delicious and hearty! I was full after one. (But, um, I still ate two.) You should make them right away! Take them for a swim in a moat of hot maple syrup! Your taste buds will thank you.
The only real change I made to this recipe was to swap out the white, all-purpose flour in Amy's recipe for whole grain spelt. Spelt is actually an ancient species of wheat, and it's totally making a comeback. In fact, some people who have wheat intolerance (not to be confused with people who actually suffer from genetic Celiac disease) can eat baked goods made with spelt! I had purchased a bag of spelt flour on a whim at the beginning of the year and had just been itching to find a good way to start using it! Plus I liked the idea of including as many different grains as possible in these pancakes.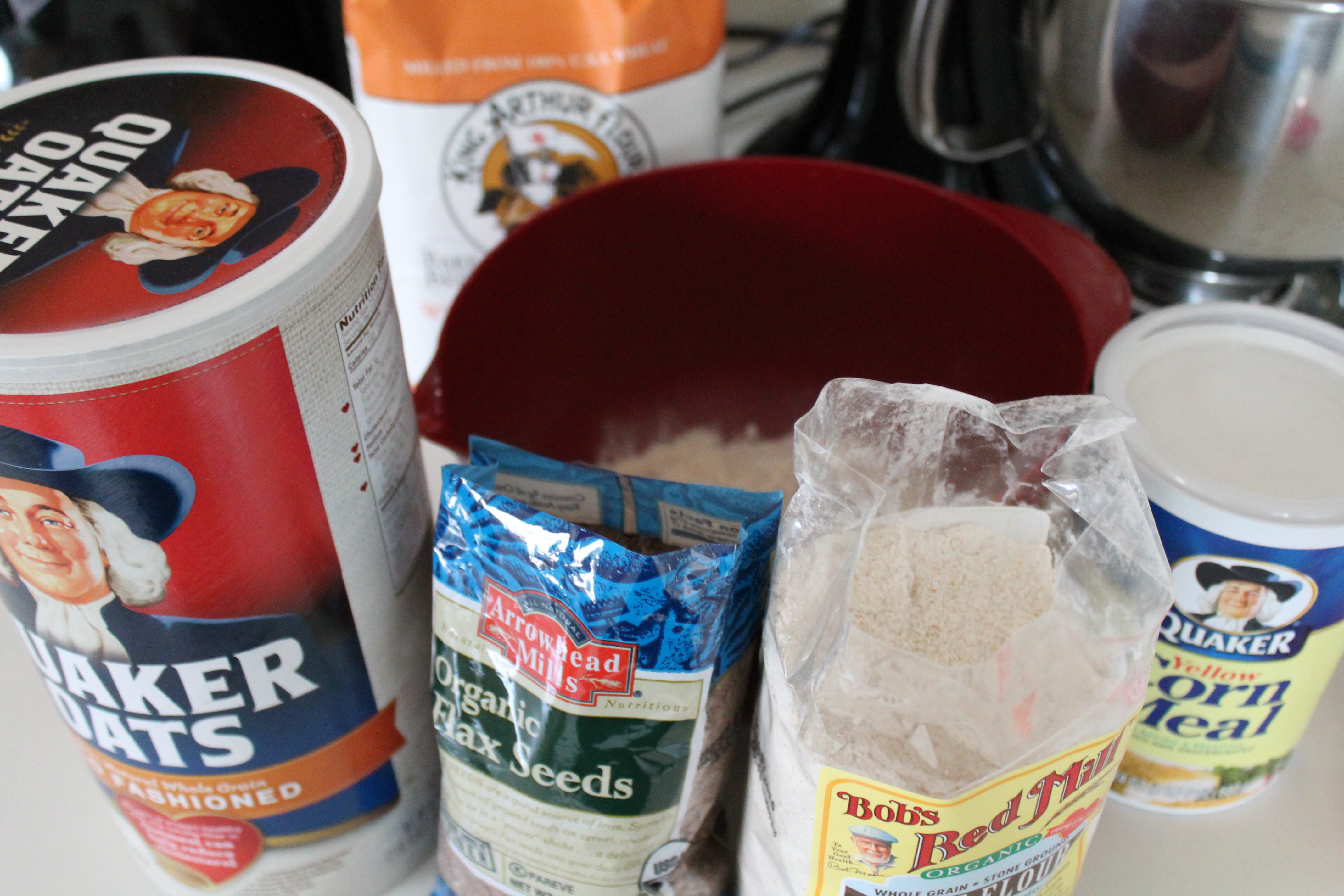 But let me just say this: if you look in your pantry and don't find it stocked with 18 different types of flour and four different types of seeds, don't fret! You can still make multigrain pancakes. In fact, I'd wager you can find oats and probably cornmeal in your cupboards, and that's a pretty good start!
This recipe makes about eight monster fluffy pancakes. My friend Sarah would call them "soakers" because they soak up syrup like delicious sponges. I ate mine with maple whipped cream (just a few teaspoons of 100% maple syrup whipped into real cream is delicious and won't send you spinning into a sugar coma!), and I absolutely had to go back for seconds.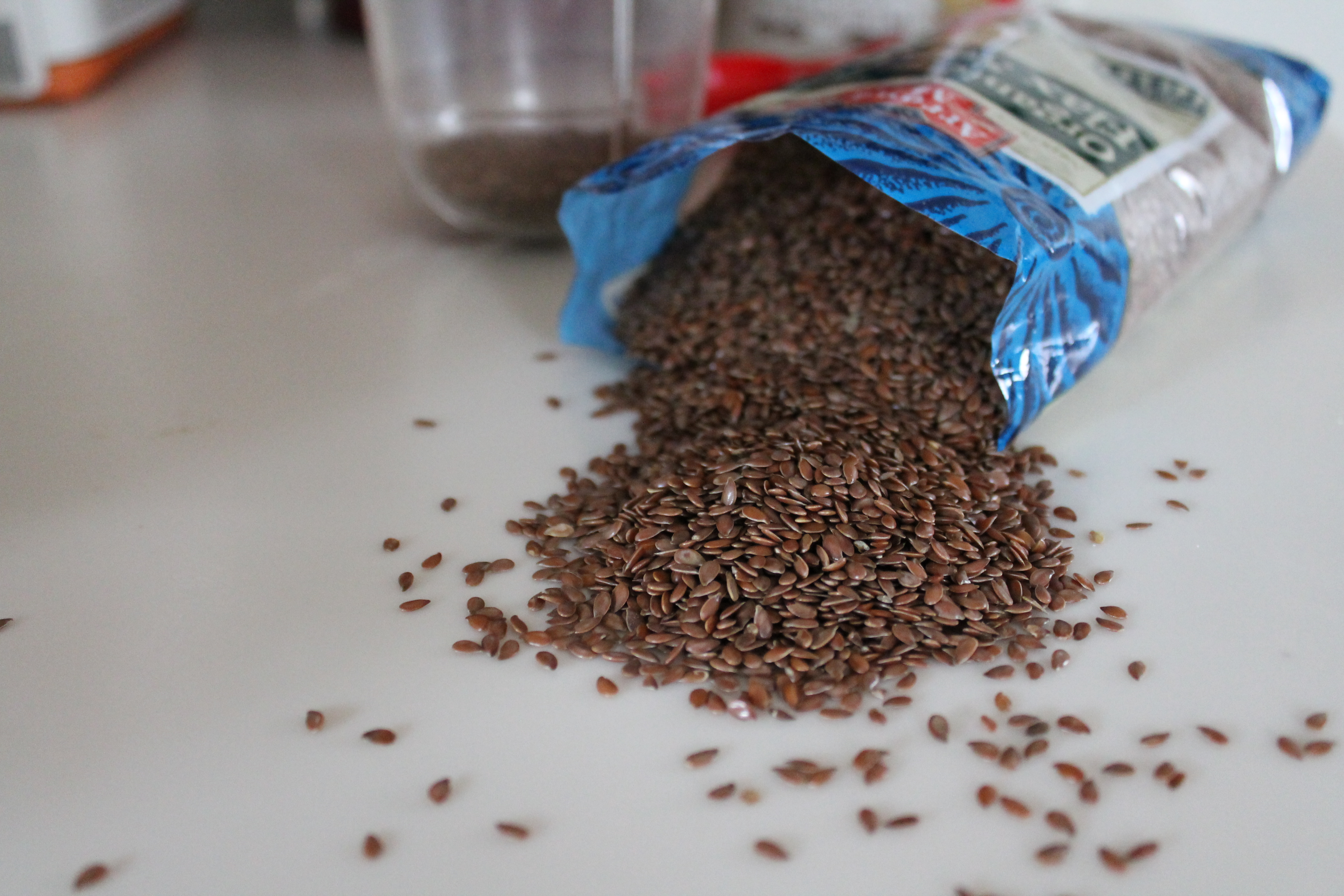 Whisk together all the dry ingredients. There are so many grains in here, it's like a college mixer. Whole wheat flour, spelt, cornmeal, rolled oats—and then flax seeds! Seriously, don't snub flax seeds just because they are a "health" food. They are nutrition bombs, yes, but I promise that they add up to a delicious pancake. But please do grind them up (or buy flax meal). Flax seeds are basically indigestible unless they are ground.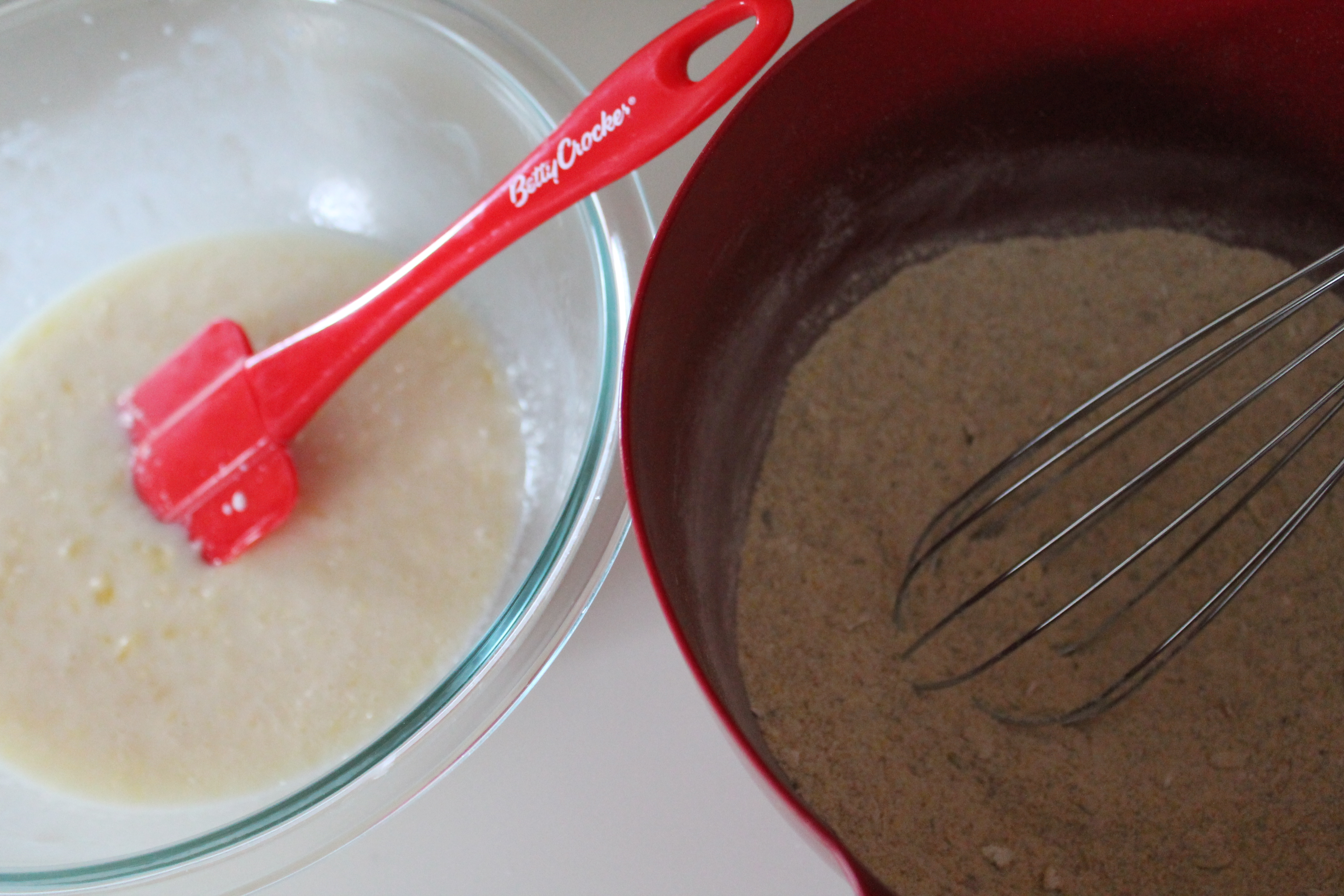 In a separate bowl, melt the butter and whisk in the egg, buttermilk, and honey. I used homemade buttermilk—1 cup low-fat milk plus 1 tbsp. white vinegar, sitting on the counter for 10 minutes to curdle—which is slightly thinner than store-bought, and even so I increased the buttermilk a bit to make the batter looser. Personally, I prefer my pancake batter to be a bit runny, and I like my pancakes a bit less fluffy (gasp! blasphemy!). This is partly a practical issue, as I want to have an easier time getting the pancakes cooked and want to end up with more pancakes.
Mix the wet ingredients into the dry ingredients. You see a whisk here, but I actually recommend using a spoon for easier mixing and less likelihood of overdoing it.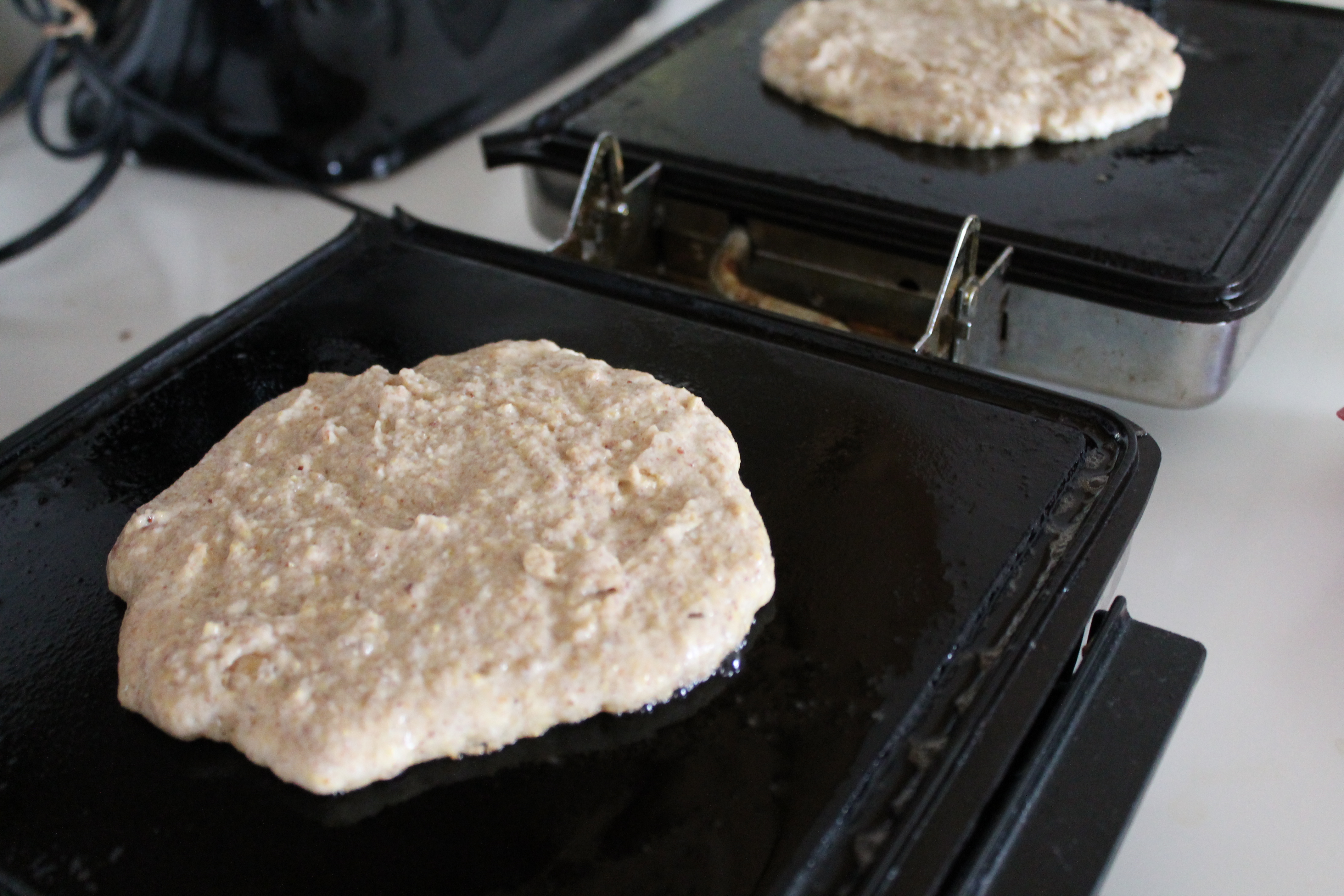 Spoon the batter onto a hot, lightly buttered griddle (I love the extra oomph that browning butter adds to a pancake). If your pancake batter is on the thicker side (which is related to the amount of liquid you decide to use), just use a spoon and spread the batter into a a large disk.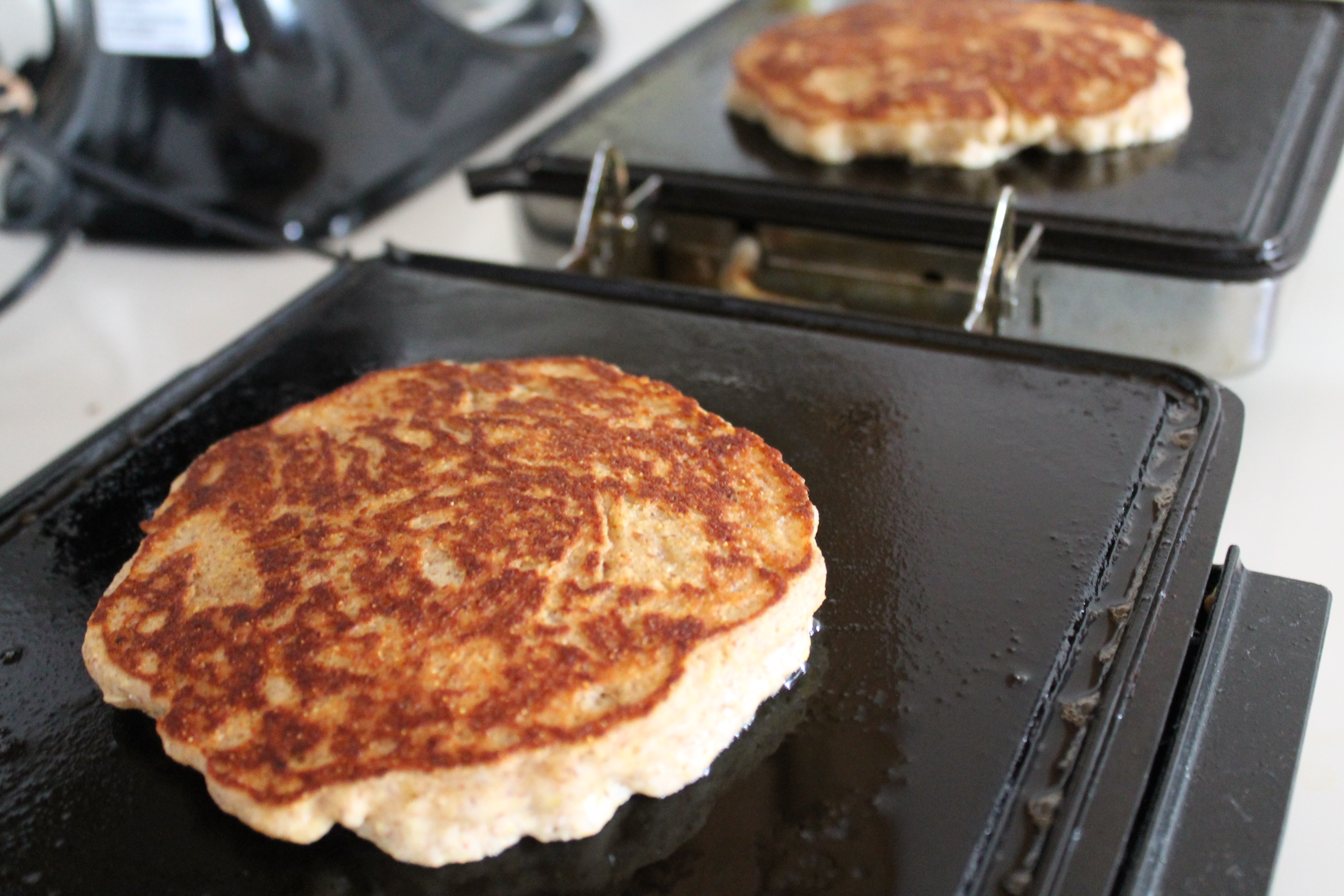 Cook the pancakes about 3 minutes on the first side (depending on the temperature of your griddle), or until bubbles start to appear and the bottom of the pancake is browned and lacy looking. Flip and repeat.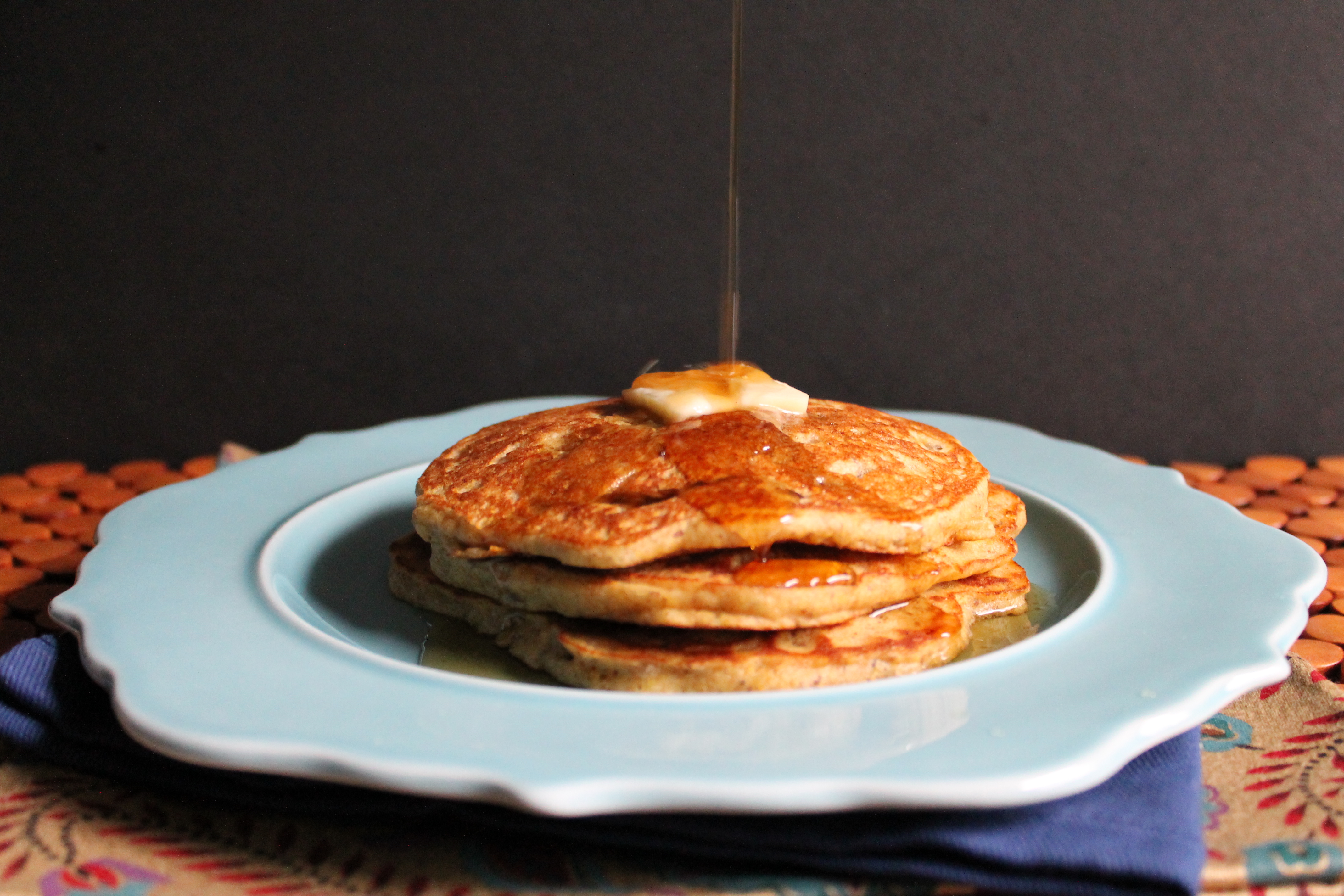 I got eight pancakes out of this recipe, and they were huge, about 6″ in diameter and at least ¼″ thick! The pancakes were dense and light at the same time (I know that doesn't sound like it makes sense, so you'll just have to trust me). I was incredibly stuffed after eating two of them. As in, can't eat lunch and still full an hour before dinner, but man was it ever a good kind of full!
Multigrain Pancakes
lightly adapted from Amy's Cooking Adventures
makes 6–8 large pancakes/serves 4
Ingredients:
½ cup (white) whole wheat flour
¼ cup spelt flour
¼ cup cornmeal
2 tbsp. rolled oats
2 tbsp. ground flaxseed (brown or gold)
½ tsp. baking soda
½ tsp. salt
1 egg, lightly beaten
2 tbsp. raw honey
1½ cups buttermilk
2 tbsp. unsalted butter, melted, plus 2 tbsp.
Directions:
Whisk all the dry ingredients together in a large bowl.
In a separate bowl, whisk together egg, honey, buttermilk, and 2 tbsp. melted butter.
Stir the wet ingredients into the dry ingredients until just combined.
Heat a griddle to medium-hot. Toss the remaining 2 tbsp. butter onto the griddle and let it sizzle. Spoon batter onto the griddle and spread it out into a wide circle with the back of the spoon.
Cook each pancake for about 3 minutes on each side, until evenly browned.
Serve immediately with butter and maple syrup.
Enjoy!
One year ago: Carrot Soup with Tahini
Two years ago: Big Crumb Coffee Cake