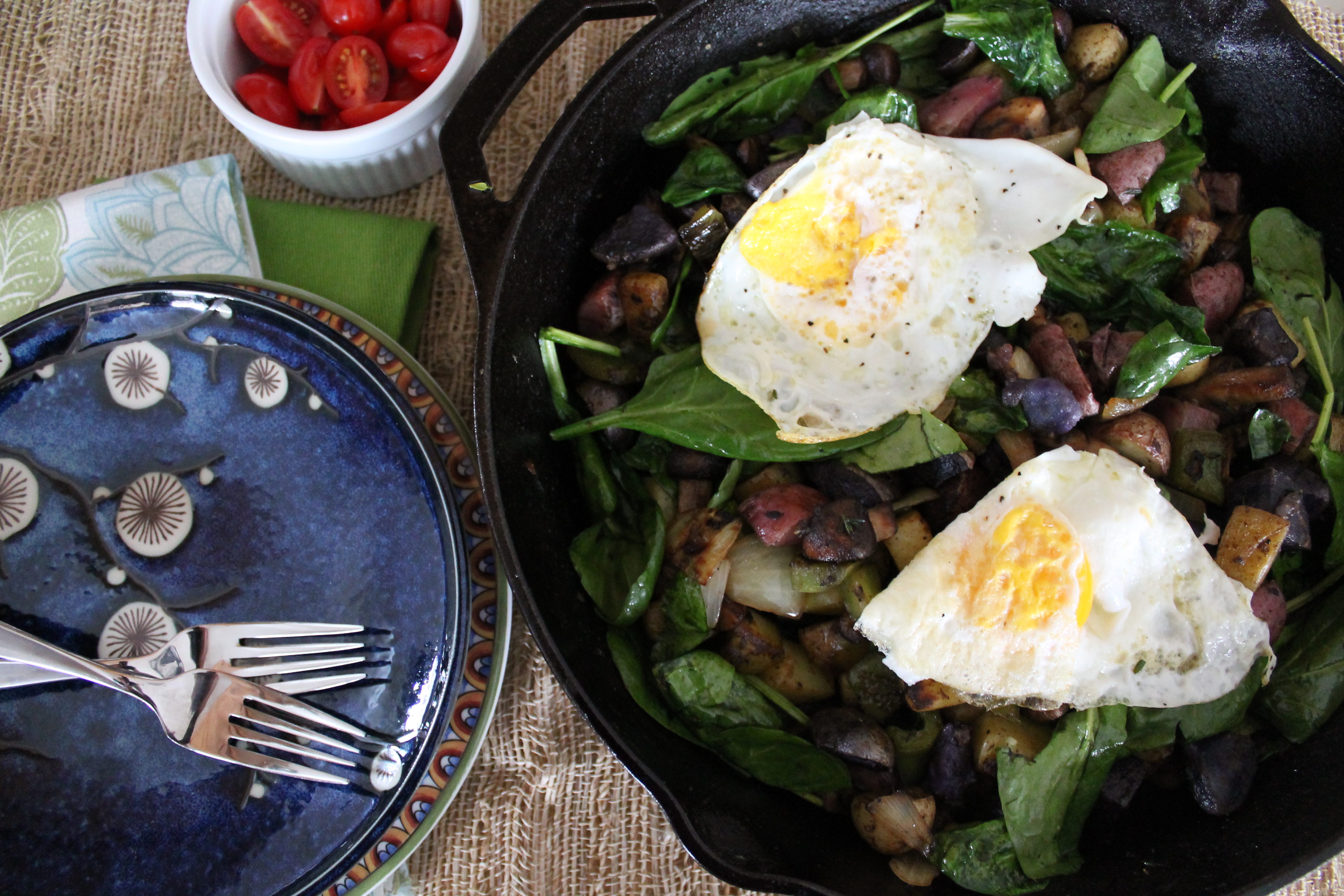 A few weeks ago, I started doing the Cooking Cure challenge by the Kitchn. I didn't actually make it very far, because the more I thought about it, the more I realized that my main problem was breakfast.
I mean, I regularly make delicious and daring lunches with Sarah of Well Dined. And dinner at our house is a constant revolution of new recipes so that I will be able to share new ideas with you! But…until the beginning of the year, I could probably count on one hand the number of times I ate something other than Frosted Mini Wheats for breakfast since I was 21. Yep, long time.
So instead of moving on to lunch or dinner, I stuck with revamping my breakfast plan. And this meal was hearty and bright and delicious! Bright, jewel potatoes full of antioxidants and potassium, flavorful veggies like spinach and mushrooms, topped off with a beautiful, yolky egg? Yes, please!
We should maybe call this brunch instead of breakfast. Not only was it a lot of food, but it's not exactly going to get you out of the door quickly in the morning. But hey, when you have friends over for brunch, or wake your family up late on a Saturday morning, wouldn't you love to show off a brightly colored, easygoing breakfast hash? Something slightly off the beaten path, more exciting than quiche or muffins? It's a good idea. I'm just saying.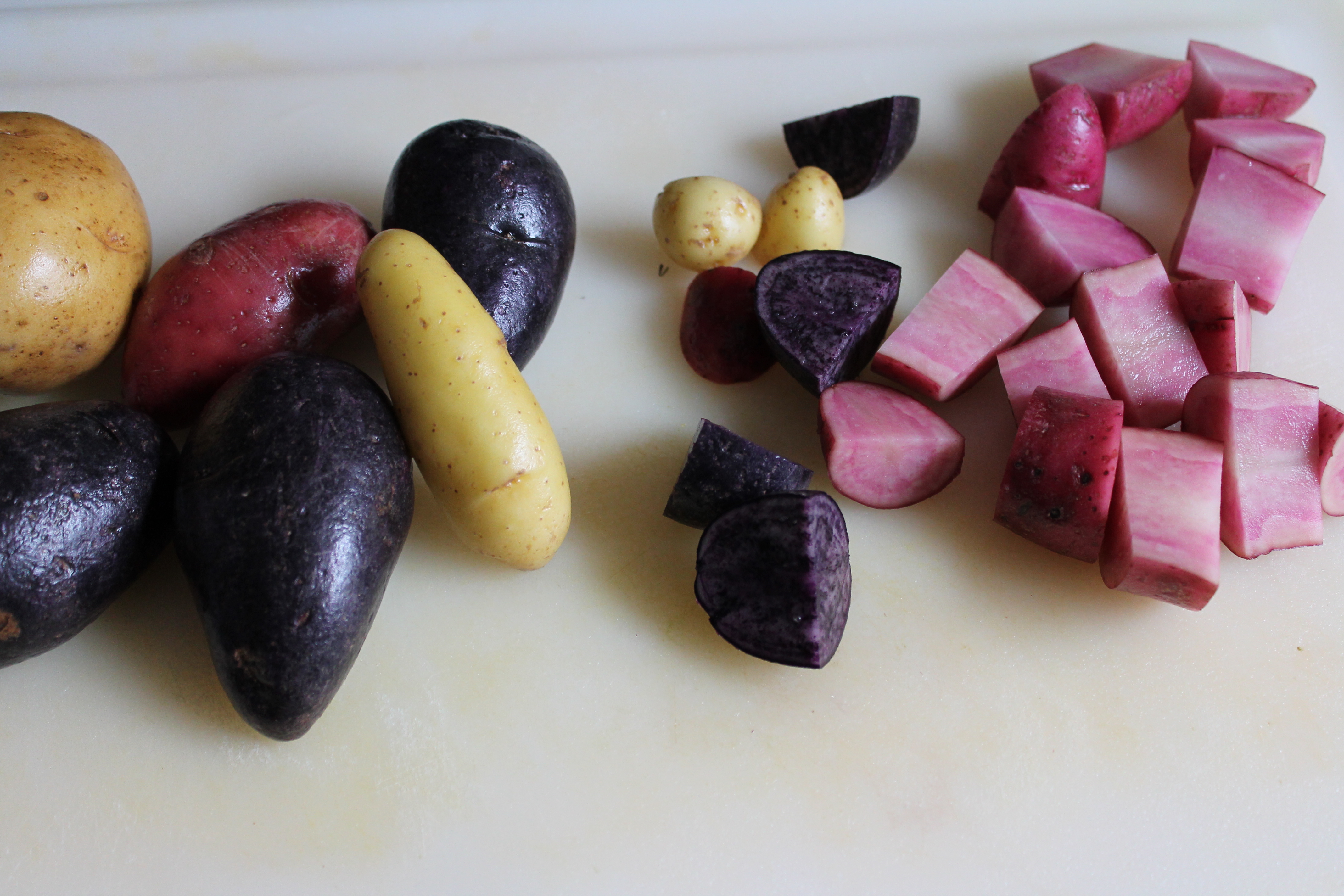 As I mentioned earlier, I used jewel-colored fingerling potatoes. They taste just like your average white- or yellow-flesh potato, but they are bright red or deep purple on the inside! I love these because they add color, as well as some extra nutrients not found in white potatoes. For me, someone who doesn't eat blueberries or pomegranates, a purple potato is actually a great way to take in some antioxidants I might not otherwise get.
Of course, you really can use any kind of potatoes here. If your grocery store doesn't stock multi-colored potatoes, or if they are very expensive, just go for regular fingerlings, or even Yukon golds. Just cut them into bite-size chunks, leaving the skins on.
Toss the potatoes in olive oil and salt and roast in the oven for 30 minutes, or until fork tender.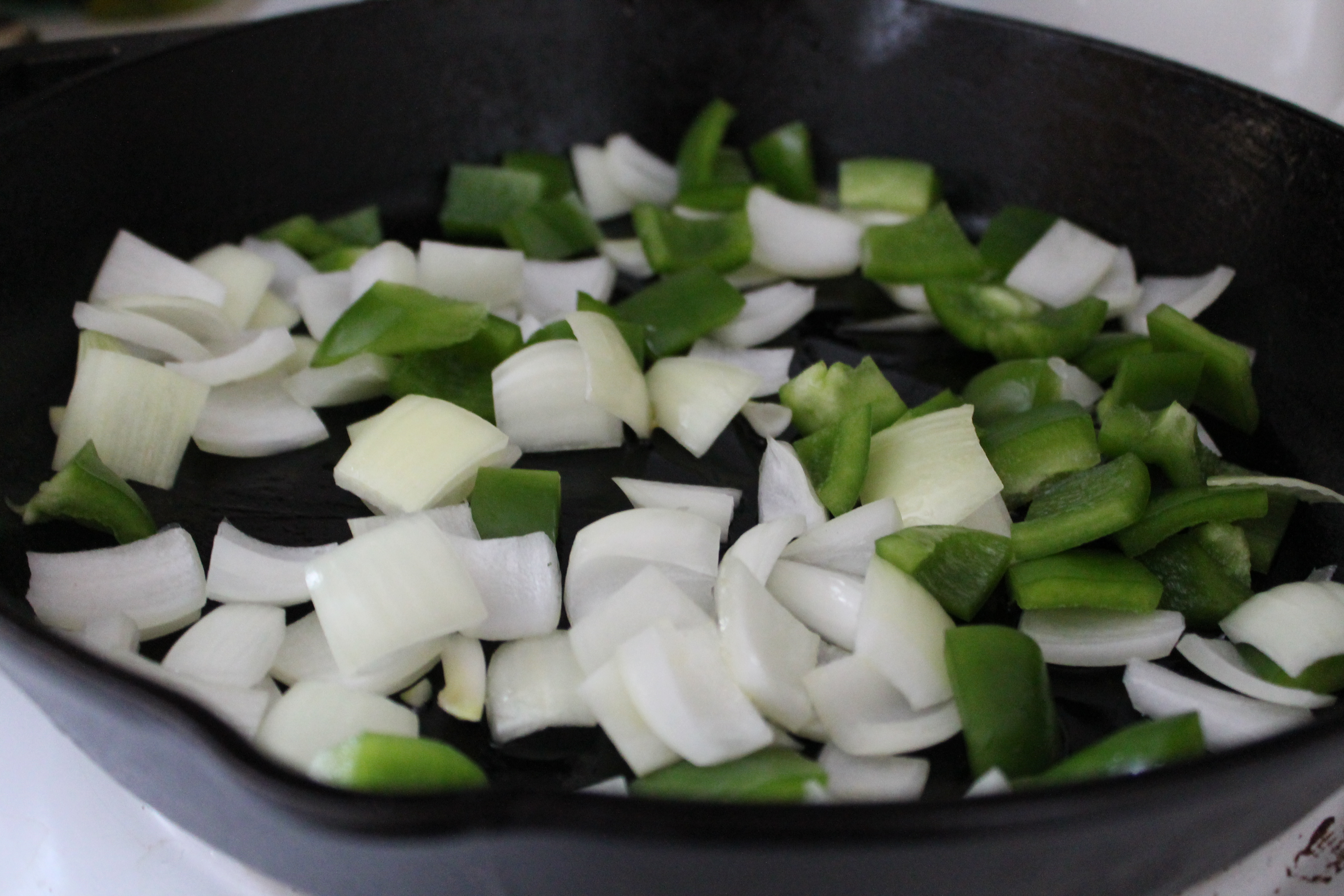 Meanwhile, cut a green pepper and an onion into a large dice and sauté until the onion is translucent. Remove from the pan and set aside.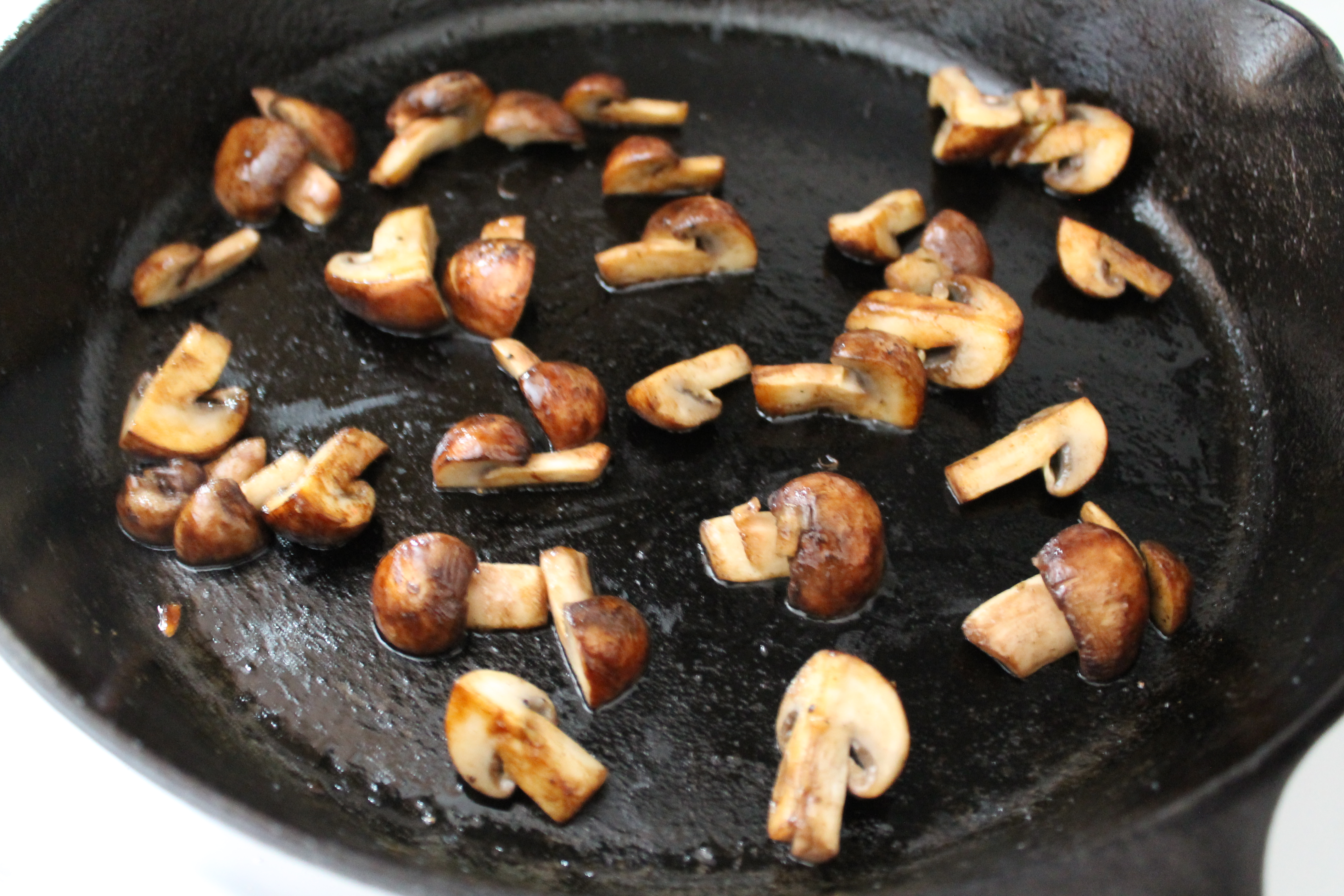 Now it's time to cook the mushrooms. Yum. I cooked mine in olive oil, since I was sharing this meal with my mother, but if you have no dairy allergies, butter would also be delicious!
Julia Child says not to crowd the mushrooms. So…give them plenty of space! Turn them every few minutes and cook until the potatoes come out of the oven, so they get nice and brown.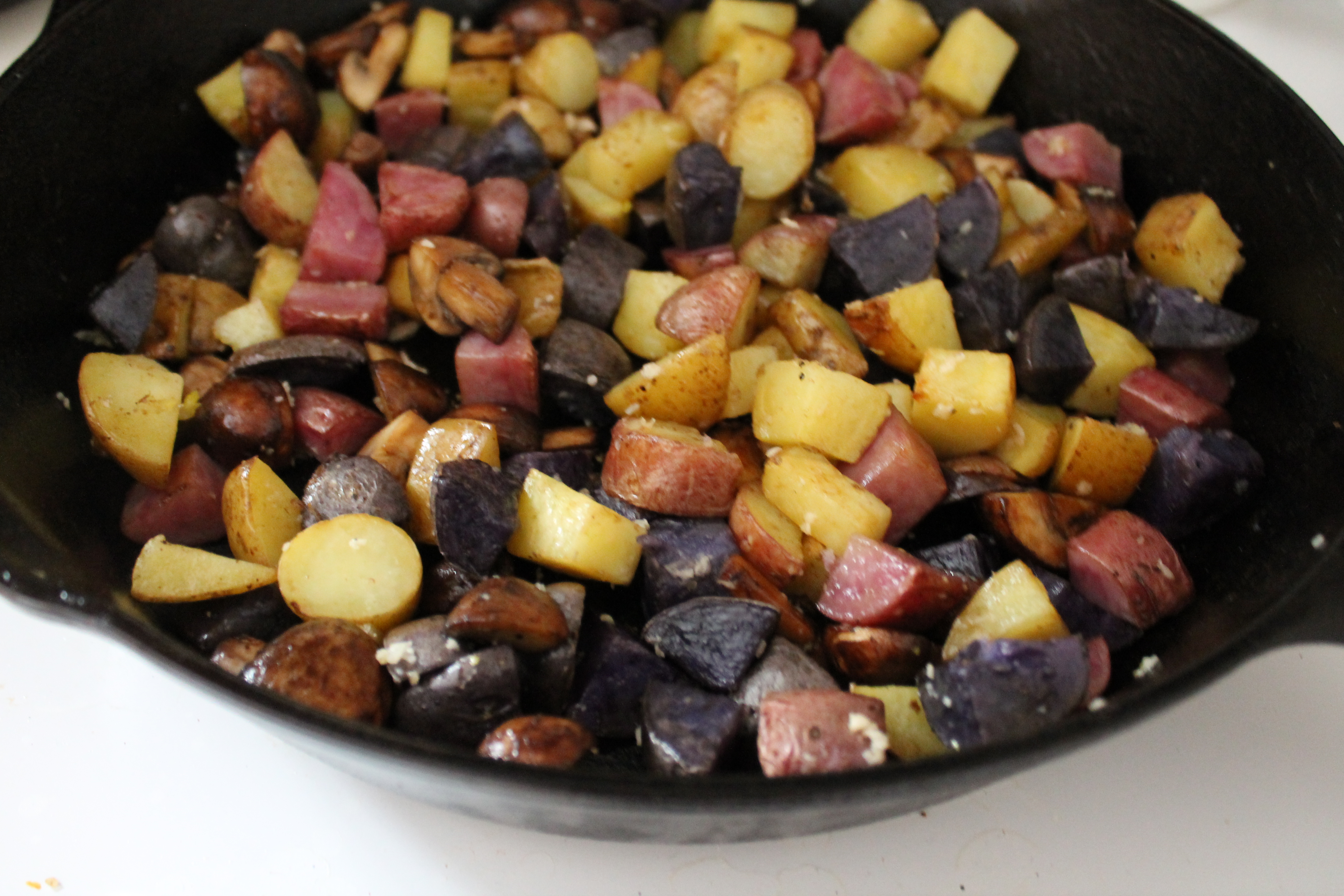 Add the potatoes to the skillet, along with the garlic, and turn gently to combine. If the pan is too dry, add a smidge of butter or oil. Cook without turning for 2–3 minutes, to allow the potatoes to brown on one side. Turn and cook another few minutes.
Add the green peppers and onions and stir together. Cook for another few minutes to warm through.
Meanwhile…you should be frying eggs! Grease the pan with a little butter, why don't you? I, personally, think that eggs should have runny yolks. I have a weakness for runny yolks. But you can fry yours a little longer if that's not your thing.
(I think this breakfast requires 4 eggs minimum, and would easily serve 4. But only 2 eggs are pictured because, well…time was short.)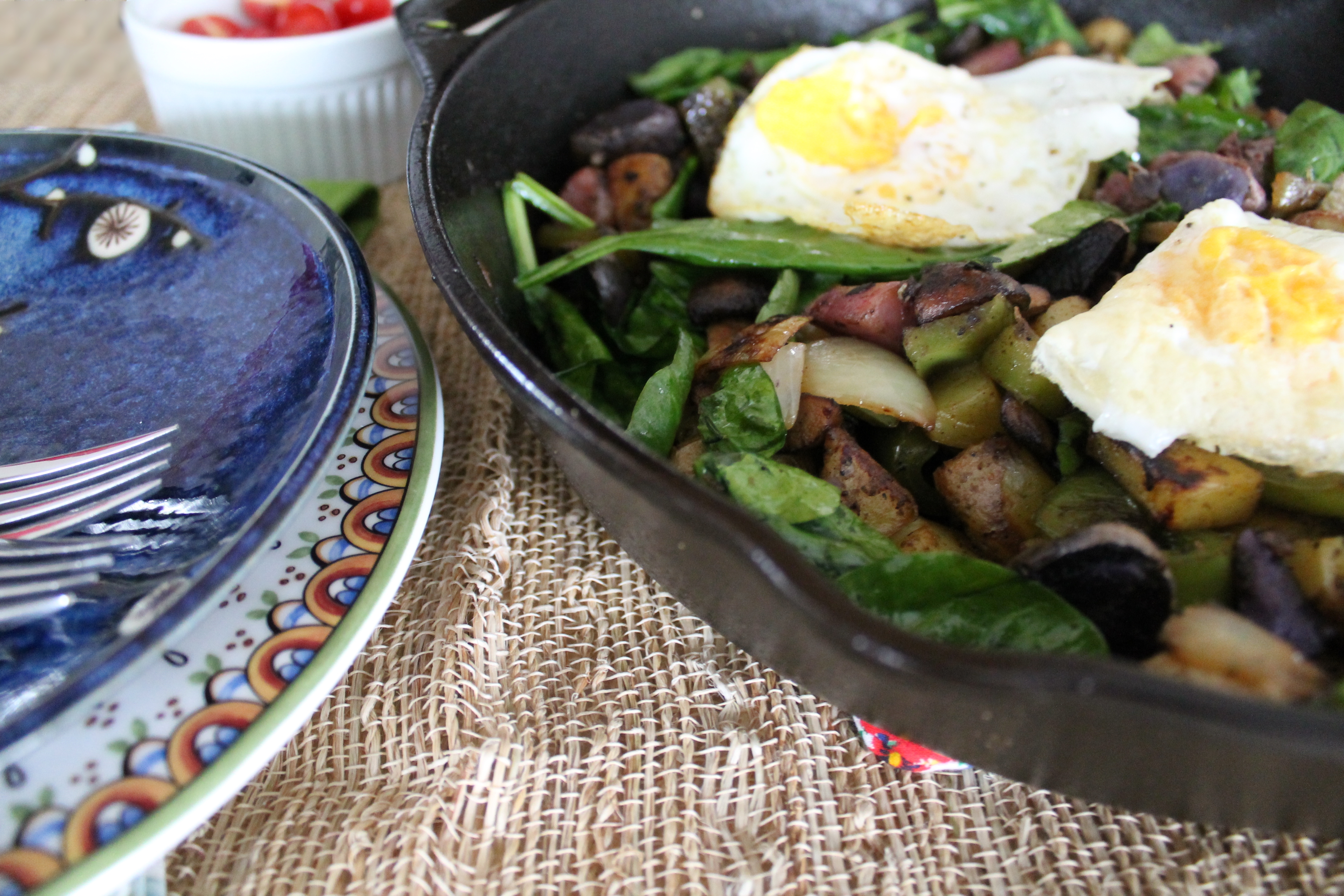 Remove the skillet from the heat and stir in some baby spinach. Let it get nice and wilty, then top the whole shebang with your beautiful fried eggs. And serve! (By the way, I tossed in a bunch of grape tomatoes I had lying around, and it was delicious! You should do that, too.)
Breakfast Potato Skillet with Spinach and Eggs
adapted from Joy the Baker
serves 4
Ingredients:
1½ lbs. colored or yellow fingerling potatoes, cut into bite-size chunks
4 tbsp. olive oil, divided
1 tsp. sea salt, divided
¼ tsp. black pepper
1 green bell pepper, large dice
1 medium yellow onion, large dice
2 tbsp. butter (or olive oil), plus extra if needed
4 oz. baby bella mushrooms, cleaned and quartered
3 cloves garlic, minced
1 tsp. fresh thyme
2 cups fresh baby spinach
10–15 grape tomatoes, halved (optional)
4 eggs, fried over easy
Directions:
Preheat oven to 400°.
Place diced potatoes on a lined baking sheet and drizzle with about 2 tbsp. olive oil, ½ tsp. salt, and black pepper. Bake potatoes for 20–30 minutes, or until potatoes are fork tender.
While potatoes are baking, heat about 2 tbsp. of olive oil in a large saucepan over medium heat. Add the diced peppers and onions and cook until browned, about 6 minutes. Season with salt and pepper as it cooks. Transfer the peppers and onions to a separate plate.
Reduce the heat to low and add the butter to the pan. Add the mushrooms and space them out so they can brown evenly. Cook slowly over medium-low heat, about 10–15 minutes, adding extra butter or oil if needed to prevent them from burning. Turn the mushrooms occasionally to promote browning all over.
Remove the potatoes from the oven and add to the pan with the mushrooms. Add the garlic. Stir to combine. Raise the heat to medium and let the potatoes crisp on one side, about 3 minutes. Turn and let the potatoes continue browning another 3–5 minutes.
Meanwhile, fry the eggs over easy (the yolks should be runny, but the whites should be firm and opaque).
Stir the onions and peppers back into the potato mixture. Let warm through, then remove the pan from the heat. Toss the thyme, spinach leaves, and tomatoes, if using, with the potato mixture to wilt the leaves.
Transfer the hash to a serving dish. Season with salt and pepper to taste. Top with fried eggs and serve warm.
Enjoy!
One year ago: Dilly Salmon
Two years ago: Monkey Bread