I have to tell you a shameful secret. My son won't eat vegetables.
I'm sure all you more experienced mothers out there are nodding in agreement (or else laughing at me). I always swore that I would never have one of those kids who wouldn't eat veggies, but honestly…who was I kidding? What planet was I living on?
Jake prefers to eat nothing but Greek yogurt and bread. Mostly bread. In fact, he has recently taken to turning his sandwiches sideways and gnawing holes in the bread, eating around the fillings rather than actually ingesting any jam or melty cheese. It's bizarre.
But we made a discovery about a week ago: he will eat anything (literally) if he can dip it. He begs for dip. And more dip. Sure, he also eats a ton of ketchup/ranch dressing/sour cream, sometimes just licking it right off of whatever is underneath, but! I think it's progress. (Say goodbye to the old me, who scowled through Hidden Valley commercials about children who suddenly like veggies when they get to have ranch dressing….)
Since french fries aren't a huge boost to his all-bread-all-the-time diet, I decided to make green bean fries! Getting sneaky with veggies! (Don't worry, the spicy wasabi mayo was for me—he gets to have ranch dressing.)
Making baked fries is super easy, and you can actually do this with any vegetable! Just cut into strips and call them fries! Your kids will thank you while they are smearing dip in their hair. No? That's just Jake?
So. I used green beans that I had frozen from my CSA share last year. But fresh beans really would be better, because they are about a zillion times less effort!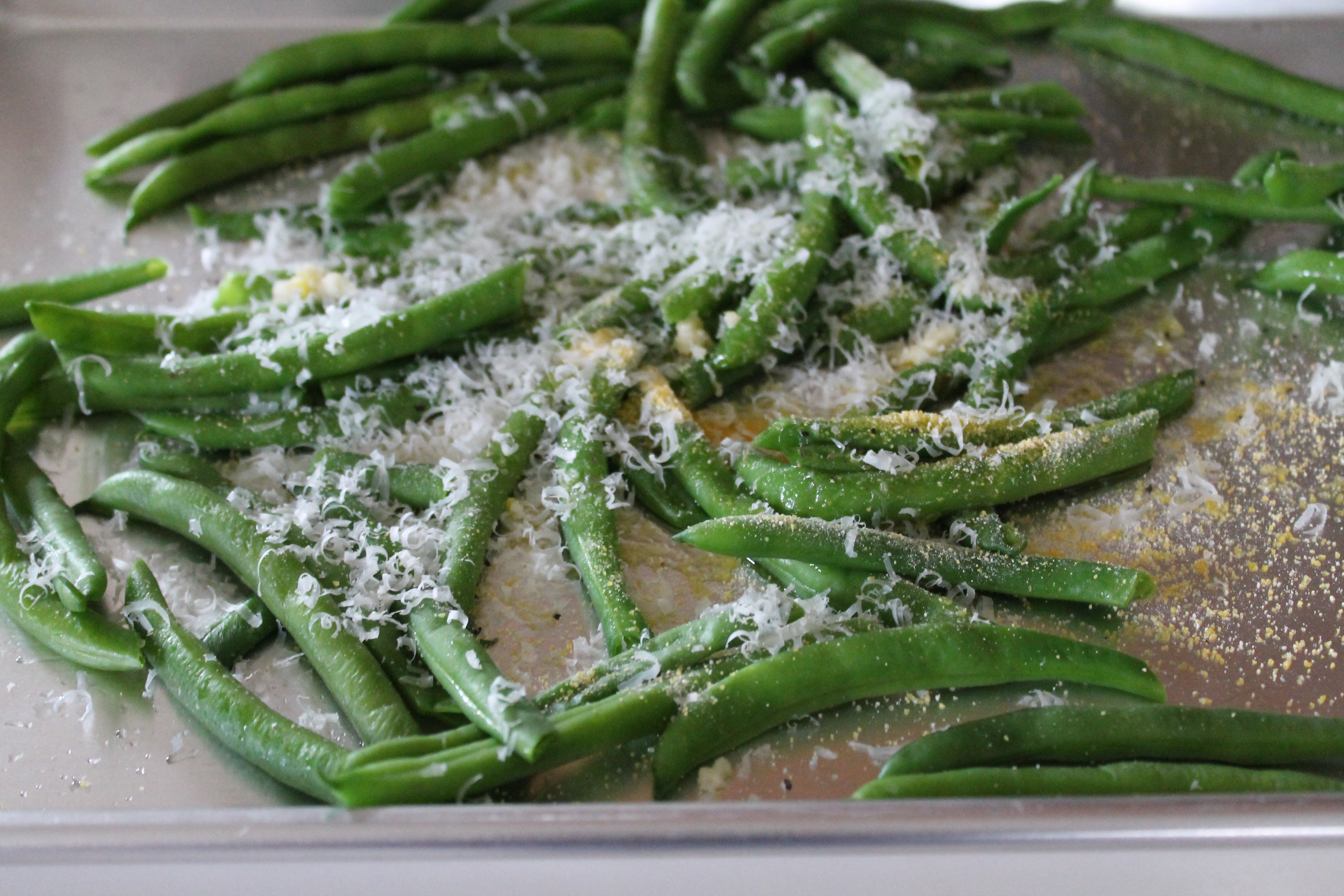 Rinse the beans and dry them very, very thoroughly. Trim the ends off the beans (I like to leave the pointy end and just trim off the stem side). If you are using frozen beans, even beans you froze yourself, you definitely need to thaw them completely and then dry them very well. Soggy beans will make soggy frites!
Toss the green beans with olive oil, cornmeal, salt, pepper, minced garlic, shredded pecorino or parmesan (I had pecorino on hand, but either one would be delicious so long as you promise not to use the powder from the green can!), and smoked paprika. You can skip the smoky paprika if you don't have it, but don't try to substitute regular paprika for the smoked. It is really the extra dash of smokiness that makes the fries amazing, and plain paprika just won't have the same effect.
The green beans should be lightly coated and feel a bit gritty because of all the seasonings and cornmeal. Perfection.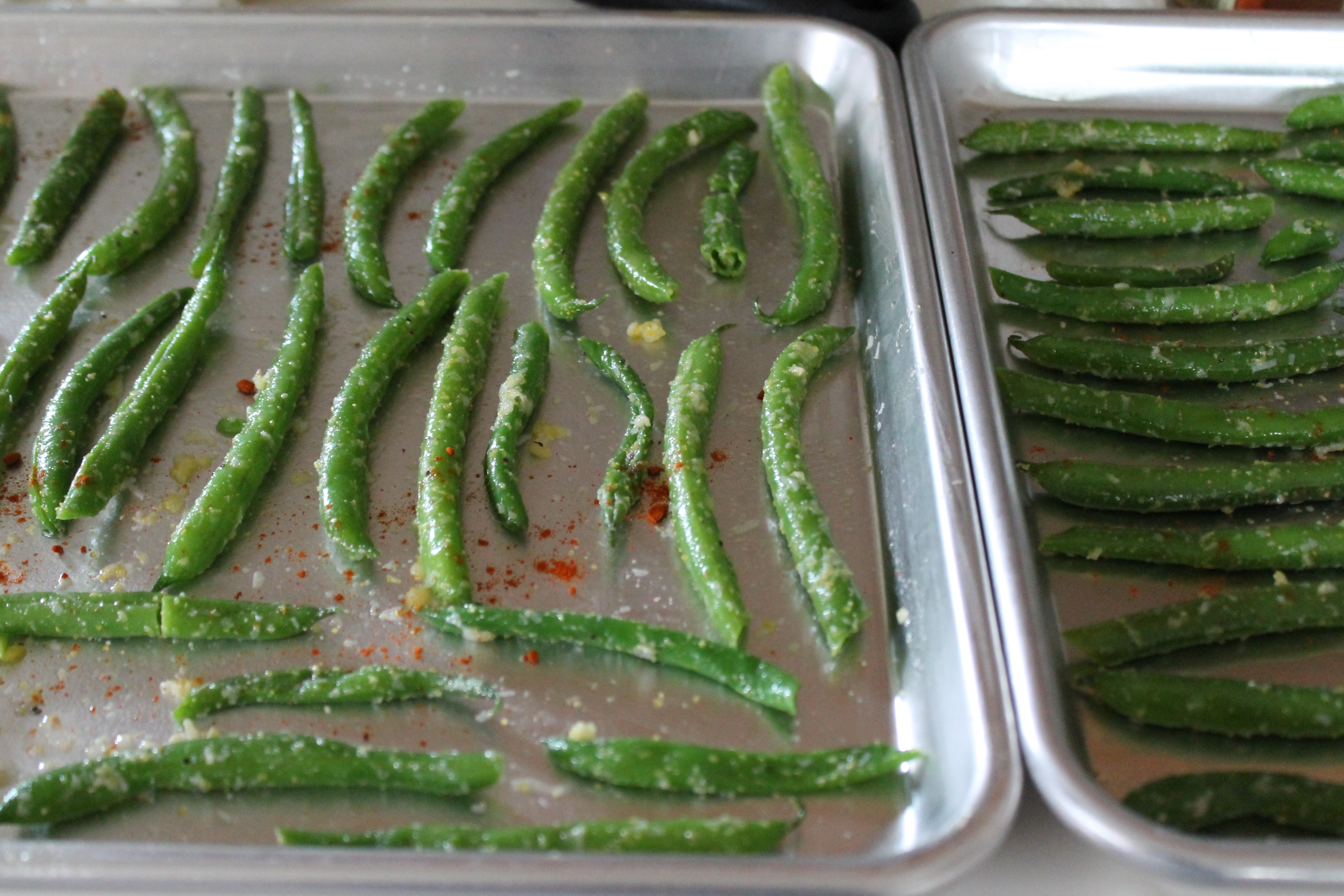 Now comes the absolute most important step of all. Grab a cookie sheet or two. I used ungreased sheets, and mine are not nonstick. You must, must, must lay the green beans out evenly in rows, so that none of them are touching. This is important! If the beans are touching each other, then they will end up sharing moisture and steaming instead of crisping up. If you wanted soft or mushy green beans, you wouldn't be making fries, amiright?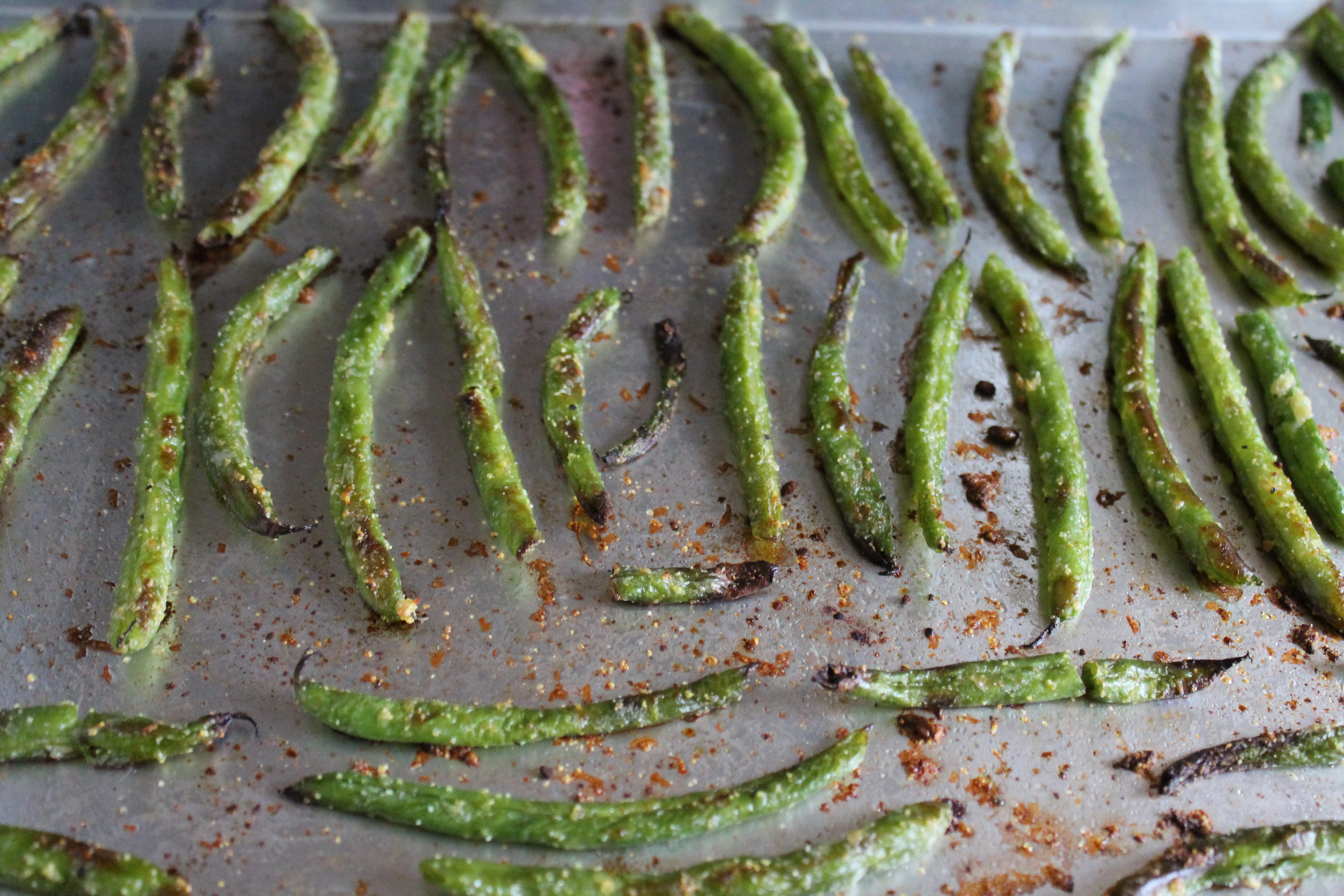 Bake for 15 minutes at 425°. Turn on the broiler and broil for a minute or so, just to get some extra crispy browning!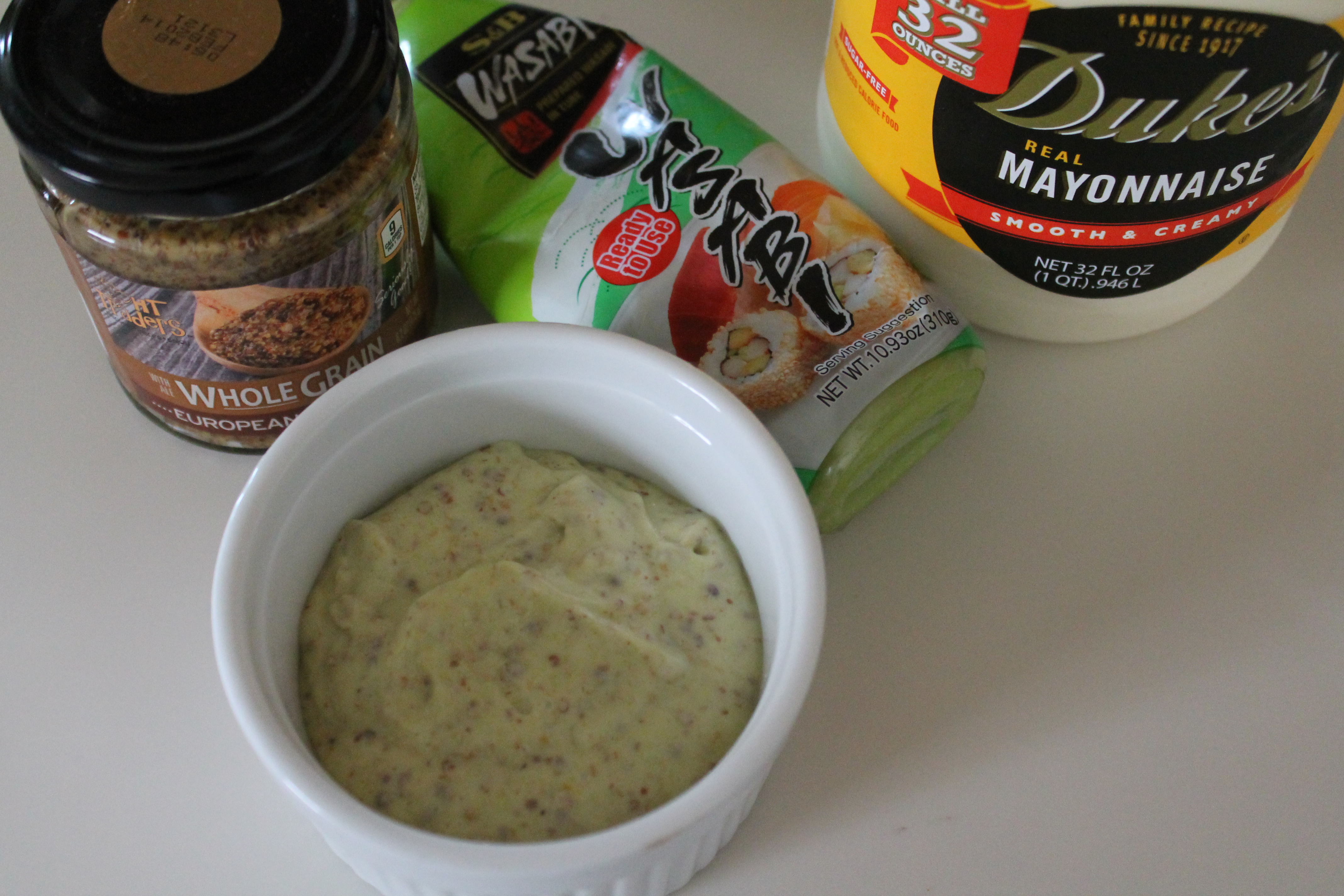 Meanwhile, stir together the ingredients for the dipping sauce. I really wanted to have a creamy, spicy mayo to go with my green bean fries. However, if you can't find wasabi (or don't like it), you can substitute some prepared horseradish or even a hot Dijon mustard for a little spicy kick. You could also try a sweeter sauce, such as a mayo-bbq combination, or you could even just dip your fries in ranch dressing! They will be delicious no matter what you choose.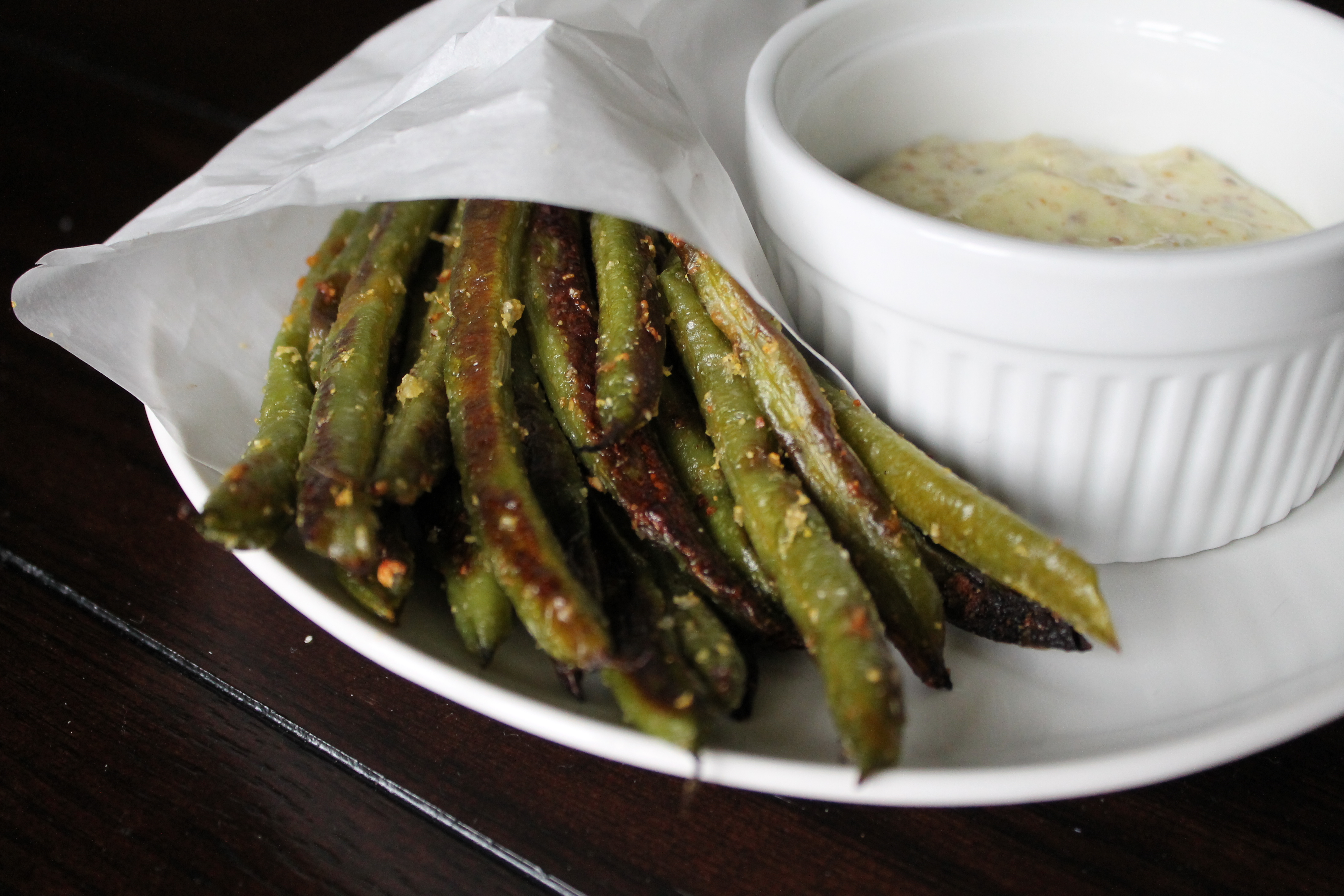 Serve the fries immediately. They are best when they are hot!
Green Bean Fries with Wasabi Mayo
a Melissa original
serves 2–4
Ingredients:
14 oz. fresh whole green beans, stem ends trimmed
2 tbsp. olive oil
2 tbsp. cornmeal
¼ cup finely shredded parmesan or pecorino romano
2 small cloves garlic, minced
¼ tsp. salt
¼ tsp. black pepper
big pinch smoked paprika
3 tbsp. mayonnaise
1–1½ tbsp. prepared wasabi
1 tbsp. whole grain mustard
Directions:
Preheat oven to 425°.
Rinse and thoroughly dry the green beans.
Combine the beans with olive oil, cornmeal, garlic, and seasonings. Toss well to combine.
Lay the green beans out in rows on a large cookie sheet (or two, if needed). Do not allow the beans to touch each other.
Bake for 12–15 minutes, until browned on top. Optionally, turn on the broiler and broil for another 1–2 minutes for extra crispness.
Meanwhile, stir together the mayonnaise, wasabi, and whole grain mustard. Set aside.
When the green beans fries are done, remove them from the oven and scoop off the cookie sheets. Serve immediately with the prepared dipping sauce.
Enjoy!
One year ago: Curried Avocados with Mustard
Two years ago: Butter Buddies
Three years ago: Vegetarian French Onion Soup