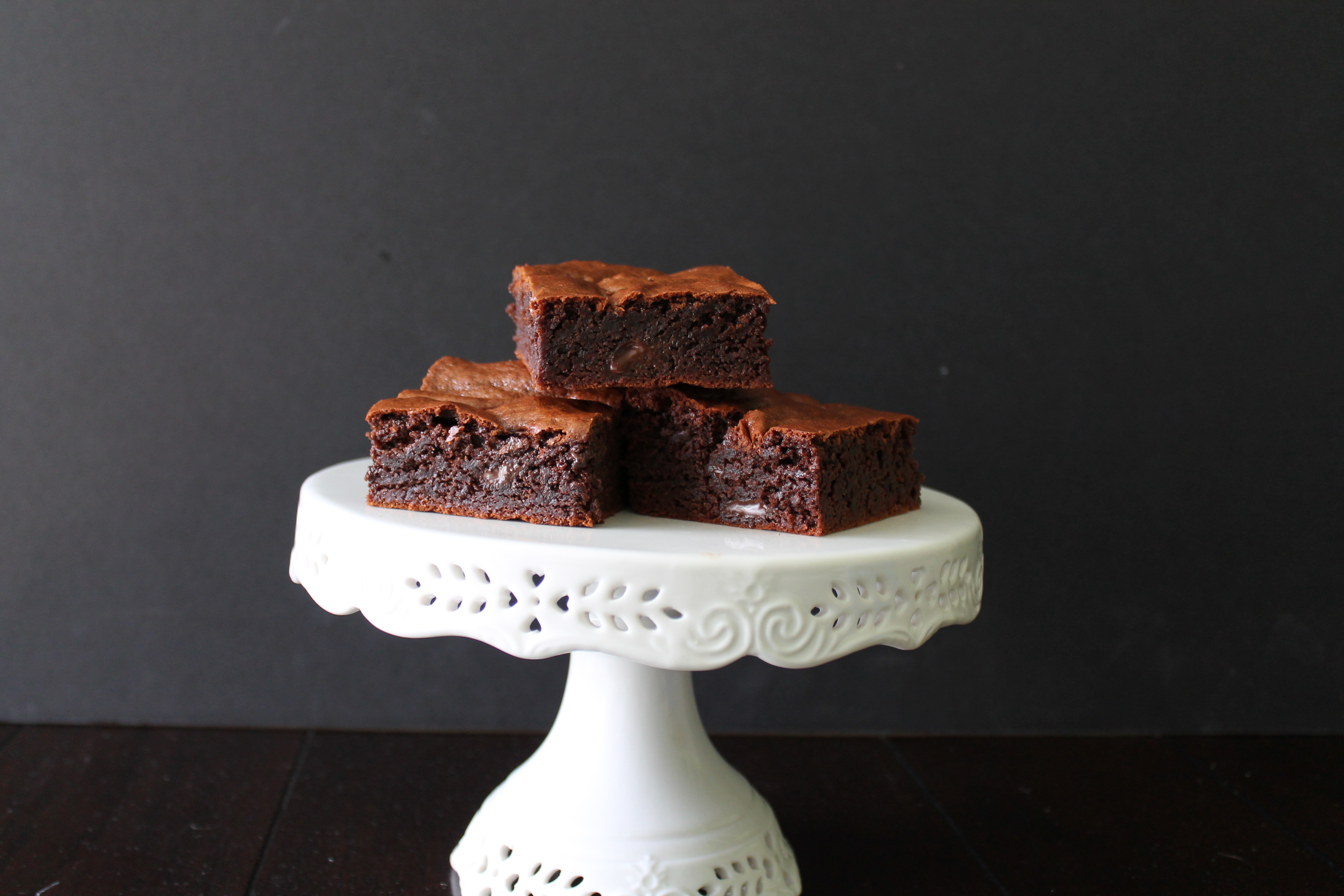 You guys, I really just haven't made brownies in such a long time. It's probably because I am seriously trying to deprive myself of refined sugar.
But every now and then I remember the name of this blog, and I think that I should treat myself (and you) to a yummy brownie. And then I binge on delicious looking photos and by the time I have done that for 30 minutes, my brain is exploding with ideas and it's the middle of dark o'clock and I honestly just can't stomach the thought of chocolate.
Luckily for me, I ran across an interesting brownie recipe entirely by chance when I was perusing my Secret Recipe Club blog of the month, Fit Mama Real Food (though I admit I was somewhat tempted to put on my yoga pants and write about her post-baby fitness regime instead of…um…brownies). Anyway. These brownies are full of almond butter! Not peanuts (am I insane for being perfectly happy to keep my chocolate and peanut butter separate?)! Lovely.
I kind of wanted to make my brownies vegan, since the original recipe was already dairy-free, but at the last minute I remembered that one of the girls in my Bible study, where I was planning to share my treats, is gluten free. So I scrapped the idea of subbing soaked flax seeds for the egg and concentrated on eliminating the flour. I did have to take a few liberties with the recipe in order to make that work, but my basic plan was to rely on the protein and stickiness of the almond butter to hold the brownies together and stand in for flour.
Making a dessert recipe gluten free requires either a great all-purpose gluten-free flour blend plus a small amount of xanthan gum, or in this case, a bit of pluck and guesswork.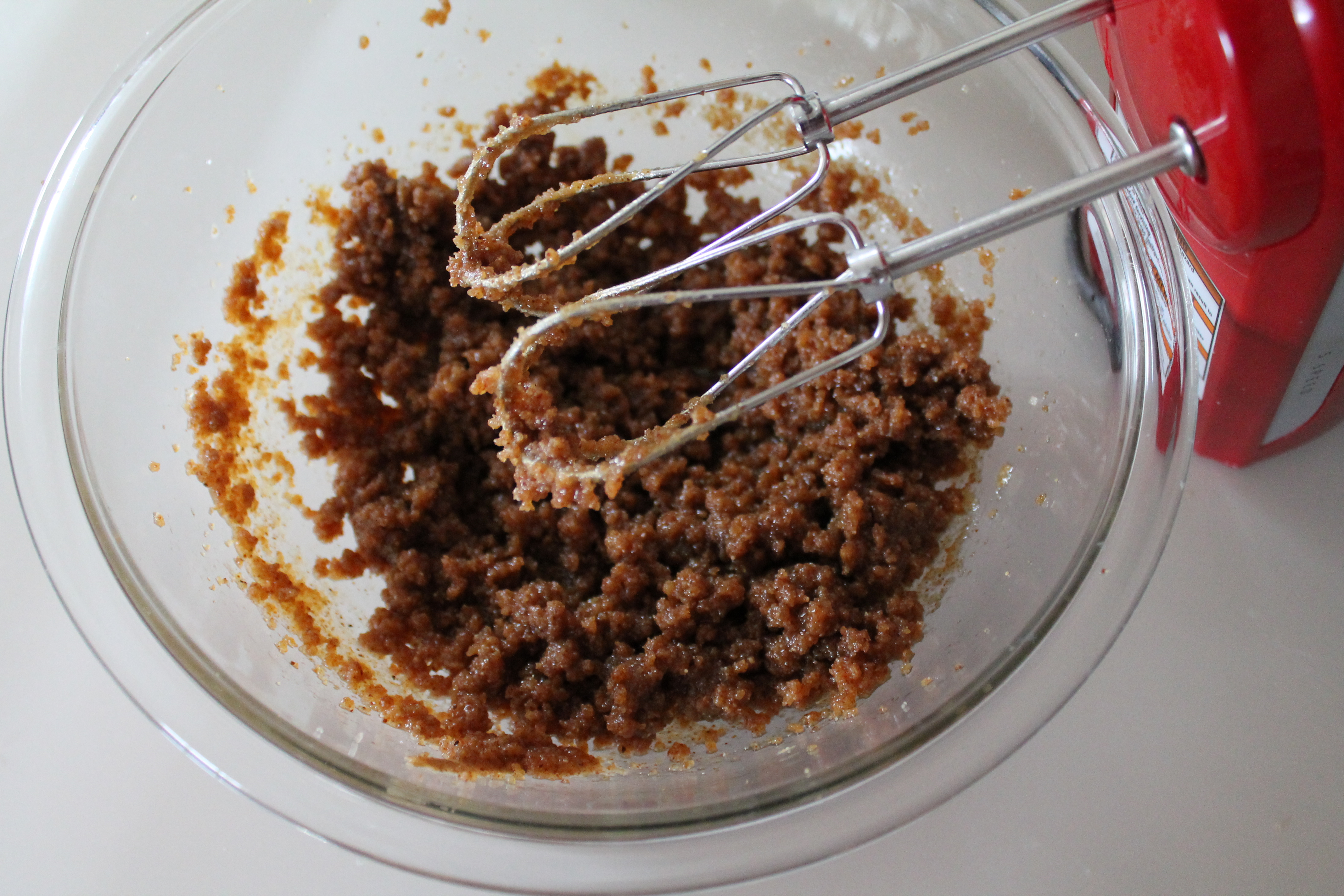 I ended up making this recipe twice, just to make sure the first batch hadn't been a tasty fluke! (And, let me tell you, there were some awkward moments in that first batch, like after I mixed in the almond butter—which I had significantly increased from the original recipe—and the ingredients in the bowl glommed into a weird clumpy mess that didn't even vaguely resemble brownie batter. Not even if you squinted really hard.)
These brownies are thick and cakey and oh so so yummy! If you know someone who is dairy free and/or gluten free, make a batch and share! I promise they will be a hit!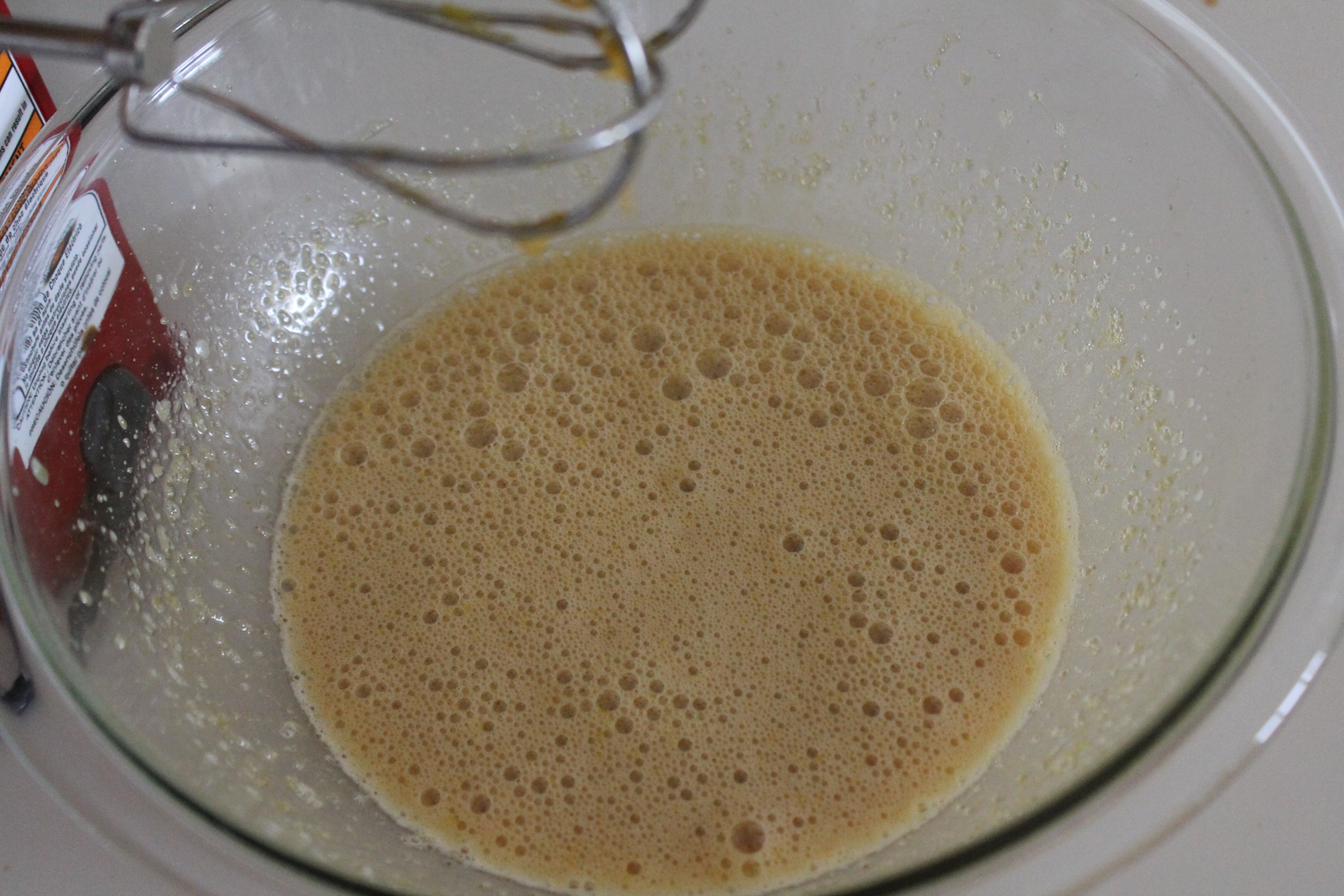 Brownies should be easy to make. This recipe, despite the fact that it is gluten free, is no exception! Start out recipe by blending eggs, honey (because nuts! and honey! are great!), a bit of raw sugar, and vanilla together. Really whip the heck out of those eggs to aerate them and counterbalance the large amount of heavy nut butter.
The original recipe called for entirely raw sugar. While raw sugar is tasty and less processed than white sugar, I am still trying to eat less refined sugar, so I subbed mostly raw honey instead. Honey is full of nutrients that sugar lacks, despite the fact that it is actually sweeter than sugar. The added benefit of using honey here was that it helped the brownie mixture to behave a little more like a traditional brownie batter (i.e., it made the mixture looser)!
All that being said, I believe this is a recipe that could actually allow you to swap out the sweetener of your choice, whatever that may be (because we already threw out the traditional chemical rules for brownies anyway by making them gluten free)! Feel free to use entirely honey, raw sugar, brown sugar, white sugar, maple syrup…the goal is to make some brownies, people! And to enjoy them!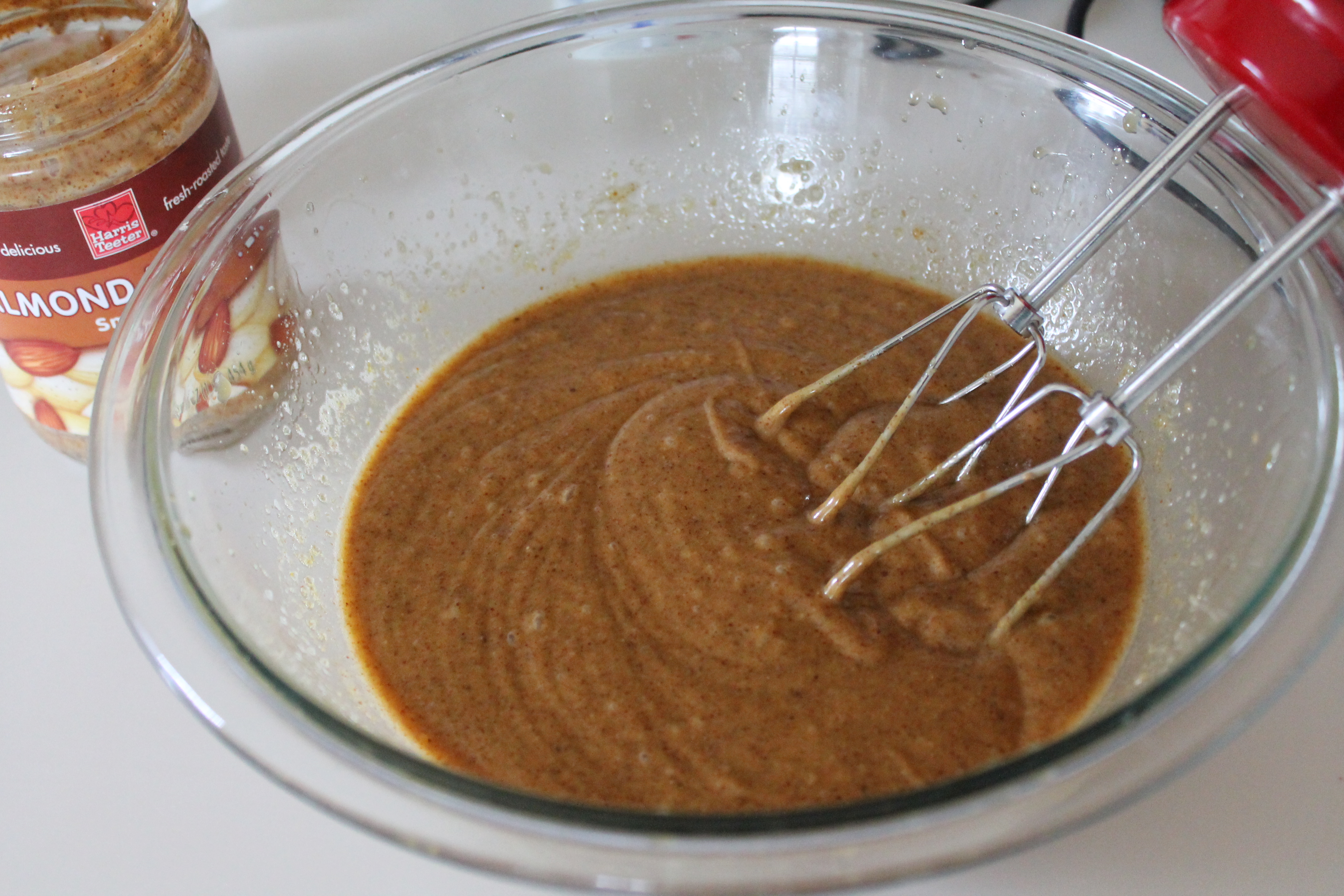 Now—you guessed it—stir in the nut butter. Almond butter is so delicious, and almonds are great for you: high in protein and fiber, and lower in calories and saturated fats than many other nuts. It's really easy to make your own almond butter (just dry toast some raw almonds and grind them for 10 minutes or so in a food processor, until really fine and sticky), but I found that Harris Teeter makes an inexpensive almond butter that doesn't contain any extra oils, salt, or sugar. Yay!
This step was where things got interesting the first time I made the brownies (remember? clumpy mess?). But look! Beautiful, thick (if a bit sticky) brownie batter happened when I used 2 eggs instead of 1. (See, you can experiment a little while baking…)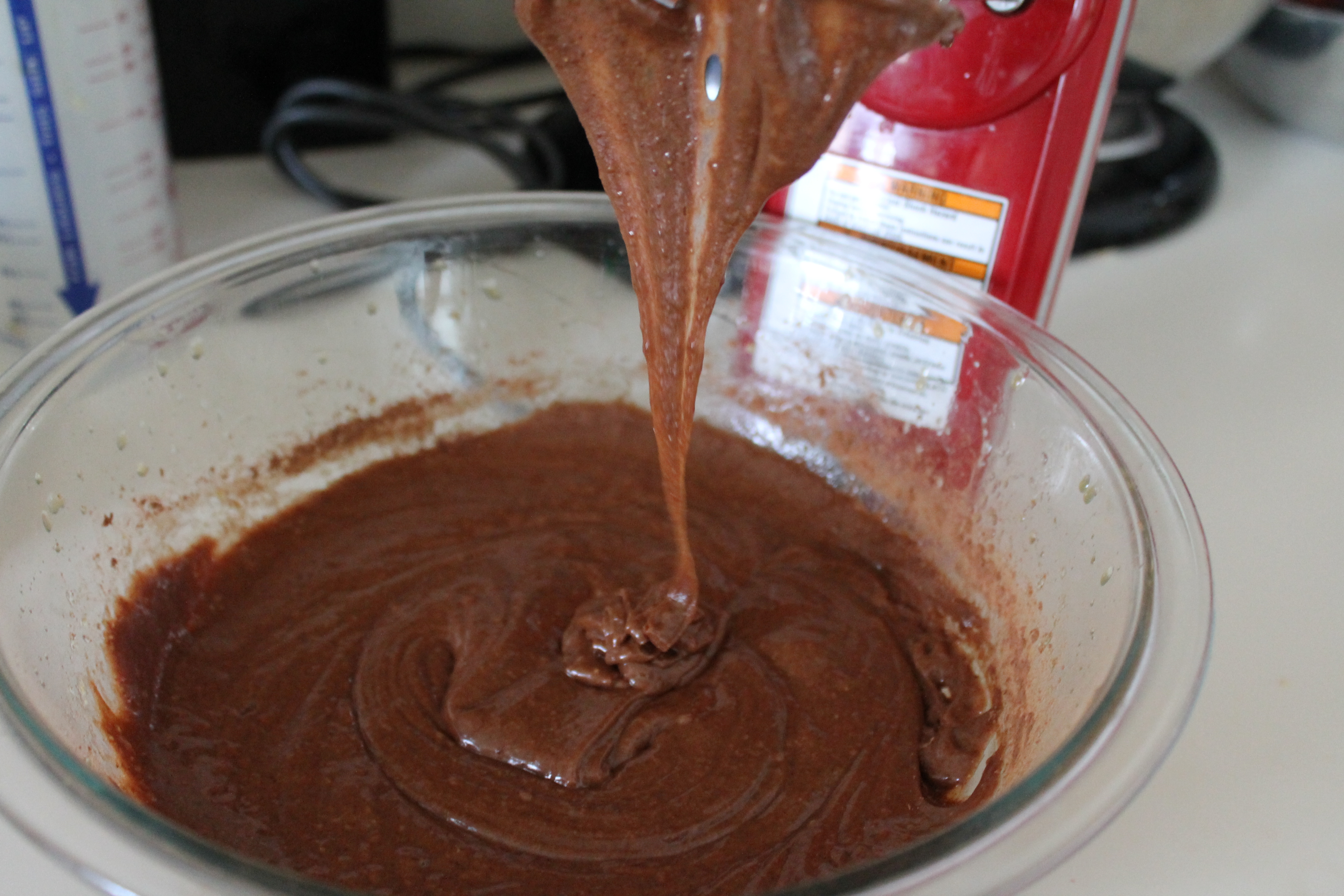 Stir in the cocoa powder and baking soda. Your batter should be thick and chocolatey.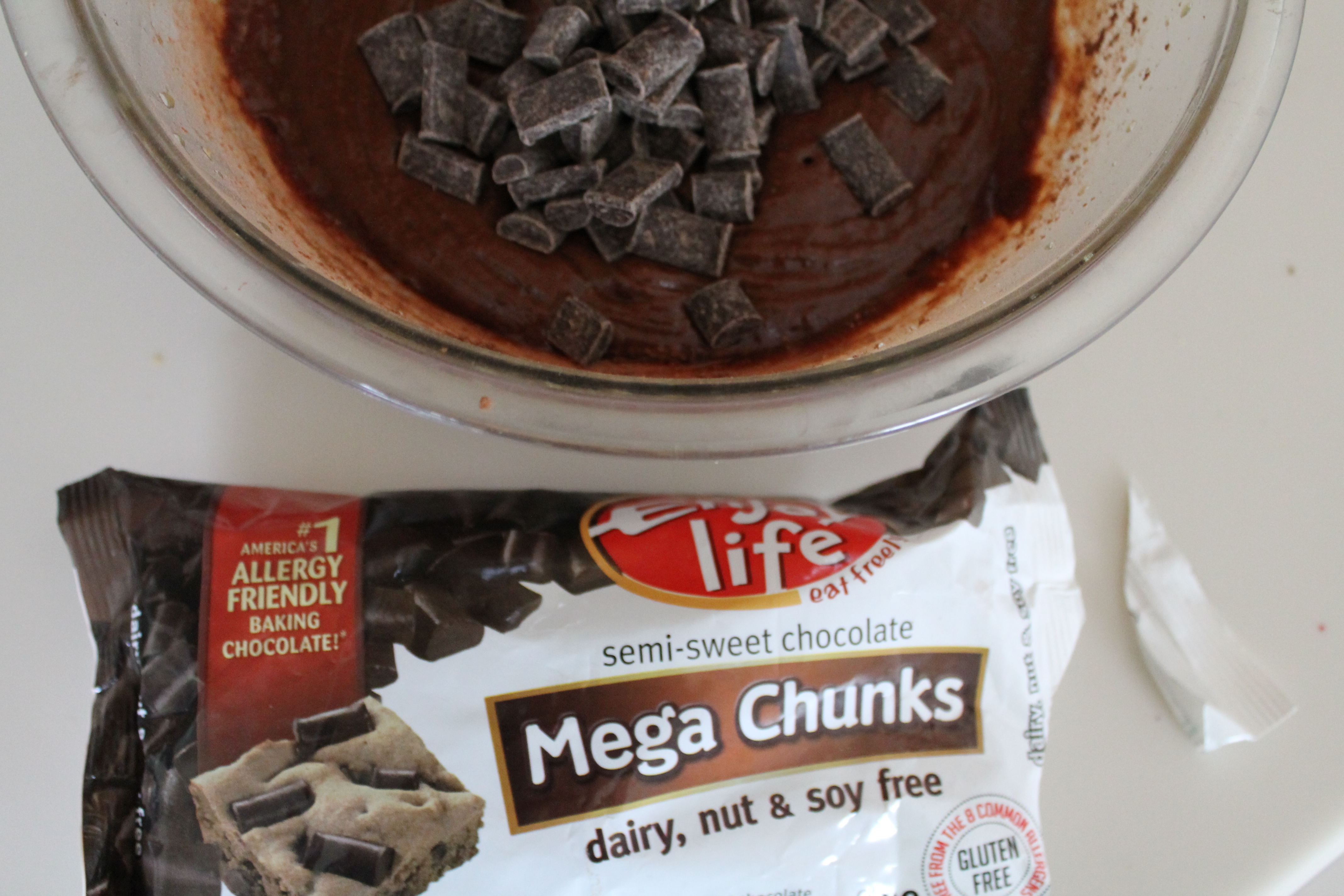 Now stir in some chocolate chunks or chips! I highly recommend Enjoy Life chocolate chunks, which are vegan and allergy friendly and delicious. If you don't have access to dairy-free chocolate, you can just add regular chocolate chips or chunks, or else skip this altogether, depending on your dietary preferences.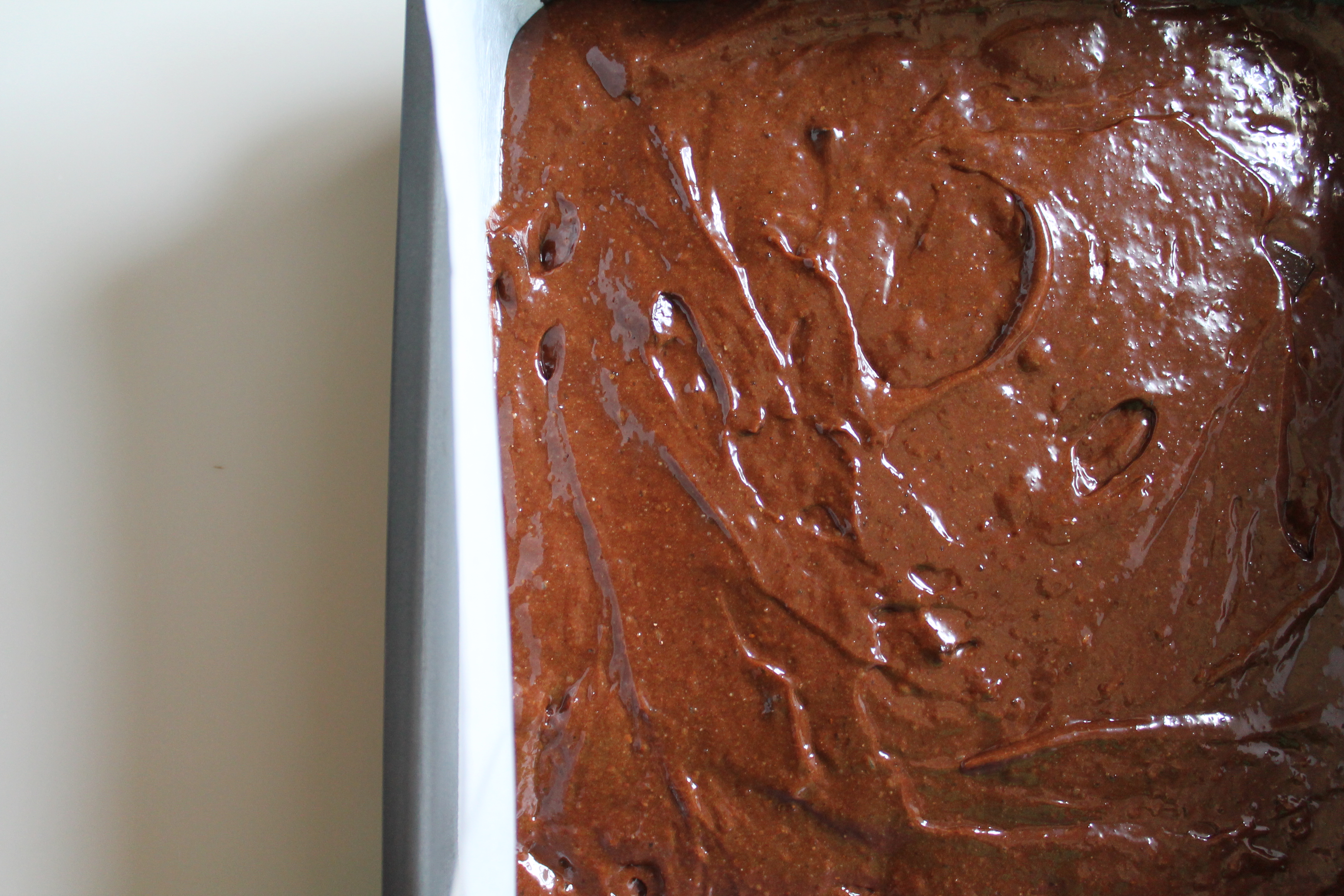 Spread the batter in a greased and lined 8″ square baking dish.
Bake for 30–35 minutes at 325°, depending on whether you like your brownies to be gooier or more cakey.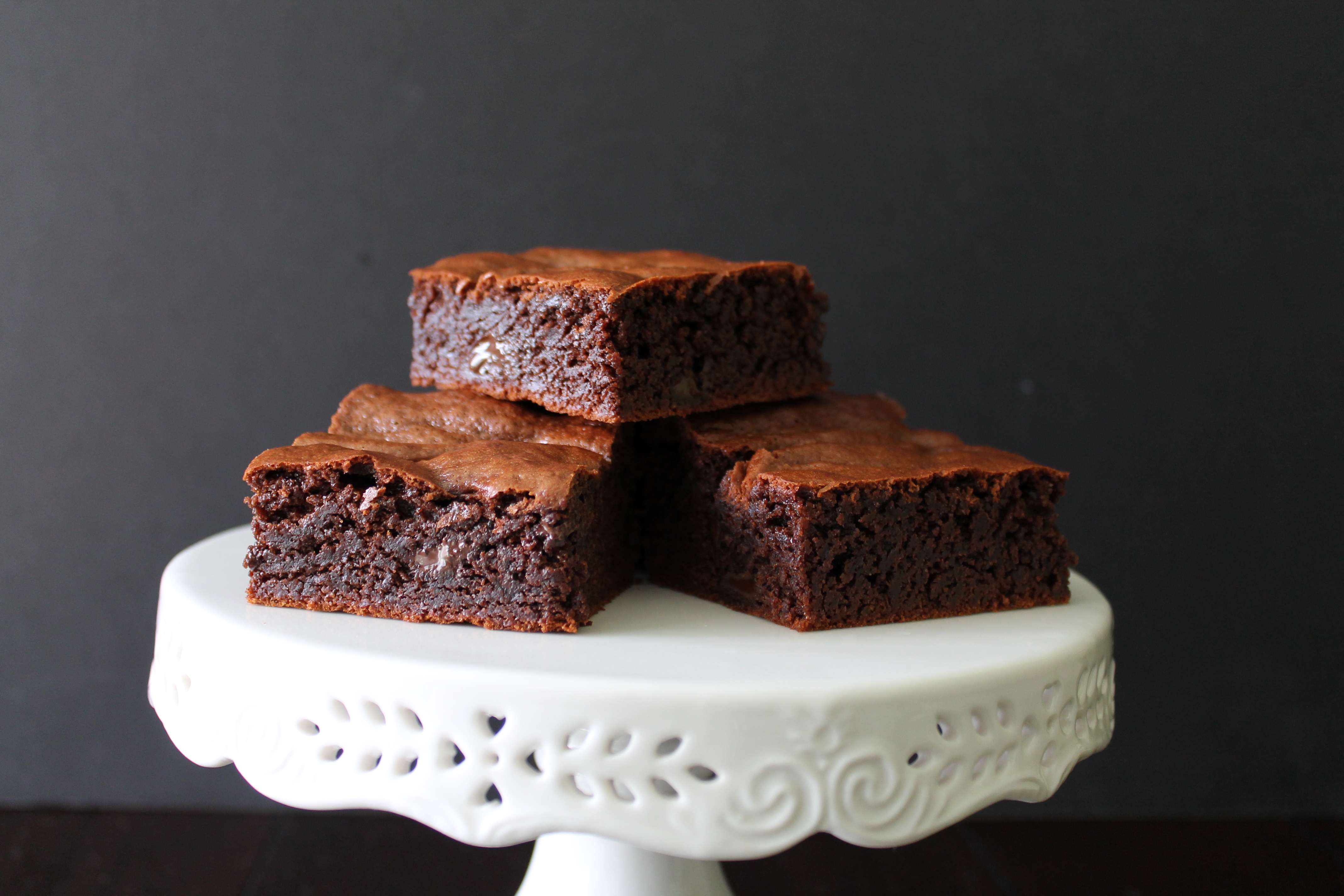 Allow to cool completely before slicing. I like to cut brownies with a plastic knife, as I find that this technique produces much neater squares!
Almond Butter Brownies
heavily adapted from Fit Mama Real Food
makes 9
Ingredients:
2 eggs
½ cup raw honey
2 tbsp. sugar in the raw
2 tsp. vanilla extract
1 cup well stirred, creamy almond butter*
6 tbsp. cocoa powder
½ tsp. baking soda
pinch of salt
½ cup Enjoy Life chocolate chunks or other chocolate chips
Directions:
Preheat oven to 325°. Grease an 8″ square baking dish, line it with parchment, and grease the parchment.
In a large bowl using a hand mixer, whip the eggs, sugar, honey, and vanilla until thick and pale.
Beat in the almond butter until completely combined and smooth.
Stir in the cocoa powder, baking soda, and salt, then fold in the chocolate chunks.
Spread the brownie mixture evenly in the prepared pan.
Bake for 30–35 minutes, until evenly puffed and set in the center. A toothpick inserted in the center comes out clean (a little bit of chocolate on the toothpick is fine, but if it is very gooey, return the brownies to the oven).
Cool completely on a wire rack before slicing.
*Note: Ideally, all-natural almond butter is best (i.e., made from dry-roasted almonds without any added sugars, salt, or oil).
Enjoy!
One year ago: Orange Olive Oil Cake
Two years ago: Butter Buddies
Three years ago: Spring Mix Salad