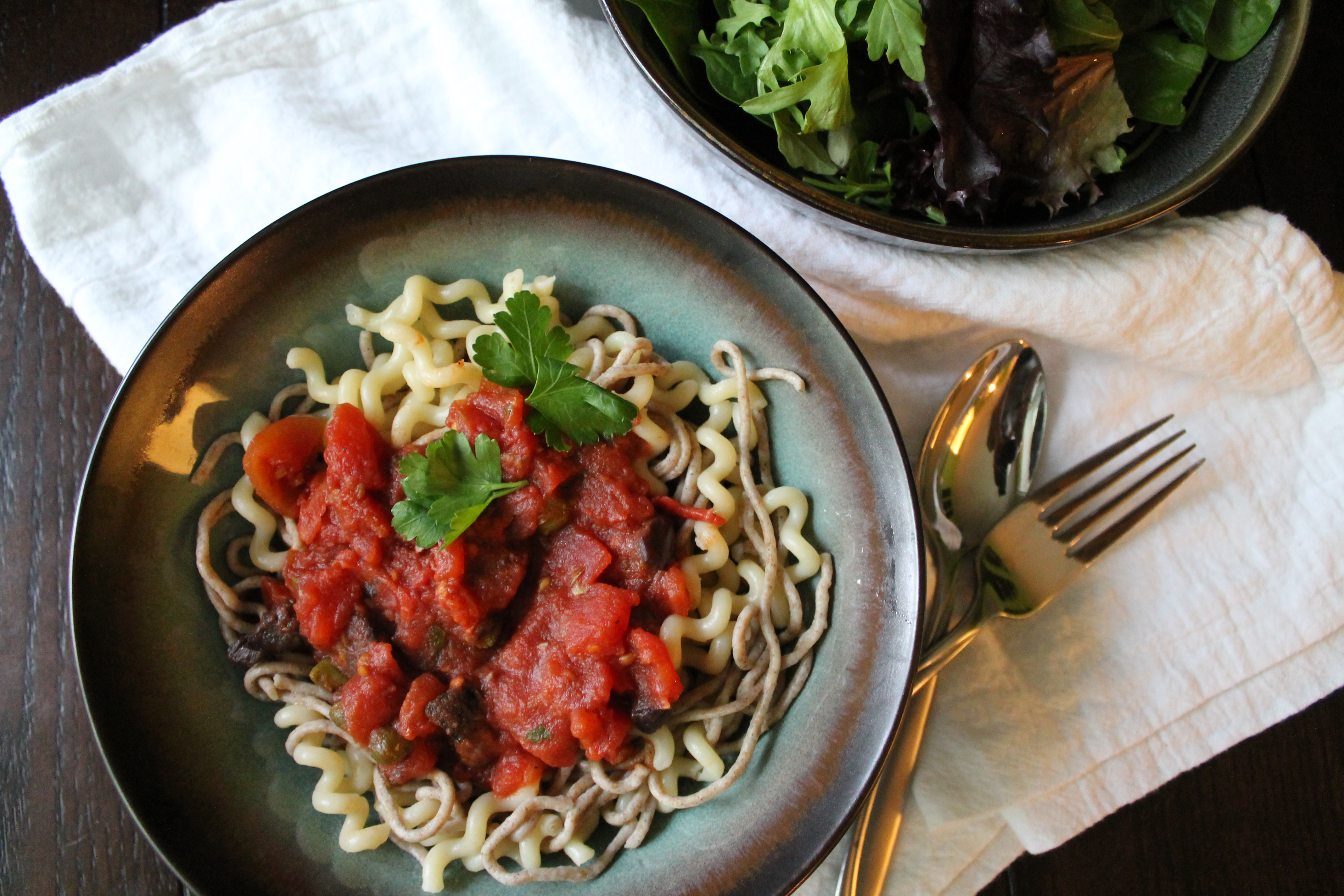 Every time I hear the word puttanesca I think of Lemony Snicket.
There is a rather fantastic scene in the first book of the series (okay, and also in the movie) in which the three Baudelaire orphans must make a meal for a horrible uncle whose kitchen is mainly full of old tools, dust, and bugs. The resourceful kids manage to gather just enough actual food to cobble together a pasta dish—puttanesca, which apparently means "very few ingredients." (Okay, it doesn't really mean that. But it sounds better than the real meaning, so I am running with it.)
I had never had pasta puttanesca before. I had never heard of it before. And after reading the ingredients Lemony Snicket listed out, I pretty much vowed I would never try it. College me…not such a big fan of anchovies and olives.
But look! I have grown! As have my taste buds! Which is why I was so excited to come across a recipe for puttanesca on Mostly Food and Crafts, my Secret Recipe Club blog for May. I haven't made pasta in a looong time. But since Dave asks for spaghetti almost every time I consult him on what to eat for dinner, I figured this was the perfect opportunity to tune in to his suggestion!
Puttenesca is quite simple to make, and it's actually perfect for mid-Spring…a time when I start craving tomatoes because it's finally warming up, but fresh, local tomatoes are not yet in season.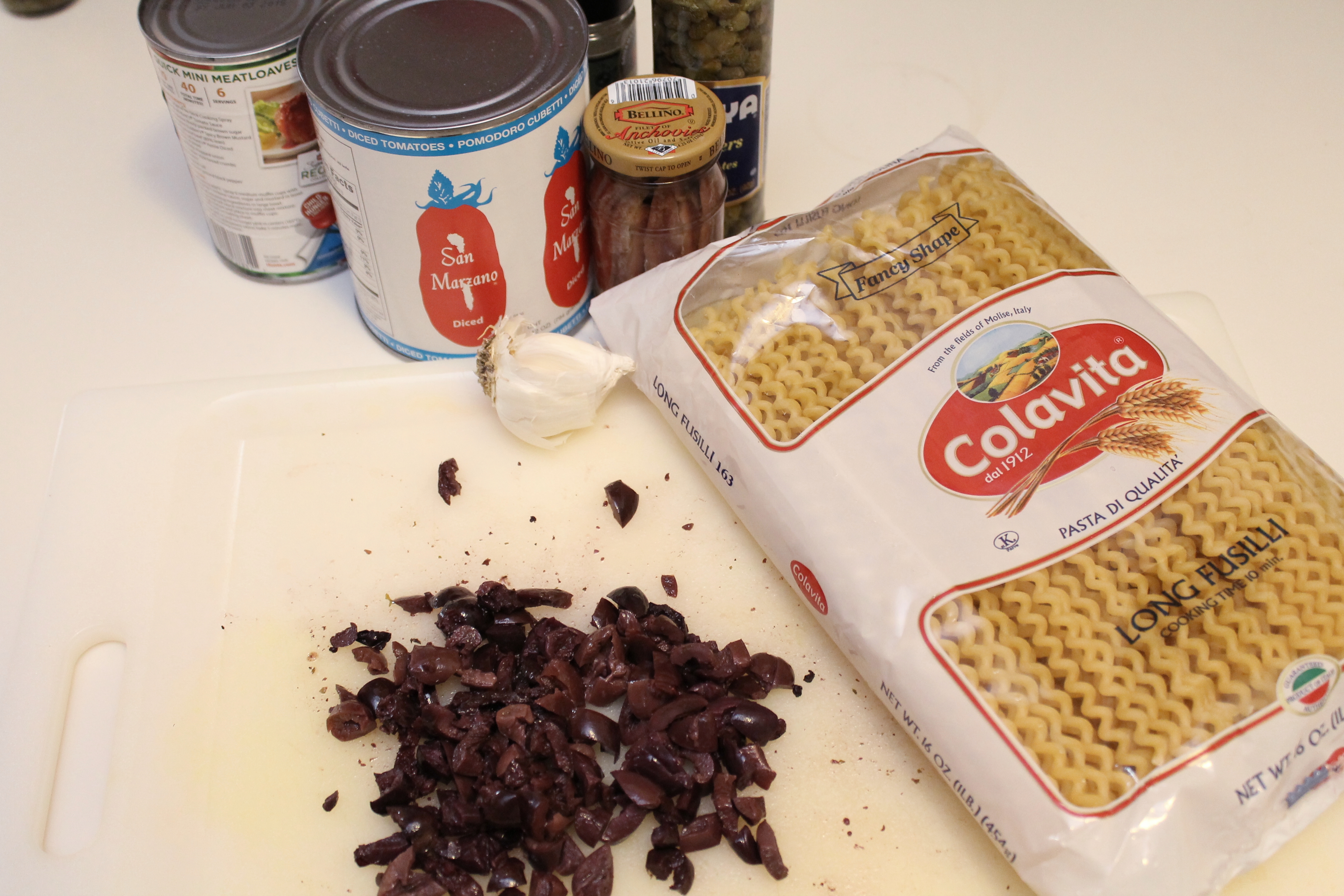 Because I love to do things from scratch, I opted against using a pre-made marinara and instead used jarred tomatoes, a few spices, and loads of garlic. (I also skipped the shrimp in Danielle's recipe, mainly to have mercy on Dave, who hates shrimp. Weirdo.) Building the sauce from the most basic ingredients also fit well with my mental image of puttanesca.
First things first. Get your pasta going. Lemony Snicket recommends "interestingly shaped" pasta. I think you can really go with whatever pasta you like best, but I used mixed pastas: part long, curly spaghetti (technically called long fusilli) and part homemade whole wheat-buckwheat spaghetti.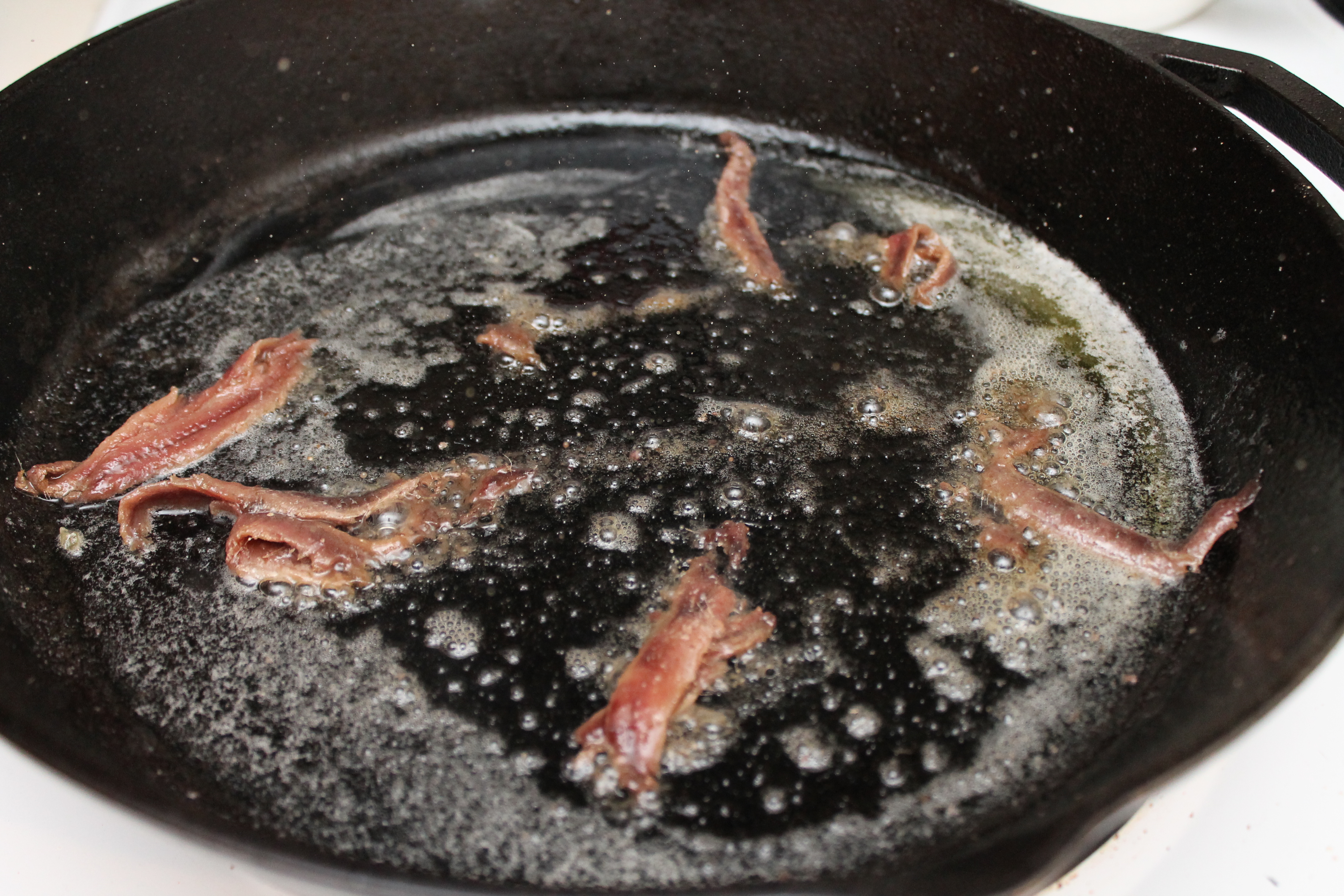 Now we make the sauce. Start with the anchovies. I did have to gather a bit of courage to open the anchovies…but if you, like me, cringe at the word alone, have no fear! They just provide a bit of savory background to the sauce. Plus, of course, a lot of saltiness. Also, I read that anchovies would "melt" if given enough time over heat, and that seemed perfect to me—an anchovy skeptic (and they did!).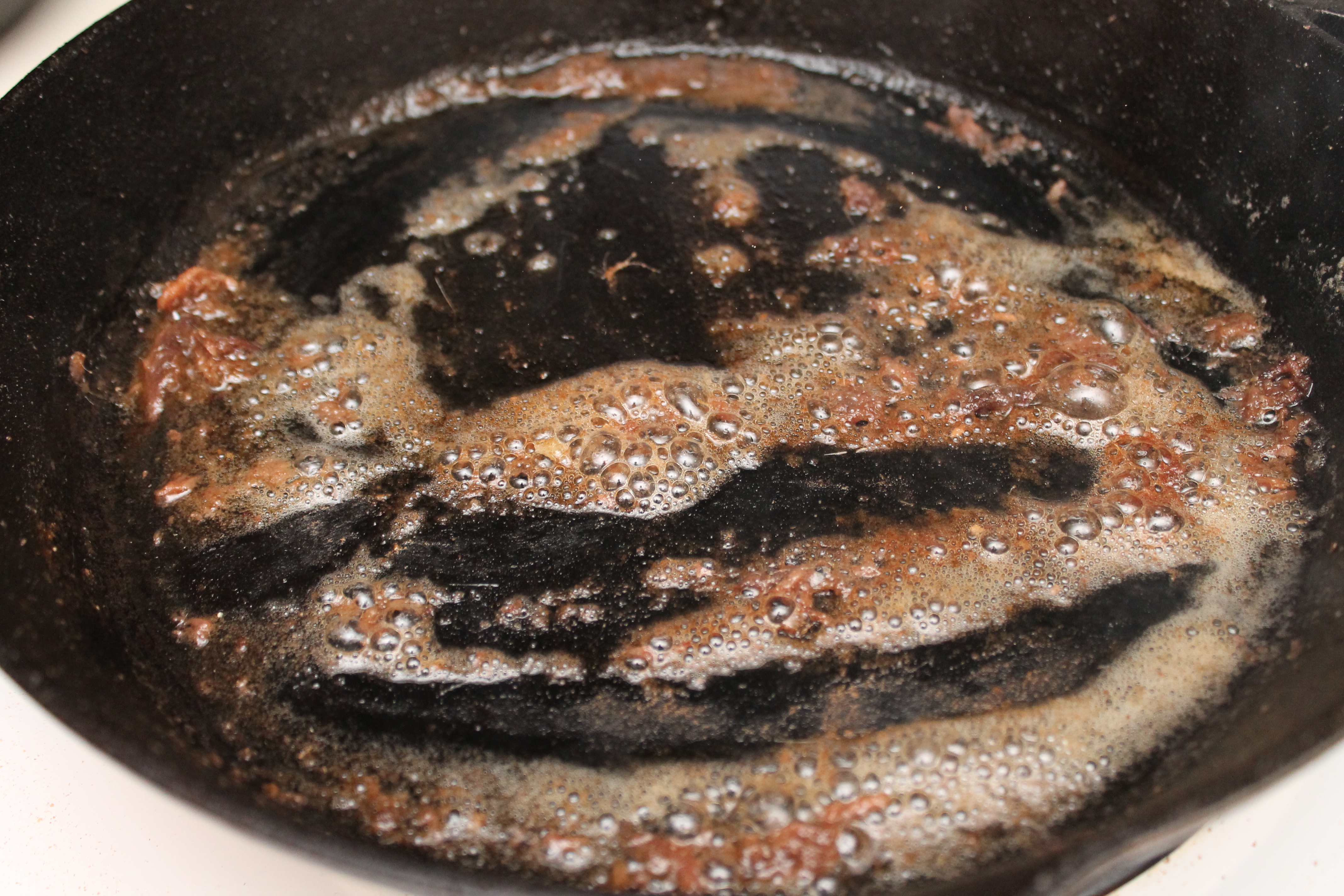 Now, I used probably about 7 anchovies, mainly because that was how many I managed to pull out of the little jar at once. You could go for as few as 2, which would also decrease the salinity of the sauce.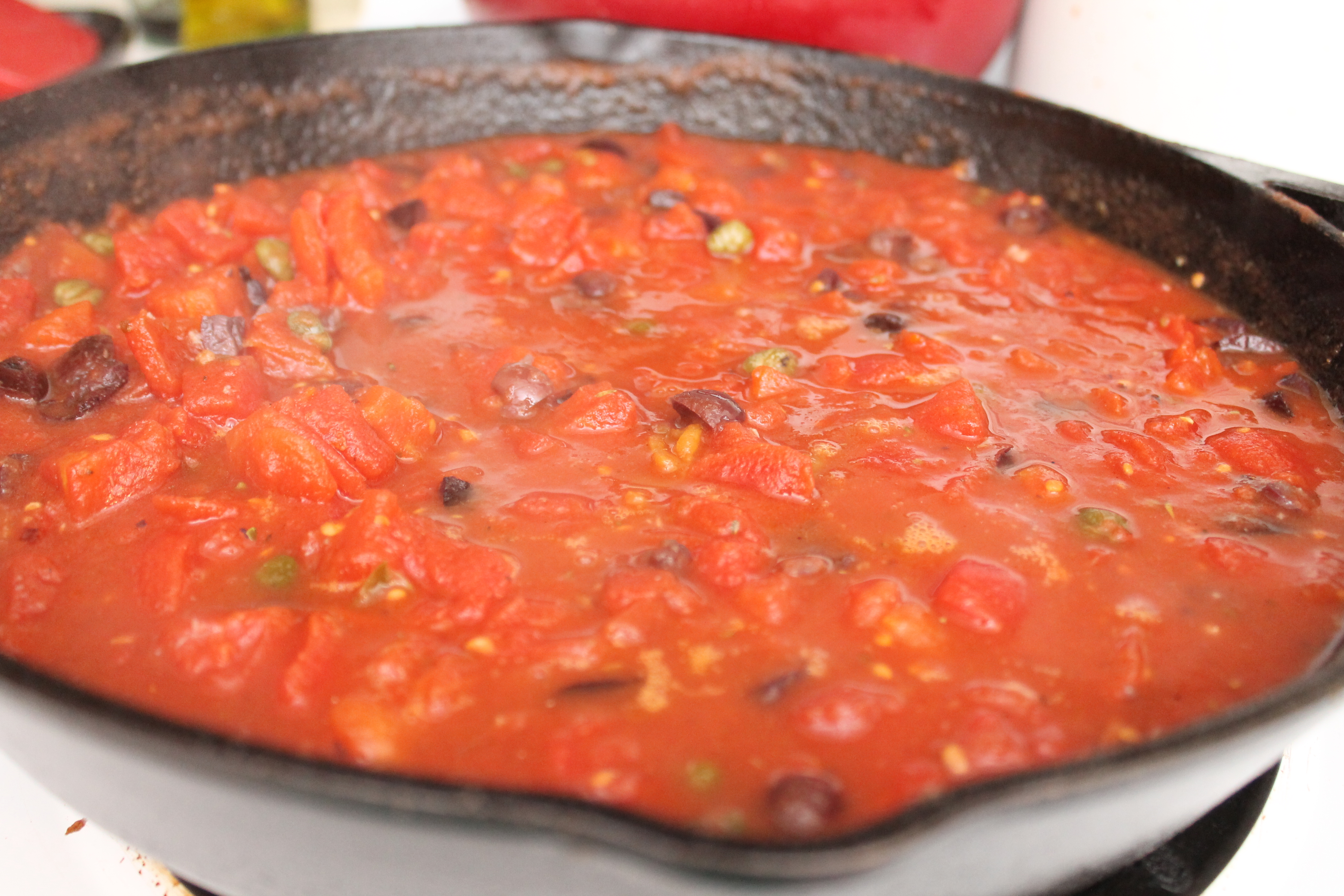 Once the anchovies melted, I just tossed in the rest of my ingredients: garlic, canned diced tomatoes, roughly chopped olives, capers, crushed red pepper, black pepper, dried oregano, and a bit of fresh parsley. I recommend using low-sodium or no-salt-added tomatoes, simply because most of the other ingredients naturally pack quite a bit of salt. Crush the tomatoes slightly as the sauce heats. It's good for the sauce to be a bit chunky! More rustic is the goal here.
Note that it's really NOT a great plan to salt the sauce at this point (how often can I say it?), though I know it's tempting to season liberally. Capers, olives, and anchovies are all quite salty! Trust me, the sauce is salty. Let the sauce do its thing, and taste it before serving: if you still feel that salt is needed, proceed cautiously. Just don't dump a palmful in without tasting first.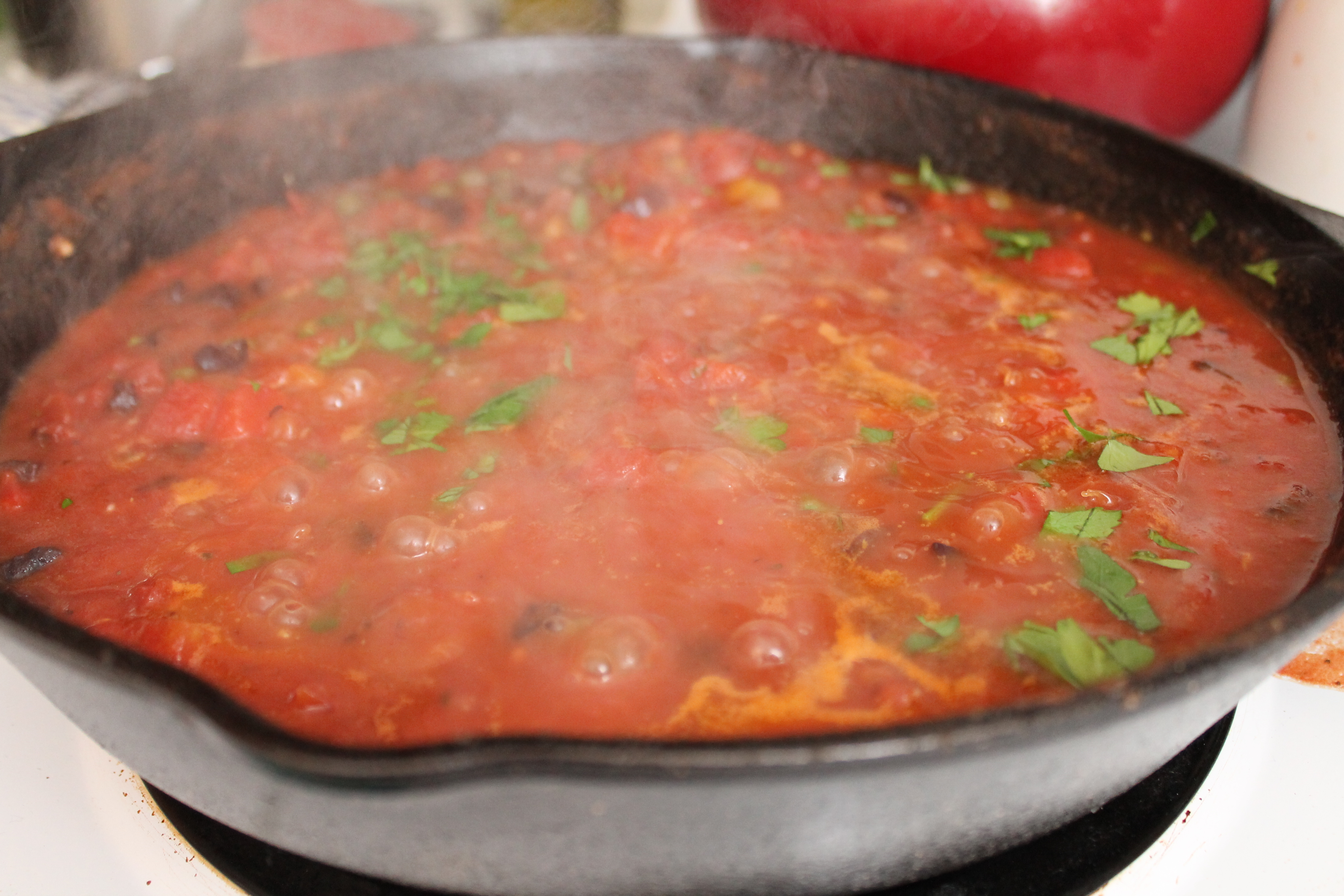 When the pasta sauce is bubbly, reduce the heat and simmer for 8–10 minutes to allow the flavors to mingle. Stir occasionally to prevent the bottom from burning.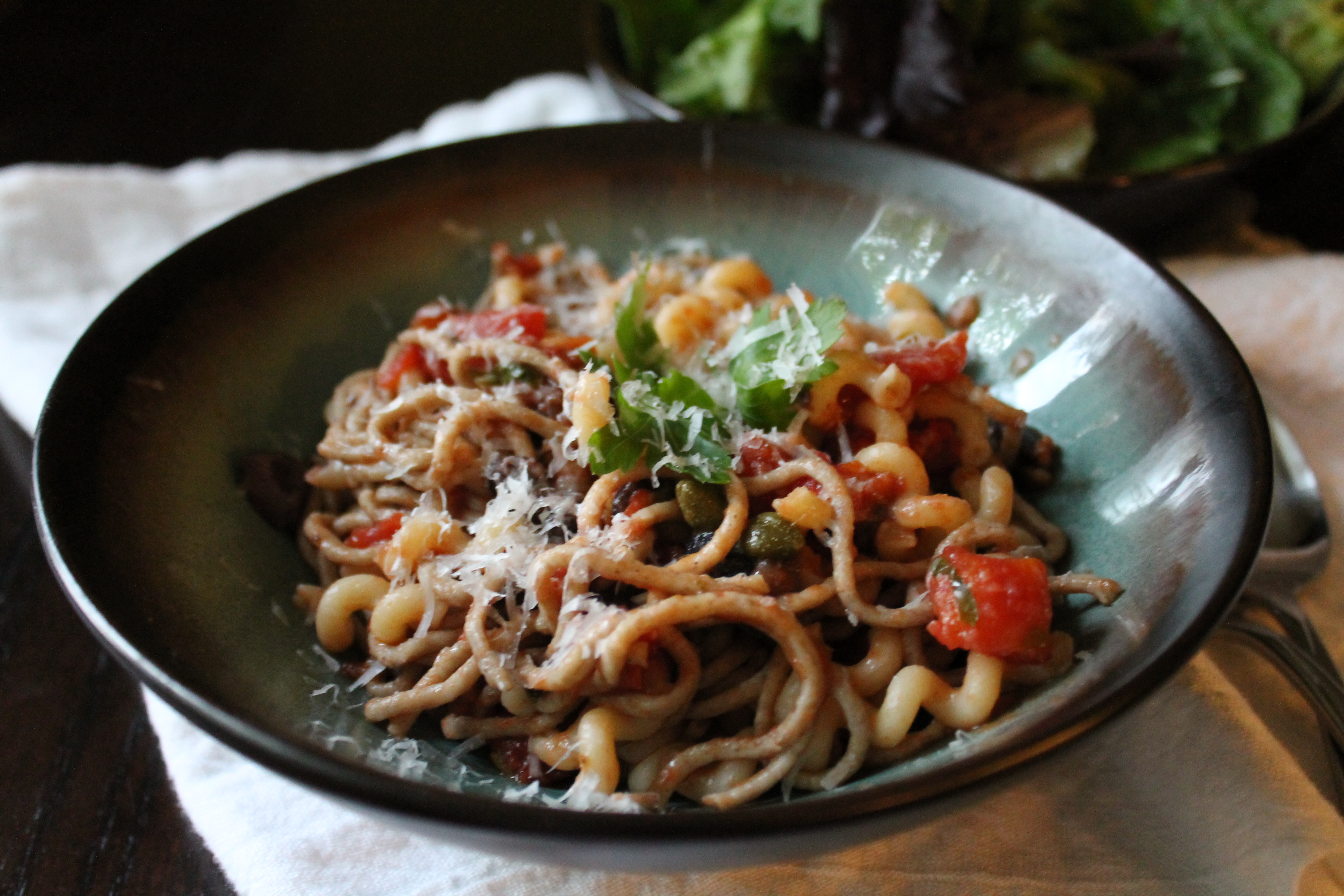 Drain your pasta and toss with the hot puttanesca. Garnish, if you like, with hard cheese, extra herbs, or even extra pepper. Normally, I don't like parsley all that much, but I think the grassy bite really accents the briny capers and olives perfectly! So don't be shy with the fresh herbs!
Pasta Puttanesca
heavily adapted from Mostly Food and Crafts
serves 4–6
Ingredients:
1 lb. long pasta such as spaghetti or tagliatelle
2 tbsp. olive oil
2–7 anchovy fillets
4–5 large cloves garlic, minced
1 28oz. can plus 1 14oz. can low-sodium diced tomatoes
3–4 tbsp. nonpareil capers, drained
20 kalamata olives, pitted, coarsely chopped (about ½ cup)
¼ tsp. crushed red pepper
¼ tsp. dried oregano
black pepper
fresh parsley, roughly chopped
Directions:
Cook the pasta according to package directions.
Meanwhile, heat the olive oil in a large skillet. Add the anchovies and cook for 2–3 minutes, until they melt into a brown foam. Add the rest of the sauce ingredients and stir, lightly crushing the tomatoes with the back of the spoon.
When the sauce bubbles, reduce the heat to medium-low and simmer 8–10 minutes to allow the flavors to mingle. Taste and adjust seasonings as needed.
Drain the pasta. Quickly toss with the hot sauce. Garnish with extra parsley and freshly ground black pepper. Serve immediately.
Enjoy!
One year ago: Homemade Baby Food
Two years ago: Vegetable Khorma
Three years ago: Cardamom Tea Cakes