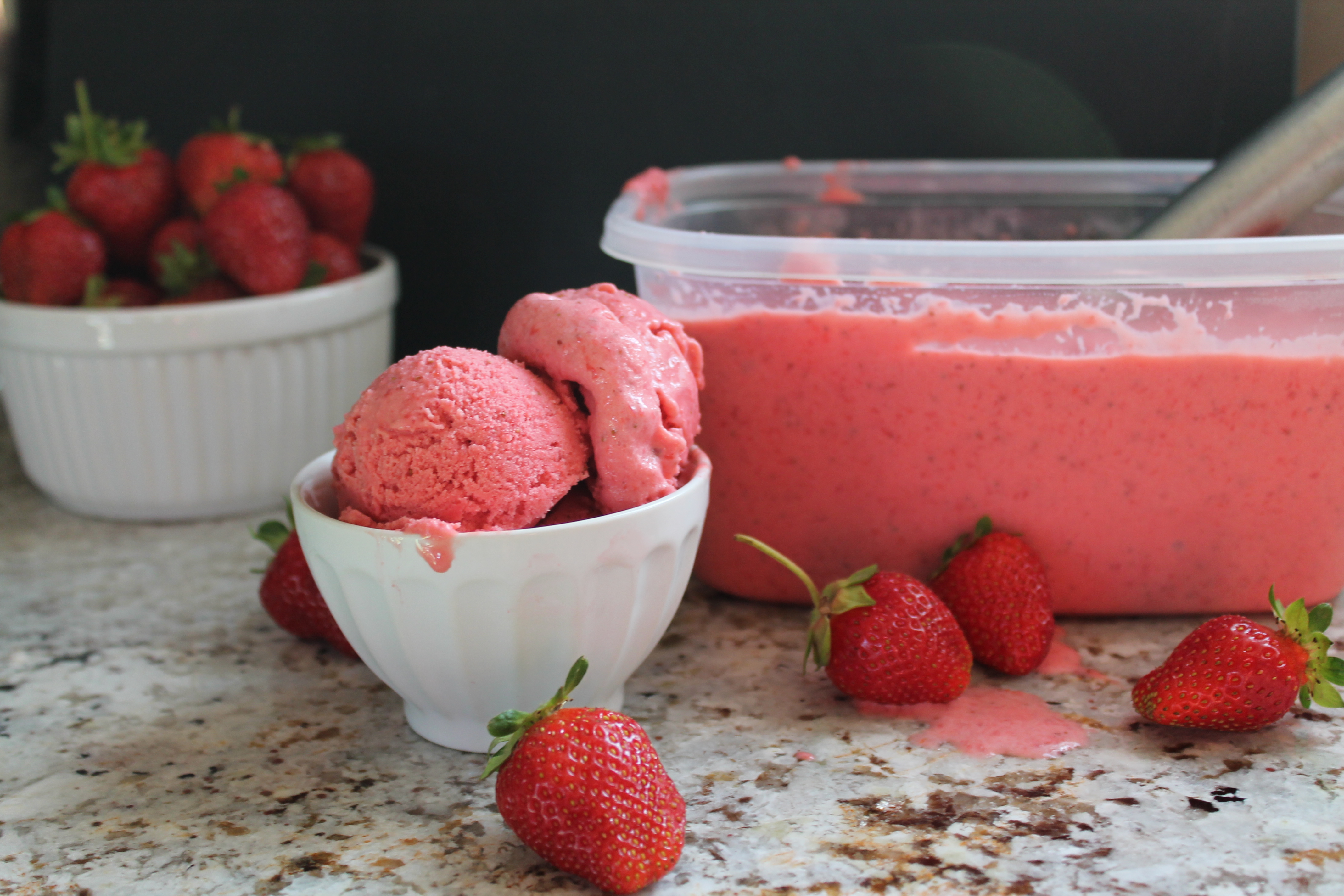 Over Memorial Day weekend, we took our first family adventure since Caitlin was born: strawberry picking at Wegmeyer Farms!
It was a perfect sunny morning, and the strawberry fields were absolutely full of huge, ripe red strawberries just begging to be eaten. (No, not by me…I still don't like strawberries.) This was by far the best strawberry picking experience we have ever had. In almost no time at all, we had gathered 5 lbs. of gorgeous strawberries and we were on our merry way back home!
Jake spent the rest of the morning alternately stealing strawberries from the bucket and pretending his little Lego men were taking trips to the farm to pick red Lego strawberries of their own. I spent the rest of the morning preparing this frozen yogurt!
This frozen yogurt is so simple to make. There is quite a bit of built-in resting time so that the strawberries can release their juices and the yogurt mixture can chill. Perfect for, say, nursing an infant…
Dave says that this fro-yo is quite like a sherbet because of how intense the strawberry flavor is. If you want something more creamy and less strawberry, then I would recommend decreasing the strawberries by 1 cup and adding ½–1 cup more yogurt.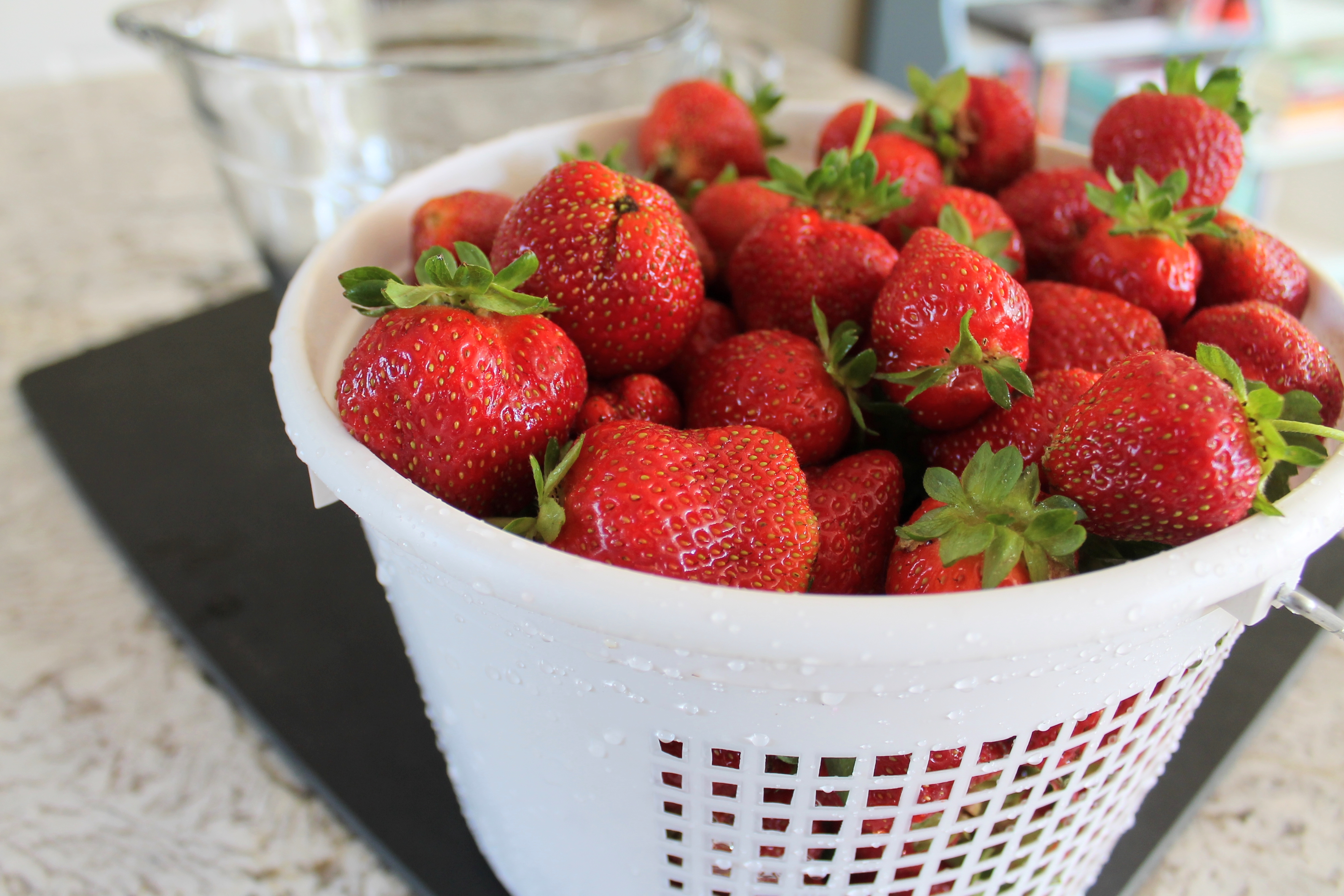 On we go! Start by washing the strawberries. You definitely don't want any surprises (sneaky bugs? dirt?), and these beauties were attached to a plant an hour ago!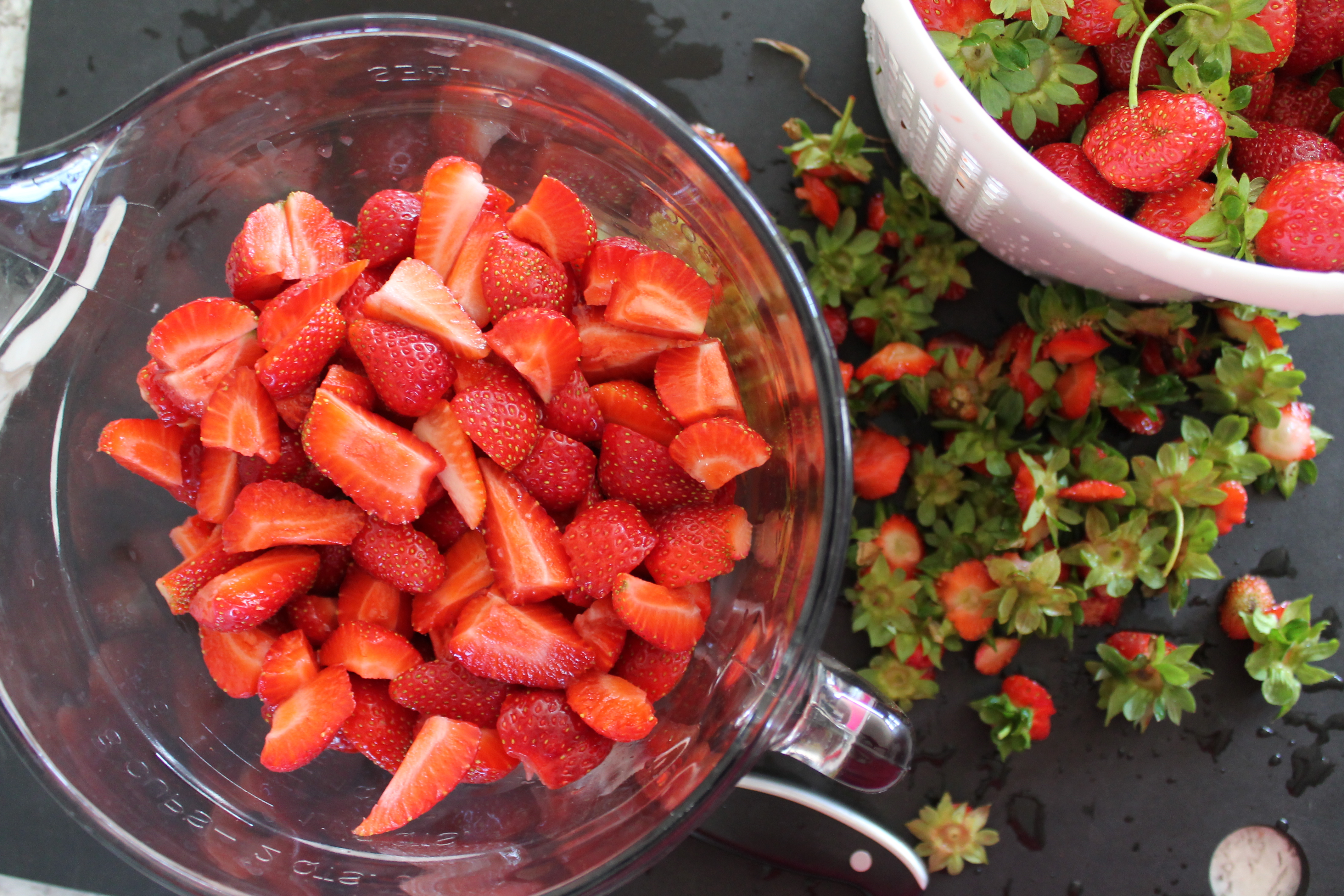 Hull and roughly chop the strawberries. Dave helped me with this step, and more than a few berries disappeared into his mouth. It's cool. Our berries from Wegmeyer Farms were perfect: deep red and juicy all the way to the center!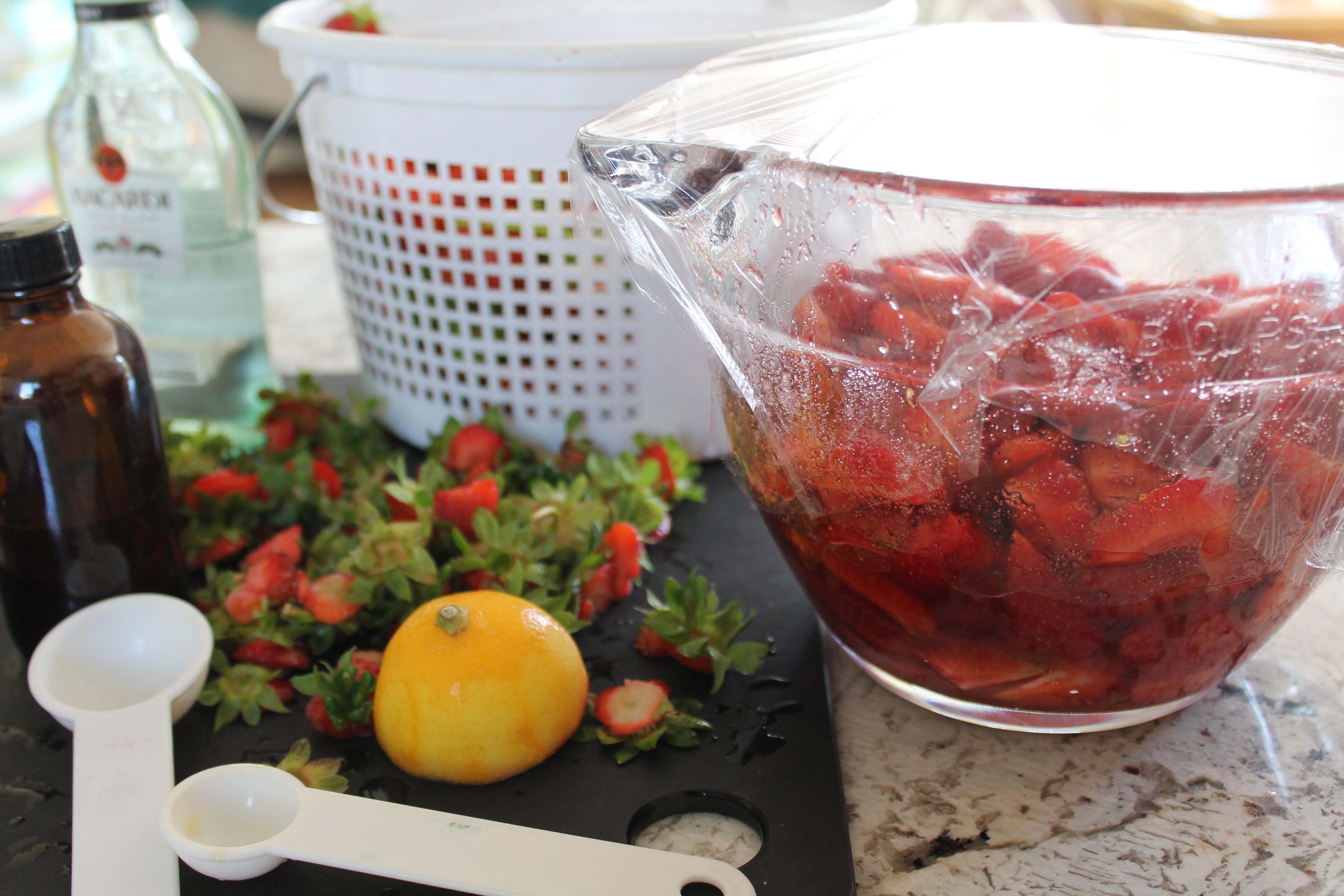 Toss the strawberries with sugar, rum, lemon zest and juice (I used a Meyer! but any lemon would do), and vanilla extract. Cover the bowl and let the berries macerate on the counter for 1 hour.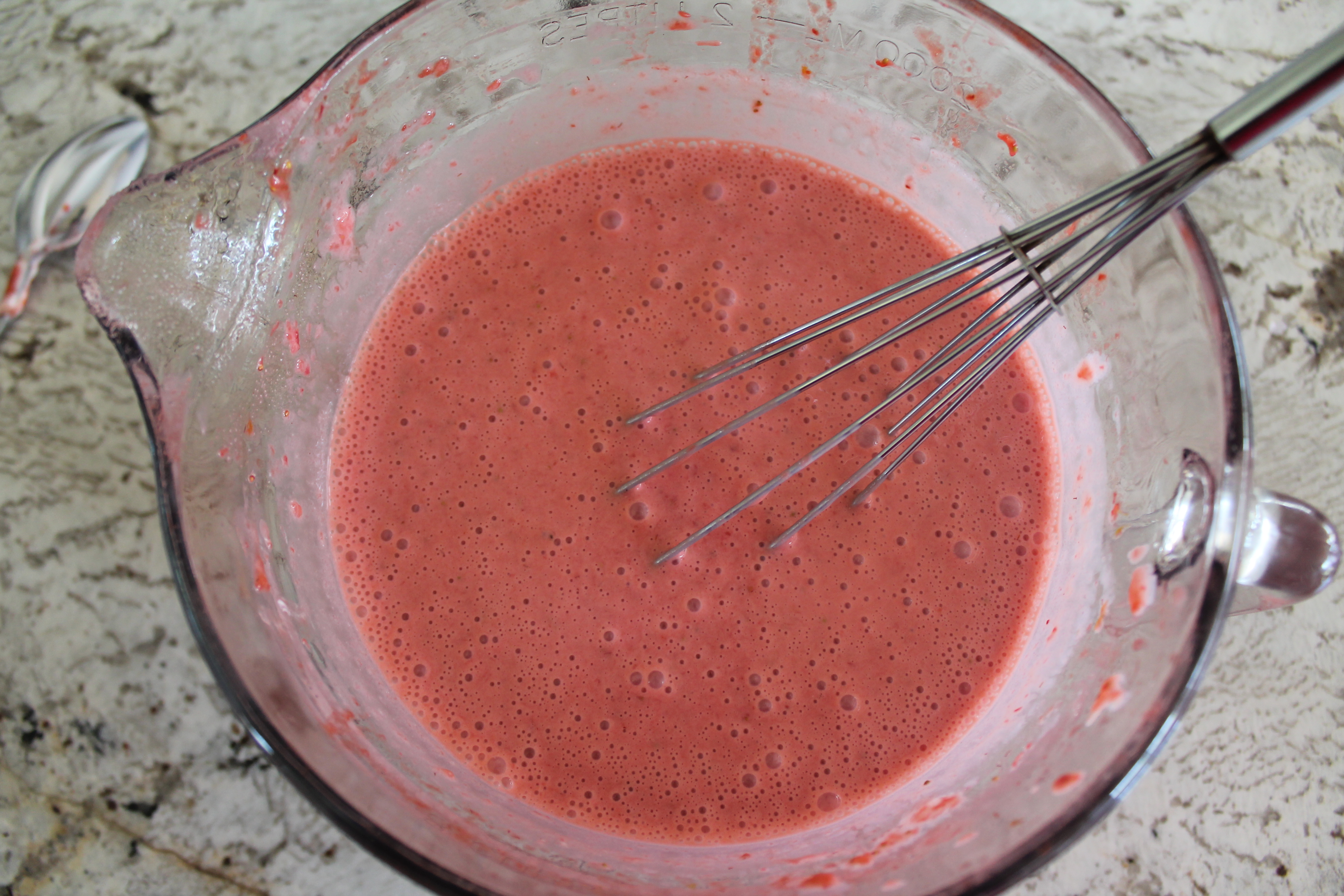 Puree the strawberries with their juices. Pink soup! If you want to get a really smooth ice cream, then use a high-speed blender and strain the puree. I kept it simple and skipped the straining.
Whisk the strawberry soup with Greek yogurt. Here is where I sing the praises of my new favorite Greek yogurt: Cabot 10% milkfat plain Greek. YUM. YUM. YUM. It is so thick and creamy, which is perfect for making frozen yogurt, and it is not as bitter as fat-free Greek yogurts tend to be.
Of course, feel free to use whatever Greek yogurt you please…but I am rooting for a higher fat version! True, this fro-yo won't be fat free…but we are over the idea that fat-free is best, right? And in this case, fat will actually help your blood sugar not to skyrocket. So. There's that.
Chill the strawberry-yogurt mixture in the fridge for 1 hour. This will help the yogurt to churn and freeze faster!
By the way, if you haven't prepped your ice cream maker by pre-freezing it, you are probably in trouble…or at least in for another long wait! My Kitchenaid ice cream maker lives in the freezer (you know, just in case!), but it requires a minimum of 15 hours in the freezer before it can successfully churn anything. Make sure your ice cream maker is ready to go!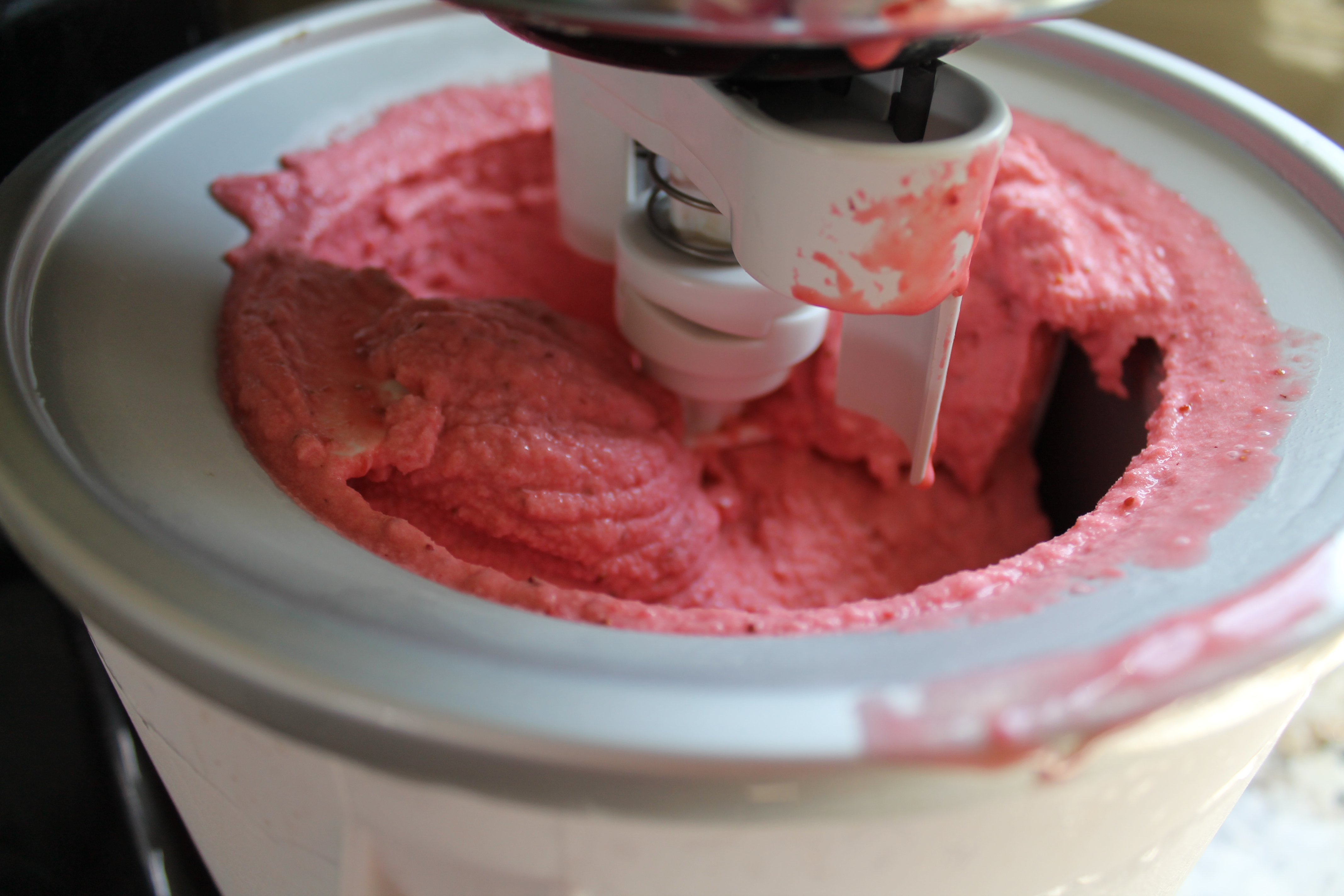 Churn the yogurt according to the manufacturer instructions on your ice cream maker. This should take 20–30 minutes.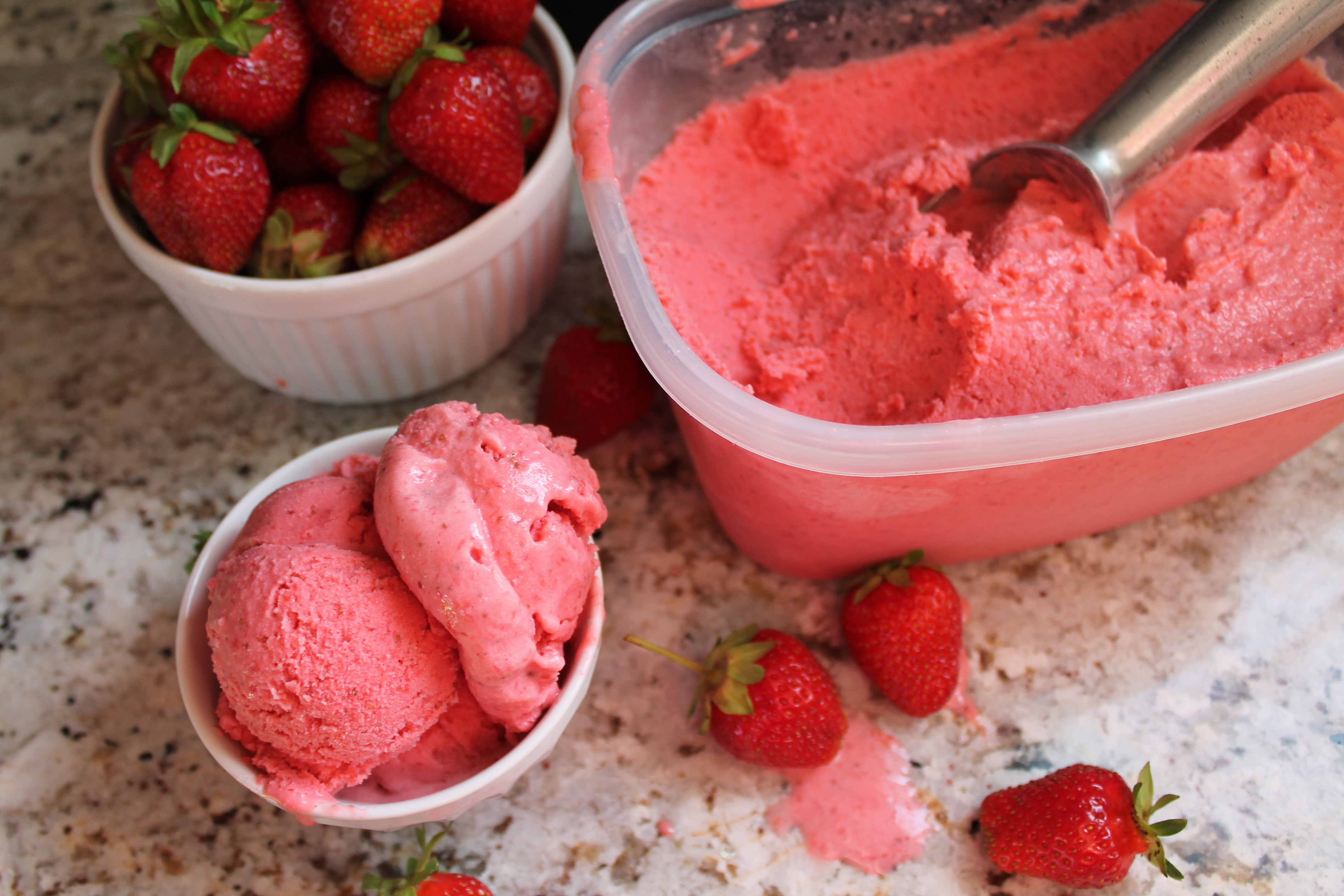 Transfer the frozen yogurt to a wide, shallow container with an airtight lid. Freeze for at least 3 hours before scooping. Serve with extra fresh berries for a perfect seasonal Spring treat!
Fresh Strawberry Frozen Yogurt
barely adapted from the Neelys on Food Network
makes 1 qt./serves 4–6
Ingredients:
4 cups fresh hulled and quartered ripe strawberries
¾ cup sugar
1 tbsp. rum (optional)
1 tsp. lemon zest
1 tsp. lemon juice
1 tsp. vanilla extract
1 cup plain Greek yogurt, ideally 4% milkfat or higher
Directions:
Combine the strawberries in a large bowl with the sugar, rum, lemon zest and juice, and vanilla. Toss to coat the strawberries evenly. Cover the bowl tightly with plastic wrap and let the strawberries macerate on the counter for 1 hour.
Puree the berries and their juices until a thin, even liquid forms. Transfer back to a large bowl. If desired, strain out the seeds and any pulpy bits using a fine mesh strainer.
Whisk the yogurt into the strawberry mixture until smooth. Cover the bowl and chill in the refrigerator 1 hour.
When ready, churn the yogurt according to the ice cream maker manufacturer instructions.
Transfer the ice cream to a wide, shallow container, and store in the freezer. Chill at least 3 hours before serving.
Enjoy!