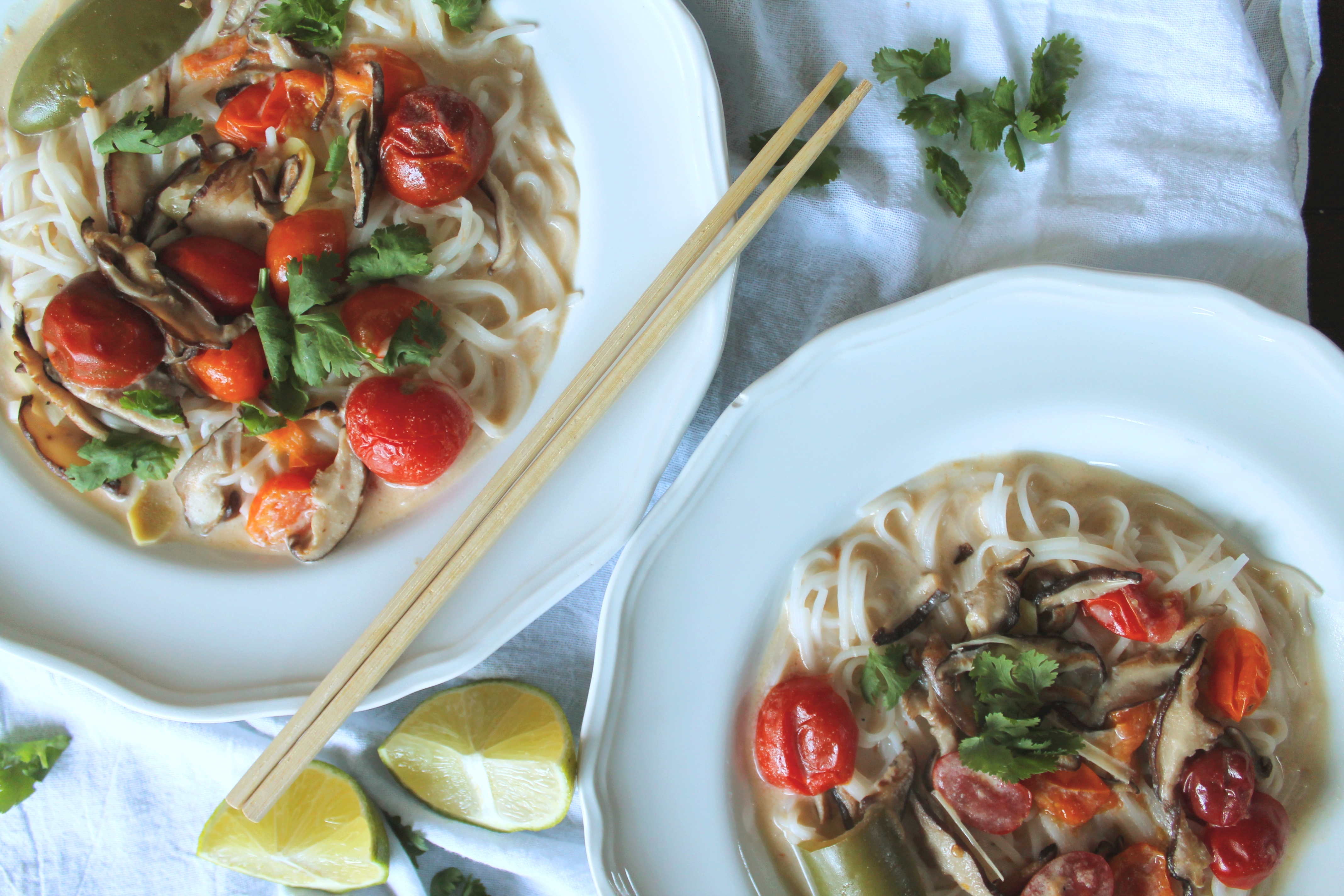 When my mom comes to visit, I get kind of excited.
For obvious reasons! She's the best!
But also because her visits pull me out of my dinner ruts. She doesn't eat wheat or dairy, so sometimes I have to get really creative to make meals that we can all enjoy! (We eat a lot of Asian cuisines.)
I was a little skeptical about this pasta at first, because I don't typically love savory coconut without its best friends chili and curry. When I tasted the broth halfway through, I heaved a great sigh of disappointment that it was weird and bland despite its bursting tomatoes and lemongrass.
But dinner must go on (the natives were hungry), and so must I. And much to my surprise, after I added in a generous splash of lime juice and fish sauce, the boring and vaguely sweet coconut sauce turned into this amazing, tangy, practically drinkable concoction.
A symphony of flavors.
Pasta should be easy to make, right? Right.
And this one is. But we do simmer the sauce for quite a while to build the flavors.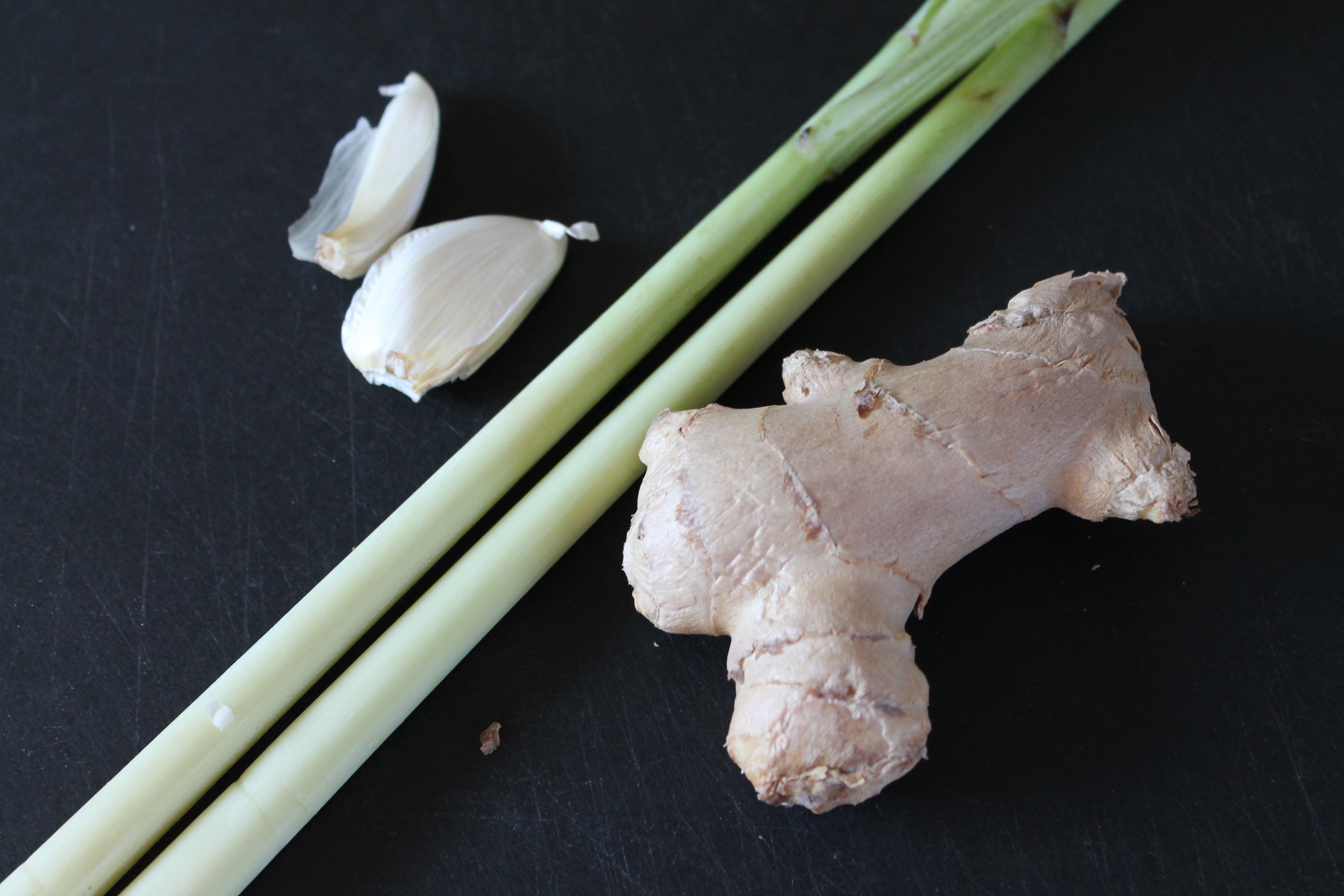 Get the sauce going: finely chop some fresh gingerroot, smash a few inches of lemongrass, and crush a clove of garlic. Toss them into a large pan with the coconut milk (use the canned kind rather than the non-dairy drinking milk), cherry tomatoes, and chile halves. A Thai bird chile would be awesome, but I had jalapeños in the fridge waiting to be eaten, so I went a little less traditional—and a little less spicy. I also removed the seeds from my chile because I didn't want to burn the lips off my toddler.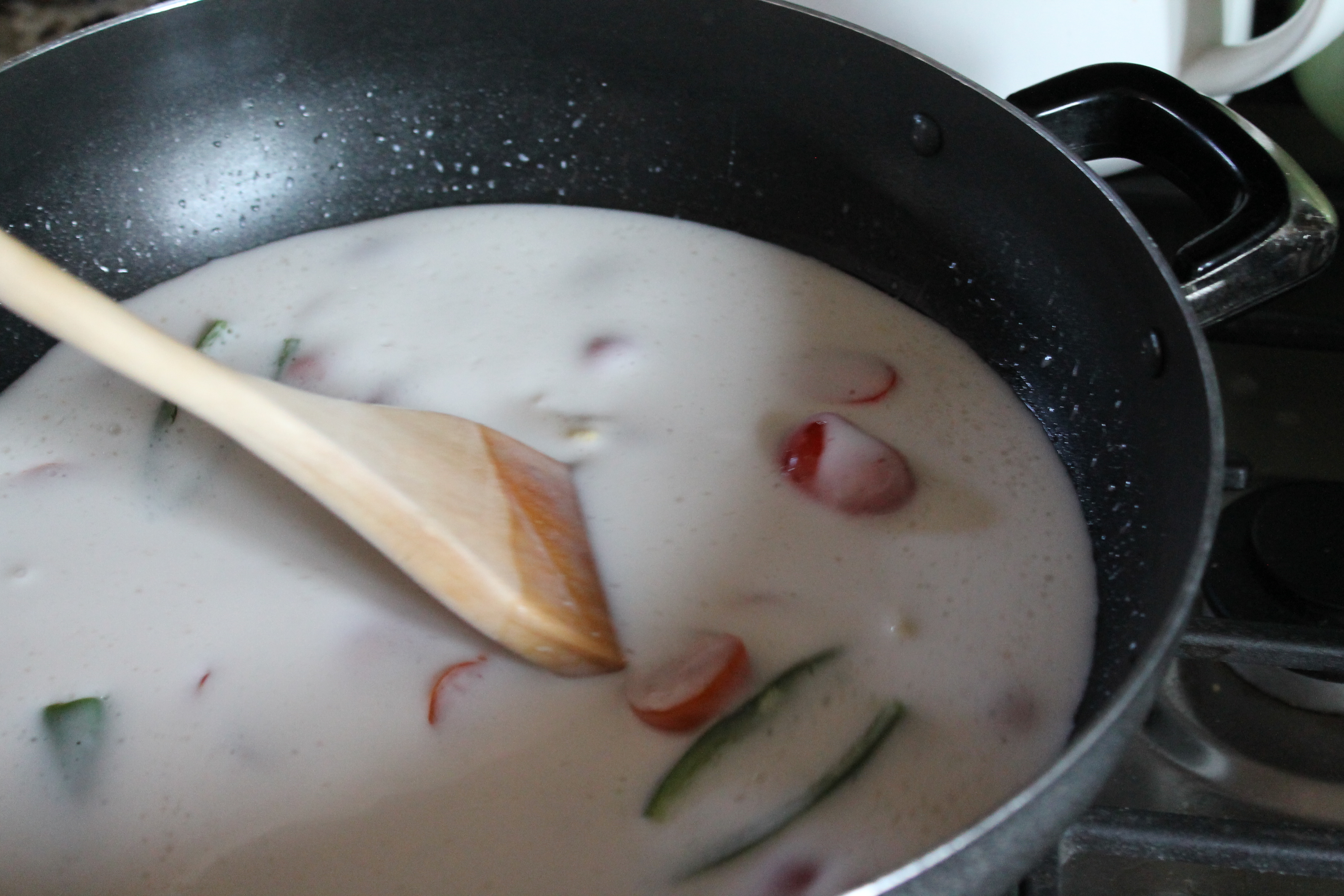 Let the coconut sauce simmer away, stirring occasionally, until it gets thick. This took me about 7 minutes, but we aren't going to be too fussy about the timing here!
Meanwhile, soak or lightly boil the rice noodles. Follow your package directions (erm…if there is a speck of English anywhere on the package…in my case, there was not). General rule of thumb is that rice noodles take less time to cook than wheat noodles, and they should not become quite as limp. Feel free to leave them in the warm water until you are ready to serve, as they also can lose a bit of their moisture as they cool down.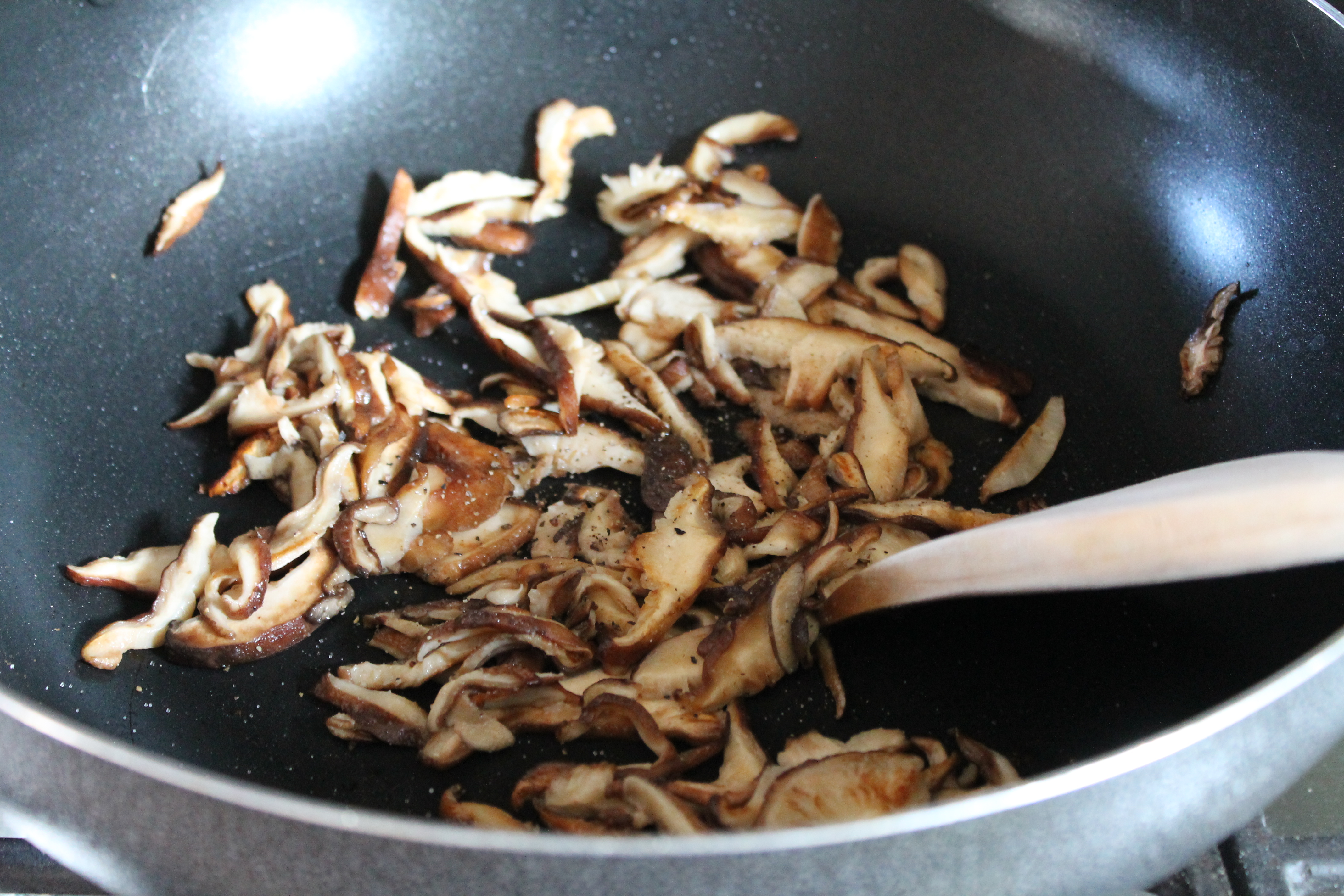 It's also time to sauté the mushrooms. You can use any type of mushroom you want here. I used shiitakes, which I bought sliced. Saving on prep time and cook time, yay!
Sauté them in oil with salt and pepper (go light!) until they release all their liquid and become very tender and deep brown. No need to stir them constantly, as they will caramelize better left alone.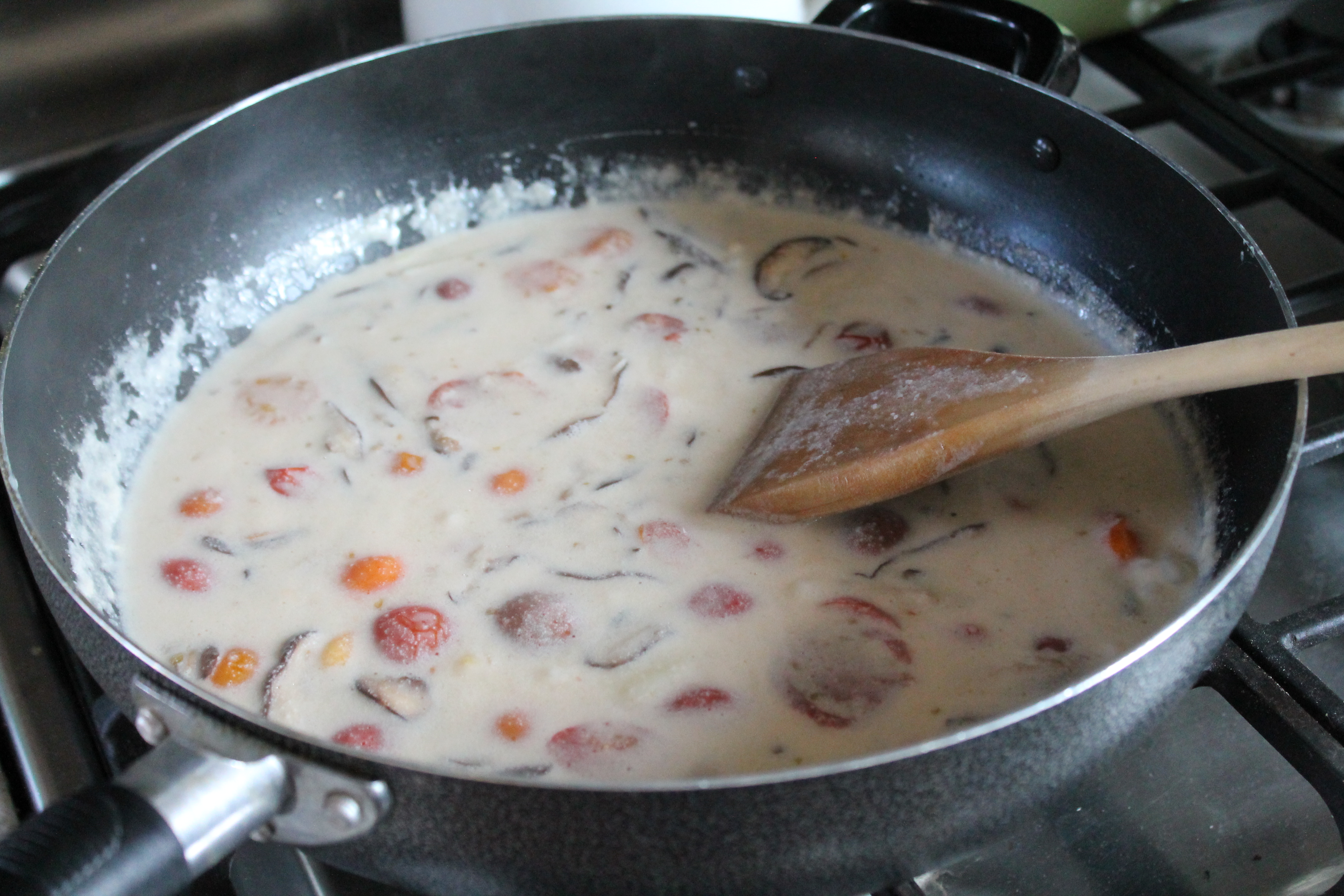 Add some veggie stock to your coconut sauce and cook, stirring constantly, for 2 minutes.
Dump the mushrooms into the coconut sauce. Your tomatoes have likely puckered or burst at this point, turning the sauce a sort of pale yellow with their pulp.
Now comes the most important step of all! Add lime juice and fish sauce. These two ingredients will transform your dinner from blah to bam!
P.S., Fish sauce, of course, is not vegan or even vegetarian for those of you that don't eat fish. There are many options to replace the umami of fish sauce to meet your dietary needs, the simplest being to substitute tamari or soy sauce. But if you love Thai food and want to eat it all the time, you may want to make your own vegan fish sauce!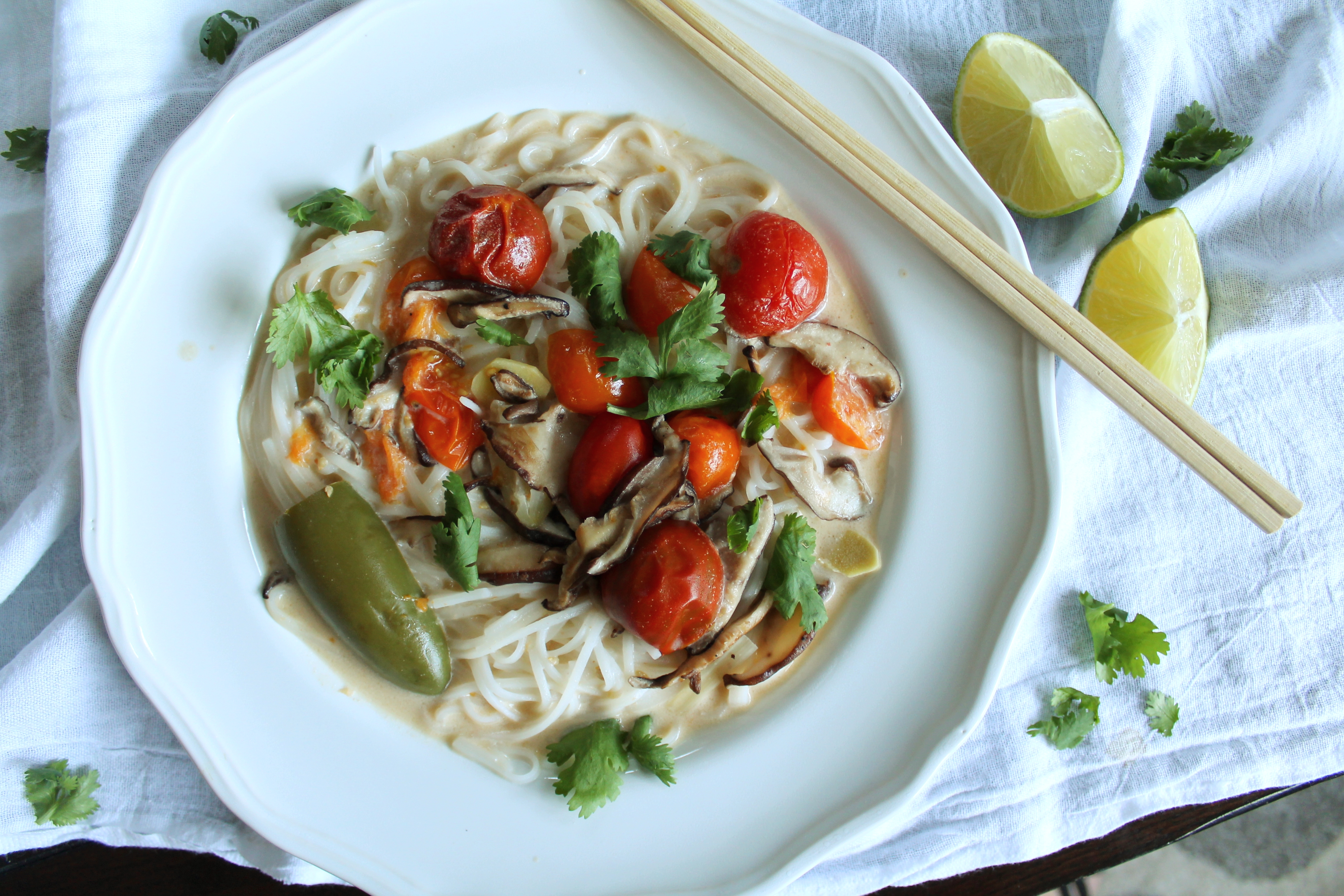 Taste the sauce and adjust the flavors as needed. I added a tiny squeeze of extra lime juice, because yum. The sauce was a little spicy, thanks to the jalapeño; and savory, thanks to the aromatics and fish sauce; and sweet, thanks to the coconut; and beautifully sour, thanks to the lime. It was firing on all cylinders!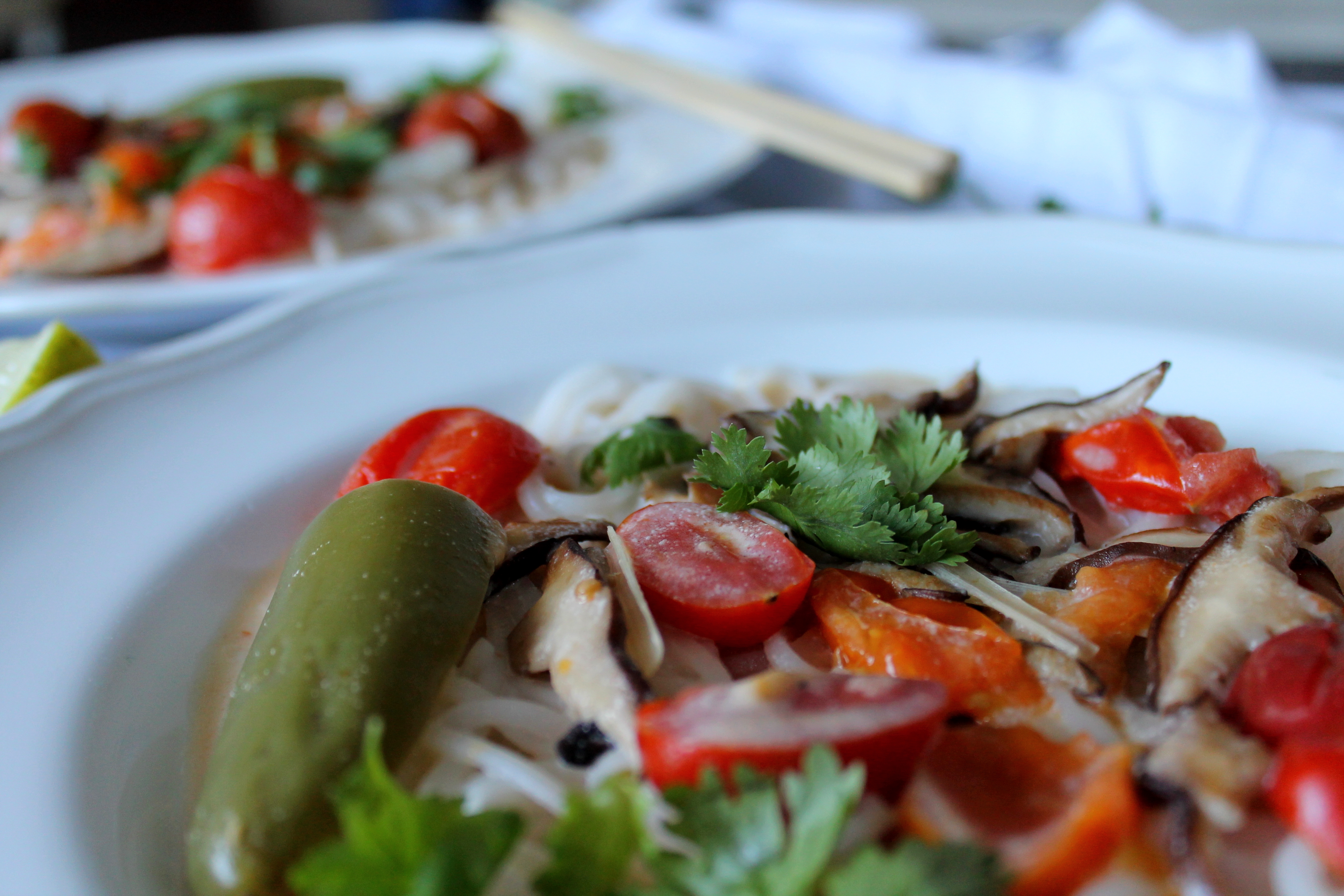 Serve the veggie coconut sauce over drained rice noodles, sprinkled with fresh cilantro (or Thai basil, if you are cilantro-averse). Pro eating tip: avoid chomping into the lemongrass, as it will be stringy and hard and chewy even after simmering in the sauce. Otherwise, dig in and lap up that gorgeous coconut sauce!
Lemongrass Coconut Noodles with Mushrooms and Tomatoes
lightly adapted from Food52
serves 4
Ingredients:
1 tbsp. vegetable oil
8 oz. shiitake or other mushrooms, sliced or quartered
kosher salt and fresh ground black pepper
2 14oz. cans coconut milk
1ʺ fresh ginger, peeled and sliced very thinly
2ʺ lemongrass, halved lengthwise, hard outer skin removed and smashed with a heavy skillet
1 clove garlic, crushed
1 hot chile, such as a jalapeño or Thai bird chili, halved (seeds removed, if desired)
1 pint cherry or grape tomatoes, halved
1 cup vegetable stock
2 tbsp. fish sauce or tamari, plus extra as needed
3 tbsp. fresh lime juice, plus extra as needed
8 oz. flat rice noodles
¼ cup fresh cilantro, finely chopped
Directions:
Heat oil in a large, heavy skillet over medium-high heat. When hot, add the mushrooms, salt, and pepper to the pan and cook until browned and very tender, stirring occasionally. Scoop the mushrooms out of the pan and let them rest in a bowl.
Raise heat to high. Combine coconut milk, ginger, lemongrass, garlic, chile halves, and tomatoes in the pan. Cook, stirring, until coconut milk becomes very thick and begins to stick to the bottom of the pan, 5–7 minutes.
Meanwhile, soak or blanch rice noodles, according to package directions.
Stir the stock into the coconut sauce and simmer another 2 minutes. Stir in fish sauce and lime juice, then the reserved mushrooms and their juices. Taste and adjust flavors as needed.
Divide the noodles onto plates and spoon the sauce over top. Sprinkle with cilantro and serve immediately.
Enjoy!