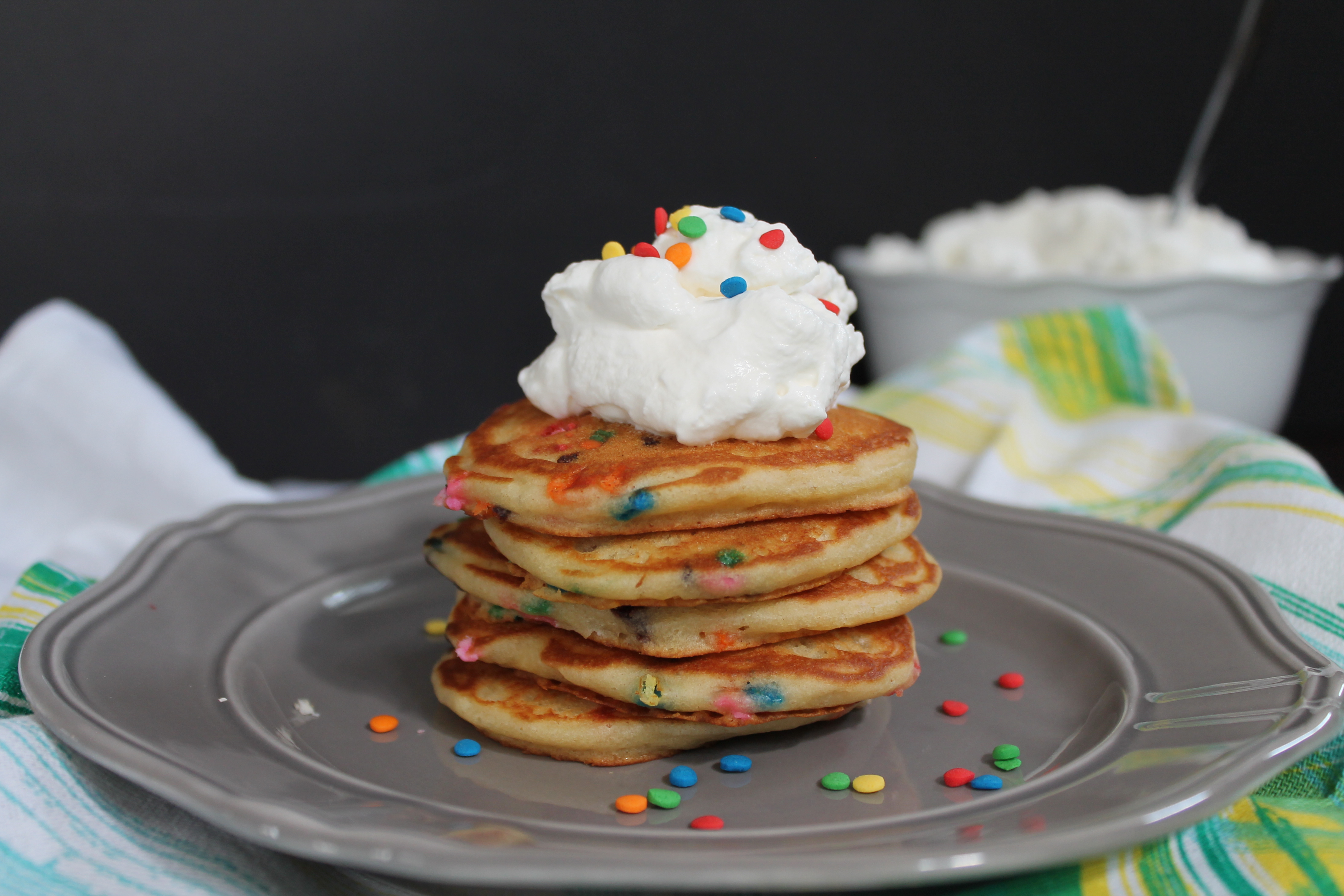 We like pancakes.
We like them so much that we have started eating them every week. It's a delicious ritual.
Pancakes are pretty phenomenal, aren't they? Do you know what makes pancakes more phenomenal (if you are 3 years old)?
Sprinkles!
And…sshh…do you know what makes them more phenomenal if you are 30 years old? Using Greek yogurt for a little protein, and raw honey instead of refined sugar. Because a sugar crash isn't pretty, no matter how old you are.
I absolutely love these pancakes! I feel like the sprinkles are smiling at me. In fact, this may be the first time in my memory that sprinkles have actually improved a food for me! I might have to make sprinkles a habit.
It is so easy to multiply this recipe to make pancakes for a whole crowd. Who is hosting brunch this weekend? Anyone making these pancakes, that's who. And, by the way, it's easy to convince a preschooler that he doesn't need syrup because he can have extra! sprinkles! (Which—disclaimer: do contain sugar…but not as much as a puddle of maple syrup.)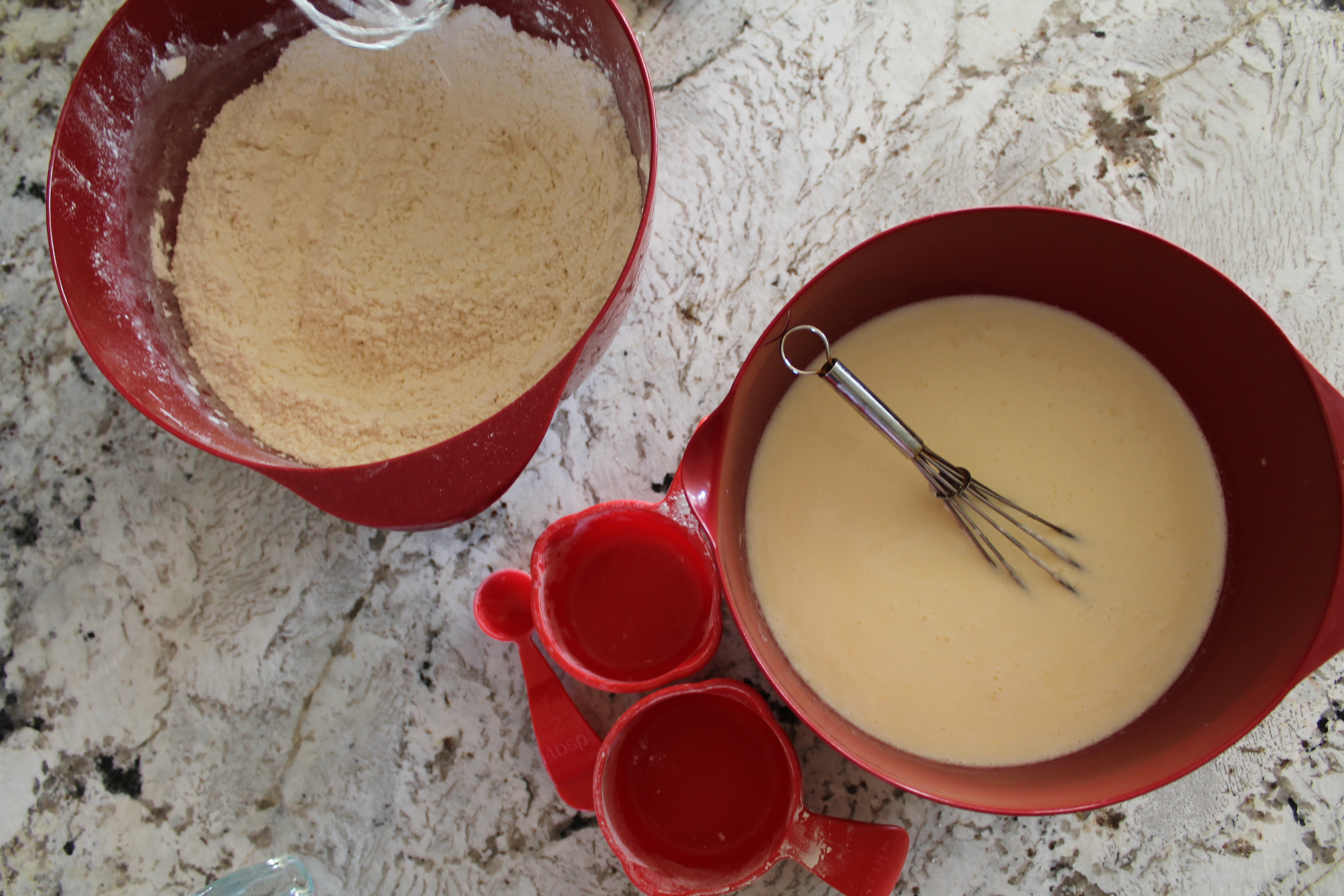 Whisk together dry ingredients. (Don't include the sprinkles just yet. Hold your horses.)
Whisk together yogurt, honey, and egg to break them up. Add in the milk, water, butter, and vanilla. You can play around with the proportions of milk and water, if you like, and use all milk or lower fat milk, whatever you like! I don't recommend buttermilk for these, however, because the yogurt is already thickening the batter. It's not a lot of yogurt, but it does affect the texture!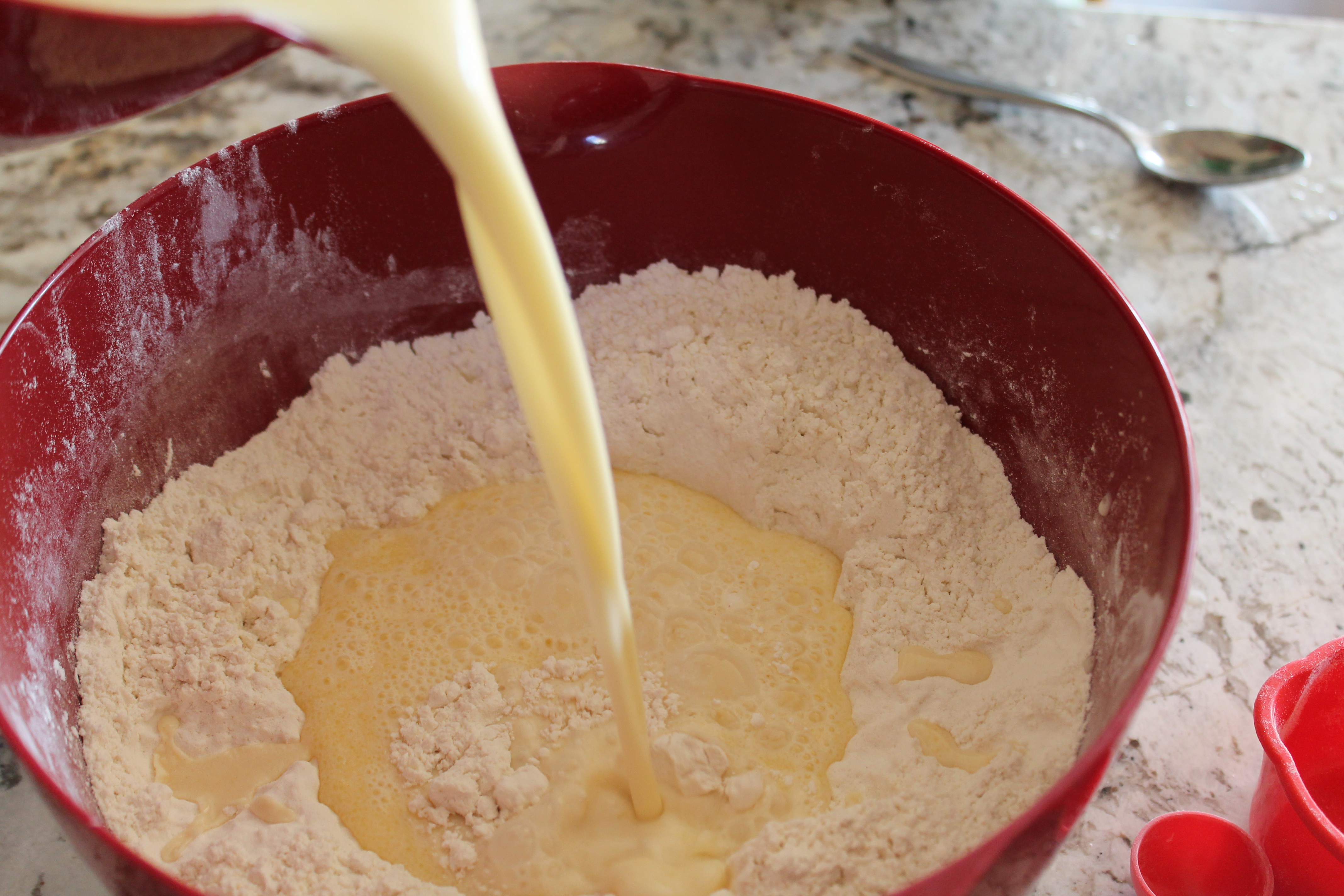 Whisk the liquid into the dry ingredients.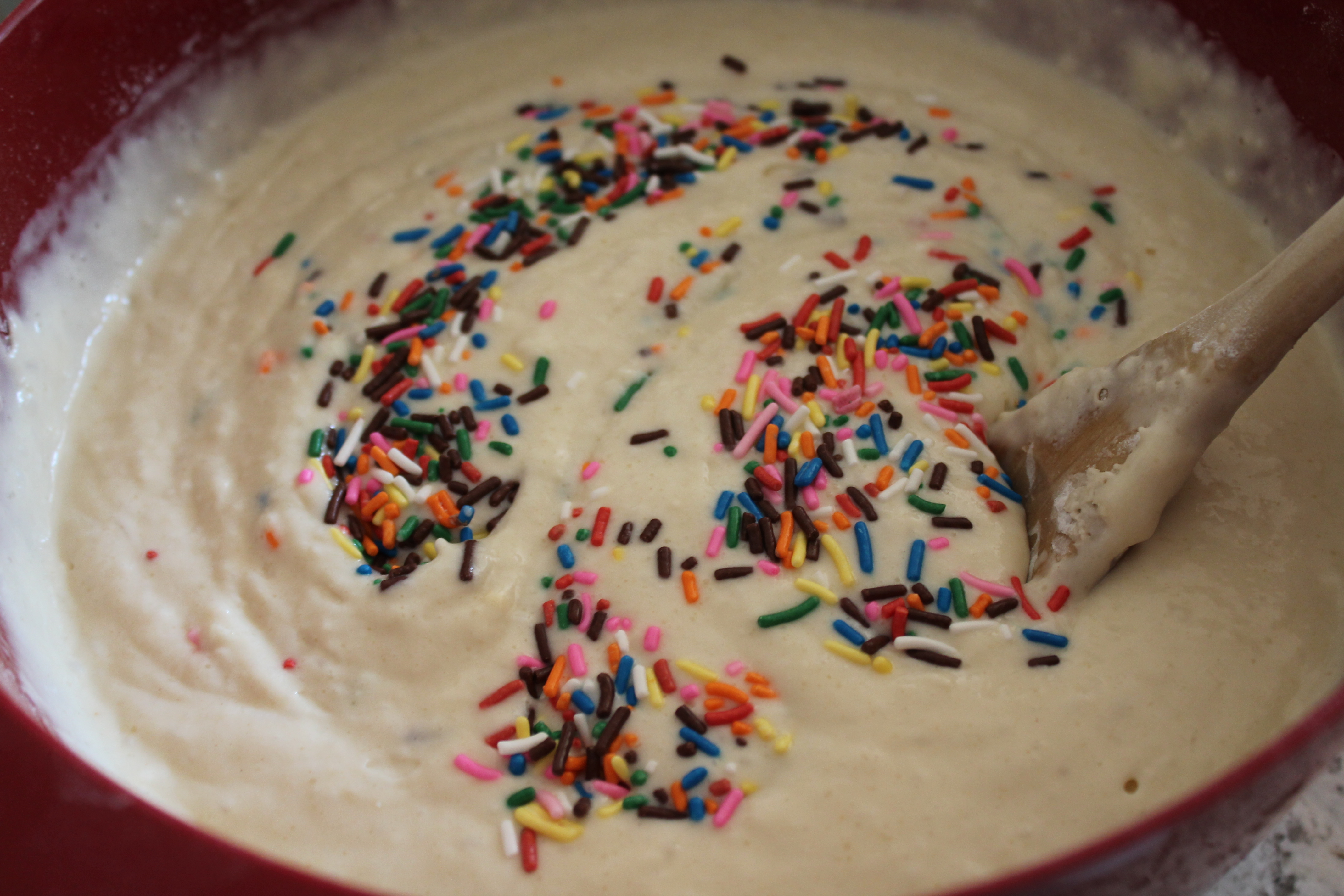 Now very cautiously add about half of the sprinkles to the batter and swirl them in with no more than 3 strokes of the spoon or spatula. We just want to get them worked into the top portion of batter. They will start dyeing the batter a little bit as you stir, and stirring too much will result in ugly, mottled streaks in the batter rather than bright, sprinkly pops of color! You can add more sprinkles, as needed, as you use up the batter.
By the way, I used rainbow jimmies for these pancakes. I like that there are both plain and chocolate sprinkles in the mix, and the bright colors are beautiful!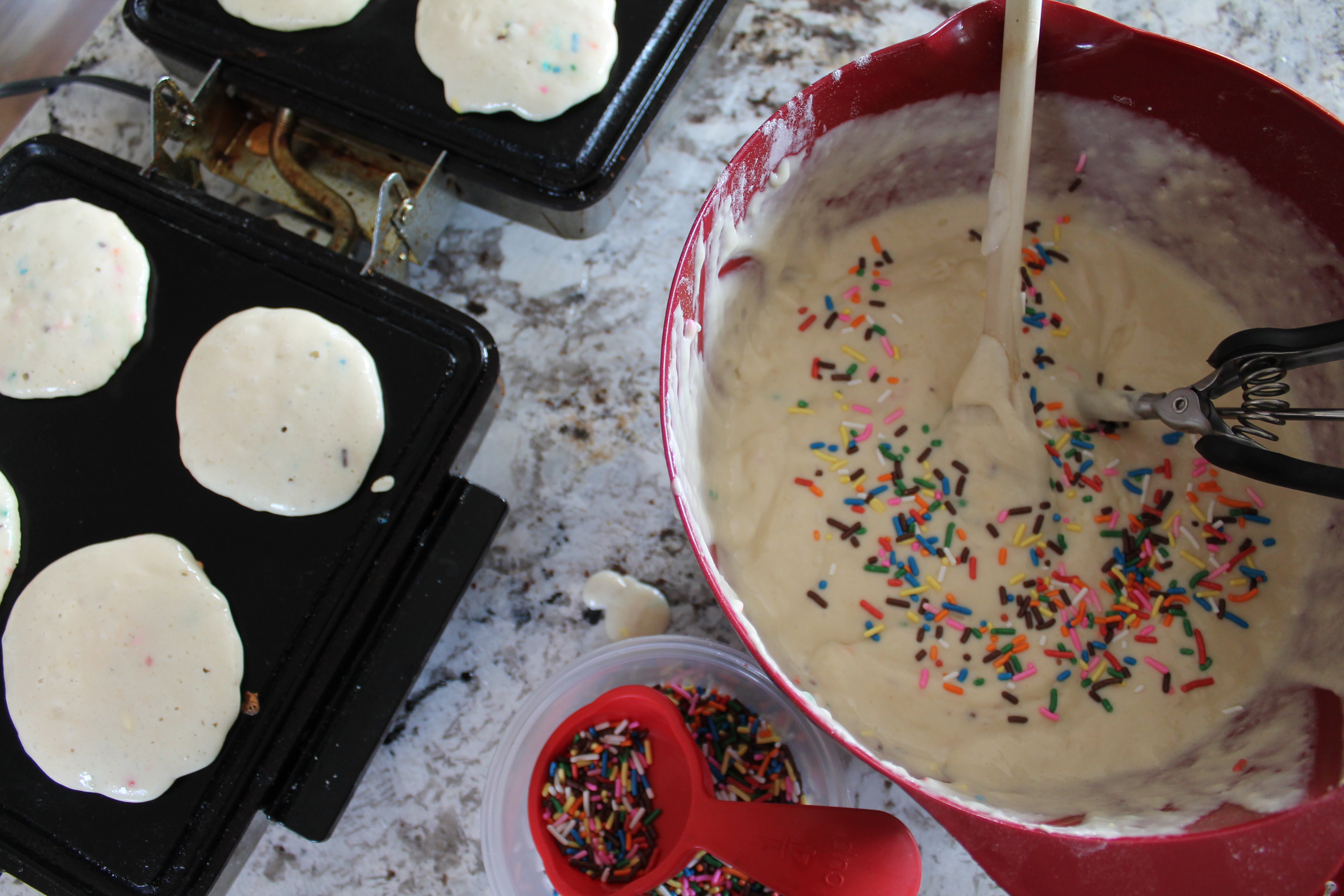 Cook the pancakes on a hot, lightly greased griddle, until the top surface is bubbly, about 3 minutes. Flip and cook another minute or two on the second side.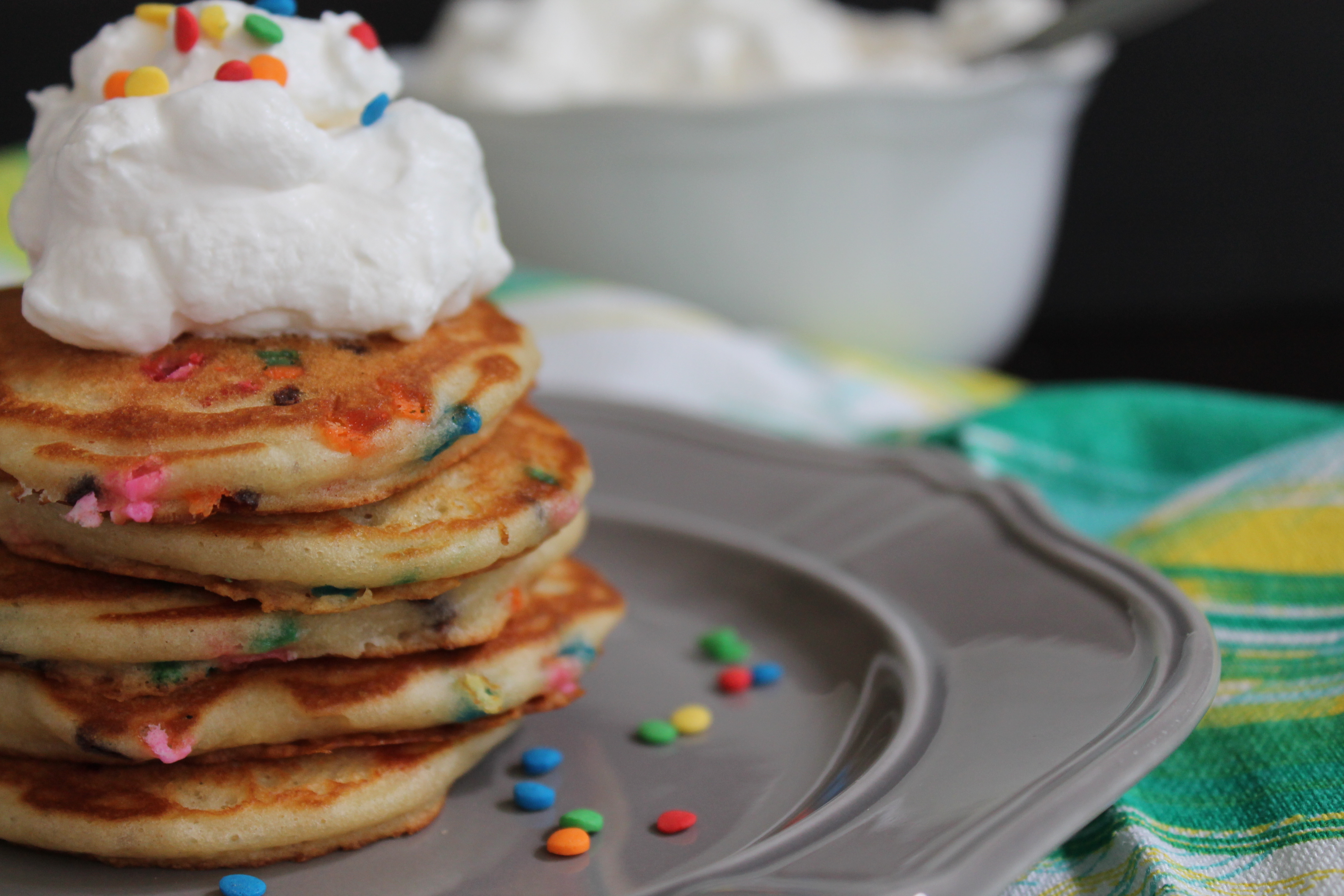 Serve with extra sprinkles! I really prefer to use whipped cream on these pancakes (but then again, when is that not true?) because it makes them seem a little more like a stack of funfetti cake layers! It's so easy to make a lightly sweetened whipped cream perfect for pancakes: just beat heavy cream into soft peaks in a stand mixer, then add a tablespoon of pure maple syrup and a few drops of vanilla. Beat until stiff, then spoon over the pancakes with the sprinkles.
These pancakes are a great way to make breakfast feel like a special event!
Confetti Greek Yogurt Pancakes
lightly adapted from The Kitchen Magpie
makes about 20
Ingredients:
1¼ cups flour
½ tsp. salt
1½ tsp. baking powder
½ tsp. baking soda
1 egg, lightly beaten
2 tbsp. raw honey
¼ cup plain Greek yogurt
⅓ cup half-and-half or whole milk
⅔ cup water
2 tbsp. melted butter
1 tsp. vanilla extract
¼ cup rainbow sprinkles, as needed, any shape except nonpareil
Directions:
Heat a griddle to high heat. Lightly grease the griddle.
Whisk together first four ingredients.
In a medium bowl, combine the egg, honey, and yogurt. Whisk to combine. Add in the milk, water, melted butter, and vanilla extract and stir until well mixed.
Make a well in the center of the dry ingredients and pour the liquid over top. Whisk or stir with a spatula until most of the lumps have been worked out.
Just before cooking, very cautiously stir in the sprinkles. Do not overstir! One or two turns around the bowl is enough.
Scoop the batter onto the hot griddle, about 2 tbsp. per pancake. Cook 3 minutes, or until the edges begin to look set, then flip and continue cooking another 2 minutes.
Transfer to a plate and cover with foil to keep warm until ready to serve.
Enjoy!