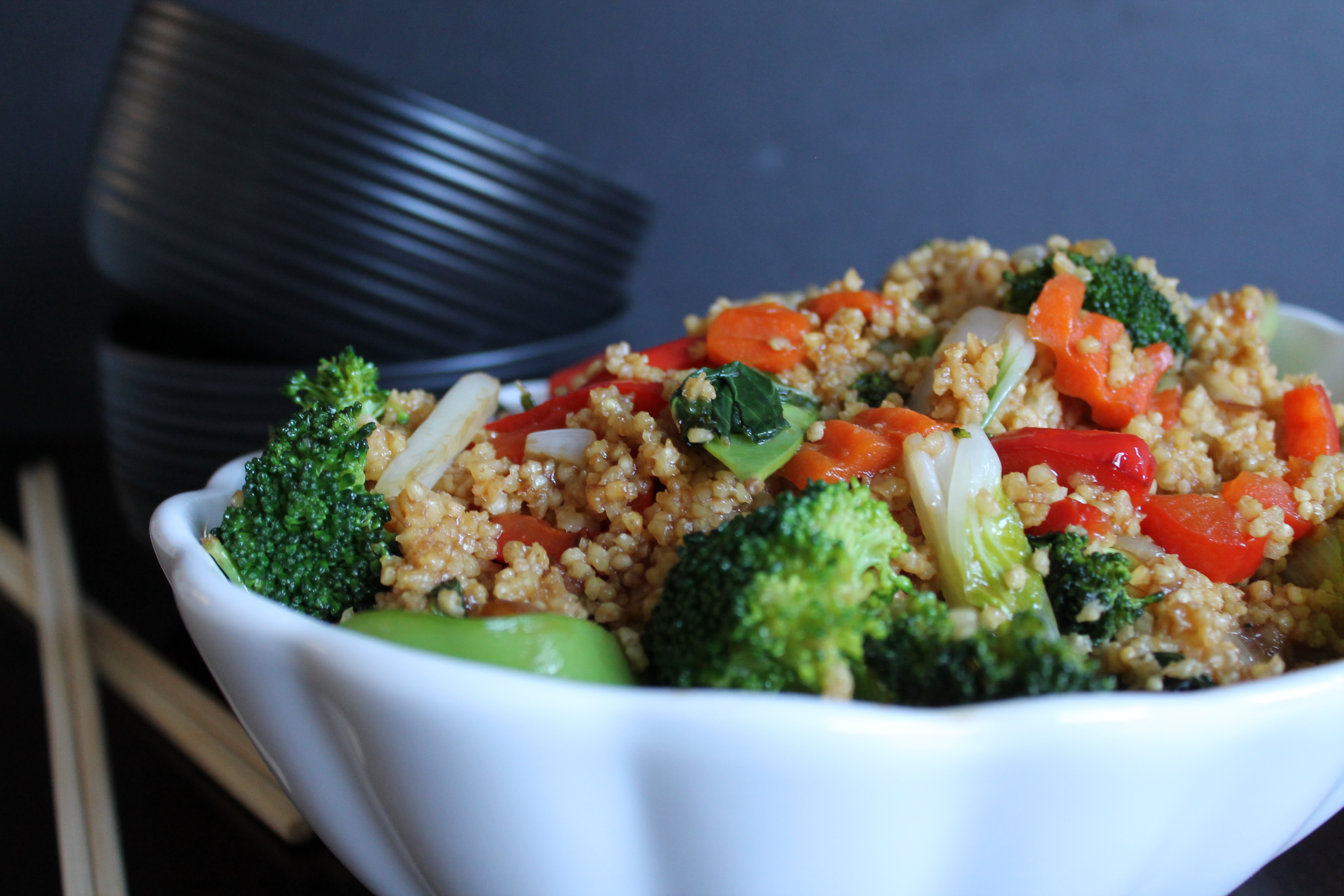 Mind, prepare to be blown:
Stir Friday.
Yes…it's the solution to my weekly pleadings with my family to name something other than pizza (Jake) or meatloaf (Dave) when I ask what to cook for dinner. Stir Friday.
I love it for so many reasons: 1) it still allows room for creativity, because "stir-fry" is a huge, broad category…but it does give me somewhere to start with the meal planning; 2) it makes a beautiful peace treaty for the taste bud cold war Dave and I are waging…no more can he tell me that I never eat Asian food with him!; 3) it has an awesome name—always a bonus; and 4) it's so easy to make large amounts of stir-fry, so easy to accommodate different dietary needs, that Stir Friday is the perfect way to kick off one of our major family goals: becoming better hosts.
So, friends who live in the greater DC area, consider this your open invitation.
It's Stir Friday. Are you coming?
I ran across this sort of offbeat idea recently for using whole grain millet instead of rice with a stir fry! While I know that most of the world's population subsists on rice, I do wish it were more nutrient dense! I tend to eat rice in very, very small amounts, which could make a stir-fry tradition a bit awkward. Millet turned out to be a fun and interesting alternative in this meal! Millet has a slightly corny flavor, so it's not as neutral as rice, but it does contain high amounts of phosphorous, which helps the body digest fats, and magnesium, which can help reduce migraines and decrease high blood pressure. Plus, whole grains contain more fiber than processed grains and therefore don't hit you as hard in the blood glucose department, which means you can stay fuller for longer and you won't experience a sugar crash (and also makes whole grains better for diabetics than processed grains!).
Millet cooks much like any whole grain: 1 part grain, 2 parts water, pinch of salt, in a covered pan over medium heat.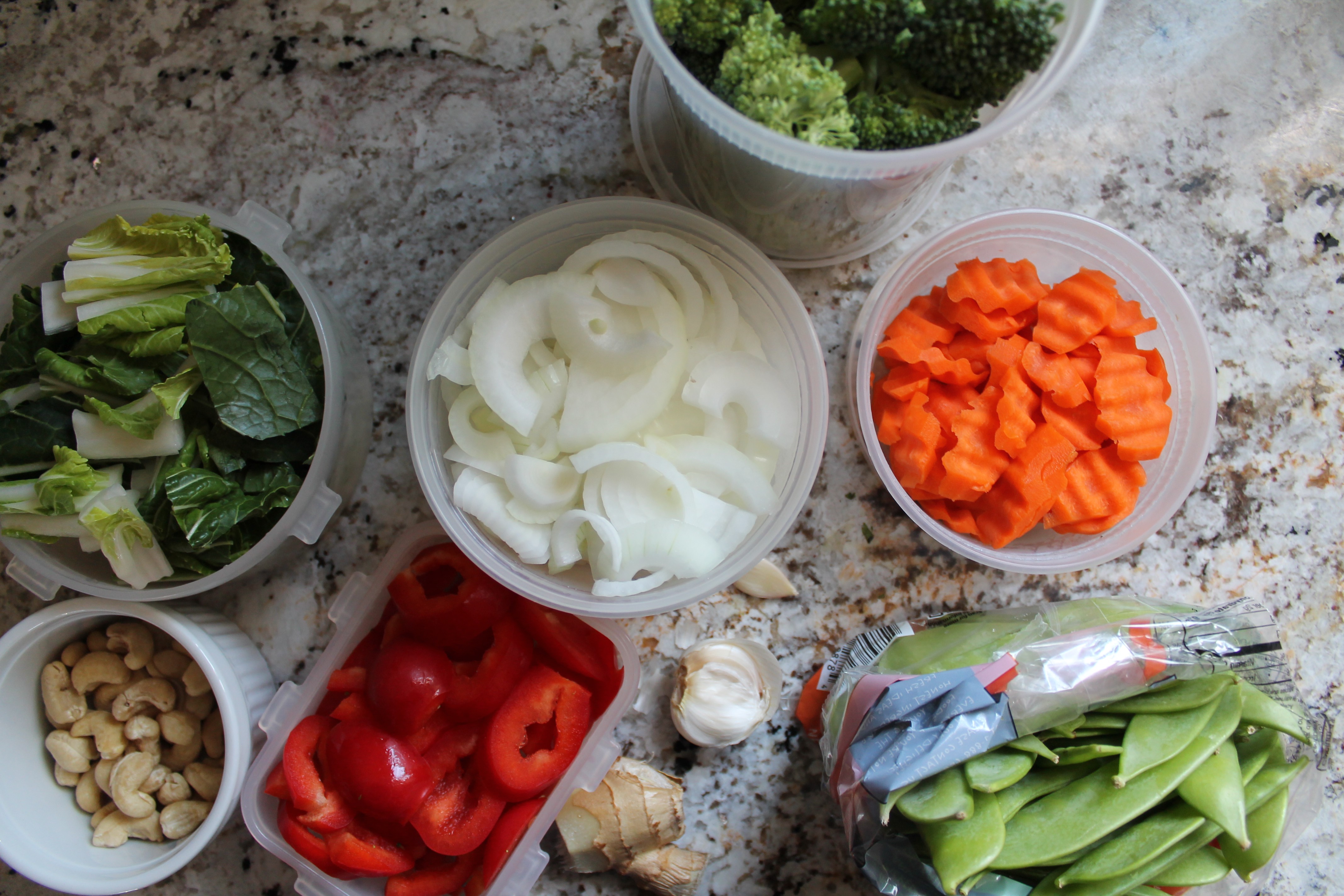 But first, we need to do all the chopping and prep work. This is the most time-consuming part of Asian cooking: there are so many veggies (and meats, if you're into that sort of thing) to chop!
I like to do my chopping ahead of when I actually need to cook. #cookingdinnerwithtwokids #success
For me, that means either doing the chopping the night before, after my tots go to sleep, or early in the day, when they are entertaining themselves and I am not under a time crunch. Anything you can do to make dinner go more smoothly!
You can use any veggies you want in this meal, but I went for broke with broccoli, bok choy, white onion, carrots, red bell peppers, and snow peas. I also included cashews for a bit of protein and extra crunch. Cashews are more common in Chinese cooking than in Japanese, but it's okay to mix our genres! And of course, the key is to make everything bite-size, so it will cook evenly and will be easy to eat.
Once all your veggies are ready, you can spring into action!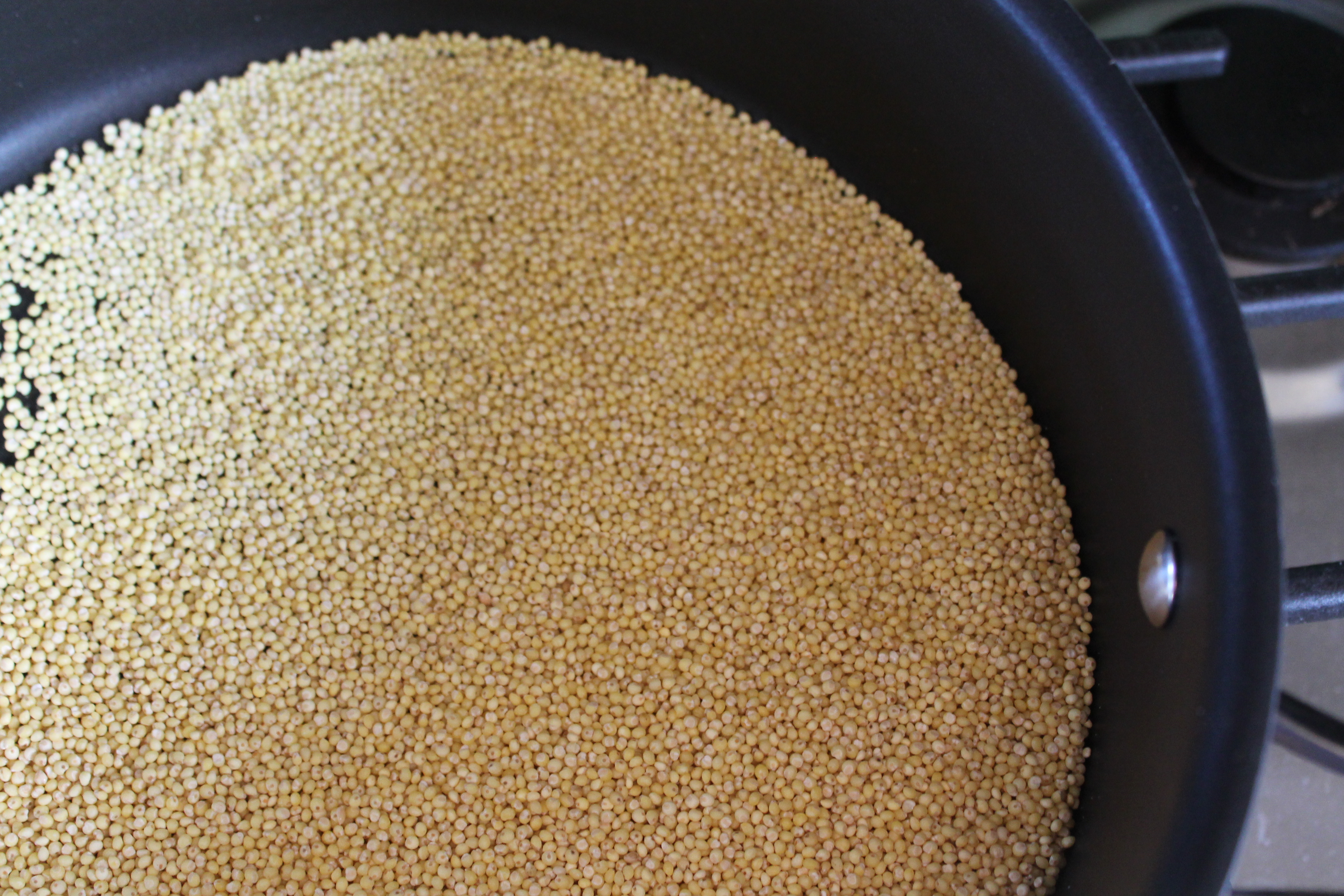 Cook the millet. It's okay if that finishes before everything else; when you mix it into your veggies, it can warm up again!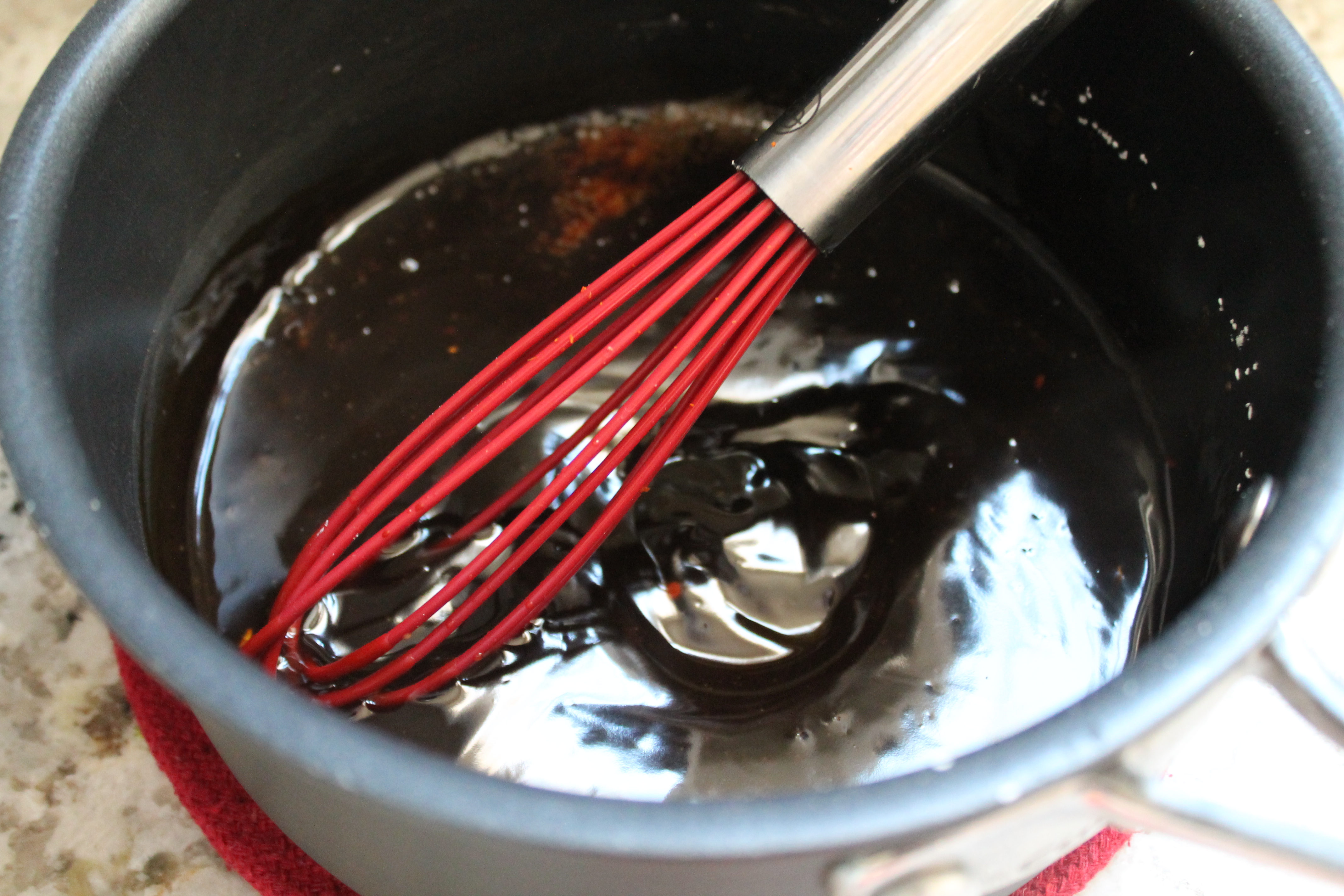 We are making a sweet and spicy teriyaki sauce for this meal. The men in my family are all about saucy food, so I made a lot of sauce! Making your own teriyaki is so easy, and it tastes infinitely better than a bottle you buy in the store. Just combine minced fresh ginger, minced garlic, soy sauce (you can substitute gluten-free tamari!), rice vinegar, and honey in a small saucepan. Warm through, then add a small amount of cornstarch to thicken it up. Taste and adjust the flavors as you like! I usually add a few flakes of crushed red pepper to balance the sweetness of the honey, and sometimes I beef up the ginger, because ginger is wonderful.
Set the sauce aside.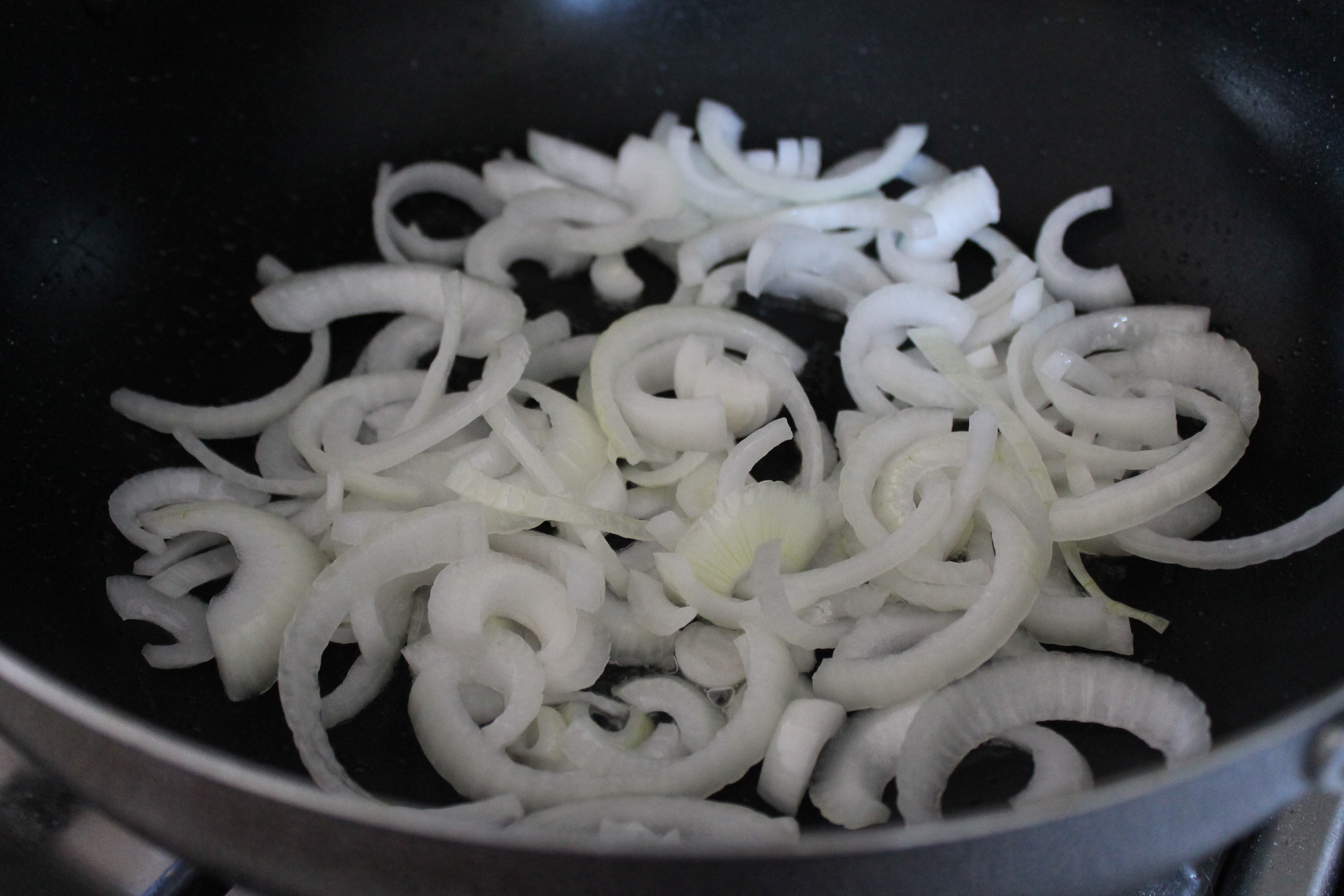 Let's focus on stir-frying our veggies now! This is incredibly easy, and incredibly forgiving! I like my veggies to be crisp-tender, meaning that they are soft enough to absorb some sauce and a fork easily pierces them, but they are not mushy at all.
Start with the onions. Cook them in a small amount of oil until they begin to turn translucent.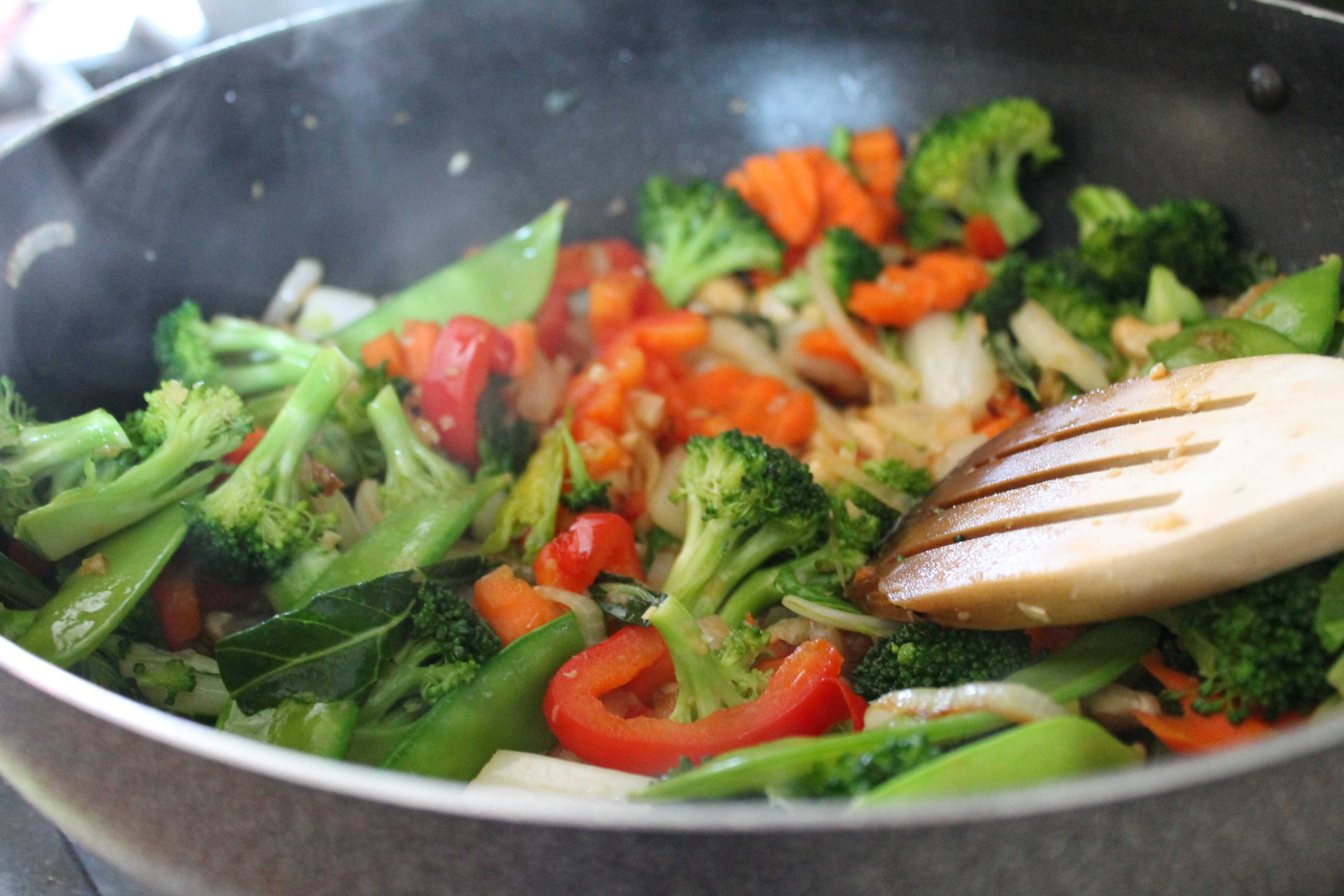 Now add the firmer veggies: broccoli and carrots should go in a few minutes before the bell pepper, bok choy, and peas. The cashews will go in last, so that they are warm but still crunchy. None of these things will need very long to soften up! The beauty of making a veggie stir fry is that you can cook things as long or short as you like without worrying about whether something is still raw/unsafe to eat!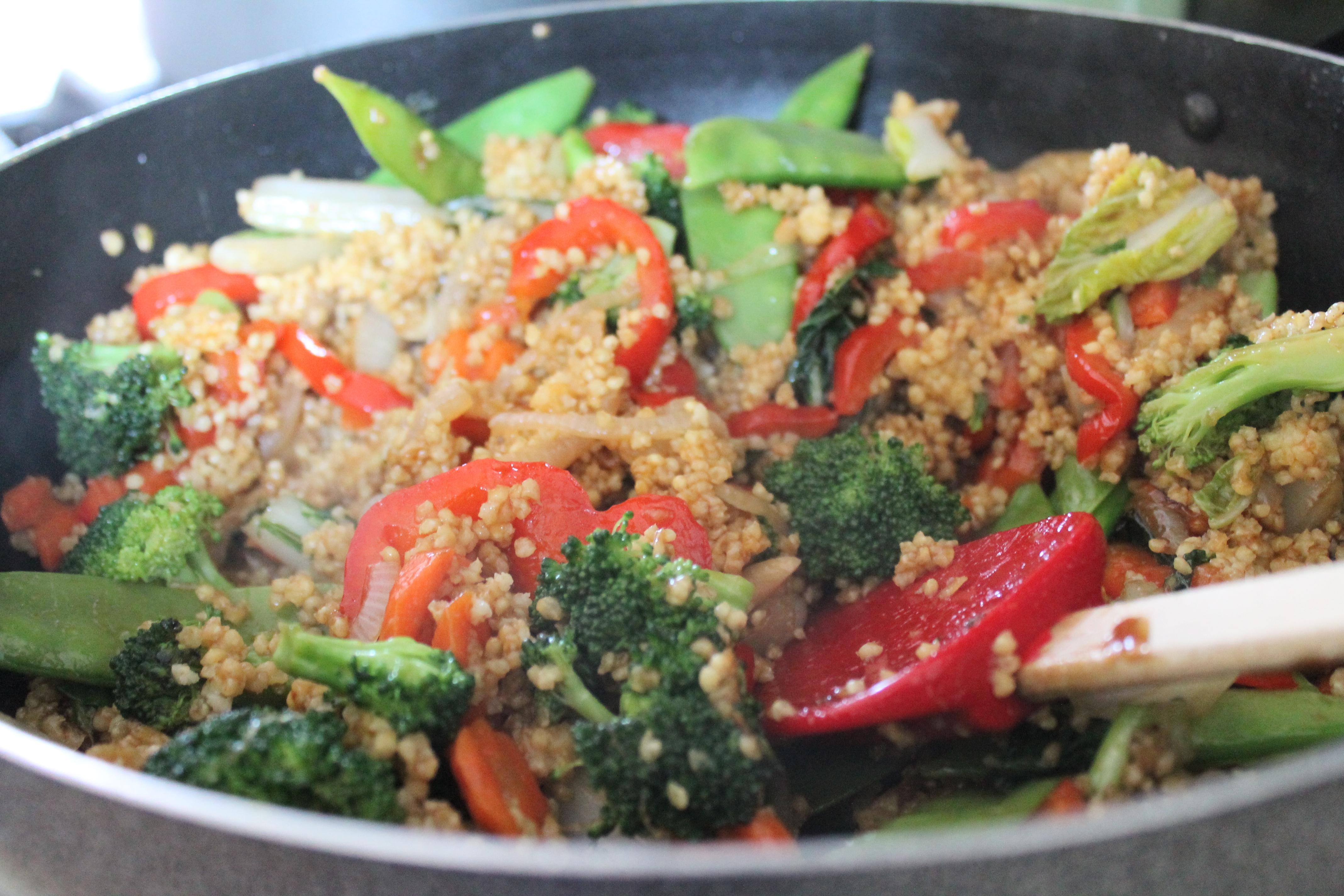 When the veggies are done to your satisfaction, toss in the millet and the delicious teriyaki sauce.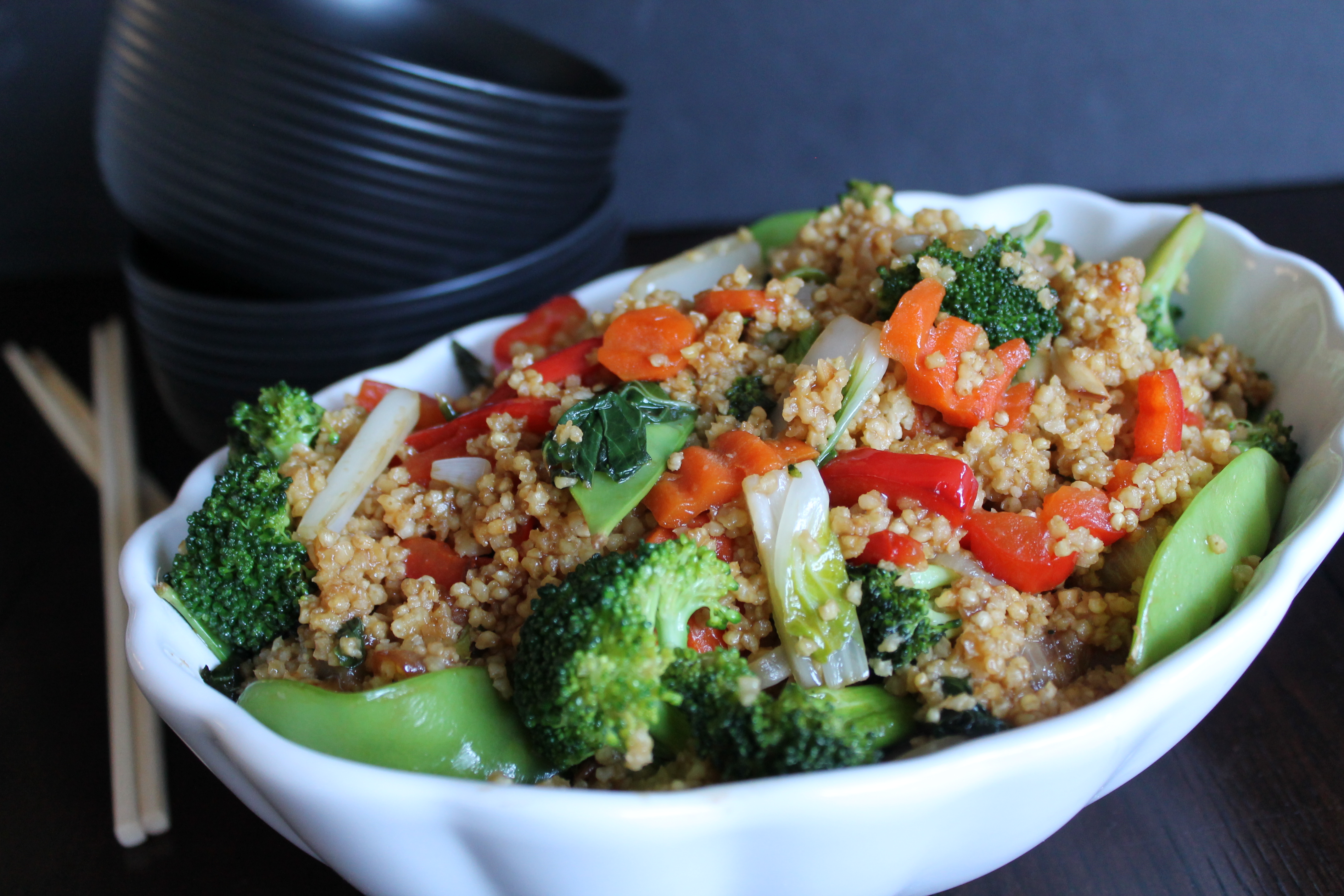 Boom. Dinner.
Millet Vegetable Stir-Fry
adapted from Food & Nutrition
serves 3–4
Ingredients:
1 cup dry millet
2 cups water
pinch of salt
2 tbsp. canola or vegetable oil
1 large white onion, sliced thinly into half-moons
1 large head broccoli, cut into florets
2 large carrots, peeled and sliced
1 small head baby bok choy, sliced
1 red bell pepper, julienned
1 cup snow pea pods
½ cup raw cashews
1½″ fresh ginger, peeled and minced
6 large cloves garlic, minced
¼ cup low-sodium soy sauce
¼ cup rice vinegar
¼ cup raw honey
1 tbsp. cornstarch
pinch of crushed red pepper (optional)
Directions:
Combine millet, water, and salt in a medium saucepan. Bring to a boil over medium heat, then cover and cook for 20 minutes, or until the millet has absorbed all of the water and is tender.
Meanwhile, heat the oil in a large wok over high heat. Add the onion and cook for 2–3 minutes, stirring regularly, until translucent. Add the broccoli and carrots and cook another 2 minutes. Add the bok choy, bell pepper, snow peas, and cashews and continue to stir fry another 4–5 minutes, until the vegetables are crisp-tender.
Make the teriyaki sauce. Combine the ginger, garlic, soy sauce, rice vinegar, and honey in a small saucepan over medium heat. Cook, whisking constantly, for 2 minutes, until the sauce is warm and well combined. Add the cornstarch and whisk until thick. Taste and adjust the flavors as needed, adding the red pepper for spice if desired.
When the millet and vegetables are done, toss the millet into the wok with the veggies and stir to combine. Pour the teriyaki sauce over the mixture and stir to combine.
Transfer to bowls and serve hot.
Enjoy!