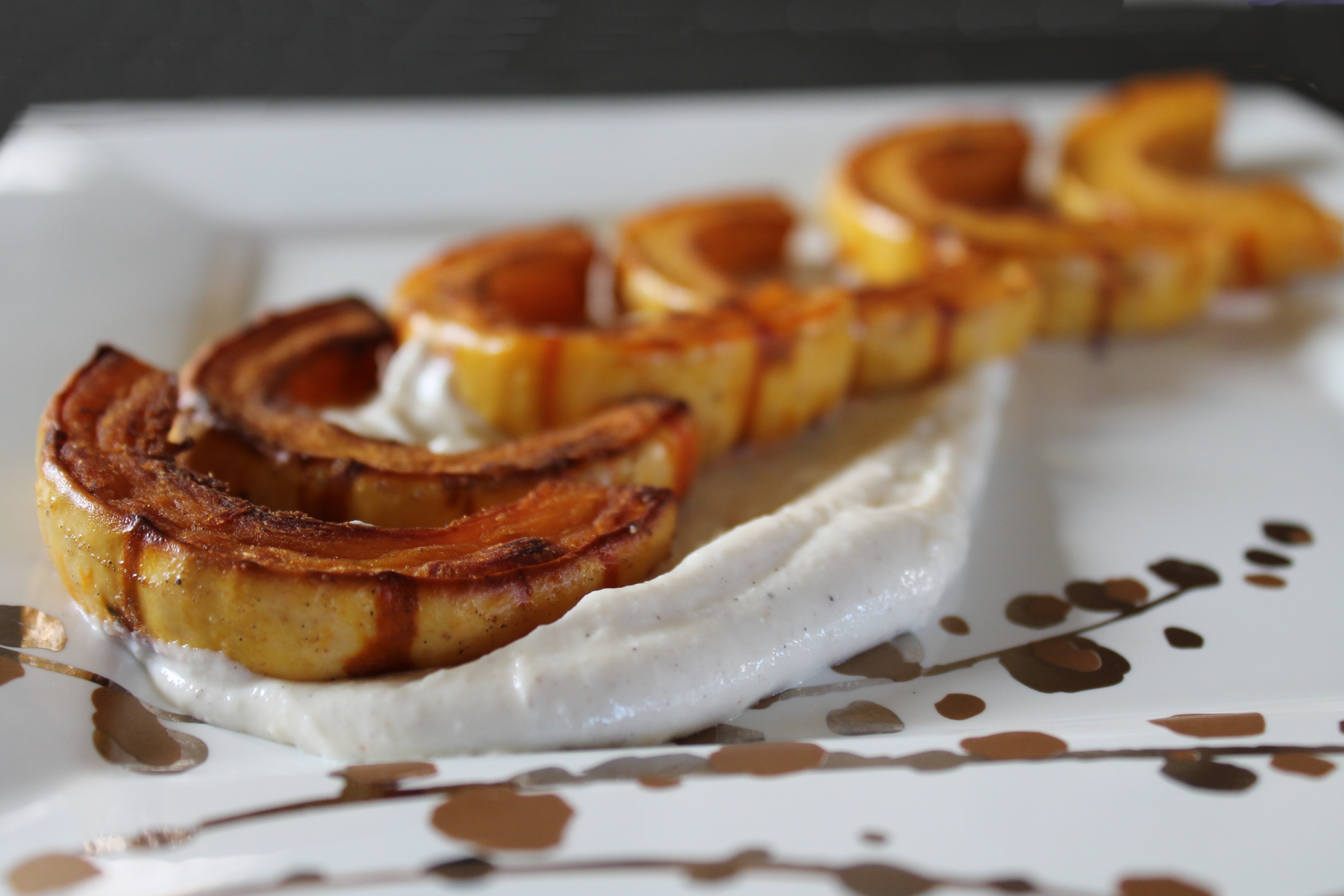 There is so much to be thankful for!
Day 7: Thankful for new friends and birthday parties. Thankful for family visiting from out of town, for cuddles with Caitlin and s'mores around the fire pit.
Day 8: Thankful that my brother is home from his adventures in Africa!
Day 9: Thankful for the cool weather of Fall and the opportunity to eat fresh food seasonally, a blessing I know not everyone has. Thankful for Fall squashes.
Like the lovely delicata!
This month for the Secret Recipe Club challenge, I had the pleasure to peruse Culinary Adventures with Camilla, written by the fearless leader of the group B exchange. Camilla cooks recipes from all over the world, which I love! But this month I really wanted to focus on Thanksgiving fare, and I couldn't pass up the opportunity to try delicata squash, which Camilla says she cooks almost weekly when it's in season.
This recipe combines two of my favorite things: a hint of warm, spicy cardamom, and sweet, starchy Fall squash. The end result is simple and basic, a perfect complement to the rich and saucy dishes that will litter the Thanksgiving table.
I had kind of hoped to suggest these roasted squash slices in place of candied yams. No offense if candied yams are your favorite thing, but I have always been a little freaked out by adding sugar (marshmallows?) and syrup to sweet potatoes. A lightly spiced, naturally sweet Fall squash seemed like the perfect substitute!
This squash is good by itself, but if you have any intention of replacing all those candied tubers on the Thanksgiving table, I highly recommend adding a lightly sweet, cardamom-spiced yogurt sauce for dipping. Still way healthier than candied yams, but it will meet the need for sweet.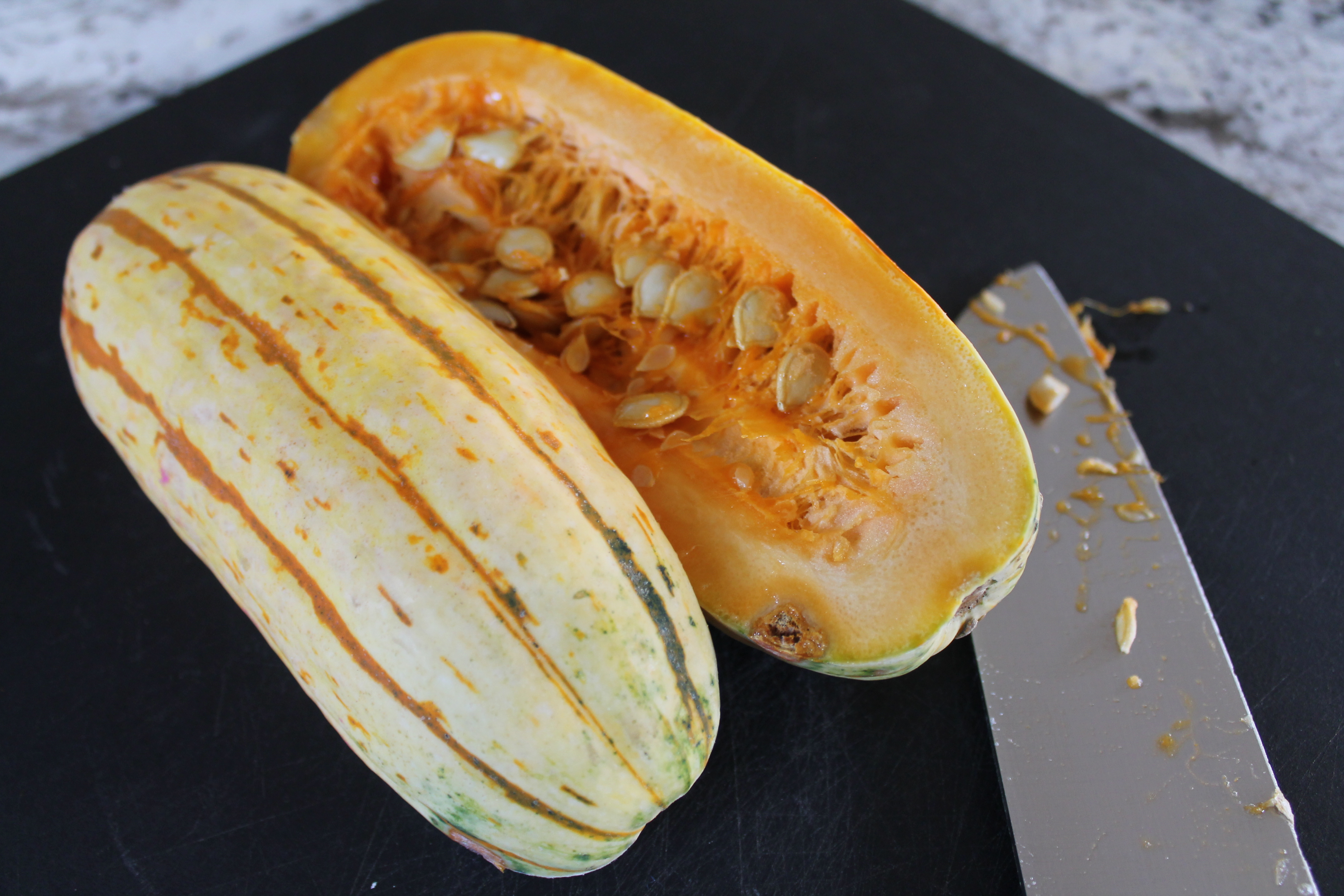 It couldn't be easier to roast up these squash slices. If you can't find delicata squash at your grocery store or local farmer's market, then you can substitute acorn squash—but the skin is a bit tougher, and though you can certainly eat it, you will end up with some firmer textures in there.
First, cut the squash in half lengthwise and scrape out the seeds. You can easily double this recipe, but my family isn't wild about eating their veggies, so I just cooked up one small squash.
Trim off the ends, then slice the squash into ½″ pieces.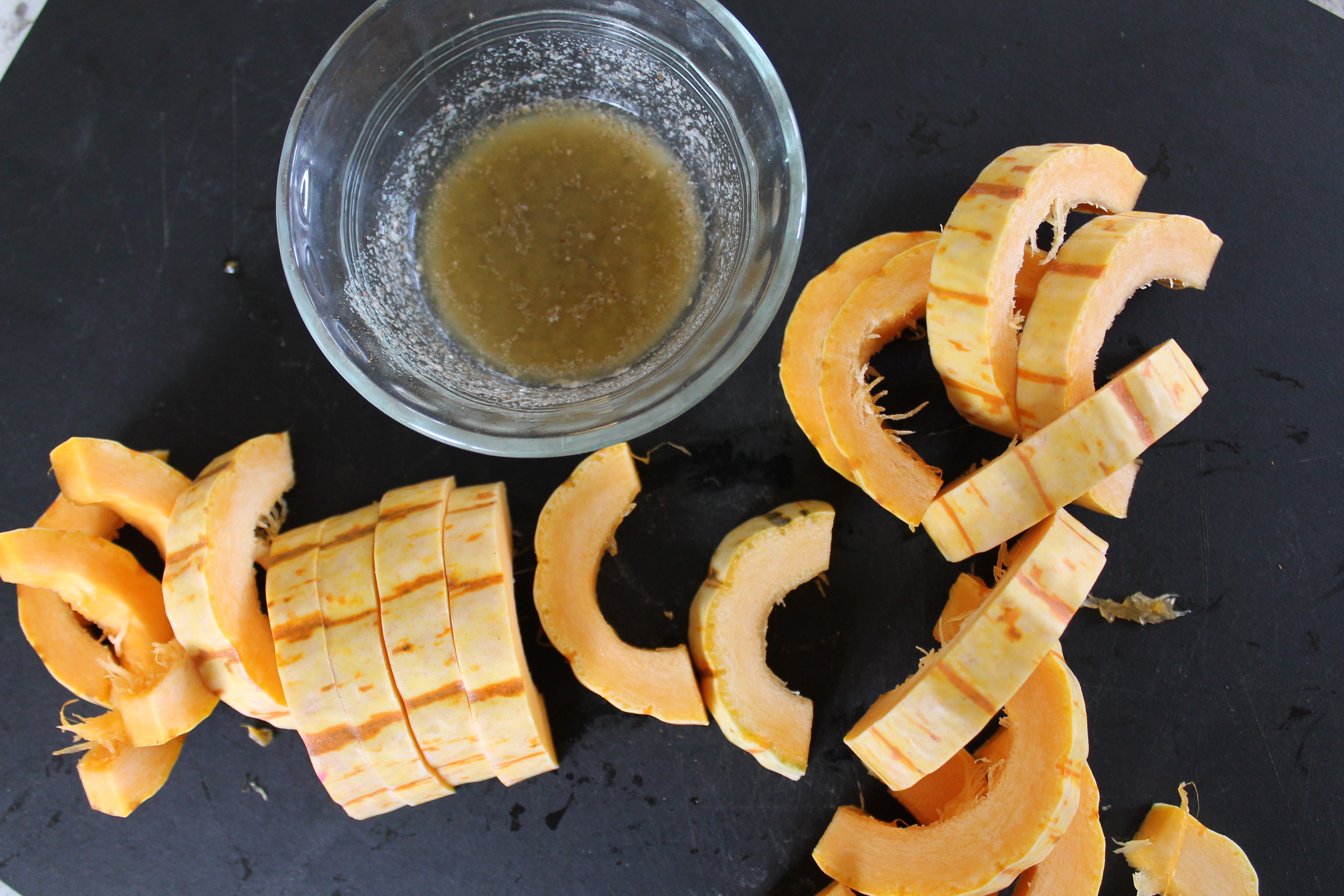 Make a quick spiced butter (salted butter, a pinch of cayenne, a splash of vanilla, and cardamom of course!) and toss the squash slices in it.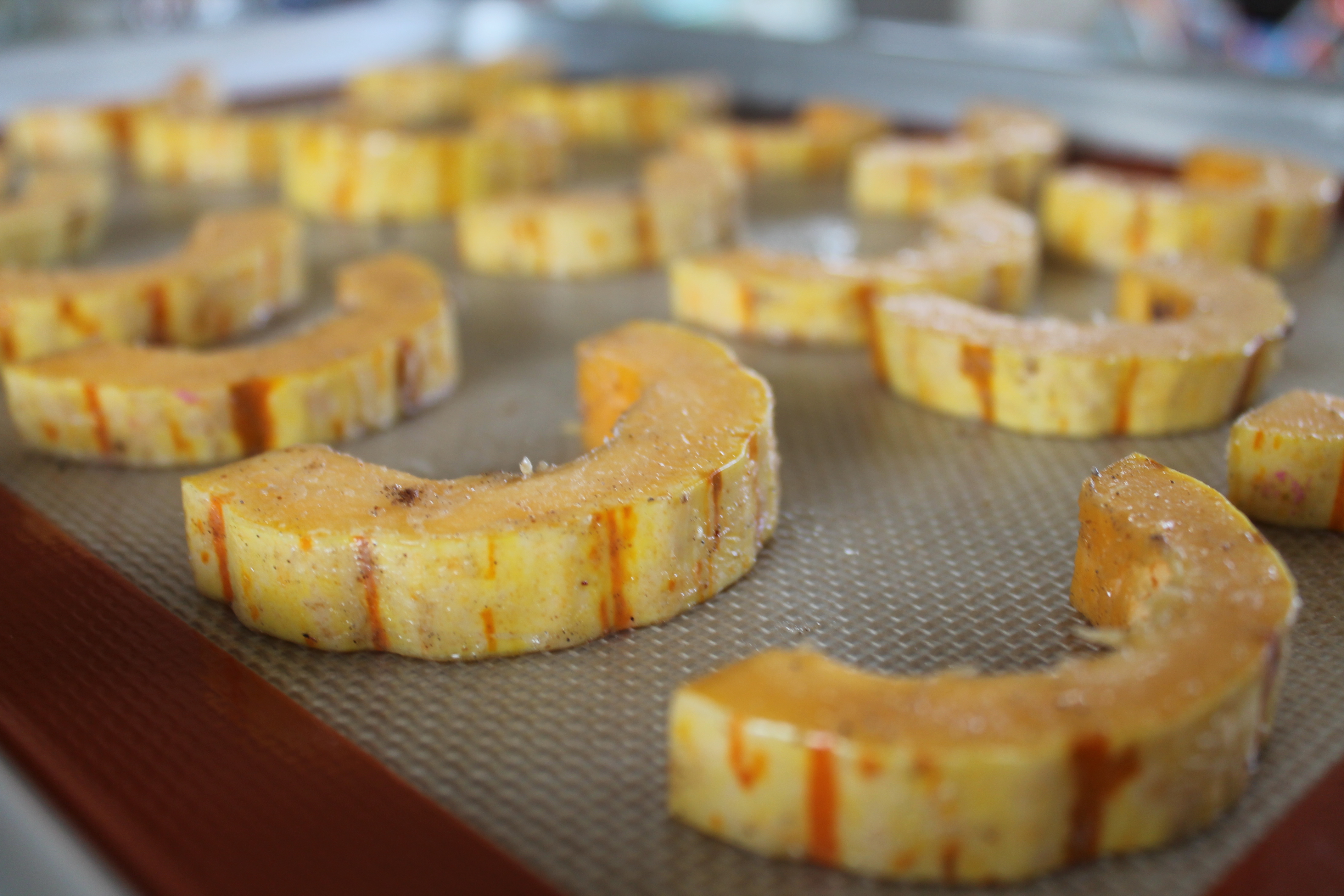 Lay the squash on a lined cookie sheet, not touching each other.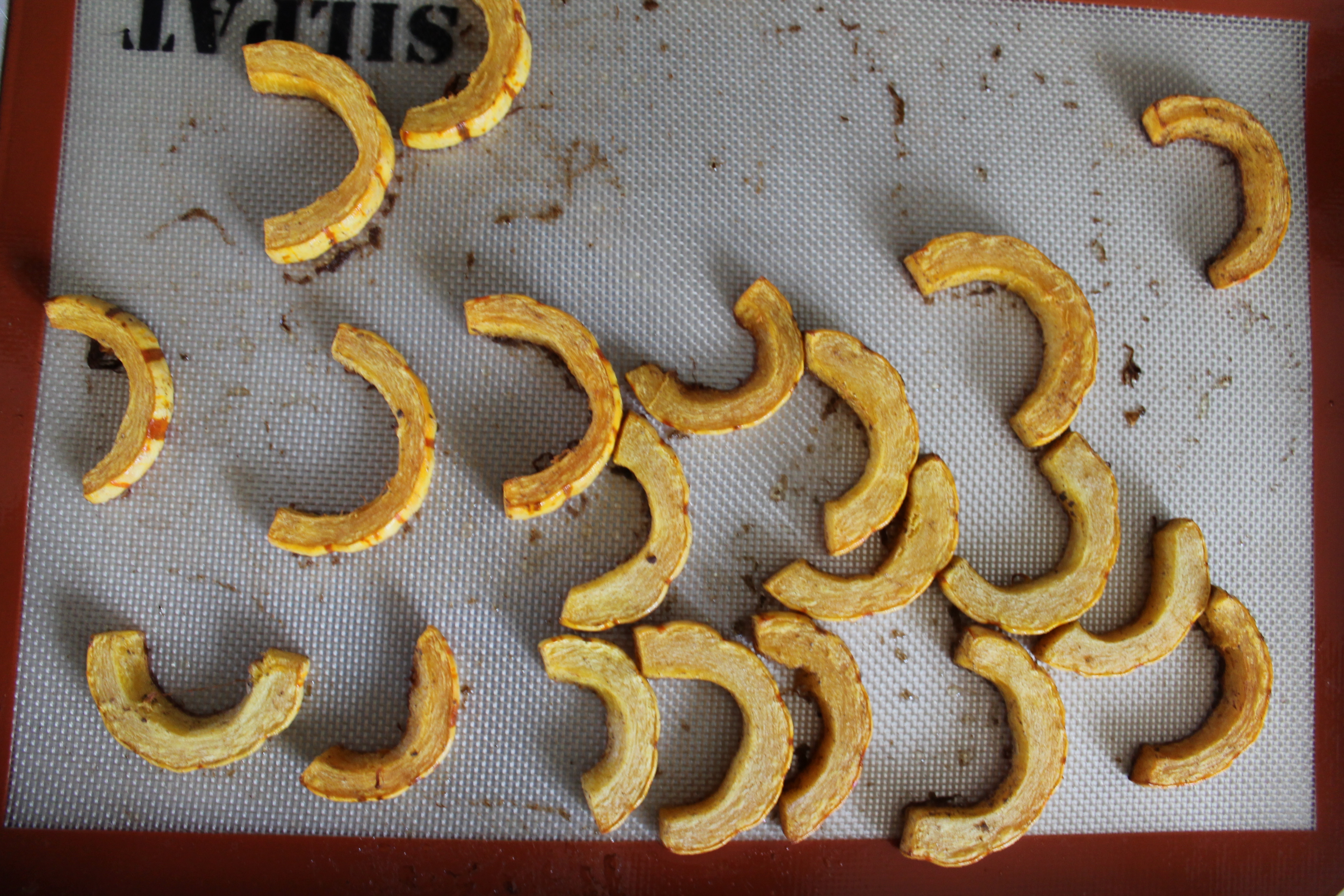 Roast at 350° for 30 minutes. They should be lightly browned on the bottoms and beautifully fragrant. (Look! Mine slid around and got a little friendly while they roasted…)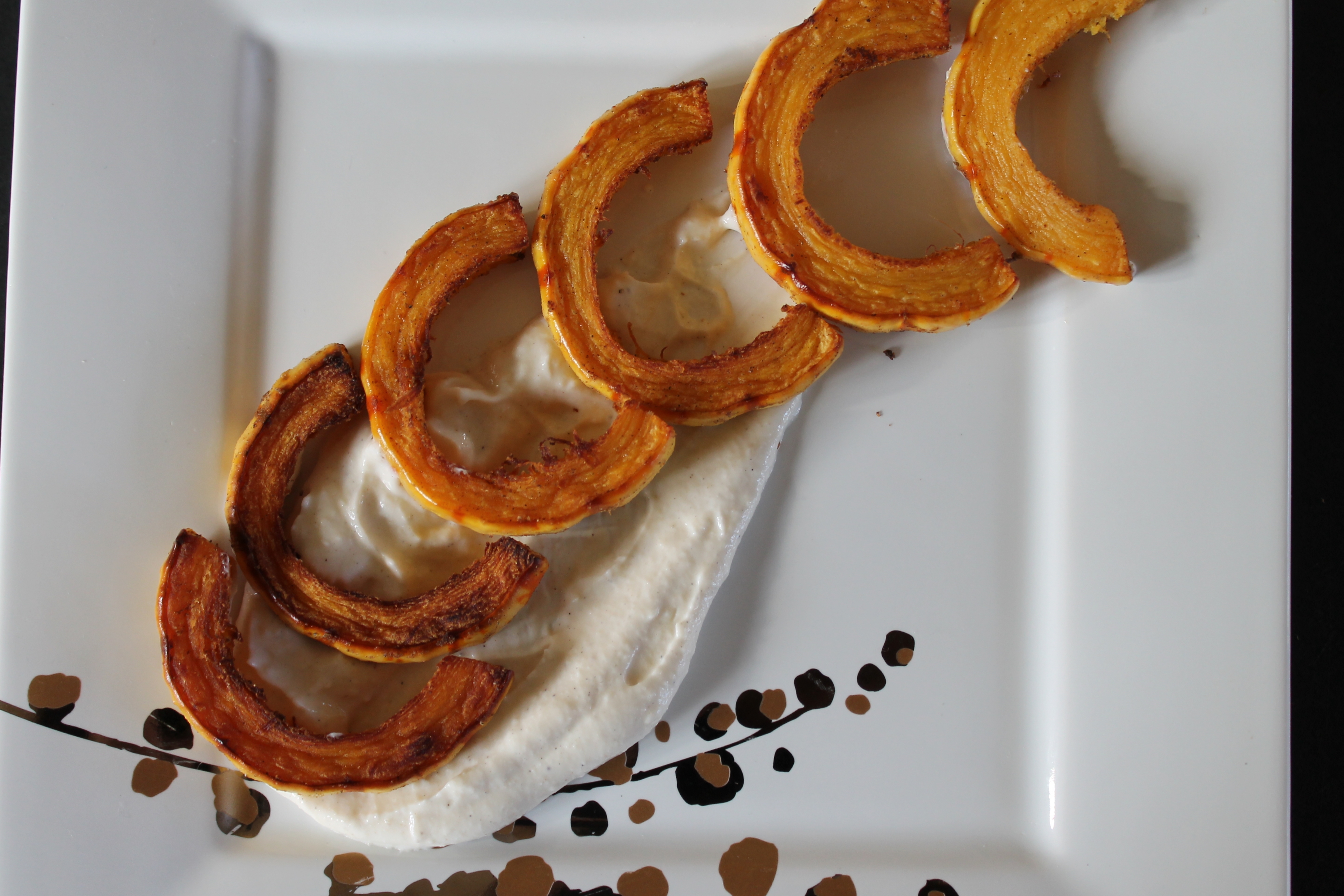 If you are into dipping sauces, you can whip up a lightly sweet dip with Greek yogurt, melted butter, a little maple syrup, and a hearty dose of cardamom.
Serve the squash slices warm, alongside your other favorite veggies, or with the yogurt sauce.
Cardamom-Scented Delicata Squash with Yogurt Sauce
lightly adapted from Culinary Adventures with Camilla
serves 4
Ingredients:
1 small (1 lb.) delicata squash
2 tbsp. salted butter, melted, divided
½ tsp. ground cardamom, divided
¼ tsp. vanilla extract
pinch of cayenne
pinch of salt
¼ cup Greek yogurt
1 tsp. maple syrup
Directions:
Preheat the oven to 350°.
Cut the delicata squash in half through the stem and scrape out the seeds. Trim the ends, then slice into ½″ pieces.
Combine 1 tbsp. melted butter, ¼ tsp. cardamom, vanilla, cayenne, and salt in a medium bowl. Add the squash pieces and toss to combine.
Lay the squash in a single layer on a cookie sheet. Roast for 30 minutes, until tender and lightly browned.
Meanwhile, stir together yogurt, maple syrup, the remaining 1 tbsp. melted butter and ¼ tsp. cardamom.
Serve the squash slices with yogurt dipping sauce.
Enjoy!