I've been feeling pretty grinchy this Christmas season.
This isn't a fun time of year to be forbidden from eating any dairy of any kind. I have been lusting after trays of cookies and holiday cheese balls and getting grumpier and grumpier.
But I just can't imagine Christmastime without holiday baking, even if I can't eat the spoils myself.
And wouldn't you know it, the cookie that was at the top of my list to try this year actually turned out to be dairy free! And gluten free!
Surprise!
These cinnamon stars (little German lesson for you: Zimt = cinnamon, Sterne = stars. Literal naming at work…) are chewy and moist and simply amazing. Especially if you thought you were staring down a month without cookies. If you know anyone with food sensitivities, make these immediately. They will be so grateful!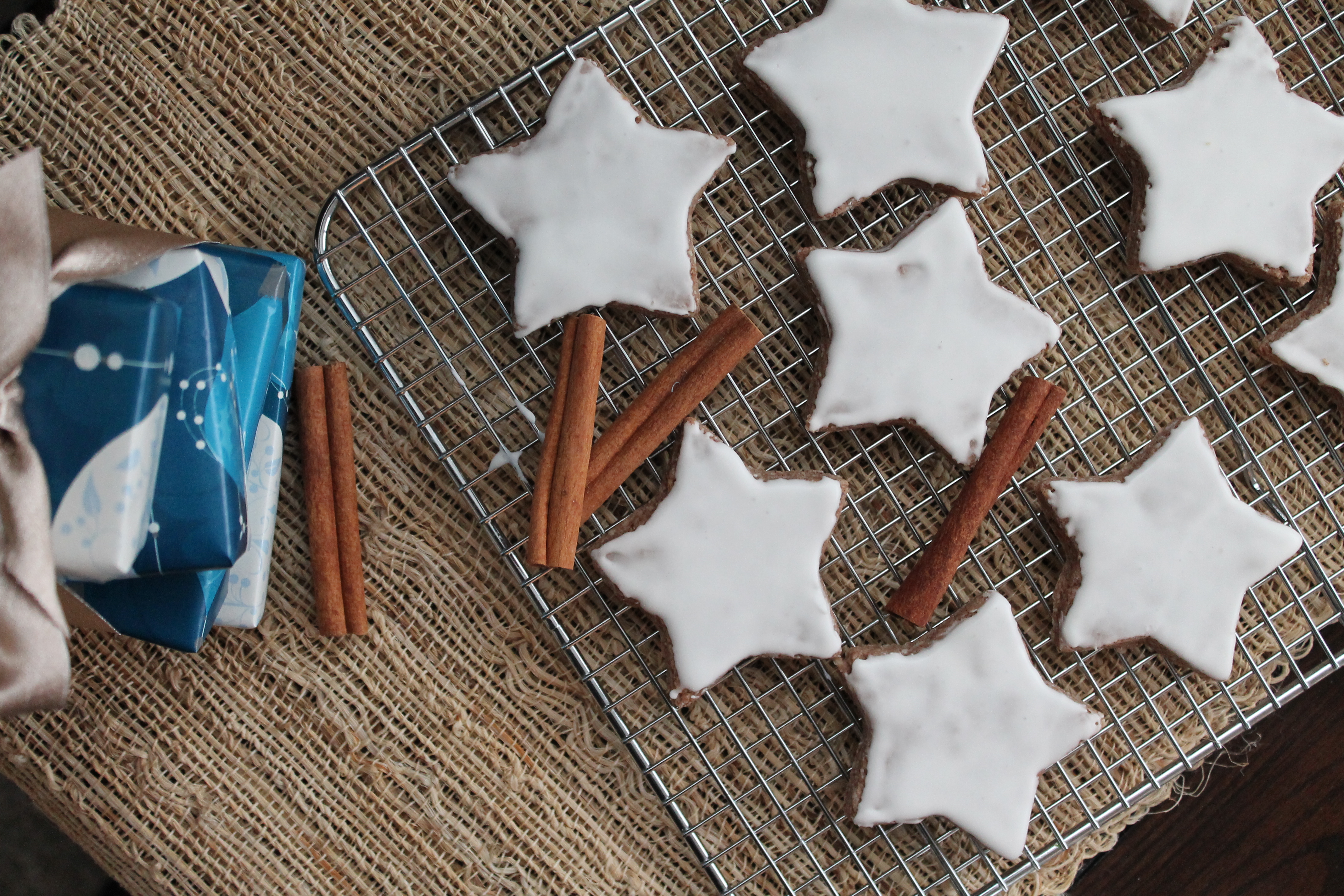 It's sort of a Christmas miracle that I even looked up this recipe in the first place. I generally avoid German baking like the plague. (This from a former German teacher…peinlich.) My fear of German baked goods is based entirely on the terrible surprise I once had upon biting into a spicy gingerbread cookie that was so black I had just assumed it was chocolate.
Have you ever judged a book by its cover? Or assumed that a group of related things would all be the same? (No, of course you haven't. It's Christmas. The world is all candy canes and jingle bells, right?)
But German cookies and Christmas cookies are completely synonymous, so it's only fitting to add a traditional German cookie into my Christmas cookie collection. Christmas cookies and classic German cookies typically fall into three basic categories: sugar cookies, spice cookies, and nutty cookies.
Zimtsterne belong in the nutty category. In fact, the ingredient list is similar to French macarons, but they are a thousand times easier to make! So let's do it.
(I must confess, however, that although I read about a hundred recipes called Omas Zimtsterne, recipes steeped in tradition, recipes that were published in magazines and touted by Germans as the best…in the end, I actually chose to make a version by an American in Paris. So…please don't judge me for the inauthentic method, here! Simple and beautiful are our friends this time of year, right?)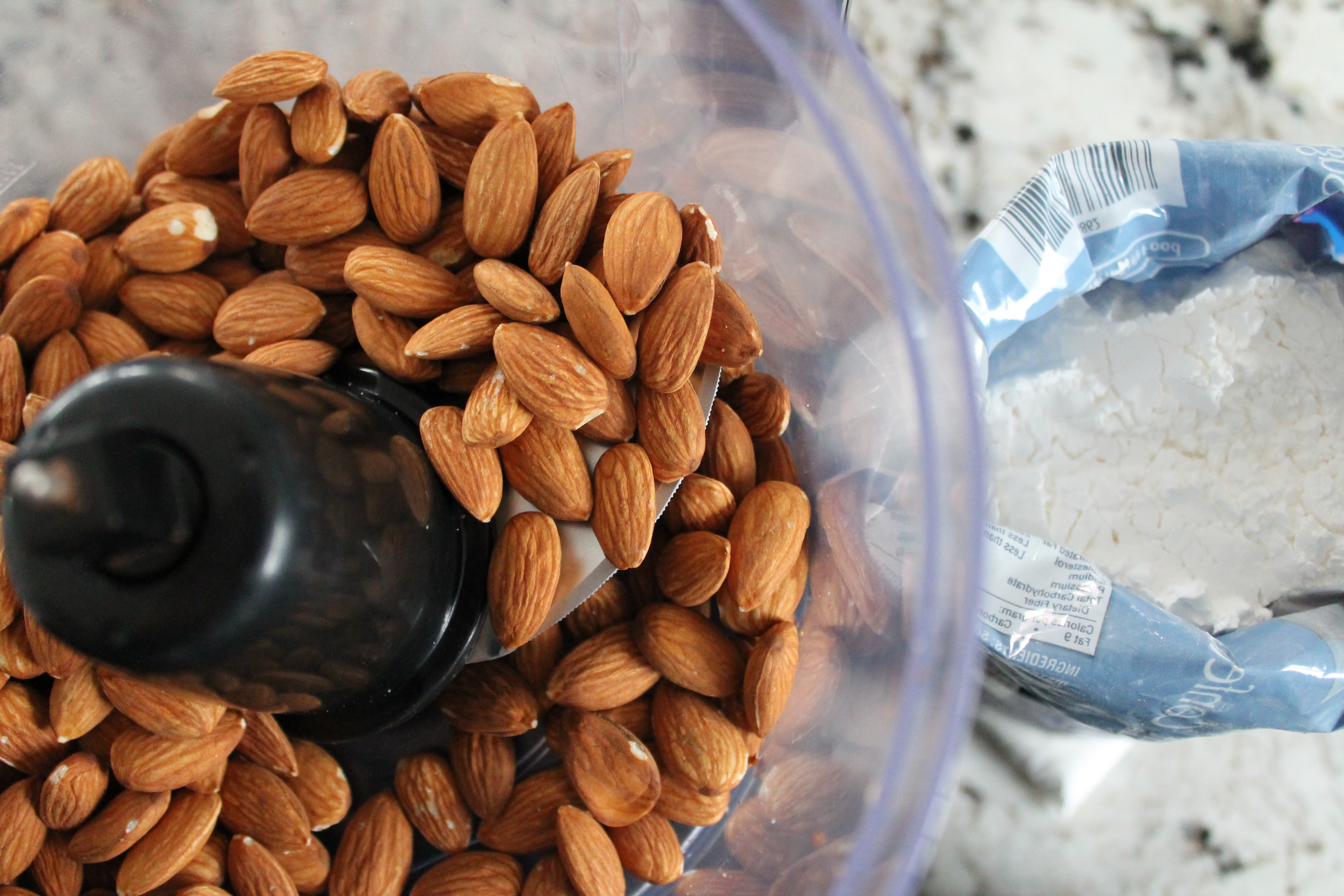 You need a relatively large food processor to make these kekse. Drop about 1¾ cups whole, unblanched, raw almonds into the processor. If you have a food scale, you are aiming for 240 grams. You could also use sliced or slivered almonds, which will process down faster, but I prefer to save the money and buy my almonds whole.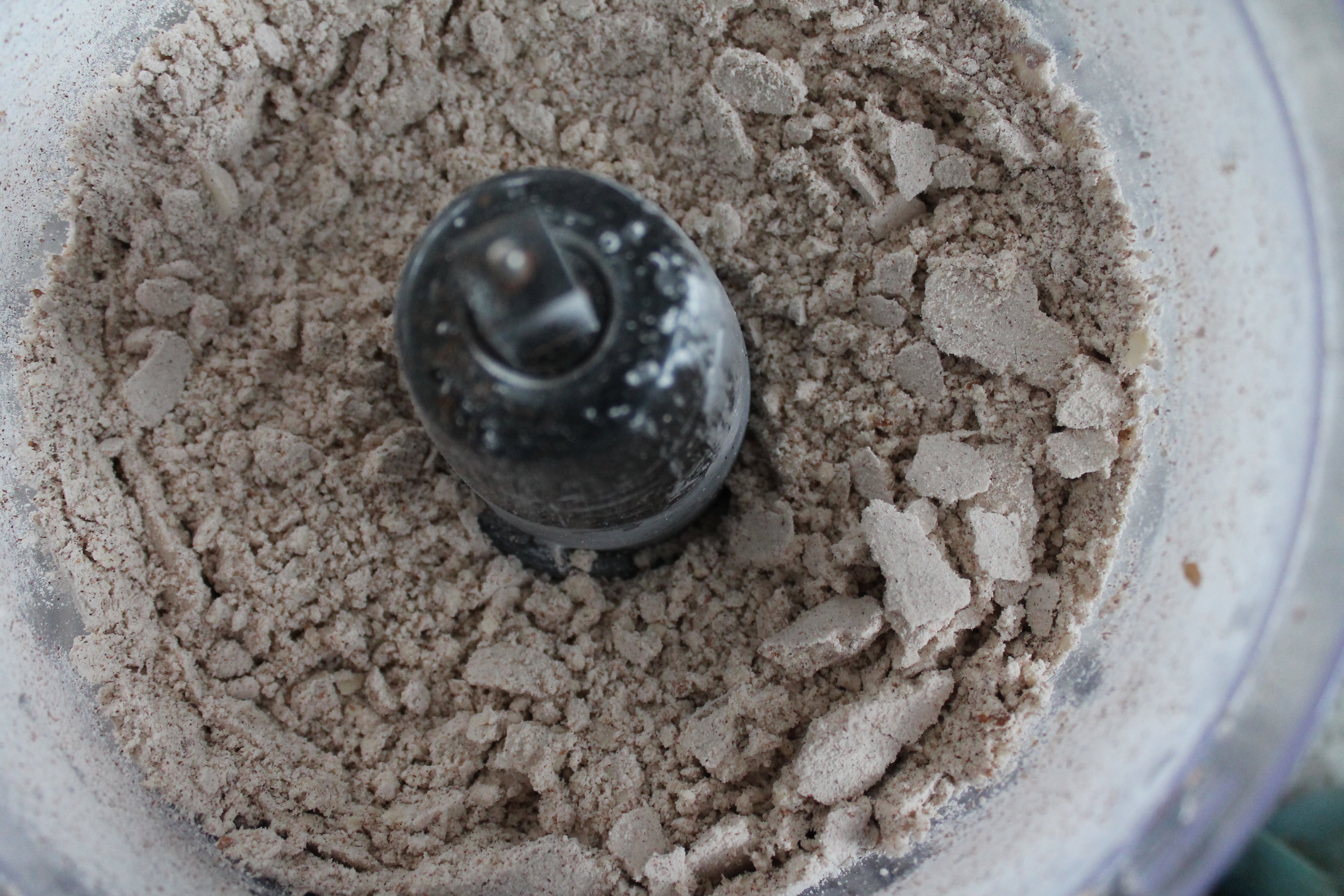 Add confectioner's sugar, cinnamon, and salt to the food processor. Whiz everything together until the nuts are relatively fine. Don't be obsessive about it; mine often still have some larger chunks in there hiding at the bottom underneath the sugar powder.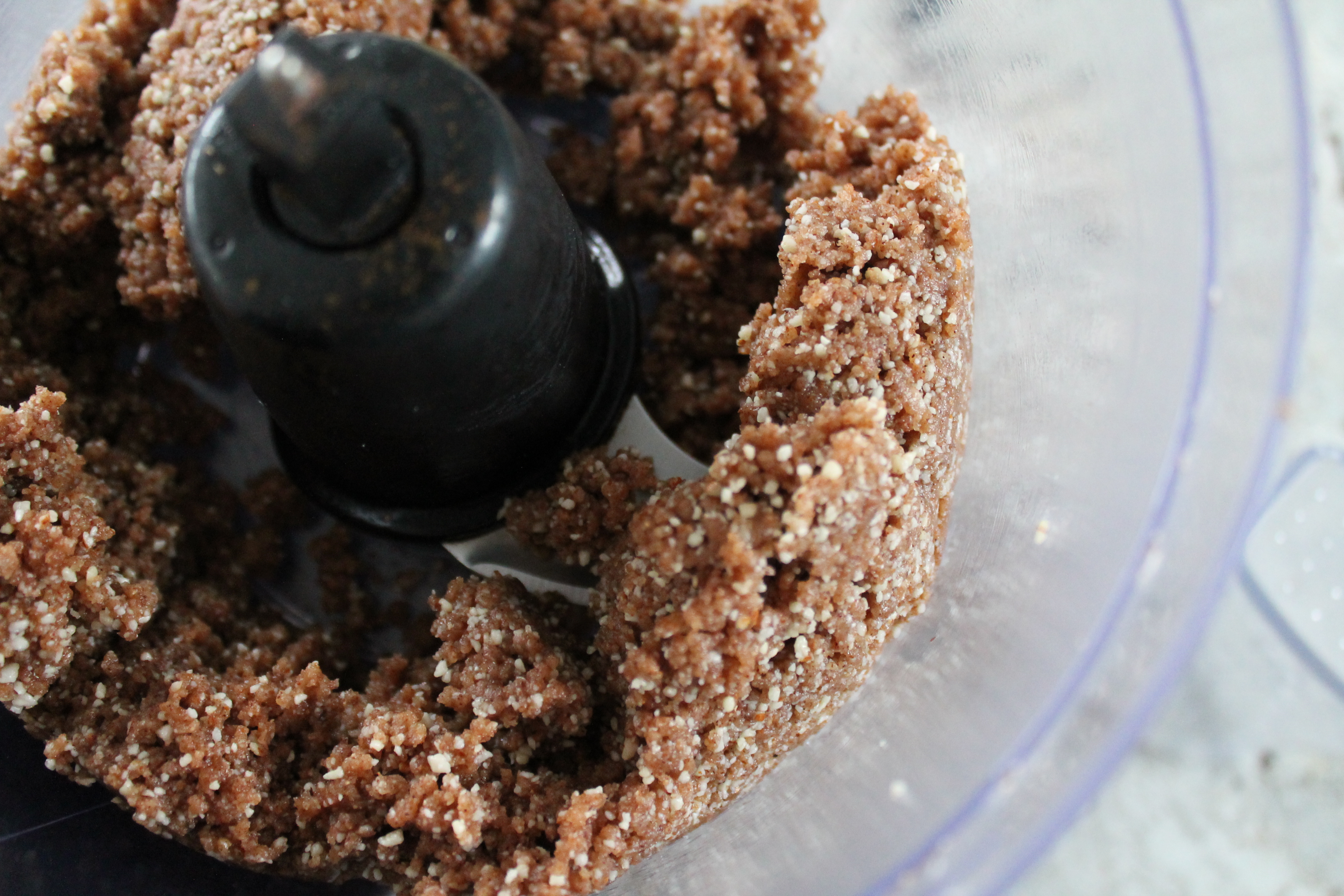 Add one egg white and process until the nuts are fine and the mixture forms a ball. If the dough is not moist enough to come together into a ball, add a very small splash of water and process again until it comes together.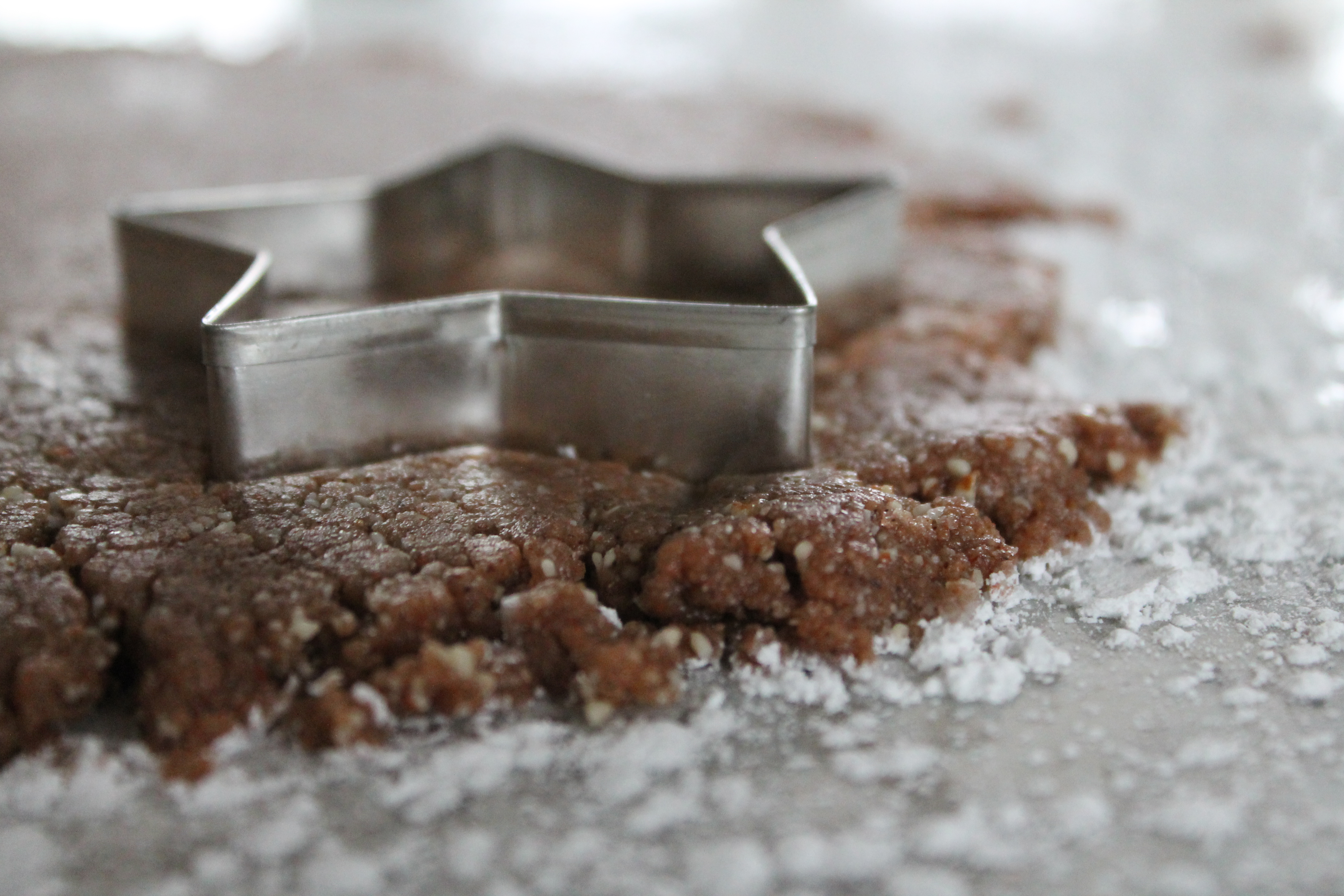 Turn the dough out onto a confectioner's sugar–covered counter. It should be fairly dry. If your dough is sticky enough to cling to a rolling pin, you may want to let it dry out a little on the counter before continuing.
Roll the dough out until it is about ⅓″ thick. These cookies should seriously be thick and chewy, so don't try to roll them thinner! No prizes for thin rolling this time.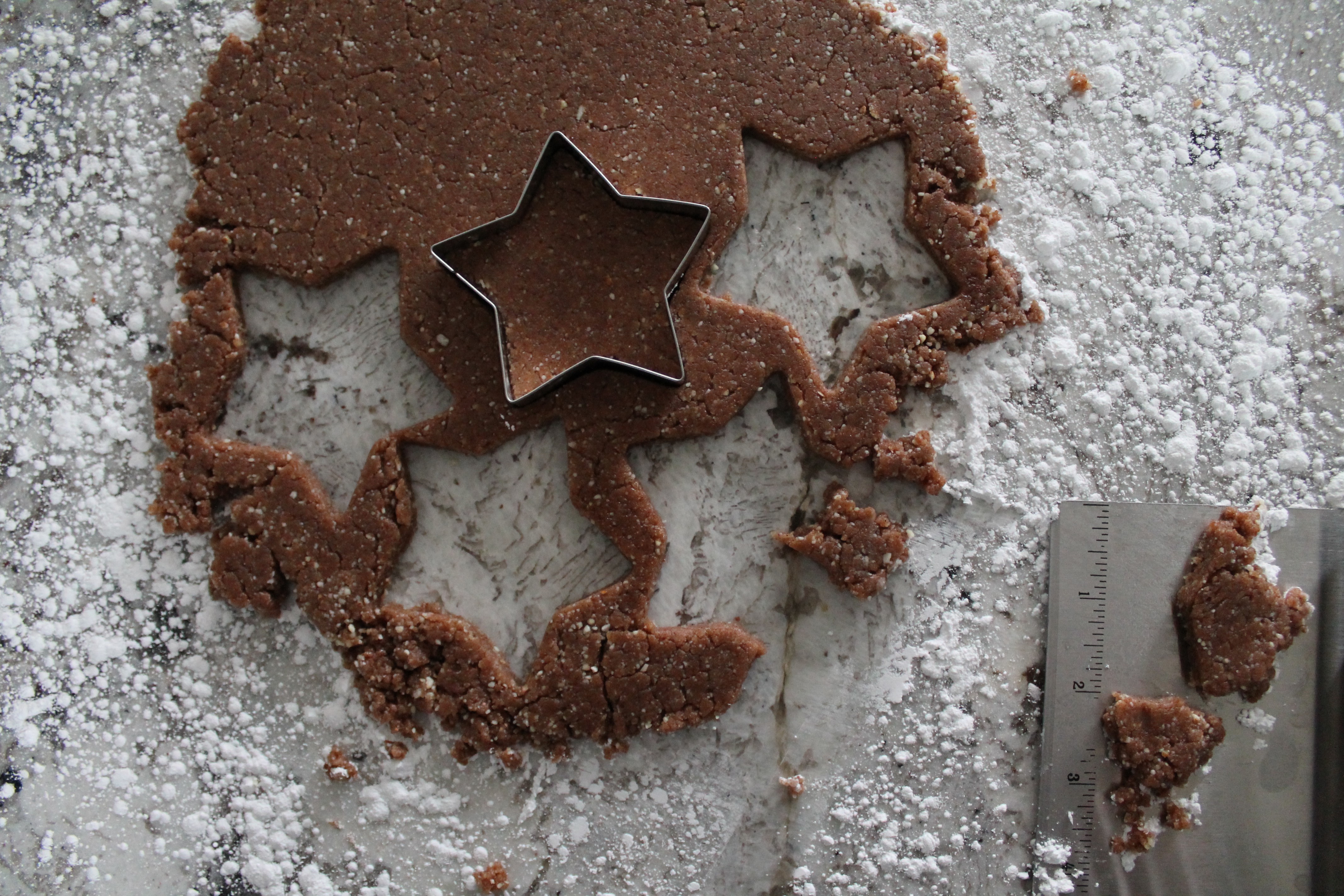 Cut into stars!
I used a five-pointed star, which is what I had on hand, but in some communities, a hexagram (like the Star of David) is considered the "correct" or more traditional shape.
The stars should be very easy to cut out and move to a lined cookie sheet. And the best part about this nut-and-egg based dough is that the dough won't get tough no matter how many times you squish it together and roll it out again!
Bake the stars for 11 minutes, until they look a bit dry on the ouside, but are still soft.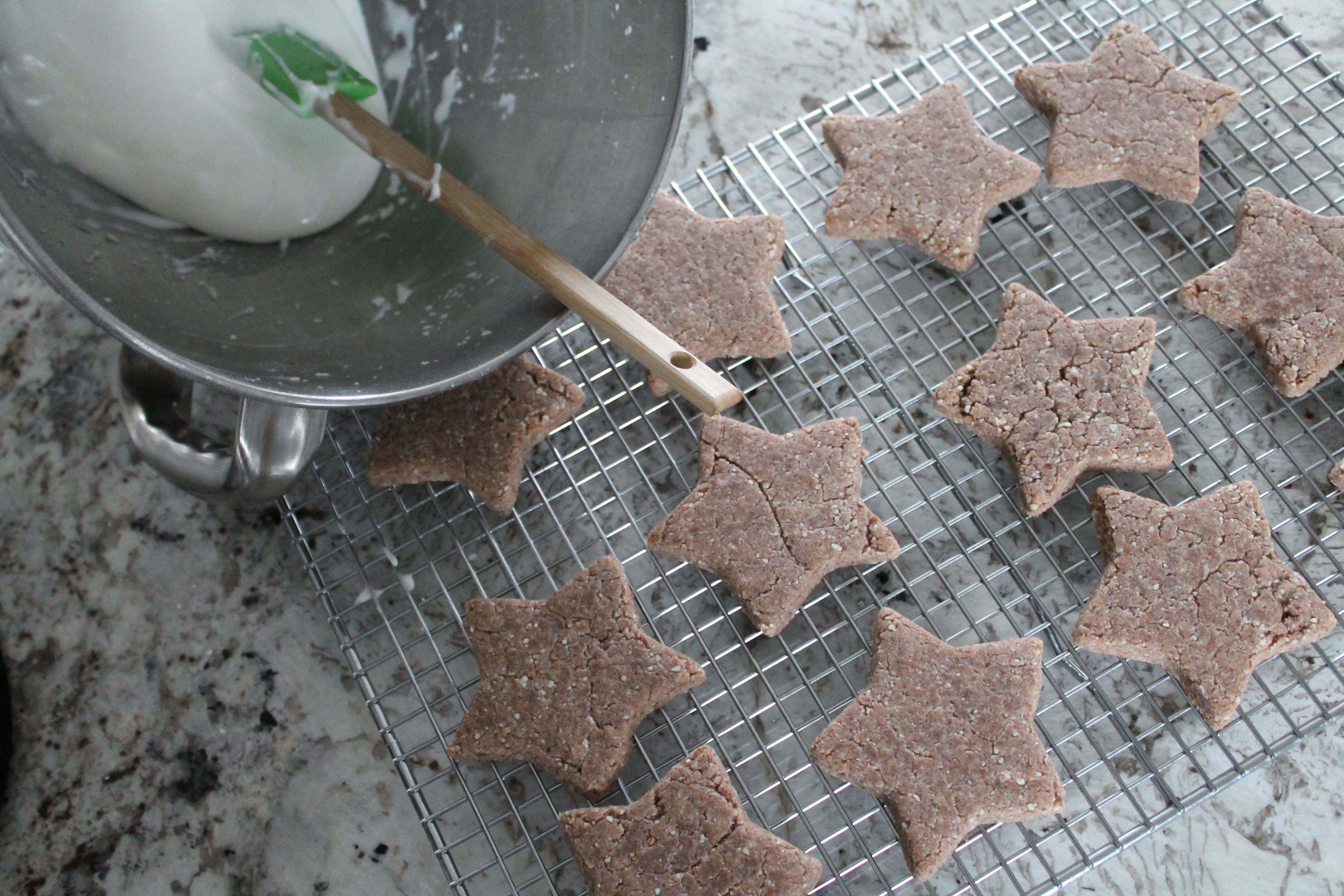 Now we make the Royal Icing. This couldn't be easier: just beat an egg white with confectioner's sugar and either a small splash of lemon or (gotte love Germans) a splash of Kirsch, or cherry liqueur. I, of course, used lemon juice, because I hate cherry. I would make a terrible German. Alas.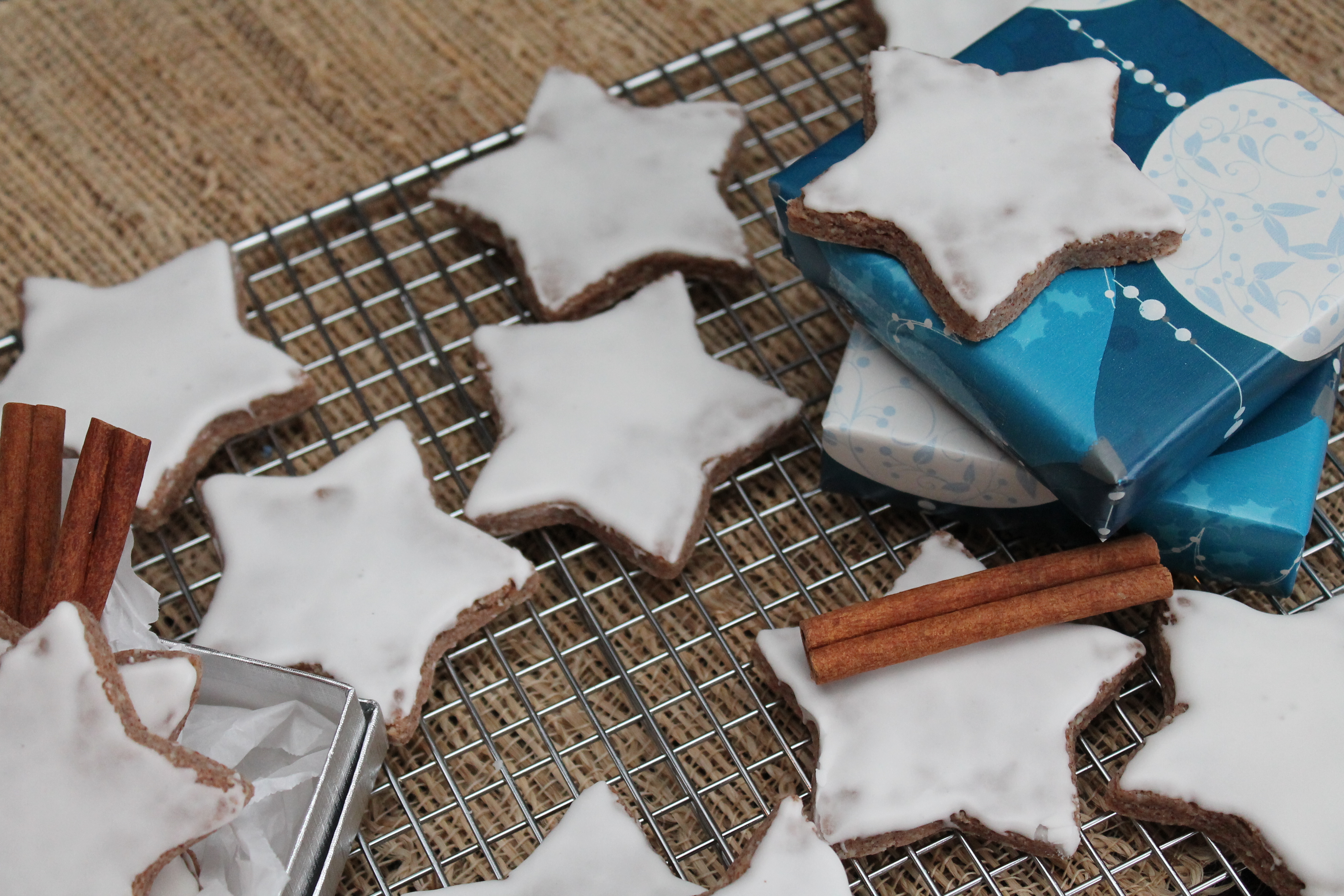 Spread the frosting in a thin layer on the baked cookies after they cool slightly. Let it set completely before moving or stacking the cookies, about 10 minutes.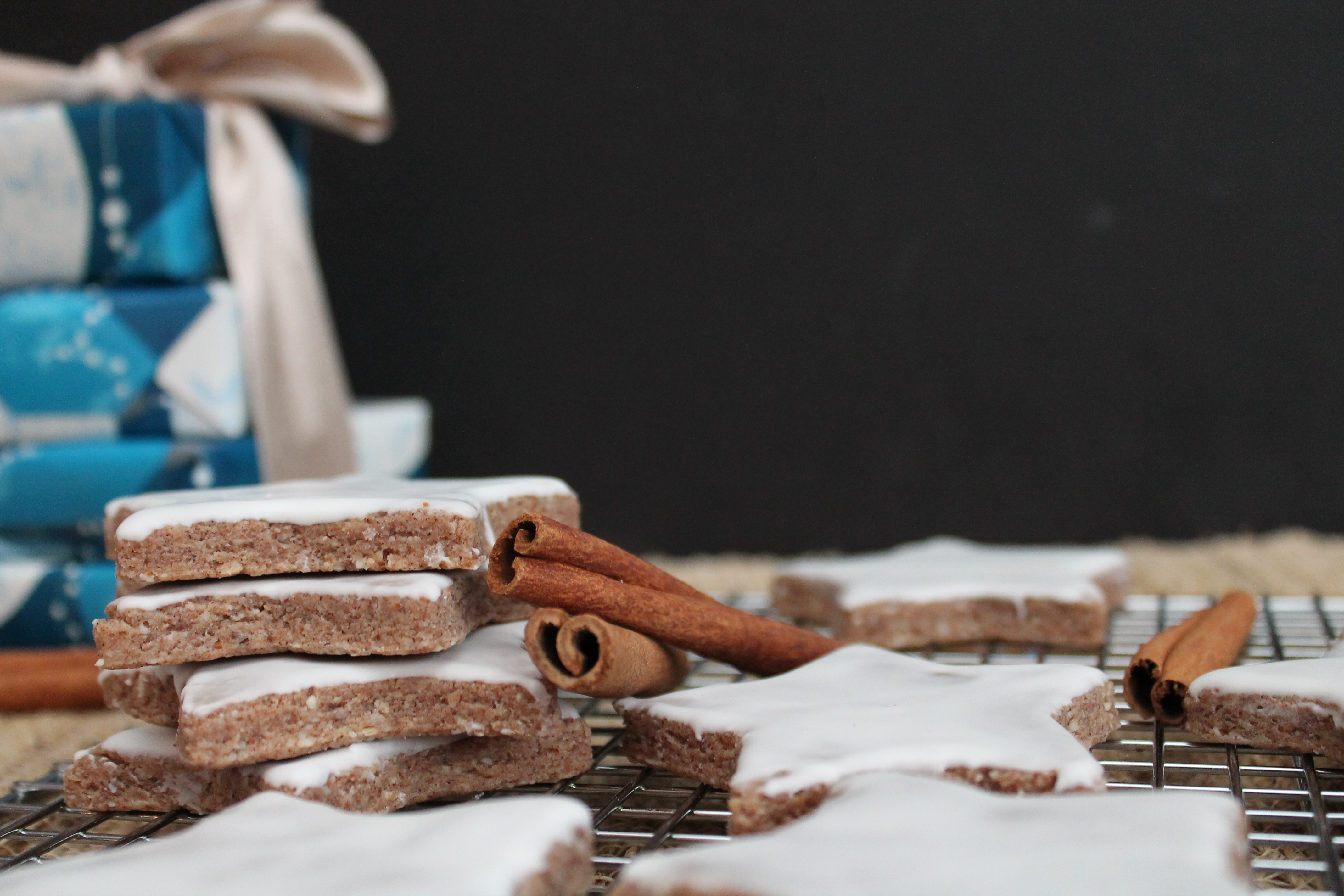 In case you were curious about the more traditional method for these cookies: instead of making the cookies and icing separately, you could make a larger meringue at the beginning, then scoop out a portion to use for frosting and mix the remainder with the ground nuts. Traditional recipes also call for frosting each cookie prior to baking, which could result in browned rather than bright white frosting.
Zimtsterne
Keyword
almonds, cinnamon, dairy-free, gluten-free, sweets
Cook Time
25

minutes
minutes
Total Time
1

hour
hour
25

minutes
minutes
Ingredients
Cookie Ingredients
1¾

cups

whole almonds

(240 grams)

1

cup

confectioner's sugar

1

tbsp.

cinnamon

pinch of

cloves

⅛

tsp.

salt

1

large

egg white
Icing Ingredients
1

large

egg white

1⅓

cup

confectioner's sugar

½

tsp.

lemon juice

or 1 tsp. Kirsch
Instructions
Preheat oven to 300°. Line two baking sheets with parchment or Silpats.

Make the cookies. Combine almonds, confectioner's sugar, cinnamon, cloves, and salt in a food processor. Process until finely ground and even.

Add the egg white and process until the mixture is smooth. If necessary to help the mixture stick together add ½–1 tsp. water and process until the dough comes together in a ball.

Lightly dust a work surface with powdered sugar. Roll the rough out to ⅓″ thick and cut into 2″ stars.

Lay the stars on the prepared cookie sheets about 2″ apart.

Bake for 11–12 minutes, until barely browned and slightly dry looking, but still soft in the center.

Cool cookies on the sheet 3 minutes before moving to a wire rack.

While the cookies cool, make the icing. Beat together the egg white and confectioner's sugar until thick, opaque, and smooth. Add the lemon juice and beat to combine.

Using a butter knife, spread a thin layer of icing on each cooled cookie, just enough that the top of the cookie appears bright white.

Let the icing set completely before eating or moving.
Enjoy!