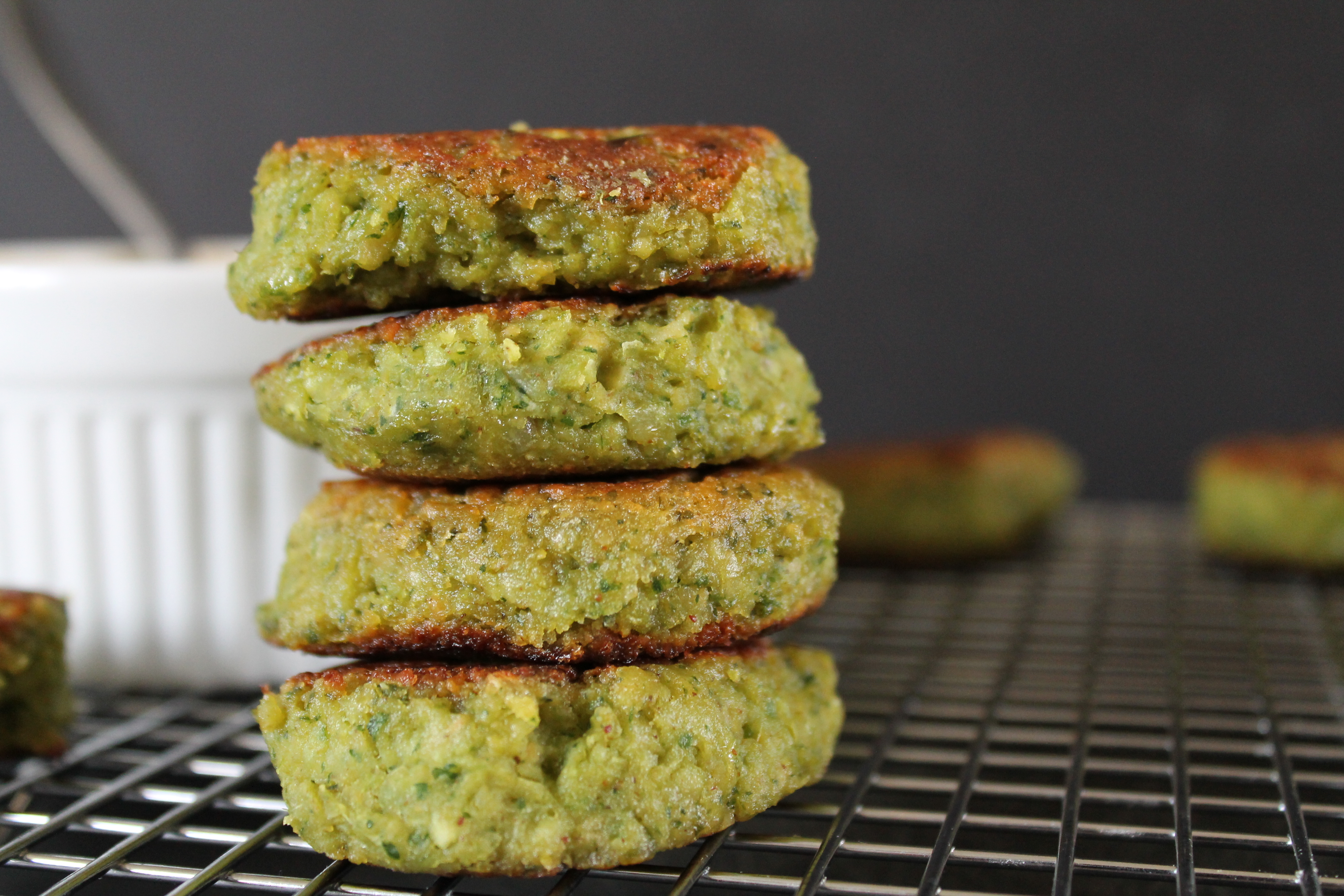 Do you ever just have a really bad day? Like a terrible, horrible, no good, very bad day?
This has nothing to do with falafel, really. I'm just whining.
I have been sick for several days. Like the kind of sick when everything in your body suddenly revolts all at once, where you have a cold, plus a broken wrist, plus a headache that feels like it might possibly be a brain tumor, plus a fever blister, plus a few other unmentionable problems. So I woke up already feeling like I just wanted to camp out under the covers for another several hours. But I didn't.
Dave and I had a rather tense discussion right before he left for work. The baby pulled my necklace right off my neck. And then my nephew came over for the day! Unfortunately, he and Jake spent the entire day screaming and snatching toys out of each others' hands and smacking each other with wooden tools. And then they pulled the curtains off the wall in the playroom, leaving a thumb-size hole in the drywall above the window. After which I half-fell off a ladder onto a pile of Duplos (if you're a parent, you know how much that hurts). And then one of the 3-year-olds peed directly on me.
I hollered uncle.
My sweet sister-in-law brought me a milkshake, and I put the kids in their rooms for nap time, intent on doing Sudoku and listening to Yes, Please and slurping my chocolate shake in peace.
But my daughter stood up in her crib and wailed for an hour instead. (Yes. I left her in there for an hour. I'm a monster.)
It's not even dinner time, yet, friends.
I think I'll move to Australia.
P.S., I had intended to save this recipe for when it's Spring and sunny and you are excited about green stuff. But really I just needed some encouragement, like right now. I couldn't wait for Spring.
Without further ado…go make falafel. And have a good day.
Falafel are (is?) extremely easy to make!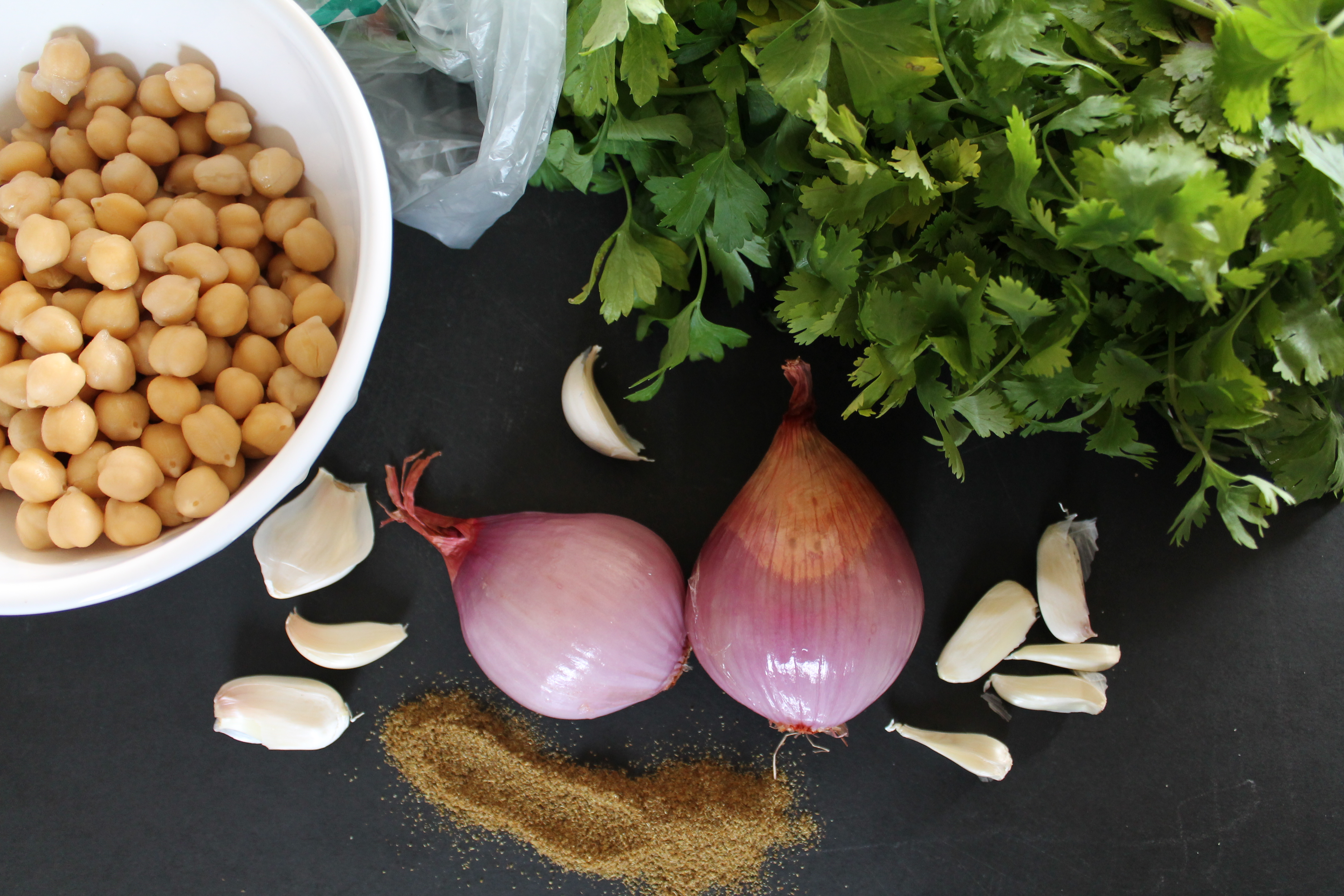 You basically need a food processor and a bunch of healthy ingredients. Good start!
Roughly chop a shallot or onion and peel a bunch of cloves of garlic. in my opinion, the more garlic the better.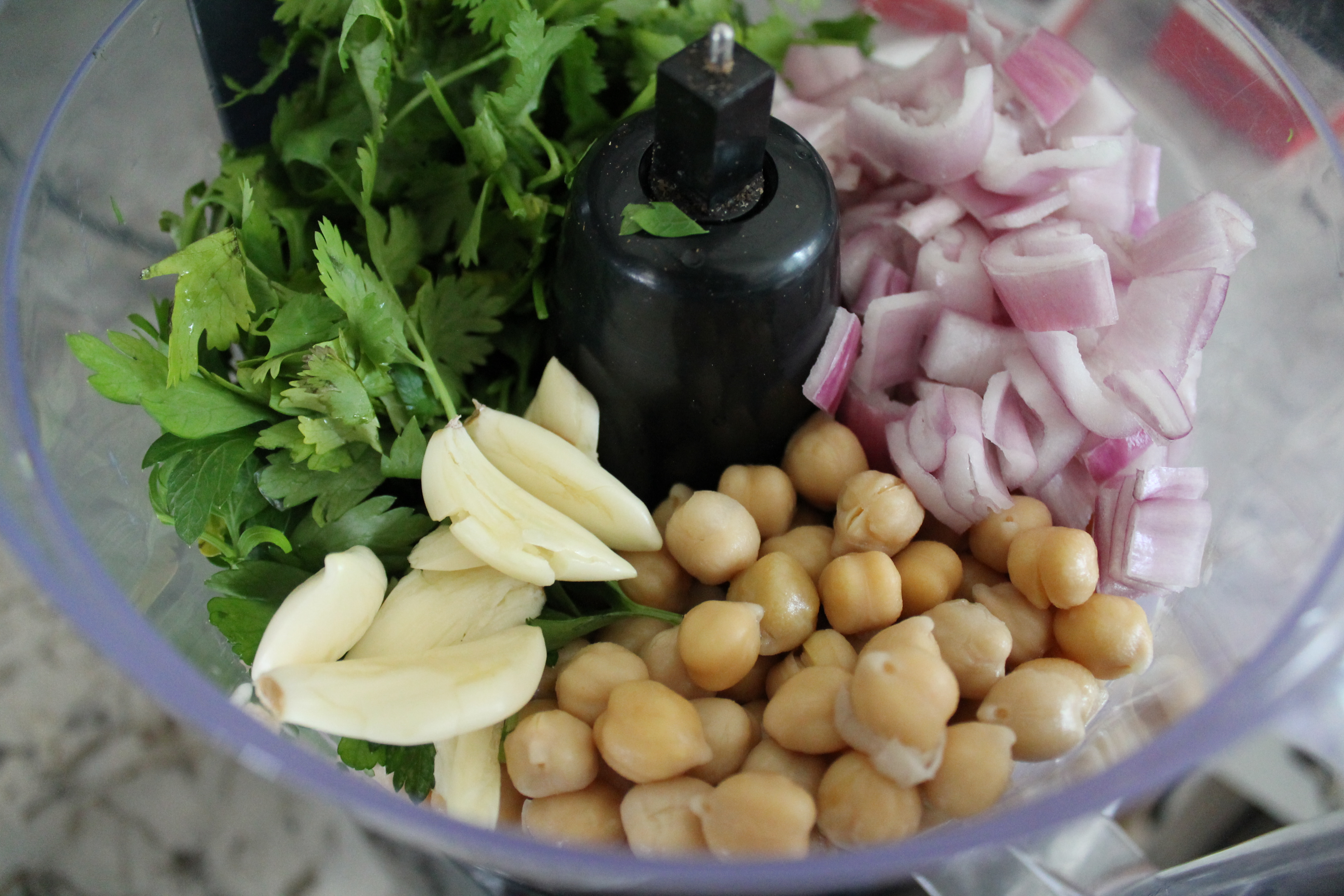 Chunk all of the ingredients for the falafel patties into the food processor: chickpeas, a whole mess of cilantro and parsley (you can tinker with the ratios, but I prefer an even balance so the taste isn't too grassy), garlic, onion, flour, lemon juice, seasonings, and baking powder. Sometimes I like to do the produce first and add the flour and seasonings last, just to make sure everything gets broken up but the flour doesn't get overworked and make the falafel dry or tough.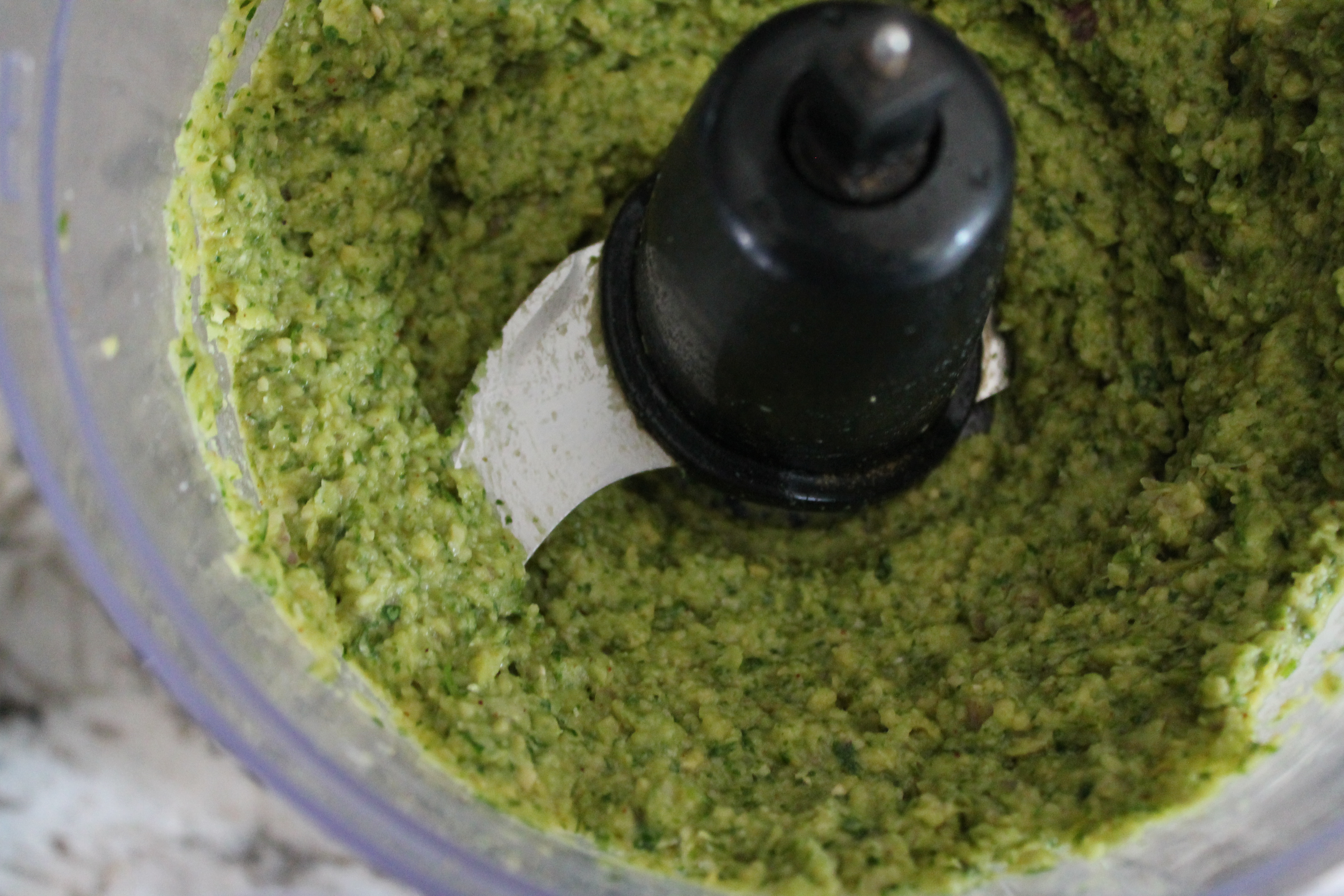 Process until the mixture is even and not too chunky. Chill for 2 hours. If you're in a huge rush, you can skip the chilling, but the falafel mixture will be quite sticky and messy if you do. Plus, the chilling gives the flavors a little time to meld together.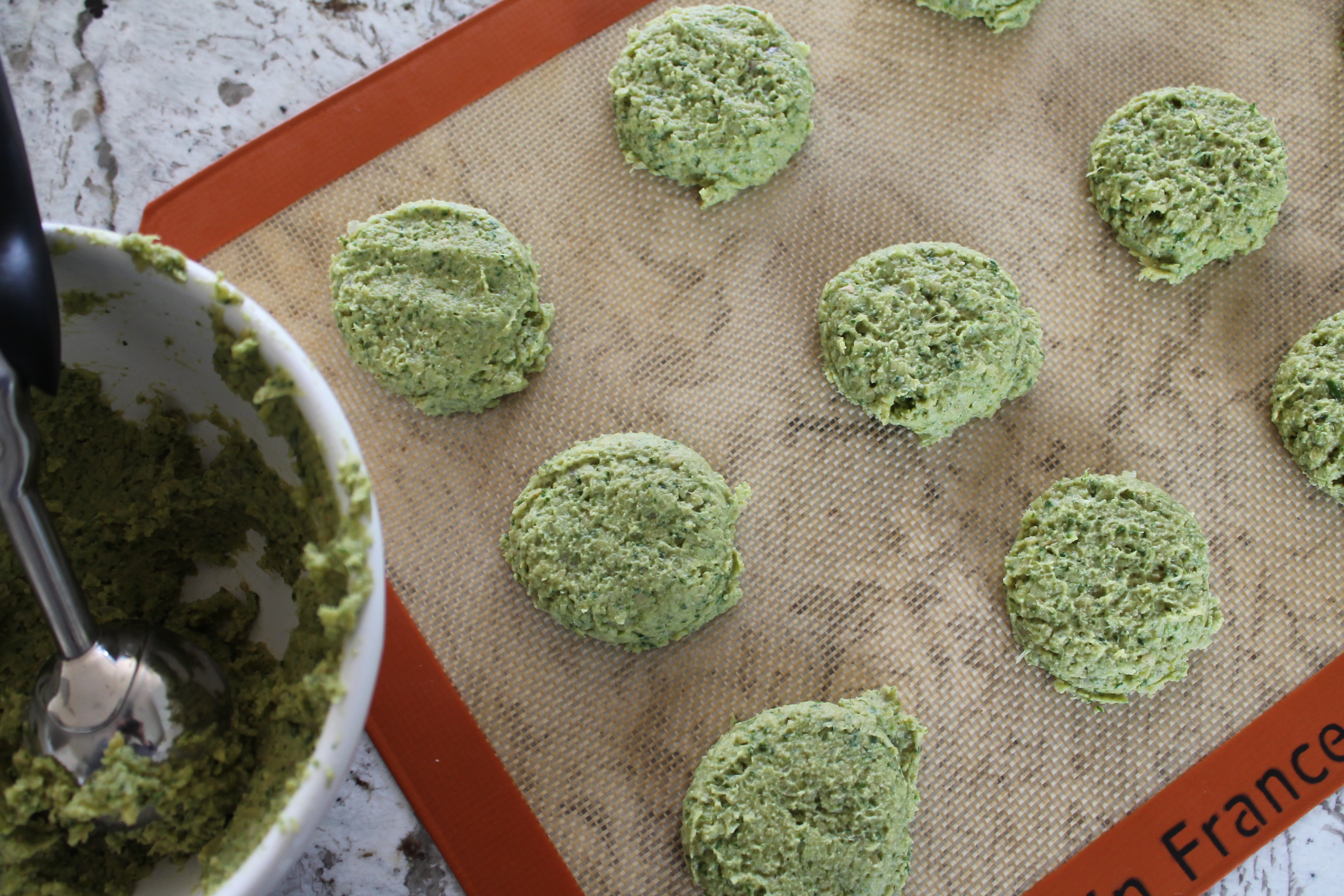 Scoop the mixture into small balls, about 2″ in diameter. Flatten slightly on a sheet of parchment or a Silpat. I worked mine in batches: after I formed about 12 patties, I found that the chickpea mixture was getting a bit sticky again, so I just chilled the rest for later.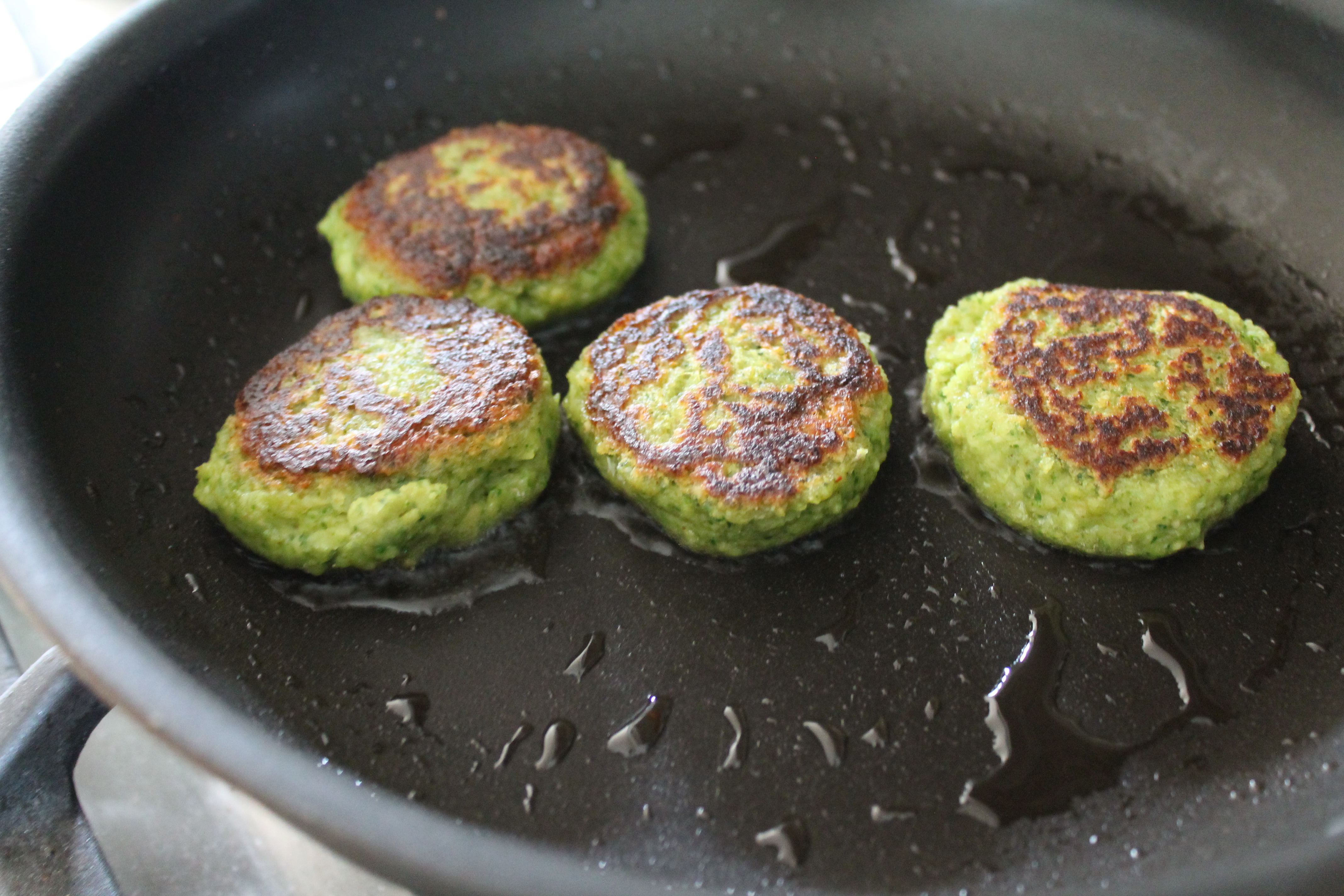 Now we just pan-fry these babies in a small amount of oil! Use just enough oil to coat the bottom of a heavy skillet and fry several at a time, about 2 minutes per side, until dark and firm.
I like to freeze what I can't eat right away, formed into patties but uncooked, then fry them up as I am ready to enjoy them! Falafel are aways best when fresh.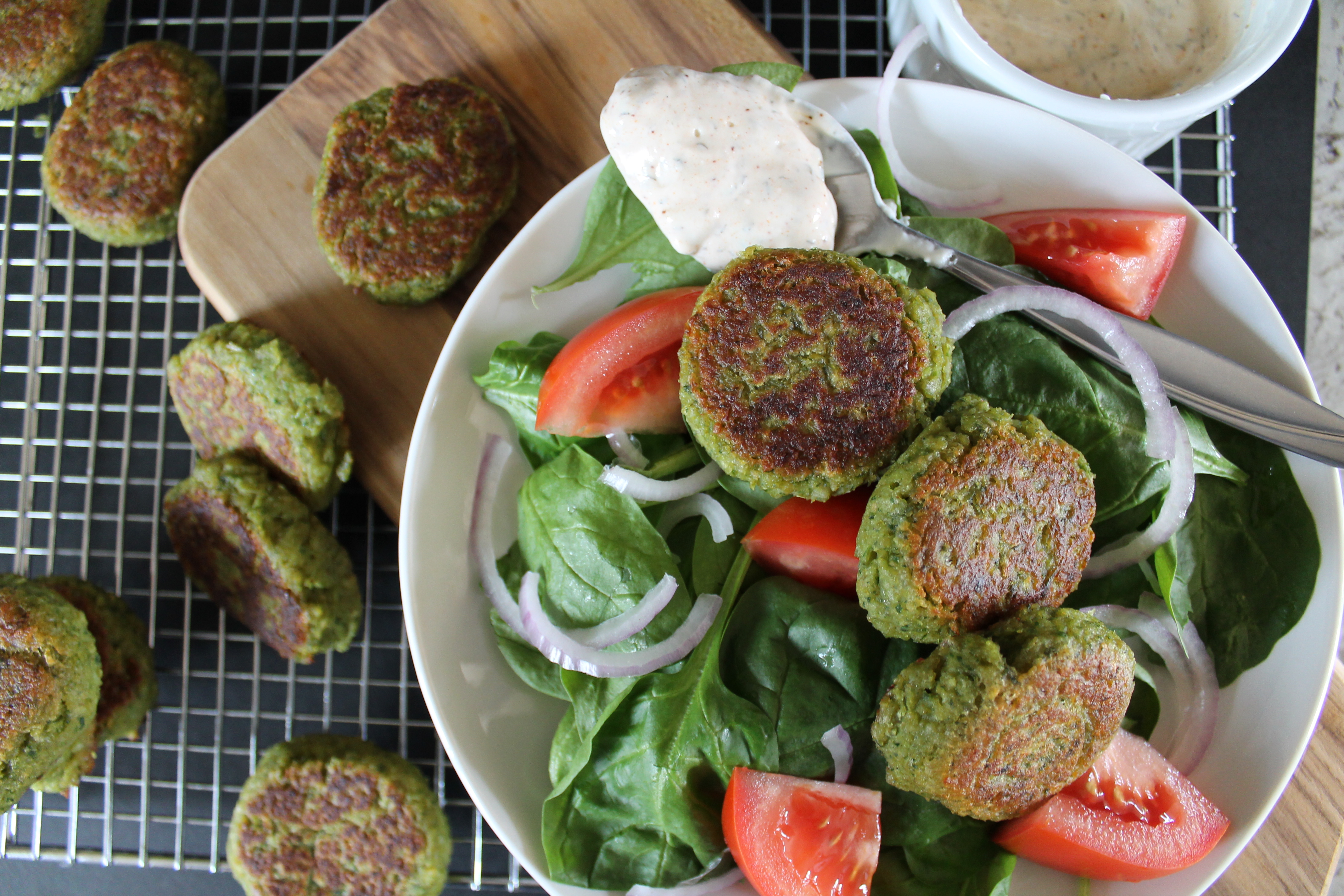 You can serve these any number of ways. I, personally, prefer to layer a few patties in a pita pocket (which I sincerely believe was invented by busy moms) with some fresh spinach, tomato, red onion, and spicy tzatziki! Yum. You can make your own tzatziki or buy it in the produce section of the grocery store.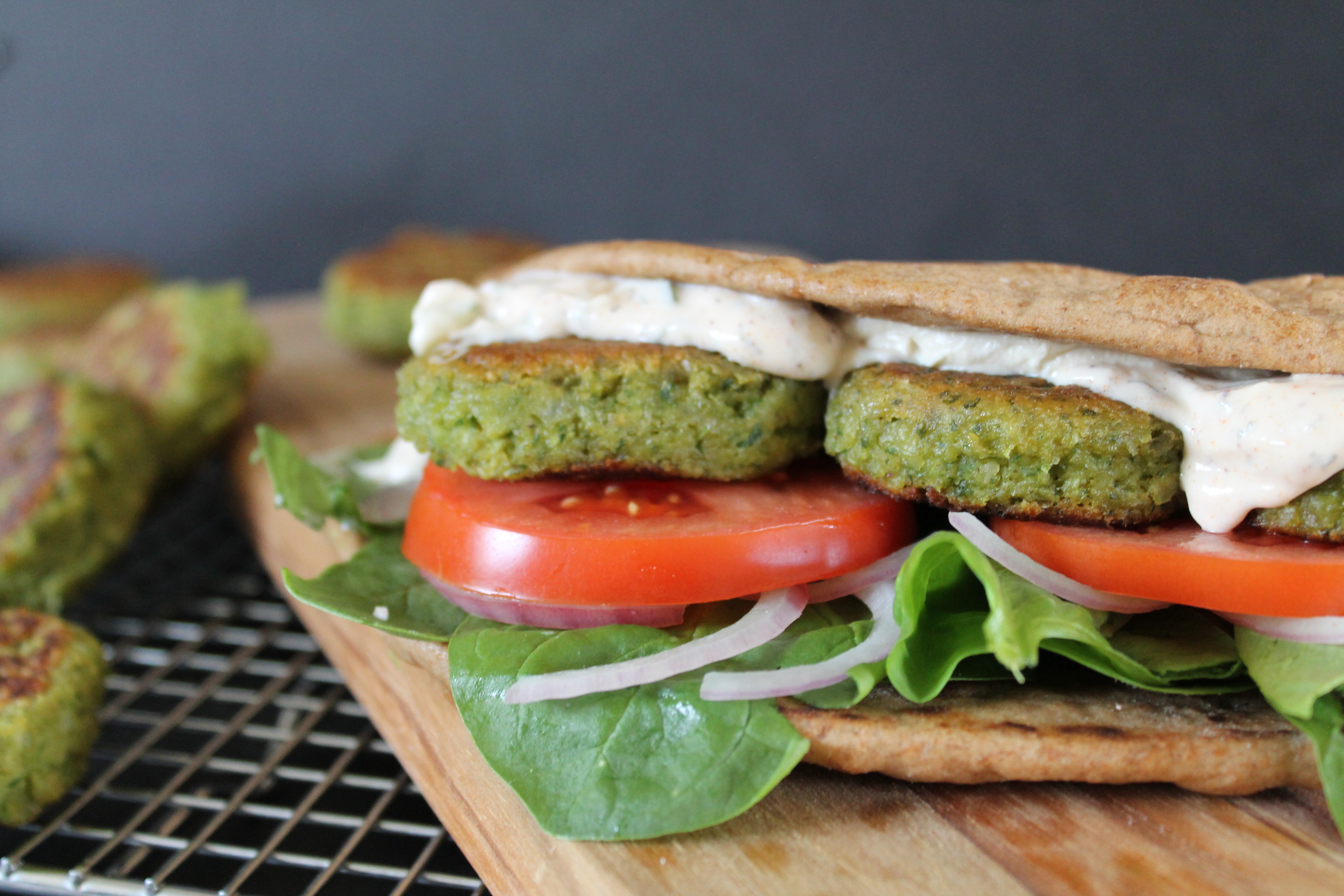 To keep it totally vegan, skip the tzatziki and use a little hummus or a tahini drizzle instead!
Green Herb Falafel
barely adapted from Gimme Some Oven
makes about 18
Ingredients:
1 very large shallot, roughly chopped
6-8 large cloves garlic, peeled
1 15oz. can chickpeas, drained and rinsed
1 cup fresh cilantro
1 cup fresh parsley
⅓ cup flour
juice of 1 large lemon (about 1 tbsp.)
1½ tsp. salt
½ tsp. black pepper
1½ tsp. cumin
1½ tsp. baking powder
4–6 tbsp. canola oil
lettuce or fresh spinach, tomato, red onion, spicy tzatziki, tahini, lemon, and/or pita bread for serving
Directions:
Combine the onion, garlic, chickpeas, and fresh herbs in a food processor. Pulse until the beans and greens are broken down. Scrape the sides of the bowl.
Add the flour, lemon juice, seasonings, and baking powder. Pulse until evenly mixed.
Cover the food processor bowl and chill for 2 hours.
When ready to fry the falafel, pull the chickpea mixture out of the fridge. Scoop into 2″ balls and flatten slightly. Place the patties on a silicon mat or sheet of parchment. If the chickpea mixture gets too sticky, chill it again while frying the first batch or two of falafel patties.
Heat about 2 tbsp. oil in a large, heavy-bottomed skillet. When very hot but not smoking, add several falafel patties, ensuring that they do not touch each other. Cook for 2–3 minutes, until dark brown on the bottom, then flip and cook another 2 minutes.
Remove to a plate to cool.
Serve the falafel warm with desired accompaniments, such as: torn greens, thinly sliced tomato and red onion, drizzled with spicy tzatziki or tahini and a little lemon juice, wrapped in pita bread.
Enjoy!