Somehow a whole year has flown by, and my baby girl turned 1!
In some ways, it doesn't even seem real: she still has no teeth and she's not walking on her own quite yet. Although she loves to enthusiastically yell, "Hi!" on the phone, she still seems to think blowing raspberries is the best form of communication. She's still my baby—she can't possibly be a whole year old!
Caitlin has a smile that lights up her whole face. She throws back her head when she grins, and it's like her entire body quivers with joy. She loves her brother, she loves to explore, she loves hugs, she loves books and ripping paper (not the best combination), and she loves to put every small thing into her mouth. She certainly keeps us on our toes, and we are so glad to know her!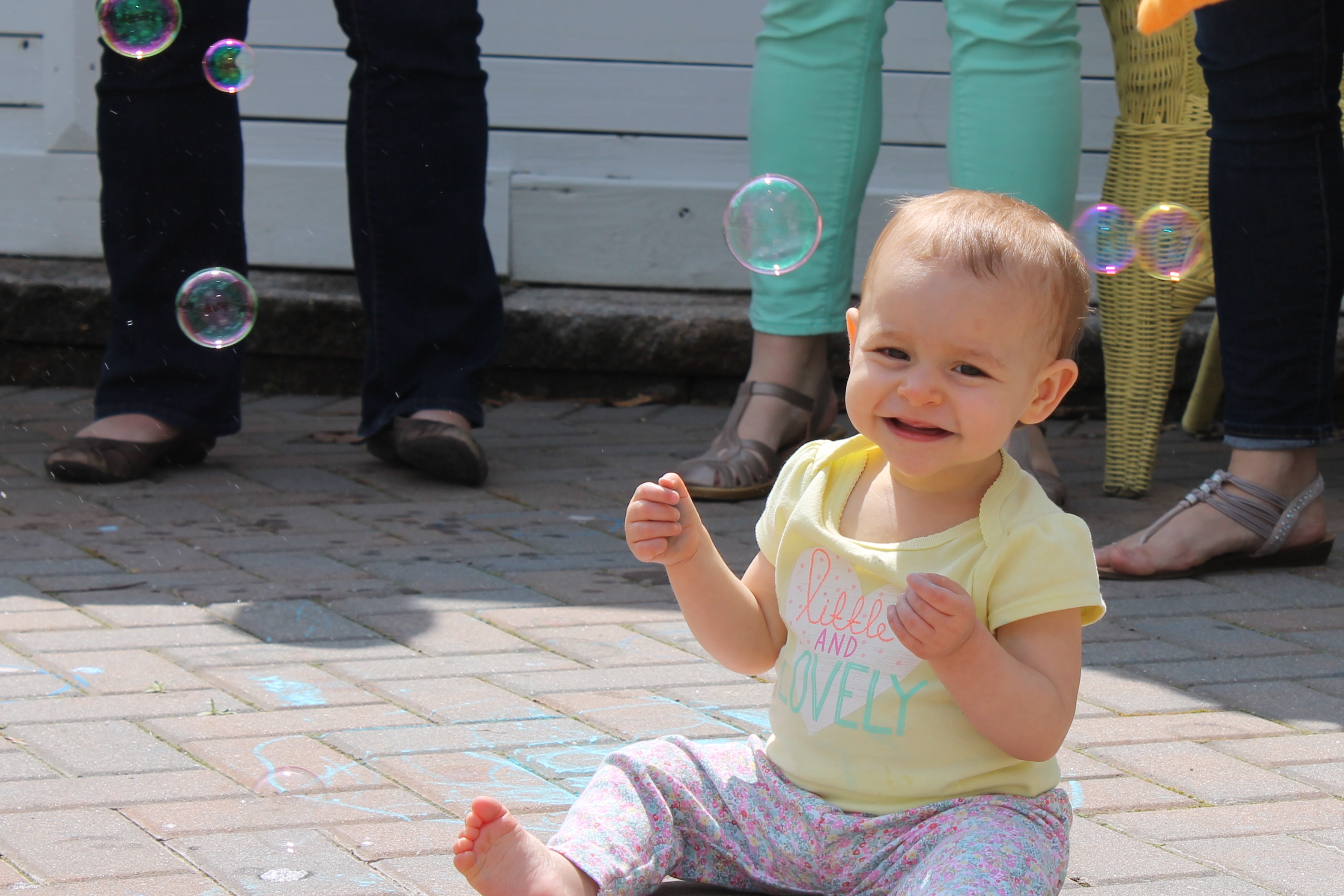 For Caitlin's first birthday, we threw a bubble bash. I bought bubble machines and wands and set out a bunch of food and we invited friends and family to come celebrate!
I like to get a little carried away with parties for my kids. I have a tendency to embrace every cute idea that pops into my head. I can't help it! I love birthdays. I love big birthdays and big parties, despite being an introvert. My life is weird. (And Pinterest certainly hasn't been good for my restraint.)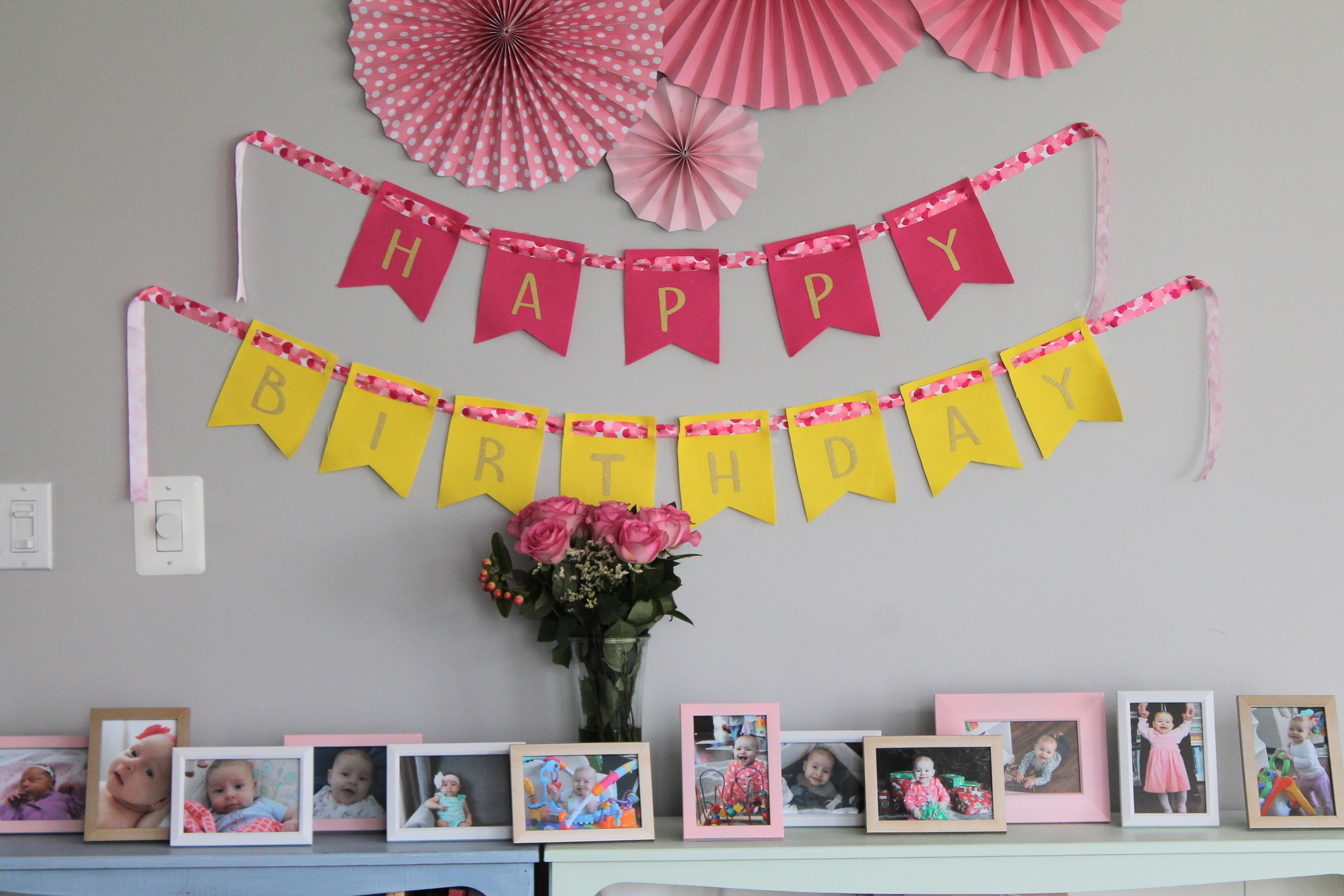 Initially for Caitlin's party, I wasn't really sure what direction to go in, since "bubble" isn't a very clear decoration theme. But ever since her "April showers" baby shower, I've had it in the back of my head that I wanted to do something flowery. Caitlin is my favorite little bloom!
So I totally went for the whole girly business. I decided on a pink-yellow-gold color scheme a few weeks before the party. I made a new birthday banner and hung large paper circles (which, yes, I purchased at Michaels instead of making myself). I spray painted the same picture frames I've used for Jake's birthdays and filled them with adorable photos of my adorable daughter throughout her first year of life.
I also like to use my kids' parties to try new crafts. For Caitlin, I attempted to make a floral monogram using fake flowers and a wooden letter C. It wasn't perfect, but I still used it!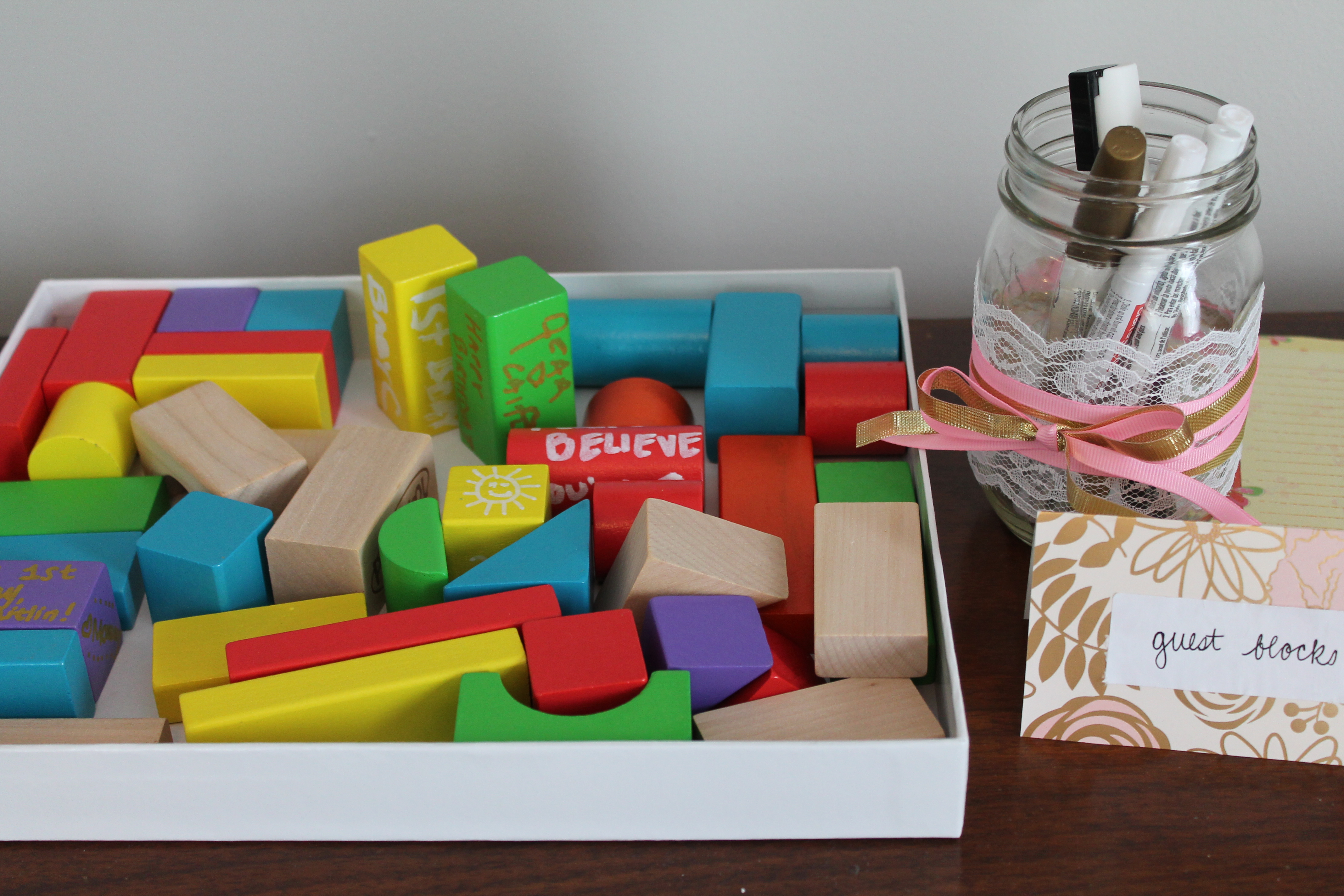 I set out a bunch of wooden blocks and some paint pens so family and friends could write a little birthday message for Caitlin. After the party, I sprayed the blocks with Shellac so the messages would be less prone to rubbing off. Now Caitlin has a unique set of blocks full of well wishes! I'm sure she will love knocking all those blocks over for months to come.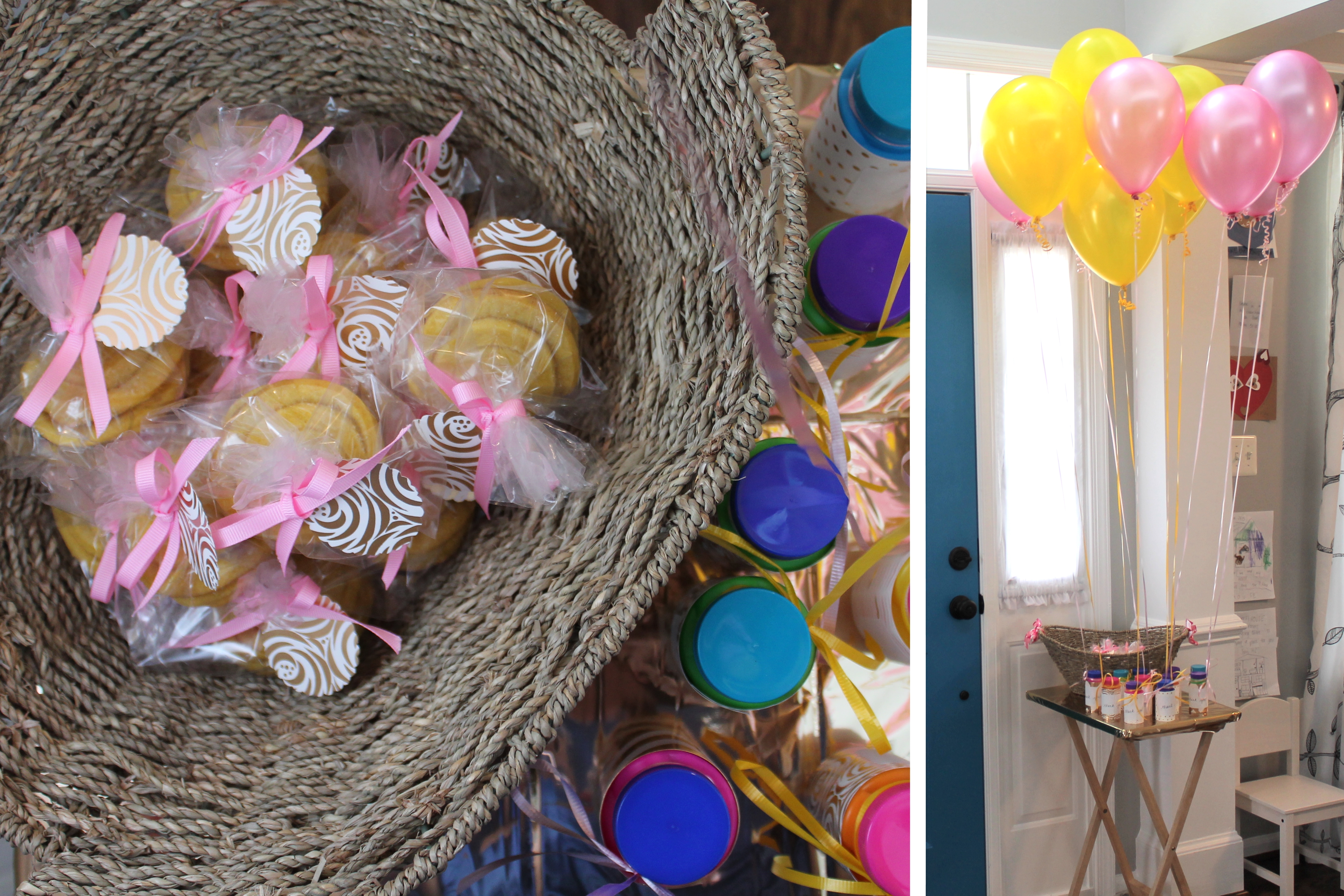 For favors, I made swirly lemon cookies (because, for some reason, bright yellow lemons make me think of Spring) and tied helium balloons onto little jars of bubbles for the kids. This year I made sure to put the favors right by the door so they would be easy to spot and folks would be more likely to grab one!
And, of course, there was food.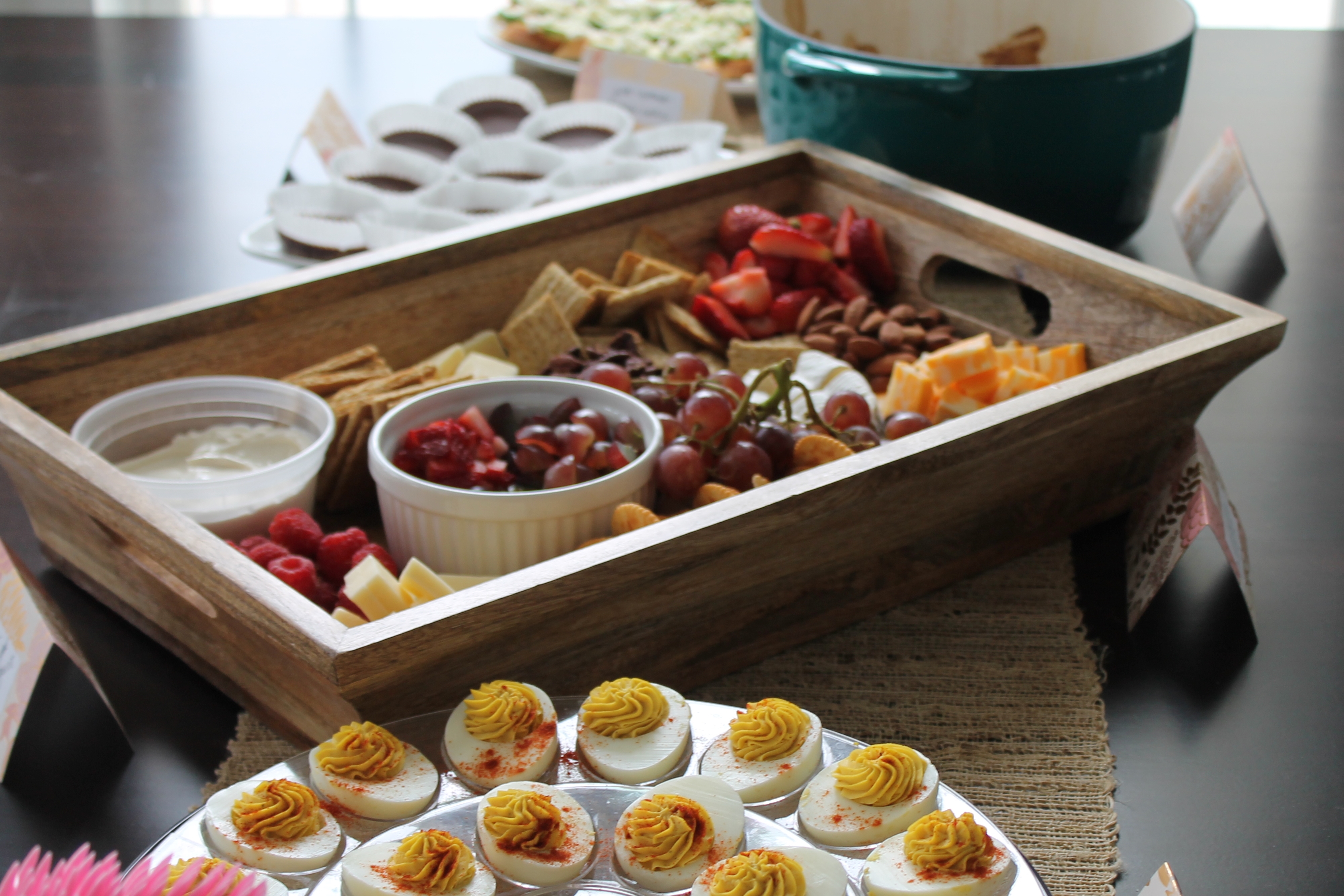 Due to Caitlin's nap schedule, the party ended up being right after lunchtime. (This either means people won't eat anything because they tried to eat a sensible lunch beforehand, or it means that they will be starving because they skipped lunch to attend a birthday party.) I tried to feed everyone well—while keeping the number of snacks to a minimum, for my own sanity. We had:
deviled eggs
barbecue meatballs (made by my mom, and gluten-free!)
a huge fruit and cheese tray, which included a bowl of pre-cut "baby berries" for littler ones, as well as roasted nuts, crackers, and a yogurt dip
avocado and hummus crostini
almond butter cups
You can just barely see the cute little labels I made out of pink and gold flowered cardstock. This year, I hand wrote all the labels for food and thank-yous instead of printing them, for a more personal touch.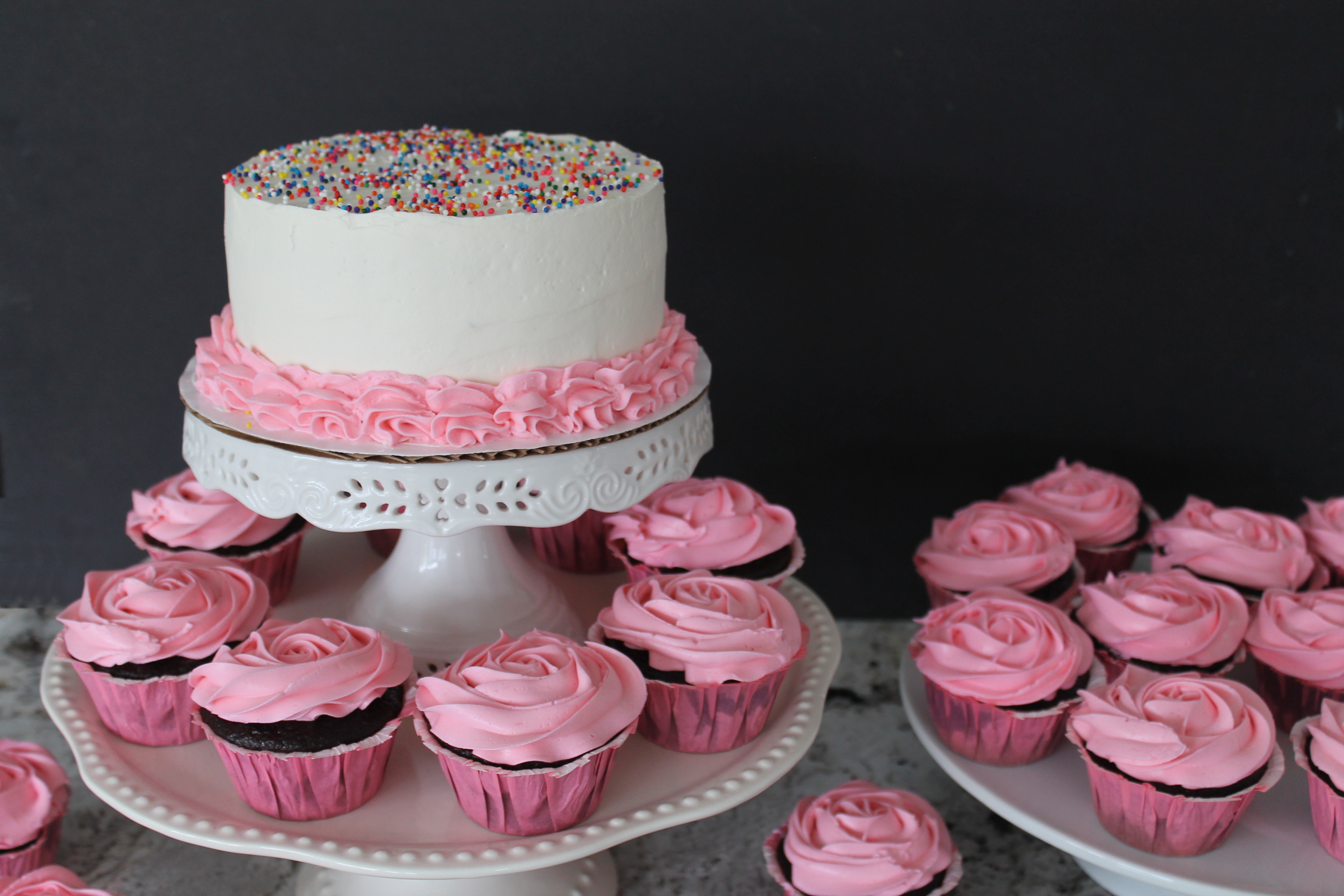 I made a chocolate-prune smash cake for Caitlin and chocolate cupcakes for everyone else. I frosted the cupcakes to look like flowers!
Making flowery cupcakes is super easy: just grab a Wilton 1M piping tip (a very large star) and swirl the frosting on, starting in the center and working to the outside. I made 38 cupcakes, which required two batches of my favorite frosting (in case you were curious, it's ermine frosting, which is made with thickened milk, butter, and granulated sugar; it's also sometimes called boiled flour icing or butter roux—I will be posting about different types of frosting in the next month or two, so stay tuned).
P.S., I know the cupcake trend is over, but I still think they are the best way to serve cake at a kids party! Bonus points for easy and beautiful frosting on top.
All parties in my family are big parties because there are a lot of us. There's really no way to do it small and quiet except not to do it at all. I take that as an excuse to go ahead and invite lots of friends, too, because the more the merrier! We invited a bunch of babies and toddlers that Caitlin has played with (and…erm…sat and watched play) over this past year. Okay, let's be honest, babies don't really have their own friends yet. We invited families that Jake and I have had playdates with, many of whom also have younger babies.
Here's a little tip about having a big kids' party, especially if you are the kind of person who occasionally goes overboard: lean into your friends and family. None of these people really care as much as you do about whether the party is cute and perfect. They love you and you love them; that's why they came! Invite people who will be kind to you, people who will volunteer to help you out when they arrive because they are amazing! And then let them help. Because you should not be in a panic if you are the hostess.
I am almost always running behind (recently I read an article that claimed chronically late people are more optimistic!…), and my wonderful friends and family pitched in with setting out food and getting all the bubble supplies ready for the kids and even taking photos. Love you, my dear friends!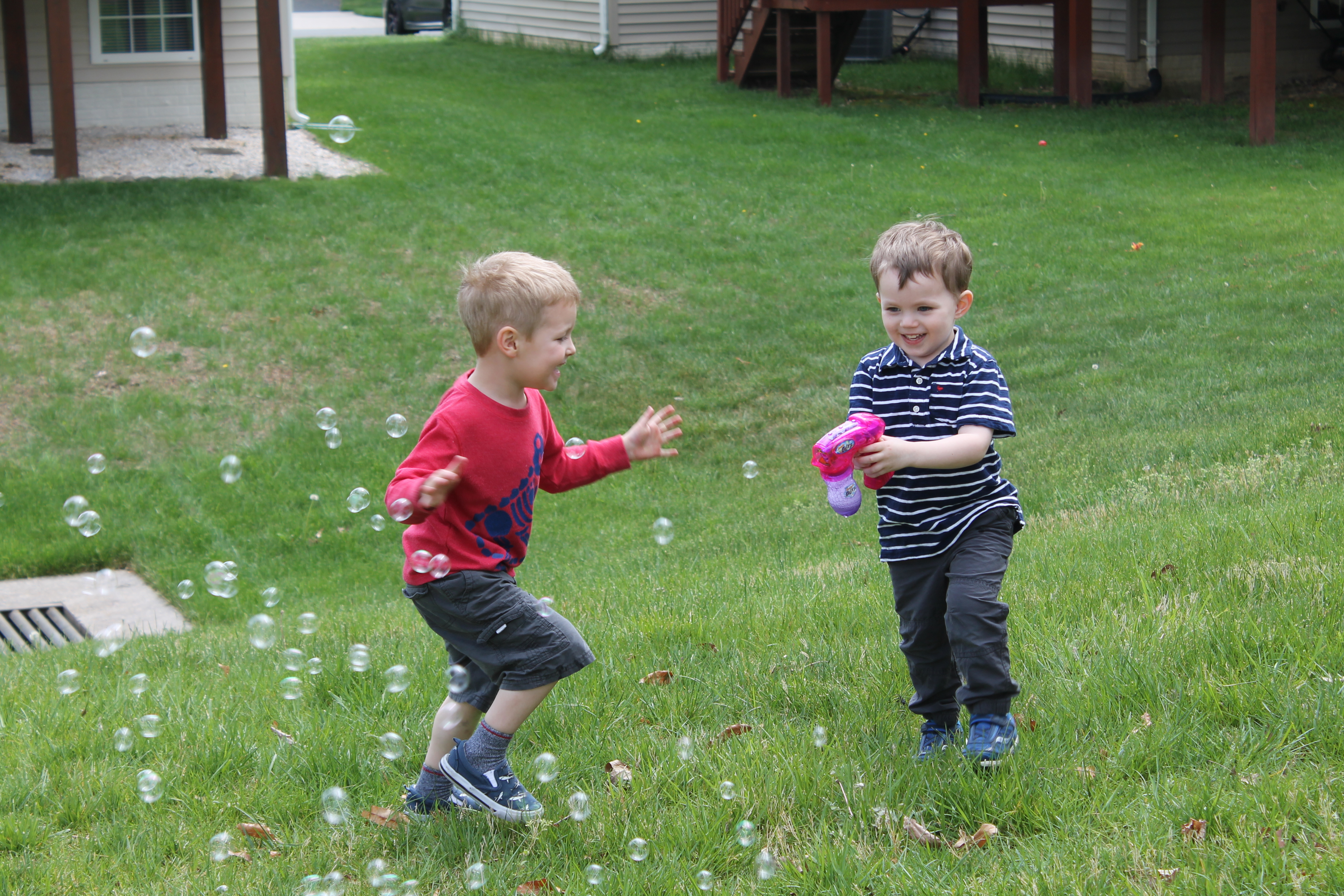 Having a bubble party basically hinges entirely on nice weather. I knew this was a gamble in April, but I went for it anyway: bubbles are a fun activity for kids of all ages, and they require minimal direction from adults!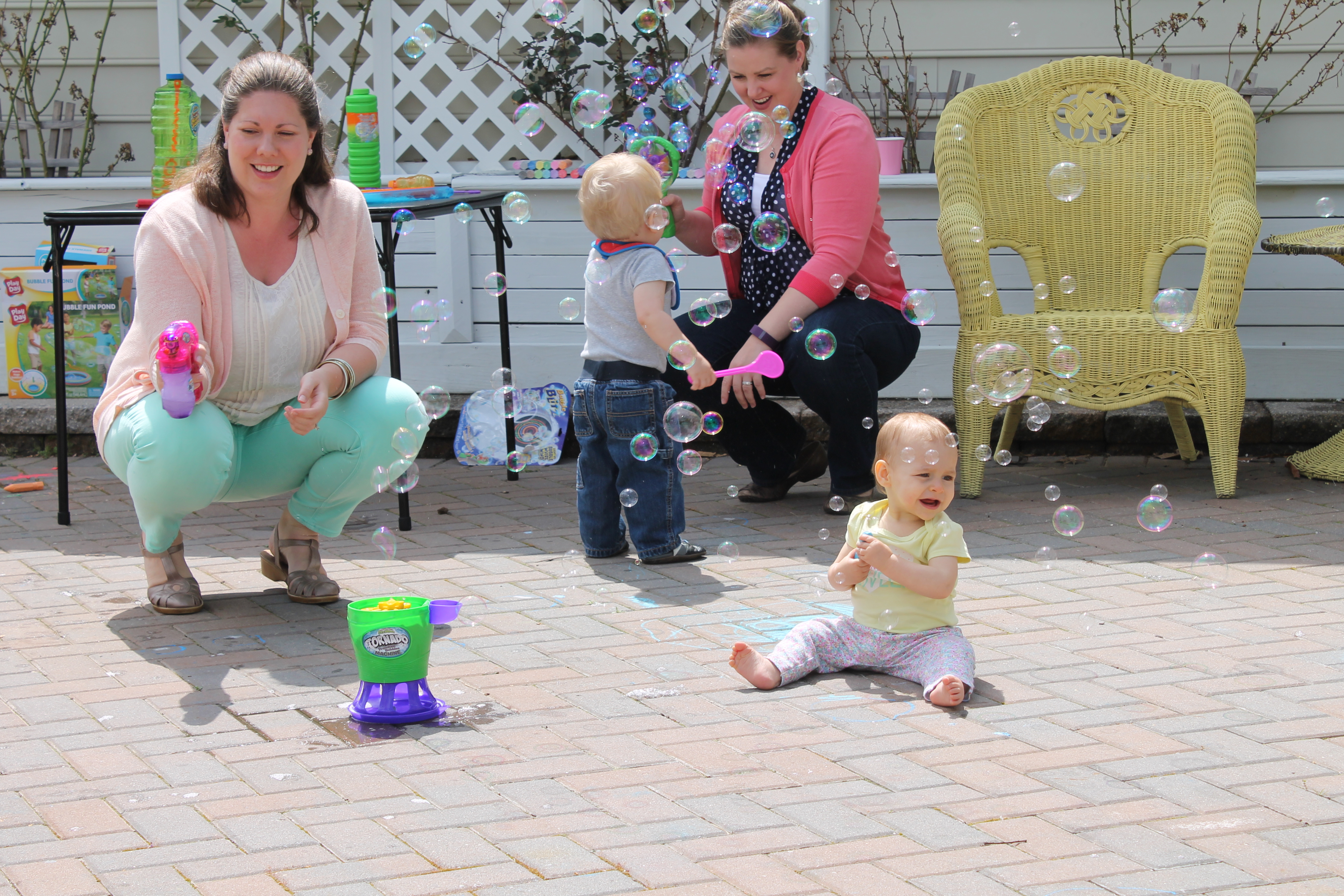 My hope in doing it up with bubbles was to invite kids but get away without planning any kind of formal activity for them. I wanted to just send them outside to grab a bubble wand or bubble gun and let them go to town. This also fit well with the fact that the party was actually for a 1-year-old who was pretty unlikely to play any games or follow any directions.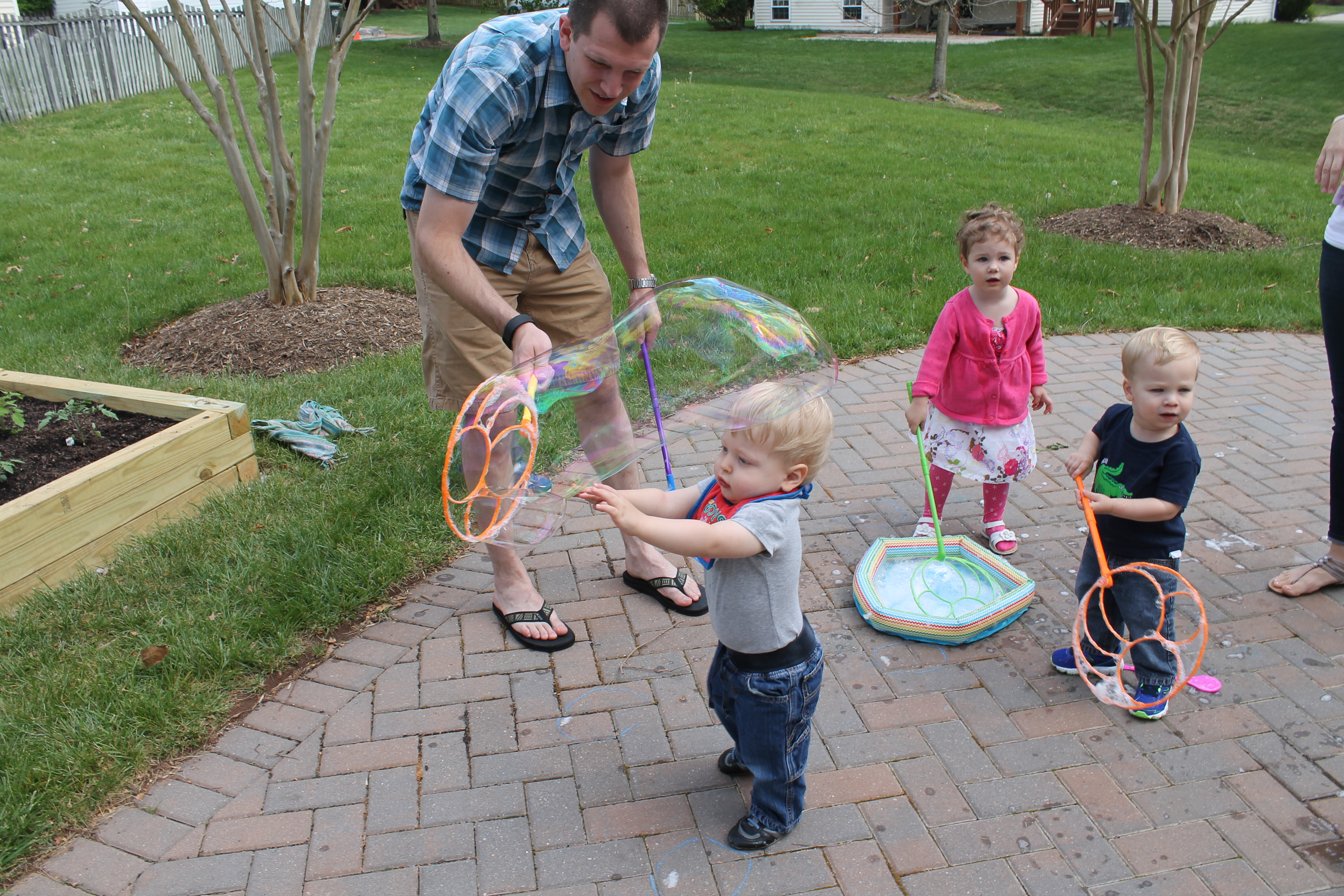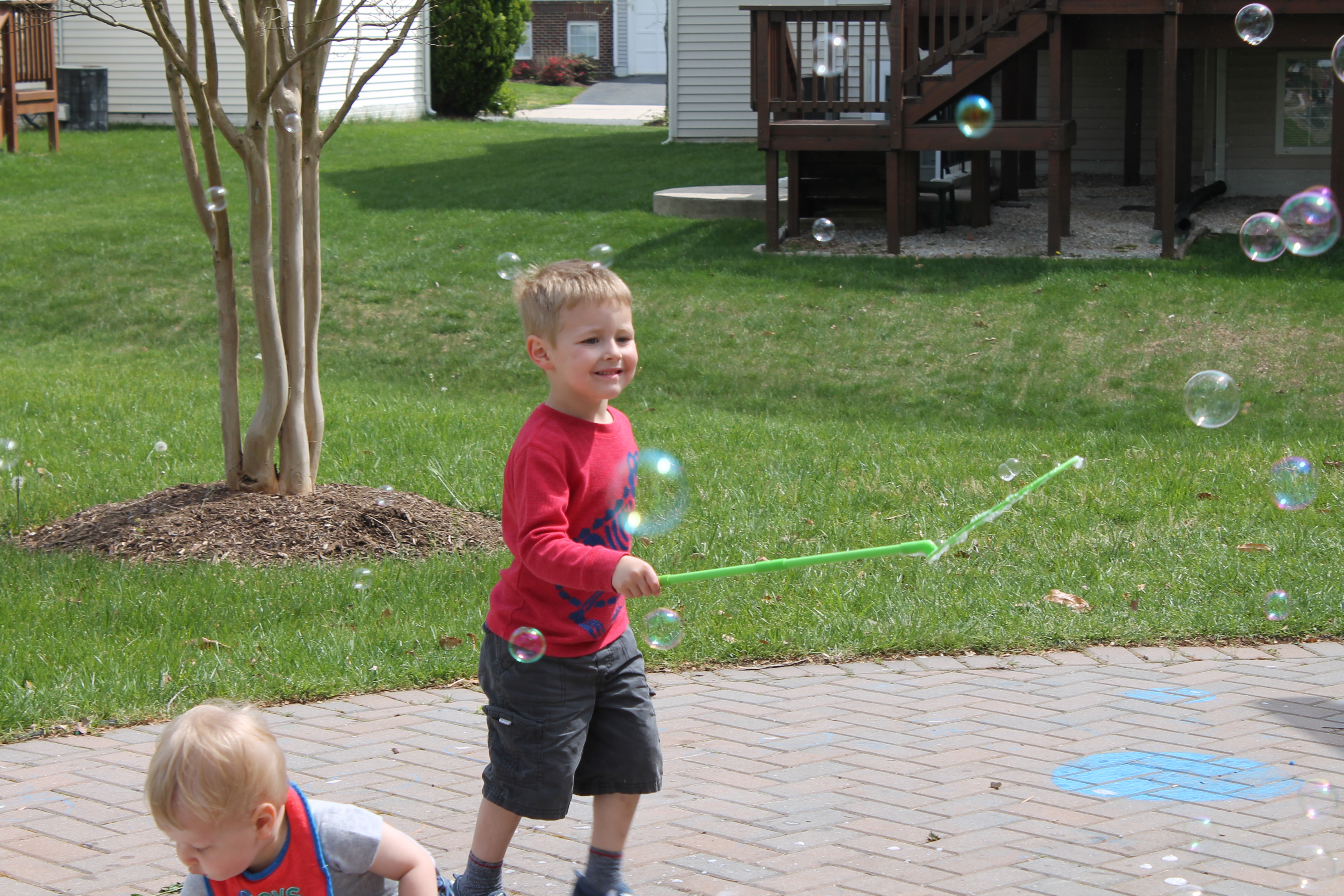 On the morning of Caitlin's party, it was so gloomy. It was drizzling a little bit. I was extremely anxious about this—especially since we had actually rescheduled the party from the previous weekend, which had been beautiful, due to the fact that we were all sick. But I kept calm and prayed for sunshine, and right after the party started, the sun broke through the clouds and the kids flooded outside to dance in a tornado of bubbles.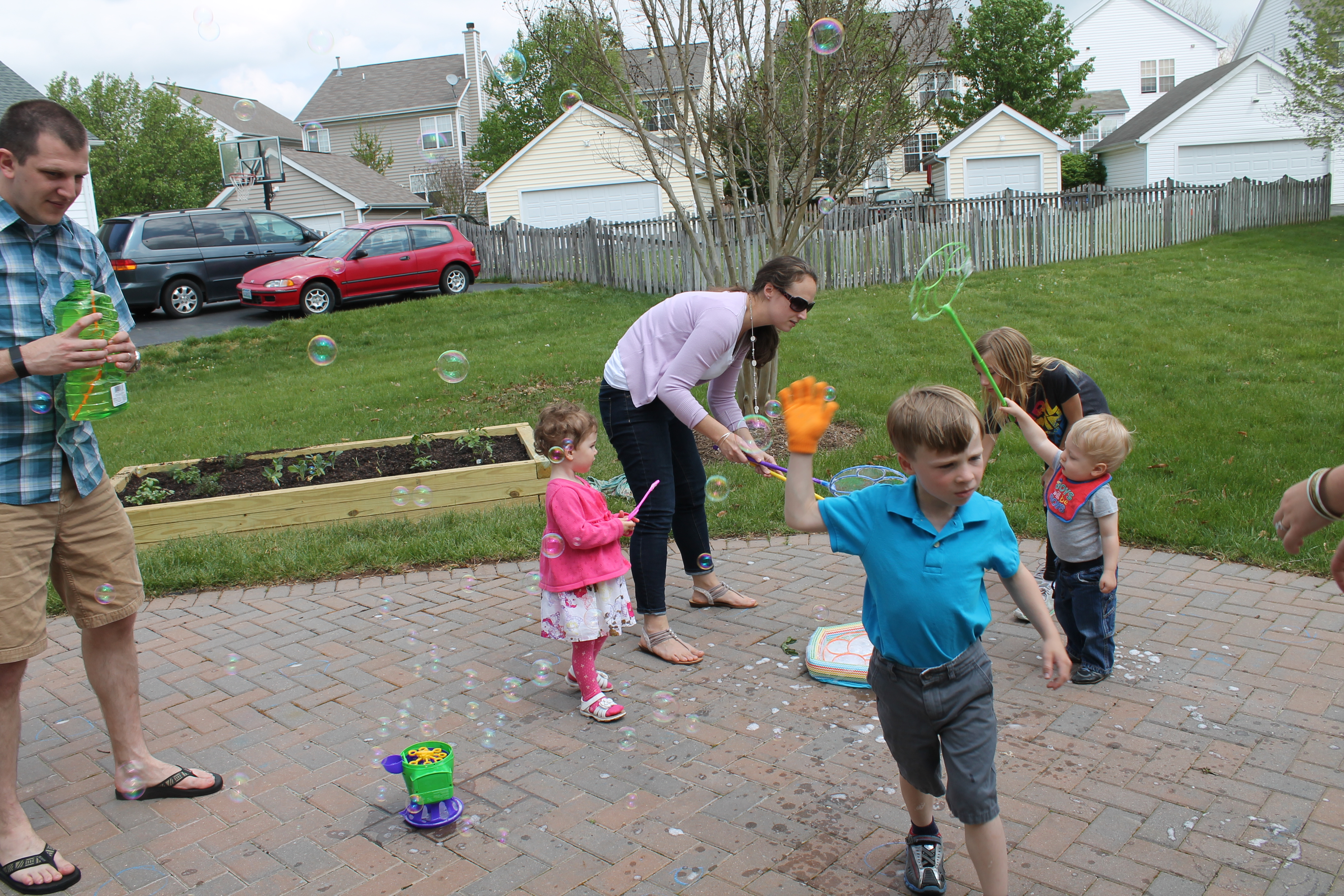 Check out that super cool Michael Jackson one-glove style. In case you were wondering, anything claiming to be a "bubble glove" that will let you "catch bubbles" is lying. But my little buddy wore the glove all afternoon anyway! Optimism at work.
You never know how a 1-year-old will react to all the festivities.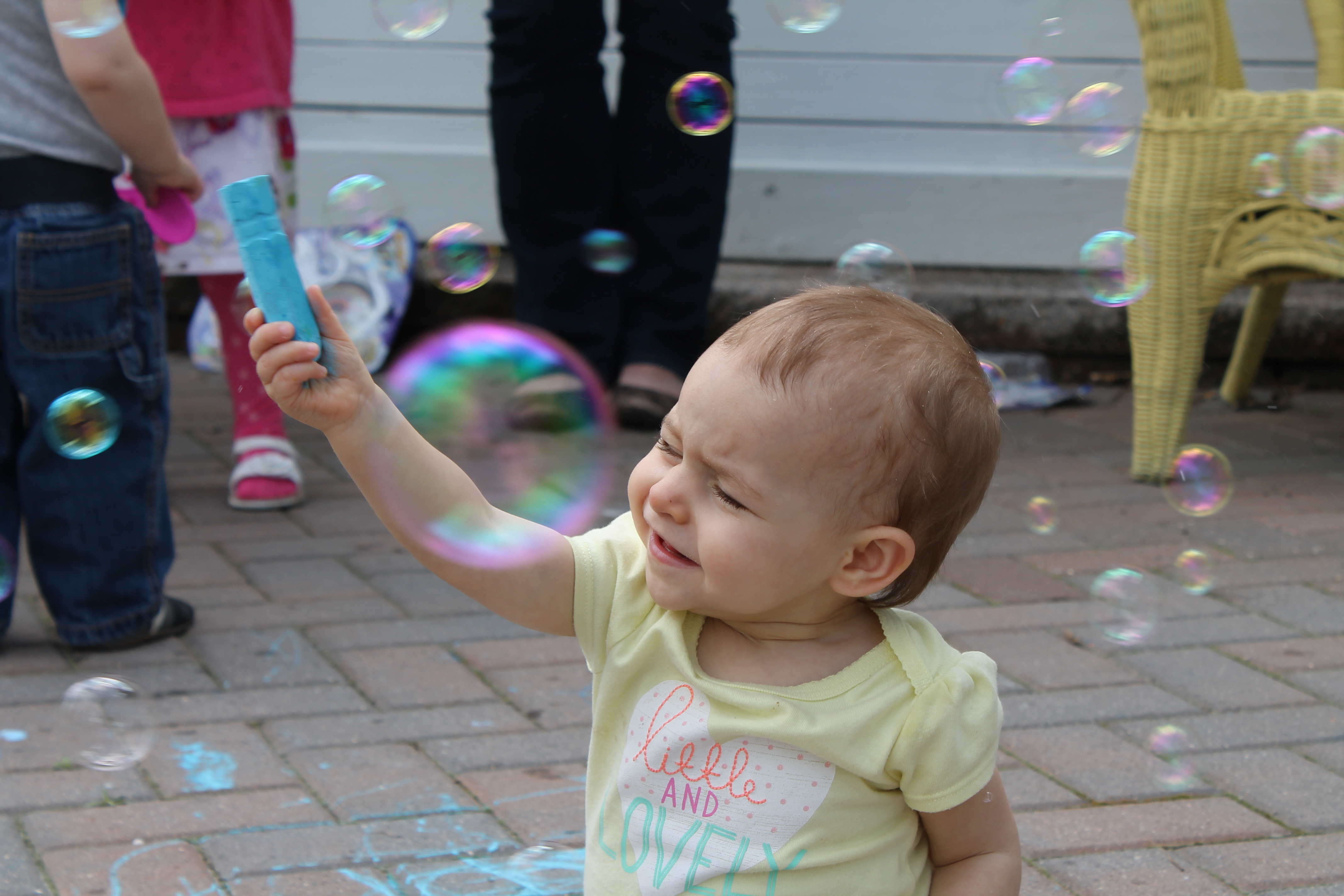 Caitlin didn't seem too impressed by the bubbles, to be honest. I blew them at her and she just squinted. I think she preferred her chunk of blue chalk to the bubbles, honestly. But she generally does like to watch the frenzy rather than getting in the middle of it, so I still interpret this as a win.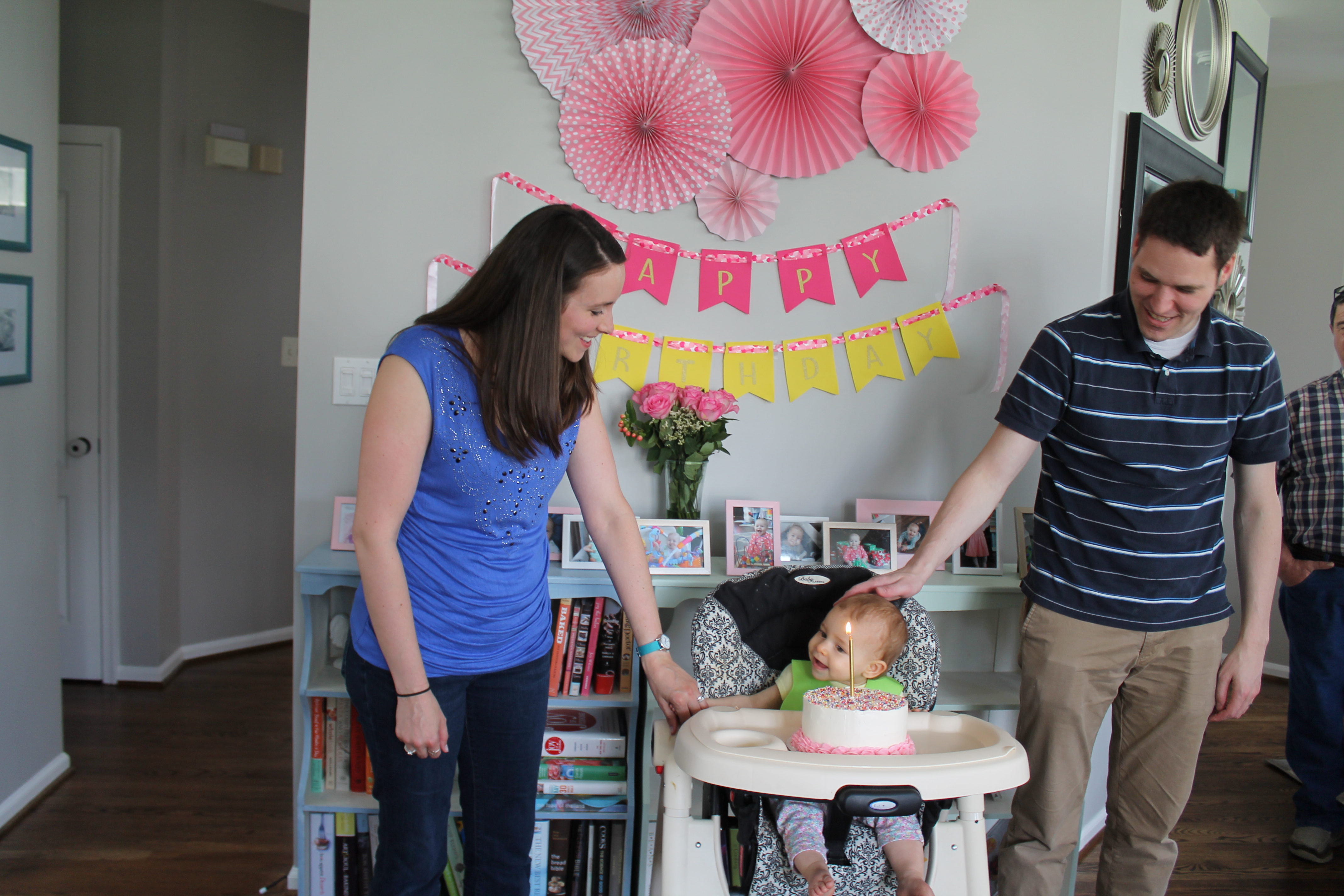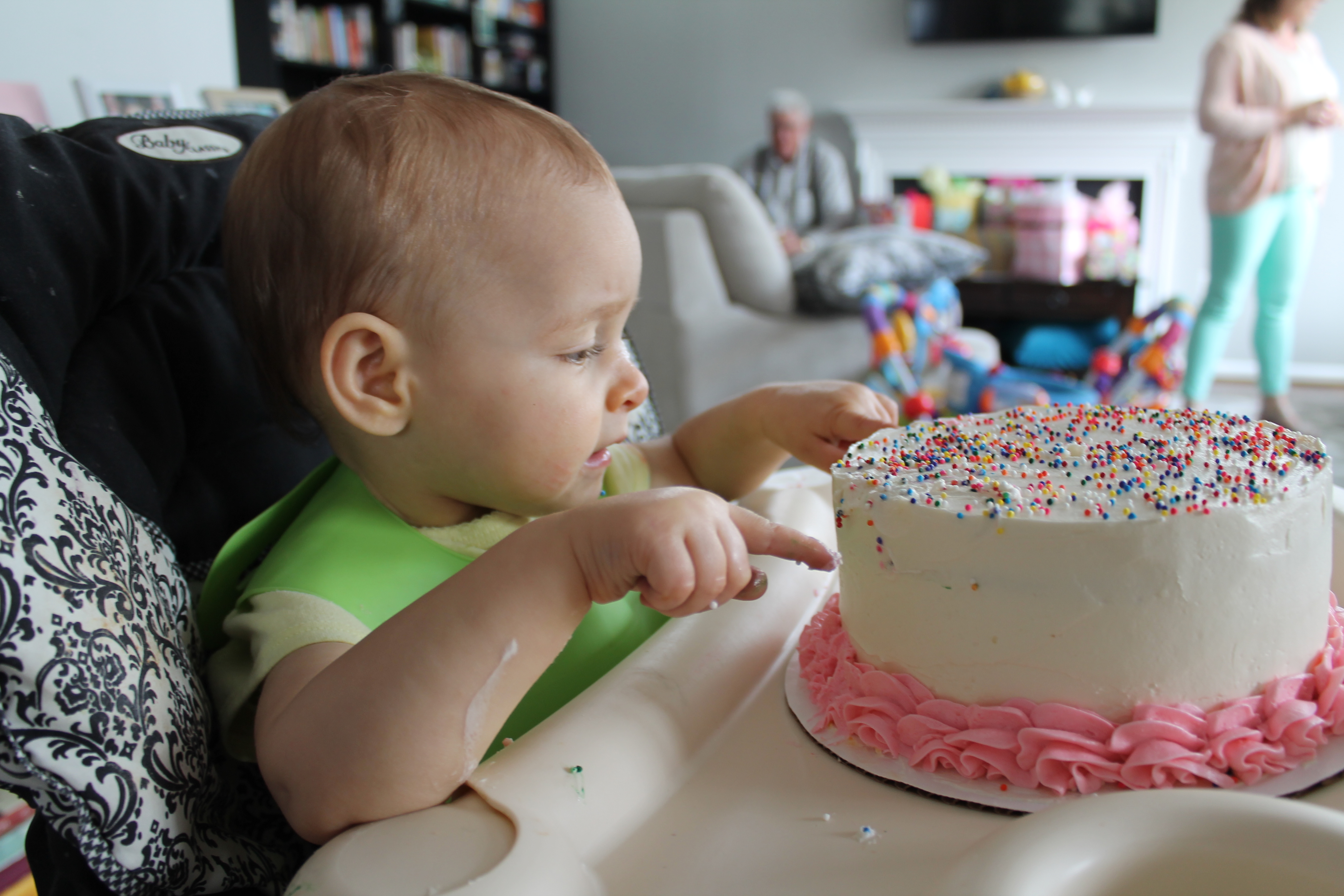 We made it around to singing Happy Birthday, and she very gingerly wiped a few sprinkles off the top of her cake, looking a bit alarmed at the smudge of frosting on her fingers. I finally cut a little piece of cake so she could taste it, and she coughed it out. Whose child is this, anyway??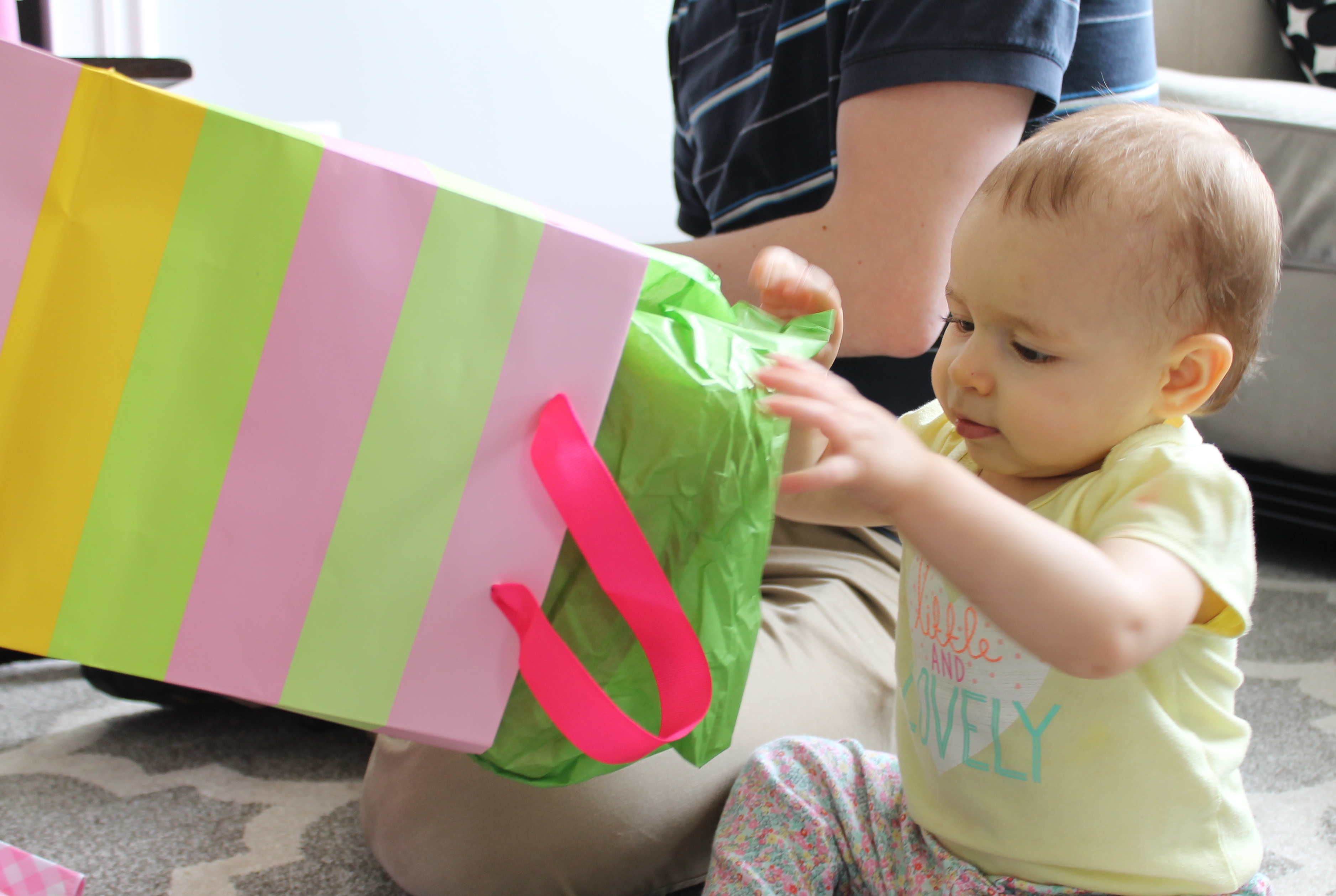 But she was a whiz with tissue paper! Caitlin had a blast opening presents. She gasped with delight over books and pretend food and her first-ever baby doll. (Side note: I can't believe she already knows how to shove a bottle in a baby's mouth! Watch out, friends with infants, my daughter may try to feed them for you.)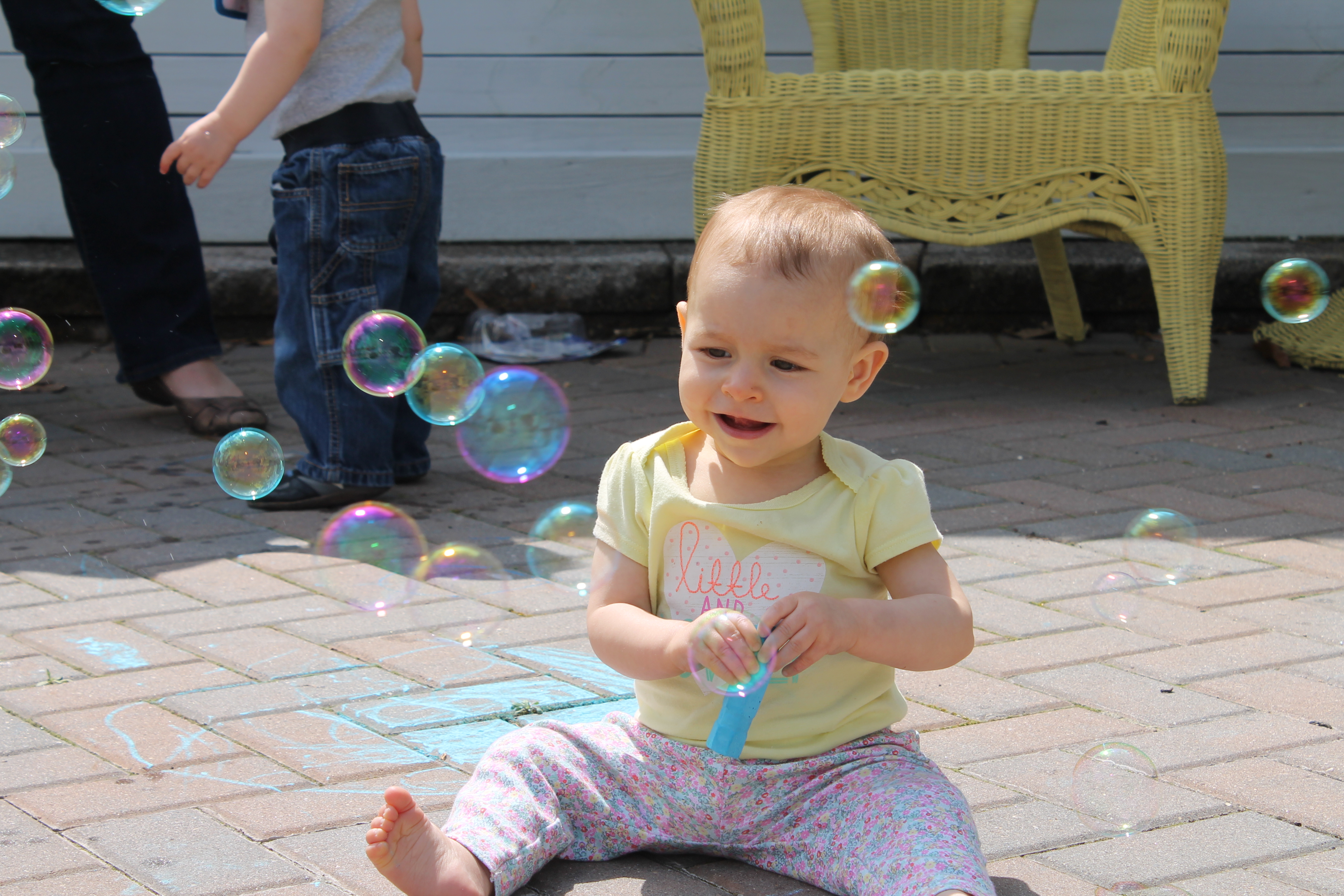 The kids played with bubbles and chalk on our patio well into the afternoon. The food all but disappeared.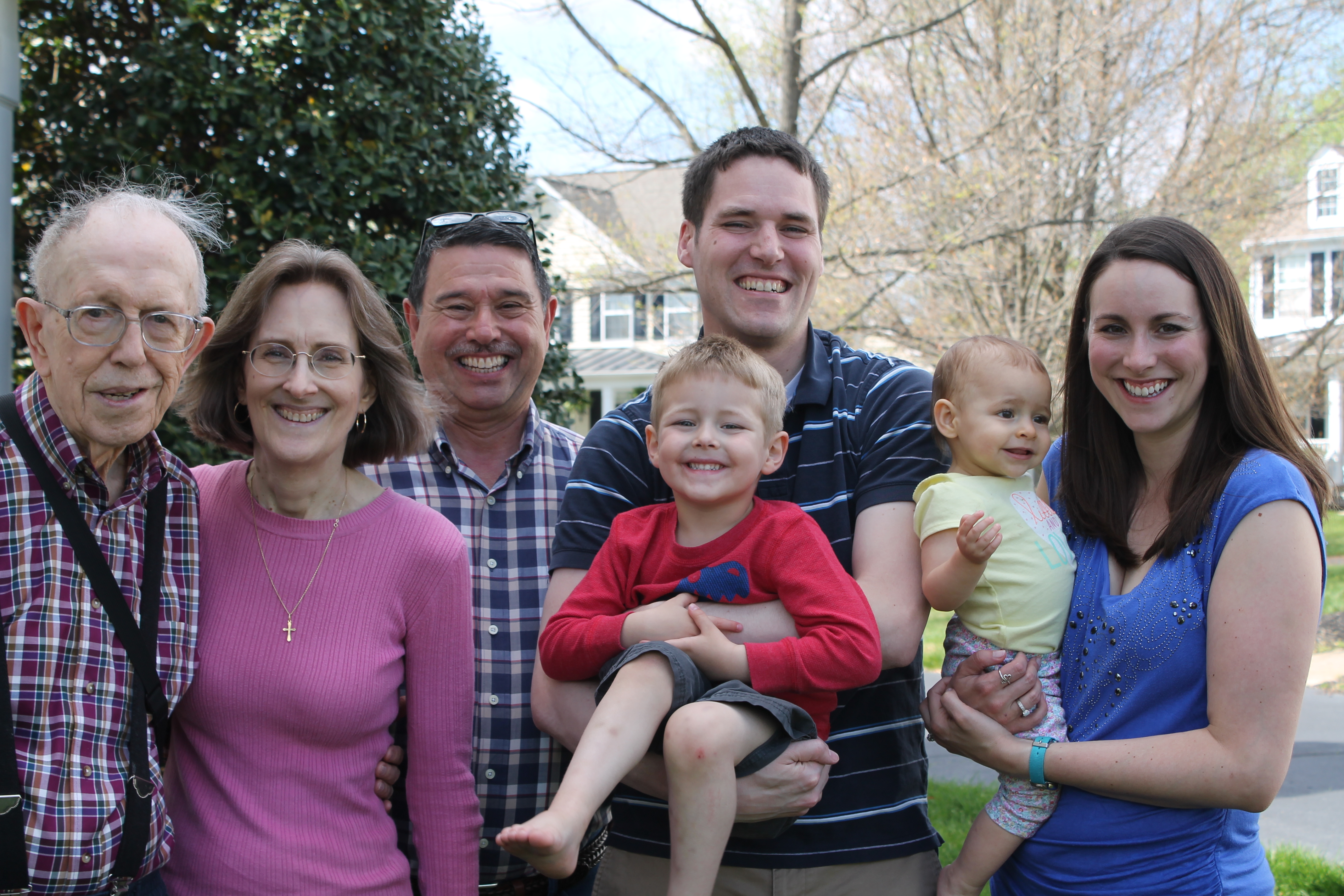 Caitlin enjoyed snuggles from grandparents. (Enjoy the gratuitous 4-generation photo of my kids with my parents and grandfather!)
It turned out to be a perfect day. I'm so amazed at the transformation of this little sleepy infant into my vivacious and energetic little girl! Love you, Babycake!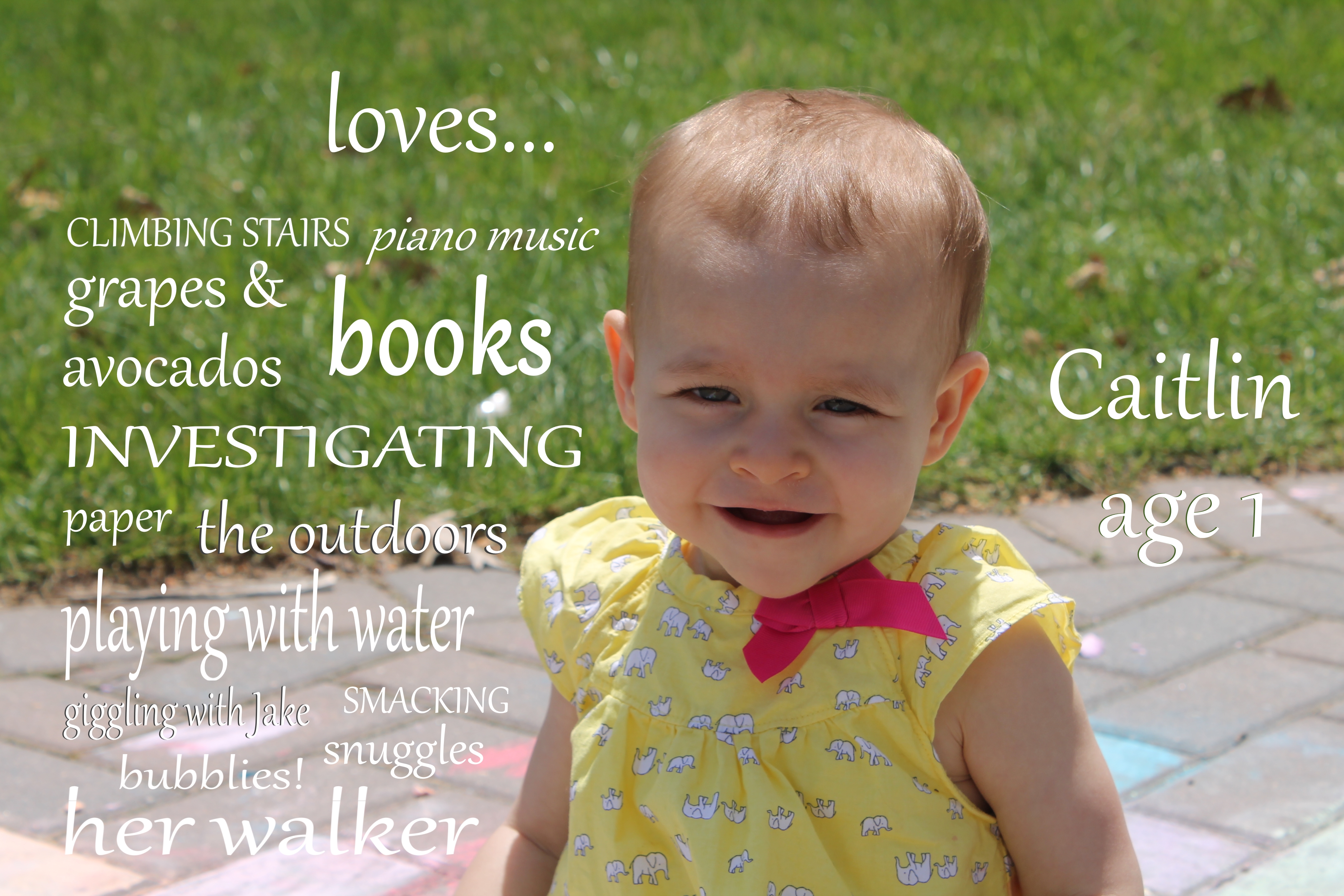 And in case you were wondering…Caitlin is currently terrified of balloons after one popped right next to her. Don't put balloons down on grass, friends, it's sharper than you think. So instead of the cute 1-year portrait I'd planned, of my baby sitting outside holding a balloon and smiling right at the camera, my best portrait of my 1-year-old is looking slightly concerned, facing into the sun, right after the balloon popped. Whoops.