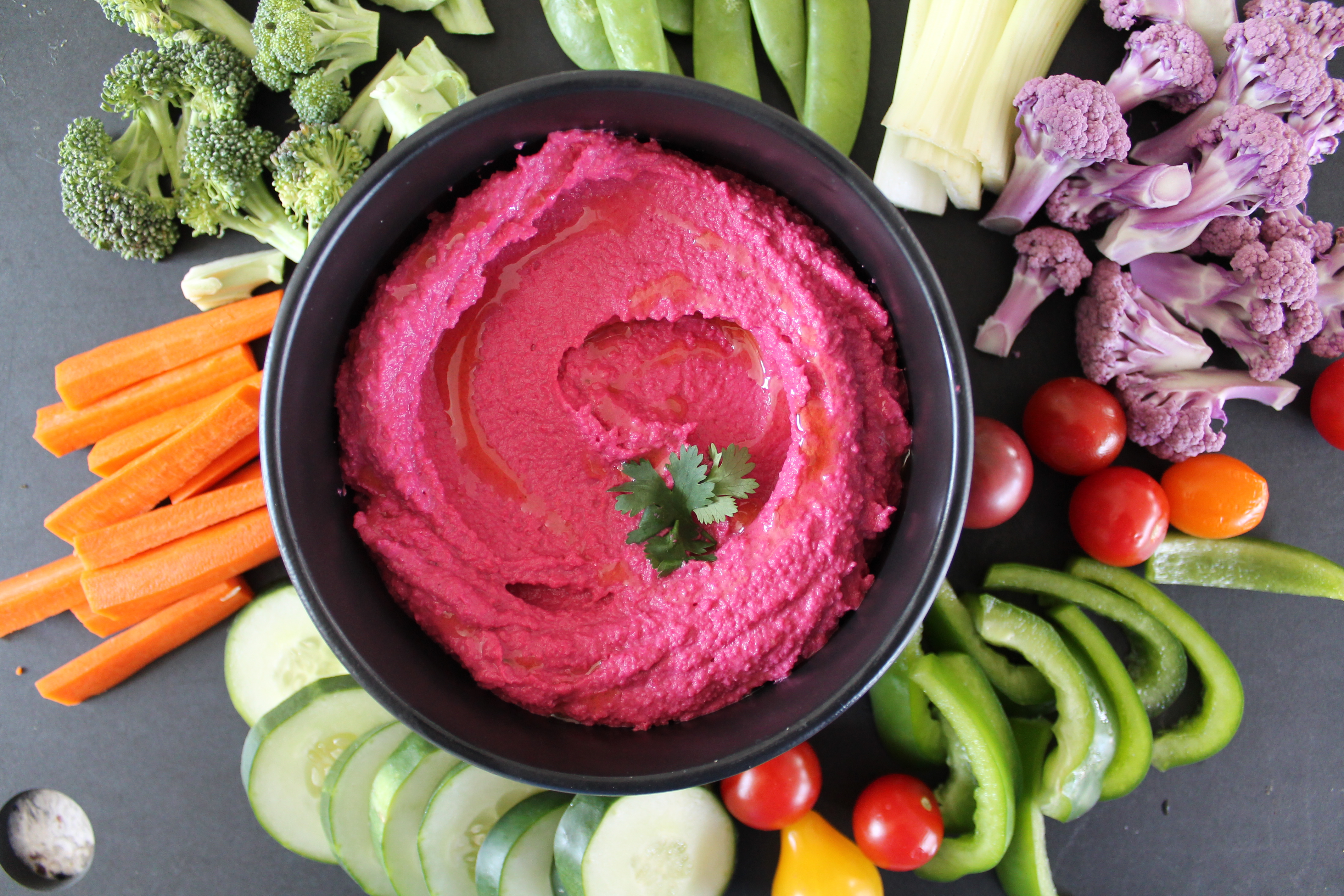 Last week, I made these amazing beet burgers. Beets are lovely, aren't they? I think beets are the most beautiful color in the whole world. But…I have to admit that I really hate to eat them plain. I've tried them in salads with goat cheese and soaked in butter and horseradish sauce. But my favorite beets are definitely those diced small and mixed well with other flavors.
As I was contemplating what to do with the lonely, leftover beet in my crisper, I suddenly remembered a batch of beet hummus Dave's aunt had made at Christmas, and I immediately got excited.
This hummus is a little earthy and a little tangy, and full of gorgeous pink. Eat it with a huge handful of bright, raw vegetables and you will feel like you are on cloud nine.
If you've never made hummus at home, then you are probably spending too much money on tubs of hummus at the grocery store. Hummus is literally as easy to make as it is to turn on a food processor.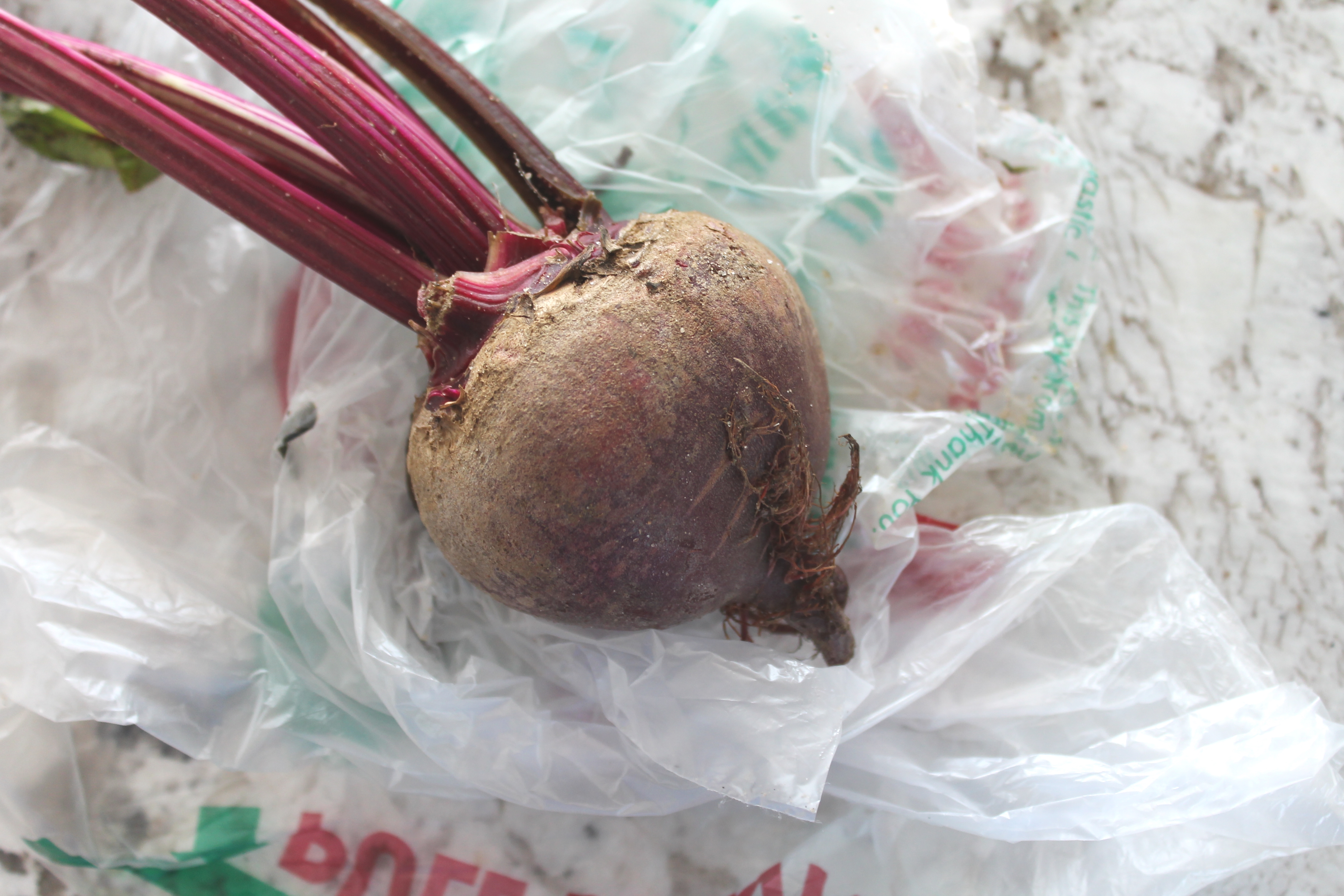 First, in this case, we need to roast a beet. No need to wash or peel the beet, just cut off the root and the green stems, wrap it in foil, and throw it in the hot oven for an hour. I do recommend setting the beet on a baking sheet to catch any purple juice that may seep out of the foil wrapper. The beet will become very tender, so that you can easily pierce it with a butter knife with minimal force.
Let the roasted beet cool until you can handle it comfortably. I am impatient, so I pulled on my dishwashing gloves after about 10 minutes and got to work. Under running water, rub the skin off of the beet. This will also wash away any dirt.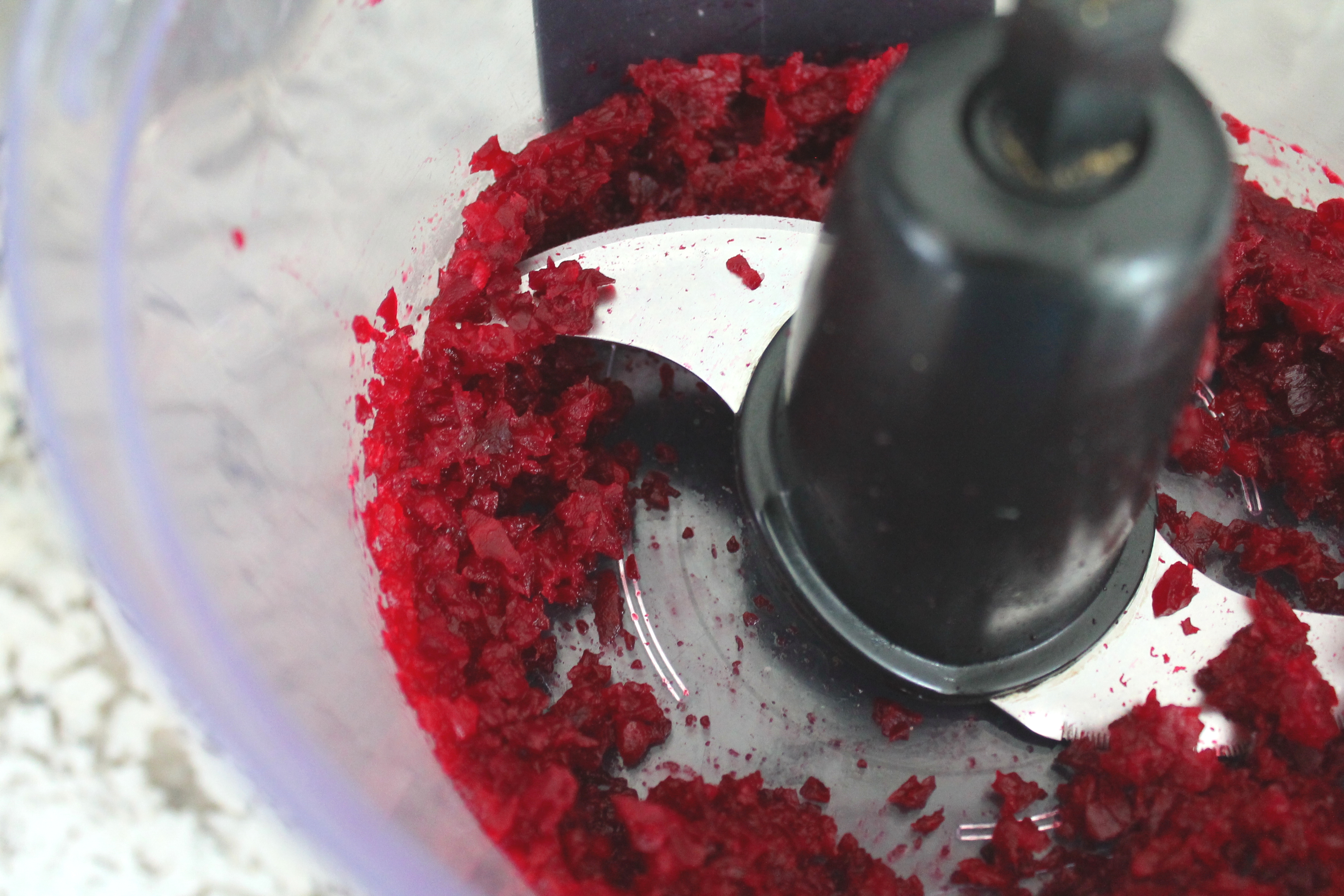 Cut the beet into several large pieces and place it in the food processor. Process until the bits are fairly even and small.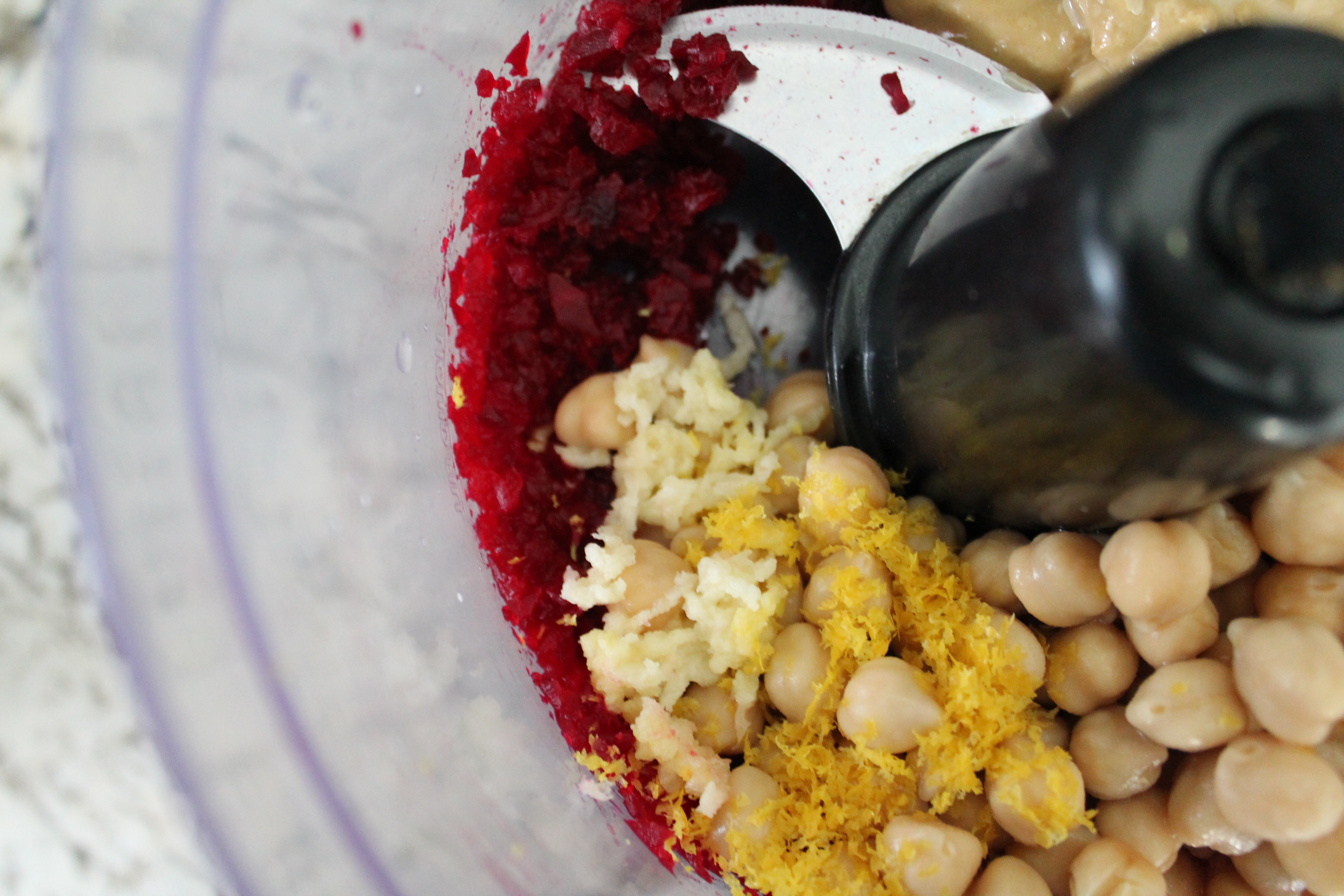 Add all the remaining ingredients, the usual suspects for hummus: drained chickpeas, lemon zest, lemon juice, salt, garlic, tahini, ground coriander. I have seen beet hummus recipes that use walnuts, too, which sounds glorious…except that we are investigating Caitlin for a walnut allergy, so we are abstaining from walnuts at the moment.
Pulse until a fine mash forms.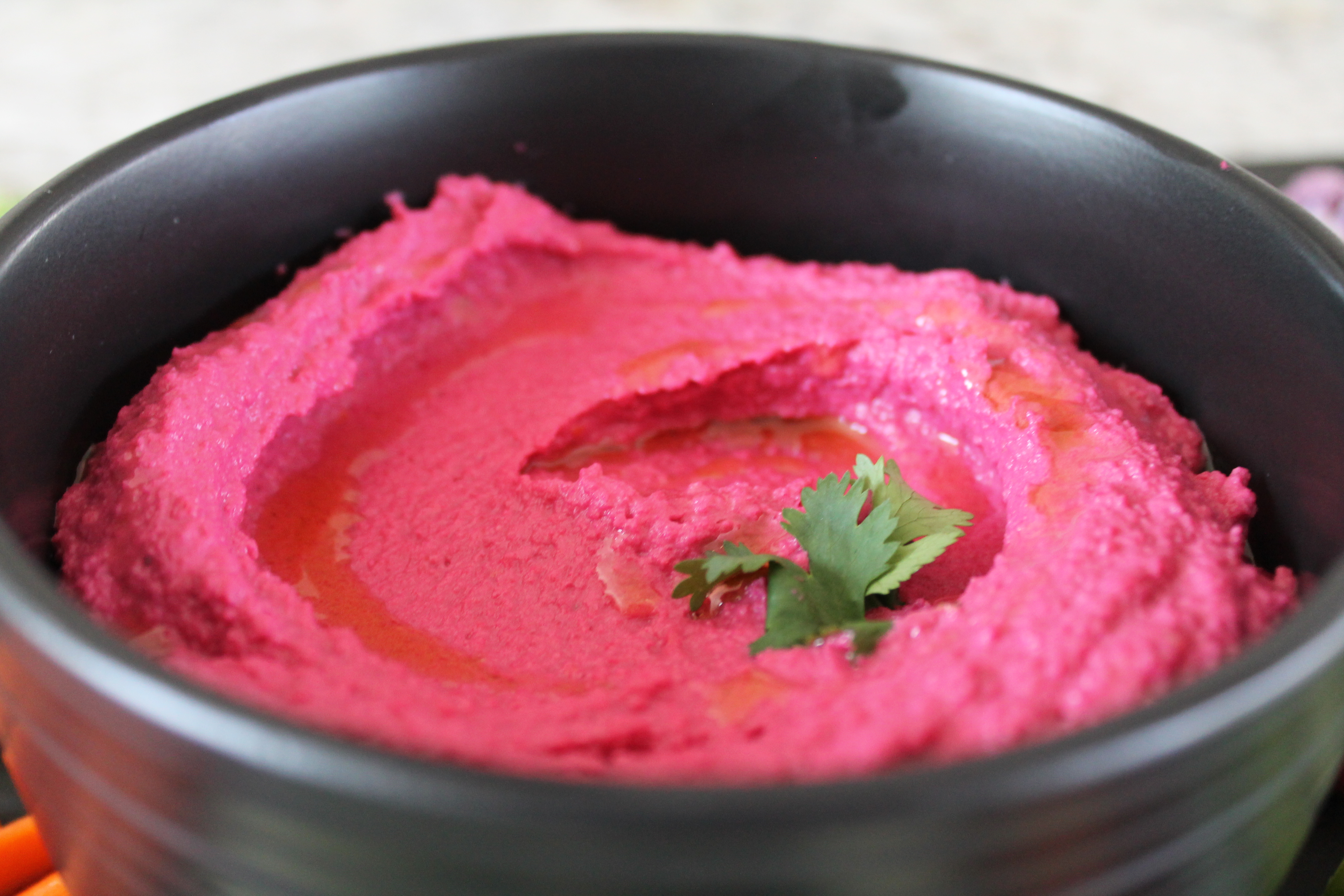 With the food processor running, stream in the olive oil. The hummus should become smooth and soft.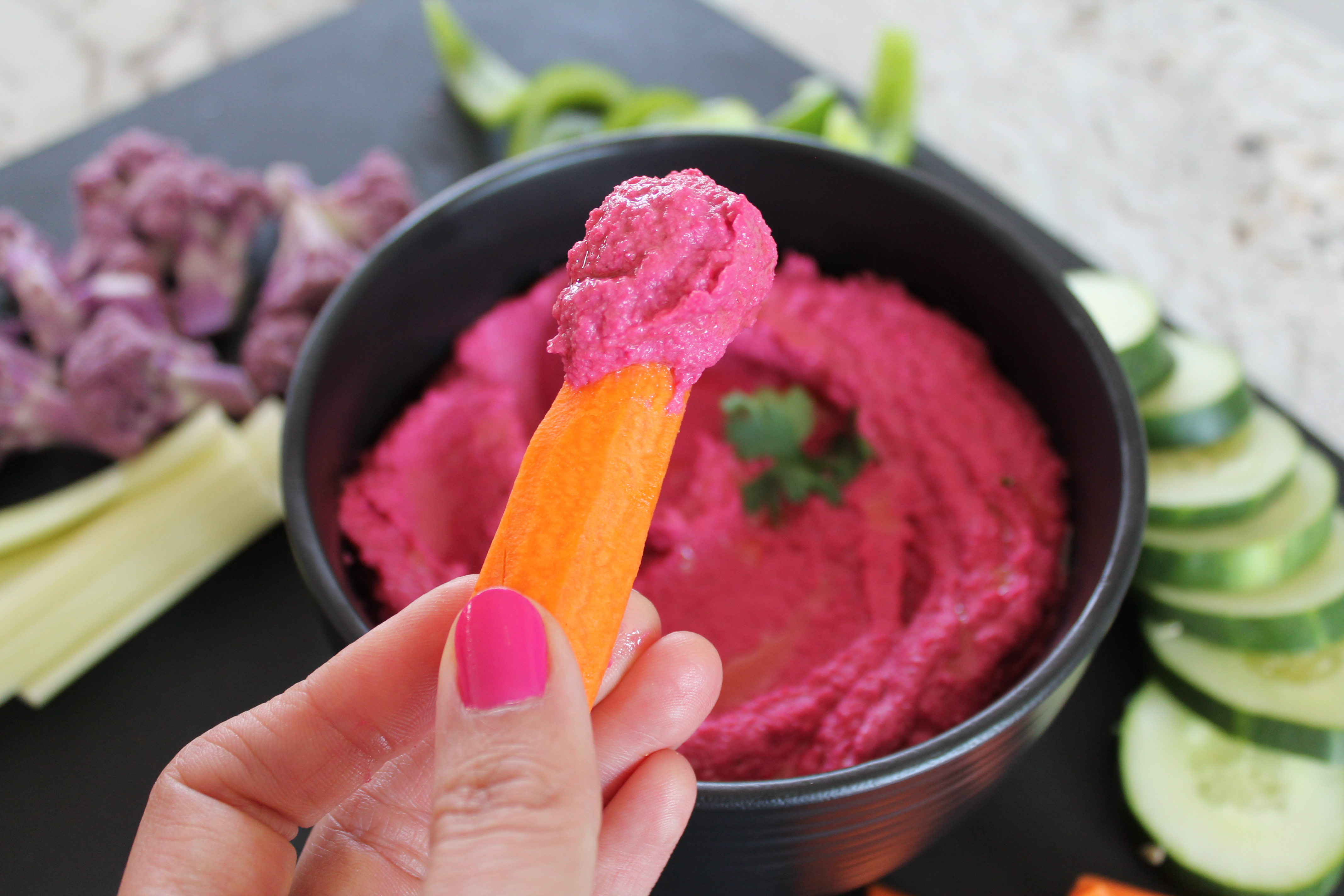 Taste and adjust seasonings as needed (more lemon? more garlic? more pepper?).
Garnish with a little fresh cilantro and olive oil, if desired. And voilà!
Beet Hummus
lightly adapted from Minimalist Baker
serves 4–6
Ingredients:
1 medium beet, stems and root tail removed
1 15oz. can chickpeas, mostly drained but not rinsed
zest and juice of 1 large lemon
3 large cloves garlic, roughly chopped
2 tbsp. tahini
¼ tsp. ground coriander
pinch of salt and black pepper
¼ cup olive oil
Directions:
Heat oven to 375. Wrap the trimmed beet tightly in foil and place on a baking sheet. Roast in the warm oven for 45 minutes, until the beet can be easily pierced by a butter knife.
Allow the beet to cool for 15–20 minutes, then rub the skins off under cool, running water. Cut the beet into quarters and place in the bowl of a food processor.
Puree the beet. Add all the remaining ingredients, except for the olive oil. Puree until fine and even.
With the food processor running, stream in the olive oil.
Taste and adjust seasonings as needed.
Serve with raw vegetables for a vegan snack!
Enjoy!