My crazy little man is 4 years old!
Jake definitely gave me a run for my money this year. He is rambunctious and giddy and willful and very invested in understanding every single thing.
This year we celebrated Jake's birthday in the most fitting way I could imagine: with a mountain of candy and a giant board game. Jake's sweet tooth rivals mine, and he has spent the last year in a quest to become a board game geek like his daddy. (It should be noted here that his favorite game is called Just Desserts, which is a game where you feed pretend customers all their favorite sugary treats, and that when we play Candyland, he cherishes the pink dessert cards so much that I have a hard time convincing him to keep them in the stack.)
Happy fourth birthday, Jake! I can't believe how big you are, and I can't wait to see how you grow over the next year!
Well, of course, the main thing we need for a Candyland party is…tons of candy. I figured that the candy could serve as both the party decor and the party food, killing two birds with one stone.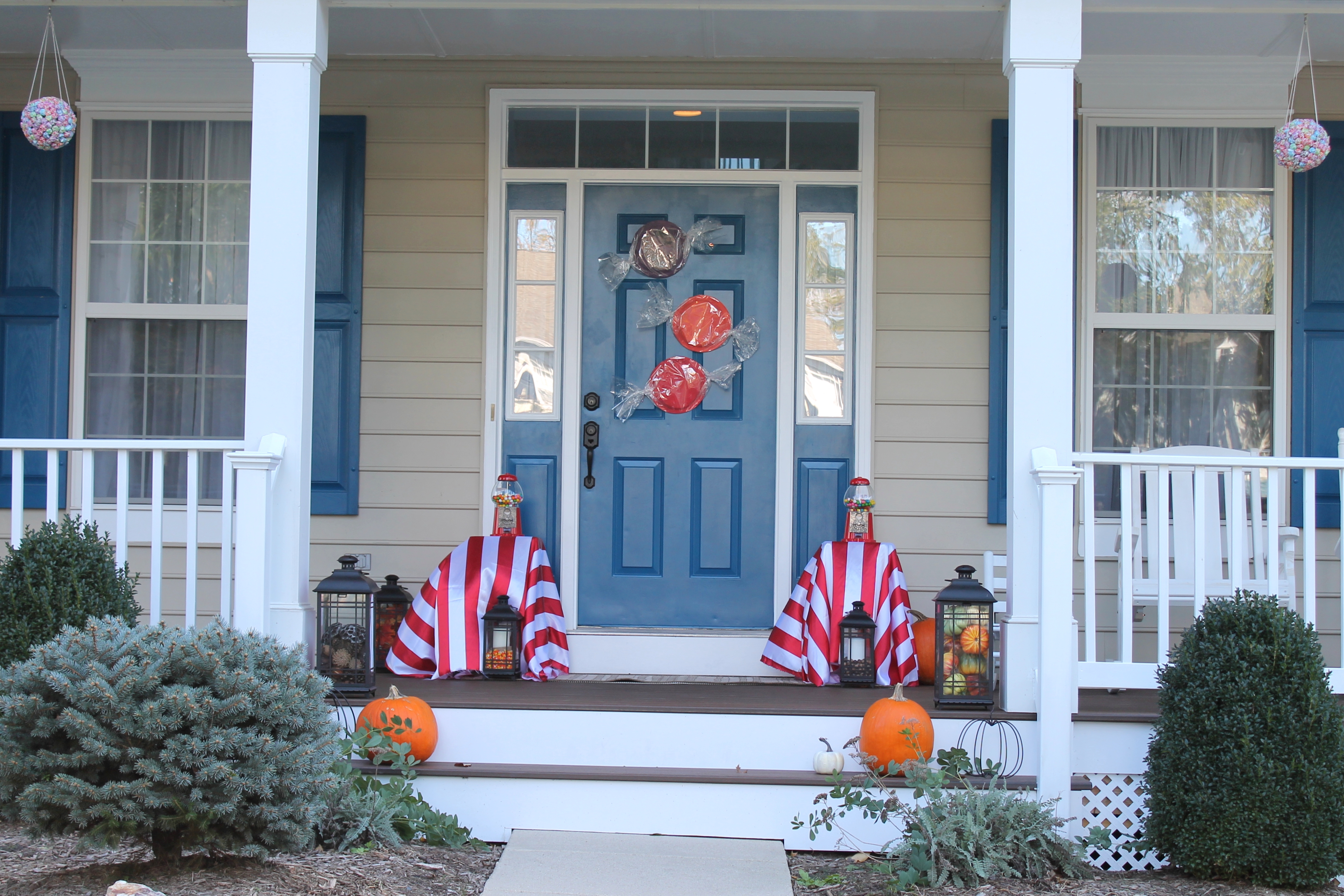 We tried to keep the rest of our budget very low. For our front entry, we displayed vintage gumball machines and I made topiaries out of Dum-Dums and floral foam.
Jake helped me paint a few paper plates to look like colorful hard candies.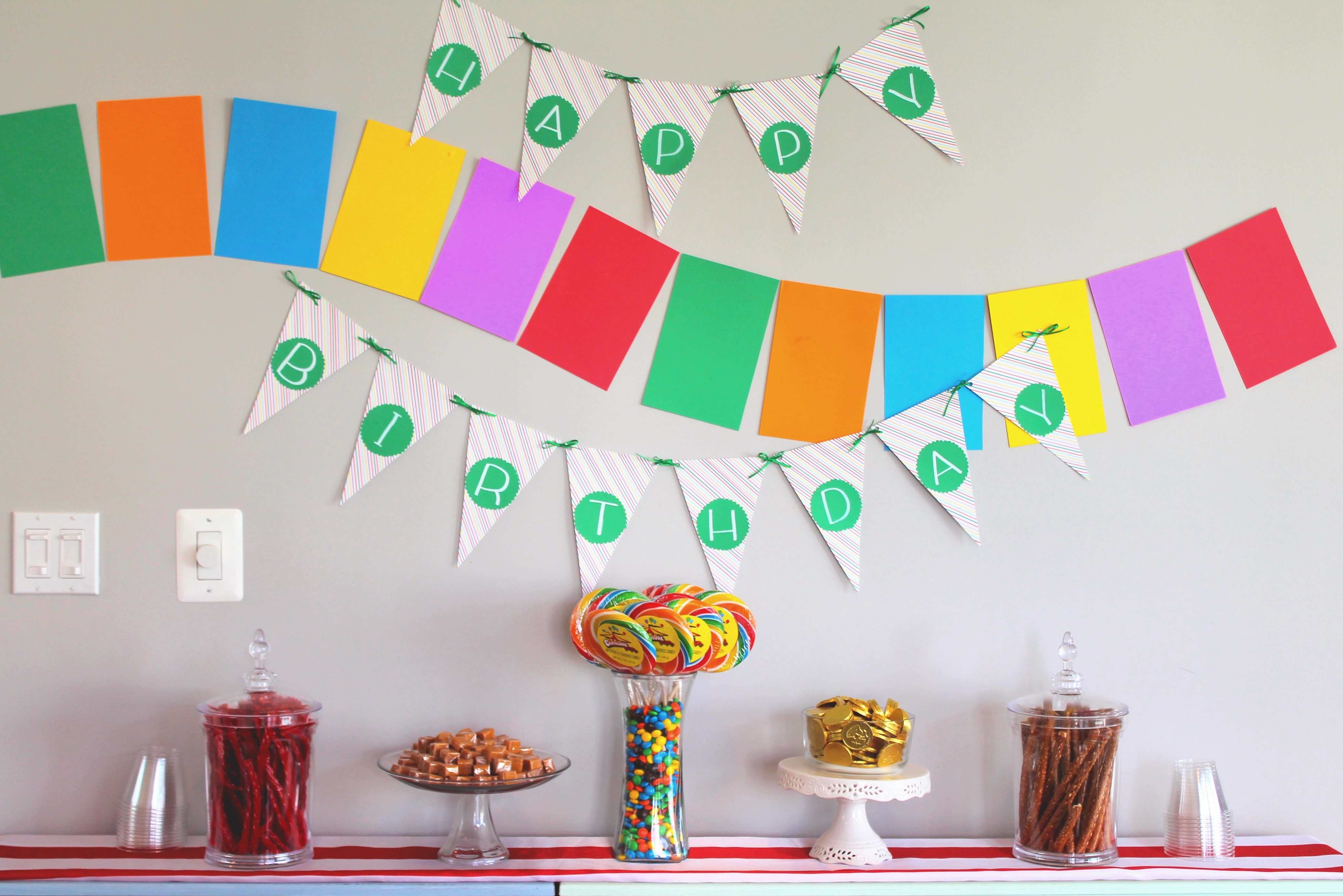 We made a new birthday banner and a cardstock candy trail to decorate the wall above the candy buffet.
I bought a few bucks worth of balloons and streamers to incorporate the candy colors throughout the house. My kids were simply awed as a rainbow of balloons and crepe paper started to appear a few days before the party.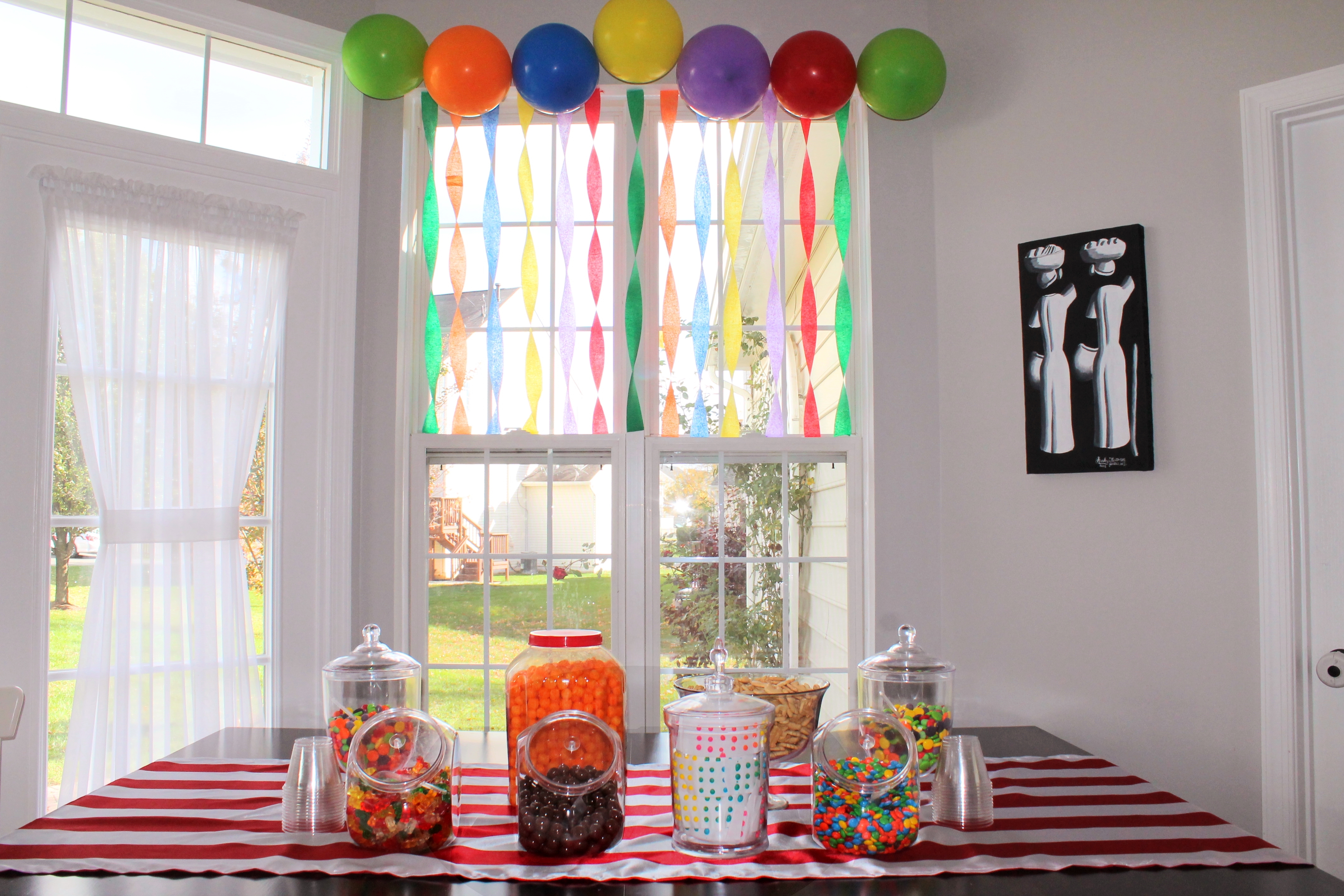 Then, we bought enough candy to choke at least five horses. I dumped the candy by sorts into acrylic apothecary jars and glass vases and set it out on nearly every flat surface in our house. (Because in a truly Wonka-like land of candy, wouldn't you be surrounded by candy at every turn?)
I looked up some advice about setting up a candy buffet, and most people seemed to recommend sticking to one color…but we went rainbow, like the rainbow candy track in the Candyland game. We had:
mms
Twizzlers
candy corn
chocolate coins
gummy bears
runts
spree
Hershey kisses
Dum-Dums
caramels
candy buttons
gum balls
giant swirl pops
And, for a few non-candy snacks, because I knew many of the moms (and adults at large) would want a break from the sweets, we also had pretzel rods, animal crackers, and cheese puffs. I totally meant to have popcorn as well, but I forgot to pop it!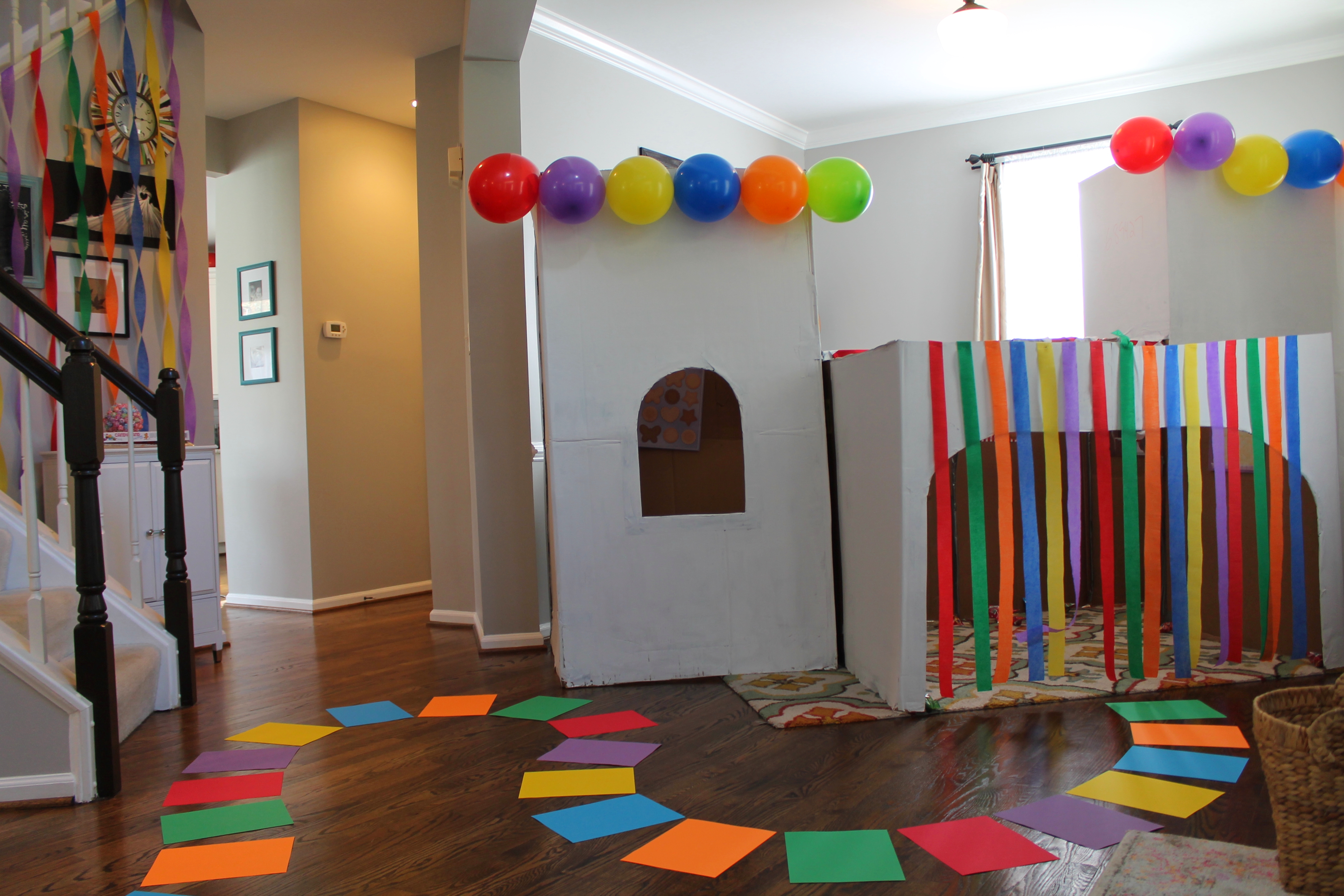 You can't have a Candyland party without a candy castle! I snagged several refrigerator and washing machine boxes from Lowes (thank you, Lowes) and Dave constructed a humongous and amazing building out of cardboard and several pounds of duct tape. We whitewashed it with some flat white paint we had on hand.
I originally intended to paint giant lollipops and gumdrops all over the exterior of the castle, but when push came to shove, we decided to go the simple route and use the streamers and balloons to decorate the castle, as well! Have I mentioned how much I love streamers and balloons? So simple, so inexpensive!
Our plan was to set up the candy castle in the yard and spray paint a brightly colored candy trail right onto the grass so the kids could play Big Candyland outside.
However, on the day of the party, the wind was blowing so hard that we didn't think anyone would have much fun playing in the yard. So, we moved a bunch of furniture around and dragged the giant candy castle into our house! Dave and my brother improvised a cardstock/construction paper candy trail taped to the floor. I was nervous about transferring the whole game play area inside, but it turned out to be a lovely limitation: parents didn't have to work so hard to keep track of where their kids were, and everyone had many opportunities to race over the candy trail!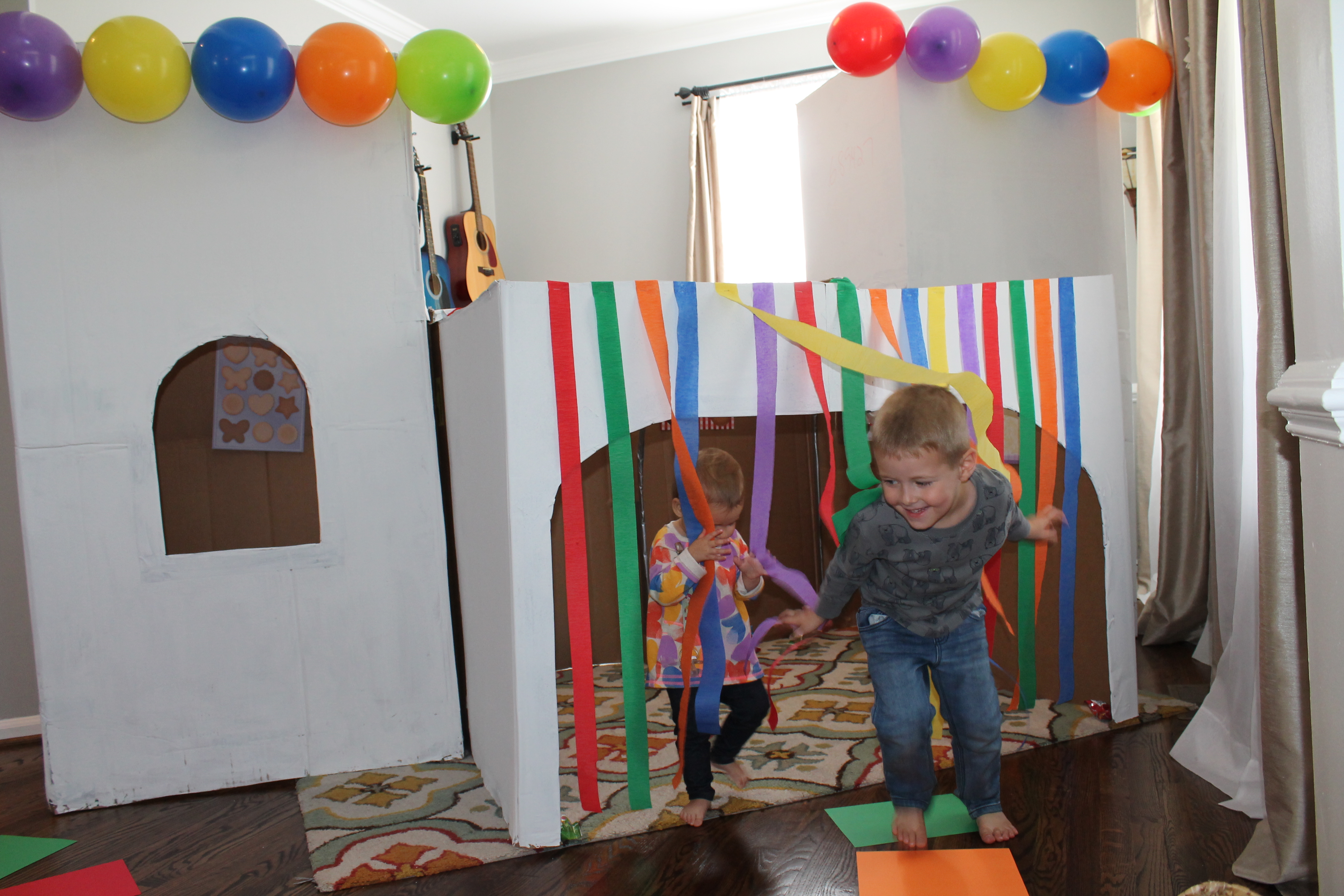 Inside of our candy castle, we placed a bunch of dessert stickers and ring pops so the kids could decorate the castle and don some royally delicious jewels. (But we nixed the markers, because I am not someone who wants marker on her walls or furniture.)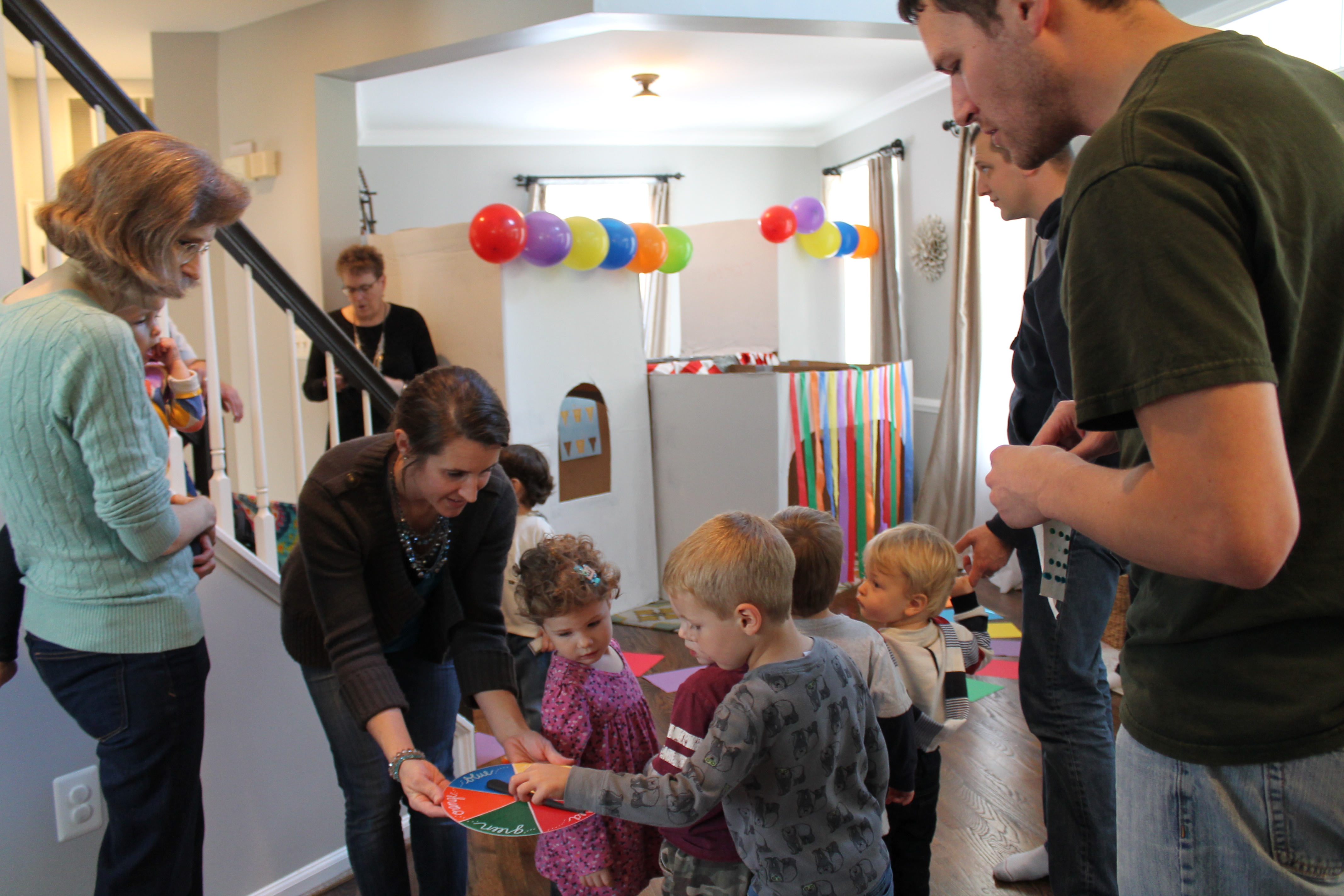 I was super impressed with how two- and three-year-old kids were able to play Candyland and follow the rules of the game! They took turns spinning a color and stayed on their square while they waited to spin again! It was pretty darn cute.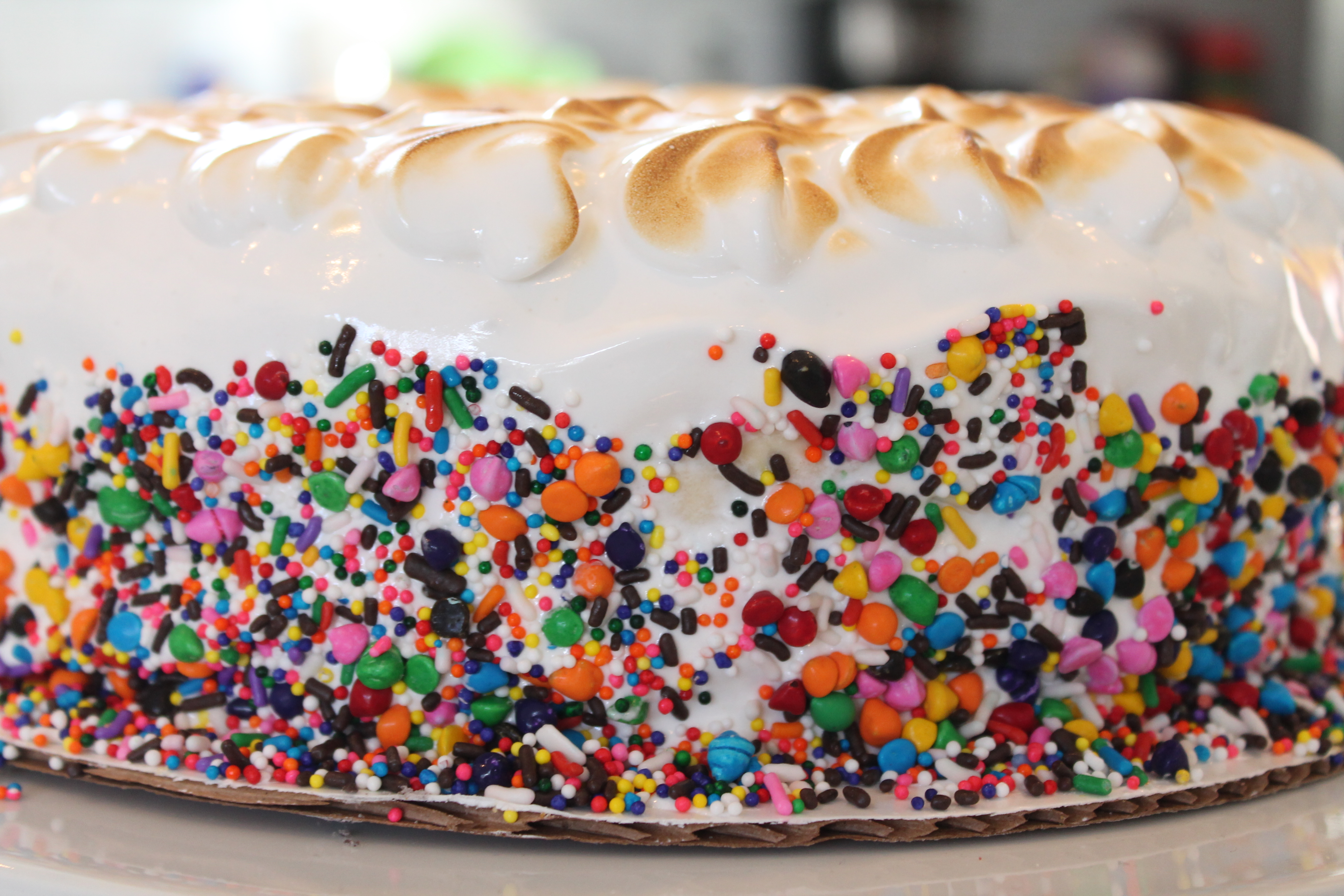 Finally, it wouldn't be a birthday party without a cake. Jake was very specific this year: he wanted a s'mores ice cream cake. This combines several of his favorite desserts! That kid is smart.
I will share more about this cake soon, but here is the overview: graham crusts, truffle brownies, toasted marshmallow ice cream, and brûléed marshmallow frosting. With, of course, a million sprinkles to fit the Candyland theme.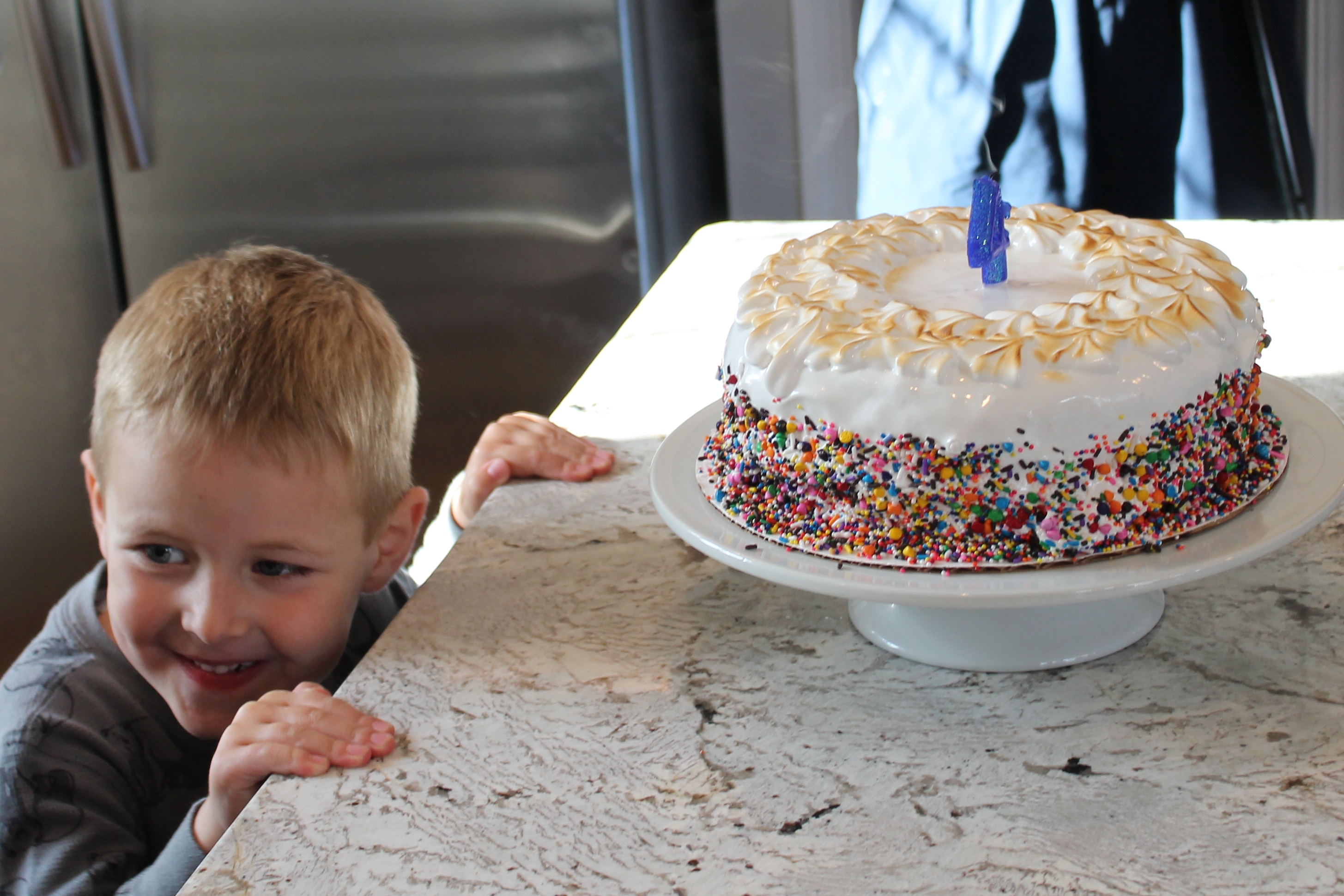 For me, the best part of this whole shindig was singing Happy Birthday to Jake. We had over 30 guests, and when everyone started to sing, it was like a thundering chorus. It was truly amazing, and Jake's face just lit up! (Then, of course, he tried to hide behind the cake and take the candle by surprise, so I don't even have a shot of him blowing it out! Silly boy.)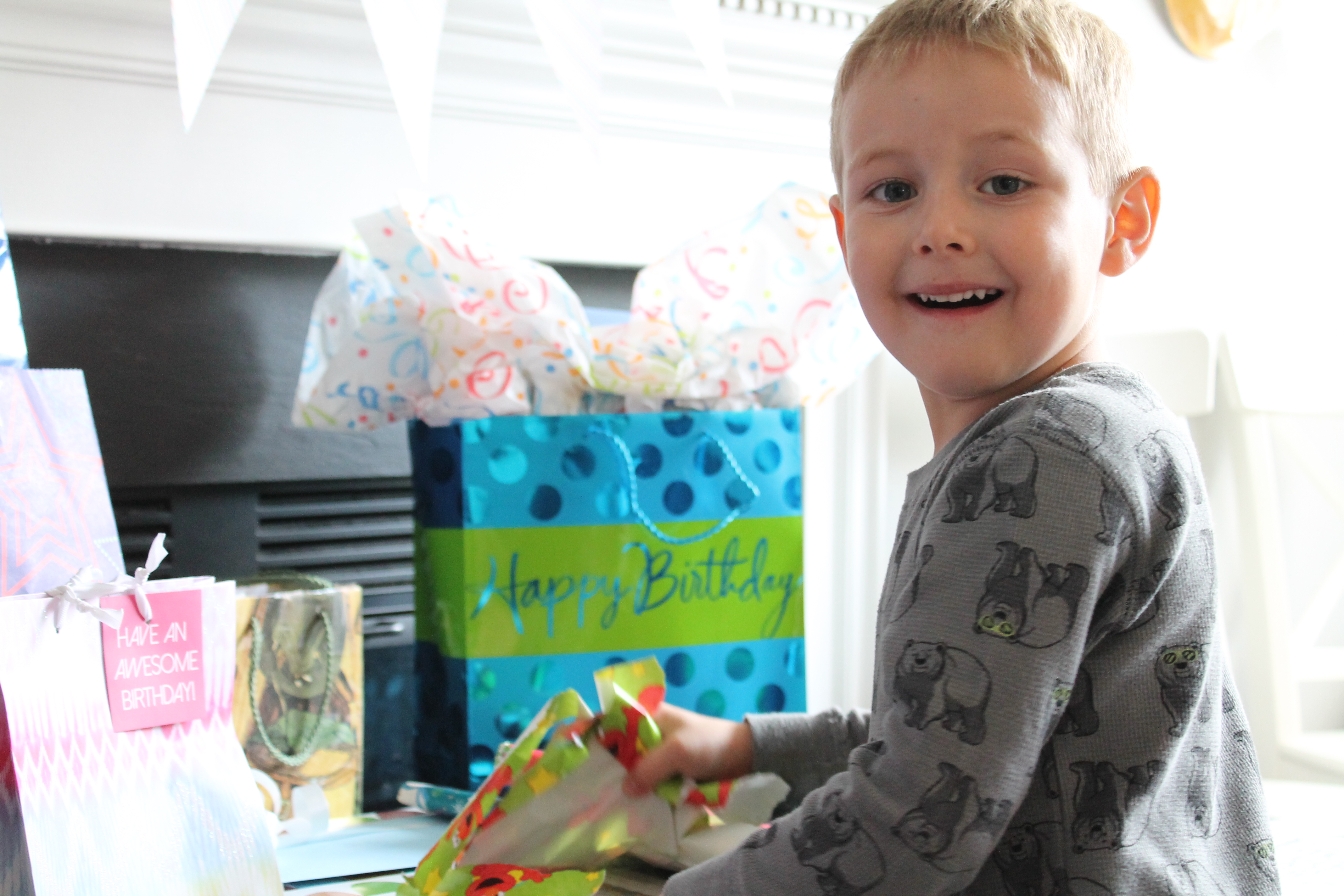 After a sweet time opening presents, we carried on eating sweets and playing Big Candyland!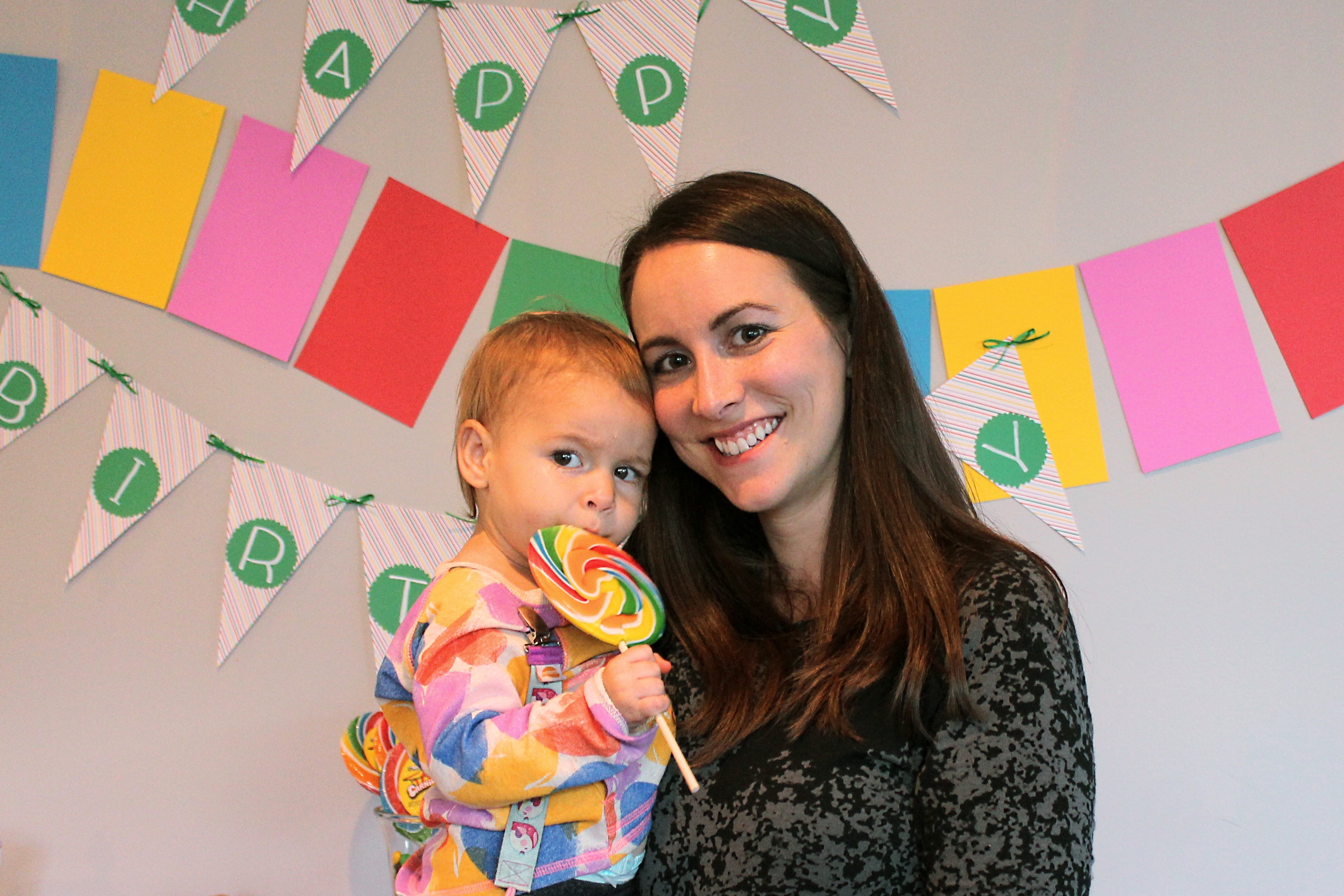 The candy was a big hit. Especially with little girls whose faces are the same size as giant lollipops.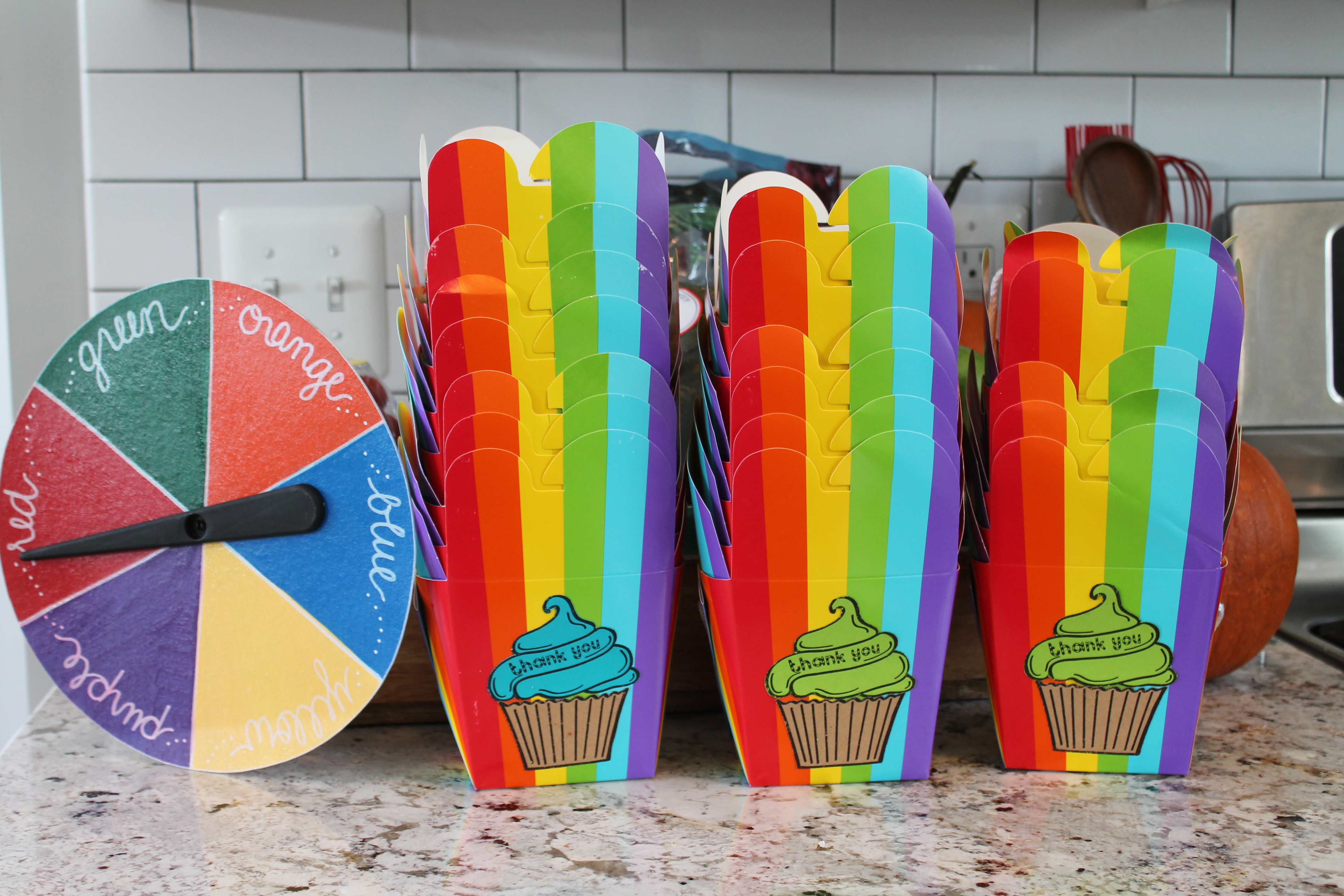 As the party wound down, we begged and pleaded with all of the guests to bring candy home with them in these cute takeaway boxes. Even after that, when the party was over, we still had enough candy to choke four horses. Happily, Halloween is just around the corner….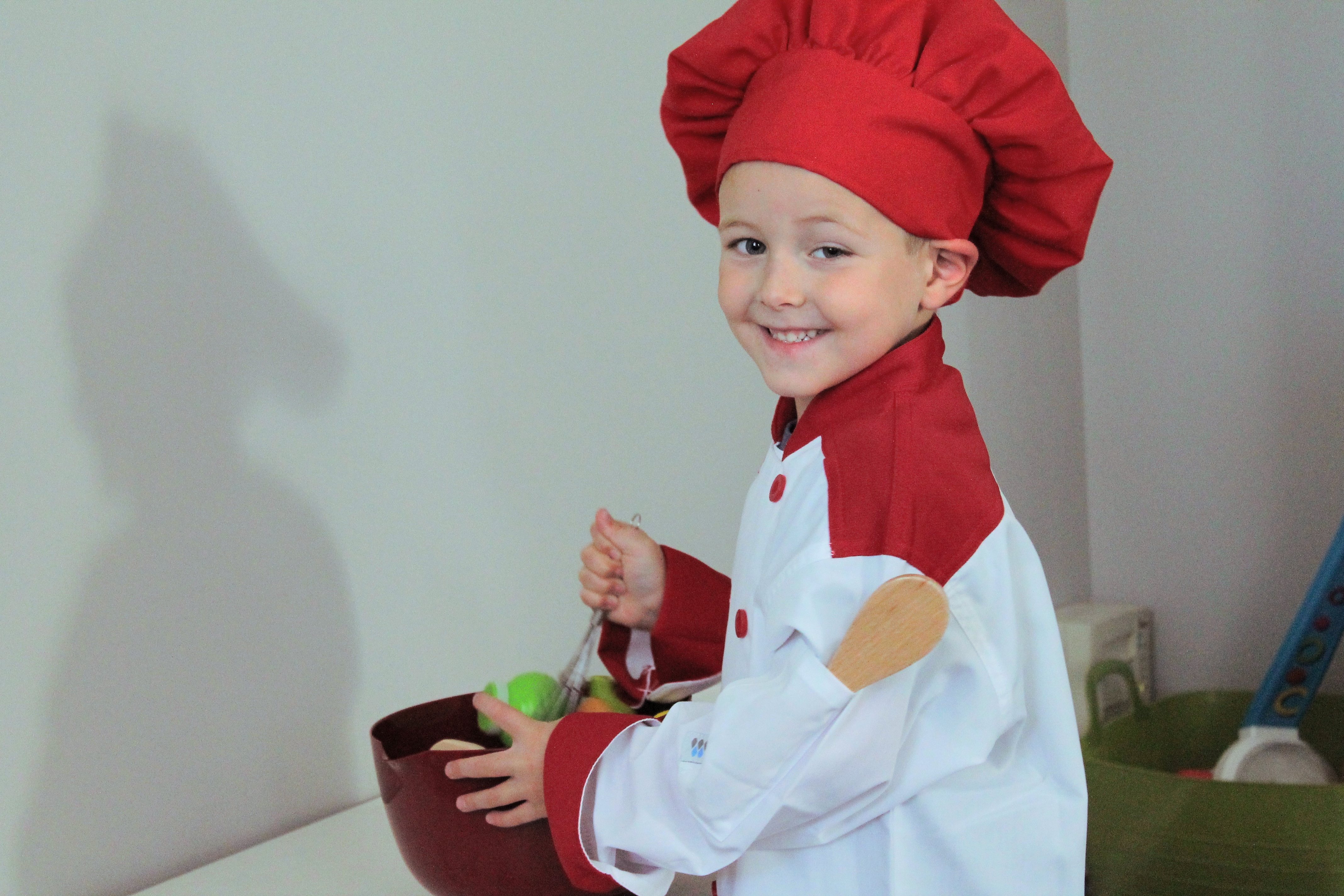 Happy fourth birthday, Jake! You are a bright and interesting kid, and we are amazed by how much you've grown in the last four years!