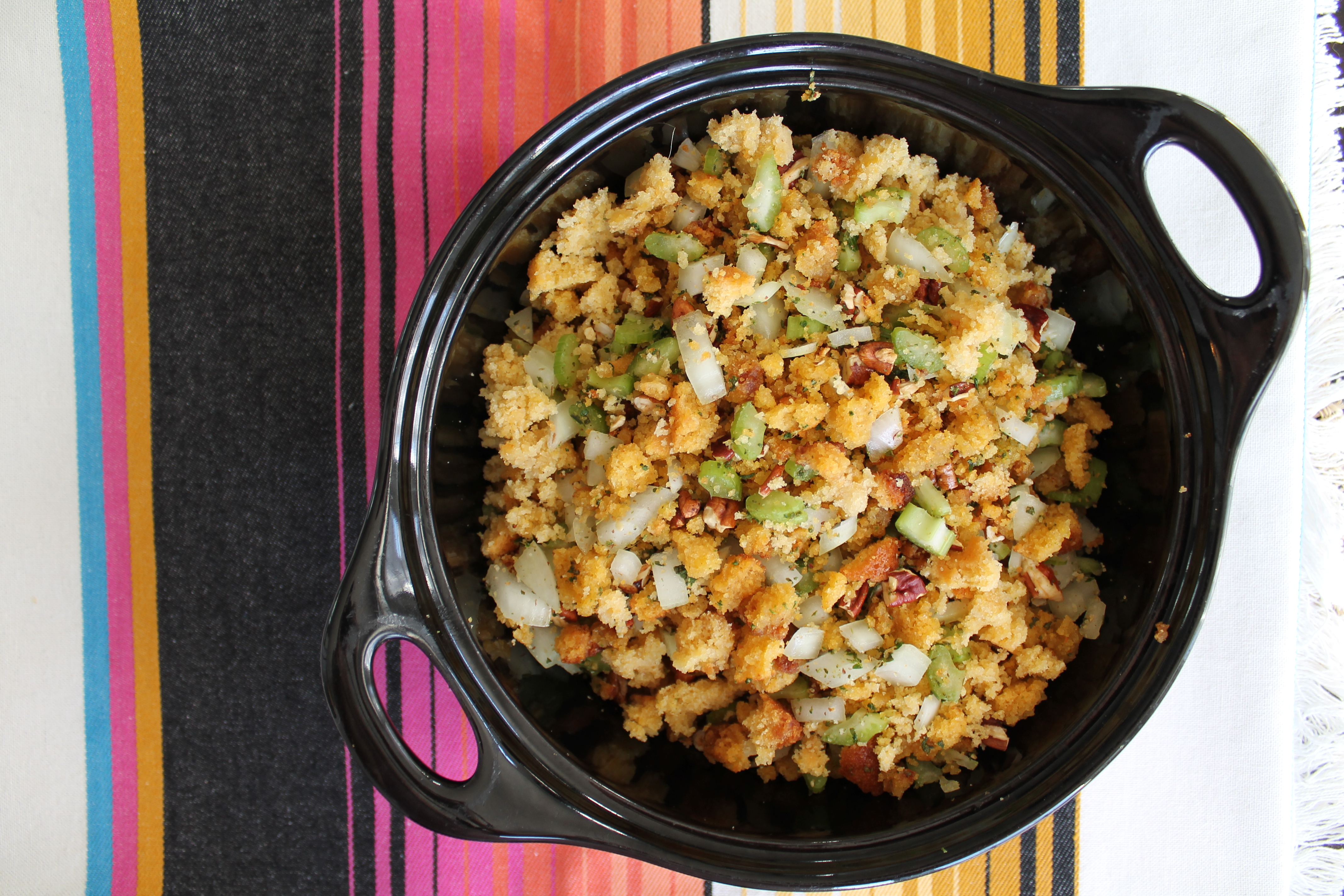 Friends, it's time for some bitter truth about Thanksgiving. Hang on to your tri-corner hats.
Okay. Picture your Thanksgiving table, after the meal is over, when the leftover dishes are scattered around with messy spoons hanging over the rims. Your family has all unbuttoned the top button and are leaning back in their chairs and holding their full bellies. Everything was delicious. Even the remains have been picked over by eager, scavenging relatives who just want one more pinch of this or that.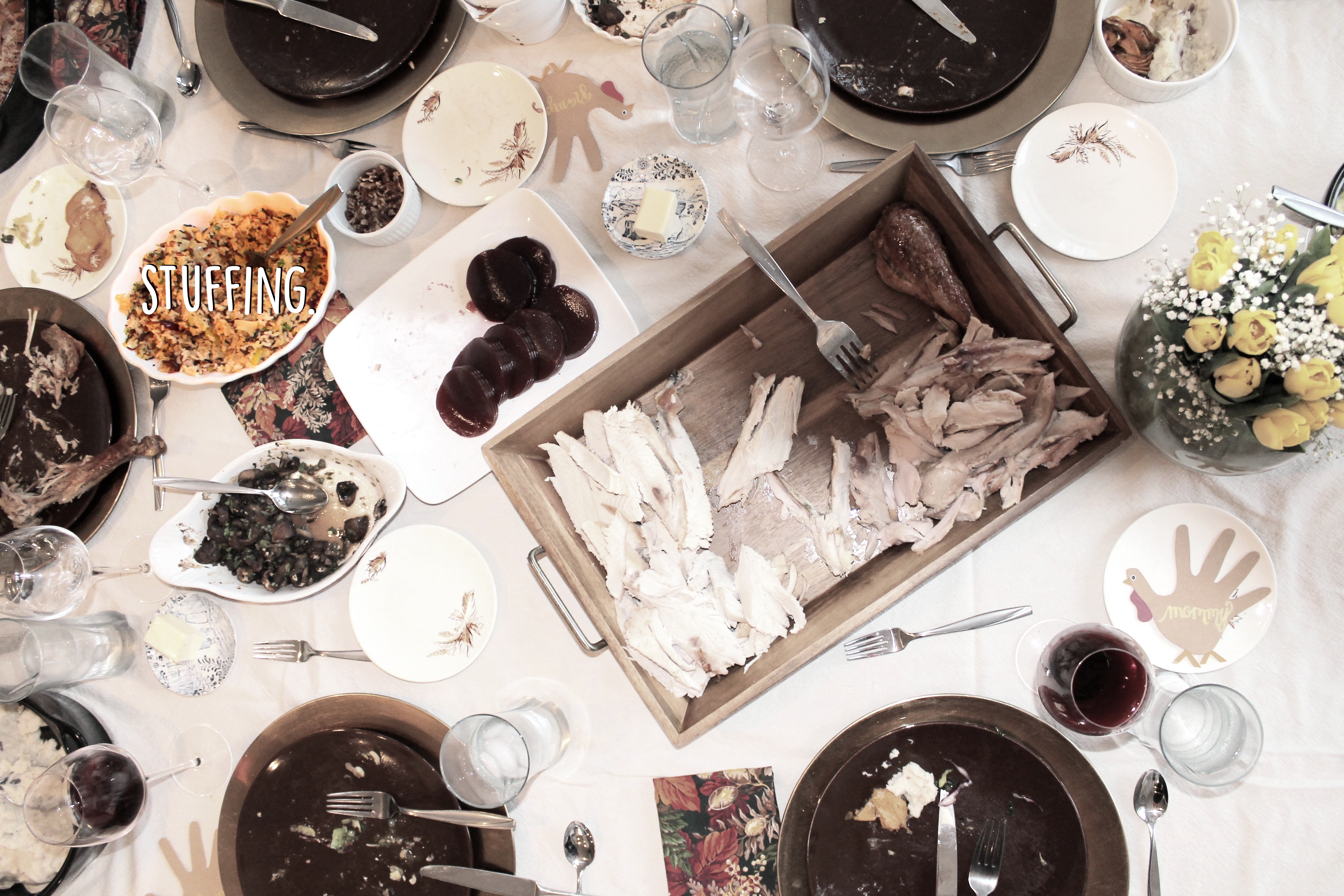 Except…look! The stuffing bowl is completely full. Yes, this is my table from last year, and no, that bowl is not full of delicious cornbread stuffing.
(Okay, to my birth family, I acknowledge that everything I'm about to say does not apply to you. You are the single group I have ever met who actually gets excited about plain, white stuffing. Everyone should invite you to their house on Black Friday to help with the disproportionate stuffing leftovers.)
You guys. Stuffing is borderline disgusting, isn't it?
It's…soggy! And it tastes yellow, and stale. Yellow is not a flavor. Stuffing has no point: it's no where near as good as a buttered roll, and experts say you aren't even supposed to eat the stuff that comes out of the bird anymore, for fear of salmonella!
Why do we even serve stuffing on Thanksgiving!?
All inflammatory ribbing aside, I want to ask you to consider ditching the classic white-bread stuffing this year. Ditch the super heavy versions that have all kinds of preserved meats in them, the ones that try to encompass every single Thanksgiving flavor in one bowl, and the ones that are basically savory bread pudding, because who needs all the extra calories?
Make your stuffing with cornbread. And pecans. And fresh herbs. It will be slightly sweet and beautifully savory, a nice counterpoint to all the heavy, rich flavors on the Thanksgiving table. Plus all those nuts mean that this stuffing contains protein, fats, and fiber! Nutritional bonus.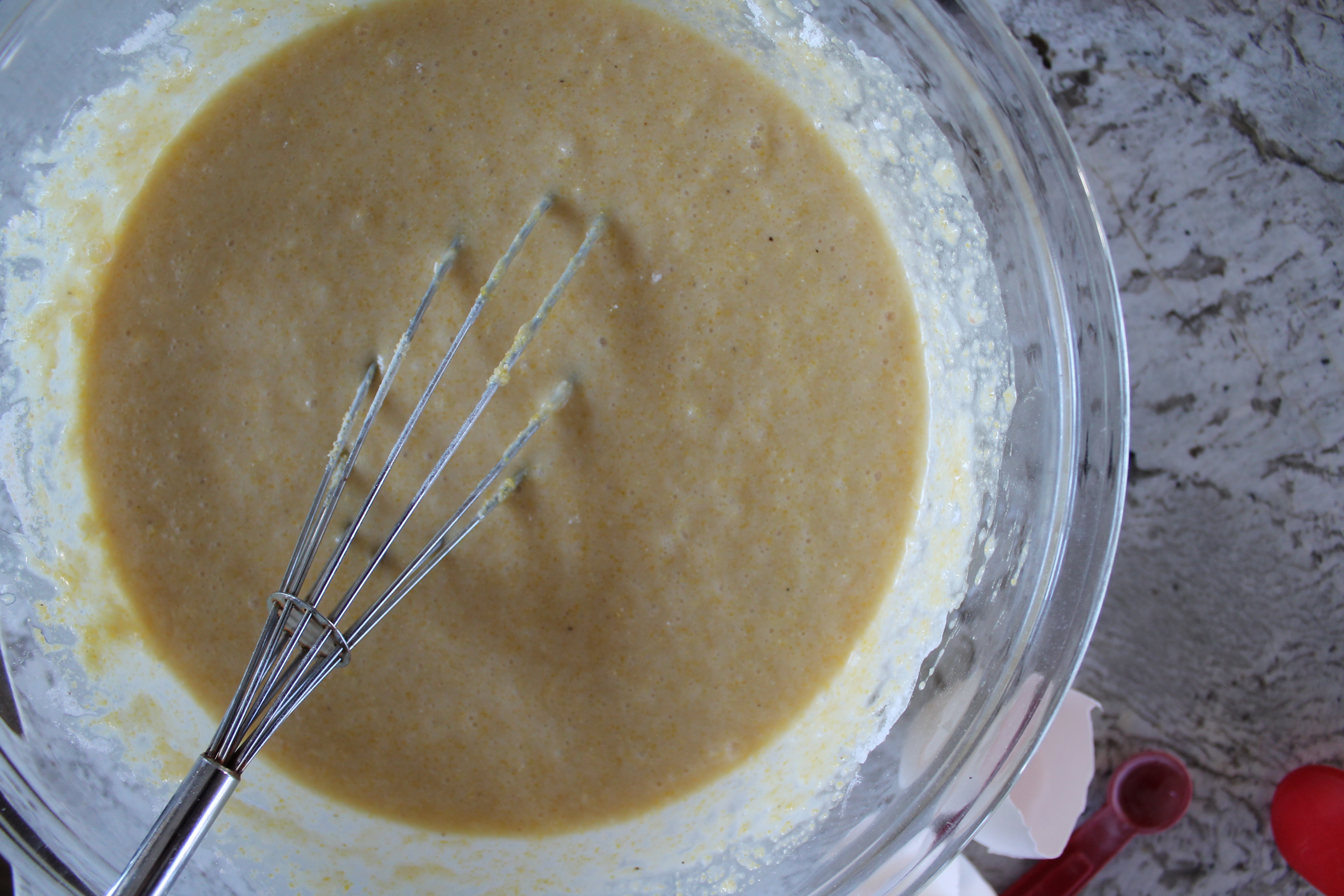 This stuffing does require you to bake cornbread. I typically do this a day or two ahead of Thanksgiving, and *g a s p !* I use Jiffy cornbread mix. Ain't nobody need to spend all day making a fancy cornbread that's only going to get crumbled up! You and your baking hands have other things to do. (Of course, if you need to go gluten-free, you can use gluten-free cornbread mix, such as Bob's Red Mill!)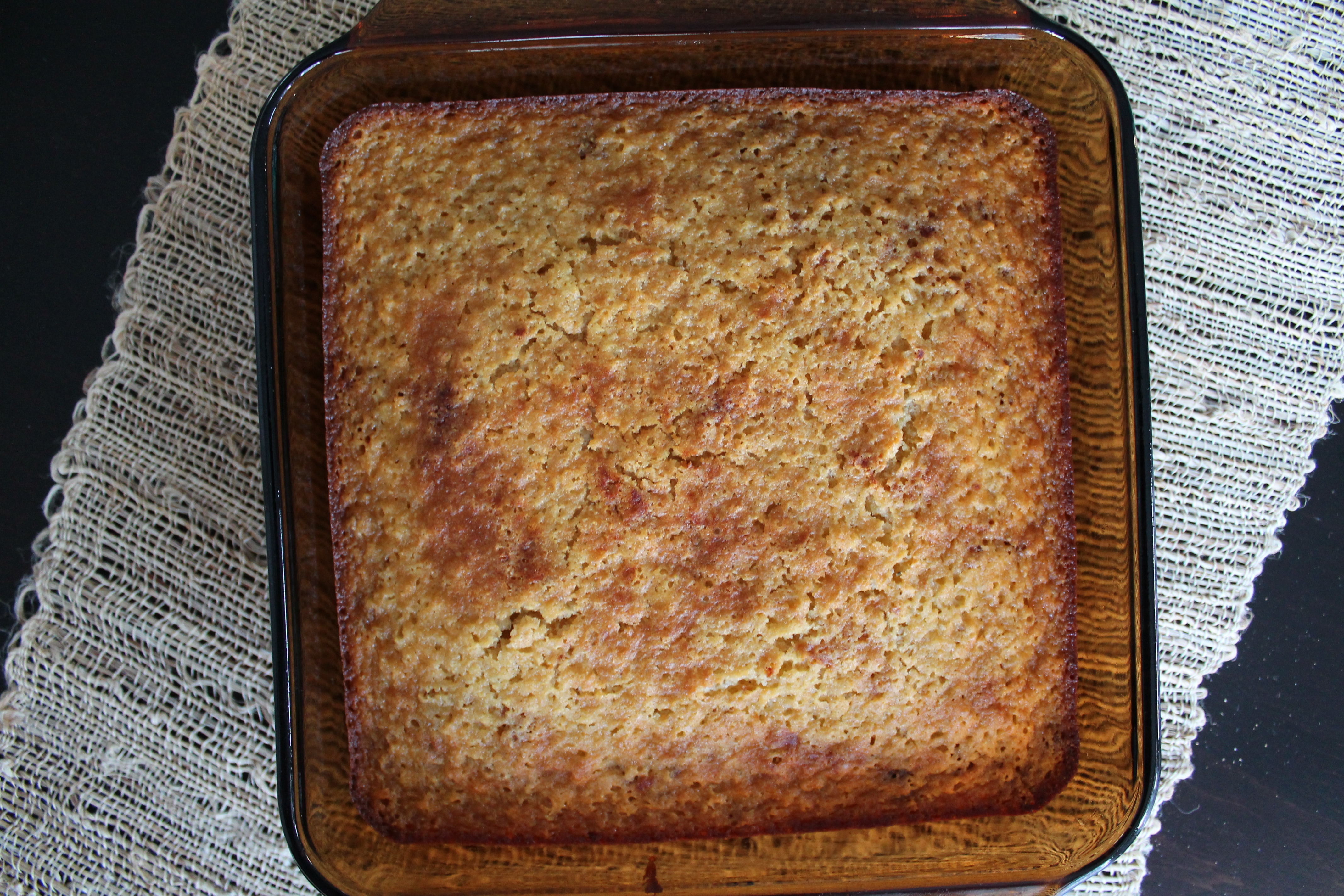 Follow the package instructions, adding eggs and milk or water to the mix and baking in a square baking dish.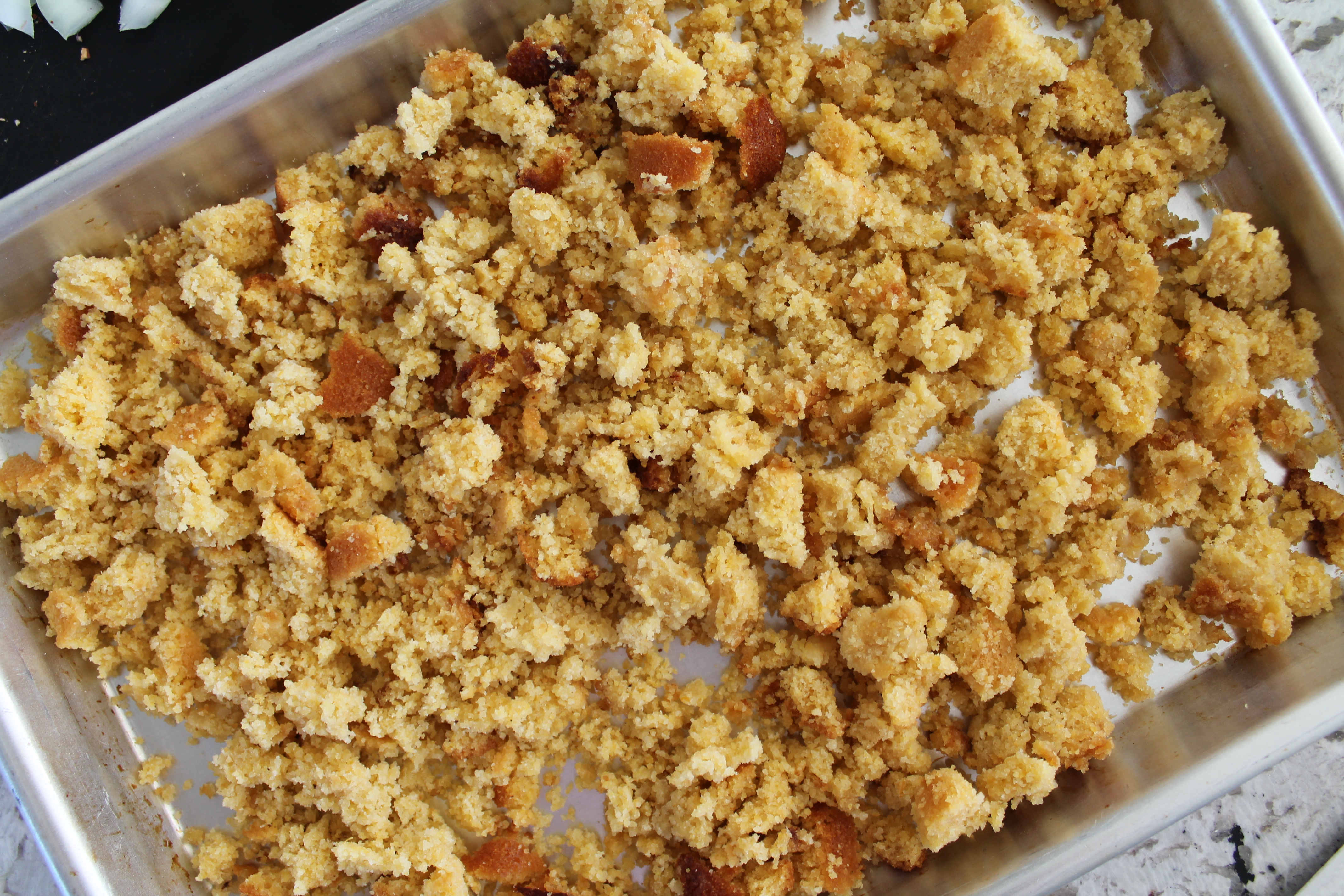 Let the cornbread cool completely before cutting or breaking into small pieces. You won't need the whole batch of cornbread to make a single recipe of this stuffing (which, as previously discussed, is all you need! No matter how great your stuffing is, there are other, more exciting things on the table. Even if you have 8-10 guests, I bet you one single batch of stuffing will be enough!). You can freeze the rest of the cornbread, or save it for chili night.
Lightly toast those cornbread crumbles so they will have slightly dry outer edges. This will help the stuffing to retain some texture, even after you combine the cornbread with everything else.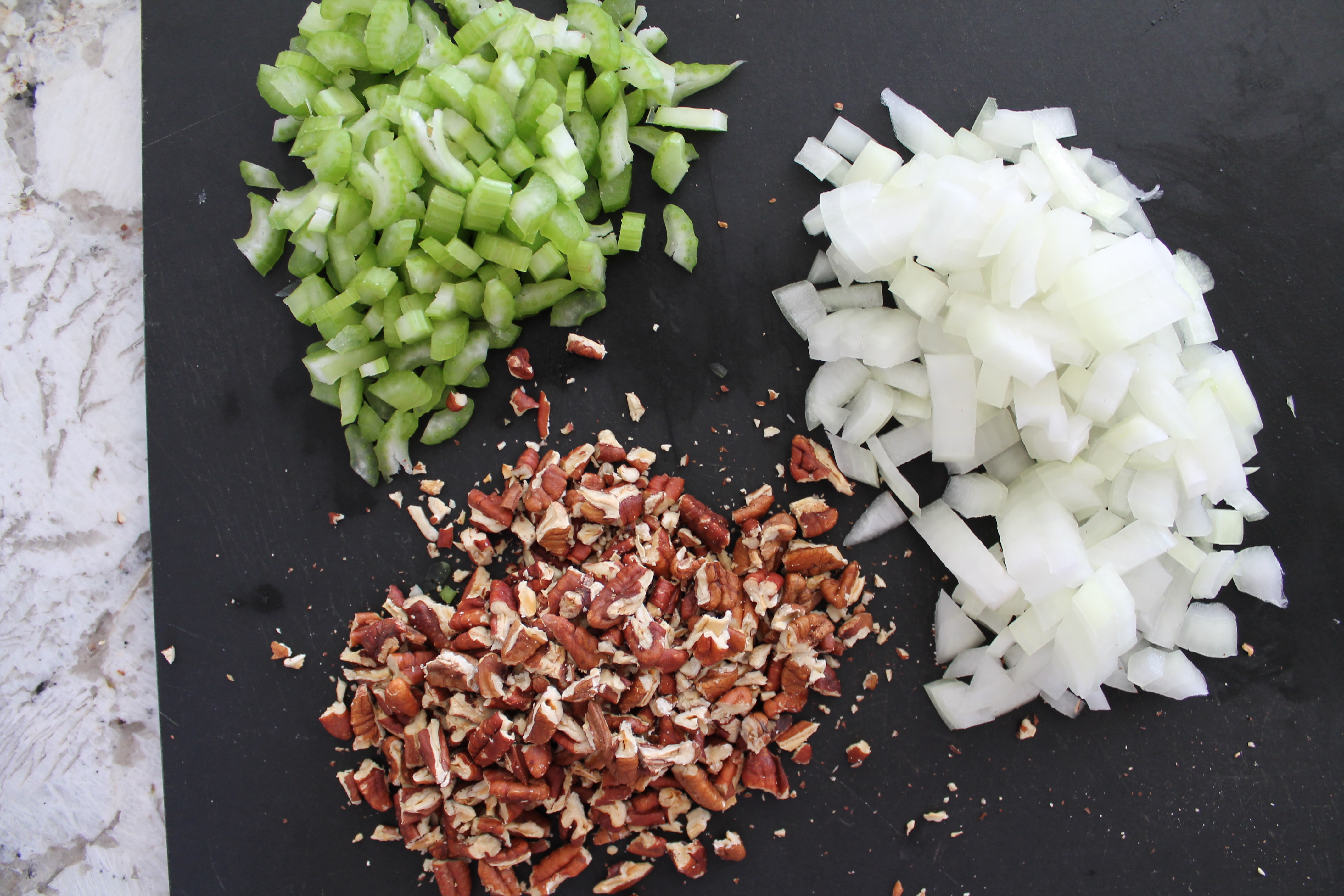 Now you will need to do some chopping! Chop up toasted pecans (pecans should always be toasted so that they don't taste waxy), an onion, and a few stalks of celery.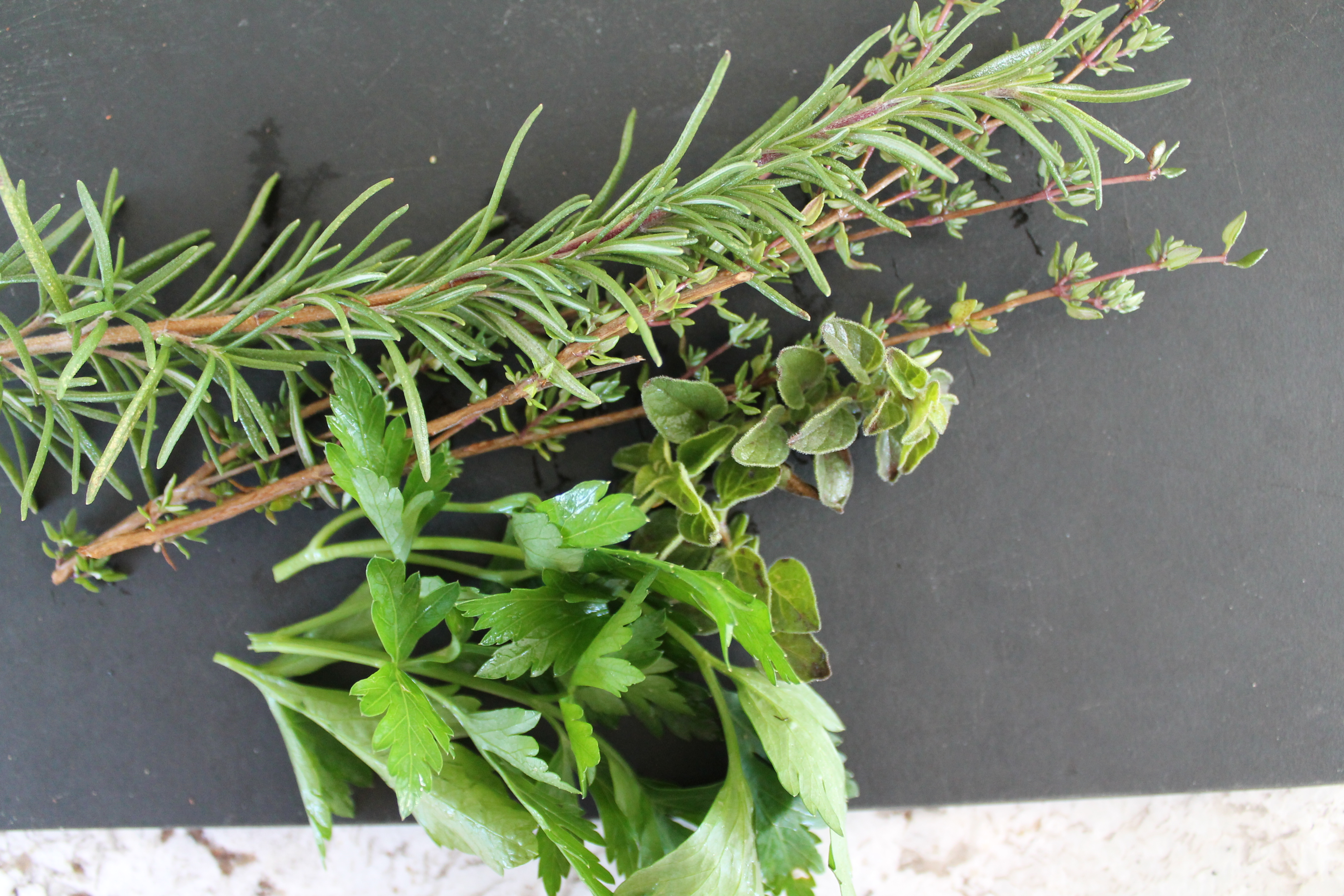 Mince some fresh herbs (or, even better, blitz them in a spice grinder or Magic Bullet!). Fresh herbs are very important. I use the classic "poultry" herbs (minus sage, which is only delicious when it is cooked): parsley, rosemary, thyme, and add oregano.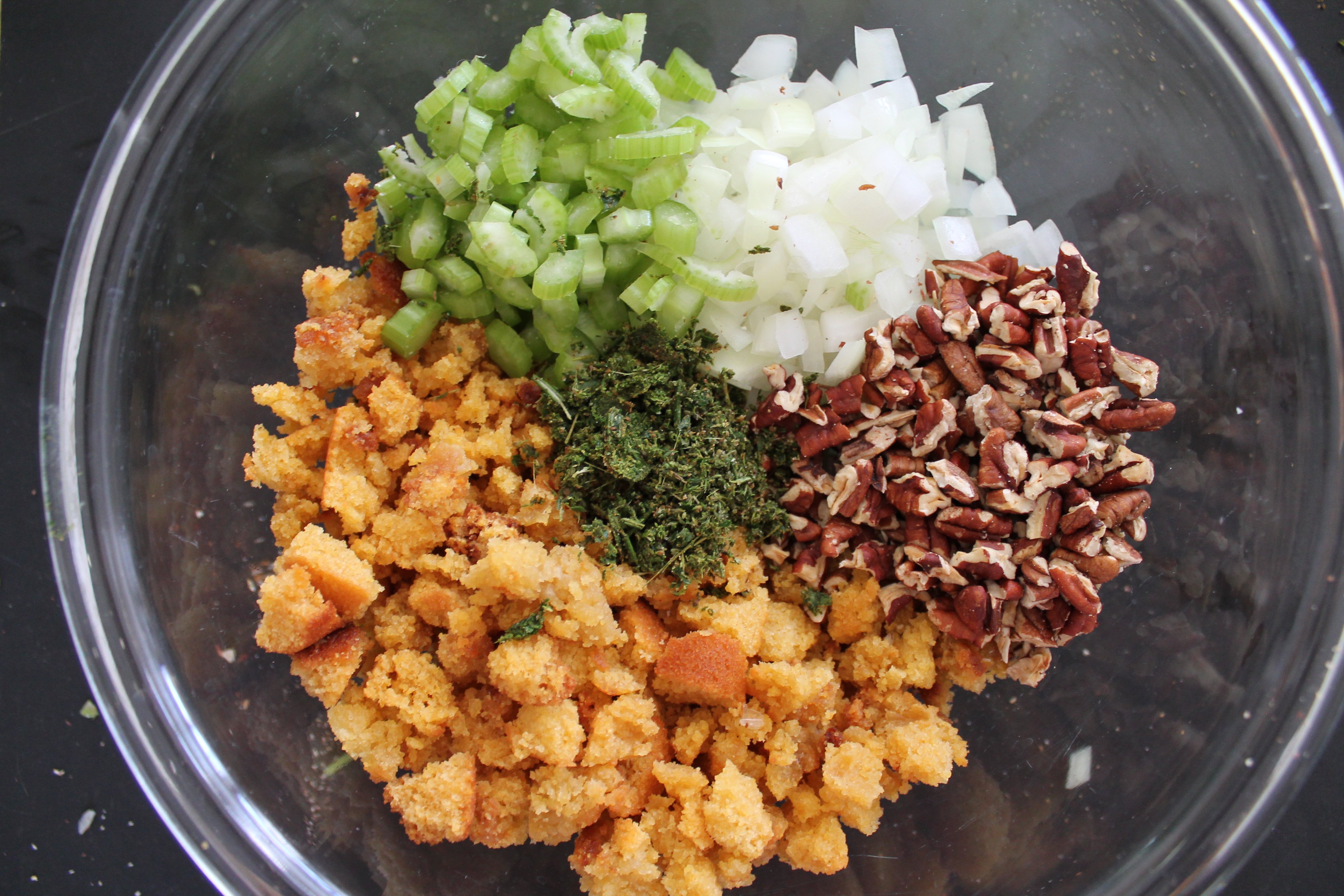 Toss the chopped ingredients with the cornbread. Add some olive oil and Old Bay.
Now, if you like your stuffing to be moist, you can throw everything into a pan on the stove and add a few splashes of vegetable stock or water. Be cautious, because stocks have a lot of salt in them. I prefer a low-sodium version. I don't recommend using a chicken stock, even if you do eat chicken or turkey, because if you do, the strong, slightly greasy flavor of chicken will overpower the sweetness of the corn. Stir to combine and warm. I prefer not to add more than ¼ cup liquid, because I like my stuffing to be moist but not squishy; you do you!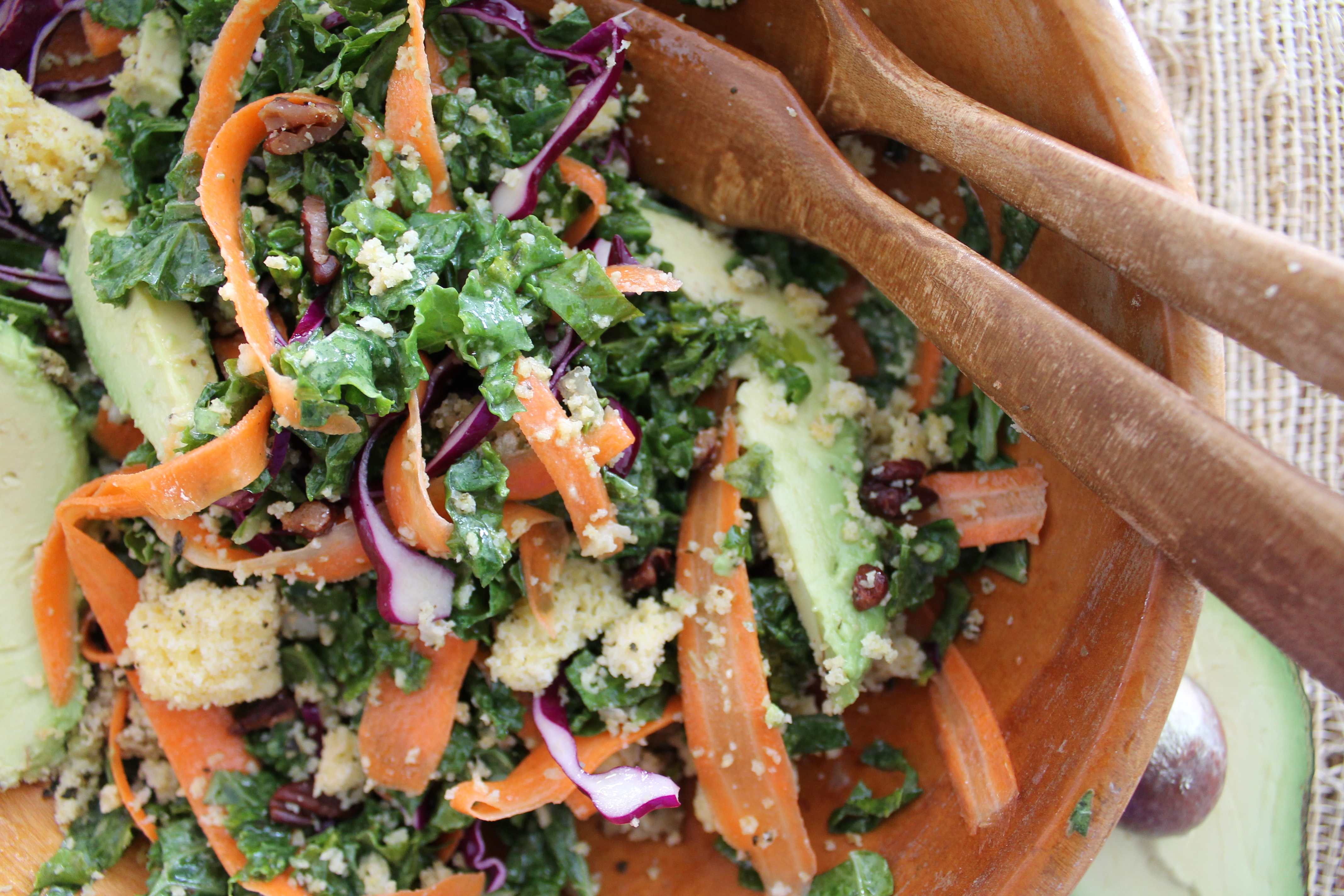 Okay. Lest you think I am completely crazy for ragging on stuffing so hard, and making fun of the disproportionate amount of stuffing leftovers on post-Thanksgiving tables, I want to tell you the absolute best way to eat up all those stuffing leftovers! (Because, yes, even when stuffing is delicious, there is always too much of it.)
Remember the kale salad recipe I posted yesterday? Turns out, that sharp vinaigrette and those dark greens are a perfect way to balance out the sweetness of the cornbread in this stuffing. These two dishes together are a powerhouse lunch, a beautiful balance of soft, crunch, and chew. Together they complete each other!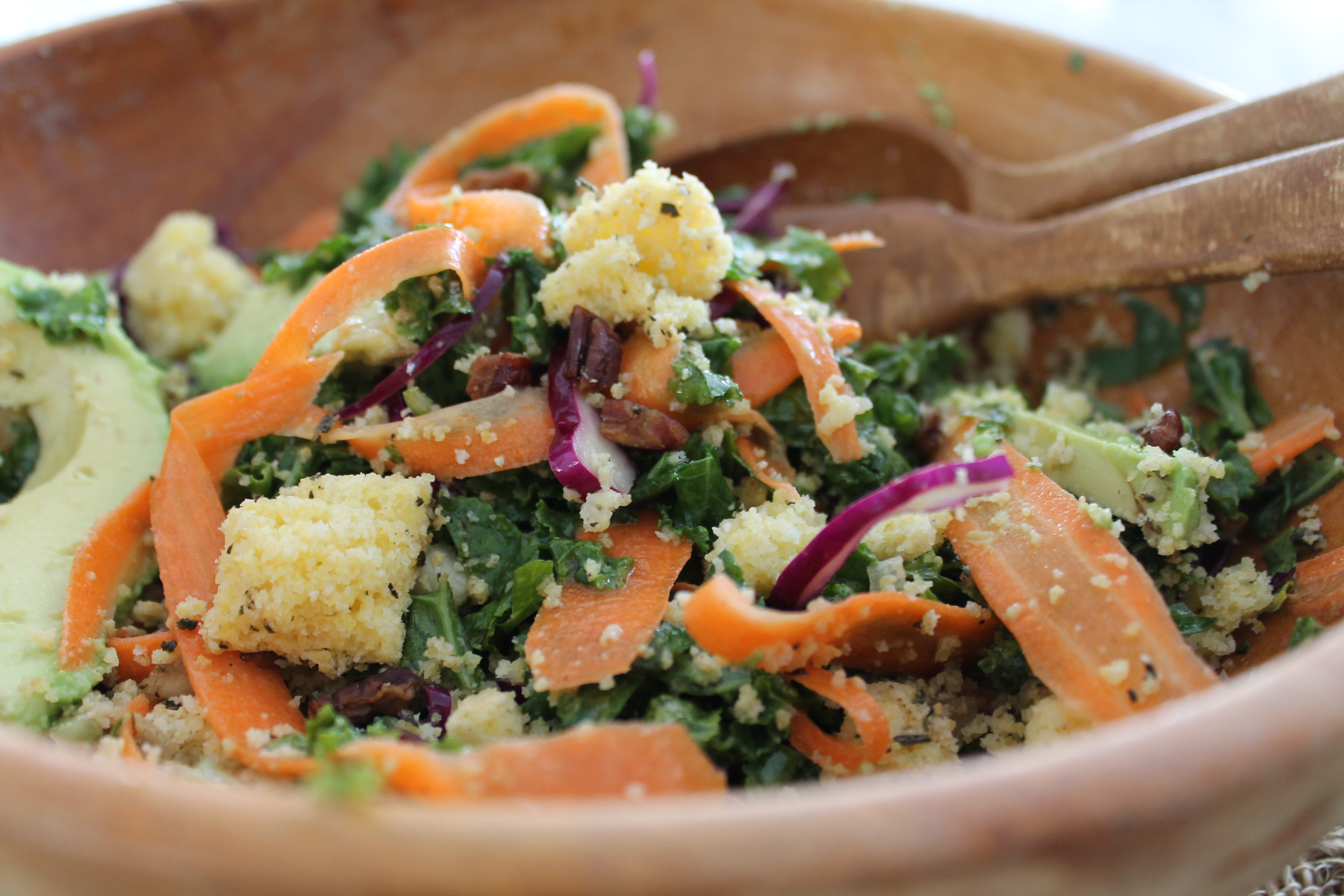 When you are staring down the post-Thanksgiving leftovers of this stuffing, toss your kale salad and stuffing together and tuck in to lunch. You won't regret it!
Cornbread Herb Stuffing
adapted from Genius Kitchen
serves 8
Ingredients:
2½ cups day-old cornbread, crumbled (use Jiffy mix! Don't exceed this amount)
1 small yellow onion, diced
2 small stalks celery, finely sliced
½ cup chopped toasted pecans
1 tbsp. fresh thyme, minced*
1 tbsp. fresh rosemary, minced*
1 tbsp. fresh oregano, minced*
1 tbsp. fresh flat-leaf parsley, minced*
1 tbsp. olive oil
1 tsp. Old Bay seasoning
¼ cup vegetable stock or water, plus more as needed
Directions:
Place the cornbread pieces/crumbles on a cookie sheet and toast for 10 minutes in the oven at 350°.
There should be enough time to prep the remaining ingredients while the cornbread toasts. When the cornbread comes out of the oven, toss warm with everything except the vegetable stock or water.
Stuffing may be served dry or moist. To make a moist stuffing, place the stuffing in a medium saucepan over medium heat. Add the liquid and stir to combine, allowing the cornbread to warm through and the moisture to spread throughout. If needed, add more liquid 1 tbsp. at a time, until desired texture is reached.
Remove from heat and cover to keep warm.
*Note: I like to use a Magic Bullet or spice grinder to mince the herbs, because it is super fast and easy!
Enjoy!
♥ Melissa