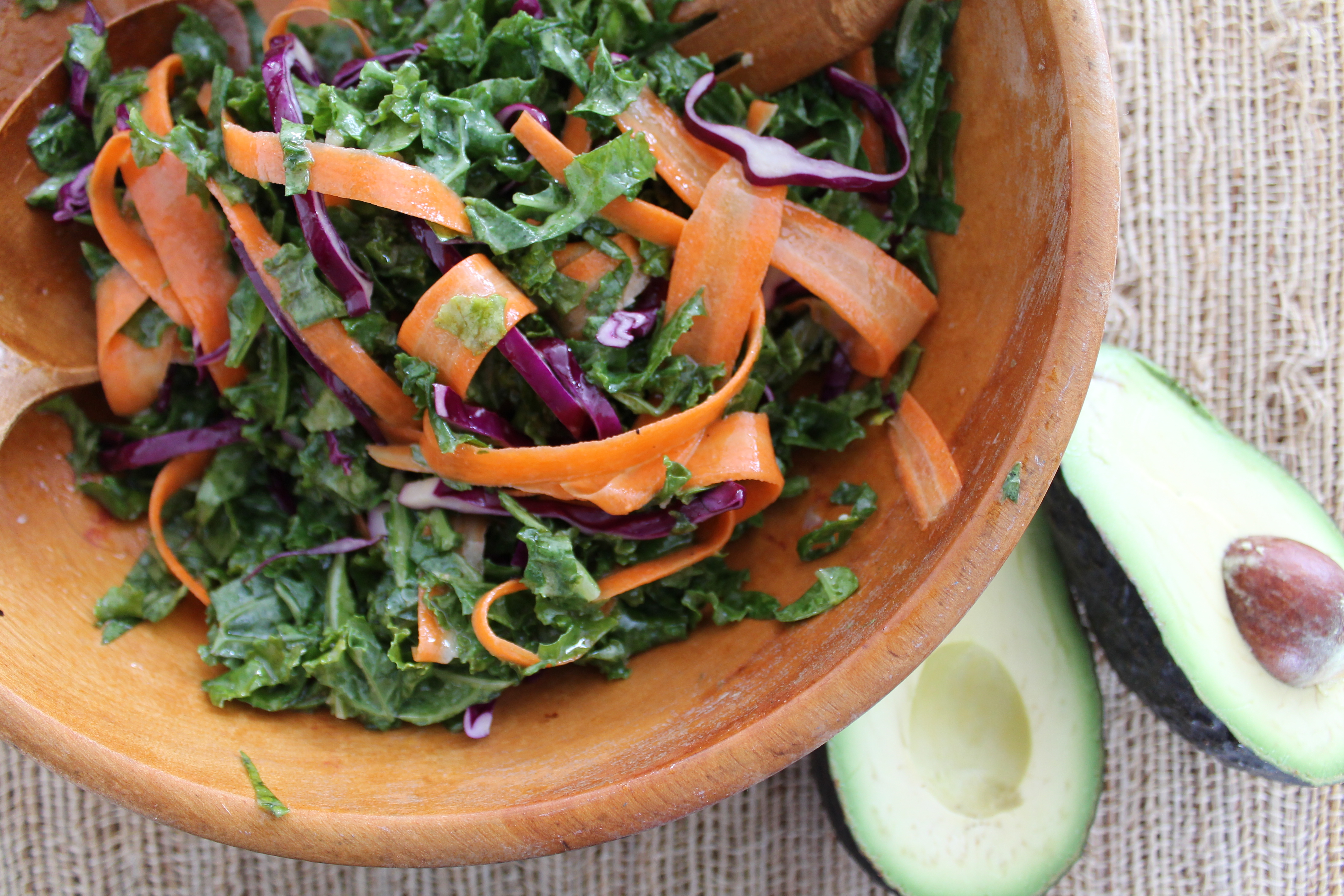 Thanksgiving is next week.
It's next week!
How did that happen?
My feelings about Thanksgiving have changed pretty significantly since I was a kid. When I was little, it was all about the pie and the rolls. (Okay, I still love those.) My childhood Thanksgivings were chock full of all the classics, from turkey and gravy to white stuffing to jellied cranberry sauce.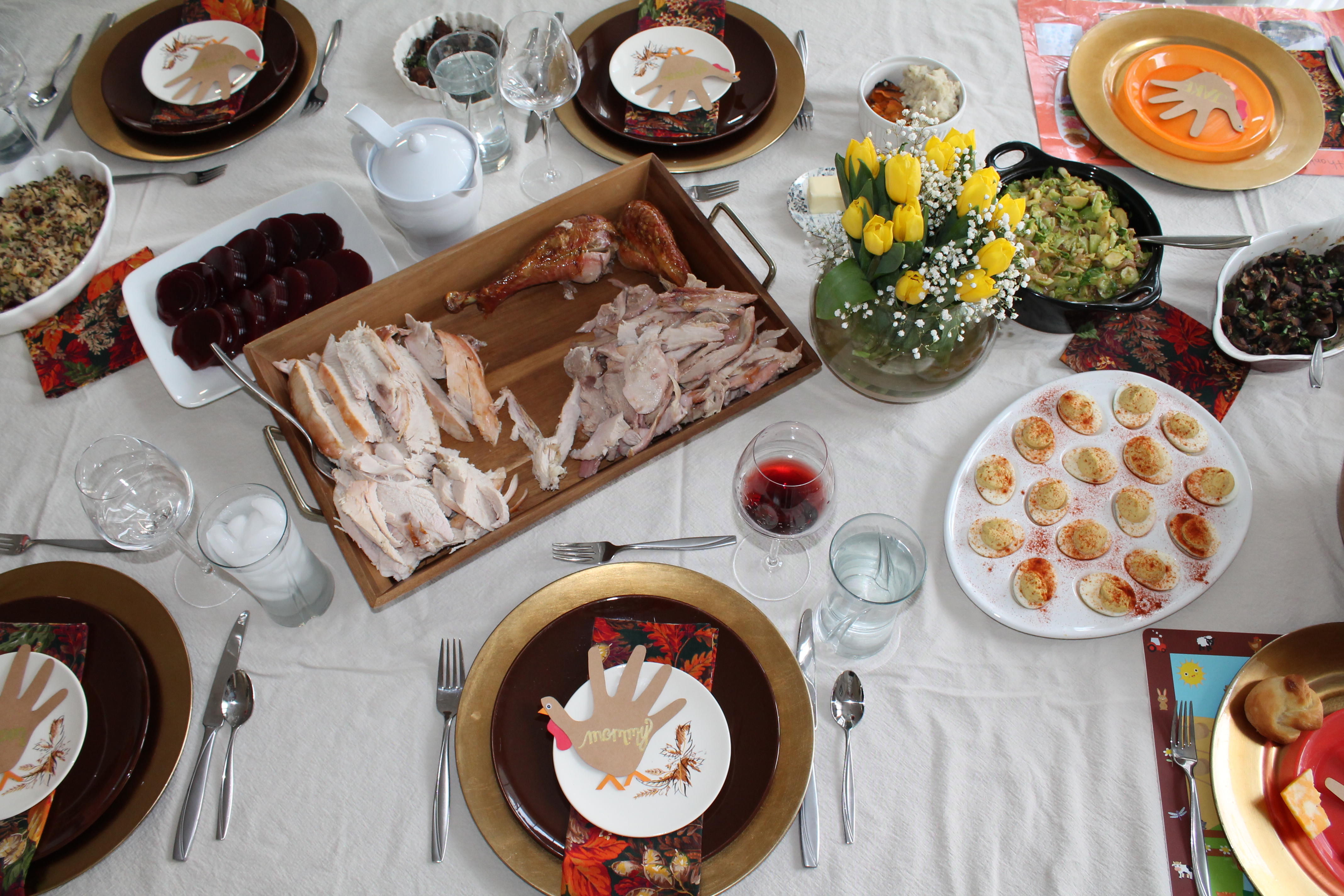 But I'm sure you've noticed that there aren't usually a lot of vegetables making colorful appearances at the Thanksgiving table. It's all about starchy and creamy. Even when vegetables do show their faces, they are usually cooked to mush and drowned in rich sauces.
You guys, I just can't eat this way. And I don't want to. I crave vegetables every day of the year, even on Thanksgiving.
So this year, I'm making a fresh kale salad dressed in a sharp vinaigrette.
And I'm hoping that if I do this for myself, and for you, that we can enjoy all the delights of Thanksgiving, but actually feel good about it. My goal is to let half of my plate be this salad (this way, my plate can still be piled high, and I can still spend time feasting with my family, but I won't end up feeling like a stuffed sausage when it's over), and the rest be small helpings of things cheesy and creamy and buttery.
Yes, a big, crisp salad isn't classic Thanksgiving fare. But we live in an age of smartphones, so why should I limit my Thanksgiving meal to what the Pilgrims could have eaten 400 years ago at the end of their harvest?
And I promise you will be happy if you make a green salad with me. Your body will be happy to have some roughage along with all the casseroles and gravy, and your mouth will be happy for a bright hit of acidity in between all the heavy, creamy things you expect on Thanksgiving. If you need more convincing, go check out Healthy Line to learn all about 26 amazing things kale will do for you.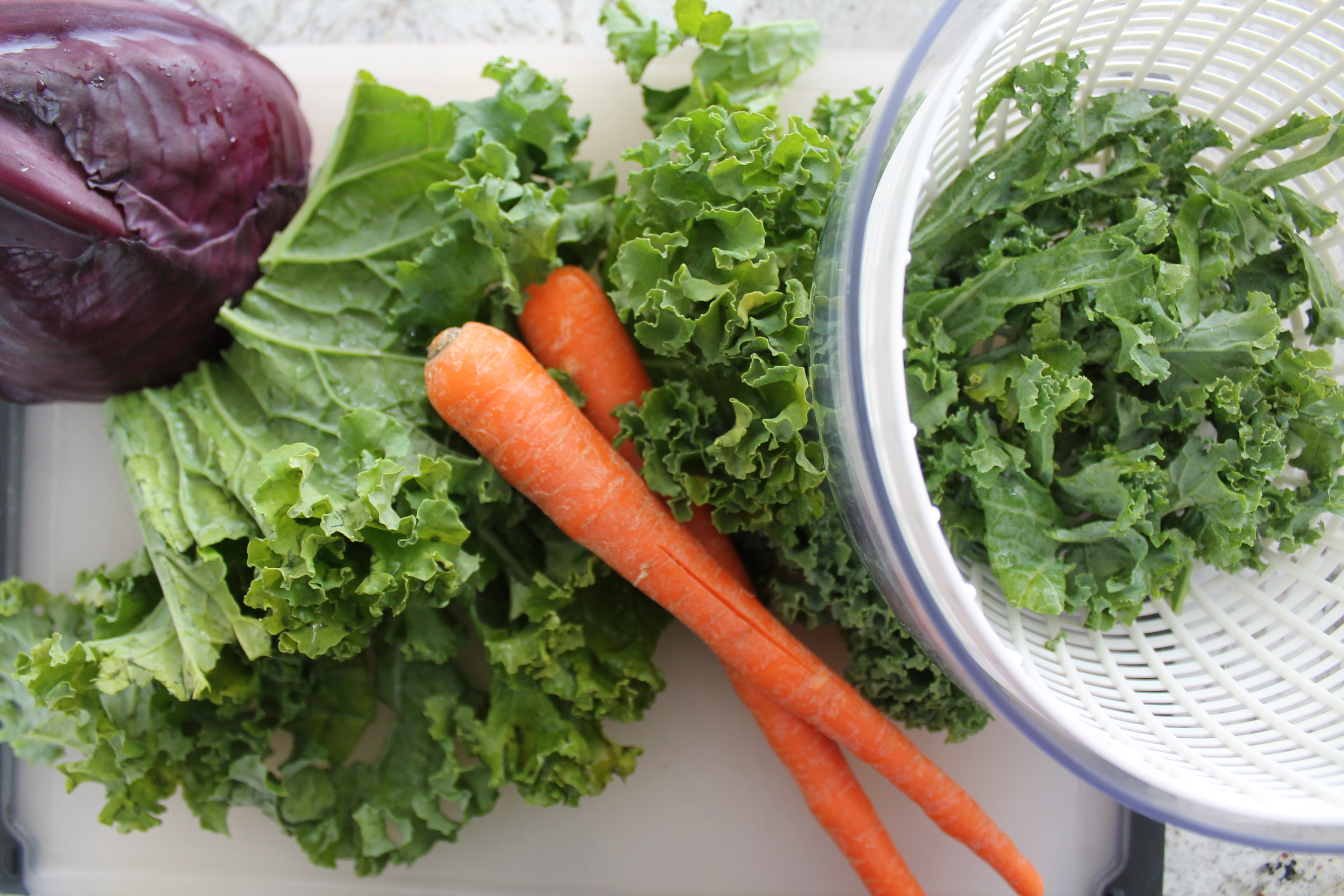 Let's make salad. This salad is so easy, and you can prep all the ingredients ahead of time and toss just before the meal if you are traveling!
Simply wash and thinly slice your kale. You can use curly kale as well as lacinato kale, just slice it into ribbons.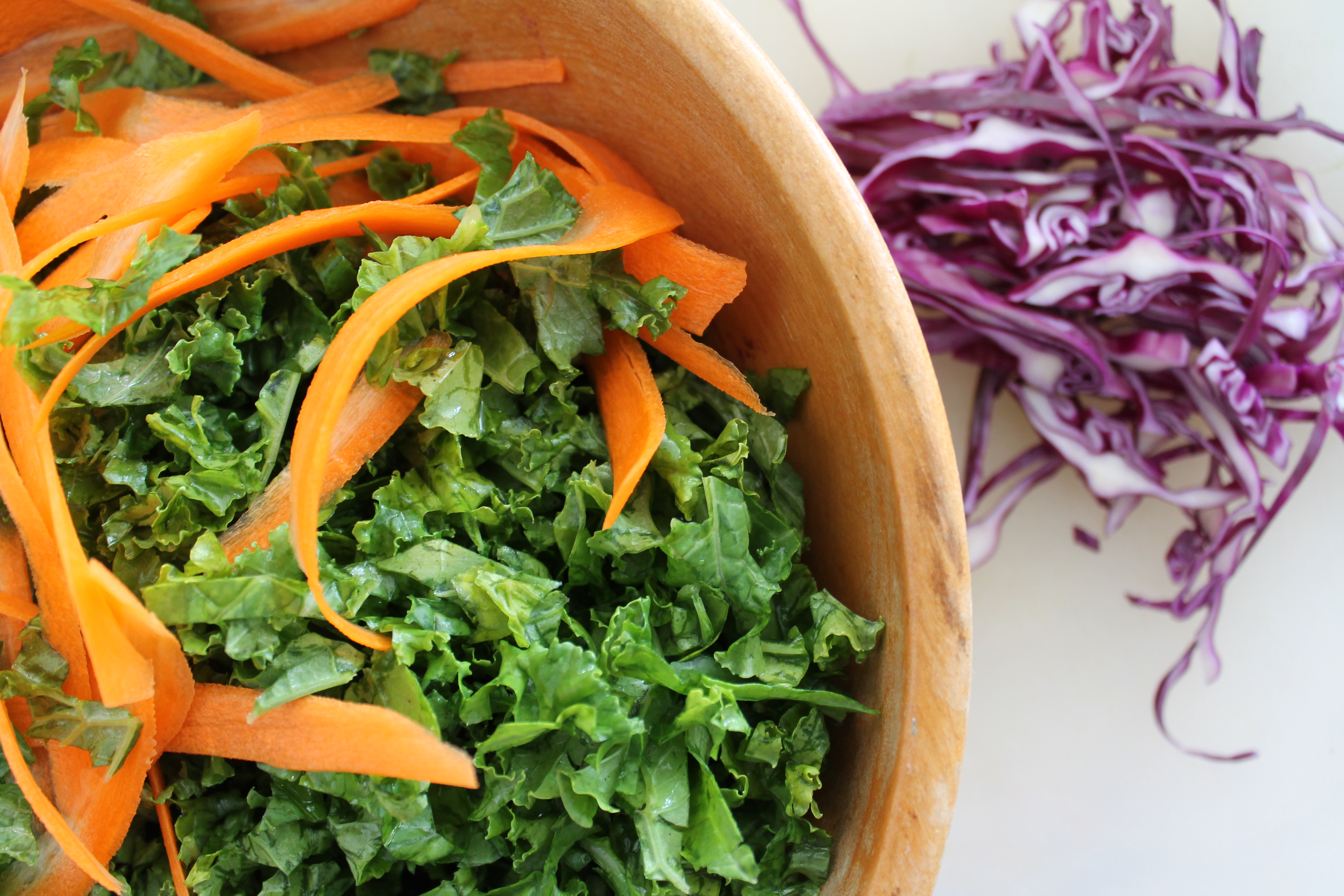 Next, grab a vegetable peeler. Peel your carrots, and then just keep swiping the peel along the length of the carrot, making carrot ribbons. Everything into ribbons!
Thinly slice a few shards of dark, red cabbage. I don't go overboard with the cabbage, because it can be kind of a strong flavor. I just want a bright pop of color!
And the final thing we need to toss into this salad is slices of avocado.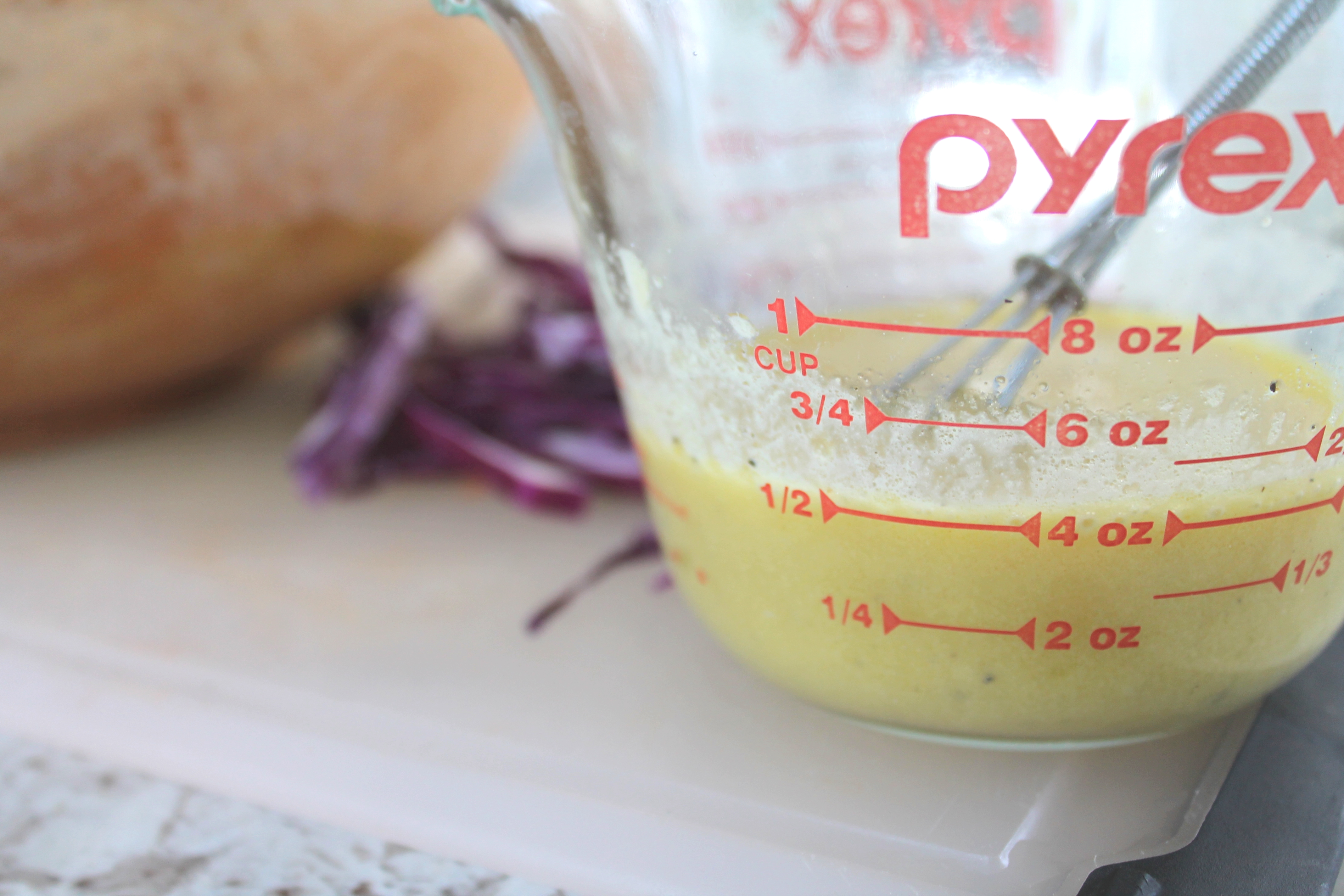 No salad is complete without a great vinaigrette. This vinaigrette is very simple: you will need champagne or white wine vinegar, garlic, mustard, salt, and pepper. Combine those ingredients in a glass measuring cup, and then whisk in olive oil to emulsify.
Whether you are serving the salad right away or it needs to keep for several hours, go ahead and rub the vinaigrette into the sliced kale. Kale is quite tough raw, and it doesn't get soggy or slimy it sits in dressing, unlike every other leafy green I can think of. The vinegar in the dressing will also help to tenderize the kale! So, rub the dressing over kale immediately.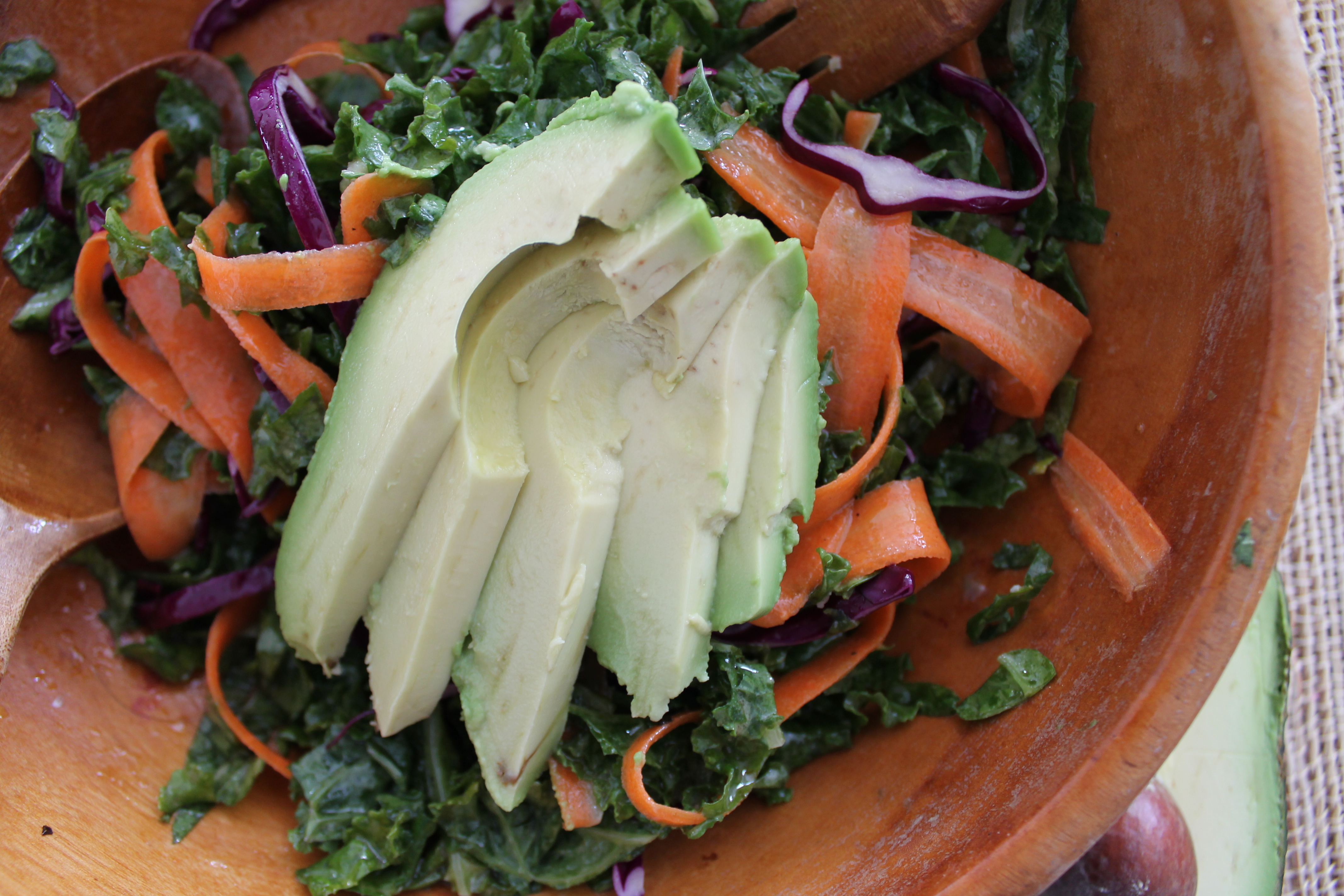 Just before you are ready to serve, toss the carrots, cabbage, and avocado into the salad. (I keep them in little baggies or containers after I prep them, and then they are all ready to dump into the salad bowl at the table!) Serve immediately after tossing in the veggies.
Colorful Kale Ribbon Salad
a Melissa original
serves 4 people who like salad, or 6-8 people who take a token helping…easily doubled to serve a large table!
Ingredients:
¼ cup champagne vinegar or white wine vinegar
2 cloves garlic, minced
1 tsp. Dijon mustard
salt and black pepper
¼–½ cup olive oil*
6 leaves curly or lacinato kale, washed and sliced into ribbons
2 small carrots, peeled into ribbons
½ cup thinly sliced red cabbage
1 ripe, green avocado, sliced thinly
Directions:
Whisk together the vinegar, garlic, mustard, salt and pepper. While whisking, stream in enough olive oil for the vinaigrette to emulsify (come together and thicken slightly).
*Note: I prefer less olive oil, because I like a nice bite from a vinaigrette, but if sharp dressings make you wince, you can use extra olive oil! Just be careful not to over-dress the salad; it shouldn't swim in dressing.
Rub the olive oil into the sliced kale. The leaves should all be lightly dressed and glistening. The dressed kale will keep, covered, in the fridge for 2–3 days.
Just before serving, toss the dressed kale with the carrot ribbons, cabbage, and avocado.
Serve cool alongside your favorite rich fare; the sharp vinaigrette and crisp texture would be a great complement to a heavier casserole!
---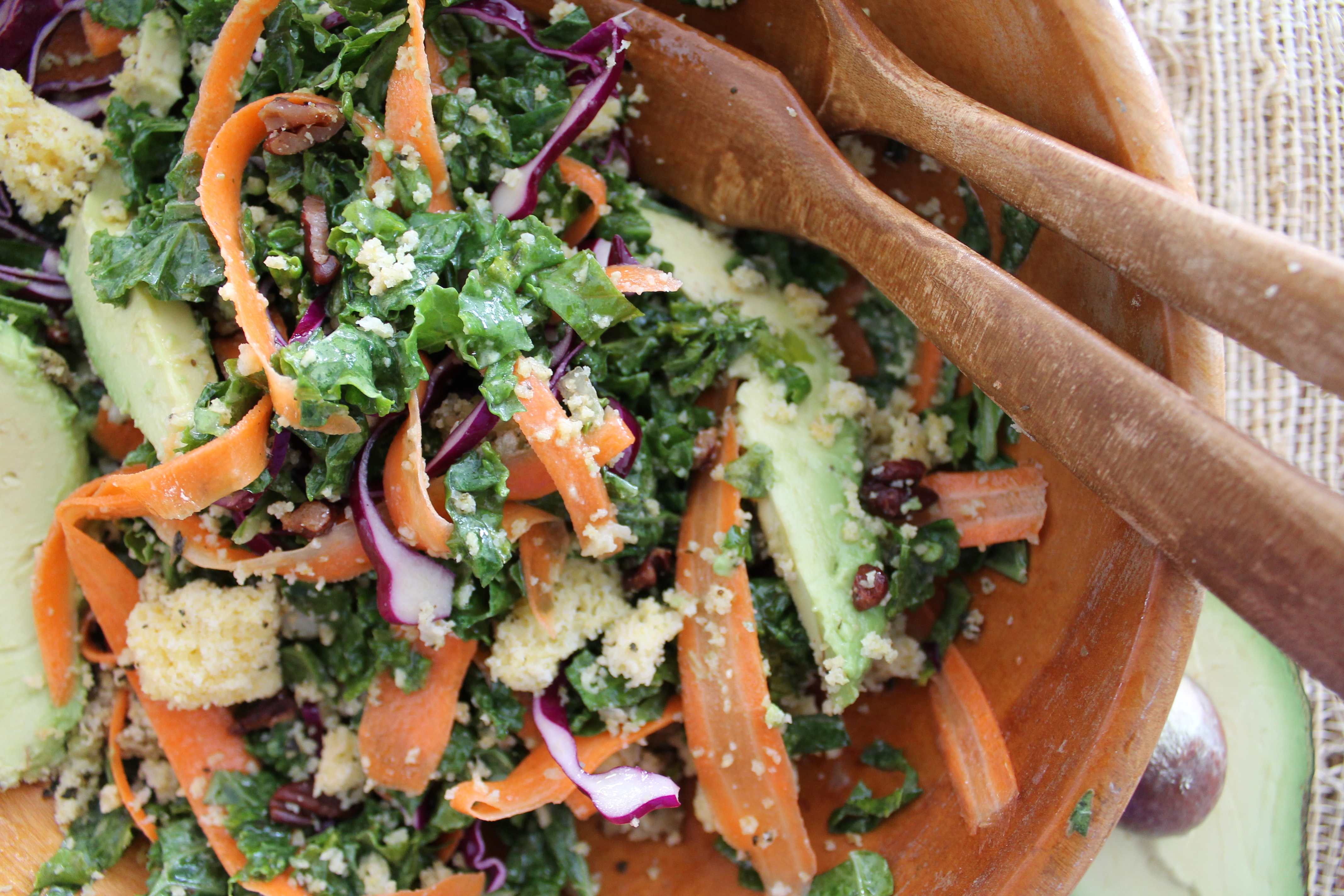 Now…I want to give you a little preview of tomorrow's recipe, and an idea for turning this salad into a hearty main dish: mix it with a light, herby stuffing! This, in my opinion, is the absolute best version of repurposing Thanksgiving leftovers, and I hope you get to try it!
♥ Melissa