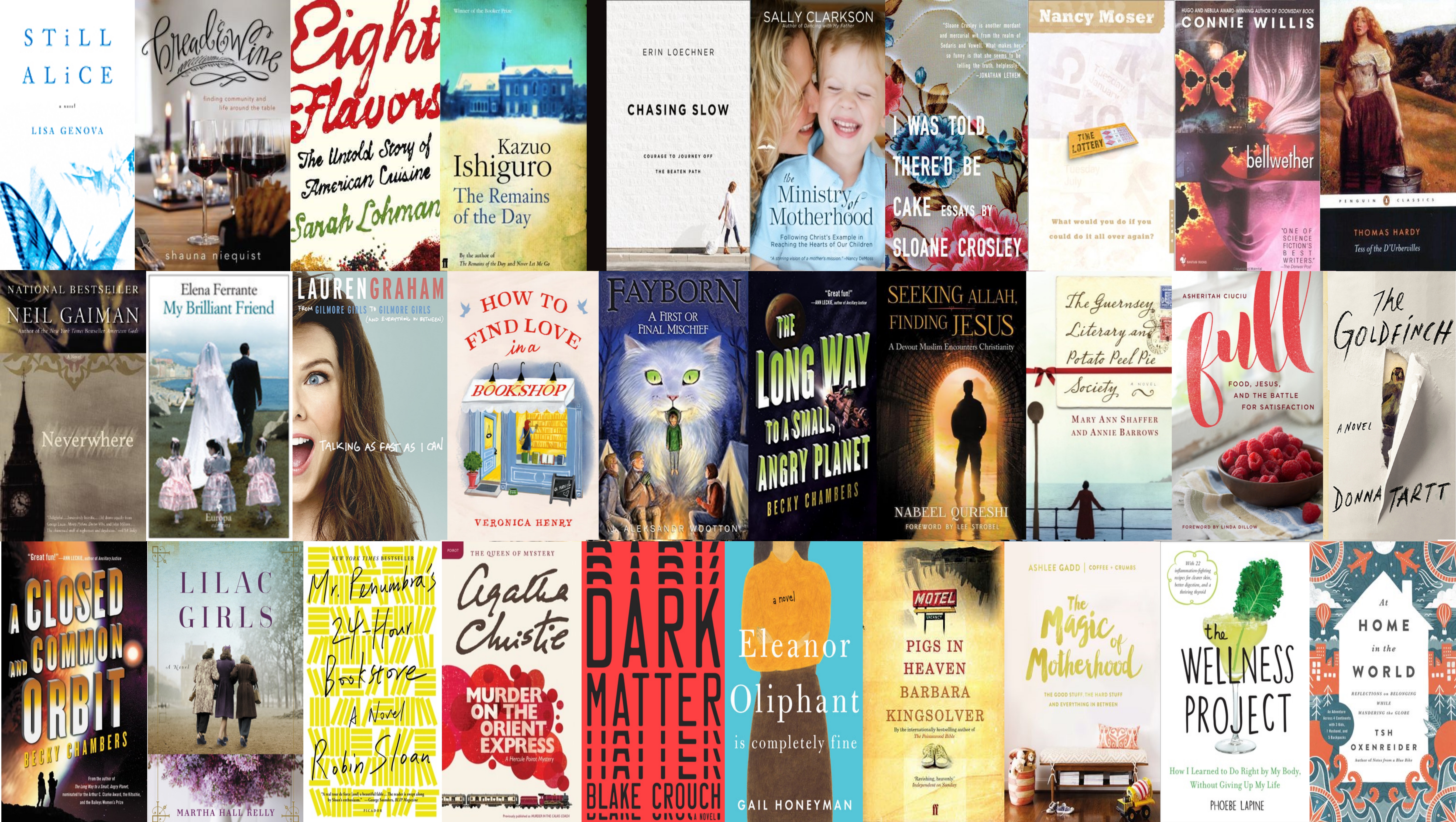 In 2017, I started out the year thinking I should spend more time reading than watching TV, and I cautiously hoped to read 30 books in the course of the year.
At the halfway mark, I had already read 22 books (thanks to the help of Audible, which definitely did some of the heavy lifting for me!). By the end of the year, the count was up to 52 books (woo! kicked it up a notch)! Additionally, I started read-alouds with my kiddos in the second half of 2017, and we read 6 chapter books aloud together as well as 2 books of poems. I will always cherish that time cuddling next to them on the couch and sharing the gift of story.
I hope to inspire you as you get ready to make good on your New Year's resolutions (mine is to read 52 books again!). You can pick up a gazillion books this year! You can start some and put them back down if you find they are intolerable. You can start others and never want to put them down until your eyes greedily speed past the last word. You can challenge yourself to read outside your comfort zone, or you can let reading be your comfort at the end of a long day.
Reading brings me joy. May you embark on a journey of joy and reading in 2018!
Here's the roster for the second half of 2017. As I mentioned earlier this year, I have always been a little shy about sharing my actual reading list with anyone, for fear that it will seem trite or unfocused or full of silly things. But as I get older, I am realizing that we all love silly things sometimes, and we all need a break from our real lives. It turned out that my list for the end of 2017 was a little more weighty than the beginning, but I want to encourage you to take joy in whatever you read, even if what you like isn't high literature!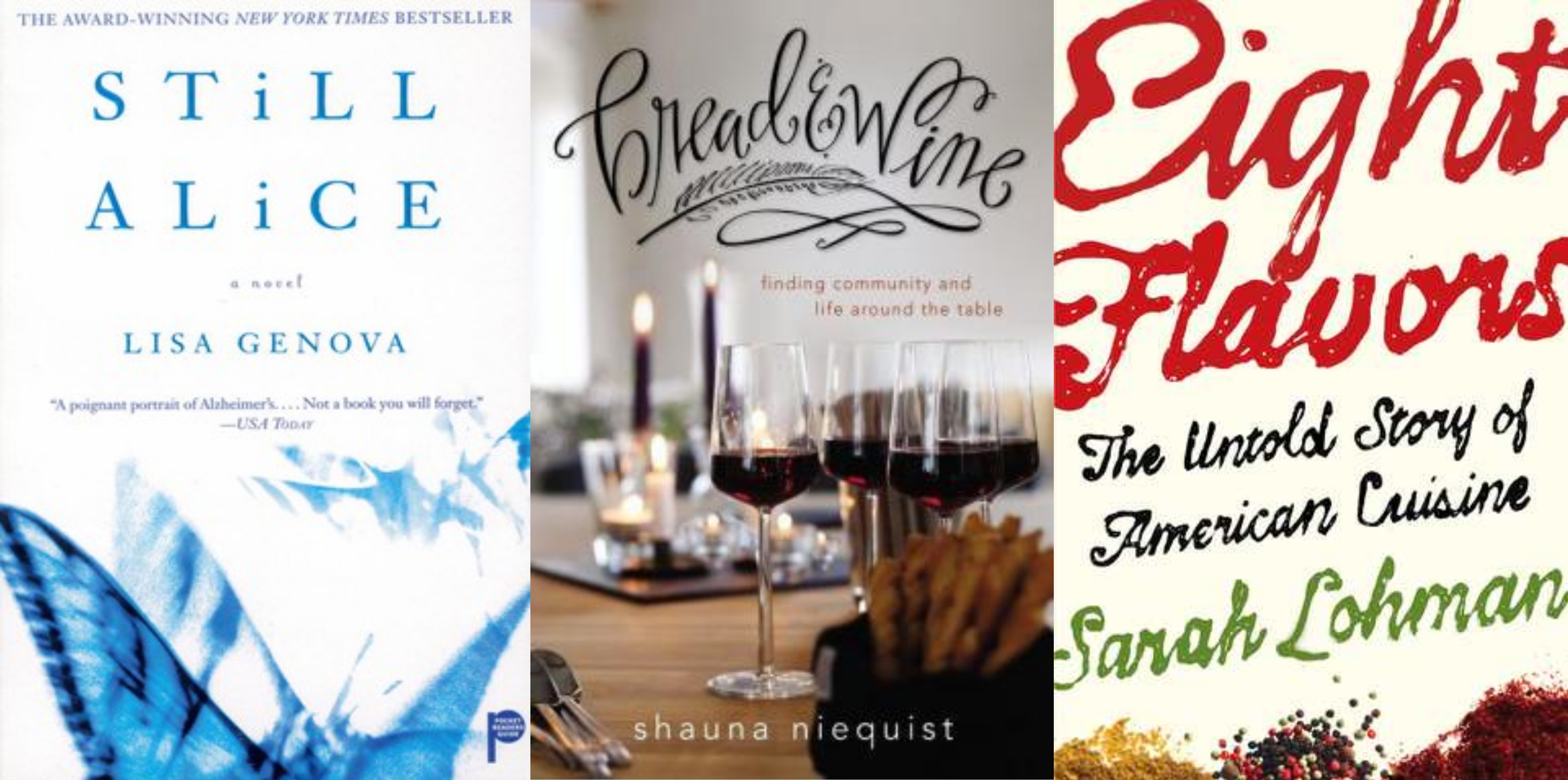 Still Alice by Lisa Genova. (Audible)
Enjoyed ♥♥♥♥
This novel really struck a chord with me, because my grandfather is suffering from Alzheimer's disease. I loved how Lisa Genova dug into what it might be like on the inside of this disease, to slowly lose memories as well as cognitive function, to be first hyper aware of the changes, and then less and less interested in or aware of how life had changed. It both terrified and reassured me, and certainly gave me a lot to think about in terms of my own future, which may or may not include Alzheimer's disease.
Bread & Wine by Shauna Niequist.
Enjoyed ♥♥♥♥
To be honest, I expected not to enjoy this book. I was a little doubtful of Shauna Niequist, who has seemed to be a like a "trendy Christian," maybe too light-hearted or not willing to say hard things for the Lord. Which goes to show that I am judgmental, and I need God to grow me. In reality, this book was such an encouraging picture of real life with friends, real life that's messy and requires a lot of letting go. I may not cook any of the recipes she included, but I do feel inspired to work toward an open-door culture in my house, to welcome friends and family to be real, to help each other through tough times, and to be God's.
8 Flavors: The Untold Story of American Cuisine by Sarah Lohman.
Liked ♥♥♥
This book was so, so different from what I expected from the title and introduction—I thought it would be a tale of pioneer cooking, and the linear development of whatever home-cooking style might be considered somehow "classic American," though in truth I'm not really sure "American" food exists, since the nation is so young and so infused with much older cultures. Instead, Lohman meandered through a dozen histories that were tangentially related to the actual popularity of the flavors she chose to document in American history. Her methods for choosing the eight flavors (black pepper, vanilla, chili, curry, soy sauce, garlic, msg, and Sriracha) were a bit suspect, but I did like that in the end, this book came together as a real American story, full of immigrants and hybrid cuisines. I think she missed a lot of opportunities to write about flavors that are more widely used and appreciated in the U.S. (I'm sorry, the tale of MSG was interesting and revealing, but I cannot consider it one of the main flavors of U.S. cooking), but I do recognize the limits she faced in choosing a small number of flavors that would compile into a compelling book. But I have to say, if I hadn't been reading this book for book club, I probably would have put it down halfway through.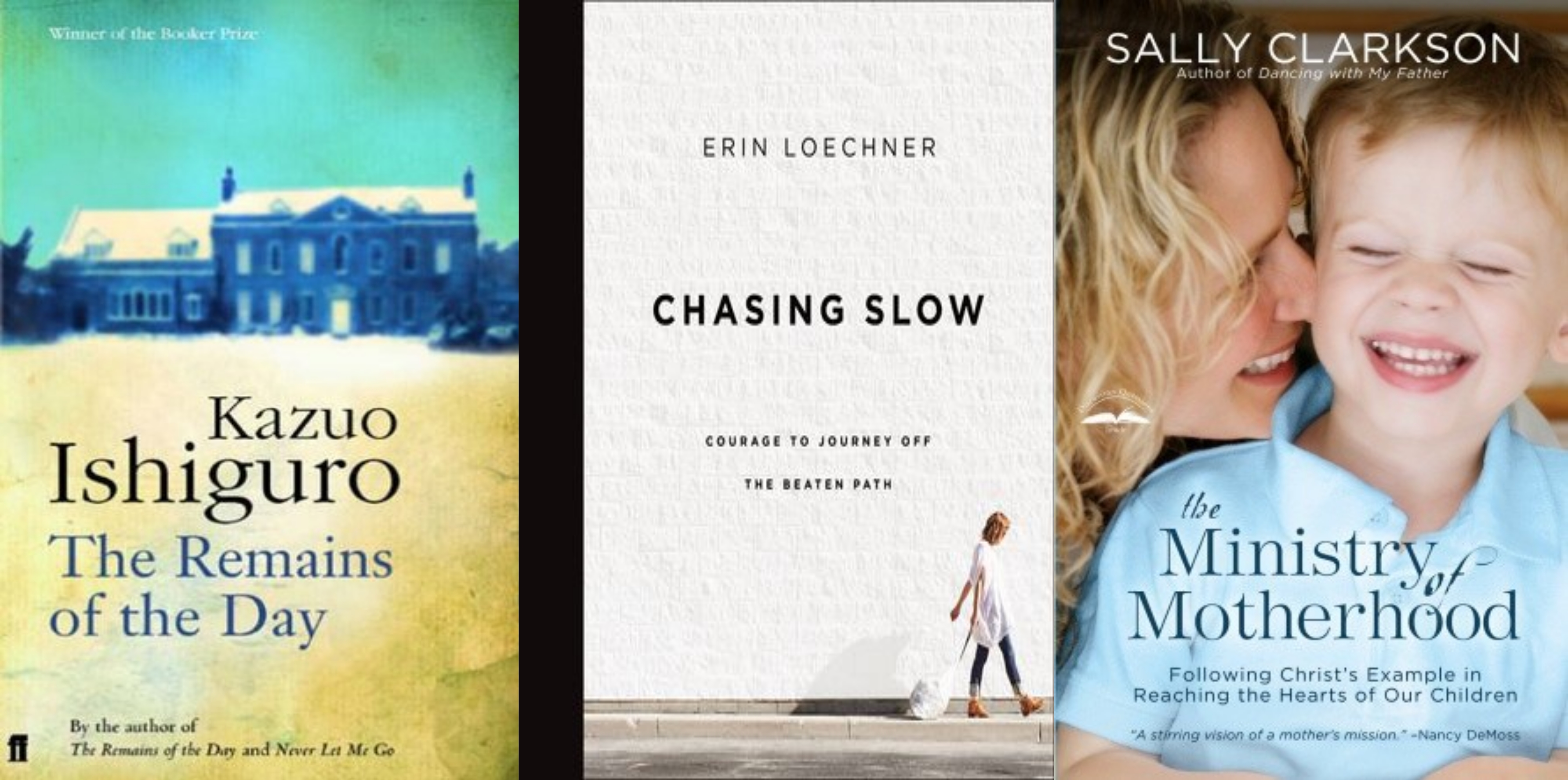 The Remains of the Day by Kazuo Ishiguro. (Audible)
Tolerated ♥♥
The pacing of this novel was quite slow, and even though the inner workings of the mind of an English butler and an English estate were interesting, I honestly found the story to be a bit tedious and certainly dreary. As the retrospective story unfolded, it became more and more apparent that Stevens' determined hold on his professional outlook had prevented him from thinking independently, or even from engaging with relationships that might have brought fulfillment. Personally, I can relate somewhat to Stevens' desire to keep his head in the sand (where global events are concerned), to hope that life might carry on in a familiar trajectory; Ishiguro shows in this novel that no one can or should keep their blinders on forever. Not a light-hearted read, and in the end, I was quite glad to be finished with it so I could move on!
Chasing Slow by Erin Loechner.
Liked(ish) ♥♥♥
"I am publicly lauded for championing a slow living movement, and I have found myself living fast…isn't that hypocritical?" This sentence accurately summarizes the entire book, which is a tale of Erin Loechner's interest in simplifying her life…but through the book, she never really seemed to slow down or find contentment. She continues to chase success, prestige, and more stuff, often through the perks of her job being semi-famous online. I honestly found the book a little confusing, and not that helpful to me in my own desire to pare down. She spent many paragraphs complaining about the stress of being a successful blogger, which discouraged me and caused me to question whether I should bother trying to increase my online/social presence for Savored Grace. I suppose we are all on a journey, and none of us ever truly "arrive" at a state of perfect balance, but I wish I could have gotten more out of this book than just a memoir.
The Ministry of Motherhood: Following Christ's Example in Reaching the Hearts of Our Children by Sally Clarkson.
Enjoyed ♥♥♥♥
I had started this book when my oldest was 1 and didn't make it very far because I couldn't yet imagine the heart issues I would face with my kids when he was still so young. But now that my kids are 5 and 2, we are facing so many heart issues, and this book blessed me tremendously! This book was a reminder that parenting isn't just a job, it's a ministry. It tackled several different ways we can focus our attention as moms, but by far my favorite snippet of advice was to lean in to bedtime—not to cut it short when my kids want more attention than I feel I have energy to give after they are tucked in, but to view bedtime as an opportunity to build relationships and know my kids' hearts. I would recommend this book to any mother!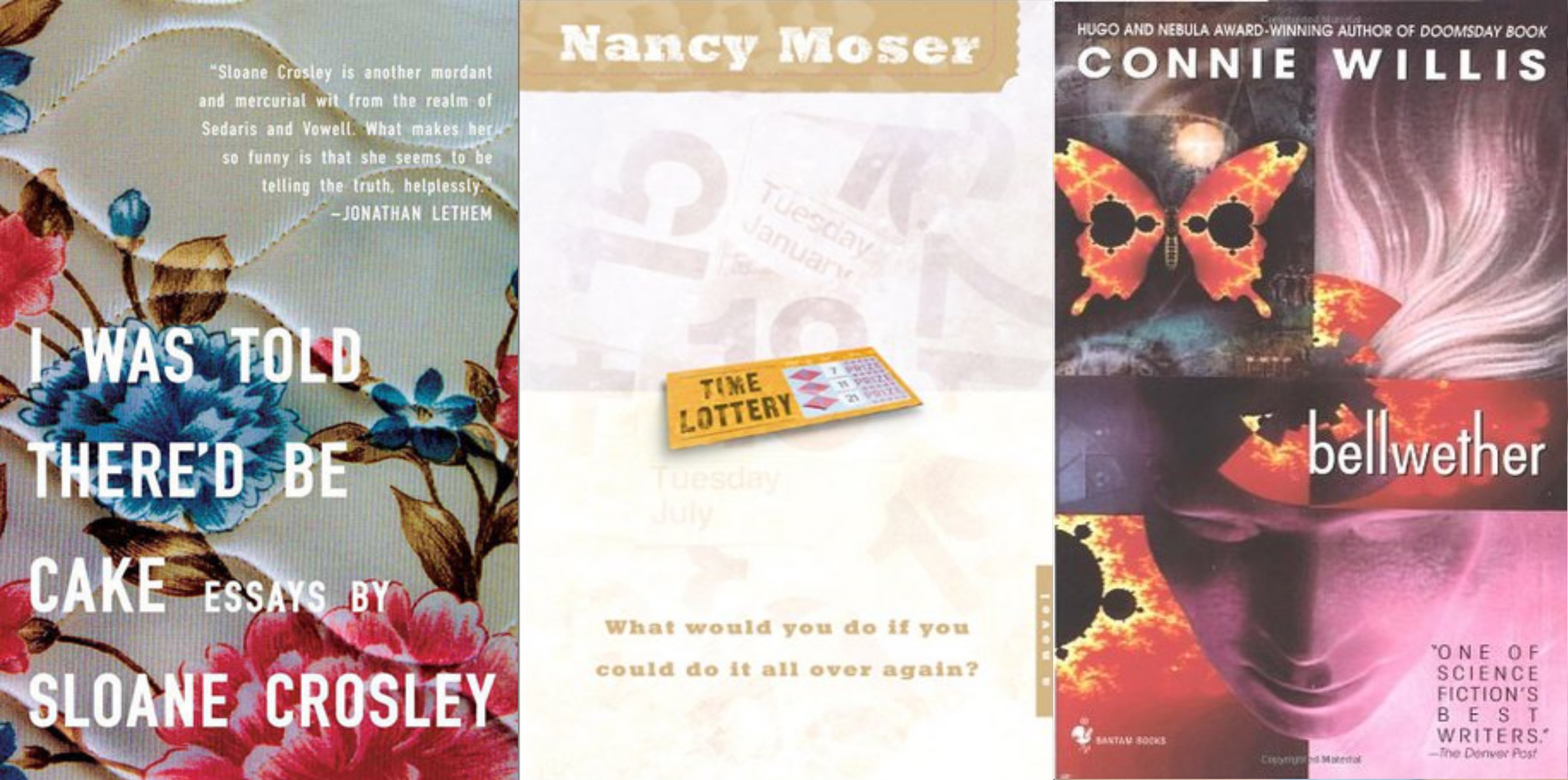 I Was Told There'd Be Cake by Sloane Crosley.
Barely tolerated ♥
The title of this book (which is what drew me in the first place) describes it perfectly: I thought I was going to get cake, but this book was a cow pie. I persisted in reading out of sheer stubbornness, although I ultimately skipped a few essays that were just too crude; then I literally slam-dunked it in the recycling bin when I finished it. The essays were very sardonic, and representative of an unusual collection of experiences and a highly self-centered perspective on them. I did enjoy her comment in one essay about how growing up in the suburbs is not likely to offer a lot of character-building or defining moments (it rang true for my childhood, and I wonder how the suburbs will affect…or not effect…my own children?). Beyond that, I found little to redeem this abysmal book.
Time Lottery by Nancy Moser.
Liked ♥♥♥
As is often the case with Christian inspirational fiction, this book was not "great literature." The characters were rather one-dimensional and events often progressed without truly logical connections between them or useful research/details to lend credibility to the story line. All the same, it was a fun, quick read that prompted me to think about choices I've made and regrets I have in my own life, and whether I would desire to change them.
Bellwether by Connie Willis.
Enjoyed ♥♥♥♥
Connie Willis is, unquestionably, a genius. This novella was very different from the first two books of hers I read (To Say Nothing of the Dog and Doomsday Book) in that it wasn't actually within the sci-fi genre, but it still seamlessly blended a love of history and literature with a love of hard sciences (so much research goes into her books!). Willis is a master of hyperbole and literary irony. This satire poked so much fun at popular trends and late 90s corporate culture. I predicted the ending pretty accurately, but I think that's what Willis meant readers to do. It was such a quick and fun read, and I enjoyed every minute of it!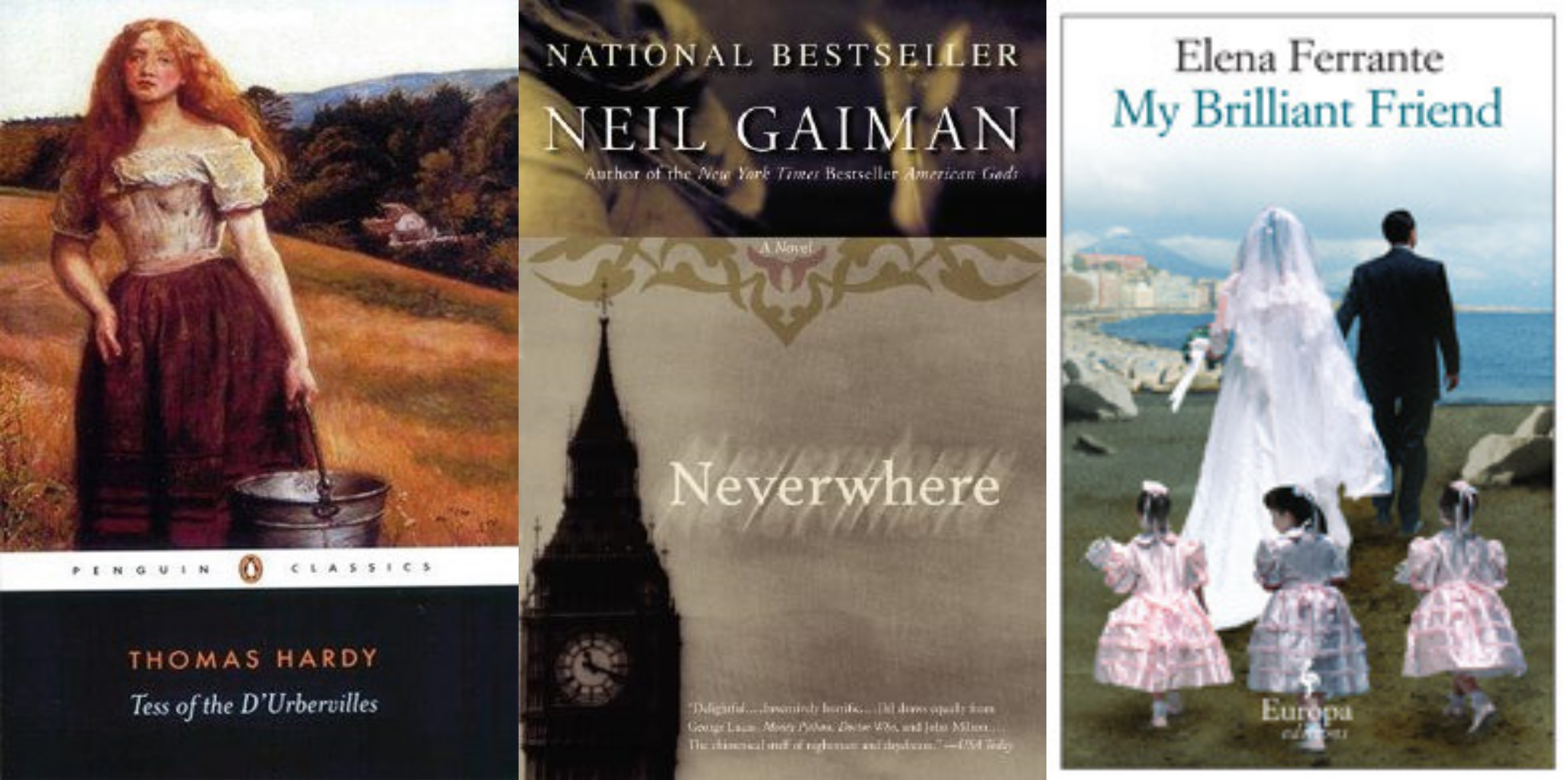 Tess of the d'Urbervilles by Thomas Hardy.
Barely tolerated ♥
I tried so hard to like this book, I really did. This was at least the second time I attempted to read it, and much like the first time, I was ready to give up after the first of seven parts in the book, but I forced myself to carry on. This book was just truly miserable, which, I suppose, means it accomplished its goal with aplomb. While I did somewhat enjoy reading about the ins and outs of rural life, the lengthy descriptions of scenery were tedious to the extreme. The surprise ending (no, I had not known the ending before I started) ruined whatever goodwill I had managed to build up for the story after I finally caught its rhythm around page 250. This book did not give me joy.
Neverwhere by Neil Gaiman. (Audible)
Loved ♥♥♥♥♥
This book was dark, set underneath London, and full of scary things. I loved trying to find my way through this netherworld with the bewildered main character, Richard, almost as much as I loved Neil Gaiman's narration, which was brilliant. This story was creative and wild and full of intrigue. I was immediately attached to several of the chatacters, who seemed like real people, wavering between serving themselves and serving others on their journey together. A great (but dark) read!
My Brilliant Friend by Elena Ferrante. (Audible)
Liked(ish) ♥♥♥
This first book in the Neapolitan series was interesting, but also very hard to enjoy. My Brilliant Friend is set in a neighborhood outside Naples in the 1950s, and it follows a pair of girls who have a rather one-sided (competitive? codependent?) friendship. What I loved: the mass of characters that built an image of what small-town life was like in a time when your community meant everything and might have been all you'd ever really know. I wonder whether Italian communities were (are?) really that volatile. What I didn't like: the first-person narrator is so obsessed with her friend that it became increasingly uncomfortable to watch her base her entire life on someone else, rather than on truly finding herself. The story of the two friends is far from over (there are three more very long novels!), but I can't decide whether I want to read the next one. As an aside, I did not love the audiobook narrator, Hillary Huber, who often would mix up endings for Italian names, which made it very challenging for me to follow whether characters were male or female for the first two hours.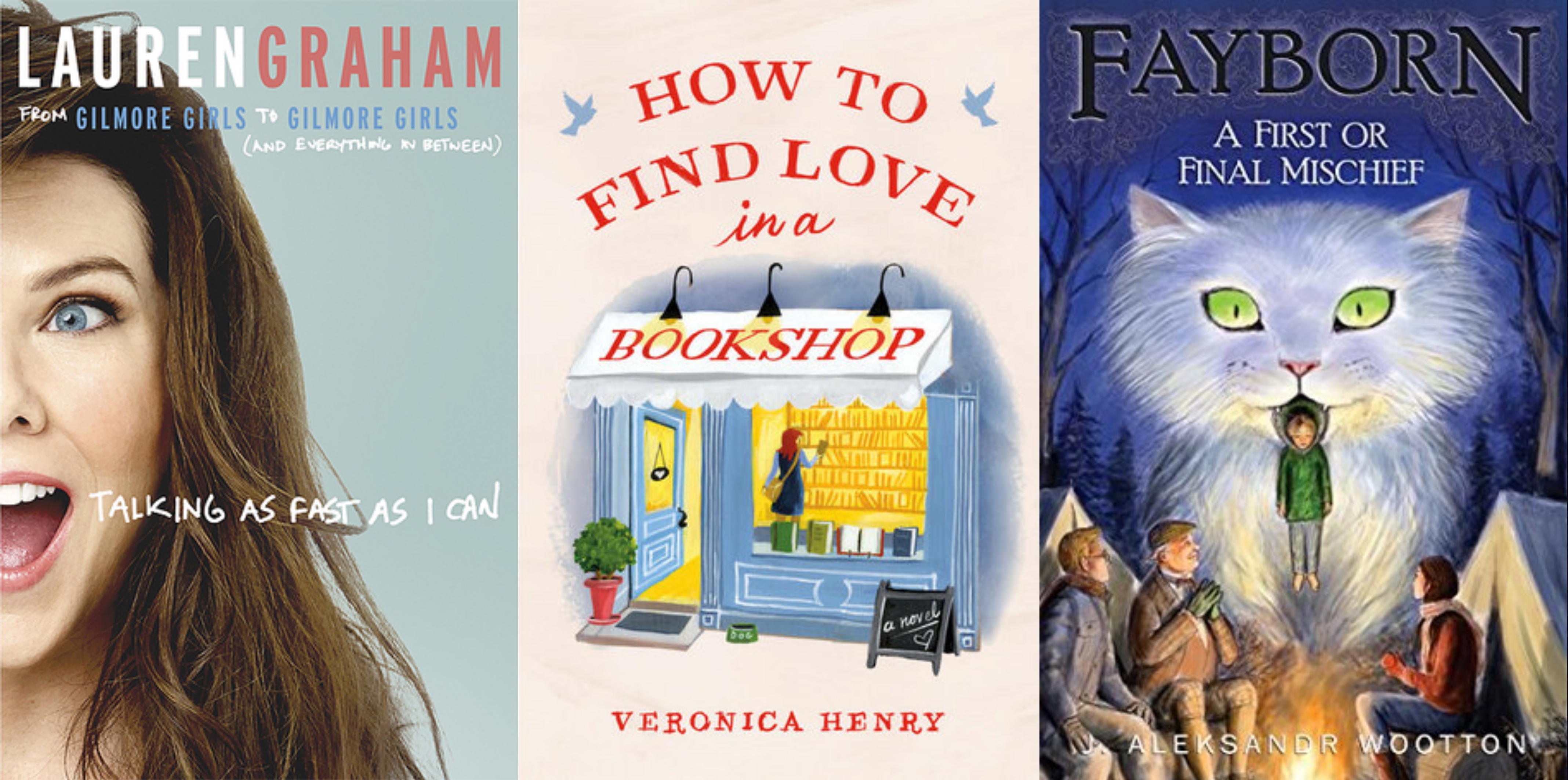 Talking as Fast as I Can: From Gilmore Girls to Gilmore Girls and Everything in Between by Lauren Graham. (Audible)
Enjoyed ♥♥♥♥
When I heard Lauren Graham had written a memoir, I was both excited (because I loved her novel, Someday, Someday Maybe) and not interested (because I utterly hated the Gilmore Girls reboot, and I wanted some distance from the disappointment). When I finally listened to her narrate it—which is definitely my favorite way to experience a memoir—I was fairly delighted by most of it. Of course, the parts when she discussed Gilmore Girls left me feeling frustrated all over again (and confirmed my suspicion that the reboot had been more driven by the actors wishing they could go home again than about a story that deserved to be told). But the book wasn't only Gilmore: Graham flippantly explains the highlights of her life and career, as well as quirks she has observed about her profession(s) in general. Most of the book is very tongue-in-cheek, including the many name-drops, but I truly loved her advice to writers and her advice from Old Lady Jackson about looking away from screens and living in the present.
How to Find Love in a Bookshop by Veronica Henry. (Audible)
Enjoyed ♥♥♥♥
Somehow, despite being largely set in a bookshop, the books in this story ended up performing more as ambience than inspiration, which surprised me. The story moved along quickly and followed a huge cast of likeable characters. I looked forward to each minute of listening. I loved the enthusiasm of the narrator, Julia Barrie, who added a special charm (and British accent) I know I would have missed if I had read the story on paper. This book was a lovely, lighthearted break from the heavier, more somber books I had been reading.
A First or Final Mischief by J. Aleksandr Wootton.
Enjoyed ♥♥♥♥
The third book in the Fayborn trilogy, A First or Final Mischief follows a band of misfit magical creatures as they attempt to restore the kingdom of Faerie without losing their wits, their loved ones, or their freedoms. This book, like its predecessors, is so smartly written; it draws on all kinds of traditional lore and mythology to build a truly fantastic tale. I found each new scenario engaging and I enjoyed trying to figure out how Petra would respond to riddles, challenges, and dangers. The ending was the ultimate climactic moment—I whizzed through the last 50 pages quicker than I would have believed!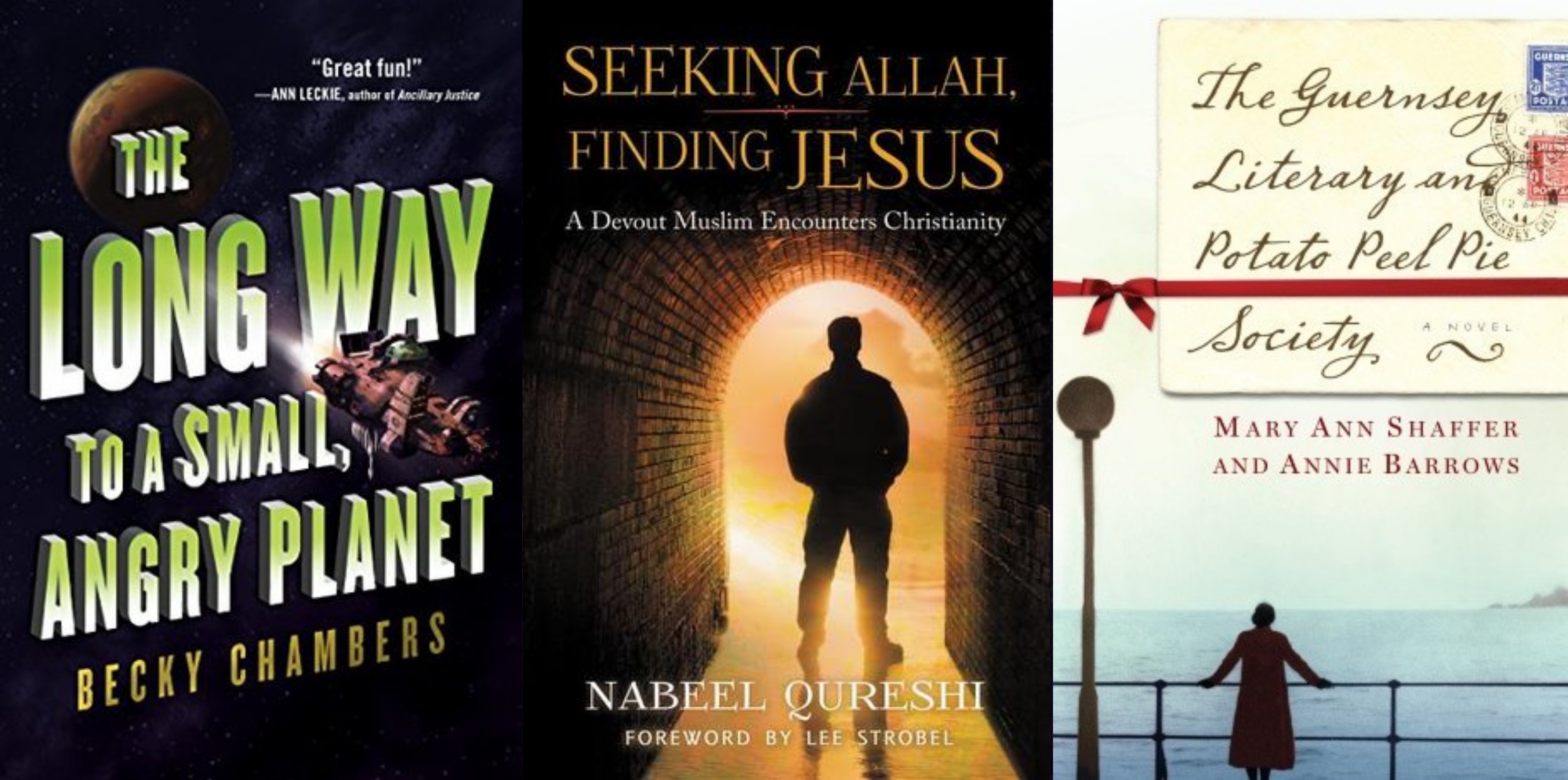 The Long Way to the Small, Angry Planet by Becky Chambers.
Loved ♥♥♥♥♥
I read this book for my book club, and I so, so loved it. It is set in the distant future, in (mostly) distant space…which, it turns out, is widely populated by dozens of species on hundreds of planets that can be reached through manmade wormholes. This book followed the crew of one ship as they journeyed through space. I loved how carefully Becky Chambers crafted each species, and how un-human they all were, from their physiology to their language to their uniquely different cultures. This book really made me think about what it means to be human and what it means to care for and respect others. It was witty and enjoyable, and I will definitely read the next book in the series.
Seeking Allah, Finding Jesus: A Devout Muslim Encounters Christianity by Nabeel Qureshi.
Loved ♥♥♥♥♥
I must confess that I normally stay away from topics that I think might stress me out. I'm often a head-in-the-sand kind of girl, which isn't ideal. I had my doubts about engaging with a book that would force me to examine two world religions (one of them mine!) that are at the heart of so much political upheaval. But I utterly loved this book. I feel that I have such a stronger understanding of Islam, and I always do love memoirs written from the heart. It broke my heart to learn that Nabeel Qureshi had died this year, but I am so grateful that he investigated his faith intellectually and wrote this book to represent what he learned! I would recommend this book to…everyone. Ever.
The Guernsey Literary and Potato Peel Pie Society by Mary Ann Shaffer and Annie Barrows. (Audible)
Enjoyed ♥♥♥♥
This book had been on my list for several years, and, given my themes this year of books about WWII and books about bookstores/book clubs, I decided to go for it! The story was fairly sweet, told through letters written just after the close of the war. Each character had their own unique voice as they shared their experiences during the war and how books and friendships provided a safe haven during the cruel years. I was eager to follow them through to the uplifting end!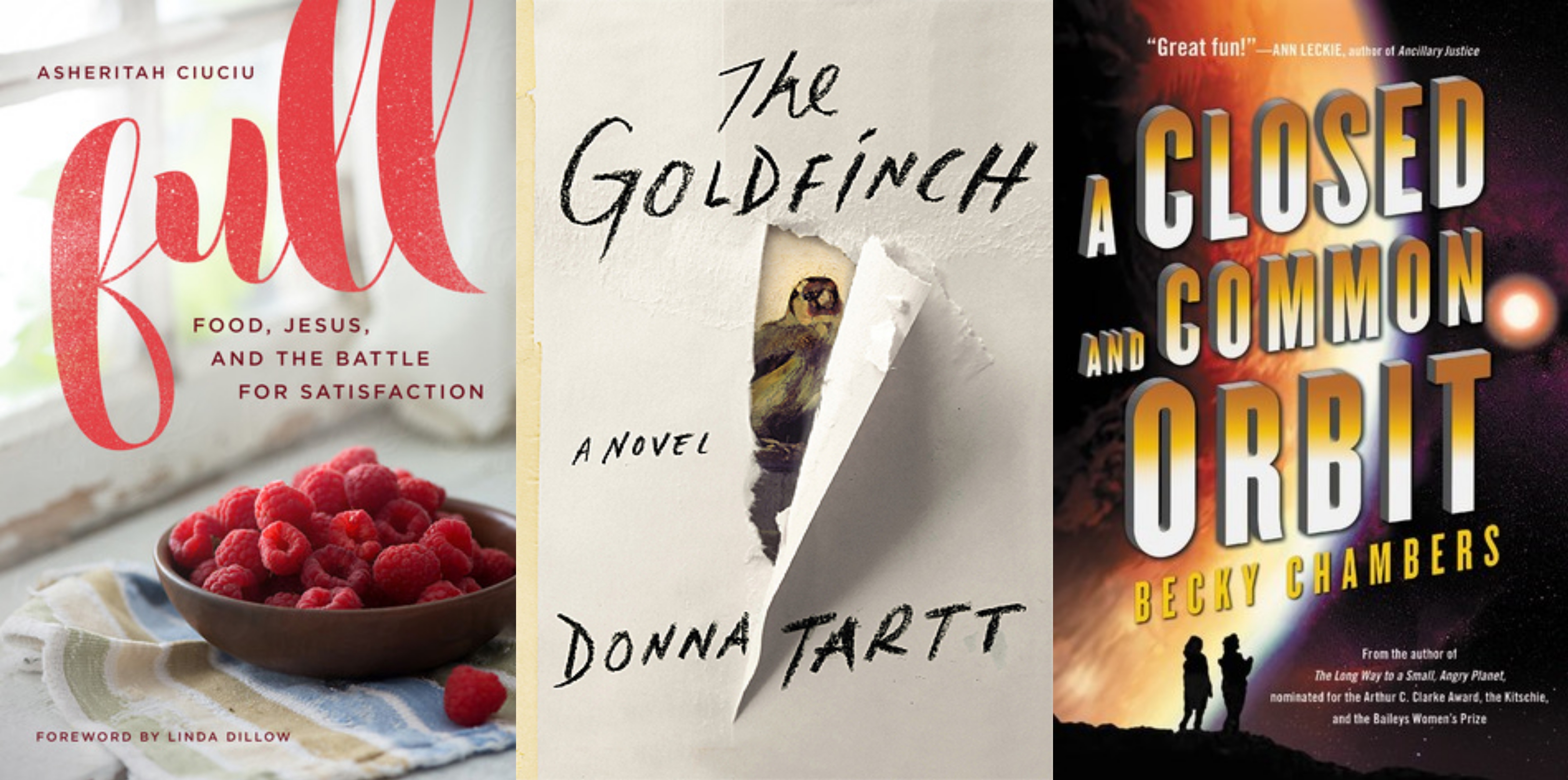 Full: Food, Jesus, and the Battle for Satisfaction by Asheritah Ciuciu.
Enjoyed ♥♥♥♥
I read this book for encouragement on my long journey to find my joy in the Lord rather than in food. There were a lot of great ideas within this book, particularly the idea that we must ask God to give us a passion for him that supercedes anything else. This book was meatier than the first book I read on this subject (Made to Crave), and a bit harder to get through; there were some topics that I know aren't for me, at least not yet (e.g., fasting is probably not right for someone recovering from an eating disorder), but I particularly valued this book for showing that finding satisfaction in the Lord is a process and requires perseverance rather than an instantaneous transformation.
The Goldfinch by Donna Tartt.
Liked ♥♥♥
This novel paid such close attention to detail, and it was so thoughtfully crafted, but it was very hard on me emotionally. I gulped down the first 200 pages, read in horror through the next 200 pages, and then felt incredibly depressed all the way to the end. About halfway through the book, the main character, Theo, laments that no one loves him, and I realized it was actually true: his downfall was predicated by the fact that no one watched over him or invested in his emotional wellbeing. The final pages were a miserable philosophy that made me wish Theo could find his hope in God.
A Closed and Common Orbit by Becky Chambers.
Enjoyed ♥♥♥♥
I so loved the first book in Becky Chambers' Wayfarers series that I wanted to read the second book right away. This book, much like the first, unfolds a totally unfamiliar world through the eyes of a person who is completely innocent and unaware. In this book, Chambers explores what it might be like to be a sentient AI in a humanoid body, and what it might be like to grow up brilliant but with no one to provide for your basic physical needs. I loved the back and forth of the two stories, and this was a great, fun read, but it was lacking some of the magic of the first book, The Long Way to a Small, Angry Planet.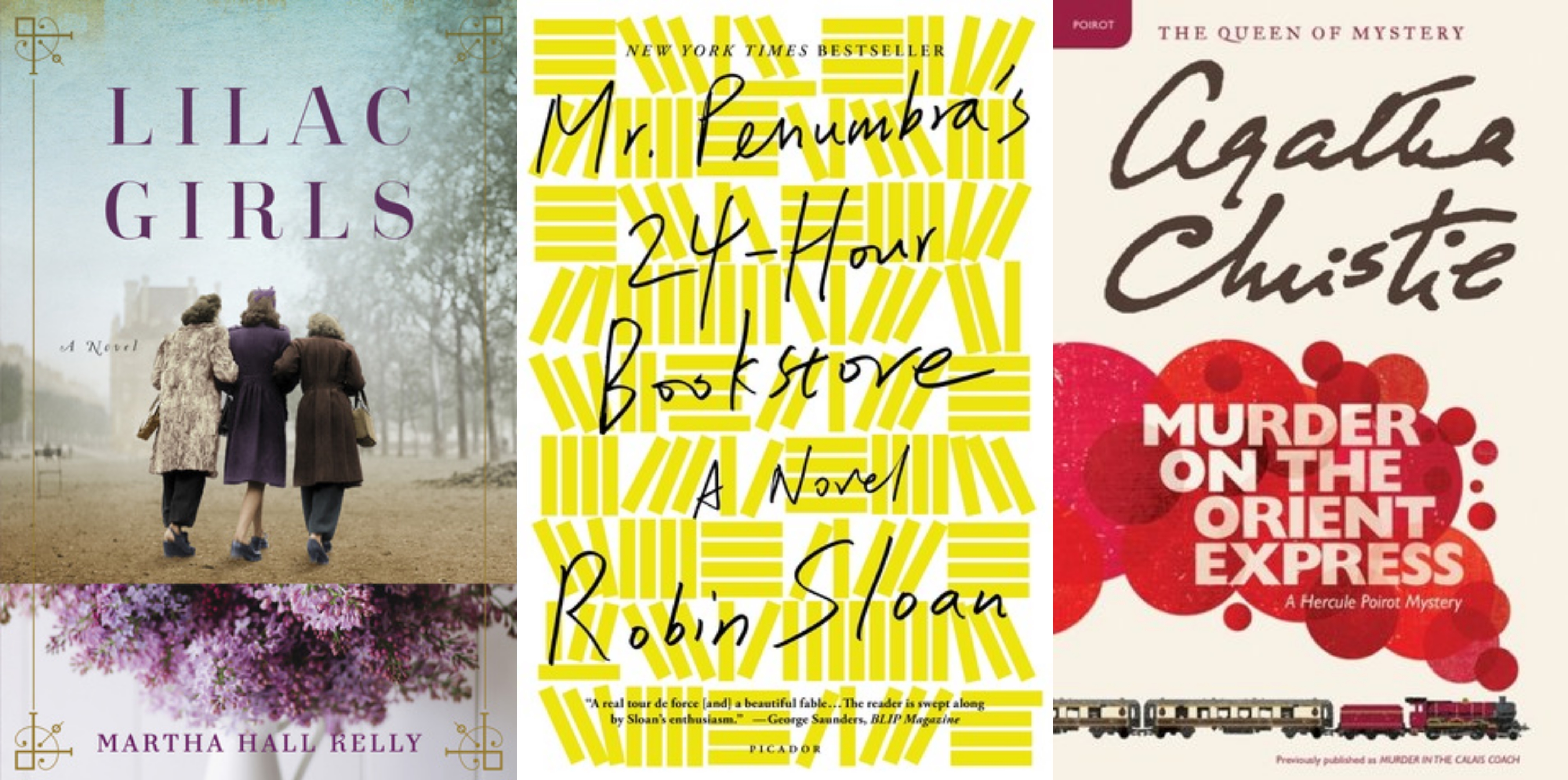 Lilac Girls by Martha Hall Kelly. (Audible)
Loved ♥♥♥♥♥
Wow, was this ever a hard book to listen to. This book followed three women through World War II and two decades beyond: a German doctor, a New York socialite, and a Polish political prisoner. I found the book compelling and mesmerizing, so incredibly well researched and well written that I often felt miserable and despairing while I listened. Truly a powerful set of stories, but not for the faint of heart!
Mr. Penumbra's 24-Hour Bookstore by Robin Sloan. (Audible)
Tolerated ♥♥
This year I decided I was going to read a bunch of books about bookstores and book clubs, which is why I picked this book up. It was a test of my will to make it to the end. This book is told in first-person perspective, and the main character was trite/lacking real personality beyond a love of all things geek chic. The whole book was highly self-congratulating, and no problem was too challenging to solve after a night's sleep. I didn't expect the book to be about a secret society, but even that was not well thought-out. I found this book to be very annoying; if you thought Ready Player One was a great read, you will probably like this book because the writing style is identical, but otherwise, give it a pass!
Murder on the Orient Express by Agatha Christie.
Enjoyed ♥♥♥♥♥
This was my first ever Agatha Christie! The pacing was slow, but full of amazing details. Hercule Poirot is careful in his evaluations and plays his thoughts so close to the vest—I was honestly guessing about the ending until it arrived, which, for me, is the key to any great mystery!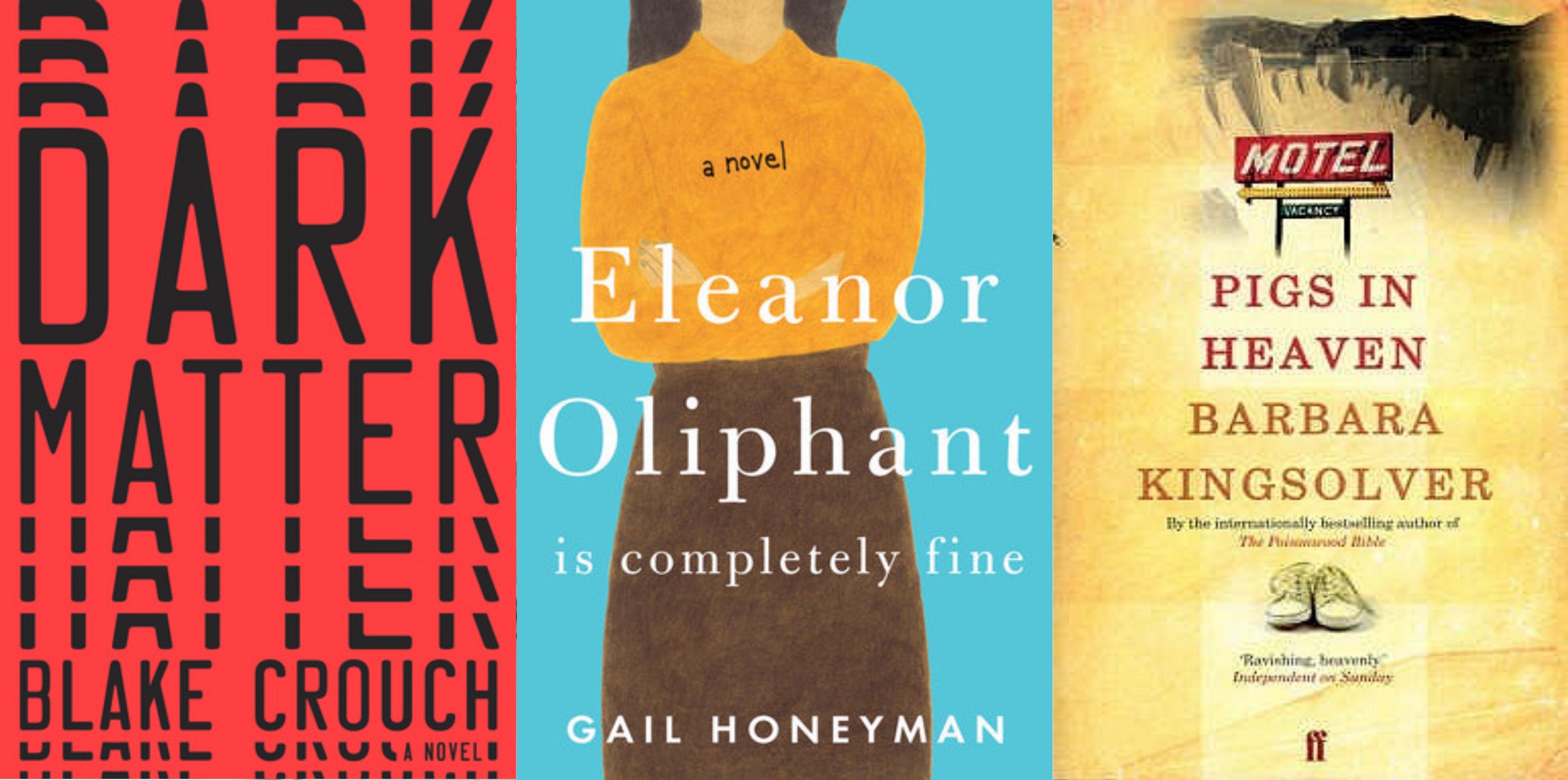 Dark Matter by Blake Crouch. (Audible)
Liked ♥♥♥
This was a fluff read, but it was full of action and even a few twists I didn't predict! (Small spoiler ahead) The main character, Jason, an atomic physicist, invented a machine that allowed him to enter parallel universes…but the catch is that it was actually a different version of him who did so, and that version stole our Jason's life! The rest of the book is about how our Jason tries to return to the life and family he knew. Blake Crouch did a lot of careful thought about how this unbelievable scenario could play out, and Jason was realistic in all of his incarnations. Except for one or two scenes, I found this book enjoyable!
Eleanor Oliphant Is Completely Fine by Gail Honeyman. (Audible)
Liked ♥♥♥
It was kind of painful to listen to this book, honestly, although I think both the author and narrator did a brilliant job. This book had been compared to A Man Called Ove, so I expected a less malicious voice to lead the way. It turned out that Eleanor Oliphant was mentally ill, due to a very traumatic incident in her childhood; throughout the book, she became a stalker, lived in a semi-imaginary world, and was generally self-destructive. While she did grow into someone more balanced, it took quite a while to start on that road, and the book was generally quite awkward.
Pigs in Heaven by Barbara Kingsolver.
Enjoyed ♥♥♥♥
This book is the sequel to The Bean Trees, a book I loved reading many years ago. Kingsolver has a real gift for making realistic settings and characters, and even showing the unlovely parts of the people in her stories. Pigs in Heaven revolved around a custody dispute between an adoptive mother and the Cherokee nation, and Kingsolver took what is a very painful topic and wrote about it with such love and respect. I loved learning more about the Cherokee Nation, and my heart broke as I read about a single mother who was struggling to keep herself afloat. A wonderful read.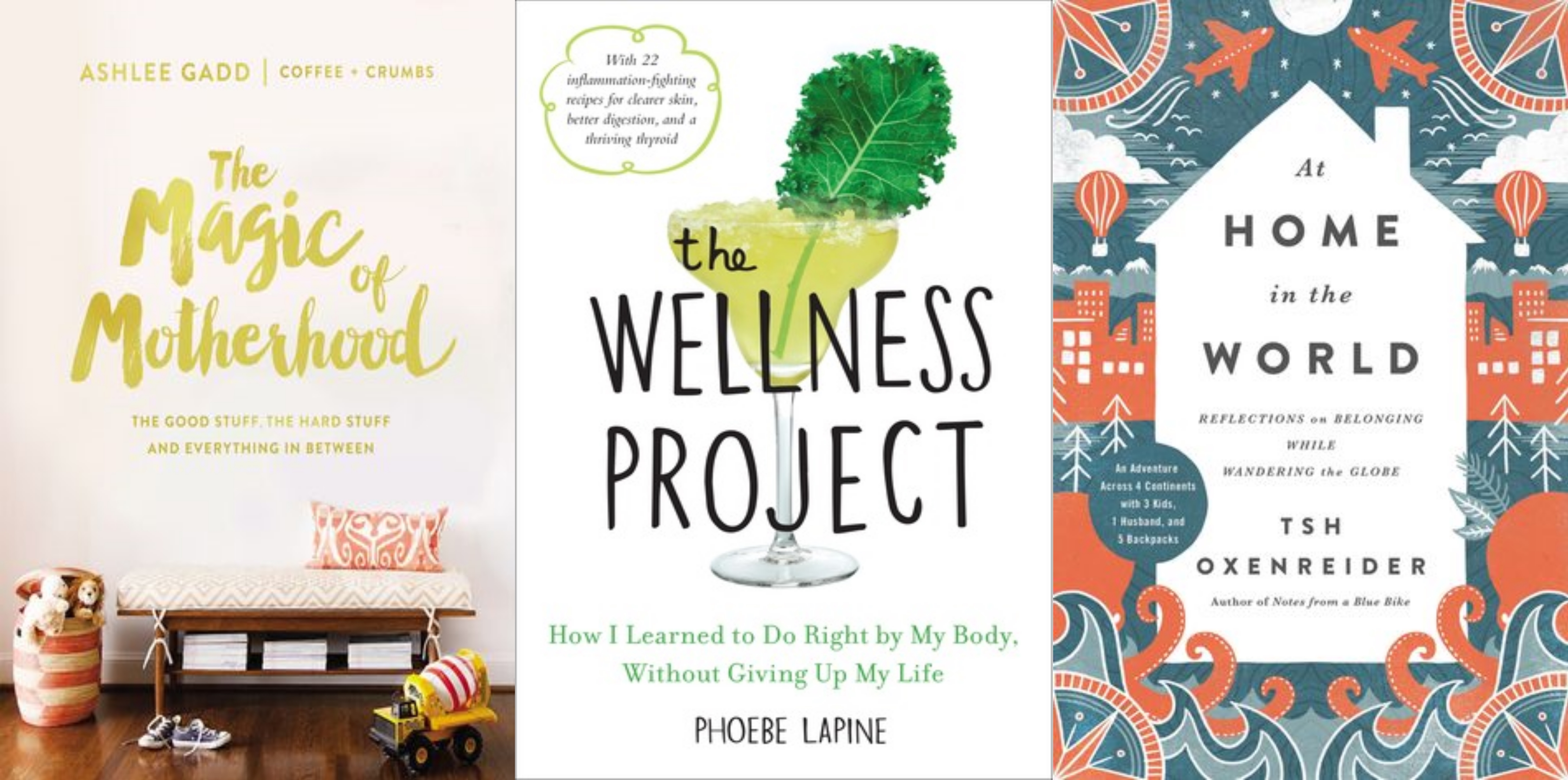 The Magic of Motherhood by Ashlee Gadd and Coffee + Crumbs.
Enjoyed ♥♥♥♥
I love listening to the Coffee + Crumbs podcast, and reading the essays in this book was as funny and encouraging as the podcast. There were some really raw, emotional stories, which I found very refreshing, and amusing moments to cut the tension of young motherhood. I was glad this book was not an advice or how-to book, but a book about how moms are feeling as we ride the rollercoaster with little ones. I do think the book was maybe most aimed at moms who are currently in the baby stage, which I am currently not, but there were also many essays offering a peek into marriage, body image, and older kid stages!
The Wellness Project: How I Learned to Do Right by My Body, Without Giving Up My Life by Phoebe Lapine.
Loved ♥♥♥♥
While Phoebe Lapine and I are very different (chiefly, she suffers from an autoimmune disorder and I do not), I loved reading about her yearlong experiment for whole health! Many of the things she tried were things I have either done myself or contemplated, and after reading this book, I feel very encouraged to find my own way through better self-care. She emphasizes over and over that extreme lifestyle shifts may not be sustainable, and implicitly encourages readers to strike a balance that allows them to enjoy their self-care. Practices she tried include: a vice detox (sugar, alcohol, caffeine), replacing toxic skincare and cleaning products, drinking more water, exercise, prioritizing quality sleep, eating at least half veggies every meal, promoting microbiome health, and meditation. I wish she had not used foul language in the writing of this book, but her synthesis of what she has learned was very helpful to me as I decide where to focus my own attentions.
At Home in the World: Reflections on Belonging While Wandering the Globe by Tsh Oxenreider.
Liked♥♥♥
I picked up this book because I wanted to be inspired to travel with my kids, and I have always loved the idea of picking up and living a year in a foreign country. But we had a very stressful trip to Ireland with kids in 2016, after which I had made a mental vow that sort of looked like, "Never again!" I hoped this book would encourage me that kids can be great travelers, and in some ways it did, but without any real, practical ideas or rubber-meets-road tales. I had a hard time really getting into this book for about 100 pages, but that may be because I have never traveled in Asia, and I couldn't catch the rhythm. This book was very poetic, and definitely intriguing; it was much more about the idea of home than I had expected for a travel book, but I suppose that's my own bad for not comprehending the title.
Happy reading in 2018, friends! Can't wait to see what you are reading this year!