A weird thing happens when you have a newborn.
Suddenly, you find yourself revealing way more about parts of your body, your sleep habits, and bodily functions in general to your friends (and near strangers) than you ever would have otherwise. If you are breastfeeding, your entire life suddenly feels like it hinges on your ability to mimic a dairy cow. And if that is going poorly, for one reason or another, you may find yourself anxiously spending hours searching the internet, trying to figure out how to be a better cow.
Which is how I discovered lactation cookies.
But let's be honest…calling them "lactation cookies" just helps nursing mommas justify eating cookies several times a day. They're still just cookies. Delicious cookies.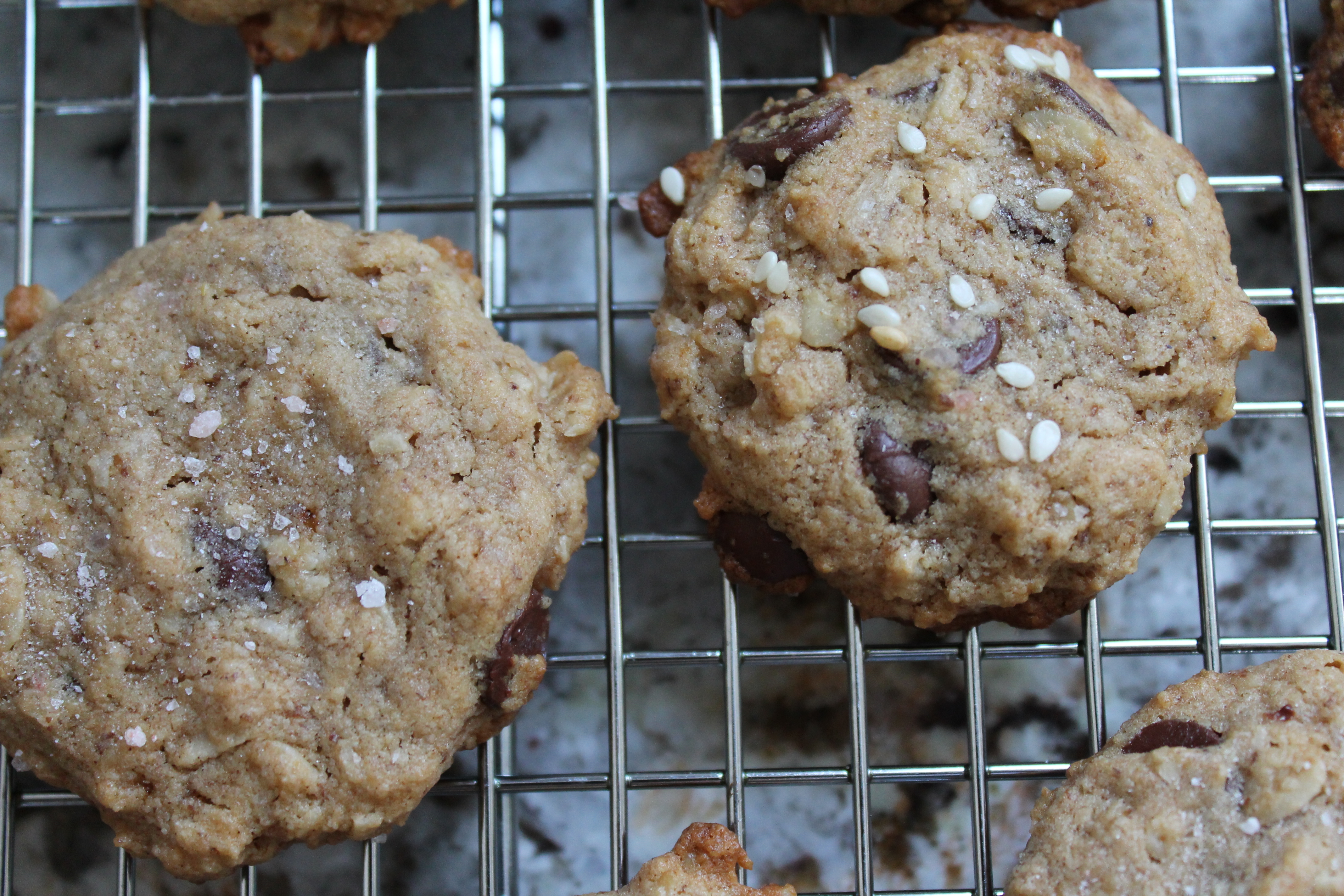 In fact, this recipe is fairly unlike other lactation cookie recipes, which are basically just suuuper sweet oatmeal cookies plus brewer's yeast. Instead of relying on brewer's yeast, which I didn't want to buy (and I read is extremely bitter and can even cause yeast infections, yuck), I read up on galactagogue foods, which are foods that naturally increase the milk supply. Thus, instead of a bunch of herbs and nutritional supplements, these cookies are just made of food! Regular food that you likely have in your fridge and pantry (erm…if you like to eat on the healthy side).
And lo and behold, it turns out that one of my favorite cookie recipes actually contained a ton of naturally lactogenic foods already! I simply tweaked it to add oats, et voilà. Cookie time.
–And in case you were wondering, after I started eating these cookies, my milk supply issue resolved itself. I definitely don't credit the cookies entirely…there was also pumping, other non-cookie nursing-friendly foods, and a whole lot of nursing-on-demand, but I'm sure it didn't hurt that I was enjoying these cookies while I tried to sort out the issue with my sweet baby girl!–
These cookies contain tahini (sesame seed paste), almonds, flax seeds, and oats, all of which are believed to help increase milk supply if you need that, but more broadly, are just good for you!
I tested this recipe a whole lot for you guys. By which I mean both that I made several versions…and that I ate them all. Yes, I need to hop back on the moderation train. But the benefit to you is that I can guarantee these cookies are excellent, and I can even recommend a few variations and let you know what effect they will have on texture!
Now on to cookie making!
First, let's combine all the dry ingredients. Normally, I don't like cookie recipes that require me to do this, but in this case, since there are so many dry ingredients (sorry), I do like to combine these ahead of time.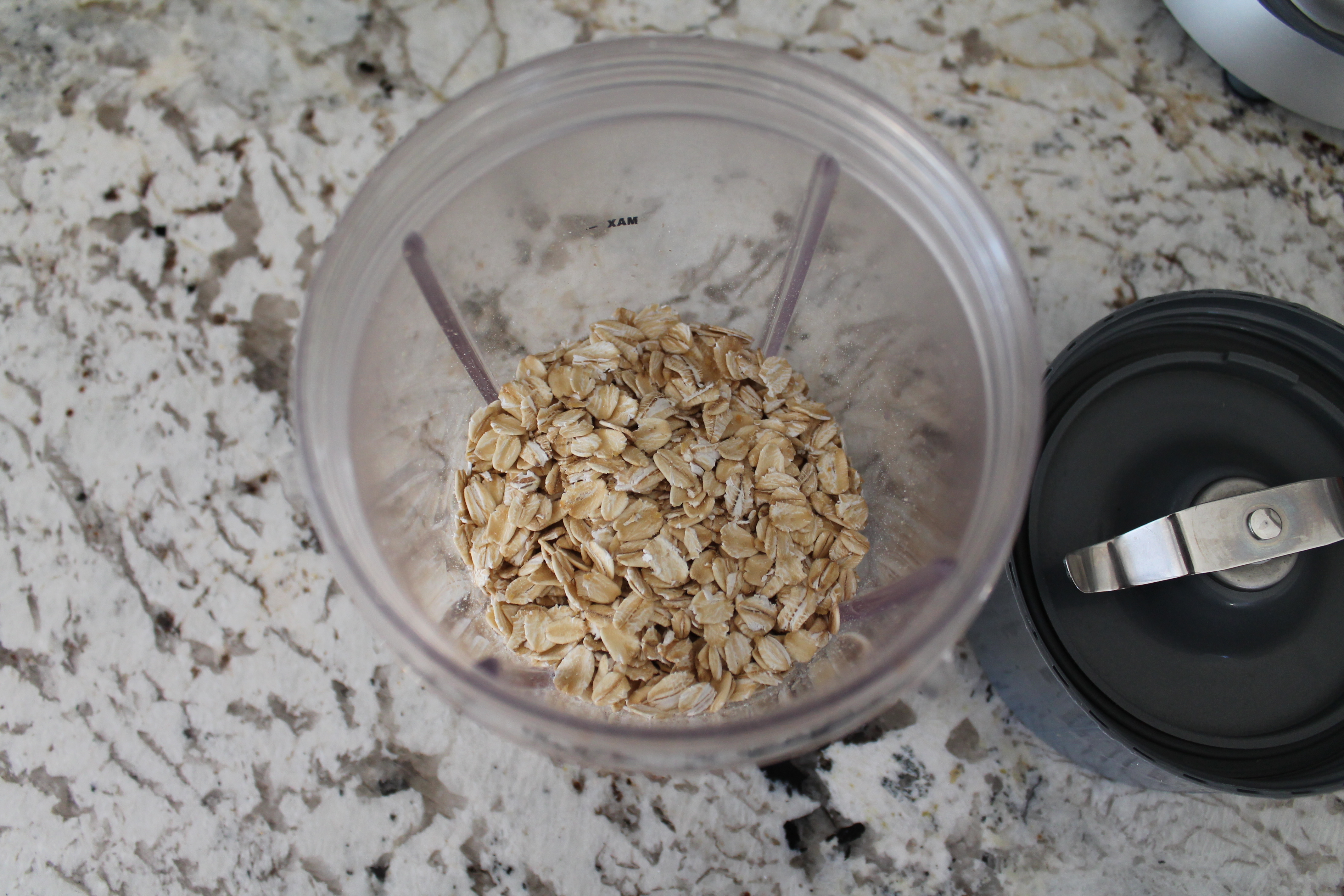 The most nursing-friendly ingredient is oat flour. Of course, almost any nursing momma can tell you that oats are supposedly good for milk supply, but…why? Iron, phytochemicals, and fiber play into some of the theories, but honestly, it's just folklore that oats will help with nursing, and no one can confirm, deny, or explain this wives tale for sure. Nevertheless, it can't hurt!
I typically make my own oat flour by blending oats in my Nutribullet (the measurement is the same: start with ¾ cup rolled oats to end up with about ¾ cup oat flour), because I find it easier to keep regular oats on hand for multiple uses, but I do believe you can buy pre-ground oat flour if you prefer that.
Combine the oat flour with almond meal (raw almonds are great for milk production!), regular all-purpose flour (I have tried white wholewheat flour for the extra whole grain goodness, but the cookies spread even less during baking with the extra added fiber of the whole grain flour), coconut sugar (which I prefer these days due to its low glycemic index), cinnamon, baking soda and powder, and salt. Whisk all of the dry ingredients together.
If you are making these to help with nursing, and you are really invested in trying to increase your milk supply, you can also add a small amount of fenugreek or even ground fennel to the dry igredients. Fenugreek is an herb that is shown to help with milk supply, but only in large quantities. It tastes like maple candy, which isn't bad, but it has a lingering aftertaste as well…so I really don't recommend adding more than half a teaspoon to this recipe or else the cookies will become overwhelmingly maple-y. It would honestly be more effective for nursing purposes to just take the capsules. But if you want a tiny boost, or it will make you feel like these cookies are more acceptable as a lactation aide, by all means go ahead and add it here!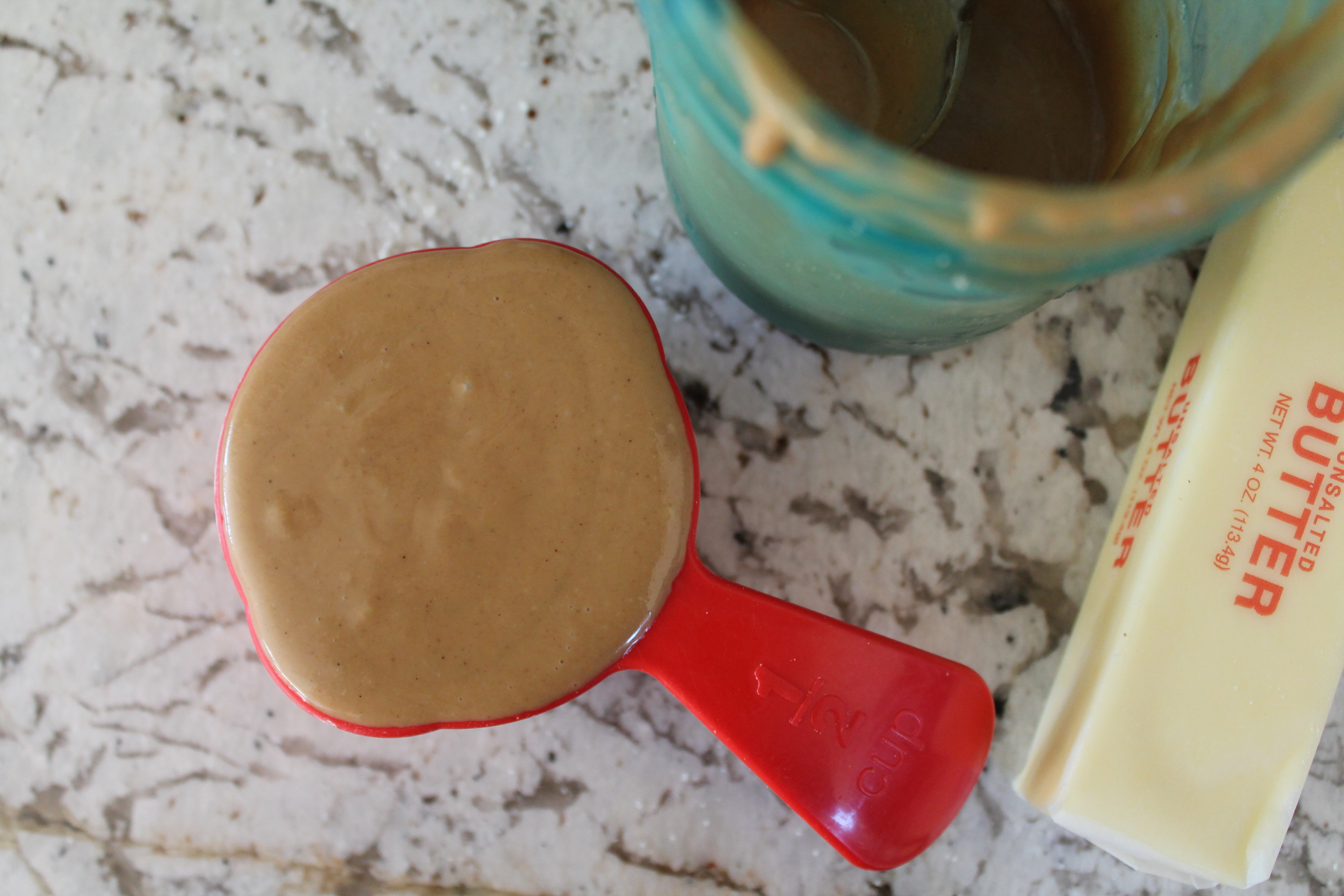 Start by blending unsalted butter with tahini. Tahini is a real nutritional powerhouse. In addition to being a galactagogue, it is full of protein, omega-3 fatty acids, magnesium, iron, and B vitamins, which mean that it can fight heart disease, fight cancer, improve bone density, manage blood sugar, and prevent anemia. It can also decrease stress and improve cognitive function. Tahini is insanely good for you. Why have I not been eating tahini on every single thing??
If you need to go dairy-free, you could substitute solid coconut oil. The cookies may actually spread a bit more, and they will definitely have a coconut flavor, which is why I prefer butter: with all the flavors of tahini and cinnamon and nuts going on, butter is neutral, butter doesn't compete!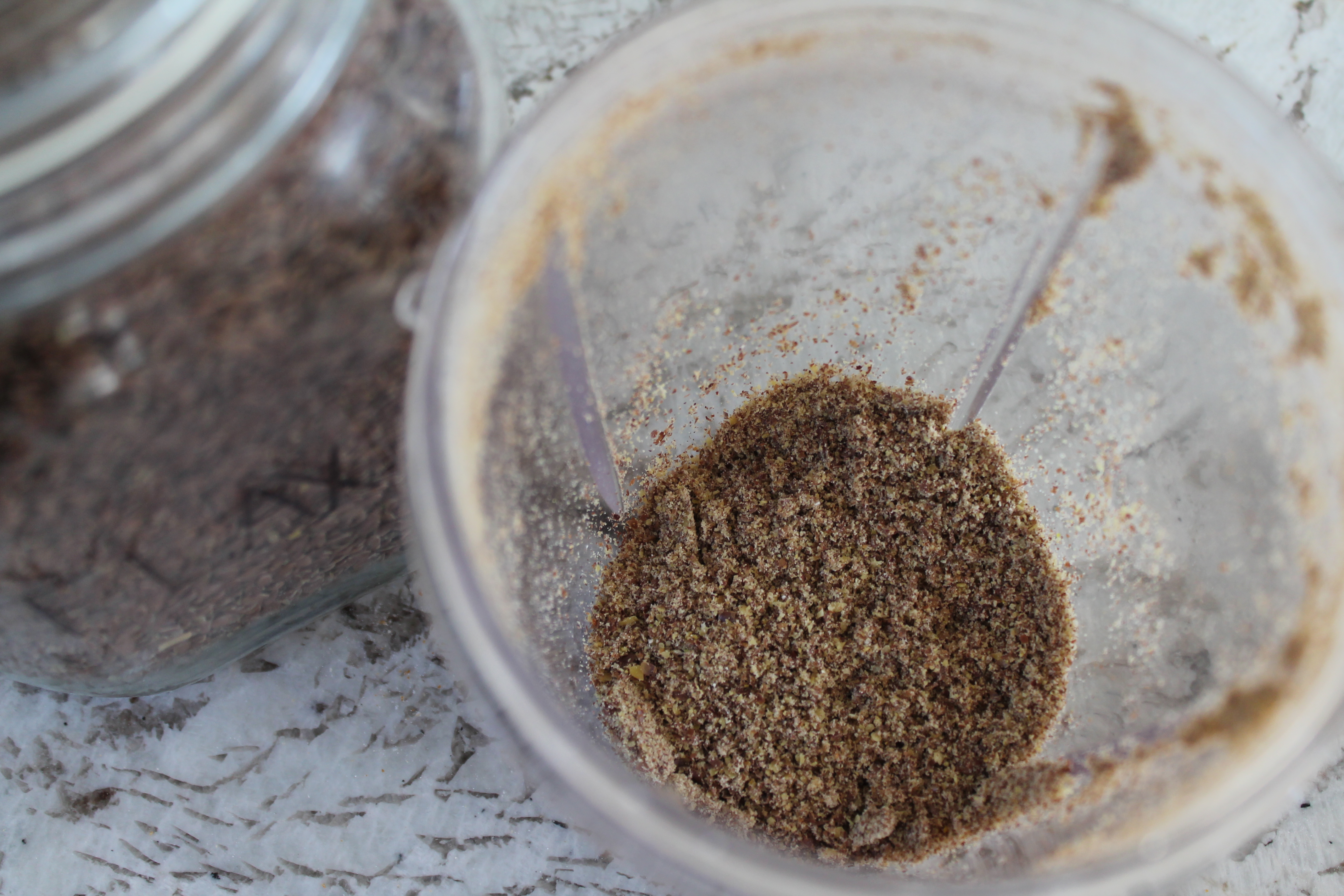 Next, make the flax eggs. Flax is very good for you (and is colloquially considered to be a nursing-friendly supplement), but your body cannot digest it unless it is ground. Flax eggs can be substituted in cookies and brownies for regular eggs with very little textural difference in the end result! One large egg contains about ¼ cup total liquid, so a flax egg consists of 1 tbsp. flax seeds, finely ground, blended with ¼ cup water. We actually need 2 flax eggs for this recipe.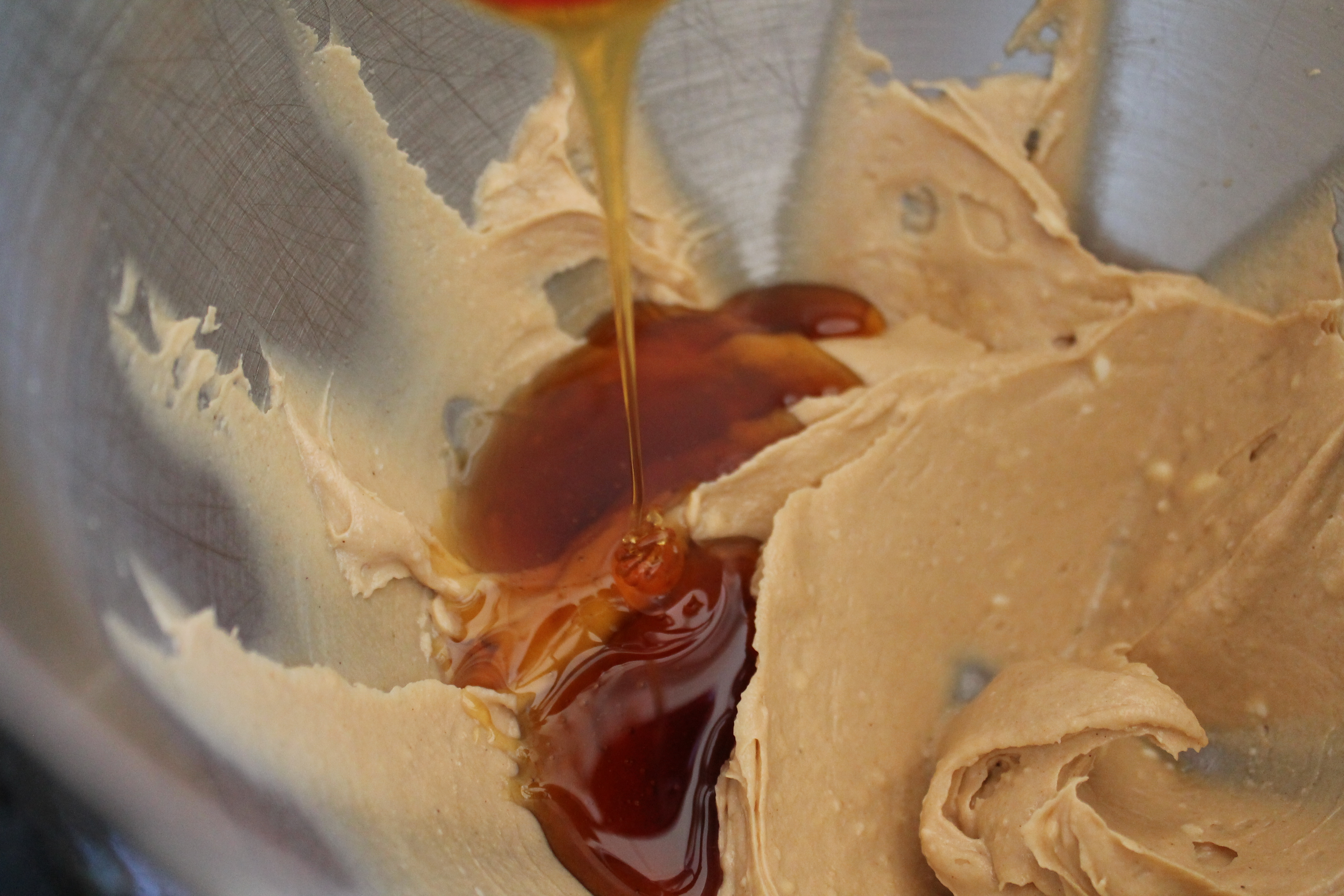 Blend the flax eggs, along with the raw honey and vanilla, into the tahini mixture. Beat for 2 minutes on high speed to aerate. This aeration is an important step, because it helps the cookies to spread.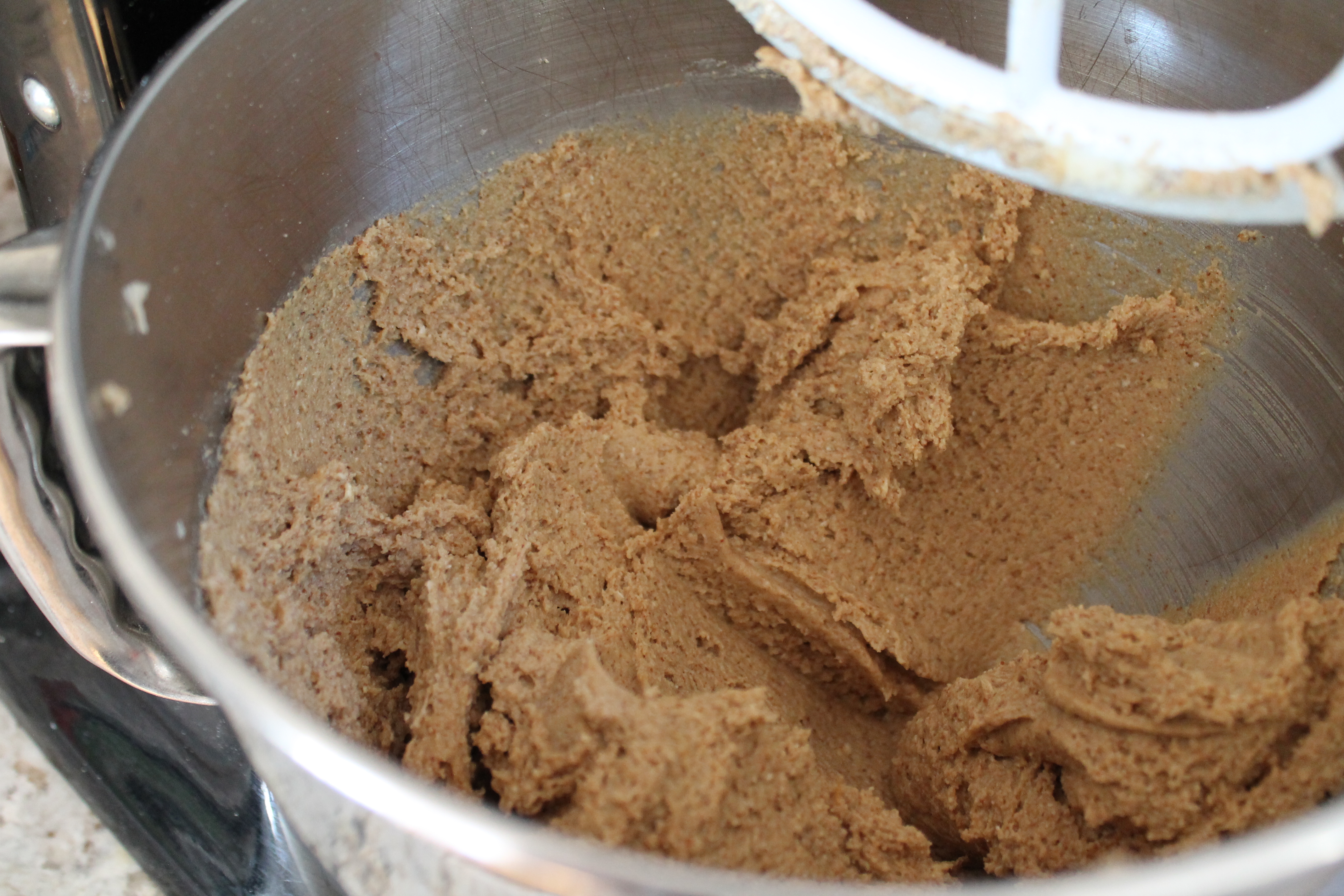 Mix in the dry ingredients, beating well and scraping the sides of the bowl.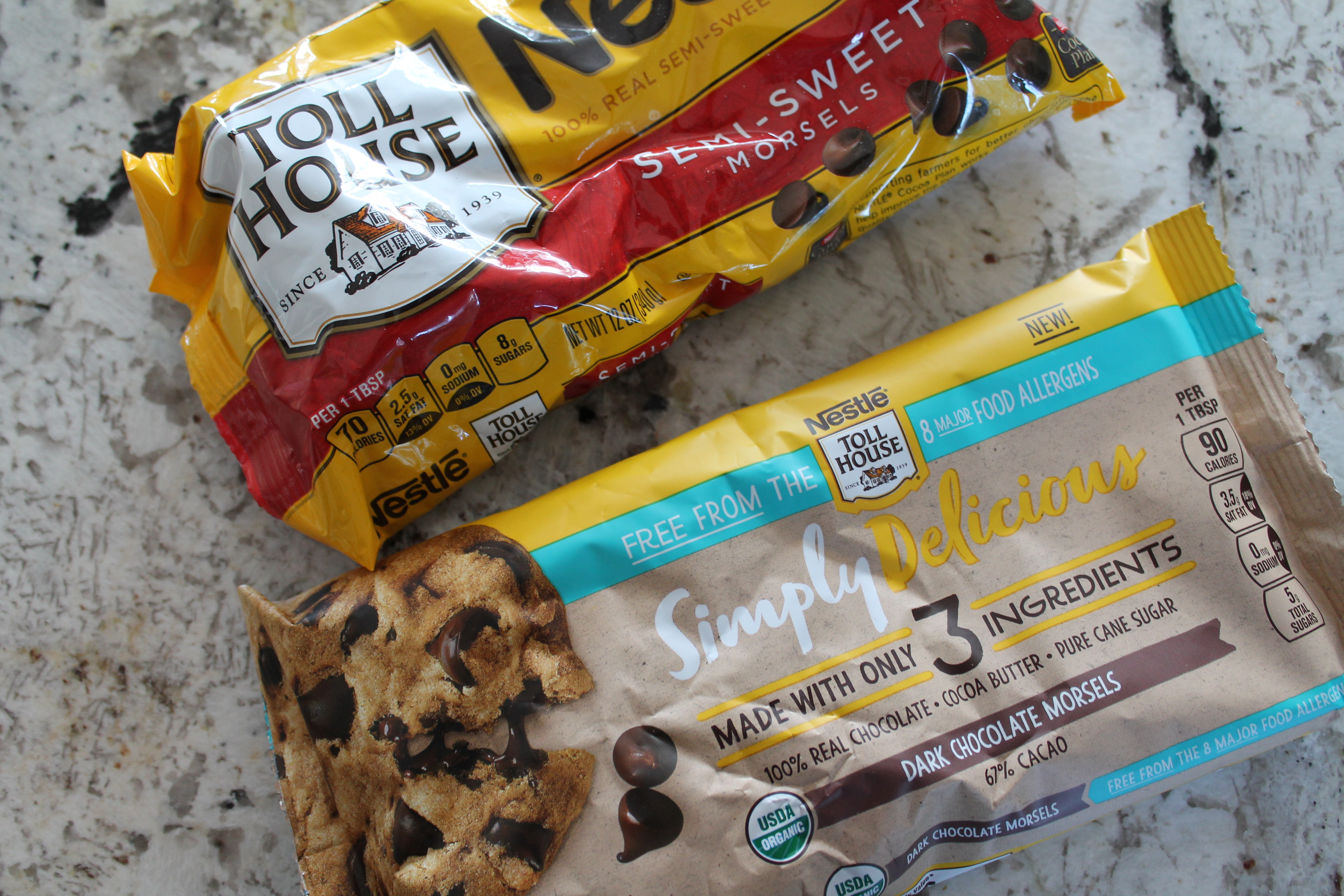 Stir in the chocolate chips and whole oats. I like to use a mix of bittersweet chocolate and semisweet chocolate in this recipe. Of course, the bittersweet chocolate is healthier for you, but semisweet chocolate makes the cookies feel a little bit more like a classic treat! Nestle has started making an allergy-friendly dark chocolate chip that tastes pretty good, and I have been using them in these cookies!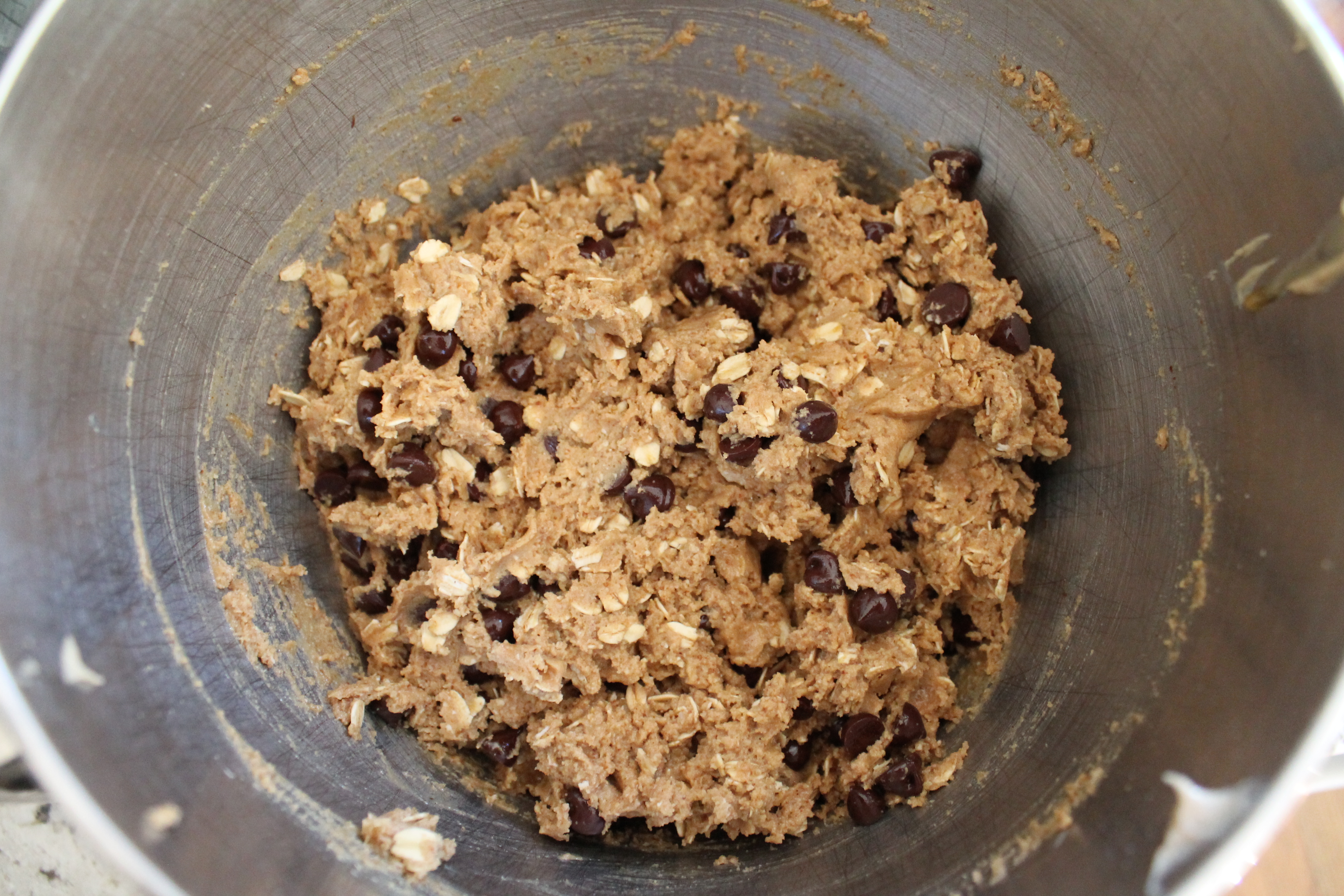 The finished cookie dough will be very soft. You can chill it if you like, but I have found this step to be totally unnecessary, as the cookies do not spread like wildfire on their own. In fact, they do very little spreading, thanks to all the oats.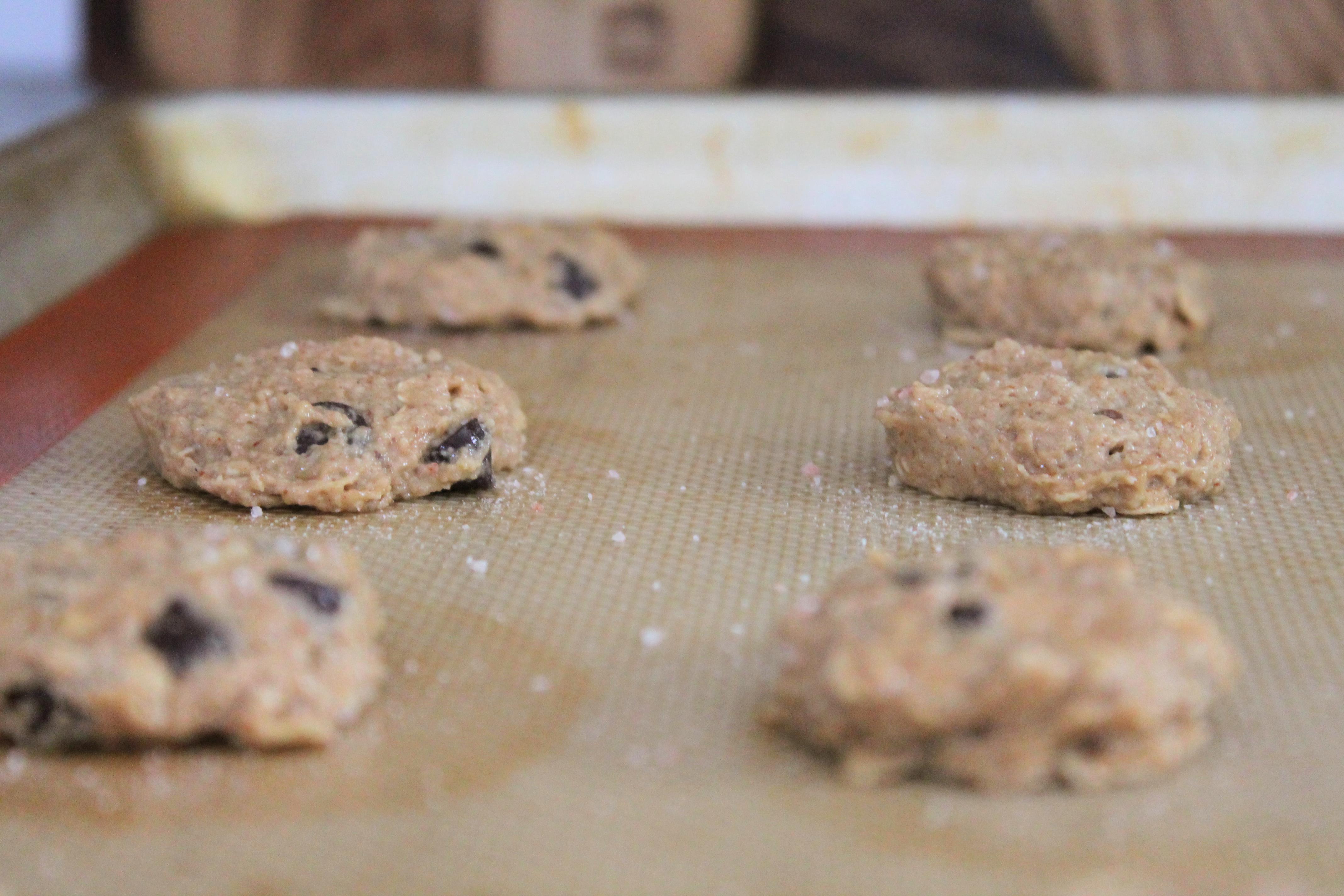 Scoop the dough by teaspoons onto a lined cookie sheet. (If you don't have a silicone mat, use parchment paper.) Flatten the tops gently with your fingertips; if you don't do this, your cookies will still bake just fine, but they will be domed at the top like a tea cake. Actually, this is also delicious because the center is soft while the outside is crisp. But if you want your cookies to be shaped more like a traditional disk and gently chewy in texture after baking, go ahead with the flatten.
Sprinkle the tops of the cookies with sea salt (I typically use my pink salt grinder for this, and each cookie gets just a dusting; you could also use flaky salt or any coarse salt, but the goal is to add just a hint of salt, not a lot!) and sesame seeds.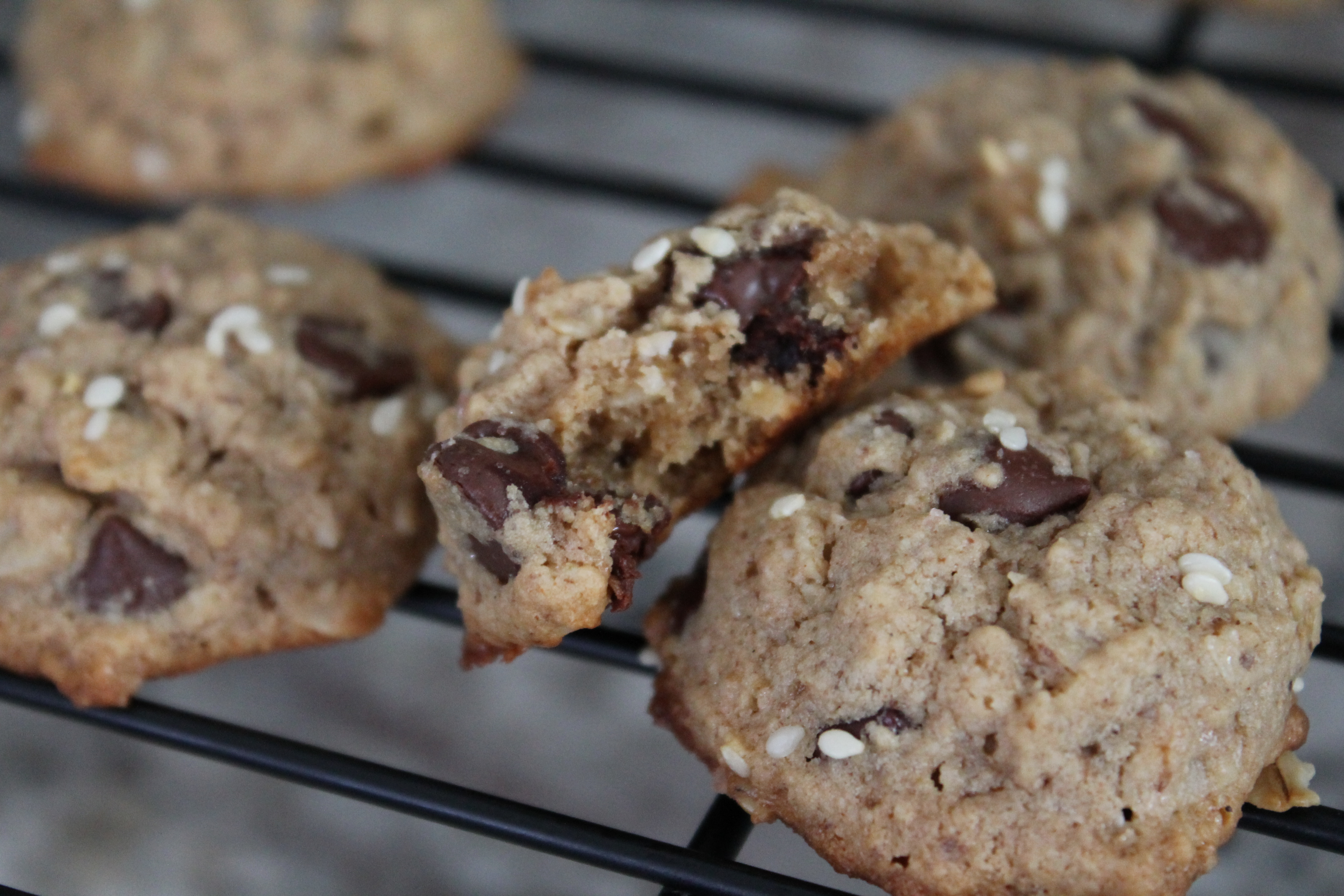 Bake at 375° for 8–9 minutes. They will be completely done at 9 minutes, crisp on the edges and chewy in the center with browned bottoms, and slightly soft in the center, not too crisp at 8 minutes.
The end result is a small cookie you can finish in three bites, just right for a little pick-me-up before you nurse a baby, if that's what you need, or a little pick-me-up that you won't feel guilty about any other time of the day! As I said earlier in this post, I had been making a very similar recipe for quite some time before I ever found myself needing a "lactation" cookie to help with nursing. Last year when I revamped my diet to exclude refined sugar, this was one of the cookies I made, with slightly different dry ingredients/sans oats! With the tahini and coconut sugar, it's a cookie that satisfied my sweet tooth without injuring my overall healthy diet. I hope you enjoy it, whether or not you are nursing!
Salted Tahini Chocolate Chip (Lactation) Cookies
Keyword
almonds, chocolate, cookies, flax, sesame, unrefined sugar, whole grain
Prep Time
15

minutes
minutes
Cook Time
45

minutes
minutes
Ingredients
½

cup

unsalted butter,

room temperature

½

cup

tahini,

well stirred

¼

cup

raw honey

1½

tsp.

vanilla extract

2

flax eggs

(2 tbsp. freshly ground flax pureed with ½ cup water)

¾

cup

finely ground almond meal

½

cup

all-purpose flour

¾

cup

oat flour

(ground from ¾ old-fashioned oats)

½

cup

coconut sugar

½

tsp.

salt

¼ 

tsp.

baking soda

½

tsp.

baking powder

¼

tsp.

cinnamon

½

tsp.

fenugreek powder*

(optional, about 2 600mg capsules, emptied)

1½

cups

old-fashioned oats

1

cup

semisweet chocolate chips

or a mix of semisweet and bittersweet chocolate

flaky sea salt

(optional)

sesame seeds

(optional)
Instructions
Preheat oven to 375°. Line two baking sheets with Silpats or parchment.

Beat the butter and tahini together until smooth and creamy. Beat in the flax eggs, honey, and vanilla until very creamy, about 2 minutes.

In a separate bowl, whisk together almond meal, flour, oat flour, coconut sugar, salt, baking soda, baking powder, and cinnamon. (Also add fenugreek*, if using.) Add this mixture to the tahini mixture and stir until combined.

Stir in the whole oats and chocolate chips.

Scoop the dough by teaspoons onto the prepared cookie sheets. Press down slightly to flatten. Sprinkle the tops with flaky salt and/or sesame seeds.

Bake for 8–9 minutes, until puffed and set. Cool for 5 minutes on the sheet before removing to a wire cooling rack.
Notes
*Fenugreek powder tastes a lot like maple syrup, and in large doses has been known to increase milk production in nursing moms. It works well in these cookies, but does have an aftertaste, so go cautiously.
Enjoy!