Question:
What do you serve your family when they visit for Thanksgiving?
I'm not talking about the big meal. I'm sure you do the whole turkey and pie thing. (Or maybe you like to order takeout Chinese, who knows?)
I'm talking about the rest of the meals. When your out-of-town family comes to stay for more than just a few hours…how do you work out feeding them while you are also prepping for the main festivities?
I've never had to think about this question before. My family has always lived local and made day trips to enjoy a turkey dinner, then simply gone back home before they could possibly get hungry again. But this year, my parents are coming to spend the night! And for the first time, I am asking myself: what about all the other meals, the ones before the big feast, when we know we shouldn't eat too much because we are about to go all in on some rolls and stuffing, but we just can't make it to the main event without something in our bellies to tide us over?
Let's be honest. The last thing you want to do on Thanksgiving morning is cook a whole 'nother meal. You are frantically counting down until you absolutely must have the turkey in the oven or dinner will be late. It's 8am and you are already up to your elbows in flour and vegetable scraps. Frosted Mini Wheats are sounding mighty fine on Thanksgiving morning, no shame!
But as I was considering this question and the dietary needs of different members of my family (wheat-free, dairy-free, meatless, sugar-free—okay, most of those are just me), I remembered the last big family brunch I hosted, in which this vegan breakfast hash played a starring role! And this dish reminded me so much of Fall with its roots and crucifers that I got really excited and had to make it right away.
It is light but filling thanks to the potatoes, and it happens to be vegan and grain-free.
It makes a ton of food and is easily scalable, so it's great for brunch, but I honestly like to make a whole batch just for myself! For an entire week, I start my tired mornings right by heating the leftover hash on the stove with a little extra oil to get the veggies warm and barely crisp. Nothing beats having a veggie-filled, healthy breakfast ready to go in the morning when I'm exhausted and need to throw down something quick. Sometimes I even load it into a bowl topped with a runny egg, which is stupendous but, of course, not vegan.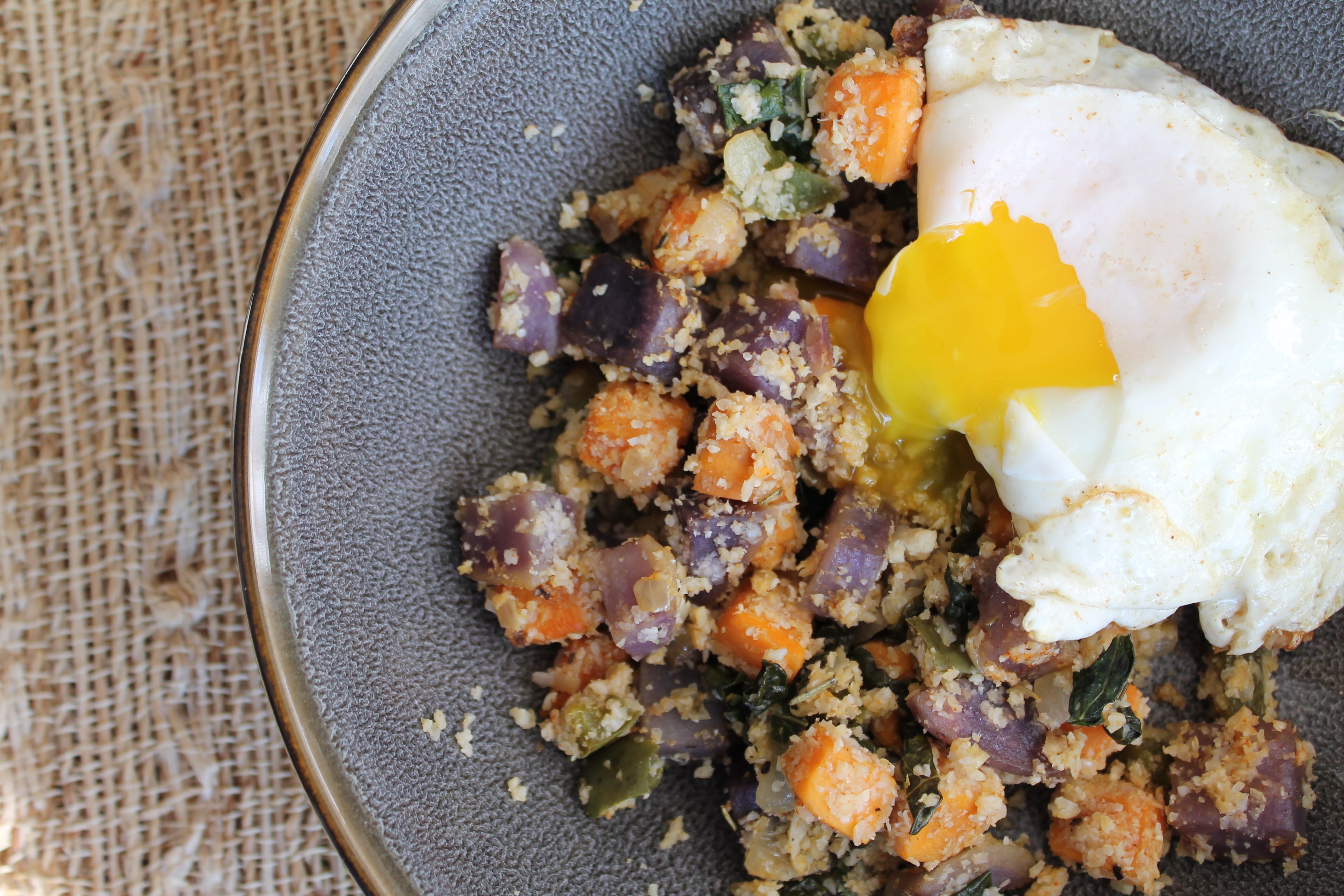 Maybe you won't make this for brunch with your family on Thanksgiving morning (unless you are not in charge of the big meal, in which case, this is the skillet breakfast for you!), but you should definitely start making plans to host brunch and put this on the menu. Eat a nutrient-loaded breakfast with the ones you love! (And, just so you know, when I serve this hash to a crowd, I also like to make cinnamon buns, eggs, and even bacon…so everyone will be happy, no matter what crazy diet they follow.)
This hash takes about 45 minutes to make, including chopping the veggies as you go, so it's good to get started before you and your hordes are starving.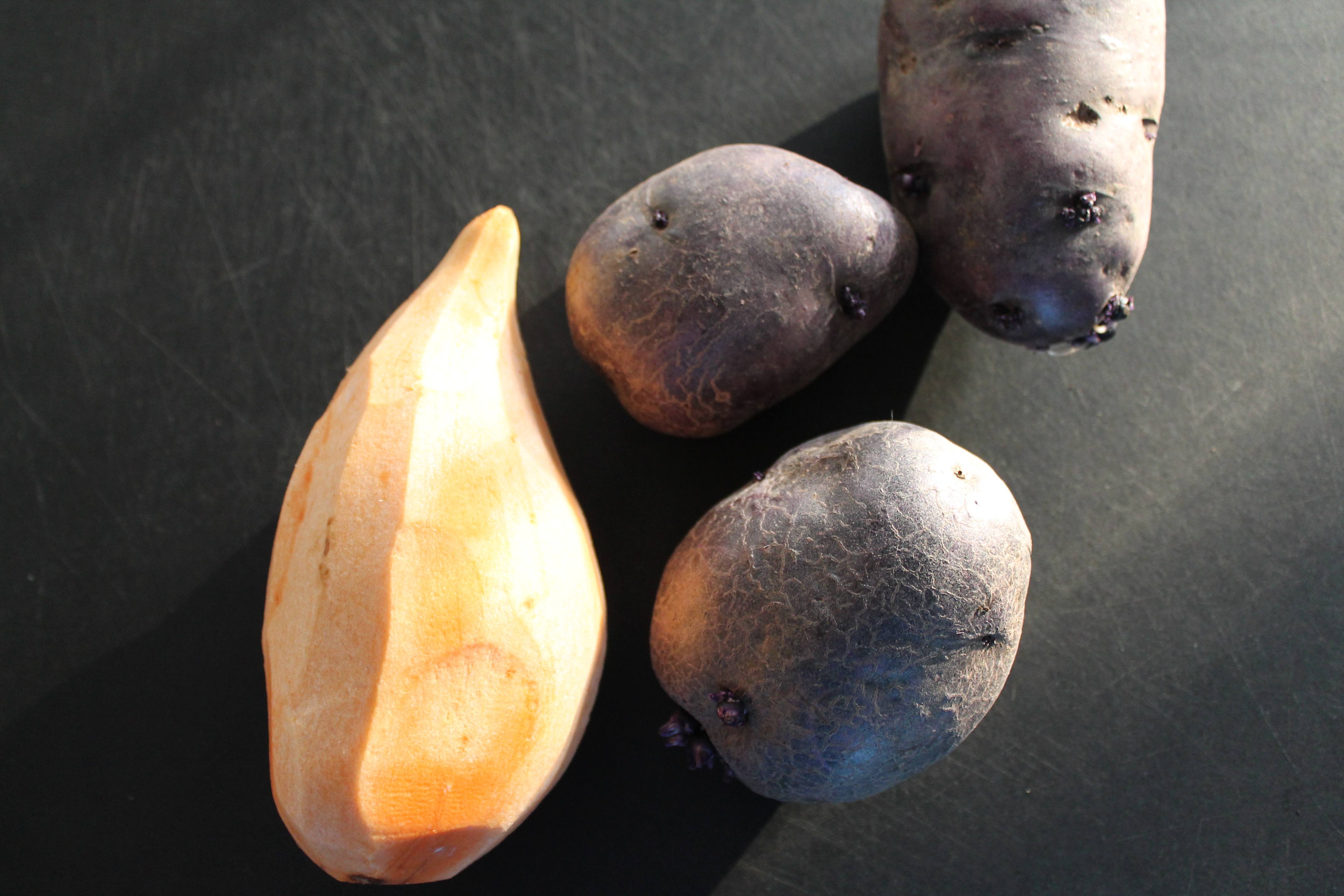 First, roast the potatoes. It's not hash without potatoes! You want them to get nice and tender with crisp edges. Cut them into a medium dice and toss with olive oil, salt, pepper, and dried rosemary.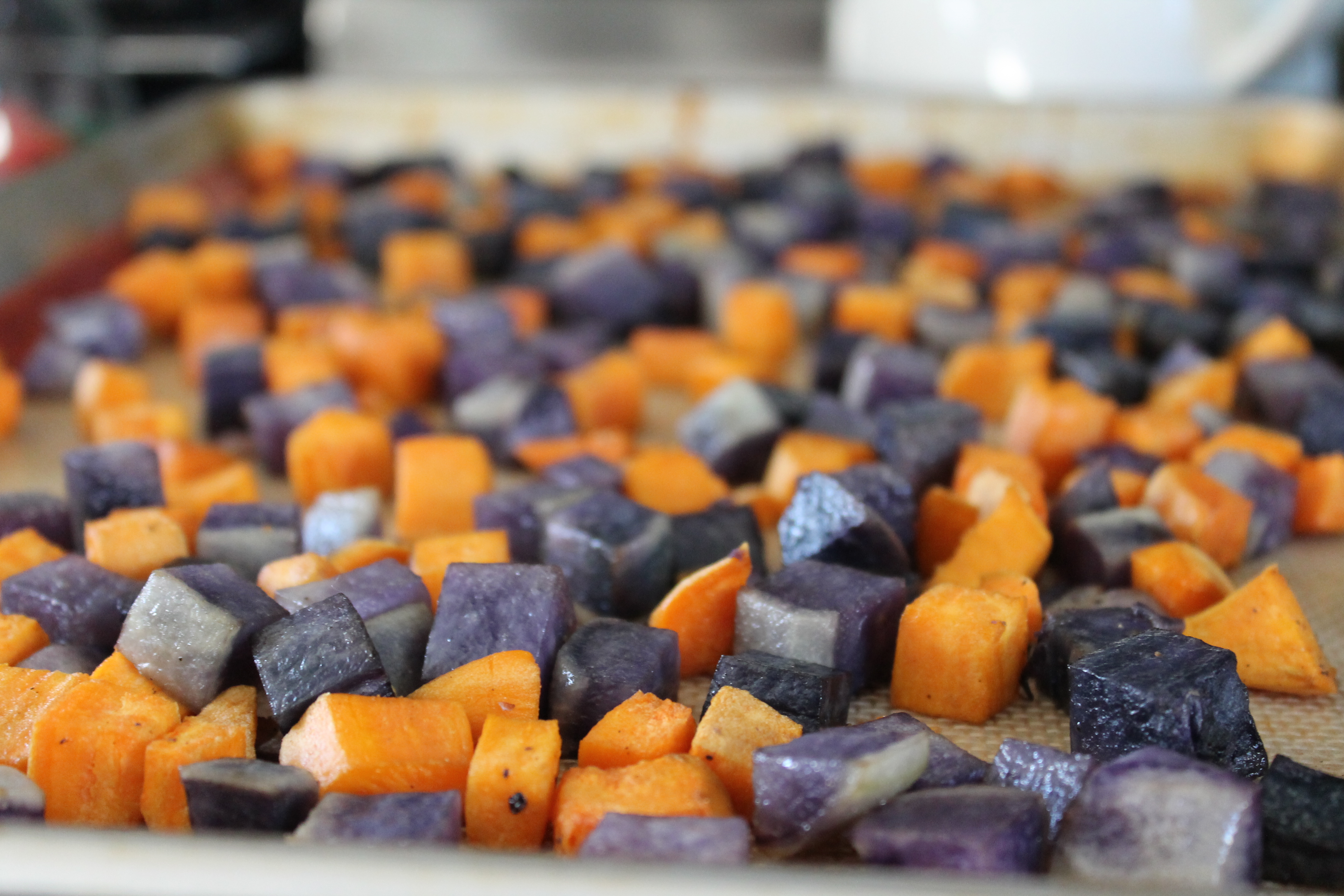 Roast at 425° for 25 minutes, flipping the cubes about halfway through to encourage even browning.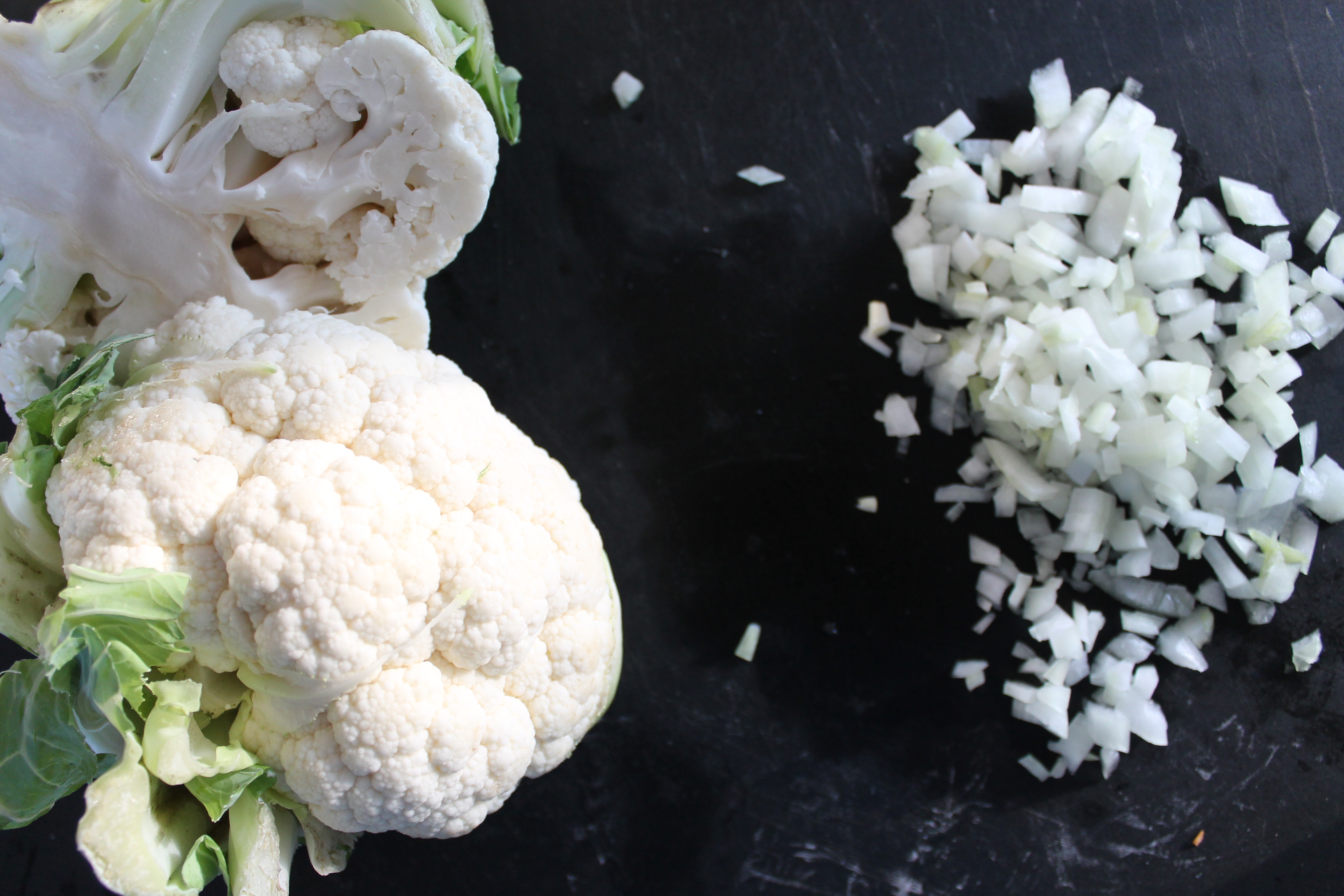 While the potatoes are roasting, chop the rest of the veg! You will need half an onion, half a green pepper, and half a small head of cauliflower. Throw the cauliflower into a food processor to "rice" it and finely dice the onion and green pepper.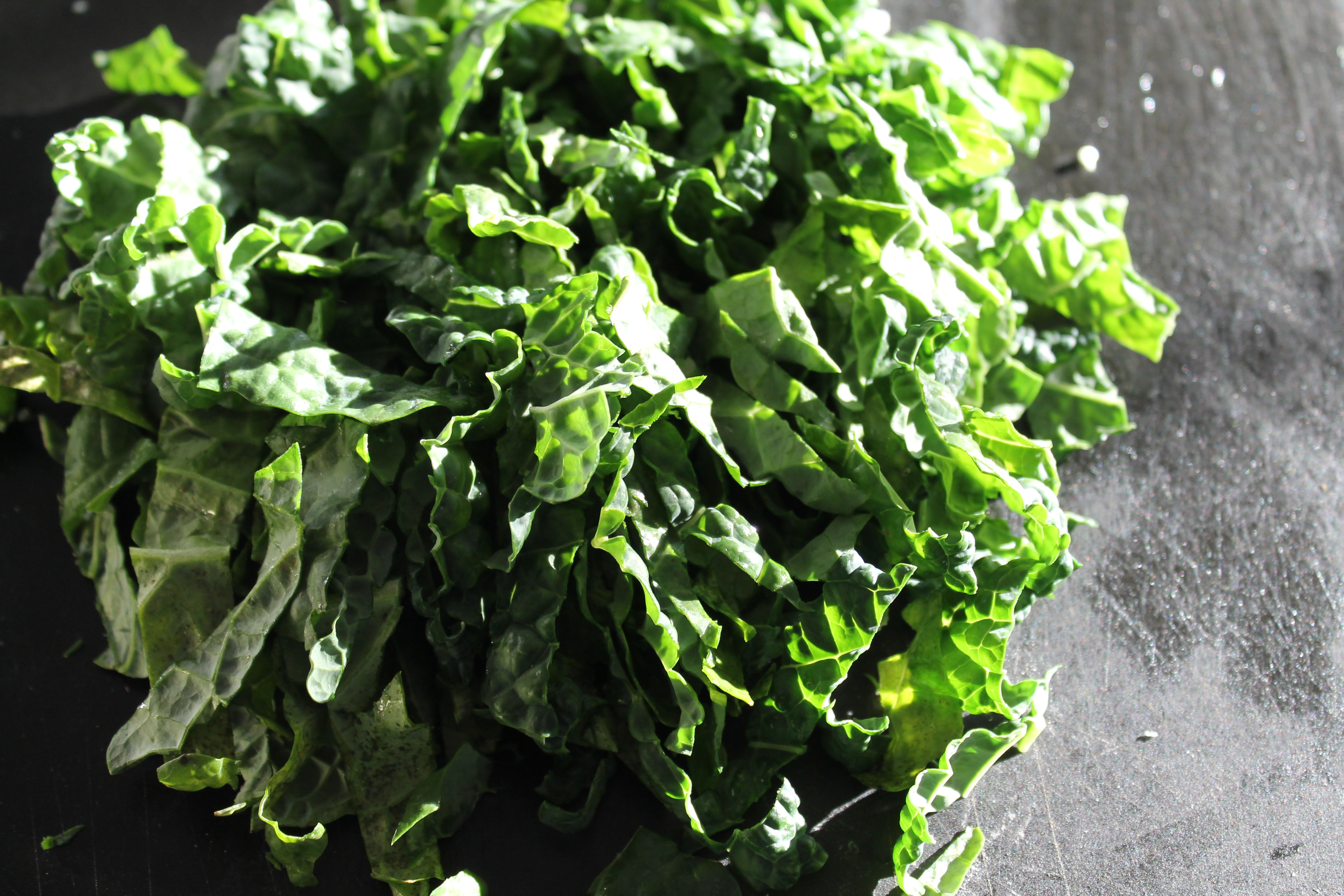 De-stem some kale (I prefer lacinato kale in this, which is flat rather than curly) and cut it into ribbons.
When the potatoes come out of the oven, it's time to start cooking the rest of the veggies!
Swirl some olive oil into a large pan over medium heat. When the oil is hot, add the onions and green peppers. Season with salt, pepper, garlic powder, cumin, and smoked paprika. Sauté, stirring regularly, about 5 minutes, until the onions are beginning to brown.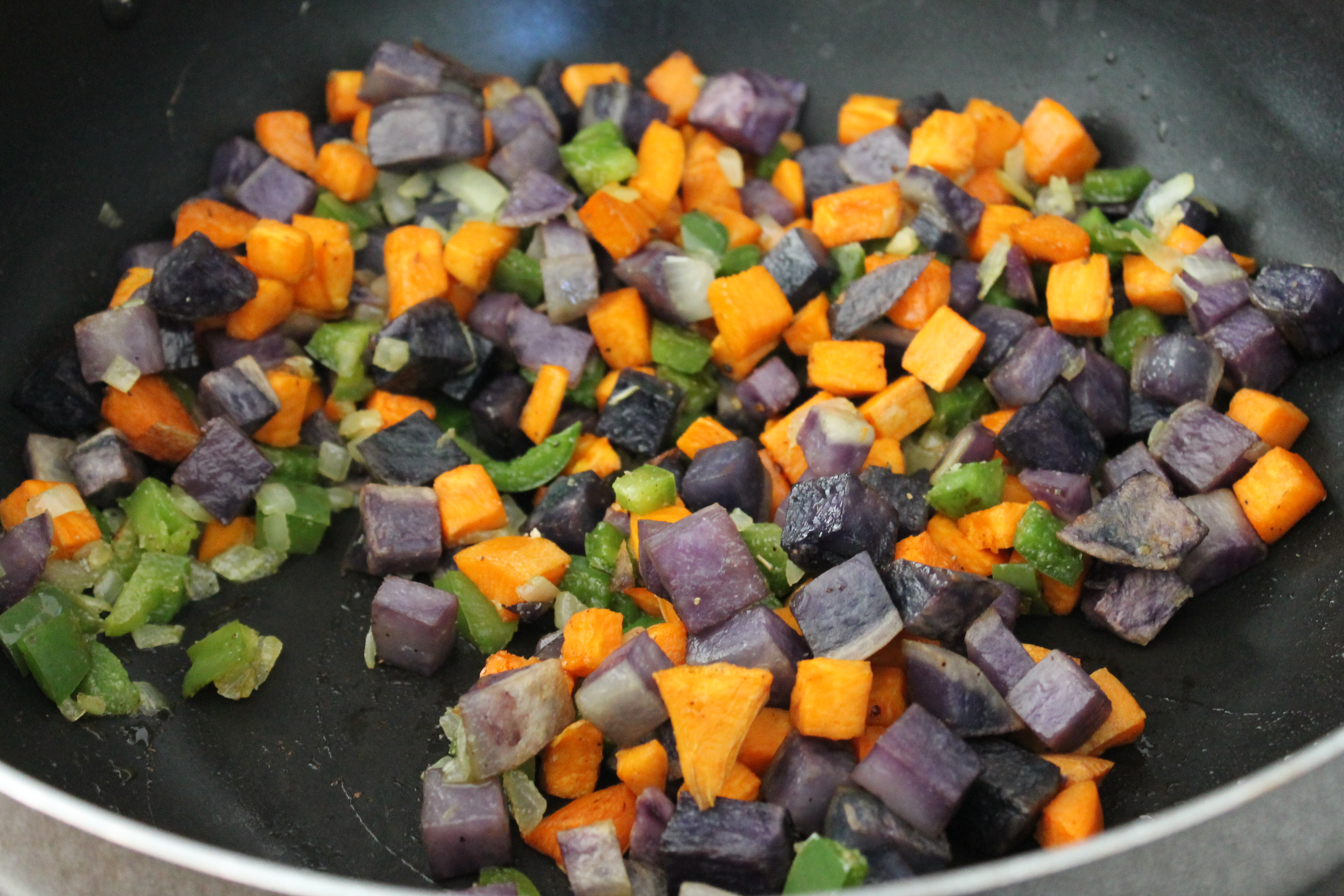 Add the potatoes to the pan and cook for a few minutes more, to encourage crisp edges.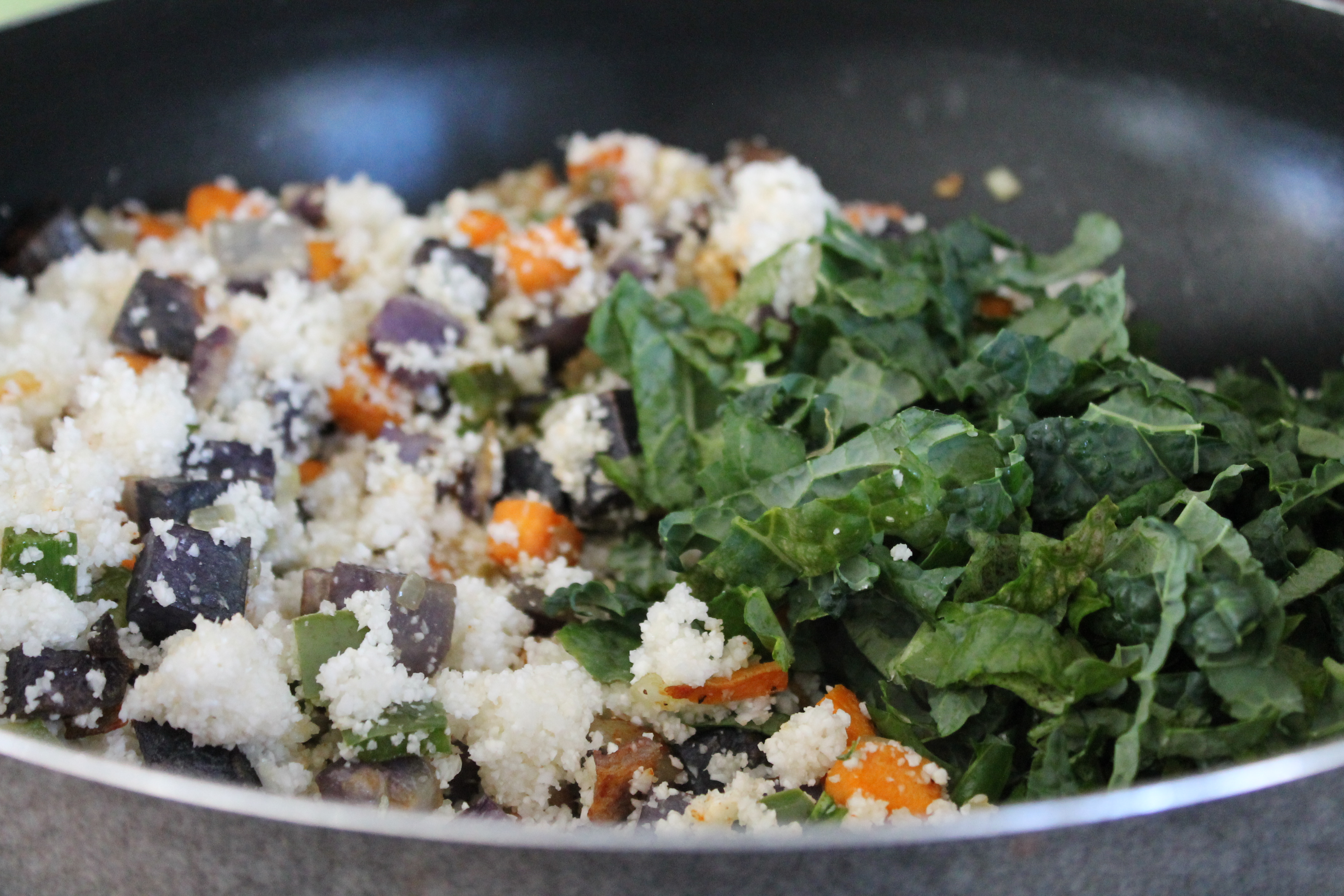 Stir in the riced cauliflower and the kale. Cook, stirring regularly, until the kale softens, about 3 minutes.
Pour in the white wine vinegar. My rule for cooking is: always add acidity! (One of these days, I will get around to reading Salt Fat Acid Heat and then I will be able to correctly reference the science behind why this is delicious.) The vinegar should sizzle a little. Stir to incorporate evenly.
Taste and adjust the seasonings if you like. Pay particular attention to salt and pepper, because all those potatoes really suck up salt. I sometimes add extra garlic and smoked paprika, because I love those. I also recommend throwing a little fresh thyme into the pot at this point, but a little goes a long way!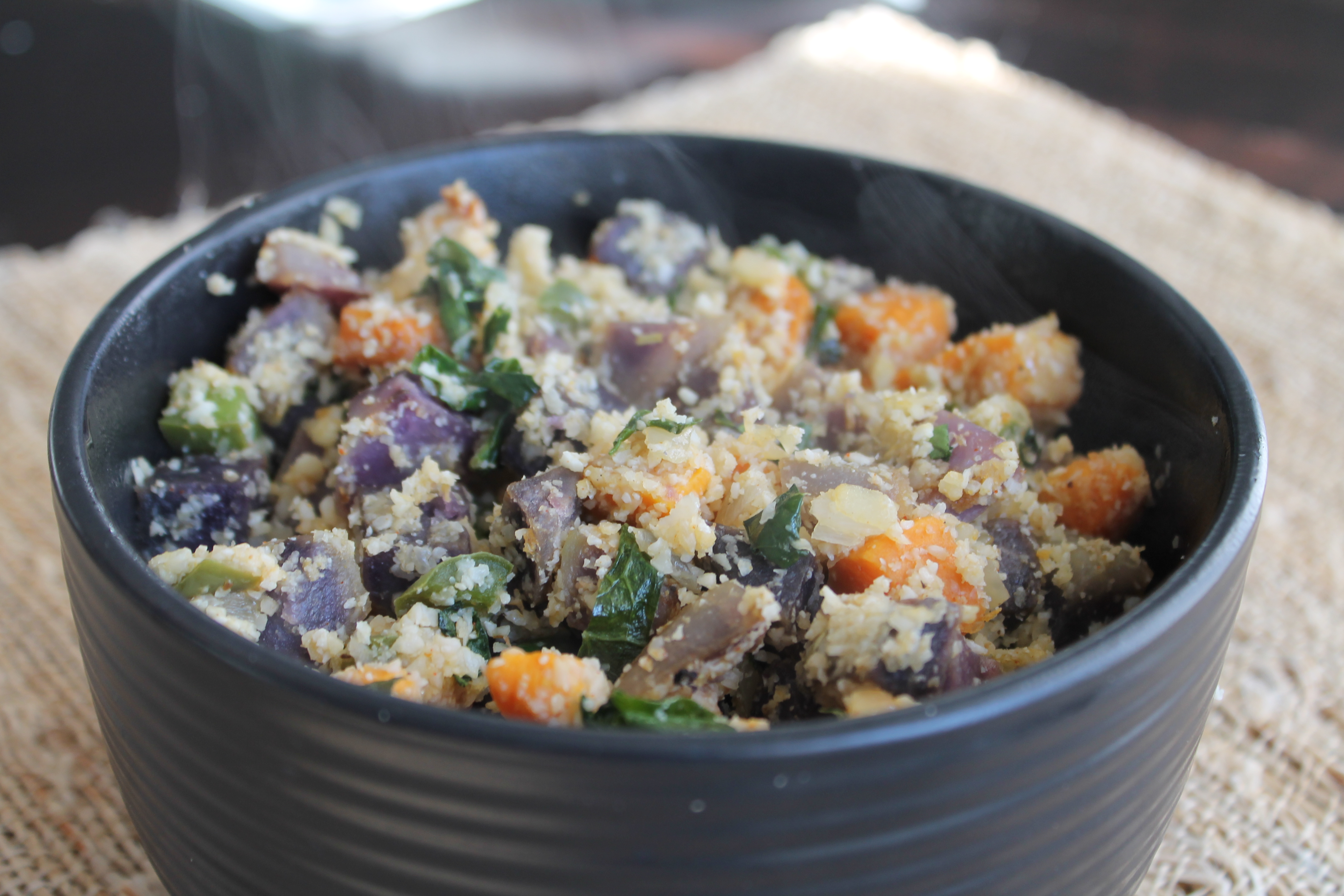 Serve warm, by itself or with your other favorite brunch foods.
Breakfast is good!
Delicious Vegan Breakfast Hash
Ingredients
1

lb.

purple potatoes or jewel colored fingerling potatoes

peeled if necessary, medium diced

½

lb.

sweet potato

peeled and medium diced

4

tbsp.

olive oil

divided

salt and fresh ground black pepper

¼

tsp.

dried rosemary

½

small yellow onion

diced (about a heaping ½ cup)

½

green bell pepper

diced (about ½ cup)

1

tsp.

garlic powder

¼

tsp.

cumin

¼

tsp.

smoked paprika

dash of crushed red pepper

½

small head cauliflower

riced (about 1½ cups)

3

–4 leaves lacinato kale

destemmed and sliced into ribbons

½

tsp.

fresh thyme leaves or two dashes dried thyme leaves

2

tbsp.

white wine vinegar
Instructions
Heat oven to 425°.

Toss the diced potatoes and sweet potatoes with 2 tbsp. olive oil, salt, pepper, and rosemary. Spread in a single layer on a large, lined baking sheet. Roast for 25 minutes, stirring halfway.

When the potatoes come out of the oven, start cooking the rest of the veggies.

Heat the remaining 2 tbsp. olive oil in a very large skillet over medium heat. When hot, add the onions and green peppers. Season with salt, black pepper, garlic powder, cumin, smoked paprika, and crushed red pepper. Stir regularly until the onions are beginning to brown.

Add the roasted potatoes and continue to sauté another 2–3 minutes.

Add in the riced cauliflower and kale, stirring until the kale is wilted and the cauliflower is beginning to brown.

Season the pan with white wine vinegar and fresh thyme. Stir to combine. Taste and adjust salt and pepper as needed.
Enjoy!