Well…It's been a minute since I shared a recipe with you. (But who's counting?)
Maybe you can tell that I've been a little more focused on other kinds of writing.
And then just when I got geared up to start posting about food again, we were all confined to our homes and encouraged not to go out except for essentials. The grocery stores are still struggling to stock normal items…and it felt like the wrong time to be sharing recipes when I have no idea what you still have in your pantry.
But guess what? I'm over letting the coronavirus dictate every aspect of my life. So I'm making brownies. With vegetables in them. Because yes, vegetables are precious right now, but also yes, we need treats. And you know me…I like to try to stock healthy treats at my house, treats that don't give me a sugar crash.
I promise you will love these brownies. They are chocolatey and chewy, they are dairy- and grain-free, they have very little added sugar, and honestly, they hit the spot.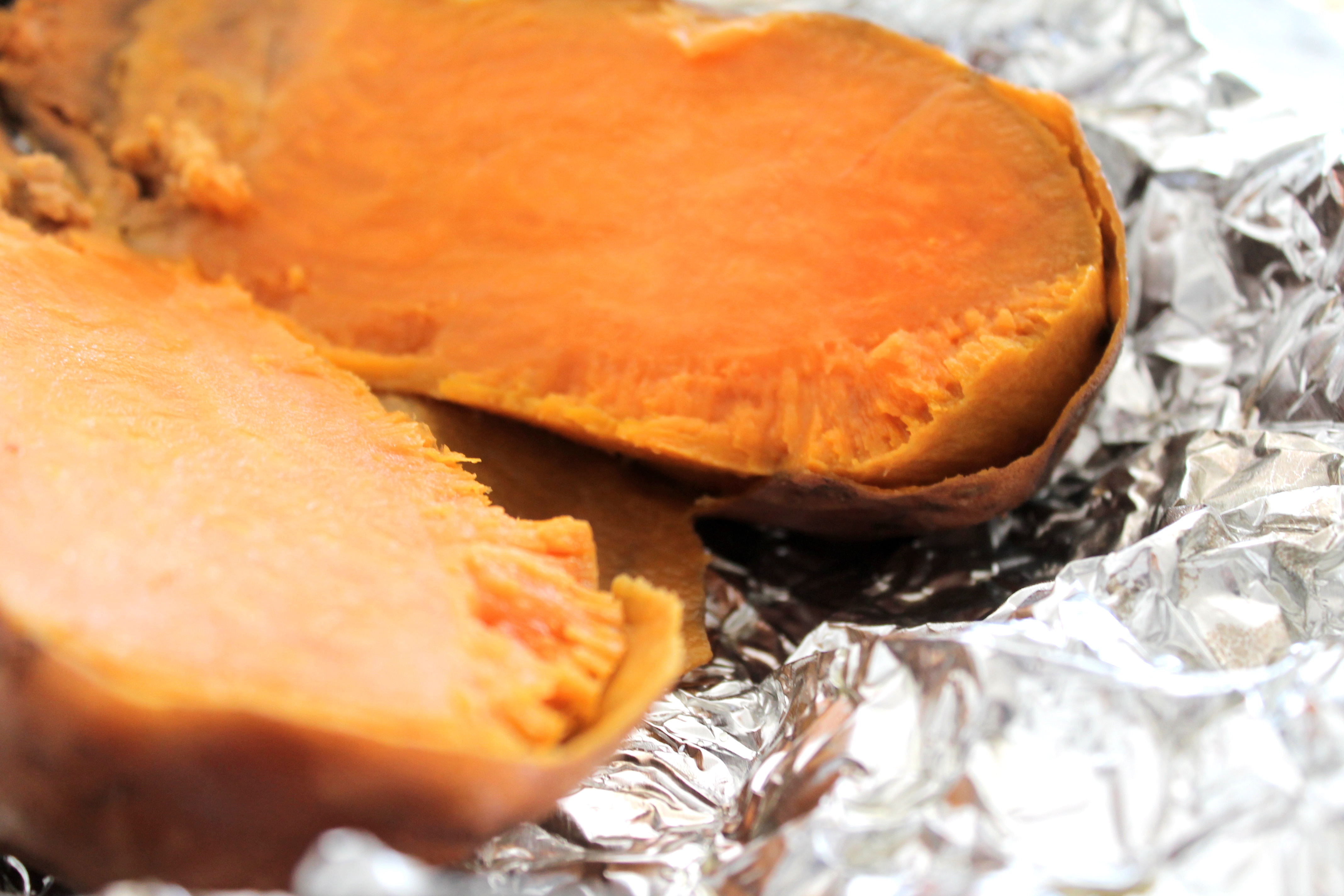 Start by cooking a sweet potato. You can do this however you like. I prefer roasting in the oven over boiling, so I'm not introducing extra liquid. Roasting a sweet potato is as easy as wrapping it tightly in foil and ignoring it in a hot oven for 45 minutes.
When your sweet potato is fork-tender all the way to the center (do please test it; you do not want a hard chunk in the middle of the sweet potato), cut it in half and scrape the flesh out of the skin.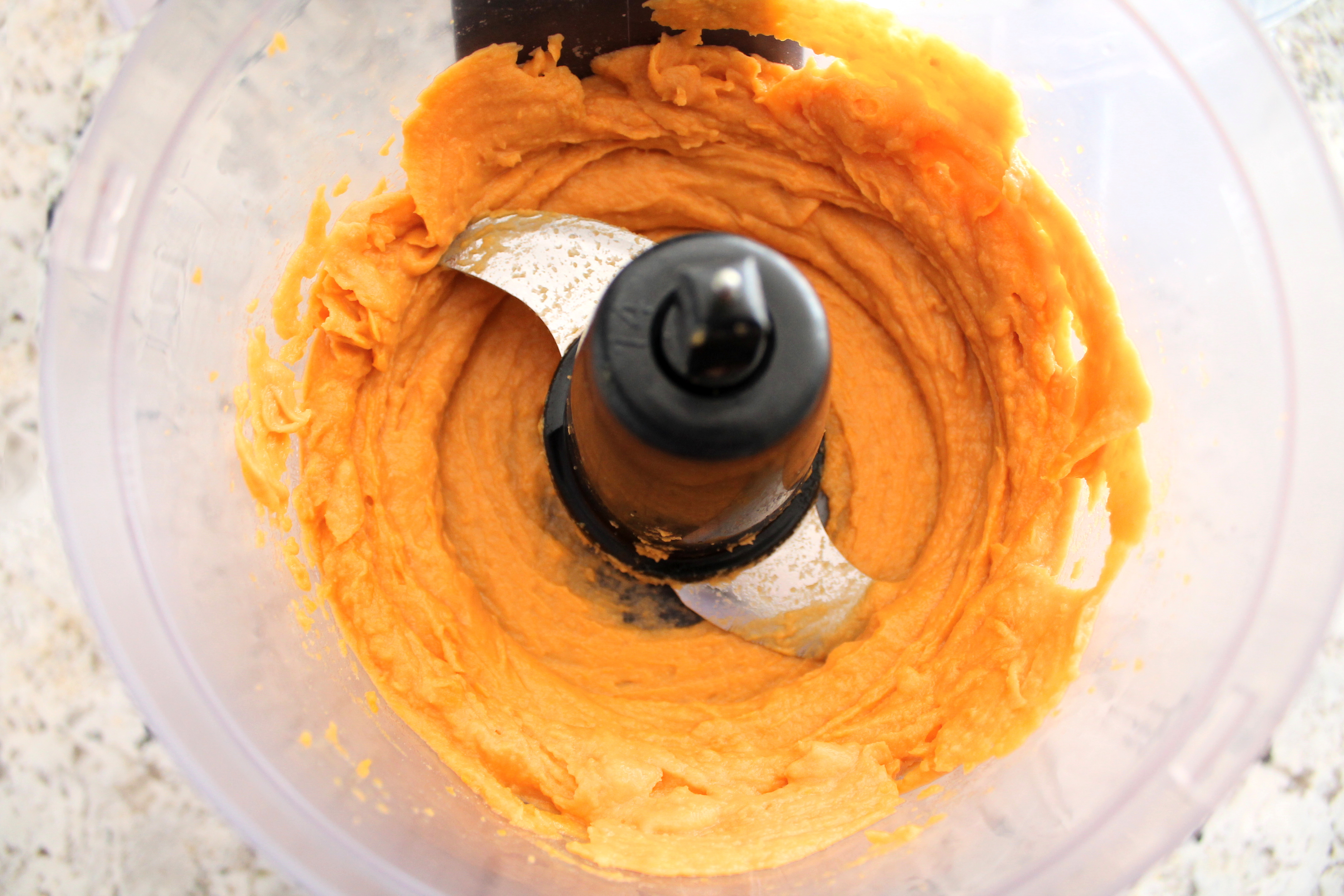 Puree the sweet potato until creamy.
Before you ask, no, you cannot substitute pumpkin puree in these brownies. Yes, I know, pumpkin comes in cans already pureed, and it would be so much easier. But pumpkin puree is both not starchy enough and not naturally sweet enough to work in this recipe. Trust me on this.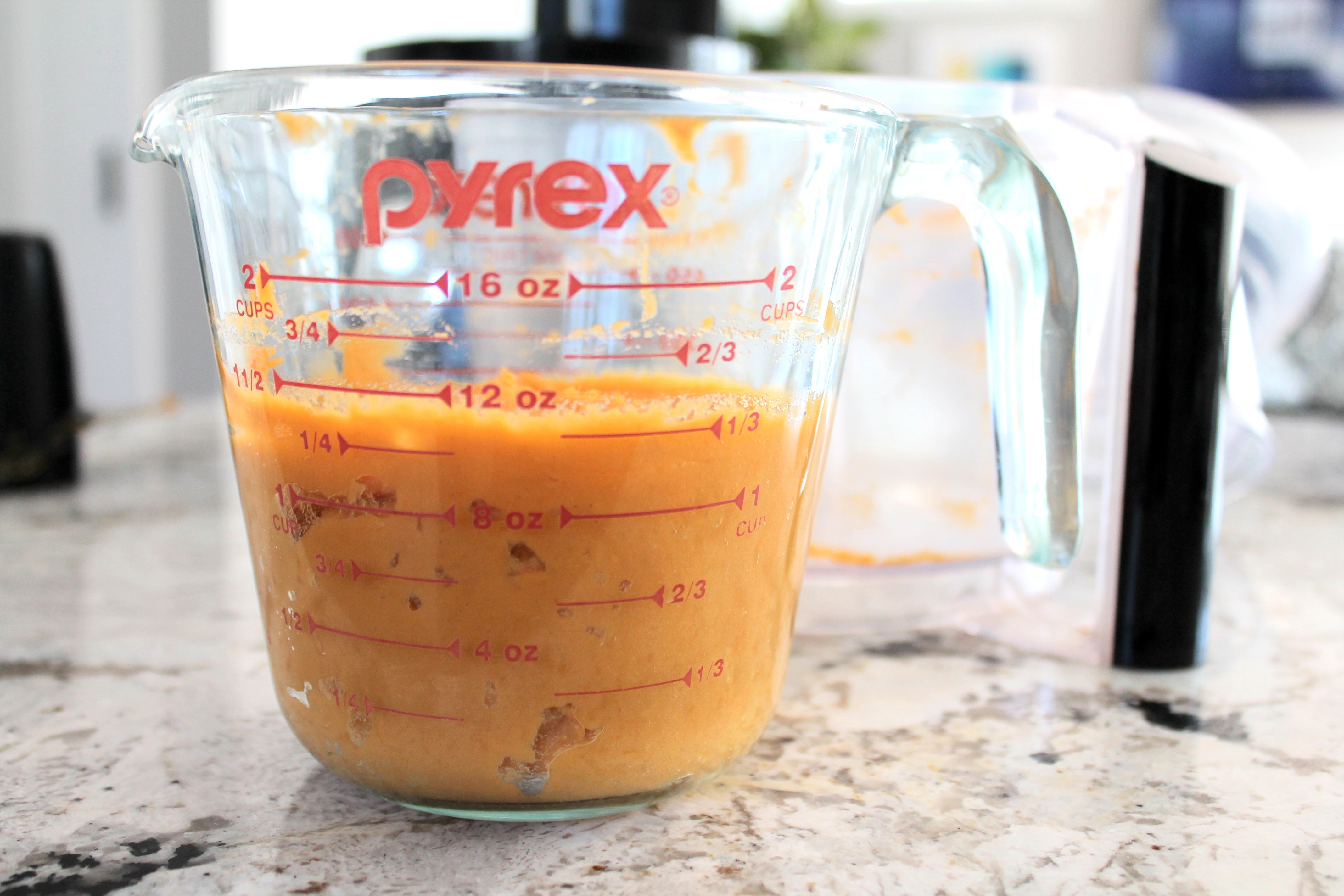 You only need ¾ cup of the sweet potato puree (about 5¾ ounces, if weighing is easier for you), so scoop it all back out and measure in a glass measuring cup. Anything extra you can save to make pancakes or even another batch of brownies! Pureed sweet potato freezes beautifully, so you don't need to decide right away.
And yes, it really is necessary to measure how much sweet potato goes into the brownies. Too much and they will never set, too little and they will be dry. I know measuring is a pain, but do it for me. 😉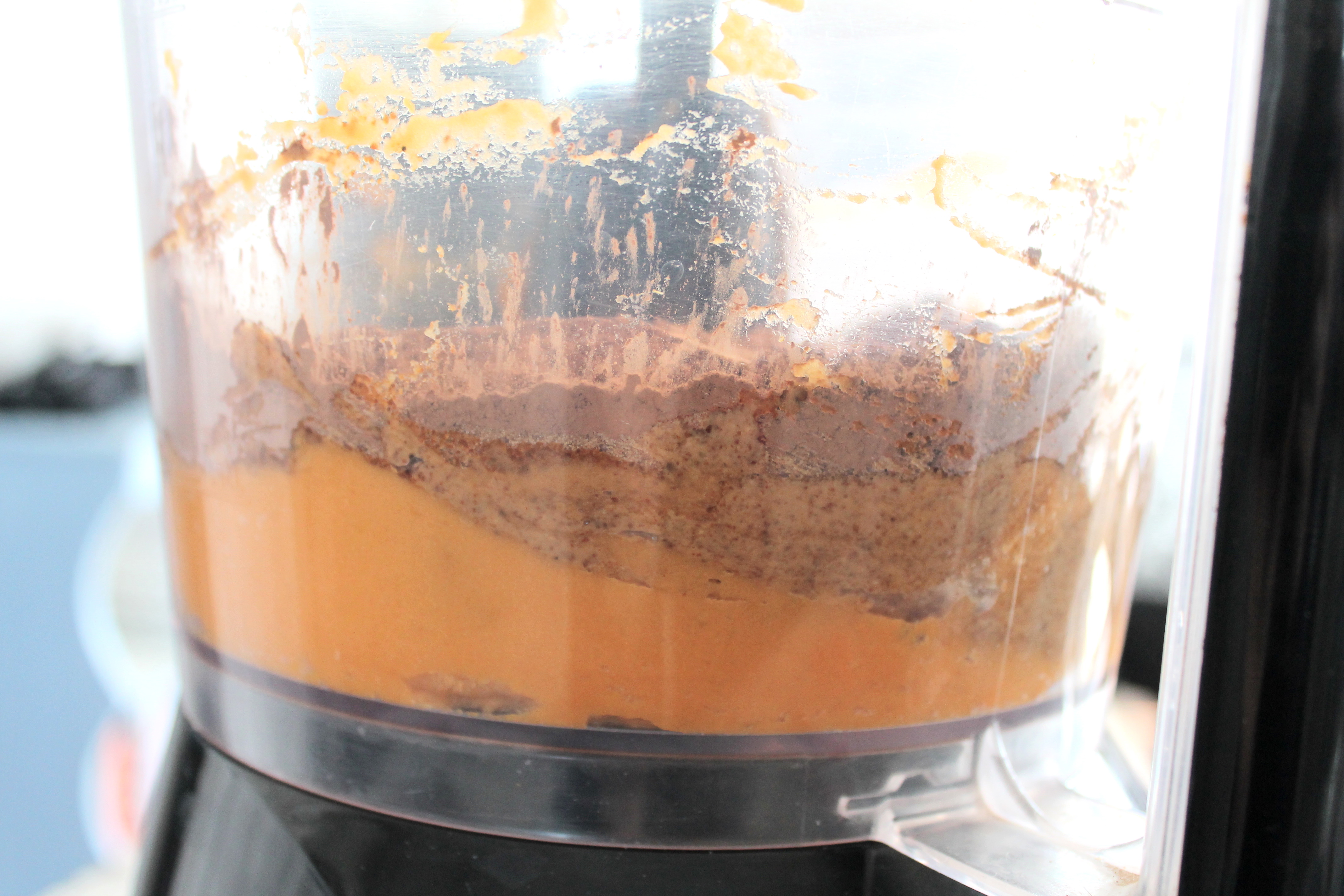 You've done the hard part now! All that's left is to dump the rest of the ingredients except chocolate chips into the food processor.
Isn't "alternative" baking easy? Everything in the food processor for a minute and then it's ready to go! Make sure you scrape the sides of the bowl at least once to get any stubborn, sticky ingredients well mixed.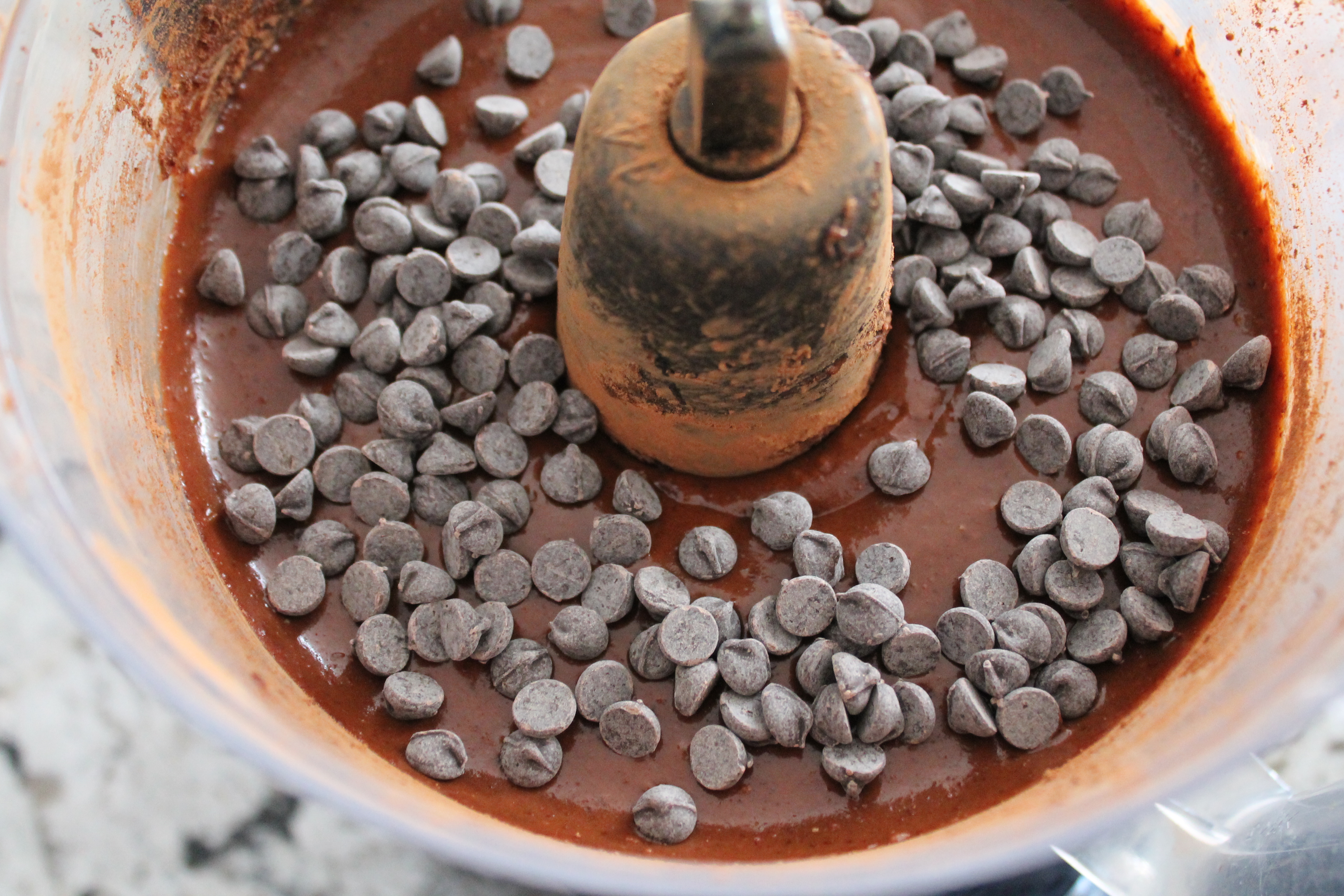 When the batter is well blended, add dark chocolate chips or chunks to the food processor and pulse a few times to incorporate. You aren't trying to break them up, just get them mixed throughout the batter.
(Here's a secret: save a few of the chips to sprinkle over the top. The brownies will look so enticing with melty chocolate poking out of the top!)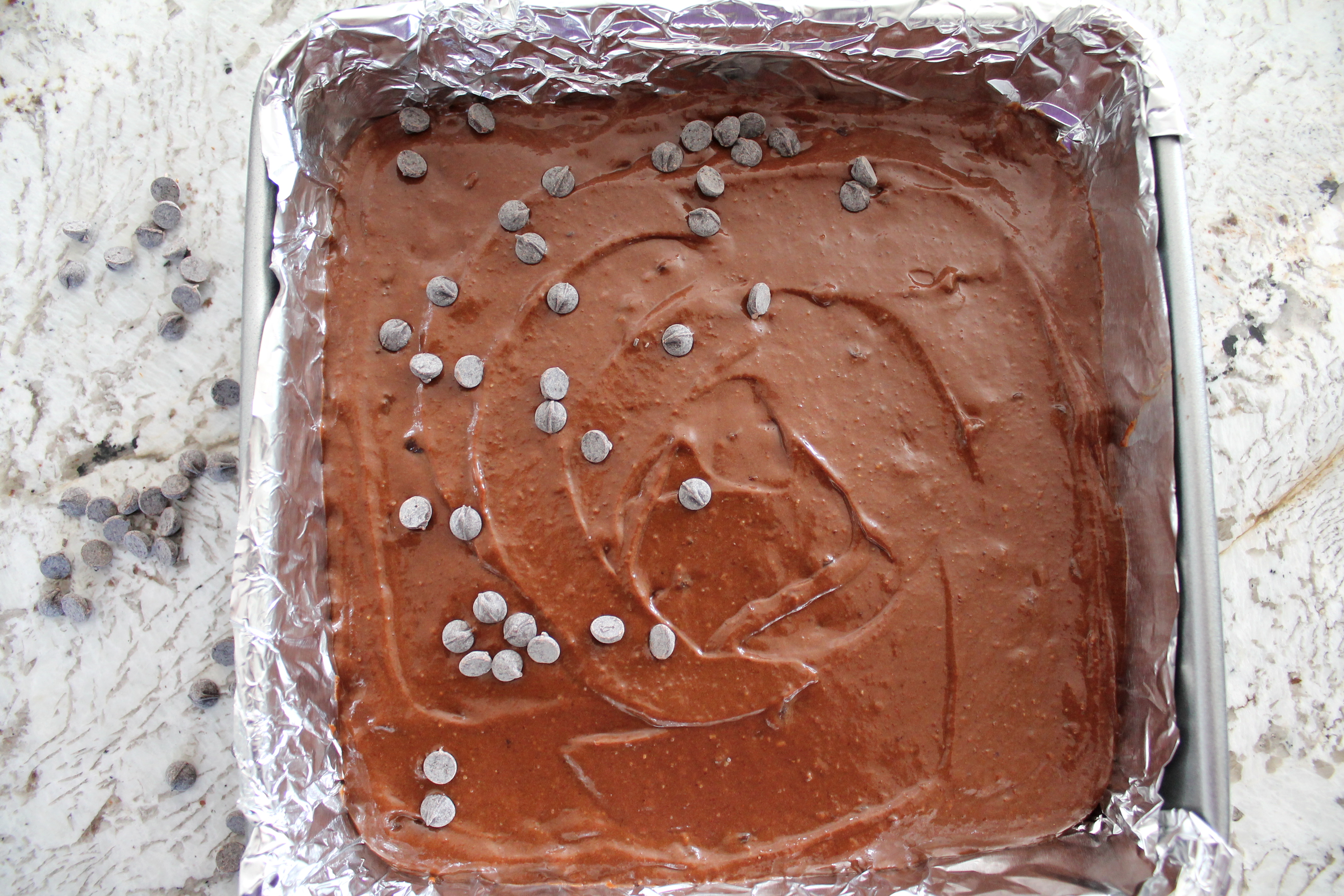 Now scoop the brownie batter into a foil-lined 9″ square baking dish. If you only have an 8″ square dish, it can work, but you will have to bake a lot longer to get the center cooked, and so your edges will end up a bit dry. I would recommend reserving about half a cup of the batter instead and baking it as brownie bites in a cupcake tin (or, hey, I won't judge you if you eat it…this batter does contain eggs, but I sure do love tasting the raw stuff when I bake, and I bet you do, too).
Bake the 9″ square pan of brownies for 25-30 minutes, until the brownies are puffed slightly and do not look wet.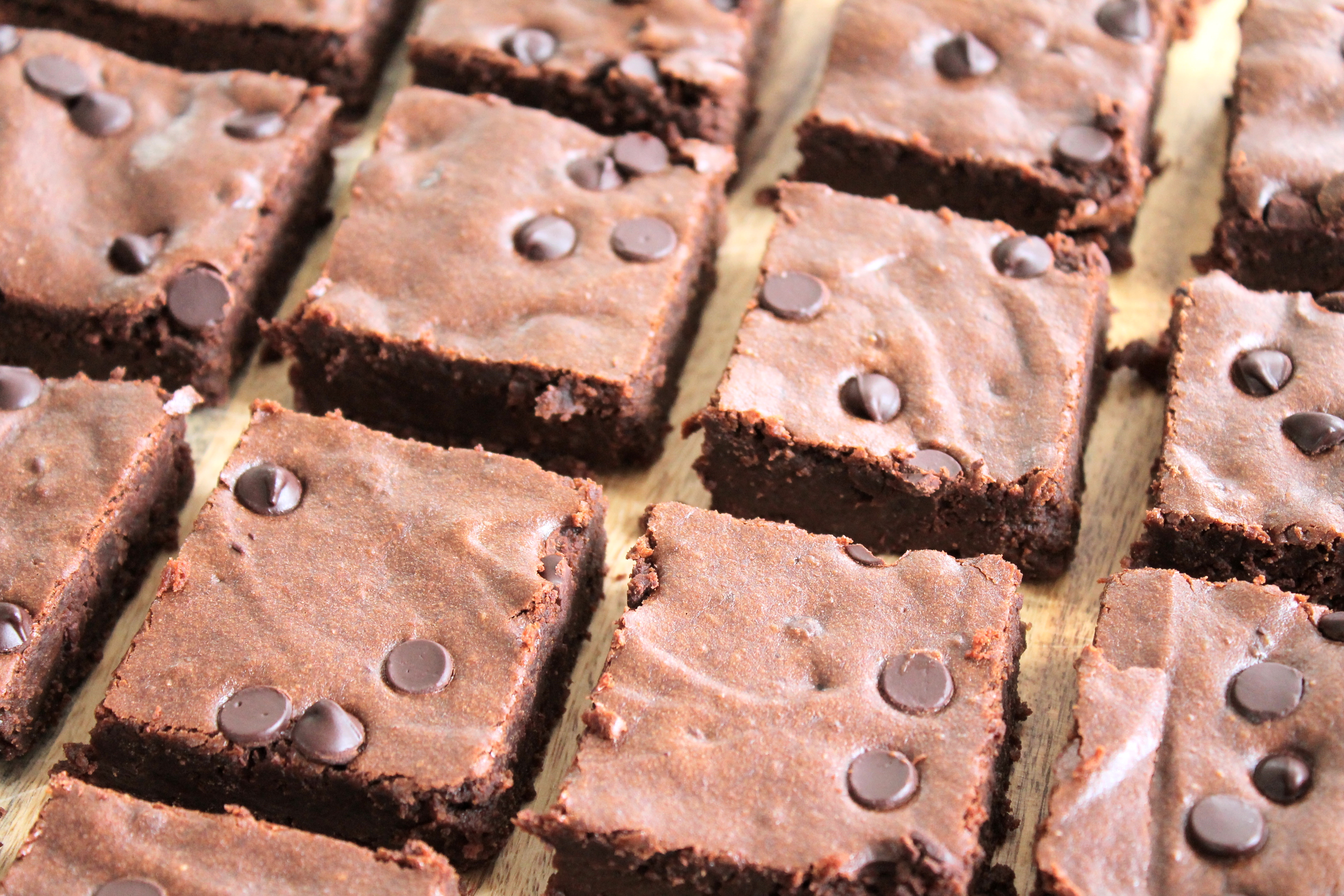 Allow to cool completely before cutting.
Grain-free brownies are often best cold! They are a little crumblier than their flour-filled cousins, but they hold together and maintain chewiness well in the fridge. For that reason, I recommend you store them in the fridge. They will last there for weeks! You can, of course, warm one up in the microwave just before eating.
Yum!
Sweet Potato Brownies
Ingredients
¾

cup

sweet potato puree*

(about 5¾ oz.)

1

cup

natural almond butter

6

tbsp.

cocoa powder

⅓

cup

pure maple syrup

¼

cup

coconut sugar

2

large

eggs

½

tsp.

salt

1½

tsp.

pure vanilla extract

½

cup

60% dark chocolate chunks

(about 3 oz.)
Instructions
Preheat oven to 350°. Line a 9" square baking dish with foil.

Blend all ingredients except chocolate chunks together in a food processor until completely smooth and evenly mixed. Stir in chocolate chunks.

Stir in chocolate chunks.

Scrape into the prepared pan, smoothing the top.

Bake for 25 minutes, or until the edges are slightly puffed and the center does not look wet.

Cool completely before cutting. Store brownies in the refrigerator up to 1 month.
Notes
*To make sweet potato puree, roast a whole sweet potato for 45 minutes at 425°. Allow to cool slightly, and then cut in half. Scrape the flesh out of the skin and puree in a food processor until smooth.
Any type of nut butter may be substituted for almond butter, including cashew butter and peanut butter. Aim for an all-natural variety that contains only the nut and salt, with no extra added oils or sugars.