Have you started your Christmas baking yet?
In years past, I have challenged myself to bake every single day of December leading up to Christmas.
Y'all. That's a lot of cookies. (And this year, I can't really give them away since we aren't seeing anyone.)
This year, I am trying something new: each person in my family gets to pick one cookie recipe to bake. (As you may imagine, this puts a little more pressure on each recipe to be fantastic.)
Have you noticed how Christmas cookies have to be both delicious and beautiful? These meringues are. My family ate the entire batch in just two days! And bonus: They are so easy to make. Only a handful of ingredients and a super simple method.
Separate two eggs, depositing the whites in a large mixer bowl. I usually use my fingers to separate eggs rather than the egg shells or any kind of separator tool, because the shells can be sharp and I don't like to wash extra dishes!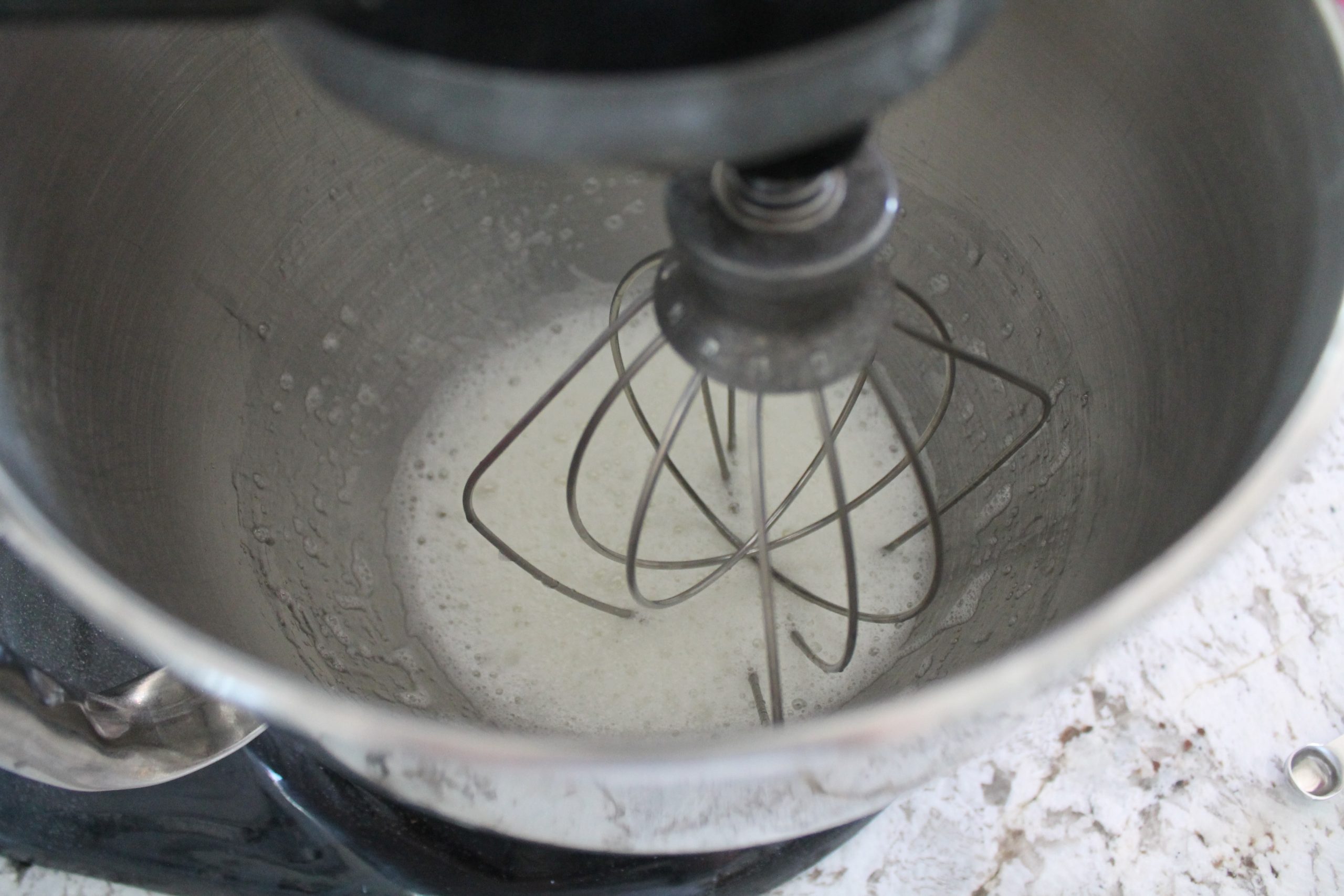 Add cream of tartar and just a pinch of salt to the eggs and beat until very foamy.
Add sugar a few tablespoons at a time, beating well as you go. You will notice that the whites begin to turn thick and glossy.
When they are thick enough to hold stiff peaks, stir in the vanilla extract.
Y'all…I have to go there.
Do you want to build a snowman??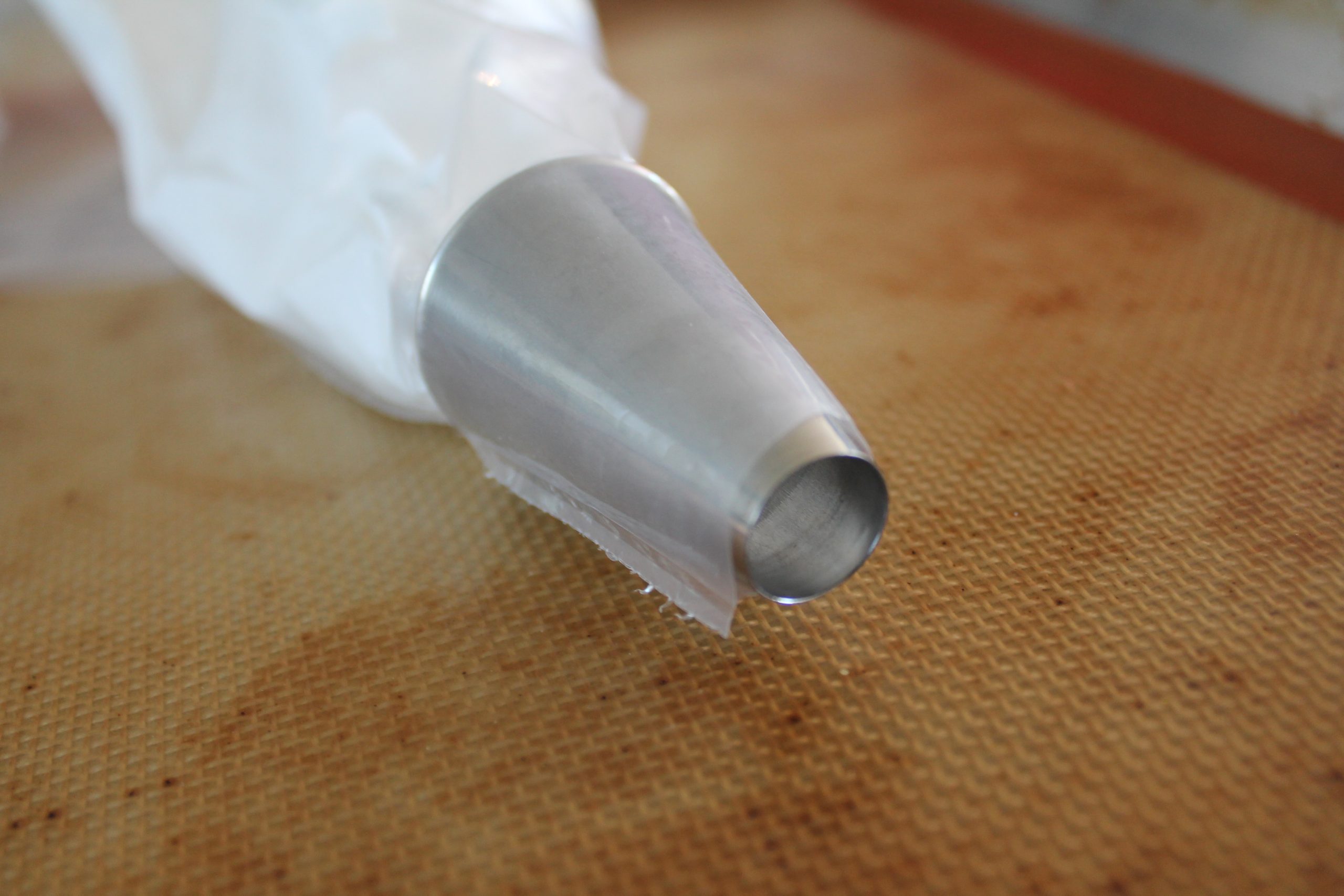 Spoon all of the meringue into a piping bag fitted with a large, round tip.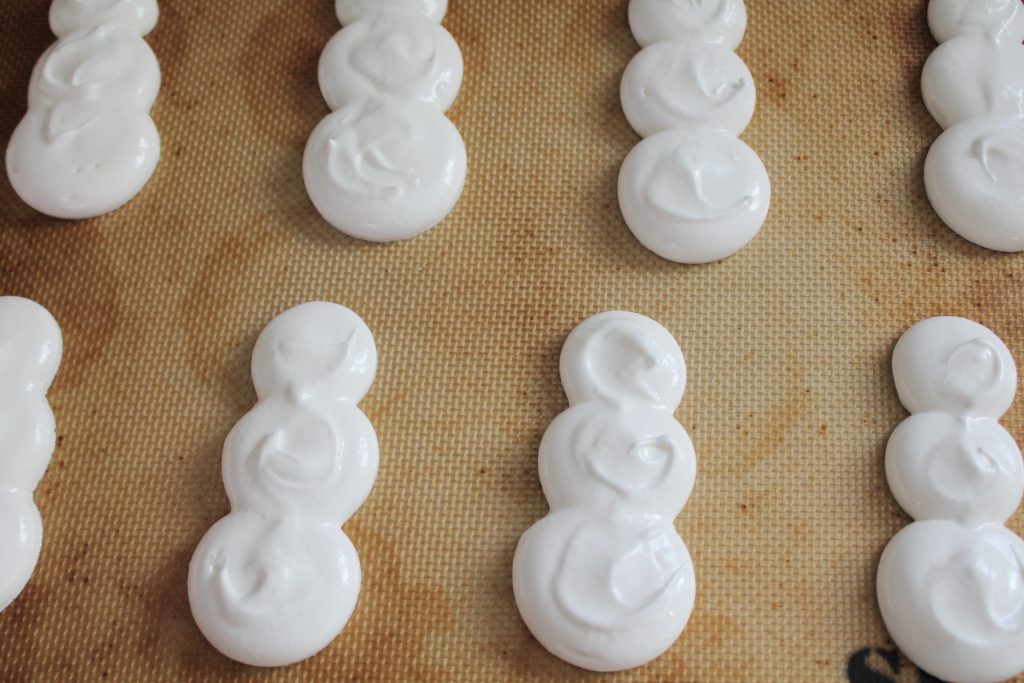 Pipe adjacent rounds onto a parchment- or Silpat-lined baking sheet to look like snowmen. You can make 3-circle or 2-circle snowmen, as you like! You should get about a dozen tall snowmen or 18 short snowmen.
Now comes the *fun* part! It's time to decorate the snowmen! This is a great part for kids to help with.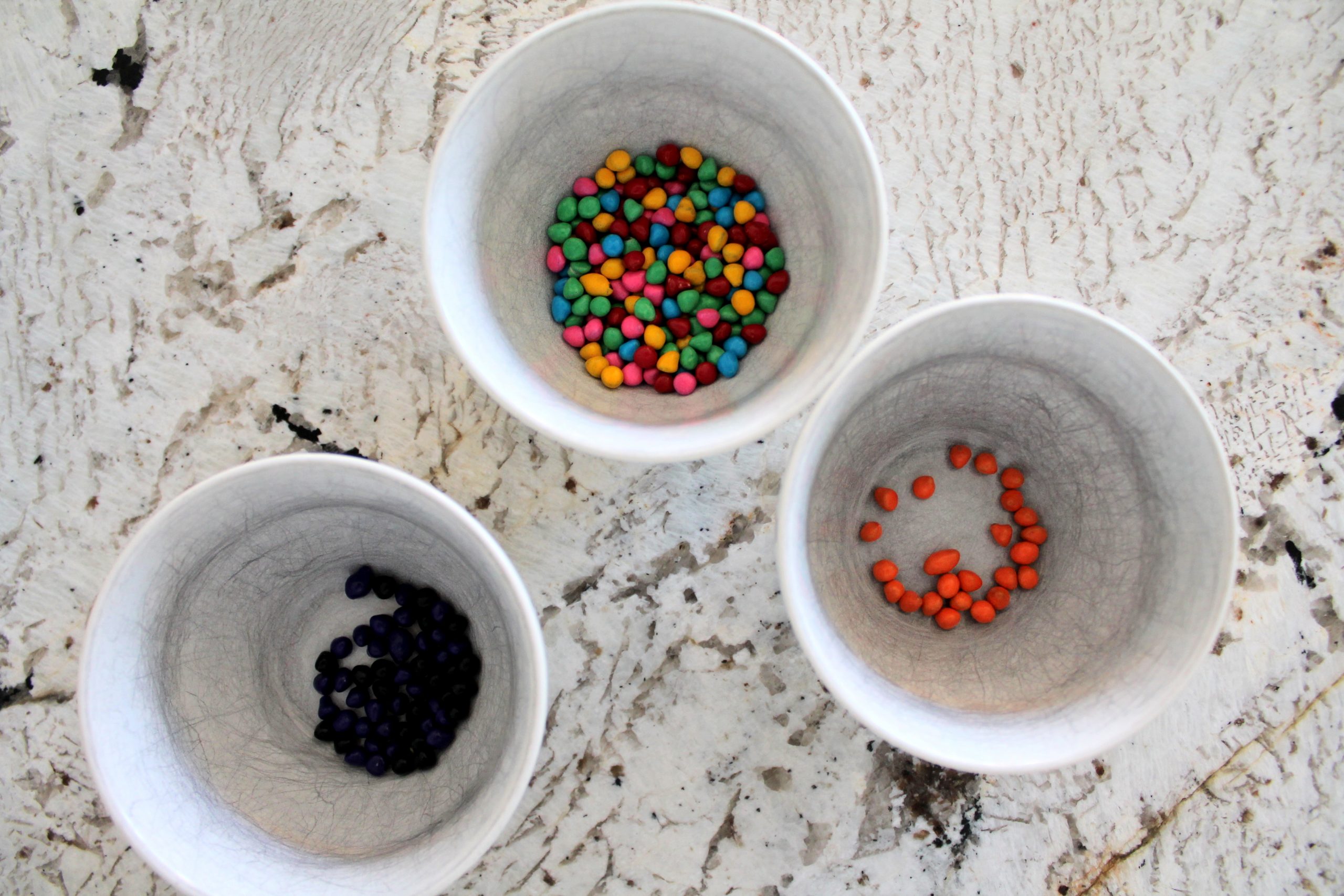 I use candy-covered mini chocolate chips. These come in a multi-colored tube, so just separate into dark (black and purple, for the eyes), orange (for a "carrot" nose!), and everything else (for colorful buttons).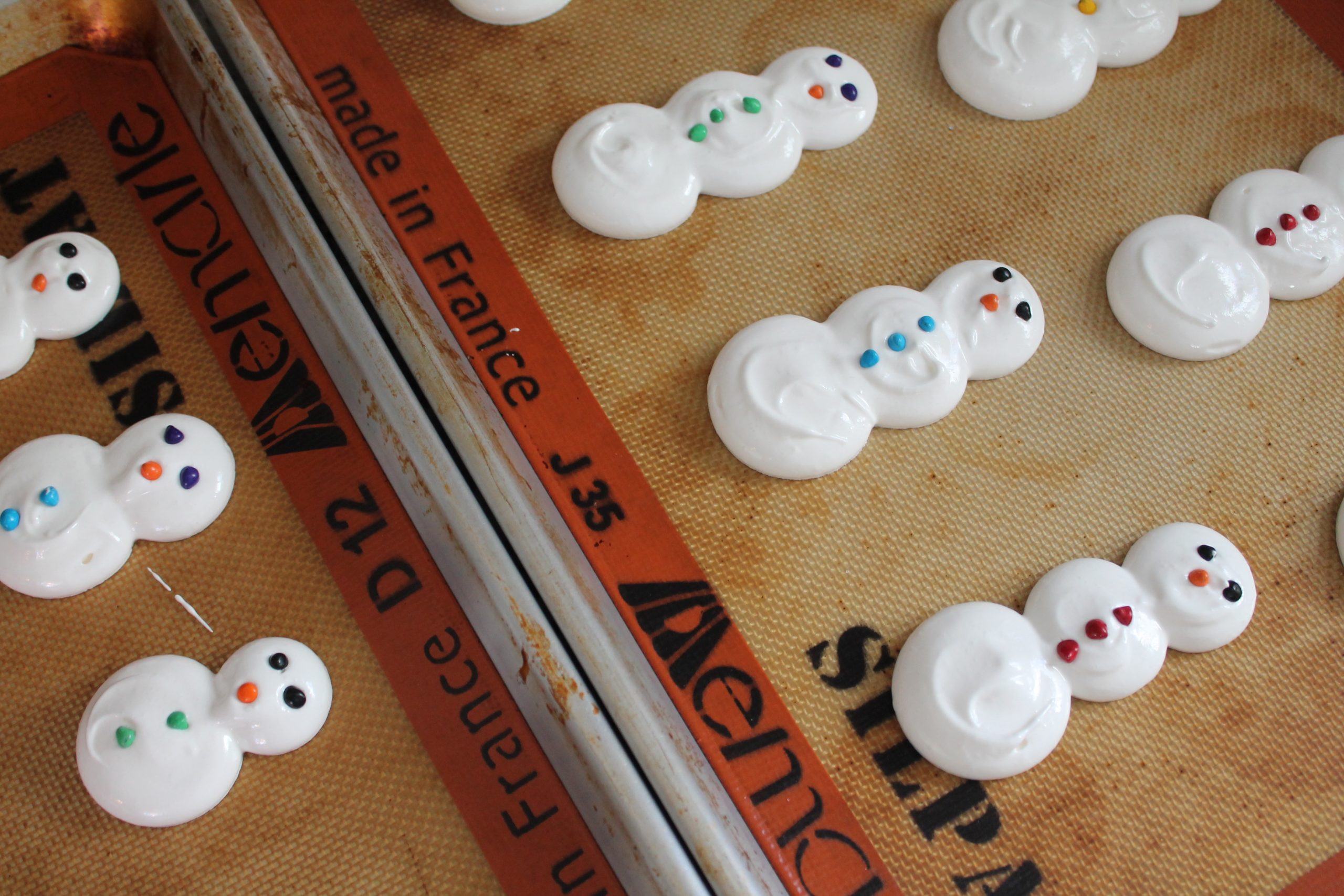 I usually let my kids do the colored buttons, which means that later on they compete over which color snowman they get to eat.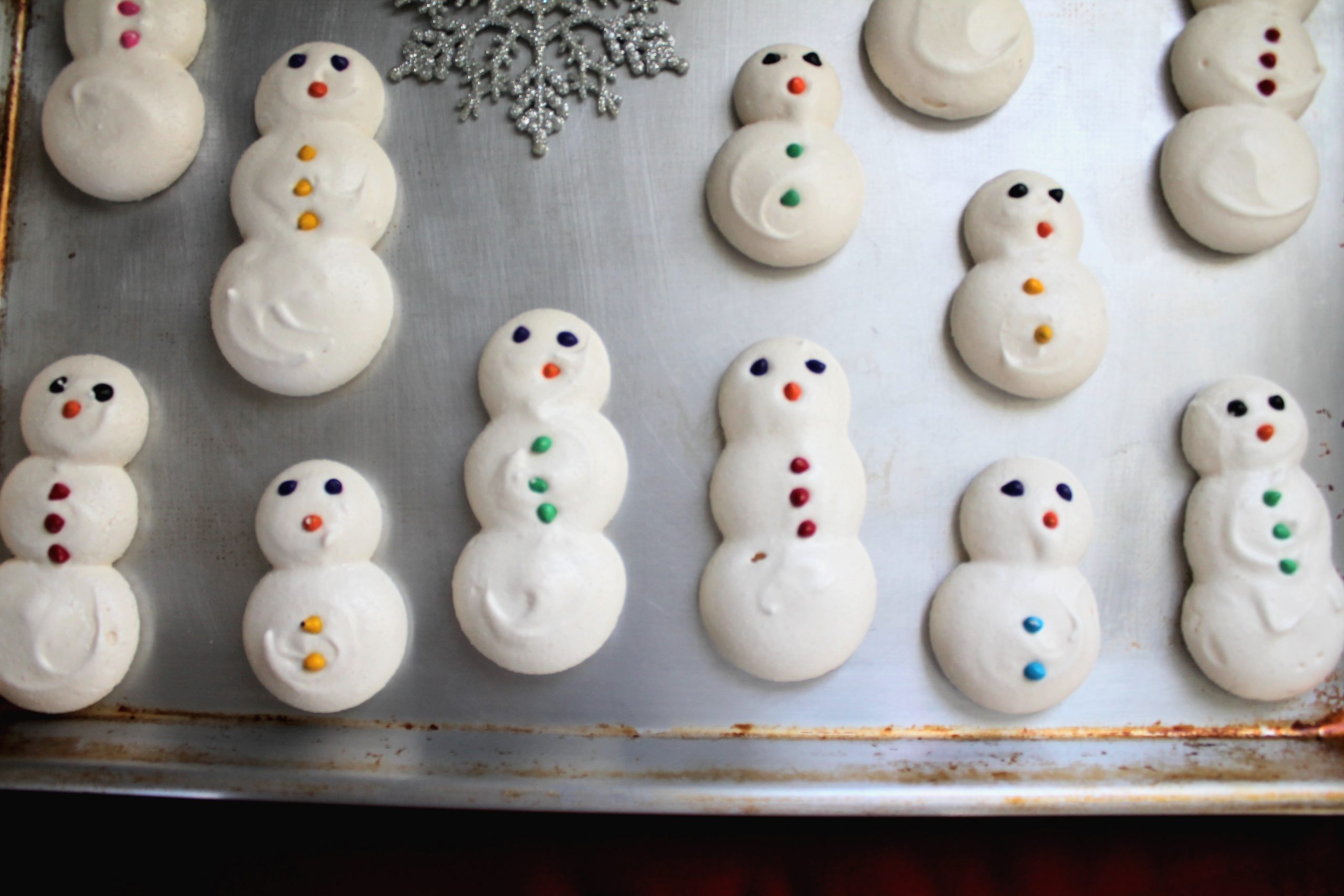 Bake low and slow, at 200° for 80-90 minutes. When they come out, they should be completely dry and not browned at all.
Snowman Meringues
Keyword
Christmas, cookies, dairy-free, gluten-free
Prep Time
15

minutes
minutes
Cook Time
1

hour
hour
30

minutes
minutes
Total Time
1

hour
hour
45

minutes
minutes
Ingredients
2

large

egg whites

⅛

tsp.

cream of tartar

½

cup

sugar

pinch of

salt

½

tsp.

vanilla extract

colored chocolate chips or sprinkles
Instructions
Preheat oven to 200°. Line two cookie sheets with parchment or Silpats.

Combine egg whites, cream of tartar, and salt, in a mixer bowl.

Beat on high speed (with the whisk attachment) until pale and foamy.

Add sugar slowly, a tablespoon at a time, beating between each addition. When all the sugar has been added, continue beating until the meringue can hold stiff peaks.

Transfer the meringue to a pastry bag fitted with a large, round tip.

Pipe snowmen onto the prepared baking sheets. The smallest circle should be about 1" in diameter, graduating to larger circles. You can either make smaller, two-circle snowmen or large, three-circle snowmen.

Use the colored chips or sprinkles to decorate the snowmen with eyes, a "carrot" nose, and buttons.

Bake the meringues for 80-90 minutes. Allow to cool completely before removing from the pan.

Store in an airtight container up to two weeks.
♥ Melissa