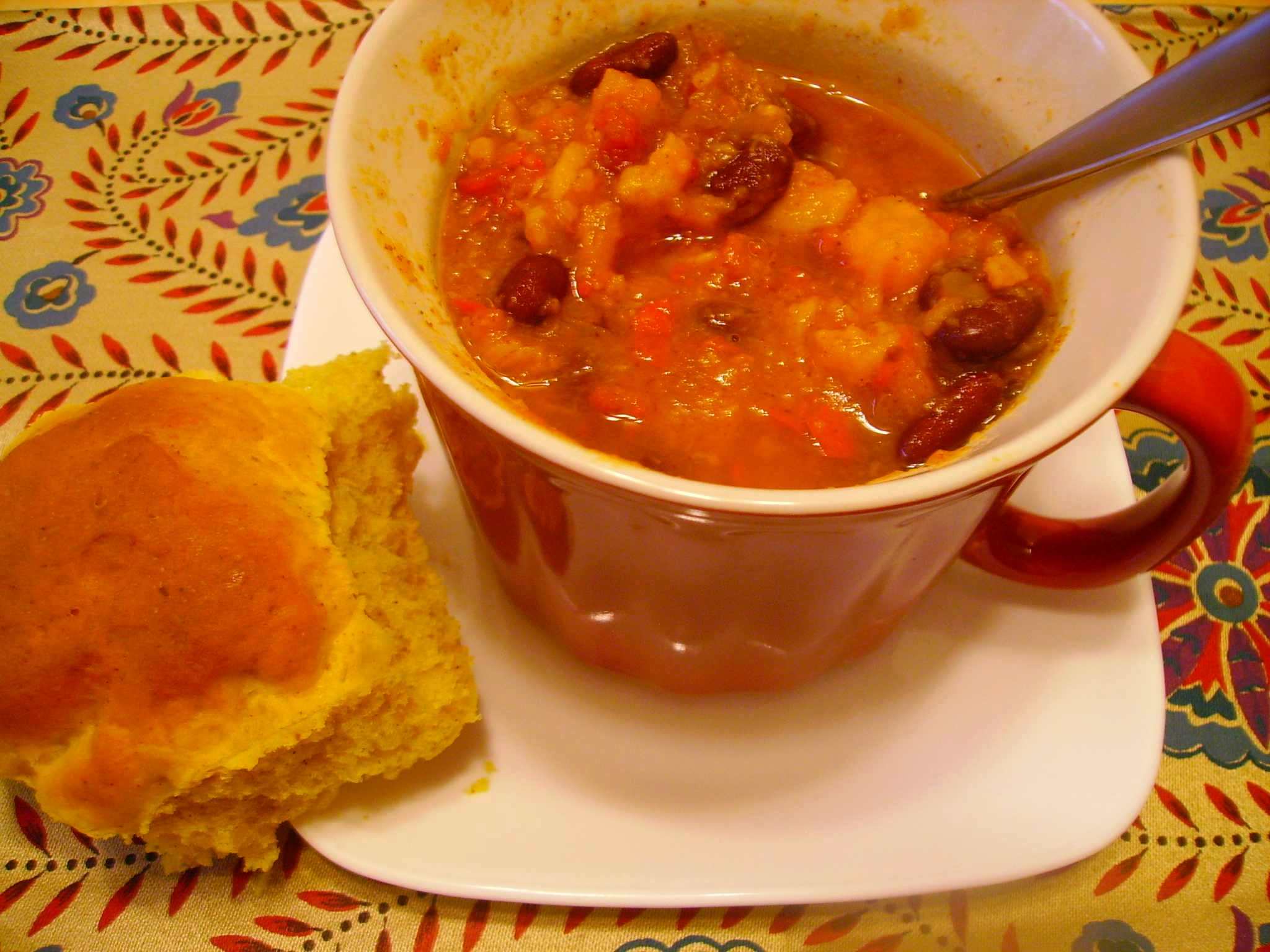 So I haven't posted in a week…but that doesn't mean I haven't been cooking! In fact, it's been kind of a frenzy of kitchen activity over here, between meals with visiting relatives (over 20 in all!) and Christmas dinner…lots of spicy, herb-y yumminess going on.
I wish I hadn't missed the chance to share about our awesome Christmas dinner with you, but at least now we can prepare for a New Year's extravaganza! I'm talking about awesome dips, chili, and…well maybe you have had enough of cookies for the time being 🙂
This spicy crockpot chili is a perfect dish to celebrate New Years with. Why? It's quick and flavorful, it's hearty but healthy, and it will complement the plethora of appetizers usually appearing around this time of year, from pimento dips to fresh salsa. The best part? Because this chili is made in the crockpot, it only takes about 10 minutes of effort at the beginning of the day, leaving you free to hang out with friends and relatives, or deal with whatever other dishes you have planned.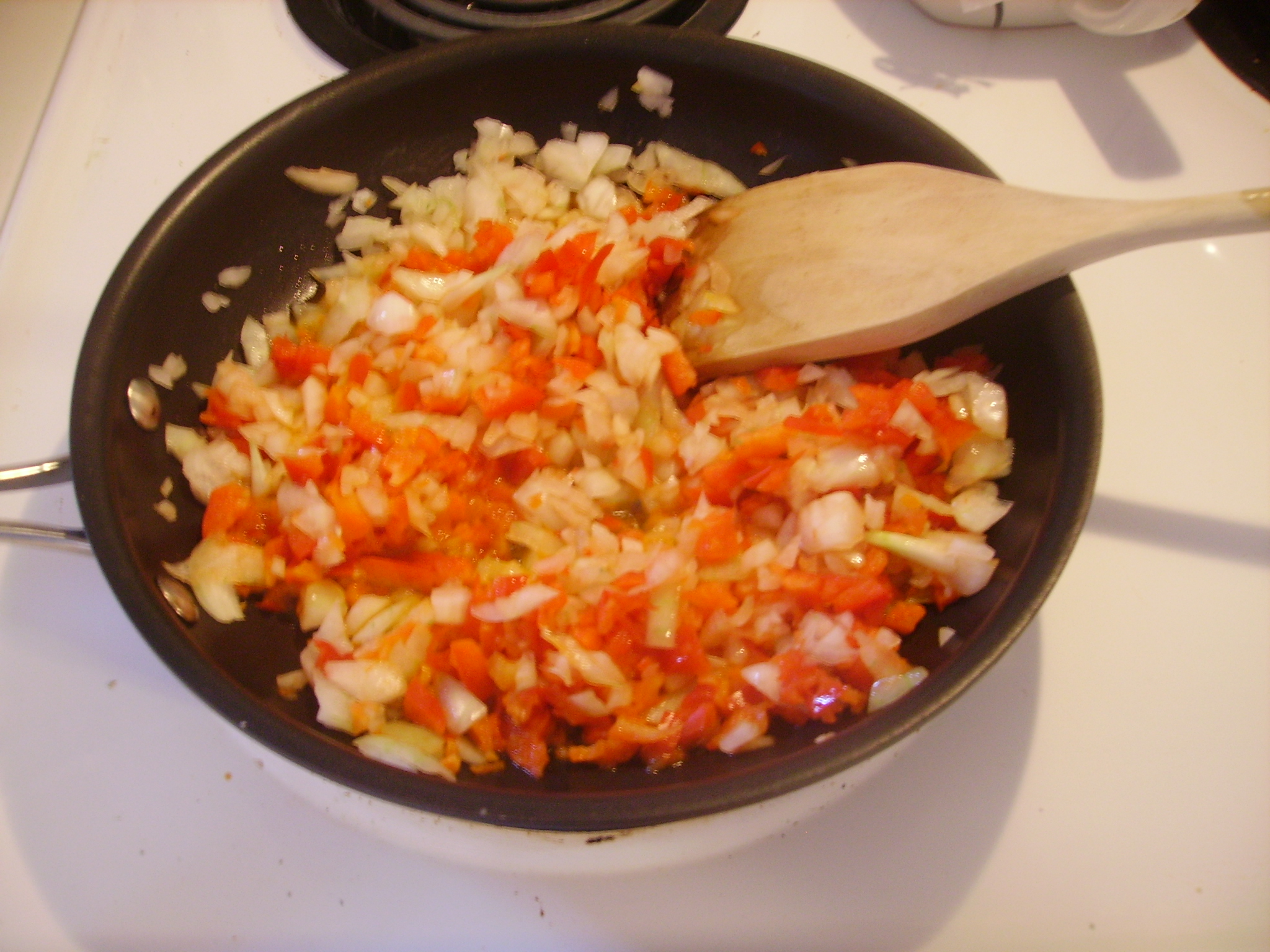 Start by chopping up a yellow onion and a red bell pepper. I liked to use a food chopper—you know, the kind you smack repeatedly and in about 10 seconds an entire vegetable is evenly diced…*happy sigh*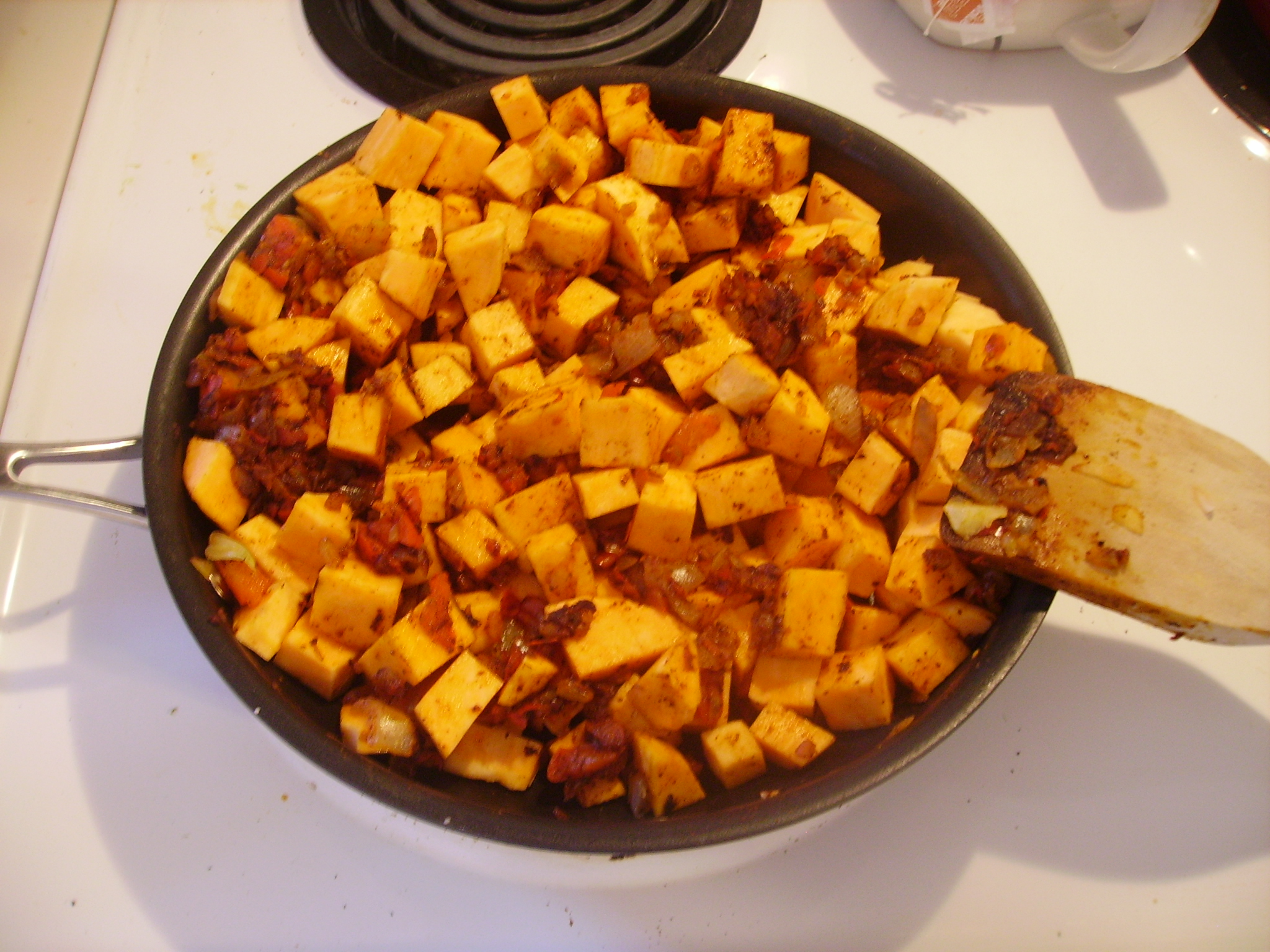 Sauté the chopped veggies in a very large sauté pan with a clove of minced garlic. When they are soft, stir in chili powder and saute for another few seconds. Add in the sweet potato chunks and stir to coat.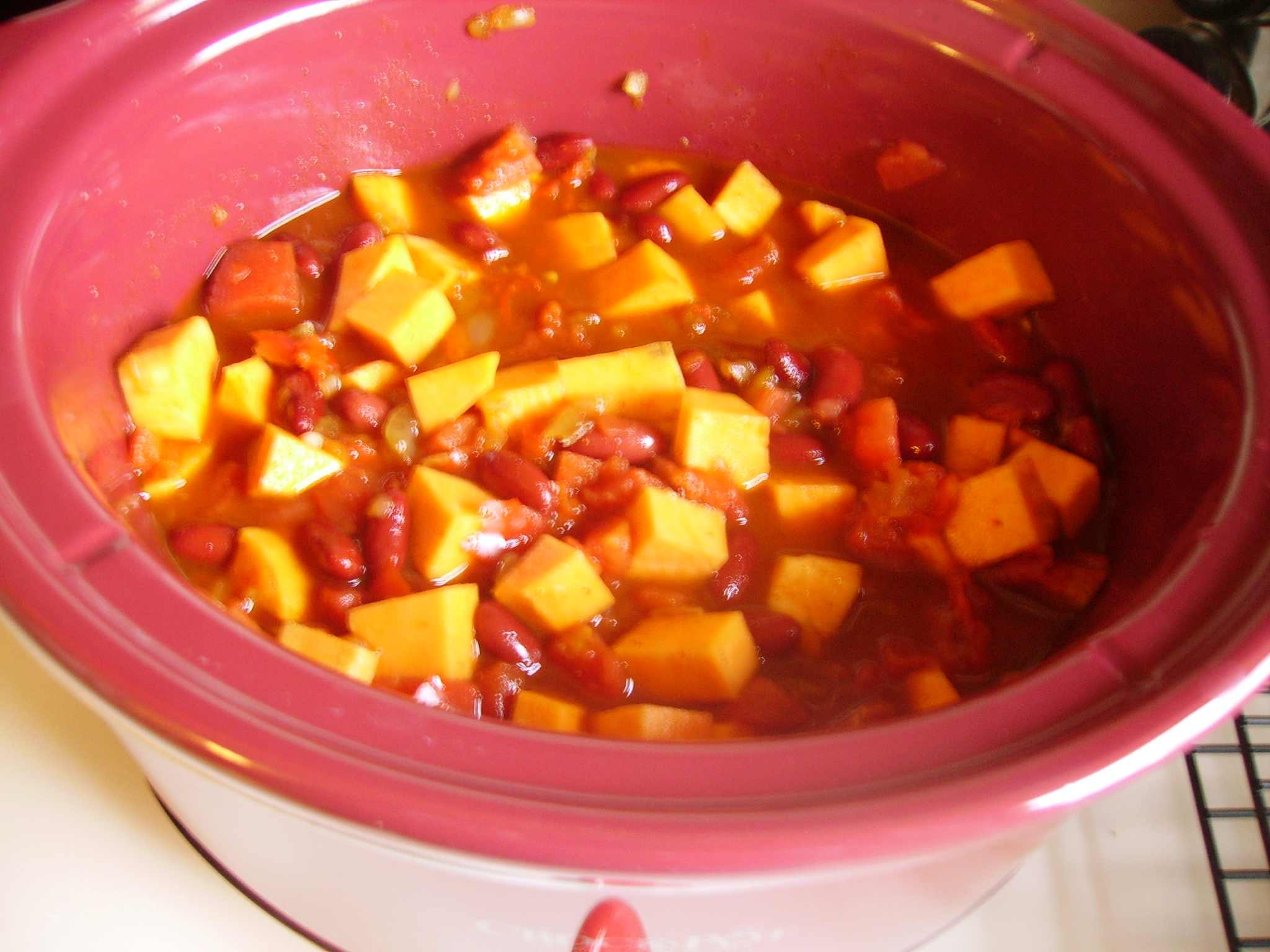 Dump the sweet potato mixture into a 4–6 quart crockpot. Stir in a small can of crushed or diced tomatoes, cooked kidney beans, water, and a bit of salt. Cover the pot and let the chili cook on low heat for 6 hours.
Yay, you're almost done! Kick back and relax! Or, even better, make yourself some bread…maybe some pumpkin yeast rolls, or some cornbread…maybe some white wheat artisan bread! Glorious bread. And you have all the time you need to prepare it.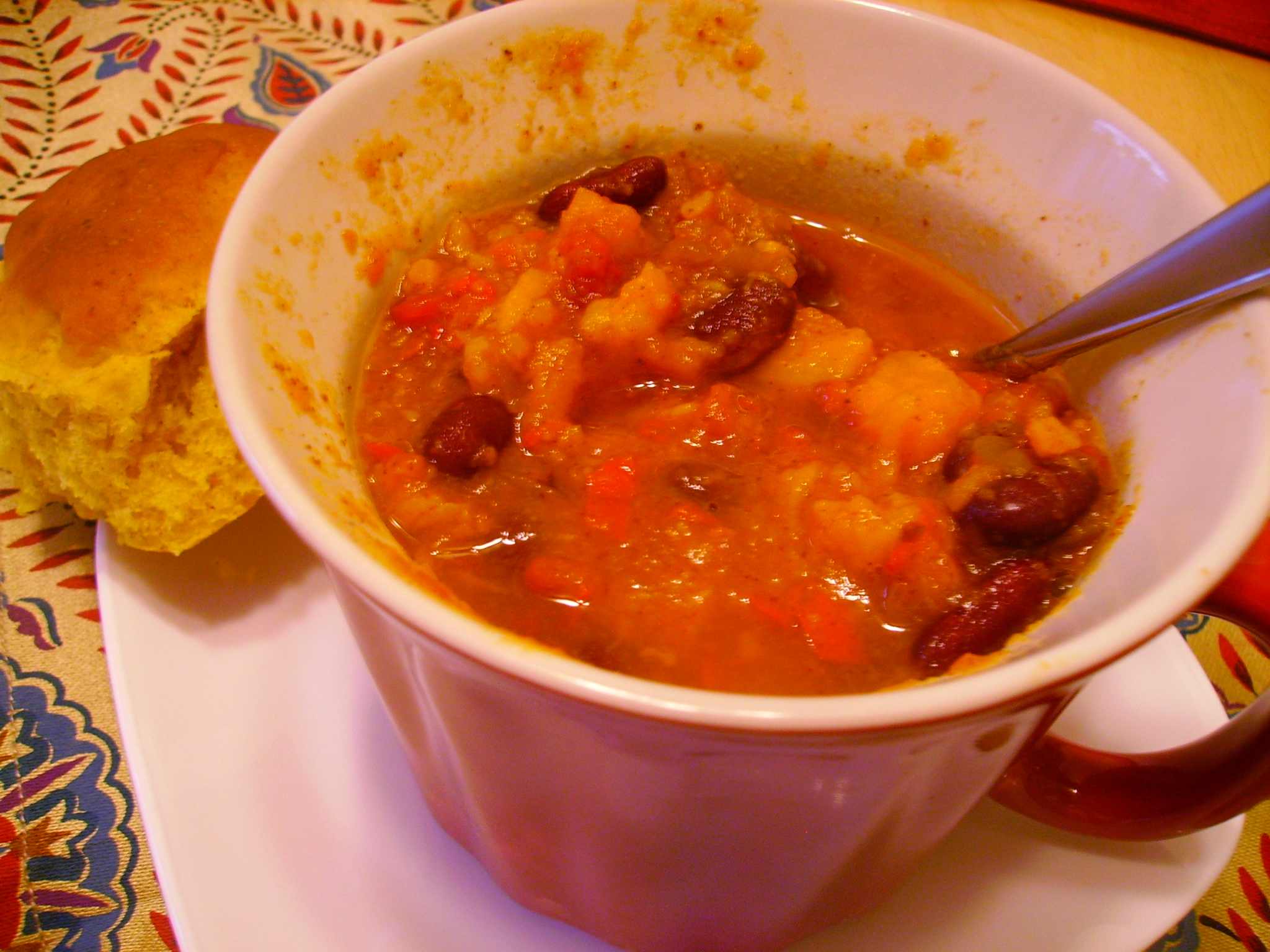 When you are about ready to serve the chili, stir in about ½ tbsp. minced chipotles in adobo. You could do more or less, depending on your spicy tolerance, but make sure you chop them up as small as possible, and for heaven's sake, wash your hands afterwards or else you may do something foolish, like swipe at a hair in the corner of your mouth, and then you will find that your lips are on fire. Uncool.
Chipotle Sweet Potato Chili
from Fresh from the Vegetarian Slow Cooker
serves 4–6 (or more, if there are lots of munchies present…)
Ingredients:
1 tbsp. olive oil
1 medium yellow onion, chopped
1 red bell pepper, seeded and chopped
1 large clove garlic, minced
1 tbsp. chili powder
1½ lbs. sweet potatoes, peeled and chopped into ½″ chunks
1 14½oz. can low-sodium crushed or diced tomatoes
1 15½oz. can red kidney beans, drained and rinsed
1½ cups water
salt
½ tbsp. minced chipotles in adobo
Directions:
Sauté the chopped onions, bell pepper,and garlic in olive oil until softened, about 5 minutes. When the vegetables are tender, stir in the chili powder and cook for 30 seconds. Add the sweet potatoes and stir to coat with spices.
Transfer the mixture to a 4- to 6-quart slow cooker. Add the tomatoes, beans, and water. Season to taste with salt; cover and cook on low for 6–8 hours.
When ready to serve, stir the minced chipotles into the chili. Taste and adjust seasonings as necessary.
Enjoy!