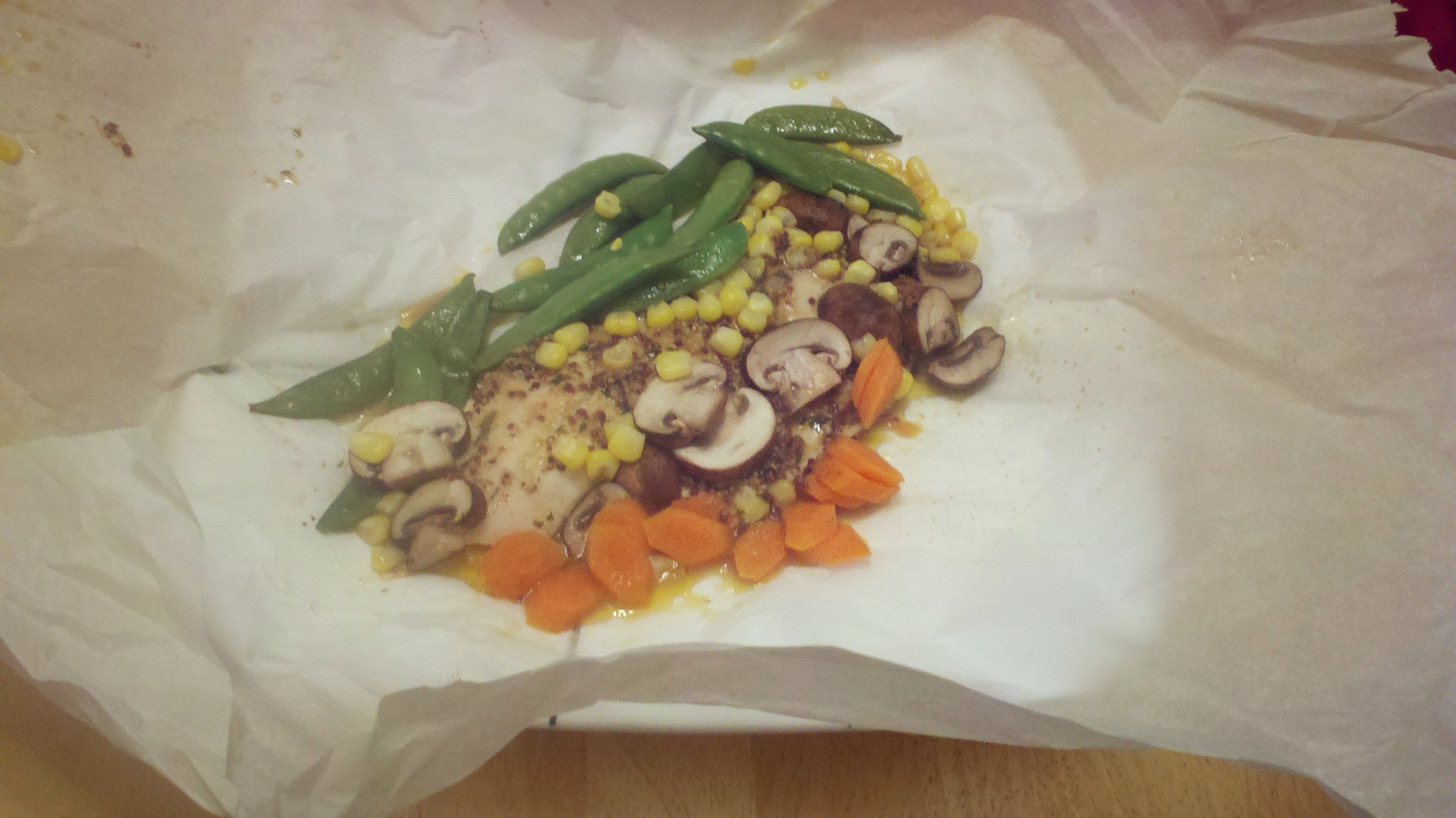 Fish is good. Fish is good for you.
Let's eat some tilapia, which is a very mild fish, and tends to take on the flavors of what you cook with it. So we are going to add in a little spice and a little tang via a flavorful spread for the fish, and a little sweetness to offset the heat via our vegetables. And what do we get? A meal that is delicious and healthy that will make your husband say, "Wow, these flavors are great!" even though he doesn't like fish (…ahem…).
And the best part is that this meal is like the baked equivalent of a one-pot dinner! So you put in minimal effort (maybe 10 minutes of prep, max) and get maximum results. Love it!
Most grocery stores sell tilapia in fillets at the seafood counter. I really recommend going for that as opposed to a large piece of fish with the skin still on, because it saves you a lot of work, and you will definitely end up with a reasonable portion size. My fillets looked gigantic, but they were both between 5 and 6 ounces, which is perfect.
I must confess, I also like to use a store-made "finishing butter" (gasp!) in this dish, because I want something quick. But mixing together your own version of a chili-lime butter would only add about 2 minutes onto your prep time, and I did include a recipe for that below.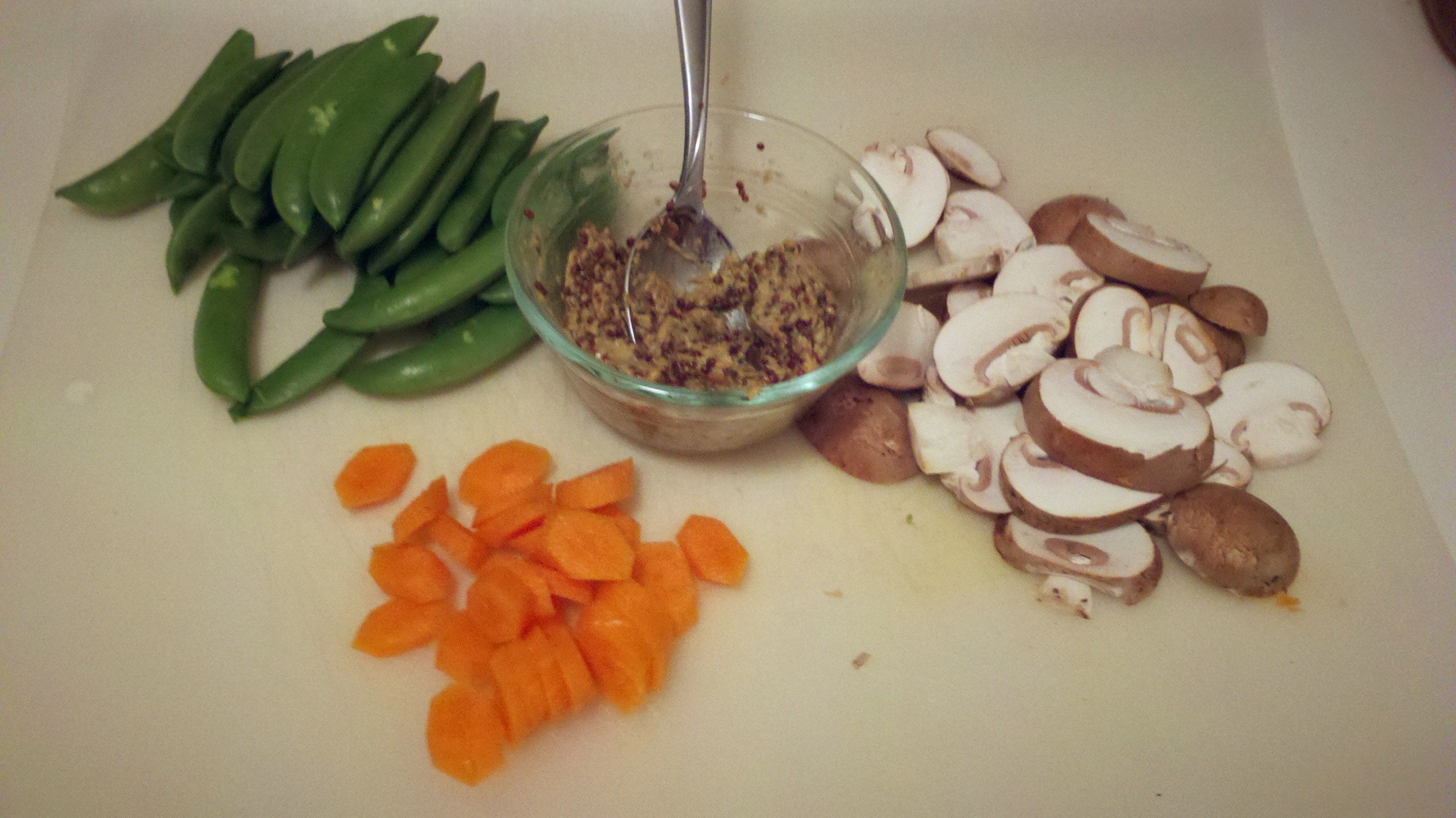 Mix together your chili-lime butter and whole grain mustard. Slice up several baby bella mushrooms and one medium, peeled carrot. If your sugar snap peas still have the little woody ends on them, trim or pull those off.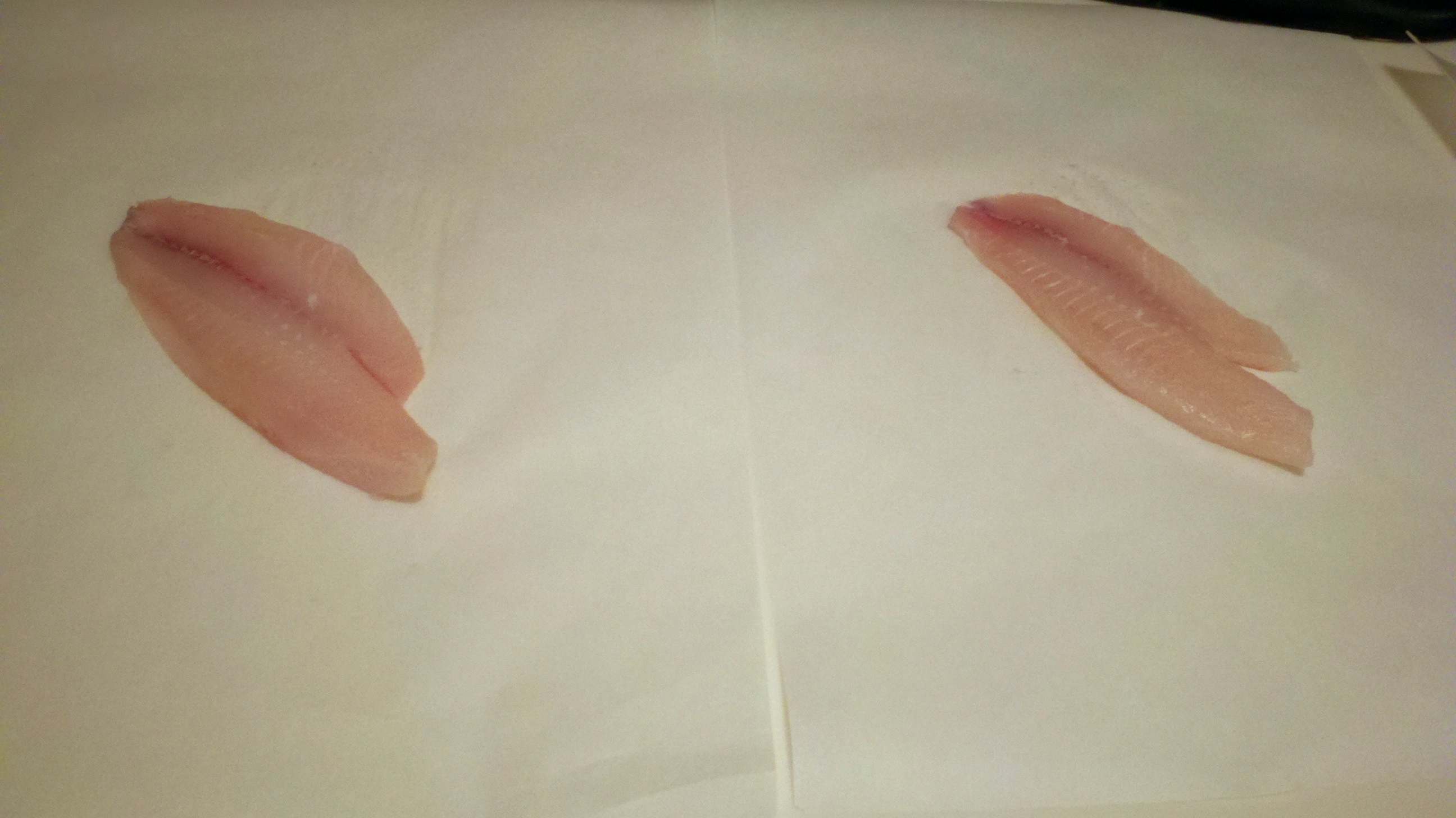 You may have a better way of making a parchment packet than I do. I have tried several different methods, but in the end, this is what worked best for me. It's not elegant. But hey, you aren't actually trying to steam this fish, so if it's not perfect, I think that's okay; the point is to create a space in which the flavors can combine together during cooking.
So. Lay the tilapia diagonally on two separate sheets of parchment paper, about 1½ feet long. You can use foil if you prefer, but I promise the paper won't soak through or rip.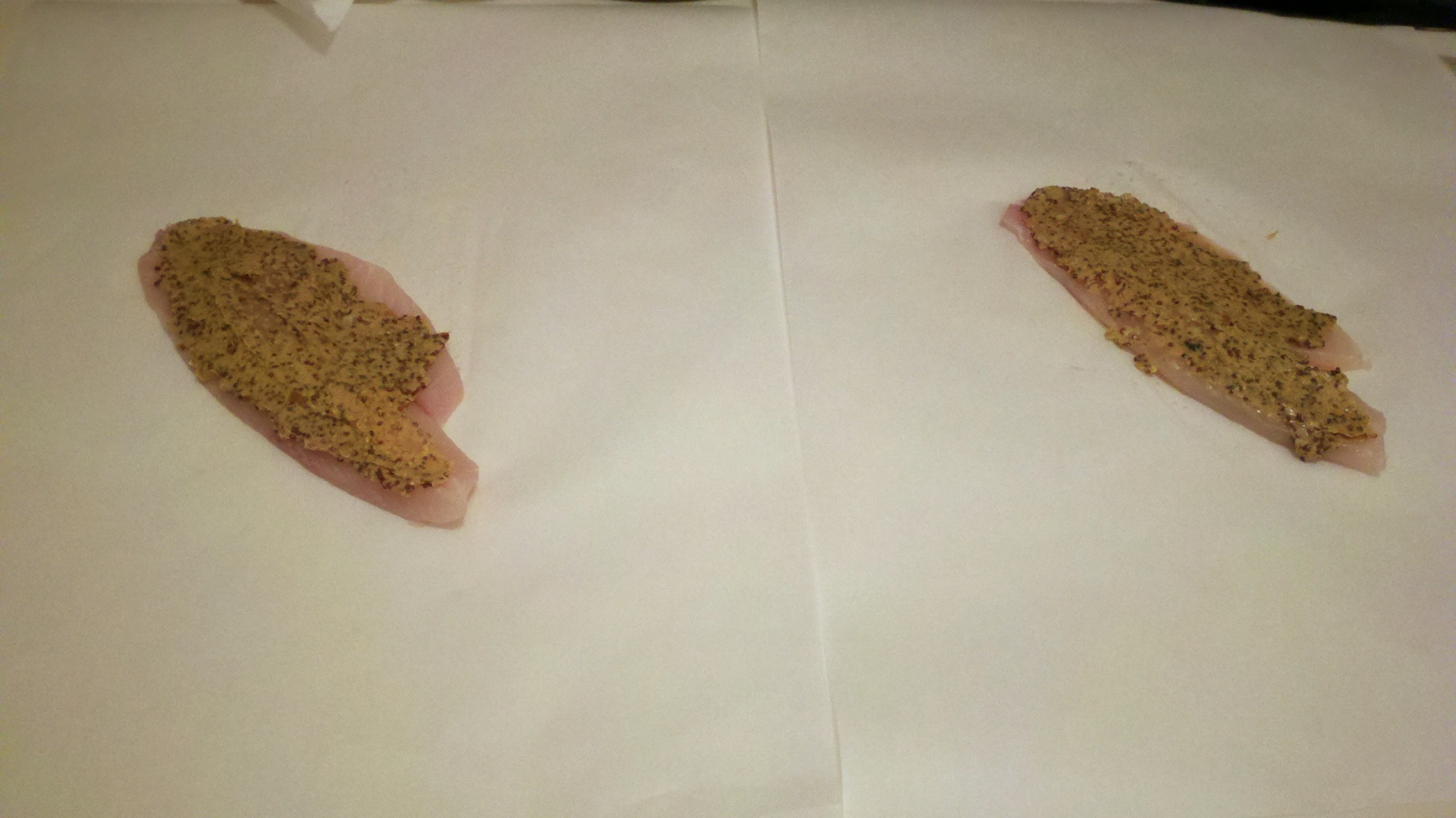 Spread the fish with your chili-lime-mustard mixture. I probably only used two-thirds of the mixture I made, and I got a fairly thick layer down on the fillets. But I figured it was worth it to save some calories and reserve some of the spread for another day.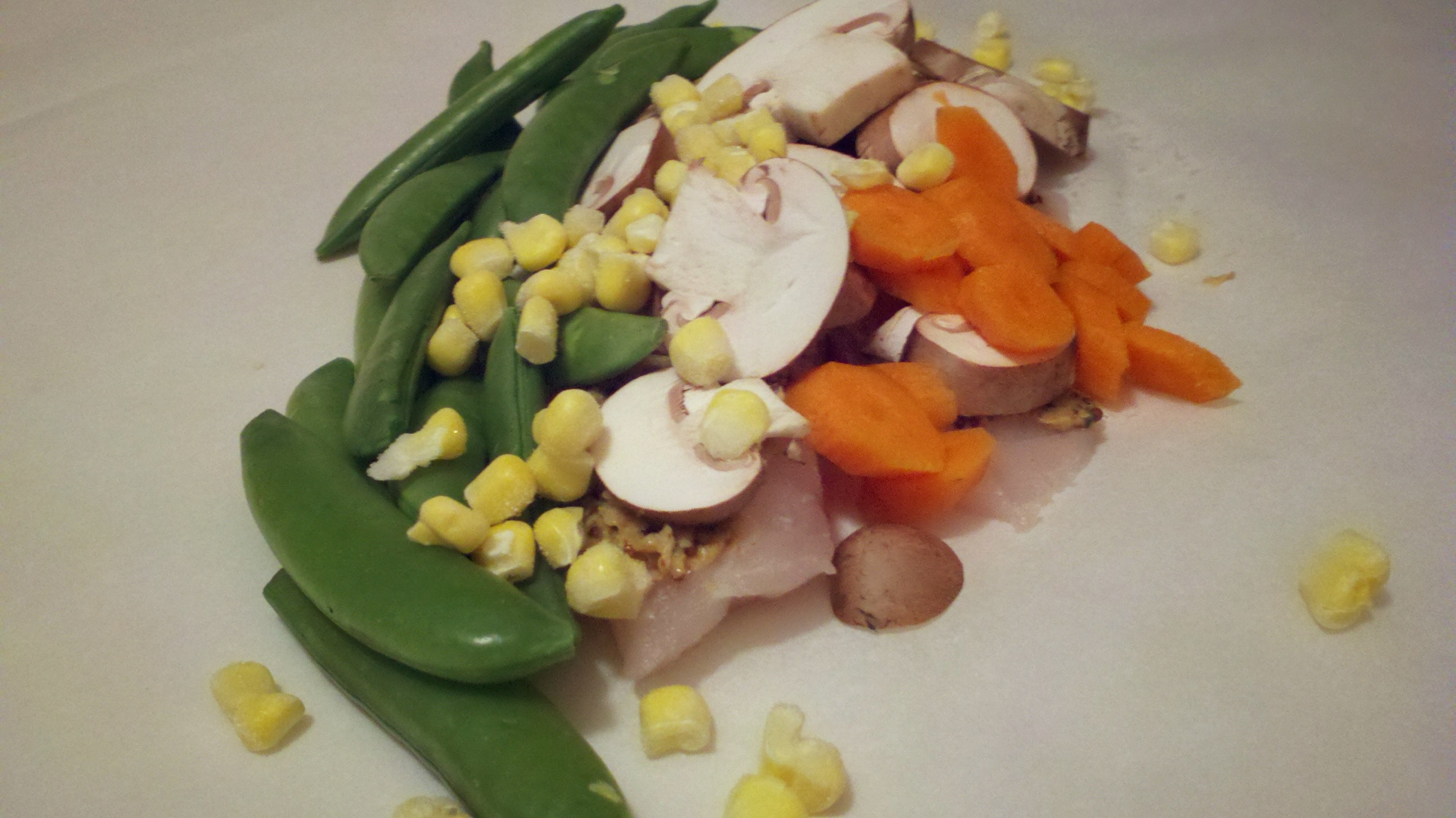 Top with the vegetables, in any arrangement you like. Don't forget your frozen corn! That will add a little moisture to the packet and help everything cook faster.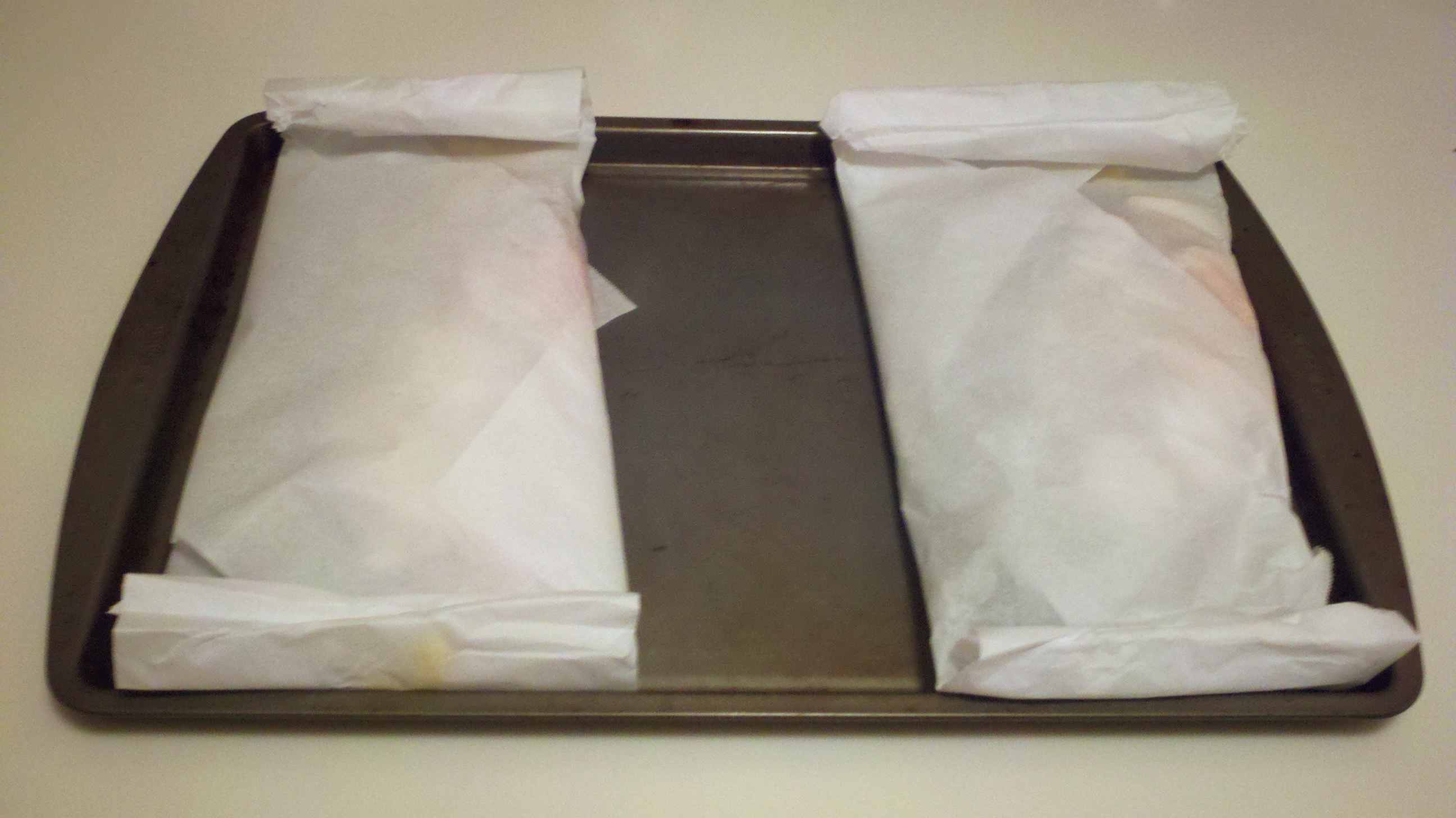 Fold the parchment over the fish, creating a fat tube. Tuck the edges underneath. Roll the ends of the tube up, closing off the holes. Don't stress if the paper doesn't seem to want to stay all the way rolled up, as long as they don't completely unravel. If necessary, you can tie the edges with kitchen string, or cover the whole packet with a layer of foil—remember, we are only using the packet to help the flavors blend; the fish will be cooked completely even if some of the steam escapes. What I did was rely a little on the edges of my cookie sheet to hold the shape of the parchment packet (as I said, I still haven't found a perfect method of sealing the packet, but there is a lot of advice on the web if you are curious).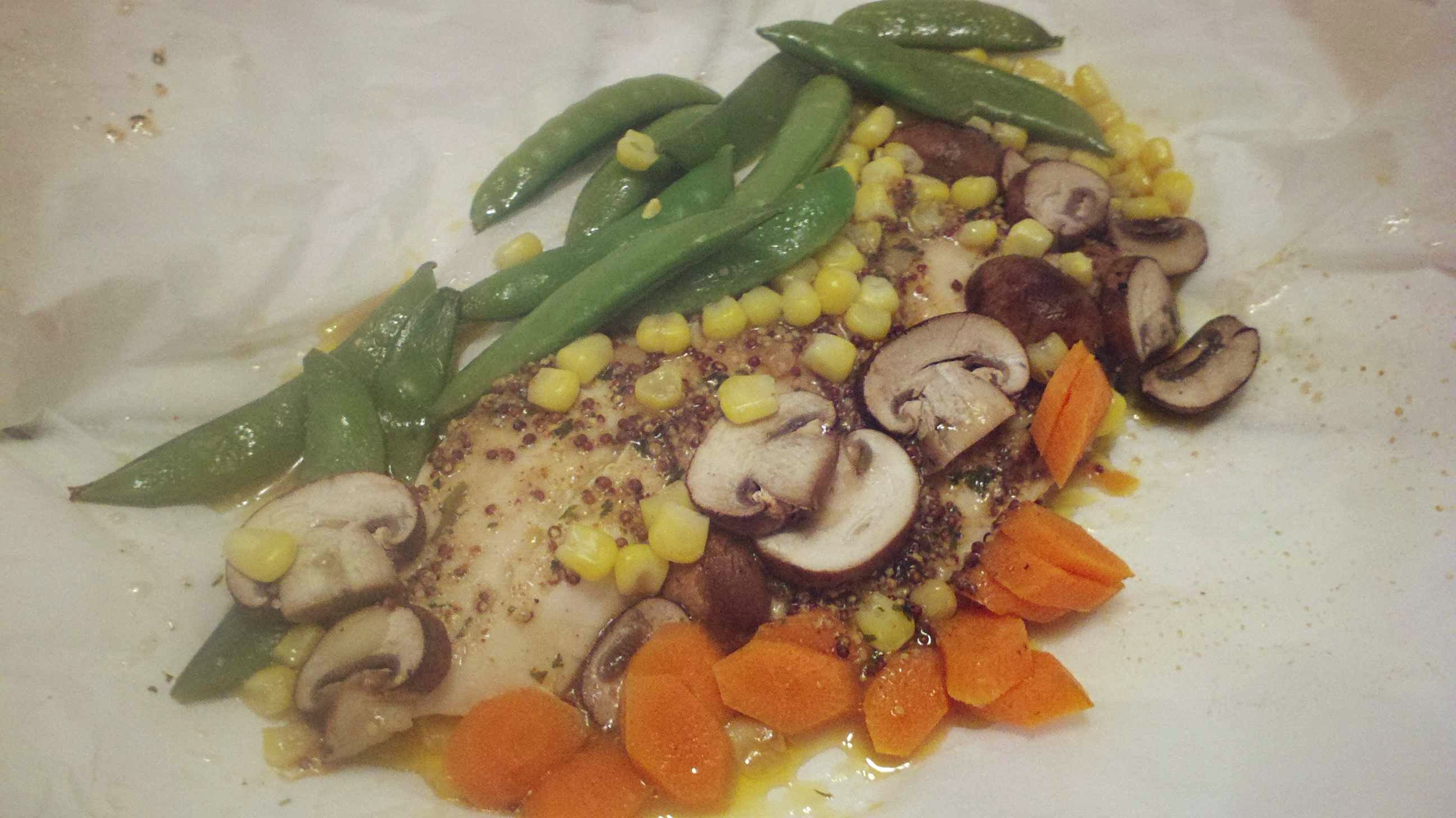 Bake the tilapia and vegetables for 15 minutes at 400°. Let the packets rest for 5 minutes before opening. The fish should be completely opaque and firm, and the veggies crisp-tender.
Parchment-Baked Tilapia
a Melissa original
serves 2
Ingredients:
¼–½ tsp. red chili paste
1 lime
½ shallot, minced
2 tbsp. whole grain Dijon mustard
2 tbsp. butter, softened
2 5–6oz. tilapia fillets
salt and black pepper
4 large baby bella or button mushrooms, sliced
1 medium carrot, sliced on a diagonal
8 oz. sugar snap peas, trimmed as needed
½ cup frozen corn
2 tbsp. chopped chives (optional)
Directions:
Preheat oven to 400°.
Make a chili-lime-mustard spread by combining the chili paste, lime zest and juice, minced shallot, mustard, and butter.
Lay each of the tilapia fillets diagonally in the center of a large piece of parchment paper, about 1½ feet long. Season to taste with salt and pepper. Spread the tops with the mustard spread (there may be some left over).
Cover the tilapia with vegetables. Sprinkle with chives.
Seal the tilapia and vegetables inside the parchment by folding the long ends across the fish and vegetables, tucking the excess underneath the fish. Roll up the loose ends, creating a seal so steam can ruminate inside the packet. If necessary, use kitchen twine to help the packet stay sealed, or cover the parchment wrapper with a layer of foil.
Set the parchment packets onto a rimmed cookie sheet. Bake for 14–16 minutes, depending on the thickness of the fish. Test one of the tilapia fillets for doneness (be cautious of the steam) and then reseal.
Let the packets rest for 5 minutes before eating.
*Note: It is also fine to use about 2 tbsp. store-made chili-lime butter and mix together with the mustard.
Enjoy!