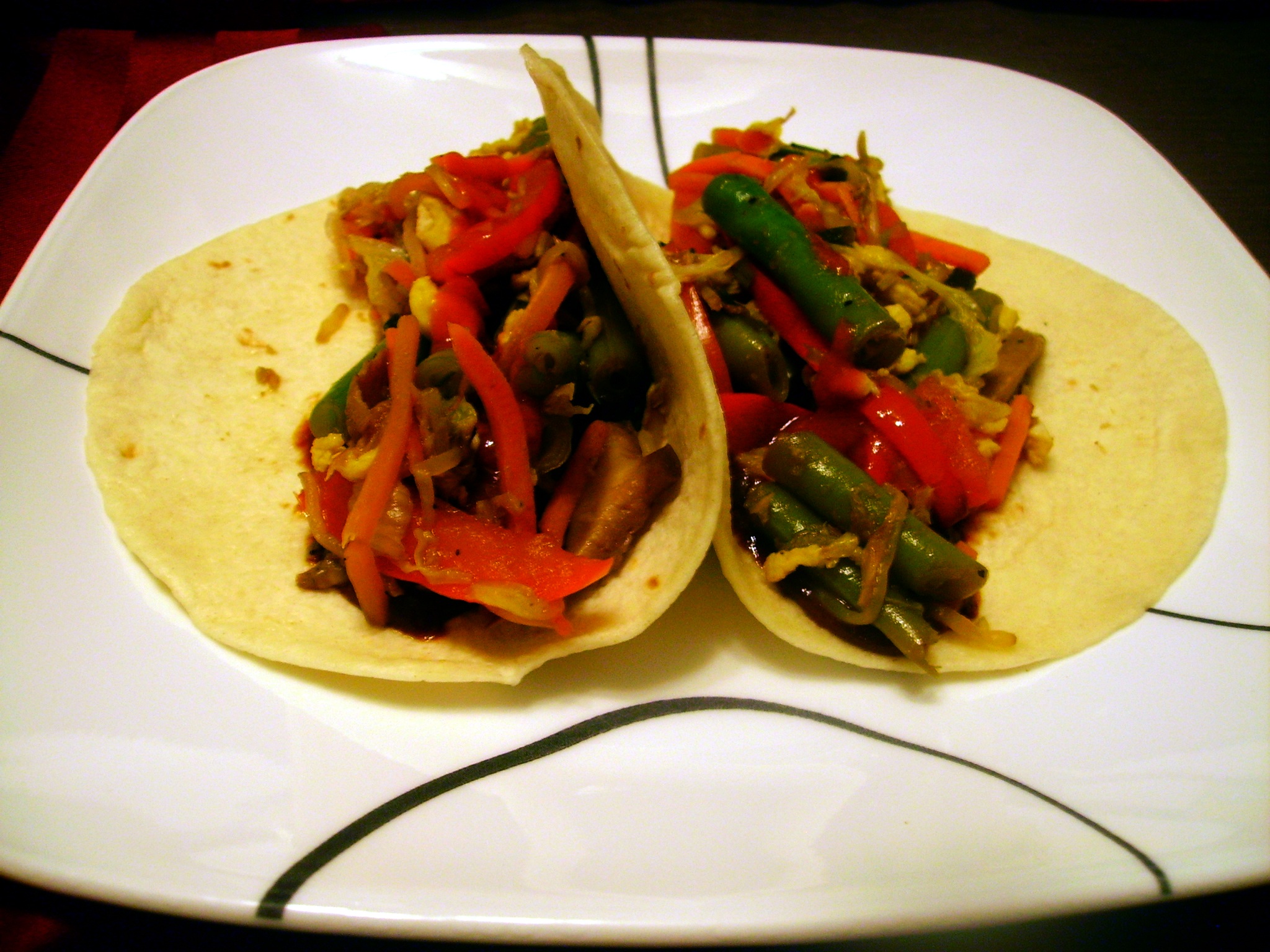 Do you know the food talk show, The Chew? Five very different personalities joining together to share recipes and mock each other. Love it.
The Chew has become party of my daily lunchtime ritual. I rummage around in my fridge until I find something that takes about 1 minute to get ready, wander into the living room, and Hulu and I settle down to watch a week-old episode about spicy foods or breakfast all day.
So far my favorite episode has been the healthy foods episode from mid-January, on which Daphne Oz made this fabulous moo shu dish. Why am I so excited about moo shu, you wonder? Simply put, my husband should have been born in Asia. Pick a country, he can devour their traditional dishes with the hunger of three men. I also really love most Asian cuisines, but I have never been a huge fan of Chinese food…it usually tastes kind of like grease to me. But the one dish I always really enjoyed before becoming a vegetarian, coincidentally one of Dave's all-time favorites, was moo shu pork.
How awesome is it that I now have a super-easy vegetarian version I can make whenever Dave needs a Chinese-food fix? And I can eat it, too!
Okay, this dish does require about a million vegetables, which means that most of the time it takes to prepare the meal involves chopping. Still, even with my mad slow knife skills, we were sitting down to eat within 30 minutes.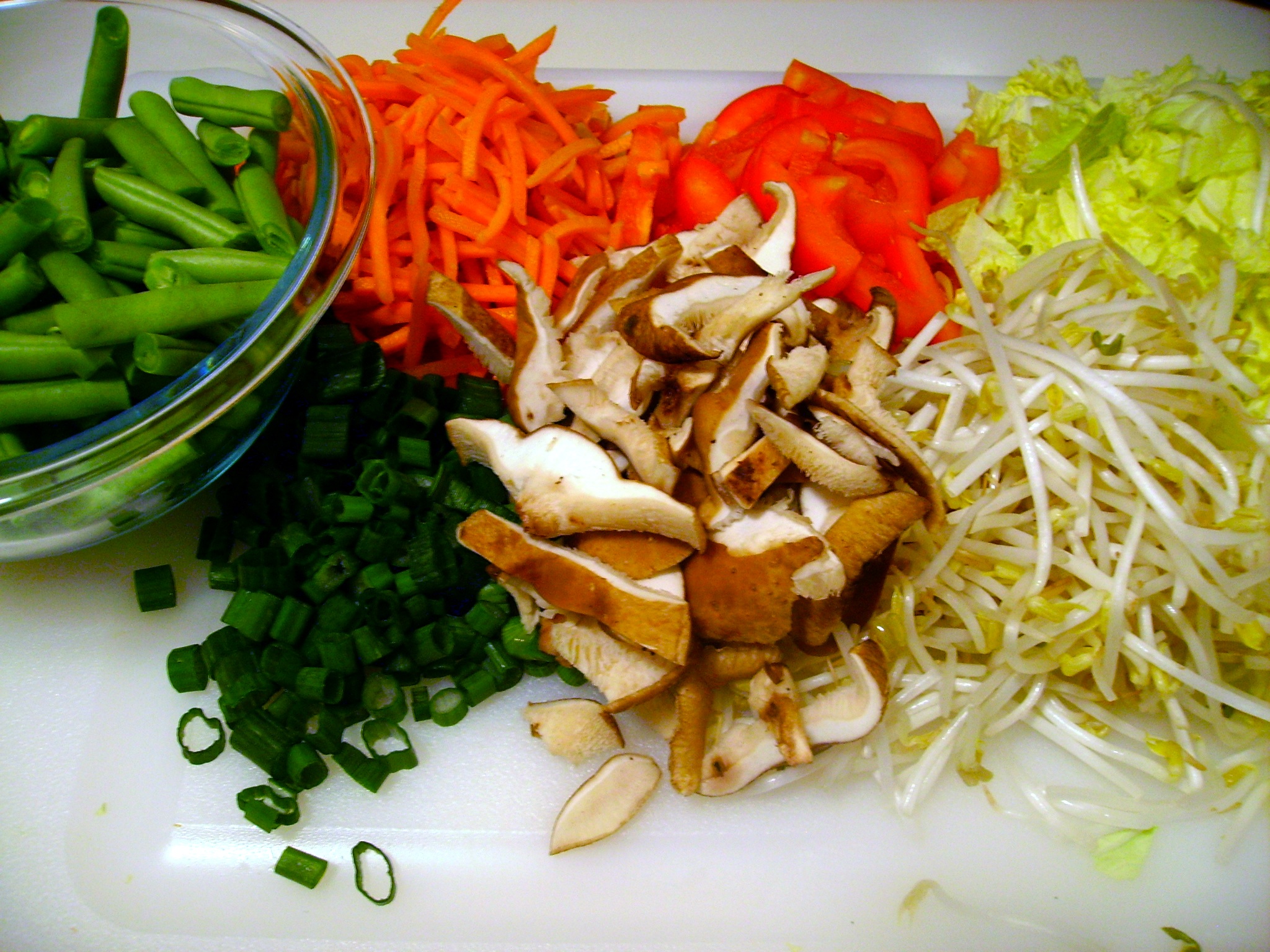 Start by cutting up the green beans: trim the edges and slice into bite-size chunks on a diagonal. Cut up the cabbage however you like (I avoided the food processor, just so I wouldn't have to wash it). Then slice up the red bell pepper, shiitake mushrooms, and scallions. I also used matchstick carrots instead of whole carrots, again so I would have fewer dishes to deal with later.
Turn your attention to the stovetop. In a veeerrrryyy large skillet or a large wok, quickly scramble 3 eggs. Transfer the eggs to a separate bowl and wipe out the pan.
A word about the pan: I recommend using a wok. I didn't, because there is a part in the recipe where you are supposed to cover the vegetables and let them steam cook for a few minutes, and I don't have a lid big enough for my wok. But keep in mind that you have probably about 6 or 7 cups worth of veggies to fit in whatever pan you choose, and you still need to be able to stir them around. I ended up having to use tongs for that part, so I guess I really did more of a "pick-up-and-fry" than a stir-fry until the veggies condensed considerably…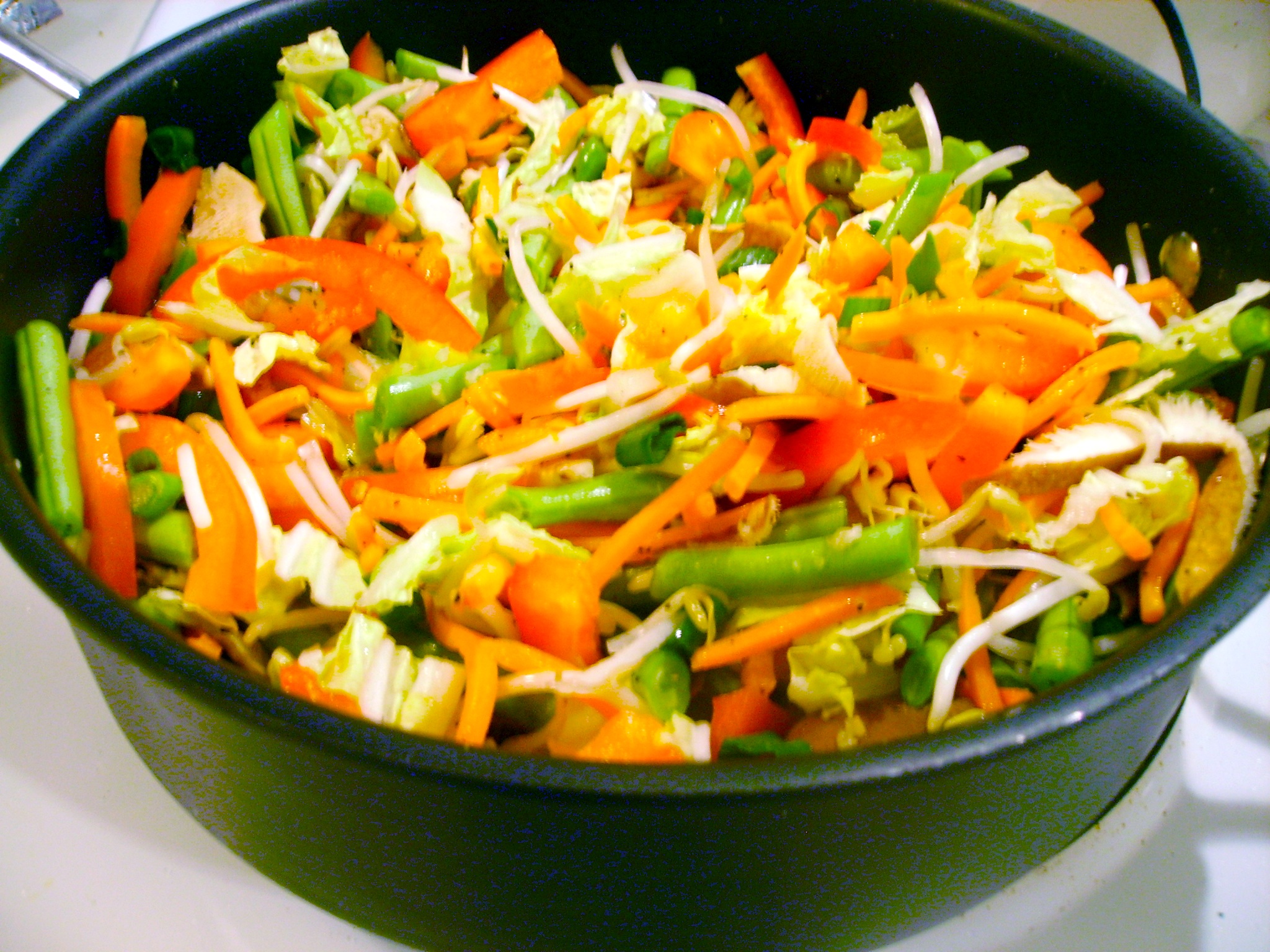 Heat up a splash of sesame oil and a spoonful of coconut oil in your wok/large skillet. I happen to have these things stocked in my kitchen, but if you don't you can use vegetable or canola oil just as easily. The great thing about the sesame and coconut oils is that they are flavors commonly present in many Asian dishes, so they add a subtle flair to the veggies.
Add the vegetables and minced garlic to the pot and stir fry for 2–5 minutes, until they begin to reduce in size. Cover the pan and let the vegetables steam and sizzle while you make the flavoring sauce.
Peel and grate about 1½–2″ ginger root into a small bowl. A microplane grater works best for this, because it eliminates all of the little stringy ginger fibers. Drawback? It takes a little longer. To the ginger in the bowl add low-sodium soy sauce, rice vinegar, and mirin. It is really important to go for low-sodium (and ideally gluten-free) soy sauce, which has just over half the sodium of regular soy sauce with all the flavor, because too much sodium in your diet is pretty horrible for you…and this dish is really high in sodium even with the lite version. Also, I should note here that I didn't have unseasoned rice vinegar in my house, so I used sushi vinegar, which is already sweet, and therefore I omitted the mirin.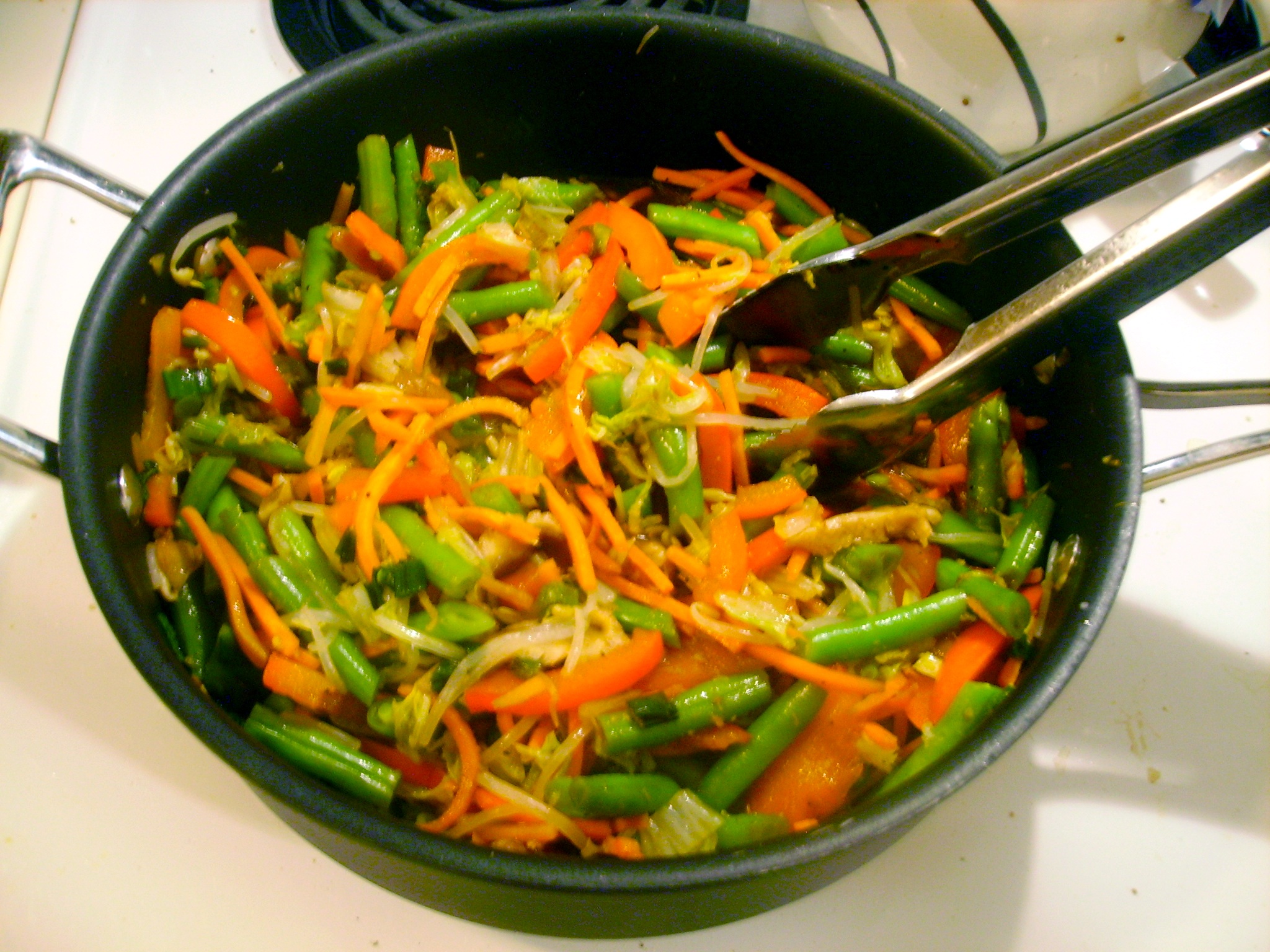 Whisk or stir the sauce ingredients to combine. Pour the sauce into the vegetables and toss well to season evenly. Add the scrambled eggs back into the veggies.
Continue to stir-fry for another 5 minutes, or as long as you'd like until you are ready to serve.
Now, moo shu is normally served with Chinese Pancakes, which are thinner and more brittle than tortillas. As near as I can tell, you can't buy these anywhere, not even in Asian markets…and I was in a hurry so I didn't want to make them. If you do want to make your own, there are recipes floating around the internet that will tell you how. I went the cheater's route and ordered my Chinese pancakes from a local restaurant…but what we ended up with was more like mini Mexican tortillas, and those still worked just fine!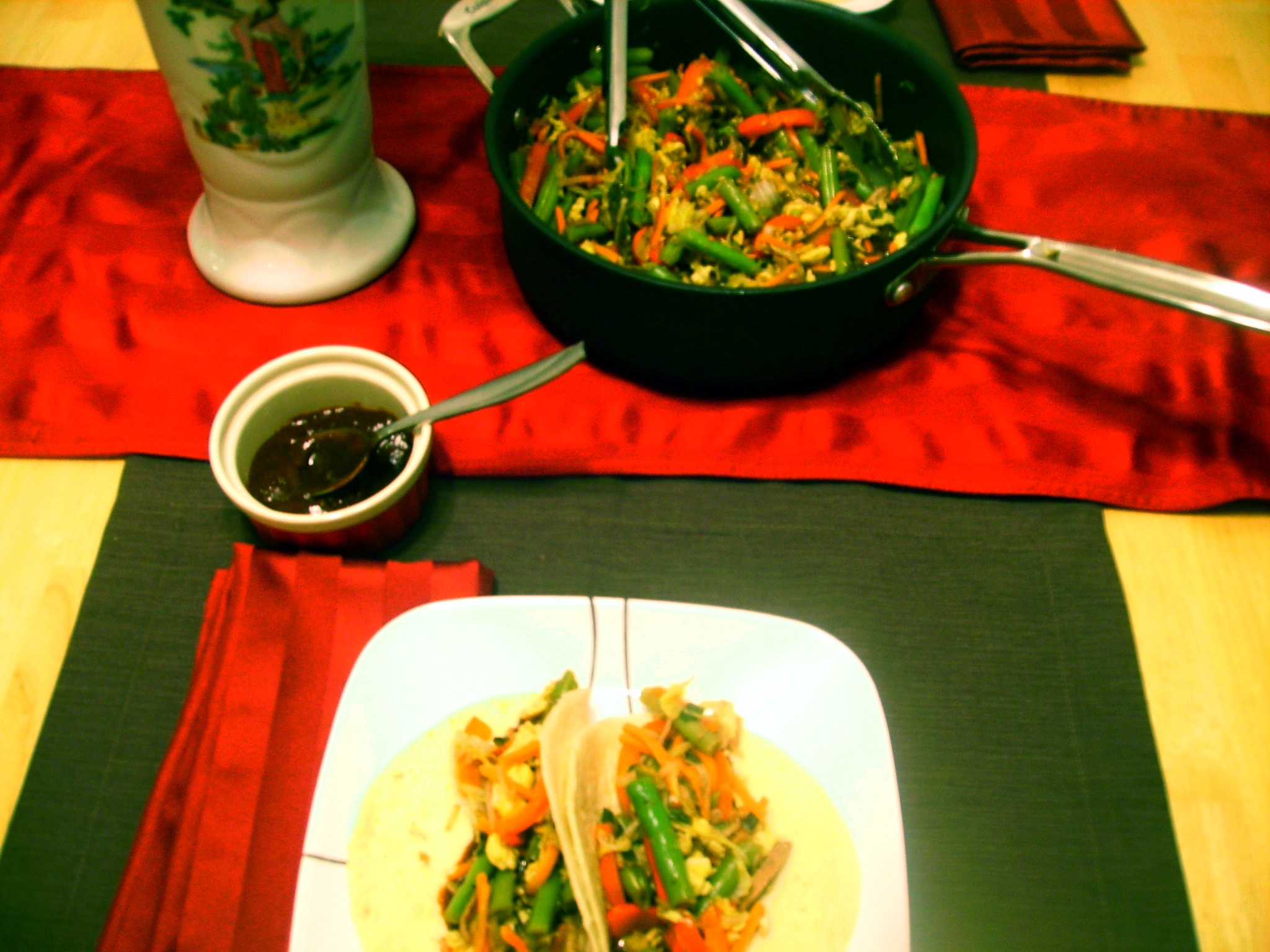 To serve your moo shu vegetables, spoon a little hoisin sauce or plum sauce onto the pancake/tortilla, top with a smallish scoop of the veggies, and drizzle lightly with your favorite chili sauce (we used Sriracha). If you aren't a fan of spicy things, or your hoisin sauce is already a bit zappy, you can skip the chili sauce.
Now, just try to prevent your husband from eating a whole extra serving of this meal…
Moo Shu Vegetables
from Daphne Oz on The Chew
serves 4–6
Ingredients:
3 eggs, lightly beaten
1 tsp. sesame oil
1 tbsp. coconut oil
1 lb. green beans, trimmed and cut into 2″ pieces
1 red bell pepper, cut thinly into 2″ strips
2 cups shredded napa cabbage
1 cup sliced shiitake mushrooms
6 scallions, thinly sliced
1 cup bean sprouts
2 carrots, shredded
2 cloves garlic, minced
salt and black pepper
2 tbsp. grated ginger root
2 tbsp. low-sodium soy sauce
2 tbsp. rice vinegar
1 tbsp. mirin
12 Chinese pancakes (or 6″ white tortillas)
½ cup hoisin sauce or plum sauce
Sriracha or Thai chili sauce
Directions:
In a wok or very large sauté pan, fry the eggs, then transfer to a separate bowl.
Clean out the pan and then heat up the sesame and coconut oils. Add the green beans, red pepper, cabbage, mushrooms, scallions, bean sprouts, carrots, and garlic to the pan. Season to taste with salt and pepper.
Sauté for 2 minutes, tossing or stirring regularly. Cover and let the veggies continue to cook as long as desired.
Meanwhile, combine the grated ginger, soy sauce, rice vinegar, and mirin in a bowl. Add the sauce and the reserved scrambled eggs to the vegetables and toss to coat evenly.
Continue to cook the vegetables for another 2–3 minutes, until they have absorbed the flavors of the sauce.
When ready to eat, serve the cooked moo shu vegetables inside Chinese pancakes, topped with hoisin sauce and chili sauce, to taste.
Enjoy!