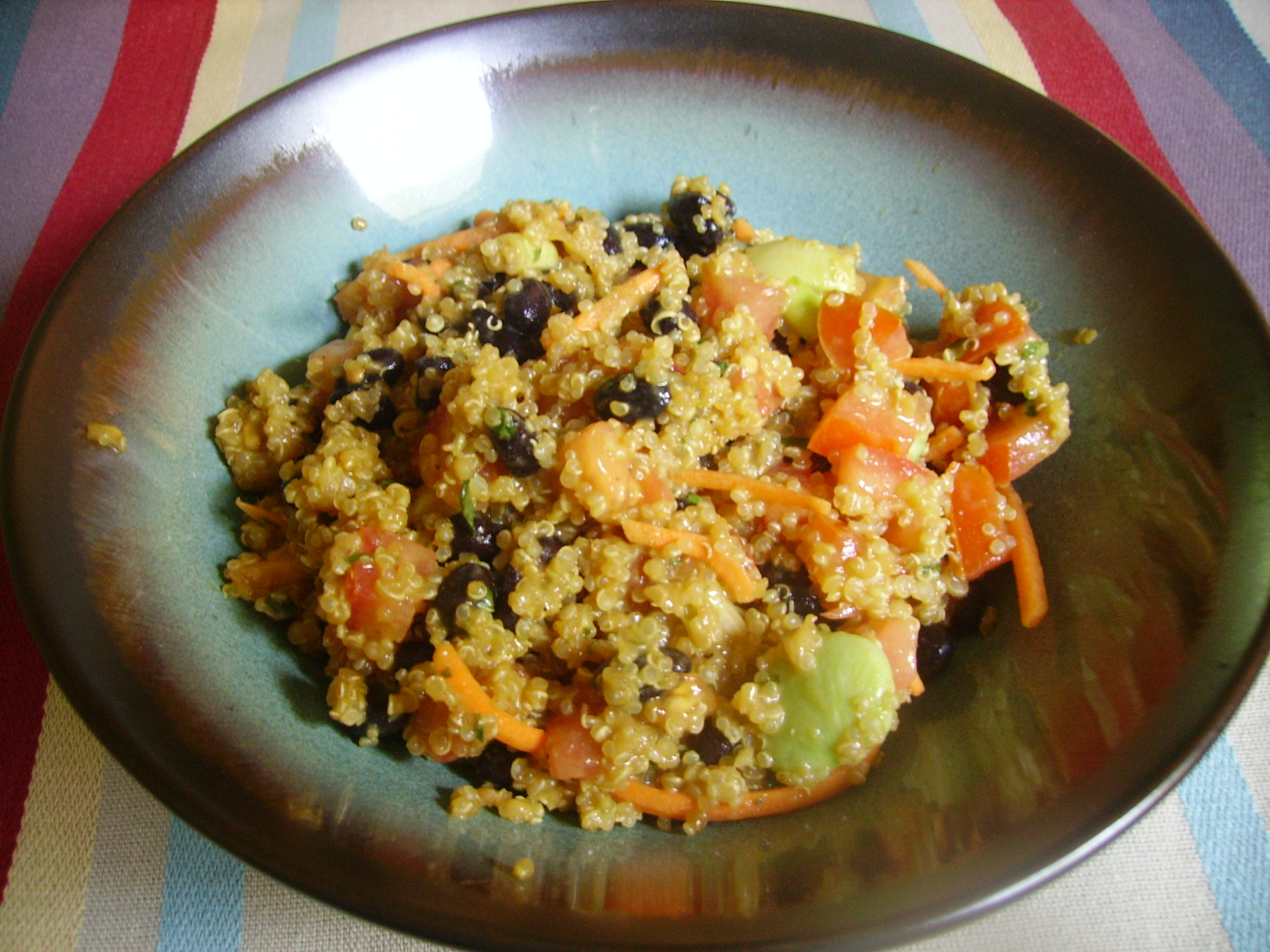 Are you wondering what to do with the last of the summer produce?
I still find myself in the grocery store looking longingly at the tomatoes, even as I am getting super hyped about fall squash. So I decided to say goodbye to summer in style before the summer goodies completely lost their luster!
This bright and flavorful quinoa salad was just what I needed. Packed full of veggies and beans, it's super healthy, and the lemon-basil dressing complements it perfectly. If you have any summer veggies hanging around, I highly recommend you join me and toss them in with some quinoa for a healthy lunch!
This recipe took me about 45 to make, and I think it made about 6 servings, easily. You could save time (and dishes) if you skip the tofu (whaaat!? tofu!? yeah, it wasn't as bad as I remembered…but I am still listing it as optional below), but I included it for the extra punch of protein that Baby needs as we rocket toward his due date!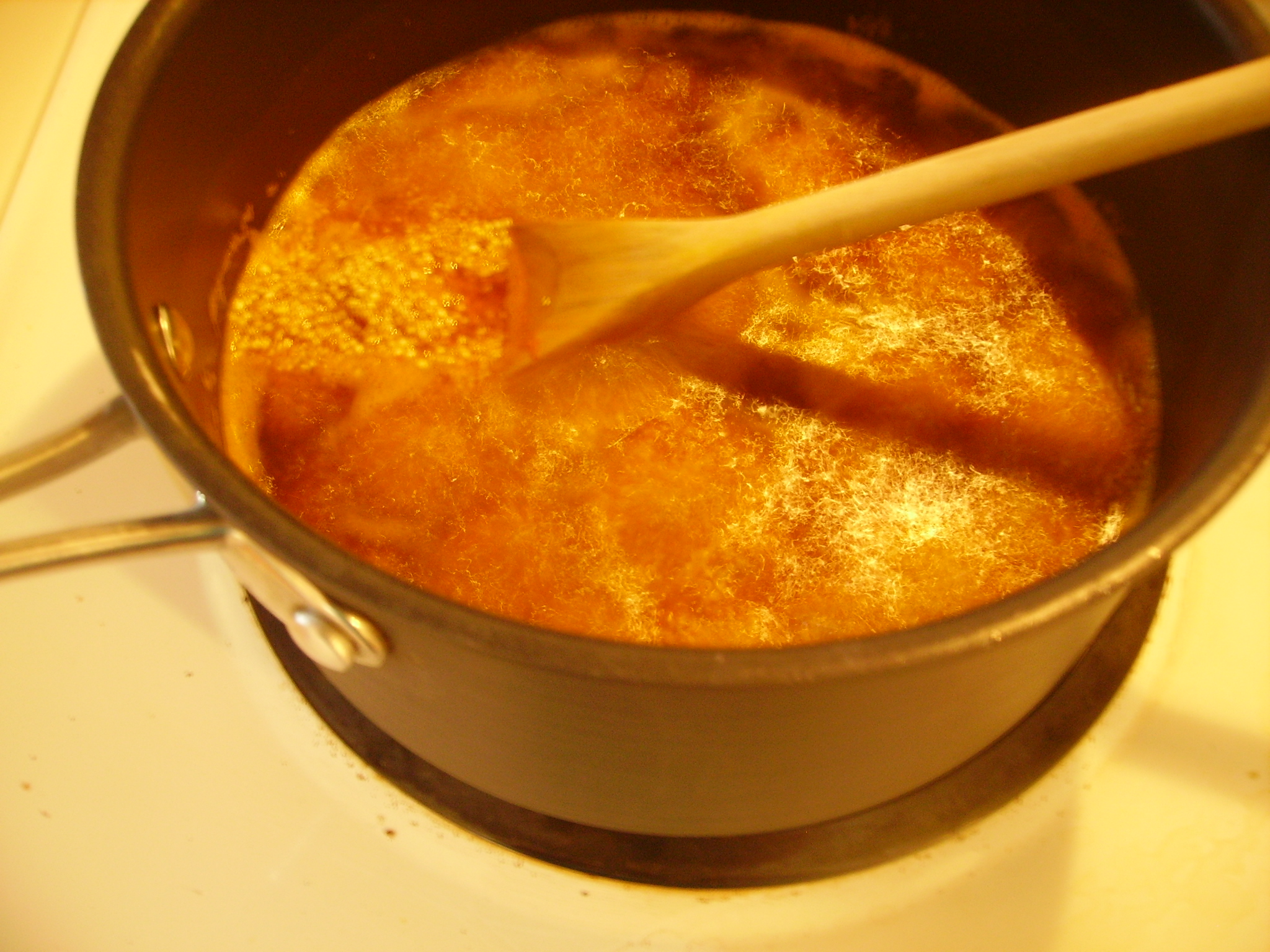 Cook the quinoa. This basically takes care of itself…just dump it into a saucepan with the veggie stock, heat on medium, and stir it every 5 minutes or so. I found, as I usually do, that I needed to add a little extra liquid (I went with water) toward the end to make sure all of the little curlicues had popped out and the quinoa was completely done.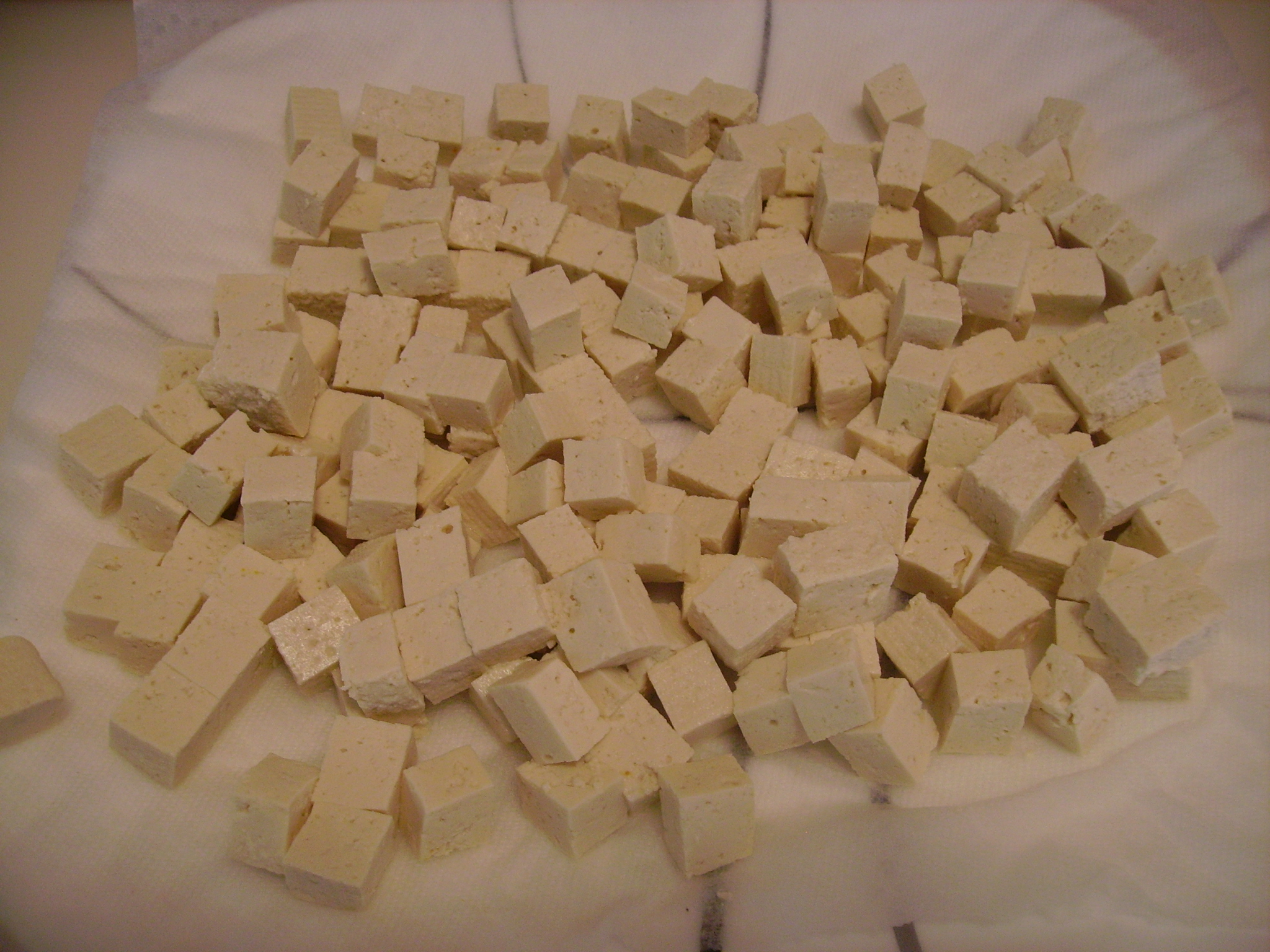 While the quinoa is cooking, if you wish to include it, cube the tofu and set the cubes on a paper towel for about 10 minutes to drain. Also, steam the limas in the microwave, rinse out the black beans, and chop up the veggies.
When you are ready, sauté the tofu over medium heat until it becomes lightly brown.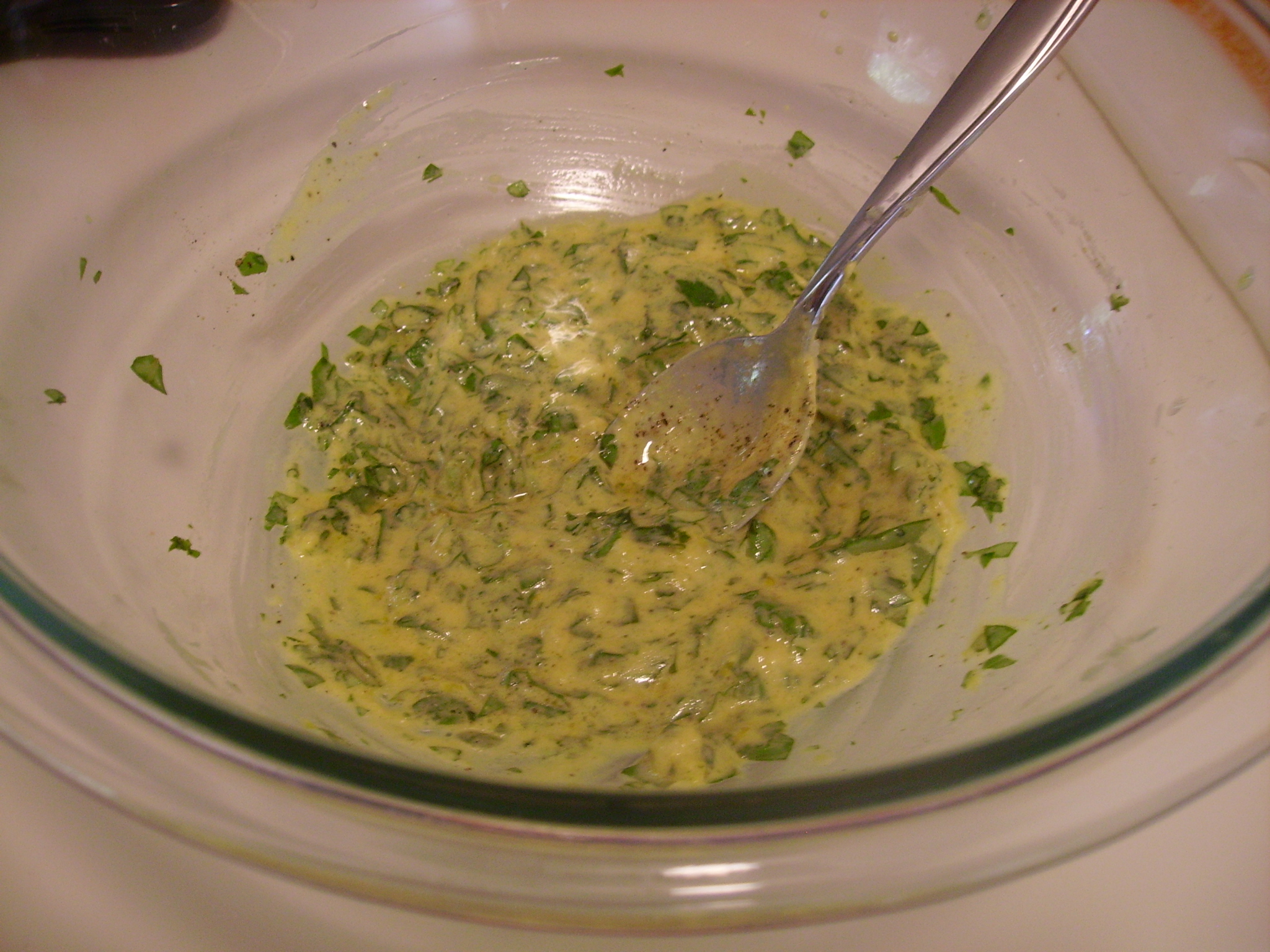 Meanwhile, stir together all of the ingredients for the dressing: lemon zest and juice, chopped basil, Dijon mustard, sugar, oil, salt, and pepper. You should have a very fragrant, very green dressing. Yum!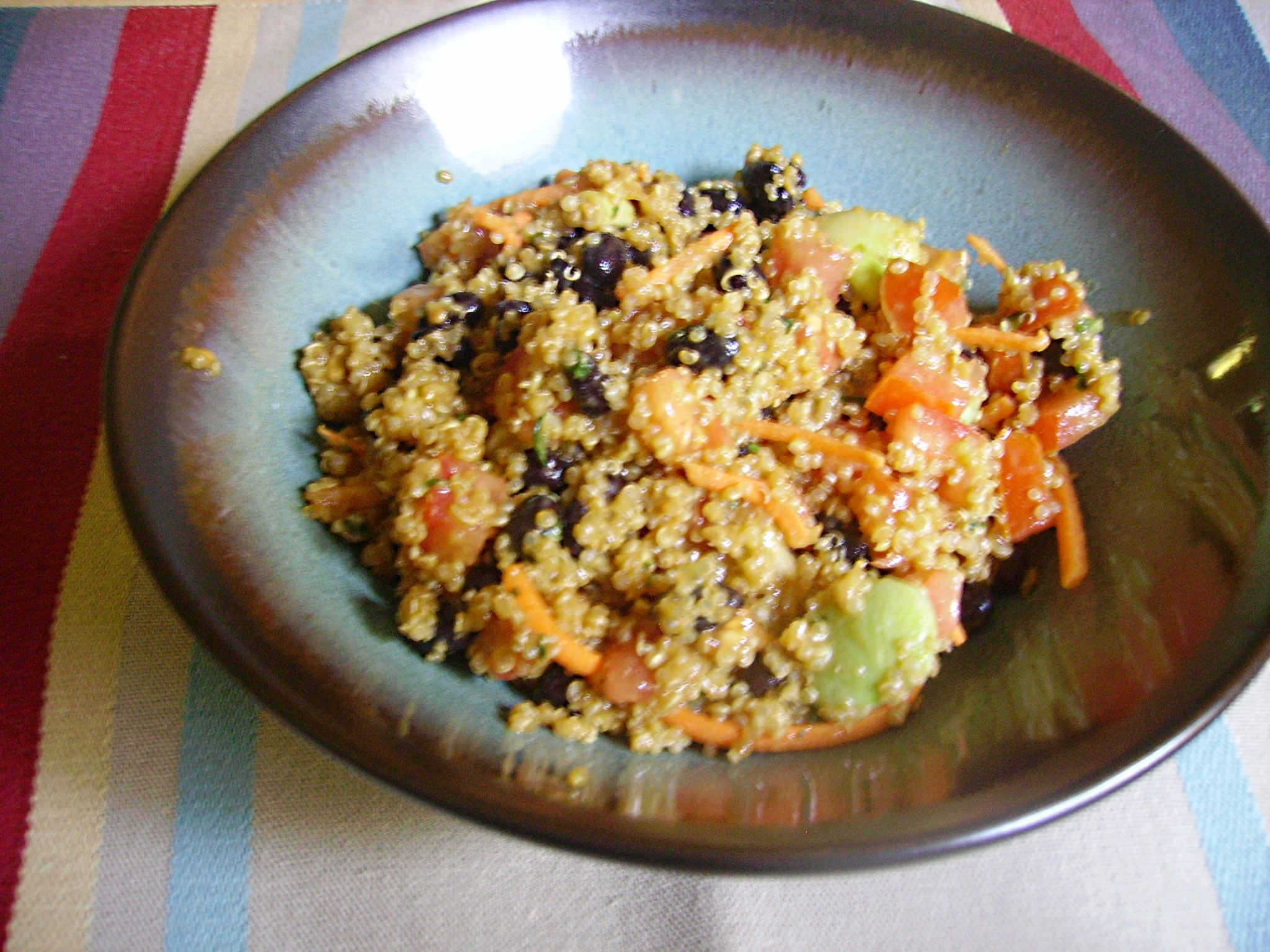 Stir the cooked quinoa into the dressing. Toss in the veggies you chopped, the cooled (and drained) limas, the black beans, and the cooked tofu. Mix everything together well.
I ate this by itself, but the original recipe recommending tossing the quinoa salad on top of some spinach for a little extra color and some additional super nutrients. Up to you!
Quinoa Bean Salad
adapted from Cooking Light
serves 6
Ingredients:
1½ cups dry quinoa
3 cups low-sodium vegetable broth
1 14oz. package firm tofu, cut into ¼ʺ cubes (optional)
3 tbsp. olive oil, divided
½ cup minced fresh basil (from a large handful of leaves)
zest of 1 medium lemon
juice of 2 medium lemons
2 tbsp. hot Dijon mustard
1 tsp. sugar
3 medium cloves garlic, minced
½ tsp. salt, plus extra as needed
½ tsp. black pepper
1 10oz. package frozen baby lima beans
3 medium tomatoes, chopped
4 scallions, chopped
½ cup matchstick carrots or 2 carrots, chopped
1 15oz. can black beans, drained and rinsed
Directions:
Combine quinoa and vegetable broth in a saucepan over medium heat. Cook for 15 minutes, stirring occasionally to prevent the quinoa from burning on the bottom. Once the stock is completely absorbed into the quinoa, check that the quinoa is tender and the curlicues have popped out. If necessary, add a few splashes of water and cook for another 2–3 minutes. Remove from heat.
If including tofu, place the cubes on several layers of paper towels; cover with additional paper towels. Let stand 10 minutes. Heat 1 tbsp. oil in a large nonstick skillet over medium-high heat. Add tofu and season lightly with salt. Sauté tofu 9 minutes, turning occasionally, or until lightly browned. Remove from heat; cool completely.
While the tofu is cooking, steam the lima beans in the microwave with 2 tbsp. water in a covered, microwave-safe bowl. Let them cool completely.
Combine remaining 2 tbsp. olive oil with basil, lemon zest and juice, Dijon mustard, sugar, garlic, and seasonings in a large bowl. Stir until blended. Stir quinoa into the dressing.
Add the lima beans, chopped tomato, scallions, carrots, black beans, and tofu (if using) to the quinoa mixture; stir gently to combine.
Store, covered, in refrigerator until ready to serve.
Enjoy!